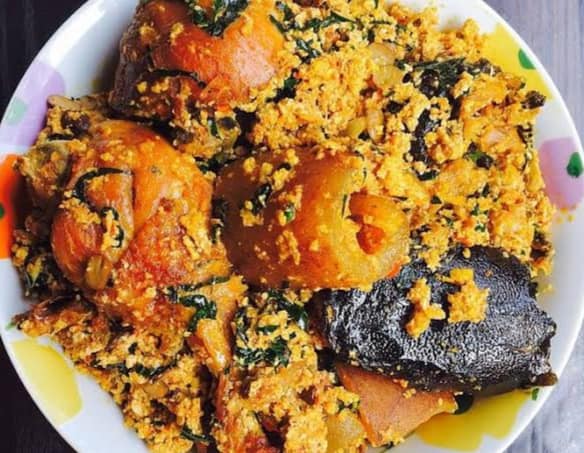 We have over 800+ different kinds of Locally made soups in Nigeria, and I have no doubt to say that Egusi Soup is the most popular amongst them.
It is supper and mildly sweet, with the abundant oil from the egusi seeds and this frying method giving rise to its awesome taste, especially when prepared with goat meat.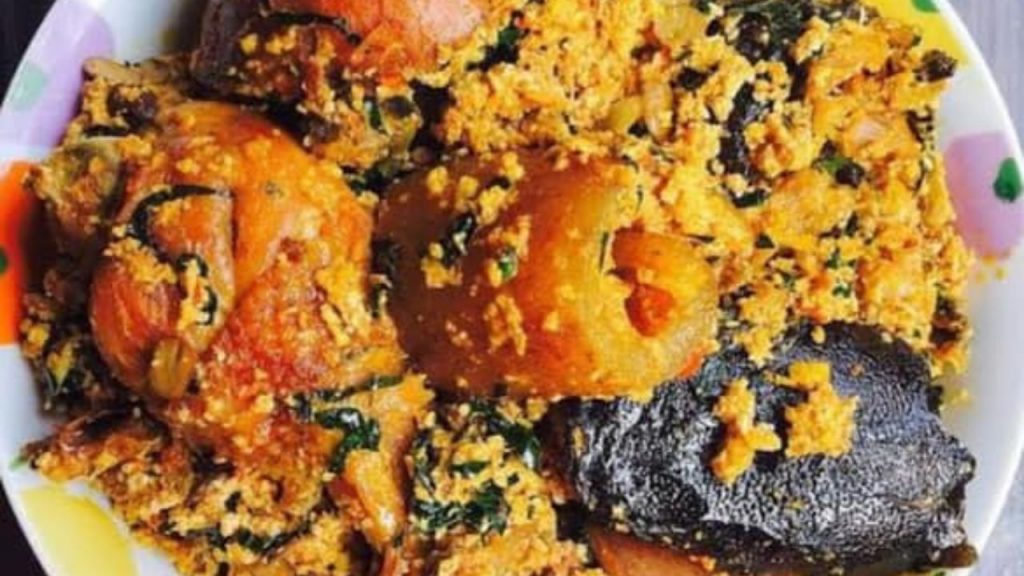 Barely would you hear anyone speaking of their favorite soups and you won't hear egusi soup mentioned? It is so simple to prepare and straight forward unlike some fried Egusi recipes.
If there must be a soup you need to learn how to make as a man or a Woman, please start with Egusi. Meanwhile, don't just move an inch, we have a guideline on to make the Egusi Soup you're seeing in the picture below.
In conclusion, this is an excellent Egusi soup recipe that is sure to please. If you are looking for something new and exciting to try, then be sure to give this recipe a go. You will not be disappointed!
What Is Egusi Soup Made Of?
Egusi soup is a soup prepared with the ground seeds of Mellon and is traditional in West Africa. We have as well written a post about what Egusi soup is made of. It is also one of the most common soups valued by Nigerians and non-Nigerians.
The Yorubas make efo elegusi, the Igbos make their own egusi in different ways ( with Achi and oso). In Hausa, Egusi soup is called Miyan sushi. All these recipes have similar ingredients but with slightly different approaches.
Egusi soup ingredients for a delicious Nigerian dish
Ground egusi
Goatmeat
Cooked cow kpomo
Sweet palm oil
Fresh tomatoes
Bell pepper or shombo
Uziza leaf and bitter leaf
Onion
Ground crayfish
Stockfish and Bonga fish.
Mivina spice (optional)
Fresh pepper
Seasoning cubes and salt
How To Cook Egusi Soup Frying Method
Goatmeat: When you come back from the market or if you have any in the fridge, wash properly by removing excess fat, and washing it at least 2-3 times. Put it inside your cooking pot then, cover and set aside.
Fresh tomatoes and Bell pepper: Cut the bell peppers then, remove their seeds. Wash the two together and blend. Cover it and set it aside.
Stockfish: Soak the stockfish head or flesh and allow for about 4-6 minutes. Wash it at least 2 times and If you are using the flesh, pour in hot water and allow for only a minute.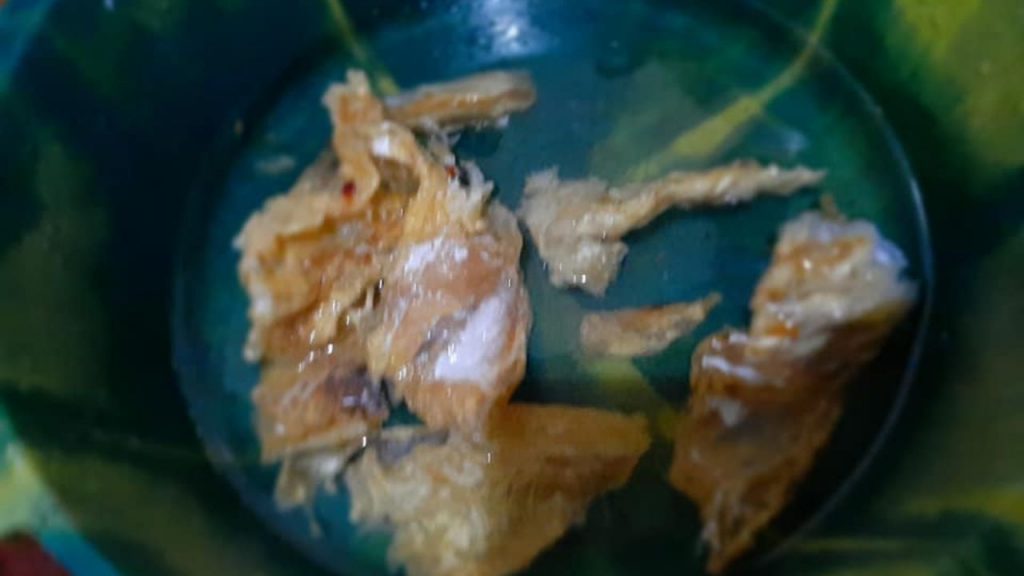 Wash and put it inside your cooking pot. The way cooking works is that anything that has the same cooking time can be cooked together.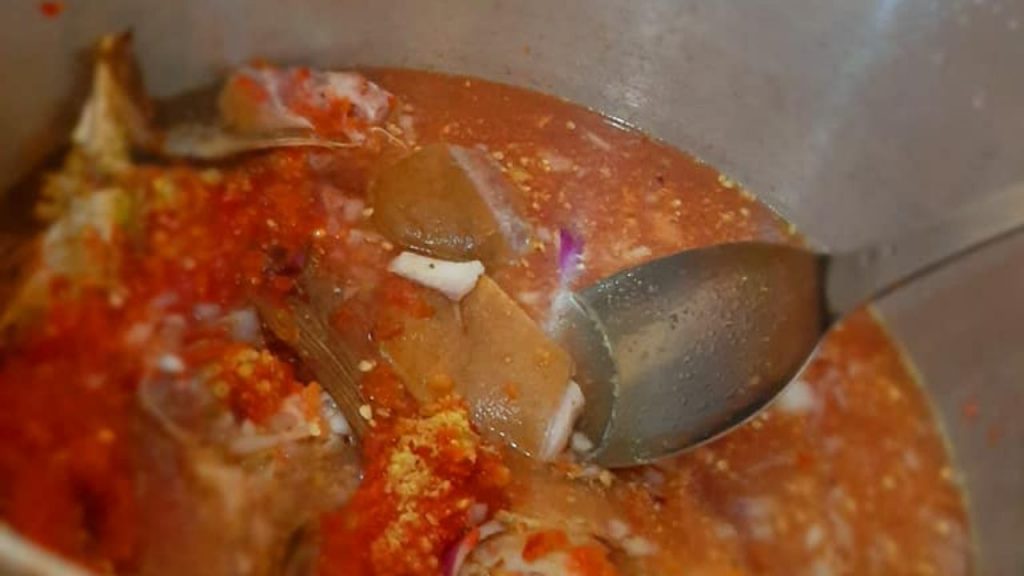 Onion: Peel the onion back, wash and slice it.
Dry fish🐟 : Debone the dry fish, wash it, and set it aside.
How To Cook Egusi Soup For Party.
Season the meat, Add it to the ground crayfish, pepper, mivina, and seasoning cubes to taste. Add a little bit of water cover and allow to boil.
Add in half of the chopped onion, cover, and cook for 5-6 minutes. Add in salt and cook till tender.
Rinse your frying pan, set it on high heat, and allow the water to dry up. Add the cooking oil, and permit it to get hot.
We Have Other Delicious Egusi Soup You Might Love To Try.
Efo elegusi soup
Egusi soup with Achi
Akpuruakpu eegusi
Achara
How to cook Egusi soup with bitter leaf.
Add in diced onion, the ground fresh tomatoes, and pepper. Fry till the tomatoes' liquid is dried.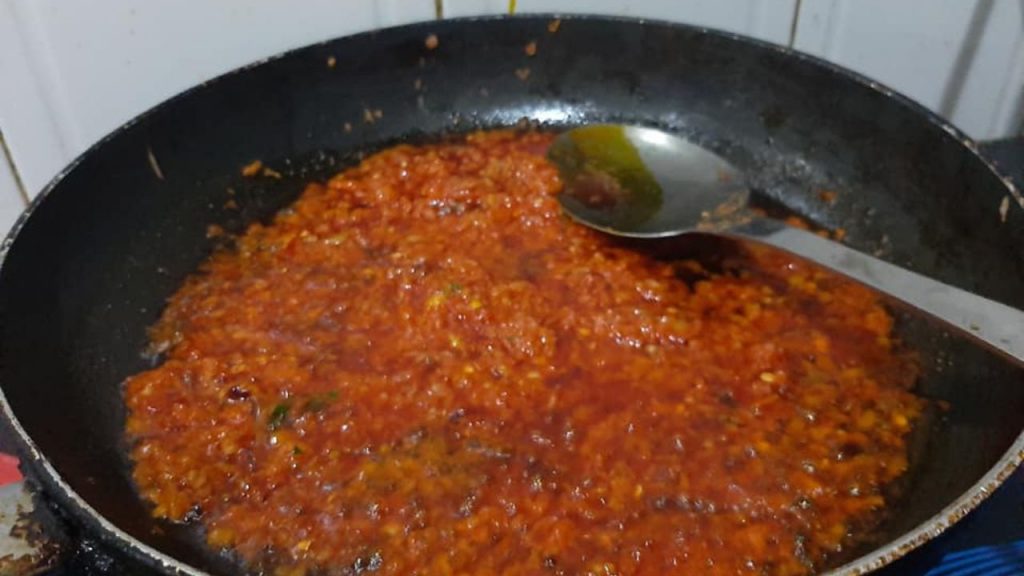 Mix the ground egusi with water in a soup bowl again, pour in the mixture and continue frying. Add a little bit of sal and seasoning intothe mixture and continue frying.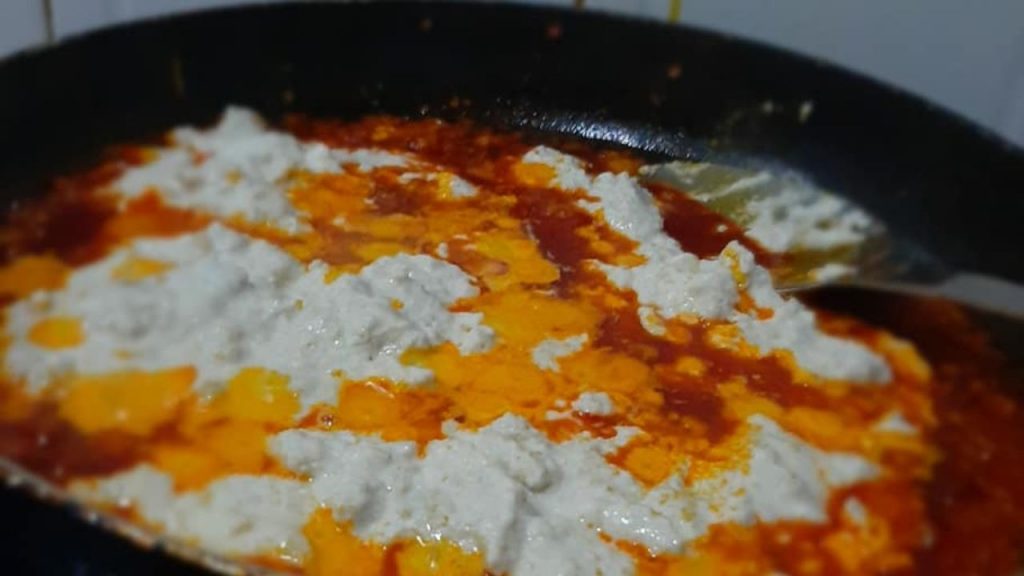 fry until you have this look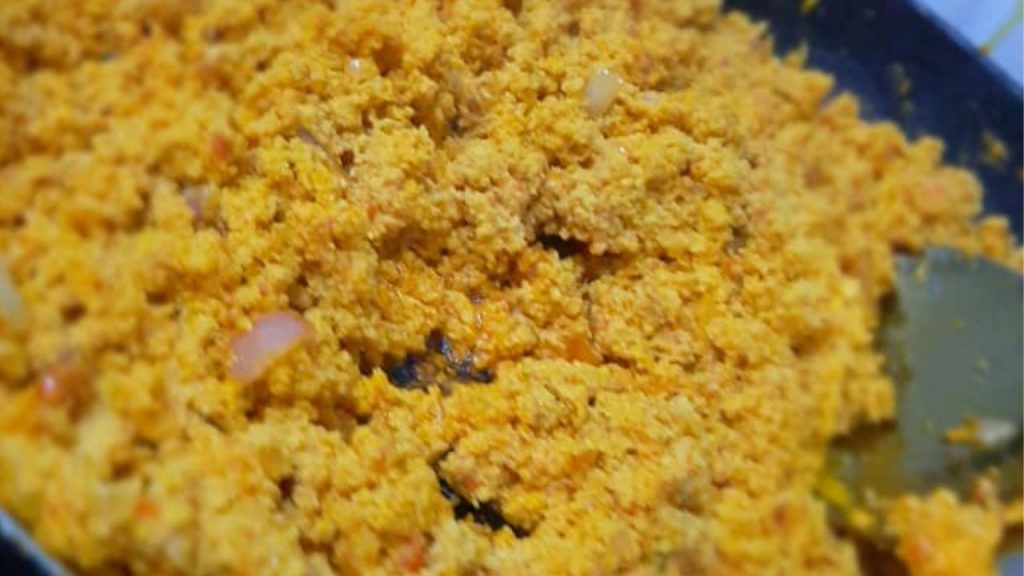 Add the cut tomatoes and pepper stir and allow to fry for another 3 mins, pour the fried egusi directly into your cooking pot.
Add the chopped tomatoes and pepper stir and allow to fry for another 3 mins, pour the fried egusi directly into your cooking pot.
Add your chopped uziza leaves and stir the cover and allow to cook for another 2-3 mins.
Now turn the soup, add the washed bitter leaf, stir, and cover to cook for at least 2-3 mins. Bring it down and serve hot with fufu and thank me later.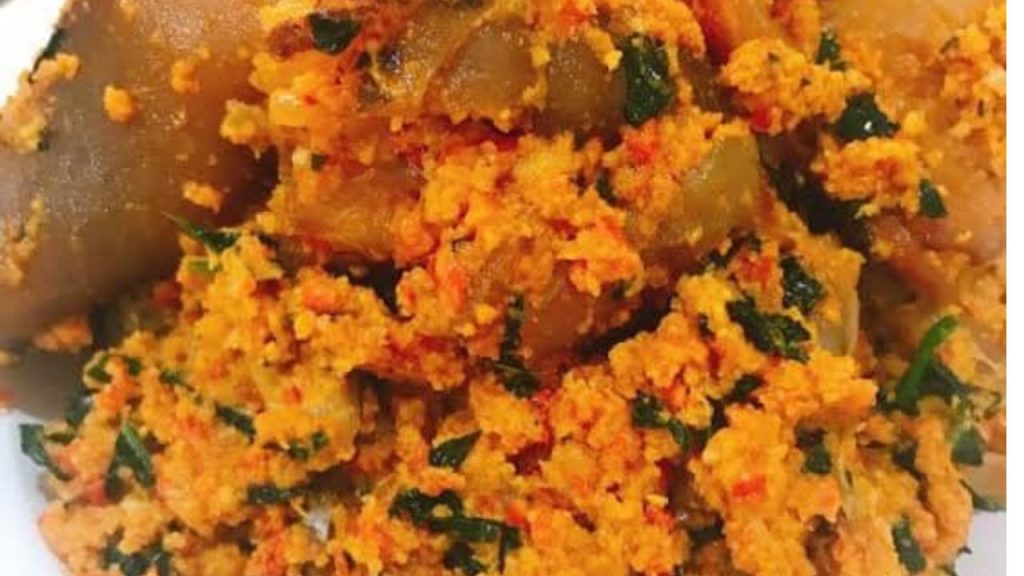 How To Blend Egusi With Water.
How to cook Egusi soup with lumps.
Rinse your electric blender very well and be careful to put in a little portion of the egusi then, blend till paste. Do the same to others till you are completely done.
Grind your Egusi with onion and fresh pepper. The same way we use to grind beans for Moimoi.
Set your pan on low heat, add palm, and allow to heat. Add chopped onion if you didn't blend it together with the Egusi, then enable it to fry for about a minute, you can now pour in the ground Egusi. Fry for about 4-5mins.
But if grinding together with onion and pepper just pour it inside the hot oil like that and cook.
Add in the cooked meat, stir and adjust seasoning if necessary. and cook till done. Put the chopped uziza leaf, stir and cook for at least 2 mins.
Put the water leaf stir, cover, and allow to heat. Bring it down and don't forget to serve hot with any swallow of your choice.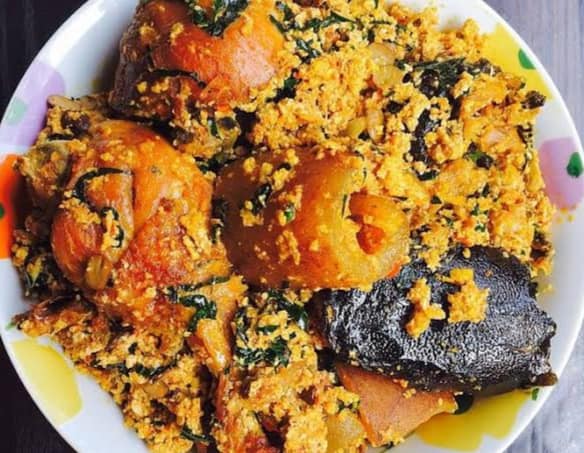 I'm convinced you will definitely try out this Egusi recipe, you just can't afford to. Do recall to give us feedback when you do. Don't forget to "Share" this recipe with your family and friends.
Is Egusi The Same As Pumpkin Seed?
Egusi and pumpkin seeds are not the same thing. There is a big difference. Egusi seed is very small while, pumpkin seed is actually bigger than Egusi seed. But both germinate and grow alike. We have also written a post about Egusi seed
Egusi seed is in a class of its own and should not be mistaken for pumpkin seed. Pumpkin seeds can be eaten without grinding. (Boil and eat).
Pumpkin seed produces a leaf used in cooking different kinds of delicacies.
Other Nigerian SoupRecipes.
Egusi with tin tomatoes.
It very simple and straightforward. Steam your meat, fry the tin tomatoes with palm oil and onion, pour in your blended egusi, and fry it for about 4-5 mins. Bring it down and set it aside.
Set the cooked meat on medium heat. Pour in the fried egusi to stock, cover, and allow to boil.
Adjust seasoning if needed, stir and allow to cook till done. Serve this soup hot with confirmed pounded yam or potato swallow
How do you know when egusi is done?
One of the best ways to know when egusi is done is to look at the oil. If the oil has started to change colors and there are bubbles forming on the surface, then it is most likely done.
Another way to tell if egusi is done is by tasting it. If it is no longer crunchy and has a smooth consistency, then it is most likely done.
Other rice recipes you might love to try.
Conclusion
An easy method of cooking Egusi soup with fresh tomatoes (frying method) we have narrated them. If you want to get a part, lumpy, delicious, and tasty Egusi soup kindly get all the required ingredients ready.
Ingredients necessary: blended egusi, chopped onion, ground crayfish, fresh tomatoes, meat, pomo, stockfish, fresh fish, dried fish, palm oil, uziza leaf seasoning cubes, salt to taste, etc.
Then follow our step-by-step guide here and make an amazing and sumptuous Egusi soup for yourself and your family.
Don't forget to like, share with your friends, and as well share your experience while preparing it at home here and we will appreciate. You are loved now and always. Don't forget to come back for our new recipes.
Read More
McDonald's Announces New Cardi B & Offset Meal: A Flamin' Collaboration
McGriddles vs. McDonald's: The Protein Showdown
8 Healthy dessert To pick On The Grocery Shelves
6 Major Differences Between Costco and Sam's Club Right Now
Where is costco opening new stores in 2023
7 Fast-Food Restaurants That Serve the Best Patty Melts
Best 31 Healthy Restaurants in America | Locations
101 Best Restaurants Downtown Dallas That Locals Eat 2022
39 foods that lower blood sugar immediately
30 Best healthy lunch ideas for weight loss
Unveiling the Nutritional Marvels: Exploring the Remarkable Health Benefits of Cashews
Best 31 Healthy Restaurants in America | Locations
20 healthiest butter substitutes
The top 33 foods for keeping your kidney healthy
20 Healthy Chips You Can Eat When You're Trying To Lose Weight
Unveiling the Magical Collaboration: McDonald's New Happy Meal Toys that Delight Disney Fans