Finding a healthy dessert may mean different things for different people. For people who are managing a diabetes diagnosis, they will likely want to keep their added sugar intake as low as possible.
And for those who are focused on gut health, finding choices that contain prebiotic fiber will be their best-bet.
Satisfying your sweet tooth doesn't have to mean sacrificing your health goals. With so many options available at the grocery store, it can be overwhelming to choose a dessert that's both delicious and nutritious.
That's why we've compiled a list of 8 healthy dessert options that you can find on the grocery shelves.
Whether you're looking for something decadent or refreshing, there's a treat on this list for everyone. From frozen pops to chocolate bars, these desserts are made with wholesome ingredients and are perfect for snacking anytime of day.
So next time you're in the mood for something sweet, skip the guilt and reach for one of these healthier options instead!
Generally speaking, here are some criteria to follow for finding healthy store-bought desserts:
Keep the added sugar content low. Anything that contains more than 8 grams of sugar may not be the best dessert choice for people following a healthy diet.
Limit choices: Avoid options that have a high quantity of saturated fat.
Look for natural ingredients: Opt for choices that are free from artificial colors and flavors.
Opt for added benefits: When possible, choose desserts that contains prebiotics, probiotics, or both to support gut health.
And perhaps the most important aspect when choosing a healthy dessert is to make sure that it tastes good. Because after all, if a dessert isn't enjoyable to eat, what's the point?
The Best Healthy Desserts On The Grocery Shelves
1. Halo Top Chocolate Ice Cream Cake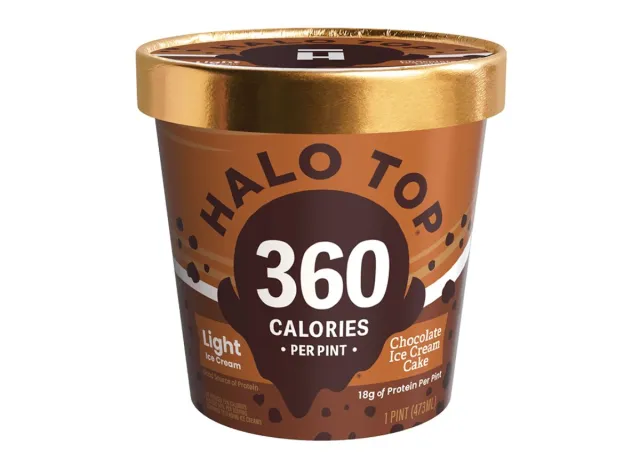 PER SERVING (⅔ cup): 120 calories, 3.5 g fat (2 g saturated fat), 100 mg sodium, 23 g carbs (6 g fiber, 10 g sugar), 6 g protein
When a chocolate craving strikes, Halo Top Chocolate Cake Ice Cream Cake pints are the ultimate chocolate-lover's dream.
A lower-calorie, lower-sugar light ice cream with 18 grams of protein per pint, Chocolate Ice Cream Cake is perfect for dessert-time, snack-time, or celebration-time.
With rich white icing, creamy chocolate ice cream, and that nostalgic ice cream cake flavor, this ice cream checks all of the boxes.
2. That's it Dark Chocolate Fig Truffles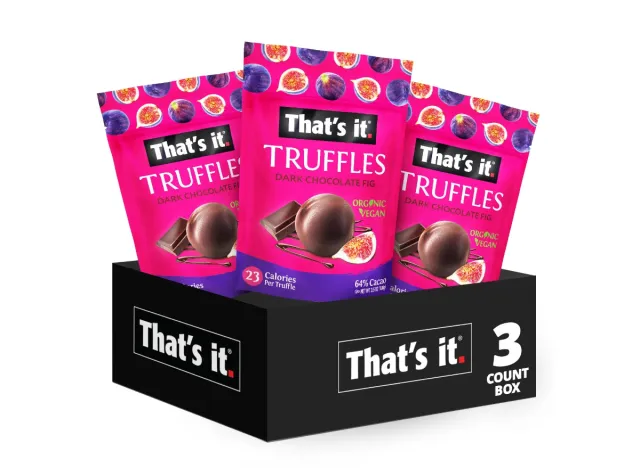 PER SERVING (3 truffles): 70 calories, 1 g fat (1 g saturated fat) 0 mg sodium, 16 g carbs (4 g fiber, 11 g sugar), <1g protein
Organic figs and organic dark chocolate—to quote the brand name, that's it! These powerful little plant-based bites are the perfect go-to for when you need that little sweet fix.
With these truffles, you can rest assured that you're not sacrificing any nutritional value, as these babies are loaded with fiber, only 1 gram of added sugars, and less than 25 calories per truffle. Snack on.
3. KIND Soft Baked Squares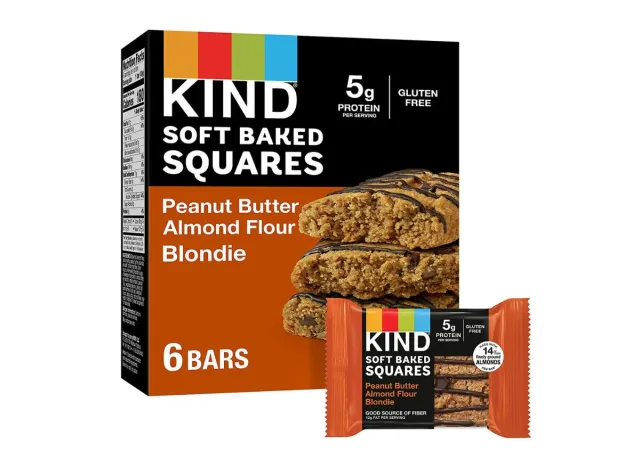 PER SERVING (1 bar): 180 calories, 12 g fat (2 g saturated fat) 140 mg sodium, 17 g carbs (4 g fiber, 8 g sugar), 5 g protein
KIND Soft Baked Squares offer that satisfying sweetness in every bite while—and here's where they get sneaky—serving up to 14 or more finely ground almonds in every bite for added nutritional value.
These gluten-free bars are made with almond flour and offer 5 grams of protein with every square to keep you filled and energized throughout your day.
4. Dark Chocolate Cashews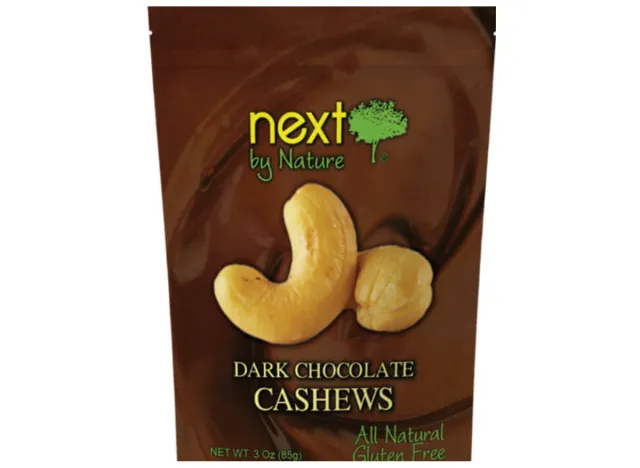 PER SERVING (12 pieces): 200 calories, 15 g fat, (6 g saturated fat), 0 mg sodium, 20 g carbs (2 g fiber, 13 g sugar), 4 g protein
Cashews are rich in monounsaturated and polyunsaturated fatty acids, which have been proven to reduce the risk of heart disease. Furthermore, they contain magnesium, which can assist in maintaining healthy muscles and nerves.
Combining them with dark chocolate creates a delectable dessert that satisfies your cravings while providing essential nutrients. Next by Nature offers 4 grams of protein to keep you satiated until your next meal.
5. Endangered Species Chocolate, Orange 60% Dark Chocolate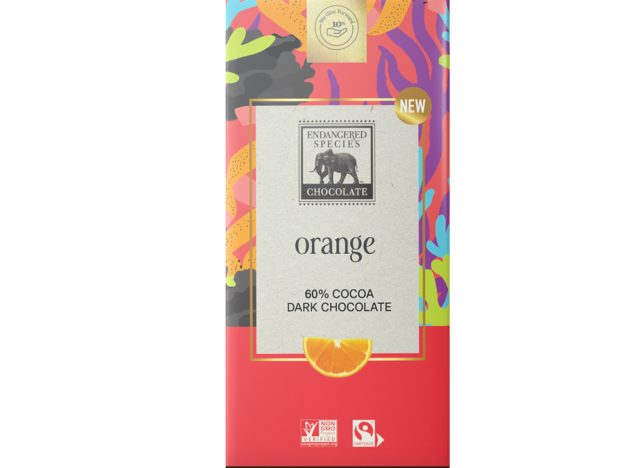 PER SERVING (1oz.): 160 calories, 11 g fat, (6 g saturated fat), 0 mg sodium, 16 g carbs (2 g fiber, 11 g sugar), 2 g protein
Believe it or not, dark chocolate is a source of antioxidants, magnesium, and many other beneficial features.
This fair-trade Endangered Species Orange + 60% Dark Chocolate bar (and many of their other dark chocolate options) provide those essential nutrients all within an aromatic and undeniably delicious bar.
This is not to mention that every Endangered Species bar benefits a different charitable cause—in this case, we're supporting the plight of our endangered coral reefs.
6. Zespri SunGold Kiwis
PER SERVING (2 kiwis): 100 calories, 0 g fat, (0 g saturated fat), 0 mg sodium, 26 g carbs (2 g fiber, 20 g sugar), 2 g protein
The Zespri SunGold Kiwis are a delectable variety of kiwifruit that boasts a hairless, velvety skin and succulent yellow flesh.
They provide a comprehensive range of healthful nutrients, including over 20 vitamins and minerals such as fiber, potassium, folate, vitamin E, antioxidants, and vitamin C. Remarkably, just one kiwifruit from Zespri SunGold can supply more than 100% of your daily vitamin C requirement.
7. Brookside Dark Chocolate Covered Pomegranate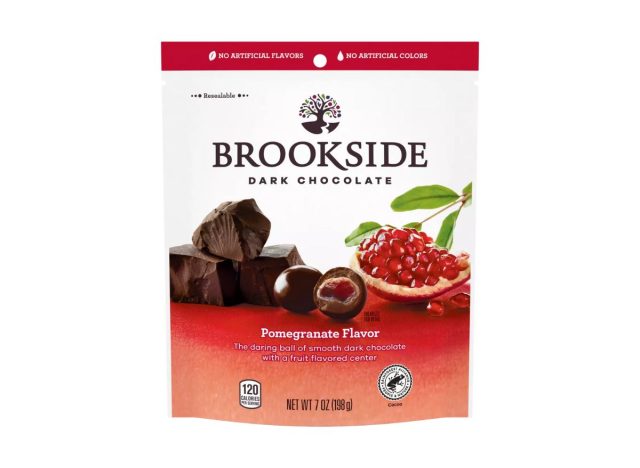 PER SERVING (12 pieces): 120 calories, 5 g fat (3 g saturated fat), 40 mg sodium, 22 g carbs (1 g fiber, 18 g sugar), <1 g protein
Rich in antioxidants and anti-inflammatory properties, pomegranates are a healthy way to satisfy your sugar cravings.
With these Brookside Chocolate Covered Pomegranates, you can ensure that you're not ingesting any artificial flavors or colors, just the perfect heavenly combination of dark chocolate and pomegranate—truly, a divine flavor duo.
8. Sheila G's Chocolate Chip Brownie Brittle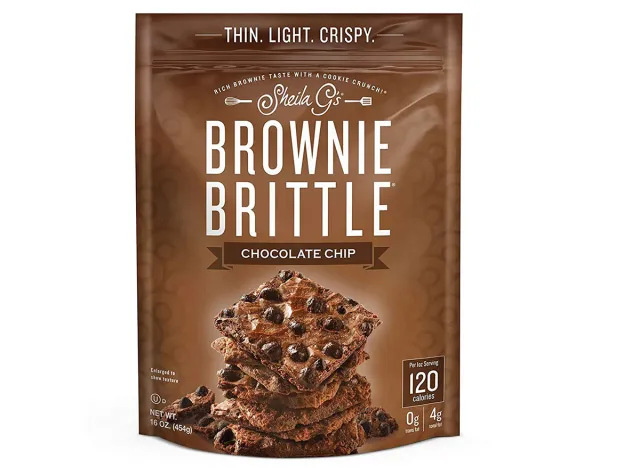 PER SERVING (1 pack): 120 calories, 4.5 g fat, (2.5 g saturated fat), 75 mg sodium, 22 g carbs (1 g fiber, 14 g sugar), 1 g protein
Sheila G's Brownie Brittle is all about helping you along your portion control journey. Sheila's family recipe is now widely available for all, and with the help of perfectly portioned snack packs, you'll be able to indulge while knowing you aren't overindulging.
While it seems like a good idea to keep on snacking before our brains alert us that we're full to the brim, portioning out your sweets is a great way to ensure that you're satisfying both your cravings and hunger without feeling sick or slogged after overconsumption.
Read More
6 Best Gluten-Free Crackers And Places To Buy Them
Blast from the Past: Rediscovering 18 Delicious '90s Snacks.
7 Costco Foods That Are Packed With Protein
The Worst & Best Menu Items at Panda Express
Frequently Asked Questions
Where can I find these healthy desserts in the grocery store?
These healthy desserts can typically be found in various sections of the grocery store:
Greek yogurt and chia pudding are often found in the dairy or refrigerated section.
Dark chocolate can be found in the candy or chocolate aisle.
Frozen fruit bars are usually located in the frozen dessert section.
Rice cakes, nut butter, and coconut milk ice cream are often found in the health food or organic sections.
Fruit salads may be available in the produce section or pre-packaged in the refrigerated area.
Are these healthy desserts lower in calories compared to traditional desserts?
Generally, these healthy dessert options tend to be lower in calories compared to traditional desserts. They often contain less added sugars, unhealthy fats, and processed ingredients commonly found in regular desserts.
However, the exact calorie content can vary depending on the specific brand and ingredients used.
It's still important to practice portion control and moderation, even with healthier desserts. While they may offer better nutritional profiles, consuming them excessively can still contribute to an overall calorie surplus. Pay attention to serving sizes and listen to your body's hunger and fullness cues.
Can these desserts be a part of a balanced diet?
These healthy desserts can definitely be part of a balanced diet when consumed in moderation as part of an overall healthy eating plan. They offer alternatives to satisfy your sweet
Are these healthy desserts suitable for people with dietary restrictions?
Yes, most of the mentioned desserts can be suitable for people with dietary restrictions. Greek yogurt, dark chocolate, chia pudding, fruit salad, rice cakes with nut butter, and baked apples are generally suitable for individuals with dietary restrictions, including those who follow gluten-free, vegetarian, or vegan diets.
However, it's important to read the labels and check for specific ingredients or allergens that may not align with your dietary requirements.
For example, some dark chocolates may contain milk or traces of nuts, and certain fruit bars may contain added sugars or artificial ingredients. Always check the packaging for any potential allergens or ingredients you need to avoid.


Conclusion
In conclusion, there are several healthy dessert options available on grocery store shelves that are not only delicious but also nutritious. These desserts contain natural ingredients and less sugar, making them a better choice for maintaining a balanced and healthy diet.
Whether you prefer fruit-based treats or chocolatey indulgences, there is something for everyone to satisfy their sweet tooth without feeling guilty.
So next time you're at the grocery store, be sure to check out these healthier dessert options and make a conscious decision to prioritize your health while still enjoying a tasty treat. Remember, small changes can lead to big results in the long run.