There's nothing quite like the exquisite taste of Umuahia soup. Every time I visit my friend, she always goes above and beyond to cook this mouthwatering delicacy for me. It never fails to leave me in awe of its first-class flavors and rich aroma.
This traditional Nigerian soup has captured my heart with its unique blend of ingredients and spices that create a perfect harmony on my taste buds.
From the moment I take the first spoonful, I am transported to a world of culinary delight. The combination of fresh vegetables, succulent meats, and aromatic herbs creates a symphony of flavors that dance on my palate.
Each ingredient is carefully selected and prepared with love, resulting in a dish that is both comforting and satisfying. I cannot express enough gratitude to my dear friend for introducing me to this heavenly soup.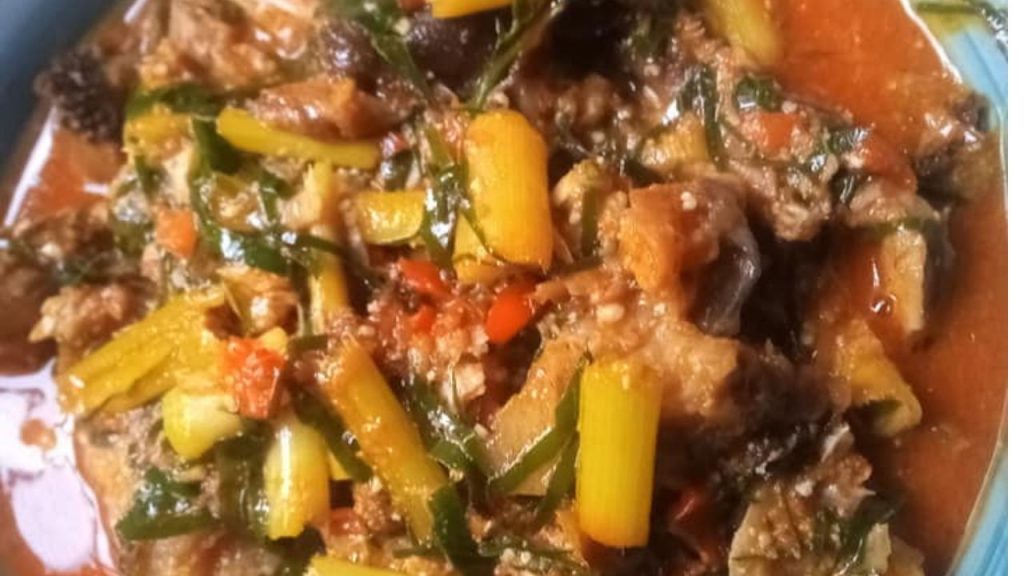 Achara soup is a delicious and healthy Nigerian dish that is easy to prepare. So, if you are looking for a new and exciting dish to add to your menu, be sure to give achara soup a try.
While cooking this soup you must have Achara and Ukazi at home; be it dry or fresh ukazi, but I advise you should get fresh ukazi, yes; it helps in giving the soup that fresh and pleasant taste.
The best name for this Achara soup is "taste and see". Kindly follow this procedure here and get a delicious Achara soup for your family.
Achara Soup Ingredients
Fresh pepper
Goatmeat
kpomo and stockfish
Dried fish and Ground crayfish
Palm oil
Onion
Ukazi and Uziza
Ogiri okpei
Achara
Seasoning cubes and Salt to taste
Step By Step Guide On How To Cook The Best Achara Soup
Kpomo: Wash the kpomo properly at least 4-5 times. Rinse your cooking pot, pour in enough water, put the kpomo then boil on high heat till tender. Add salt and cook for 20-30 mins.
Rinse your cooking pot, add your washed goatmeat, stockfish, kpomo, dry fish, season with seasoning cubes, chopped red onion, ground crayfish, blended frsh pepper, palm oil and salt to taste. Add a little bit of water, cover and cook for at least 30 mins.
Go ahead and add more water, season with extral ground crayfish and any other seasoning to your taste. Cover and cook till done
How To prepare Okazi and Achara Soup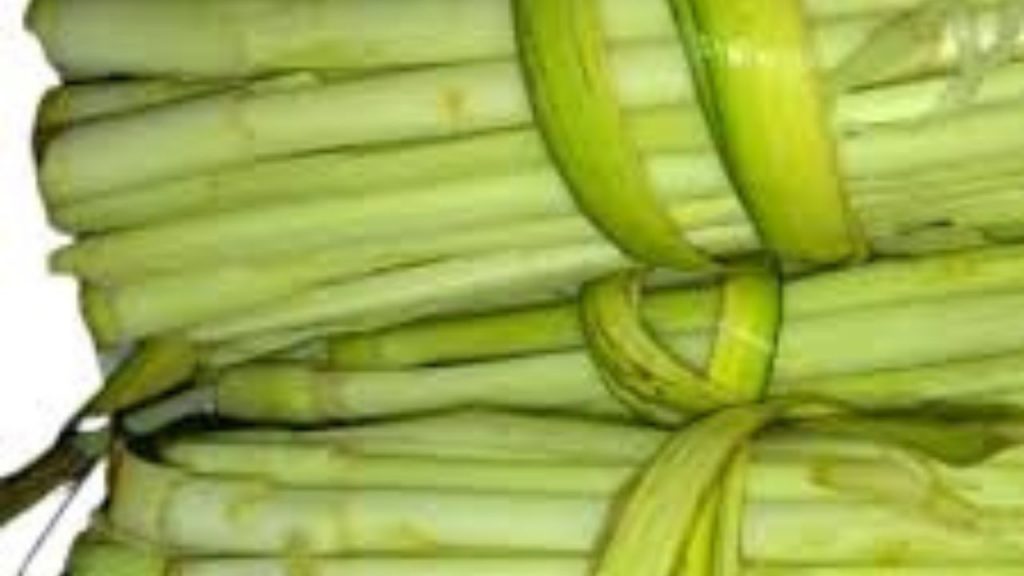 Achara:

Get the Achara ready by removing the hard layers and cut into small pieces. If you don know how to do it, go ahead and buy already made. Wash it properly and set it aside.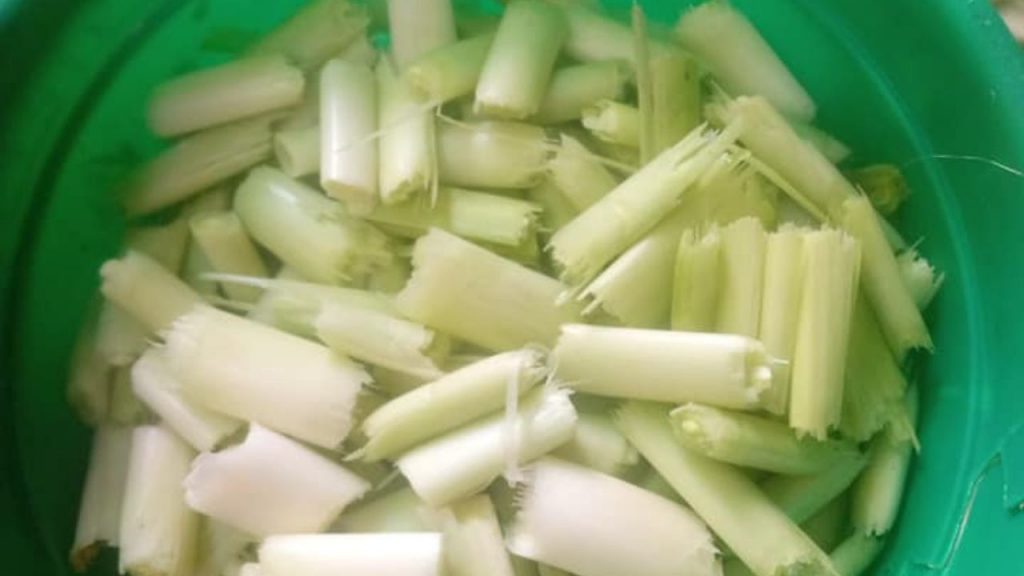 Okazi To prepare okazi, Wash and slice again with a sharp knife, cover and set aside .
How To Make Akpuruakpu Egusi (Egusi Balls)
Grind your egusi and osu the quantity you need either together or separately. (But I love grinding mine separately).
Mix the osu and the egusi together with warm water (just a little). Blend small fresh pepper together with onion. Add them to the osu, put a little bit of salt; mold continue until oil comes out, then mold to your desired size.
How To Prepare Achara Soup (Umuahia Ukazi Soup)
boil water with a seprate pot, add the egusi ball, cover and cook for 15- 20 mins. Pour in the egusi ball into the stock, and cook together.
After some minutes put your achi in an empty bowl, add palm oil, mix together then add in warm water. Thoroughly mix it, pour inside the pot, stir and continue cooking till done.
Stir and finally, put ukazi leave, stir again and allow to cook for 50 seconds put down immediately. Serve your Achara Soup with any swallow of your choice.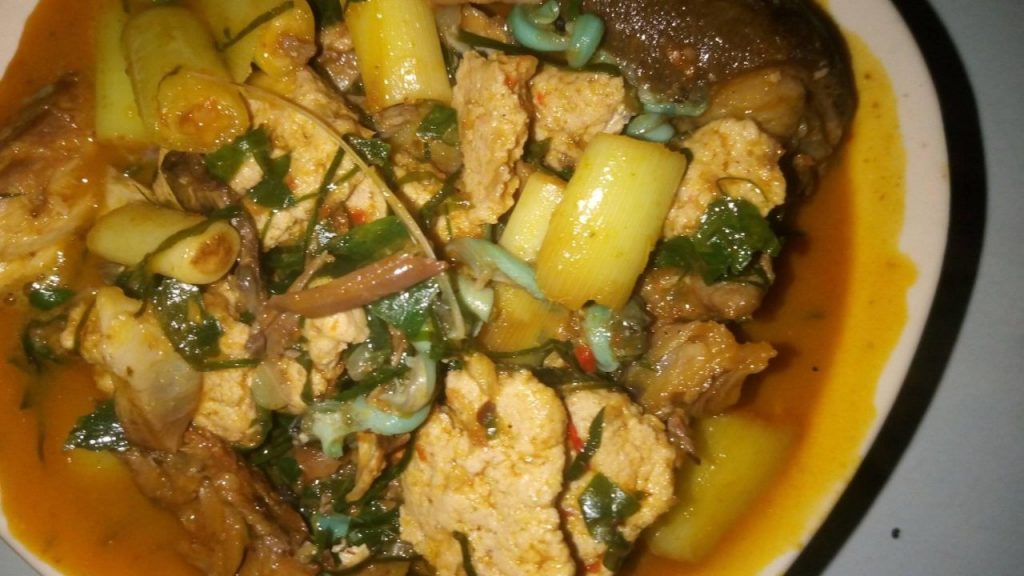 Frequently Asked Questions
What Is Achara Called In English
Achara is an elephant grass used in preparing native soup. Achara is also called bamboo or okpete in igbo language (Pennisetum purpureum).
How do you peel Achara
If you are going to cook with Achara, you will need to peel it first.
Remove the stem and then use a knife to slice off the skin. The skin can be tough, so it may take some time to get all of it off.
Once the skin is removed, you can chop up the vegetable and add it to your recipe.
health benefits of achara
Achara is a traditional Filipino condiment made from pickled fruits and vegetables.
It is believed to have many health benefits, such as improving digestion, preventing cancer, and boosting the immune system.
Achara is also a good source of vitamins and minerals, such as vitamin C, potassium, and magnesium.
How do I make Achara Soup from scratch?
To make Achara Soup, start by boiling and seasoning your preferred choice of meats and fish. Then, add palm oil, ground crayfish, pepper, and other seasonings to create a flavorful base.
Finally, incorporate the achara and simmer until the soup reaches a thick and rich consistency.
Where can I find the ingredients for Achara Soup?
You can find the ingredients for Achara Soup in Nigerian or African grocery stores. Some specialty international markets may also carry the necessary items.
Online stores and marketplaces can be a convenient option for sourcing the ingredients if they are not readily available in your area.
Can I substitute the achara leaves in Achara Soup?
If you cannot find achara leaves, you can substitute them with bitter leaf or uziza leaves, which are commonly used in Nigerian soups. While the flavor may vary slightly, the soup will still be delicious and enjoyable.
What can I serve with Achara Soup?
Achara Soup is traditionally enjoyed with fufu, a staple Nigerian food made from cassava, yam, or plantain. Alternatively, you can serve it with pounded yam, semolina, or any other swallow (thick) food of your choice.
How long does Achara Soup last?
Achara Soup can be stored in the refrigerator for up to 3-4 days. Make sure to keep it in a tightly sealed container to maintain freshness. Reheat the soup thoroughly before consuming.
Note: the cooking process and ingredients may vary slightly based on personal preferences and regional variations. It's always recommended to refer to a trusted recipe or consult with experienced cooks for specific instructions and guidance.
Other rice recipes you might love to try.
Conclusion
In conclusion, achara soup is a delicious, healthy, and easy-to-make dish. By following the simple steps outlined in this article, you can easily create this dish in your own kitchen. So why not give it a try?