There are many ways to cook fried rice, but this is the simplest way that I know how. There is no question that fried rice is a popular dish around the world.
However, the version of this dish that is most popular in Nigeria is a bit different than what many people are used to. For one thing, Nigerian fried rice typically contains chicken, beef, or shrimp.
When it comes to making fried rice, many people automatically think of using white rice. However, brown rice can also be used to make a delicious and healthy dish.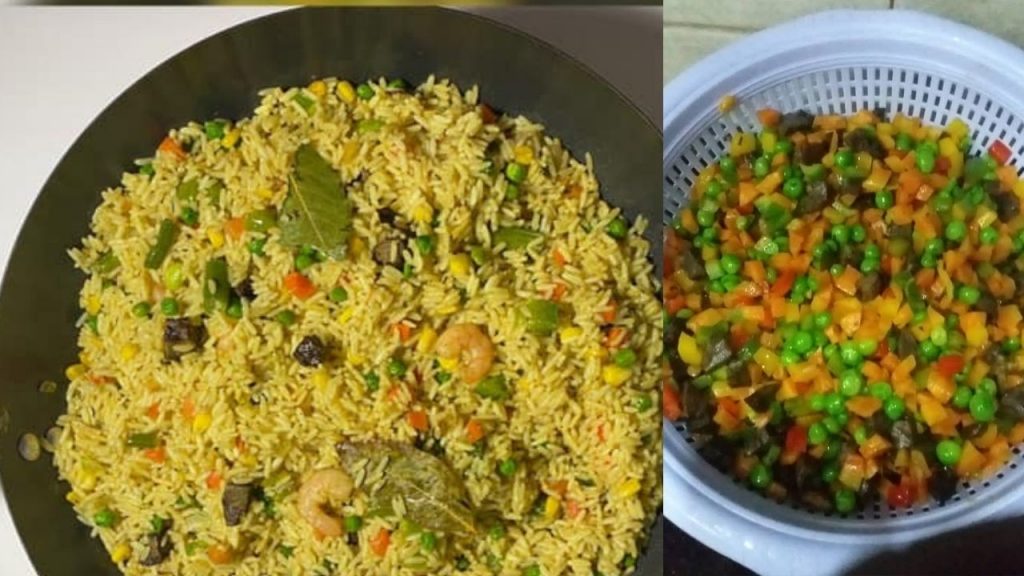 In addition, there are a variety of vegetables that can be added for extra flavor and nutrition. Some of the best vegetables to use in fried rice include carrots, green beans, peas, and sweet onions.
All of these vegetables are not only delicious but also provide plenty of nutrients. For example, carrots are a great source of beta-carotene, which is important for eye health. Green beans are high in fiber and antioxidants, while peas are rich in vitamins A and C.
Adding these vegetables to fried rice makes it more nutritious and helps to increase the number of servings of fruits and vegetables that people eat each day.
When you're planning a party, you want dishes that are both easy to make and will please a crowd. Fried rice is the perfect party dish! It's simple to make and can be tailored to fit any taste. Plus, it's always a hit with guests.
So if you're looking for something to serve up at your next shindig, consider making some fried rice. In this post we got you covered. kindly follow our step-by-step guide and get savory fried rice for your audience.
Fried rice is a Nigerian recipe, that is made with stir-fried vegetables. Fried rice is made without tomatoes. This beautiful and colorful rice recipe is best known for its beautiful green/yellow color. Fried rice is perfect for events/parties. Fried rice is an alternative to jollof rice. Fried rice is one of the most expensive rice recipes in Nigeria.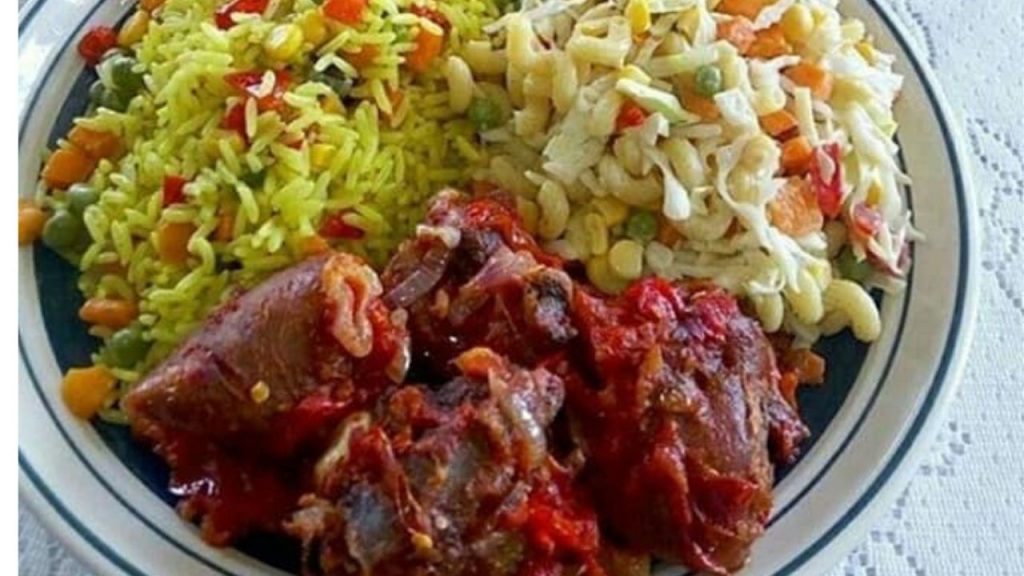 Fried rice ingredients
Rice ( 4 cups or choice of cups )
Chicken, meat, or fish ( of choice )
Chicken or meat stock
Vegetable oil ( of choice )
Nigerian Curry powder ( if desired )
Ginger ( ground half-finger )
Garlic ( 3 crushed cloves )
Onion of choice ( 1 chopped big sized )
Boiled liver, kidney, or sausages ( diced )
Thyme ( 1 tbsp )
Stock cubes ( of choice )
Chicken flavor ( of choice )
Frozen prawns or shrimps
Green color or turmeric ( for coloring)
Fresh peppers ( to taste )
Butter or margarine ( 150g )
Salt to taste
Vegetables Of Choice
You can cut down on the veggies.
Carrots ( 3 medium-sized)
Cabbage ( a handful of sliced )
Sweet corn ( 200g )
Green beans ( 2 handfuls chopped )
Green peas ( 200g )
White onion ( 1 medium bulb )
Spring onion ( 1 large bulb )
Bell peppers ( 2 large sized )
Optional Ingredients
Bay leaves
White pepper
Black peppers
White onion
Coconut milk
Bell pepper
Cabbage
Fried rice with mixed spices
Alternative Ingredients For Fried Rice
Chicken, meat, or fish ( of choice )
Long or short grains of rice
Red onion, white onion, or spring onion
Thyme or rosemary
Liver, kidney, or sausages meat
Frozen prawns or shrimps
Curry powder, turmeric, or green color
Seasoning flavors ( of your choice )
Fresh or powdered garlic and ginger
Butter or margarine
Vegetable oil or butter
Veggies ( of your choice )
Fresh peppers ( of your choice )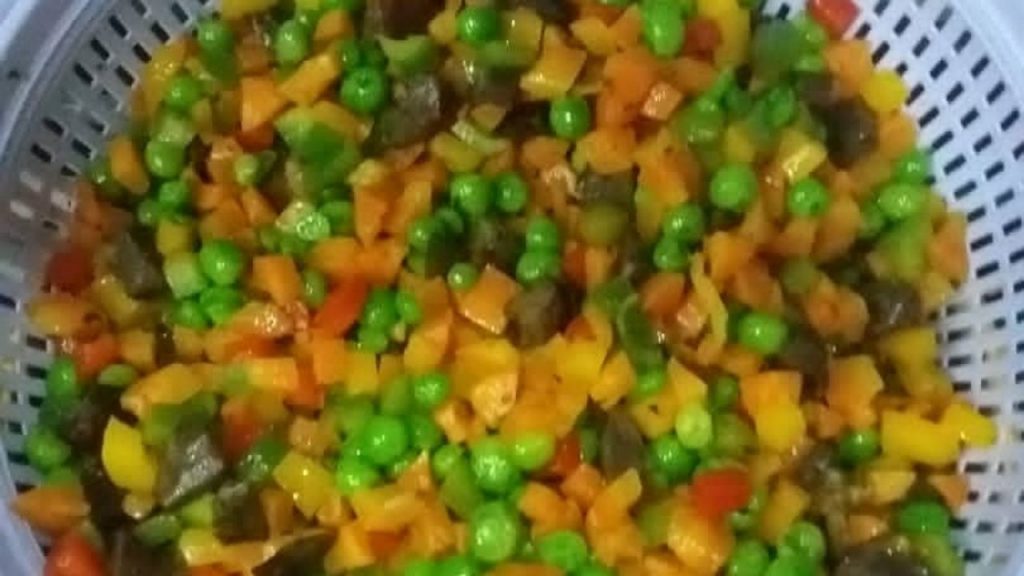 Preparation Before Cooking
•Wash thoroughly and cut all of your vegetables into small cubes. You can soak the green beans, peas, and carrots in hot water for 5 minutes, then drain out the water and set them aside.
•Wash your meat of choice thoroughly, before steaming them. Steam your meat with the necessary ingredients.
Procedure For Cooking Fried Rice
STEAMING AND FRYING YOUR Chicken
Steaming and frying the meat ( chicken, goat, beef ) of your choice, into bite-sized pieces. We are using chicken for this recipe. In a separate pot, season your chicken with some sliced onions, thyme, curry powder, ground peppers, crushed garlic, and ginger. Do not add any water.
Let the chicken cook in its juices until almost dry; then pour in some water and adjust the seasoning with salt, cover and let it cook until soft.
Remove the chicken from the stock and set aside it to drain in order to remove any excess liquid or particles. In a deep frying pan or pot, heat up some vegetable oil, put in a few pieces of onion, and fry until brown, but not burnt ( the onion helps to season the oil ); then remove the onion and discard.
Fry the chicken until golden and crisp, but not burnt. Drain the fried chicken pieces unto a paper towel. Make sure you fry the chicken in batches until done. Alternatively, steaming and grilling the chicken is a healthier option.
If you are grilling the chicken, place the chicken on a rack and grill in the oven at 330 degrees Fahrenheit for 10 to 18 minutes and set aside.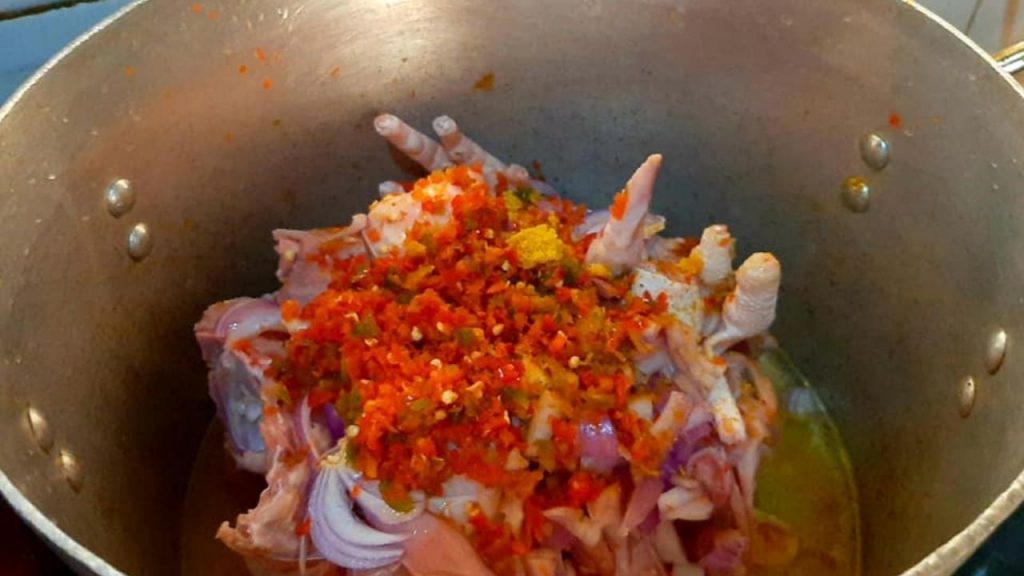 Parboil The White Rice
Wash the rice with cold water at least 3 times. Boil water a pot and soak the rice with the boiled water for 7 mins. After the 7mins, wash the rice with cold water again and set it aside.
Should I boil my rice before frying it?
There are pros and cons to boiling rice before frying it. Boiling the rice ahead of time removes some of the starch, making it easier to fry without sticking.
However, boiling water can also lead to unevenly cooked grains, which can make your rice tough. Another pro to frying rice is that you get more crispy edges from the oil. However, if you boil the rice beforehand, you can cook it evenly and achieve a slightly softer texture.
How To Cook Spicy Fried Rice
Pour the stock into a pot, and add in the ground peppers, crushed garlic, ground ginger, thyme, stock cubes, and salt to taste.
The amount of meat stock/ water you need will depend on the size of your pot. Add the Nigerian Curry powder and cook on medium heat.
Curry is a yellowish spice that actually adds the yellowish. Add and stir, till you are satisfied with the color. Bring the curried meat stock mixture to a boil.
Pour the parboiled rice into the curry meat stock mixture and stir the content vigorously, cover it up, and leave to cook on medium heat until it is done.
Cook until it is 80 percent done. You should observe the rice closely. It doesn't need to be too soft or too hard but it should be almost done.
Regularly check on your rice. As soon as you see that the water is all gone, take the pot with rice off the stove. Transfer its contents to a large dish, so that the rice can cool off properly.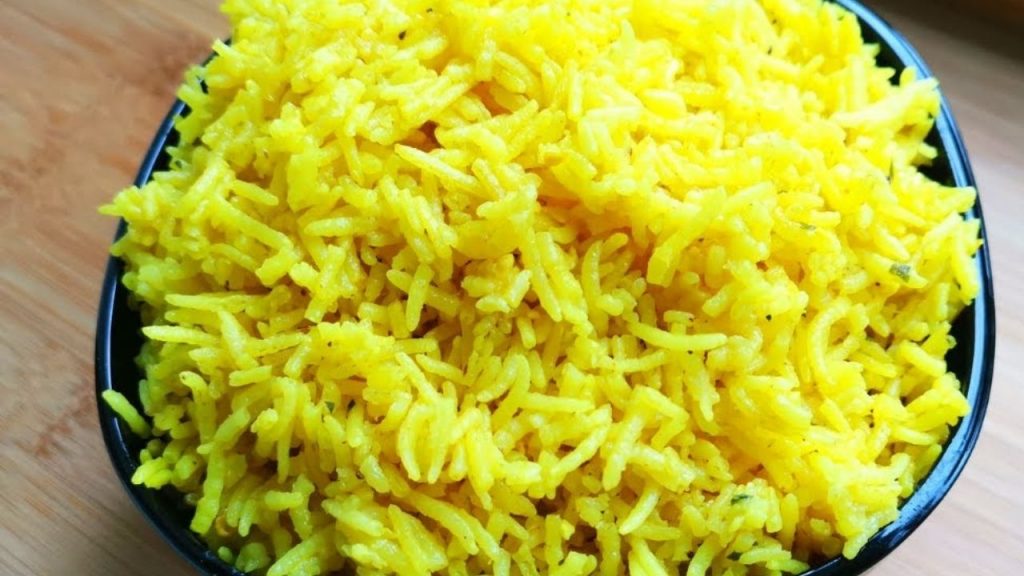 Note: You can add some warm water if the meat stock won't be enough to cook the rice. The water should be at the same level as the rice.
This is to ensure that all the water dries up by the time the rice is cooked and that the rice is not overcooked. After the rice has been done, transfer the cooked curry rice to another pot (to avoid it sticking together). If you think the rice is not cooked enough, don't worry, don't add any water, all you need is the steam.
The Frying Of The Vegetables
Set the pot on heat and allow to heat, then add the vegetable oil or the melted butter. You can use the same oil used in frying the meat or chicken.
Add the sliced red onion, white onion, or spring onion and stir fry until the onion is translucent or stir-fry for 2 to 3 minutes on medium heat.
Put the fresh chopped chili peppers and fry for 1 minute. Add the chopped carrots and green beans for 3 minutes. Any of these 2 veggies can go first.
Add the shredded cabbage, only if you are using it, and stir fry for 1 to 2 minutes. Add sweet corn and green peas for 2 minutes. Add the frozen shrimps or prawns, if only you are using them. Add in the curry powder. The main ingredient for this recipe.
Put the chopped liver, green peppers, thyme, salt, and stock cubes. When you are adding stock cubes, keep it in mind not to add too much.
Frying The Curried Rice And The Fried Mixed Vegetables
You will not be frying the rice all at once, so divide your vegetables, rice, and liver into several equal batches, depending on the size of your frying pan/pot.
Pour the first batch of rice and vegetables into the frying pan, combine thoroughly and fry for about 3 to 5 minutes. Continue stirring the rice and the veggies until it is properly fried, soft, and dried up a little bit.
Add more curry powder, salt to taste, and other spices, if necessary. Transfer the first batch of the fried rice to a plate or dry pot. Repeat the previous steps for the rest of the batches until all the rice and veggies are fried.
You may experience a bit of burning, but fear not, it is part of the process. When it is fried to your satisfaction, transfer the content into a bowl.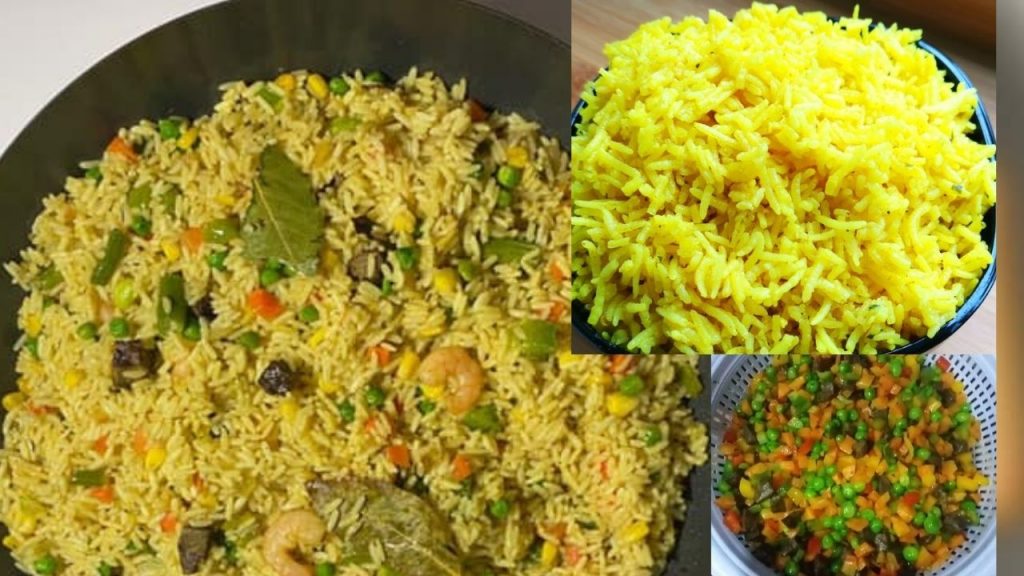 How To Preserve Fried Rice
Nigerian fried rice can go bad very quickly. You can avoid this by spreading it to cool, then refrigerating immediately otherwise, eat it once you finish preparing it.
If you want to serve it at a party, please cook it very close to the serving time, if not, it will go bad. If refrigerated, it can last for 48 hours without losing its taste. So whenever you need it, just defrost and warm it up in a microwave.
How To Serve Fried Rice
Your Nigerian fried rice can be eaten alone or served alongside a vegetable salad, moi moi, Jollof rice, or fried plantain.
Fried rice is completely served with your fried/grilled meat and vegetable salad. This fried rice recipe is mostly prepared for occasions/events and festive seasons.
Tips For Cooking Fried Rice
Preparing the vegetables takes time, not the cooking of the fried rice. When frying your veggies, it is better to continue with the same oil you used while frying the meat or chicken, but that is only if you fried your meat or chicken.
Perfect fried rice is one in that the grains are separated from one another, resistant to the bite but not hard. Nigerian Fried rice can go bad very quickly.
You can avoid this by spreading it to cool, then refrigerating immediately otherwise, eat it once you finish preparing it. If you want to serve it at a party, please cook it very close to the serving time, if not, it will go bad.
If refrigerated, it can last for 48 hours without losing its taste. When frying your veggies, it is better to add more oil later, if necessary, than to end up with greasy rice.
The curry used in this recipe is only there for color, not for spice. You can easily replace it with turmeric or green color. The added beef liver gives the fried rice very nice rice, but subtle taste.
Don't over boil your rice before frying it, otherwise, you will end up with soggy Fried rice. Fried rice is best enjoyed when the veggies remain crunchy, so don't overcook your veggies.
You can use the method of blanching, to prepare your vegetables. Although fresh veggies are the best for Nigerian Fried rice, frozen veggies can also be used after ( thawing ).
Place the carrots, green beans, or green peas in boiling water for 5 minutes, strain out and place in a bowl of cold water, leave to cool in the water, then pour into a sieve and set aside for frying.
This method helps to parboil the veggies without cooking them through, thereby cutting down the stir-frying process. It also helps to preserve the vibrant color of the vegetables.
The cooked curry rice should not be soggy or too tender and the grains should not stick together either.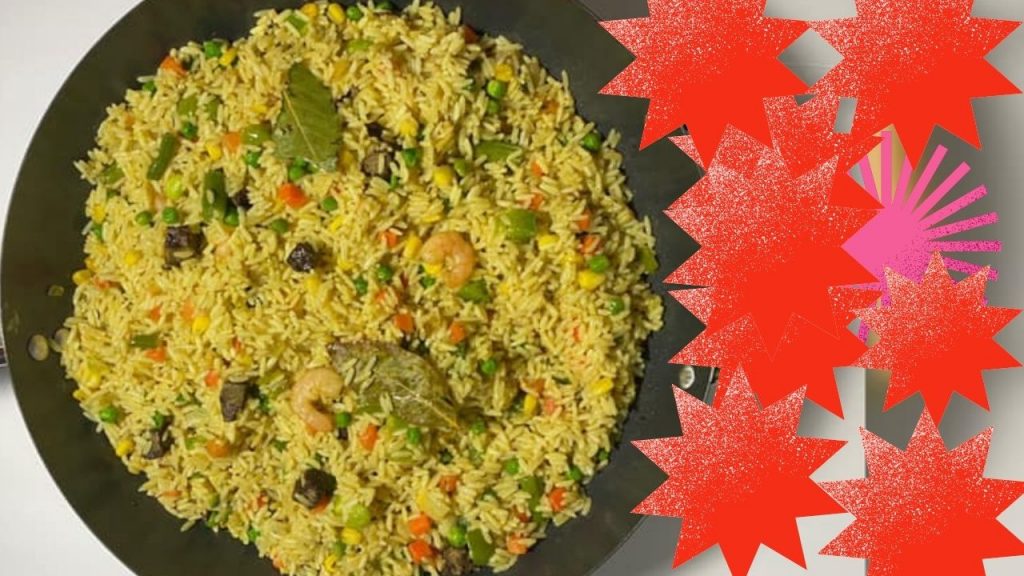 Fresh Rice or Leftover Rice for fried rice
The debate over using fresh rice or leftover rice for fried rice is a heated one. Some swear by the results of frying up fresh rice, while others find that leftover rice yields the best flavor and texture. So, which is the right way to go?
There are a few things to consider when making this decision. First, think about how you like your fried rice. If you prefer it to be fluffy and light, then fresh rice is the way to go. However, if you like your fried rice with a bit more texture and chewiness, then leftover rice is the better option.
Another thing to consider is how much time you have on your hands. If you're short on time, leftover rice is definitely the way to go – it'll take less time to cook than fresh rice.
key to achieving a good result when making fried rice
There are a few key things to remember when making this fried rice, and following these tips can help you achieve a great end result. Firstly, make sure to use cold cooked rice – this will help it stay crispy.
Secondly, don't overload the pan with ingredients, or it will be difficult to cook evenly. And finally, make sure to stir the rice regularly as it cooks, so that it doesn't stick to the bottom of the pan.
Check out our food recipes
We as well have this
Conclusion
In conclusion,cooking party fried rice is an easy, tasty way to serve up a crowd-pleasing meal. With the right ingredients and a few simple steps, you'll be able to make your own delicious fried rice in no time.
Just remember to keep it simple and don't overcomplicate the dish with too many ingredients or seasonings. Also, consider prepping ahead of time if you're planning on making this dish for a larger gathering.