McGriddles: The Protein Powerhouse That Trumps McDonald's
When it comes to breakfast on the go, McDonald's has long been a popular choice.
But what if there was a breakfast sandwich that not only surpassed the taste of the iconic McMuffin but also provided an impressive 40 grams of protein?
Say hello to McGriddles, the game-changing morning delight that combines savory and sweet flavors like never before.
With its maple-infused griddle cakes, savory sausage patty, melty cheese, and fluffy egg, McGriddles takes breakfast to a whole new level.
And the best part? It packs a protein punch that will keep you fueled and satisfied throughout the day. Get ready to upgrade your morning routine as we explore why McGriddles is the ultimate breakfast choice for protein enthusiasts.
Starting your day with this recipe not only provides a delicious taste but also keeps you full for hours with its 40 grams of protein. Don't worry about sacrificing taste for health benefits as this recipe is both healthy and tasty.
You can even serve it to others without them realizing it's packed with protein.
This copycat McDonald's McGriddle is even better than the original, and making it at home provides a sense of satisfaction.
Our version not only tastes better but is also more nutritionally appealing compared to the McDonald's McGriddle.
Enough talking, let's get started on assembling a delicious McGriddle sandwich.
what is a mcgriddle
A McGriddle is a breakfast sandwich offered by McDonald's. It consists of a unique combination of sweet maple-flavored griddle cakes infused with savory flavors, such as a sausage patty, cheese, and egg. It offers a delightful blend of tastes in a convenient handheld package.
How to make mcgriddle
For our McGriddle recipe, we have the option to use either bacon or sausage. Personally, I love a sausage McGriddle, so that's the route I recommend. However, nobody is going to complain about being served bacon, and you can even double up by adding bacon and sausage to your McGriddle.
How to make crispy bacon
When it comes to bacon, I prefer center-cut bacon as it is leaner than regular full-fat bacon but still achieves a satisfying crispiness when cooked.
Although turkey bacon is an option, it doesn't crisp up as well as other types, so I highly recommend sticking with center-cut bacon.
My go-to method for achieving crispy bacon is using the air fryer. Simply lay the bacon strips in the air fryer and cook at 400 degrees F for 7 minutes without flipping.
This technique has never failed me! If you prefer pan-frying your bacon, cook the strips over medium-high heat for a few minutes on each side until they reach your desired level of doneness.
Cooking time may vary depending on your preference, but should not exceed 10 minutes in total.
How to make sausage mcgriddle breakfast patties
Creating your own sausage patties is an easy process if you're interested in making sausage McGriddles. I prefer using Jennie-O turkey sausage, which has a taste similar to pork breakfast sausage.
If you're not worried about calories, pork sausage will provide an authentic McGriddle flavor. The sausage comes in a log, so you'll need to shape your own patties, but it's a straightforward task.
Divide the sausage into six pieces and mold them into patties. Cook the patties in a pan over medium-high heat for approximately five minutes per side until they're fully cooked and crispy on the edges.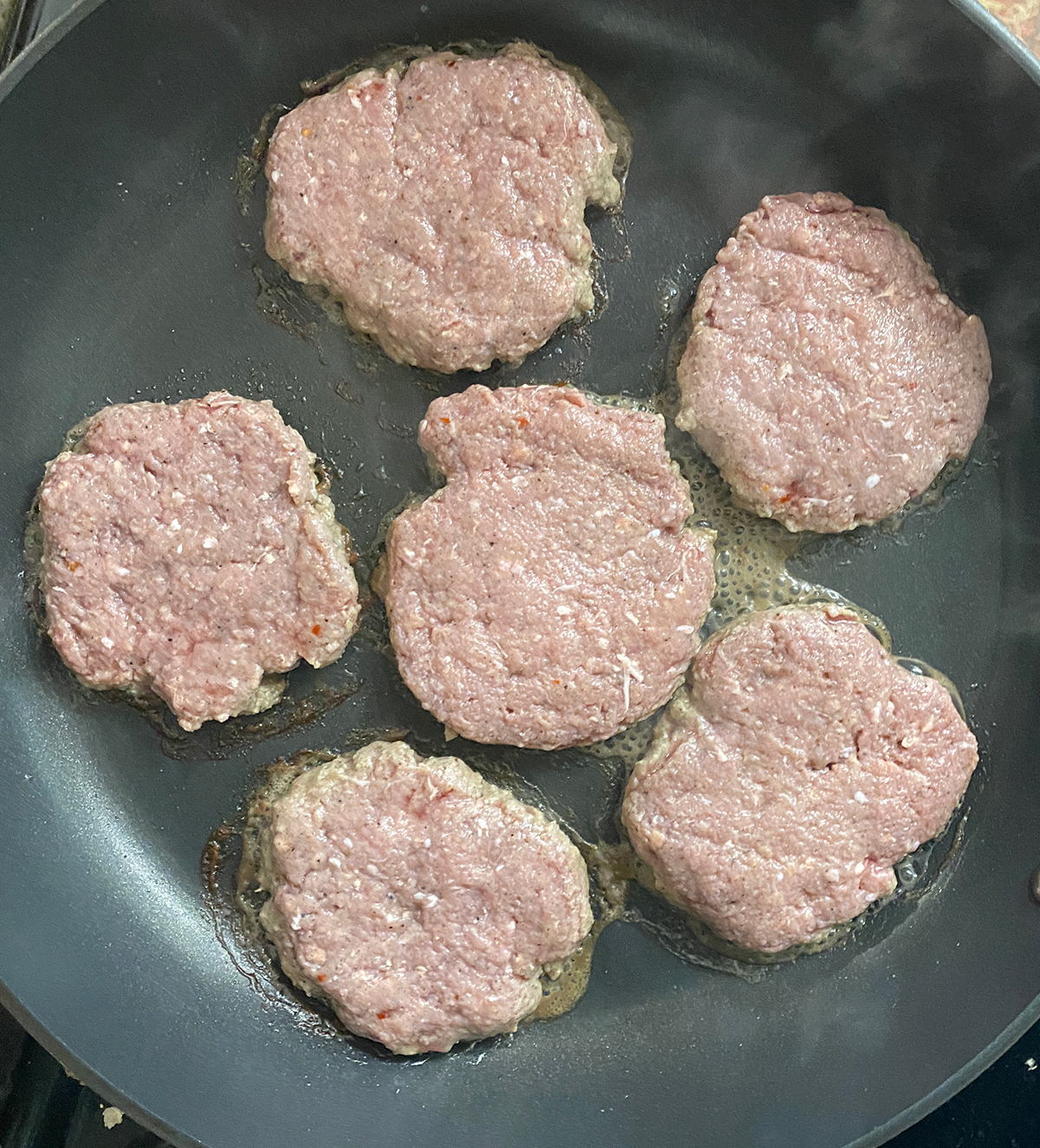 I like to make all of the sausage patties at once to then save the leftovers, but we'll only need 2 patties to make this McGriddle recipe.
You can certainly make just what is needed to assemble these sandwiches, but storing leftovers to make additional breakfast sandwiches throughout the week is never a bad idea.
Related Article: Mcdonald's Menu South Africa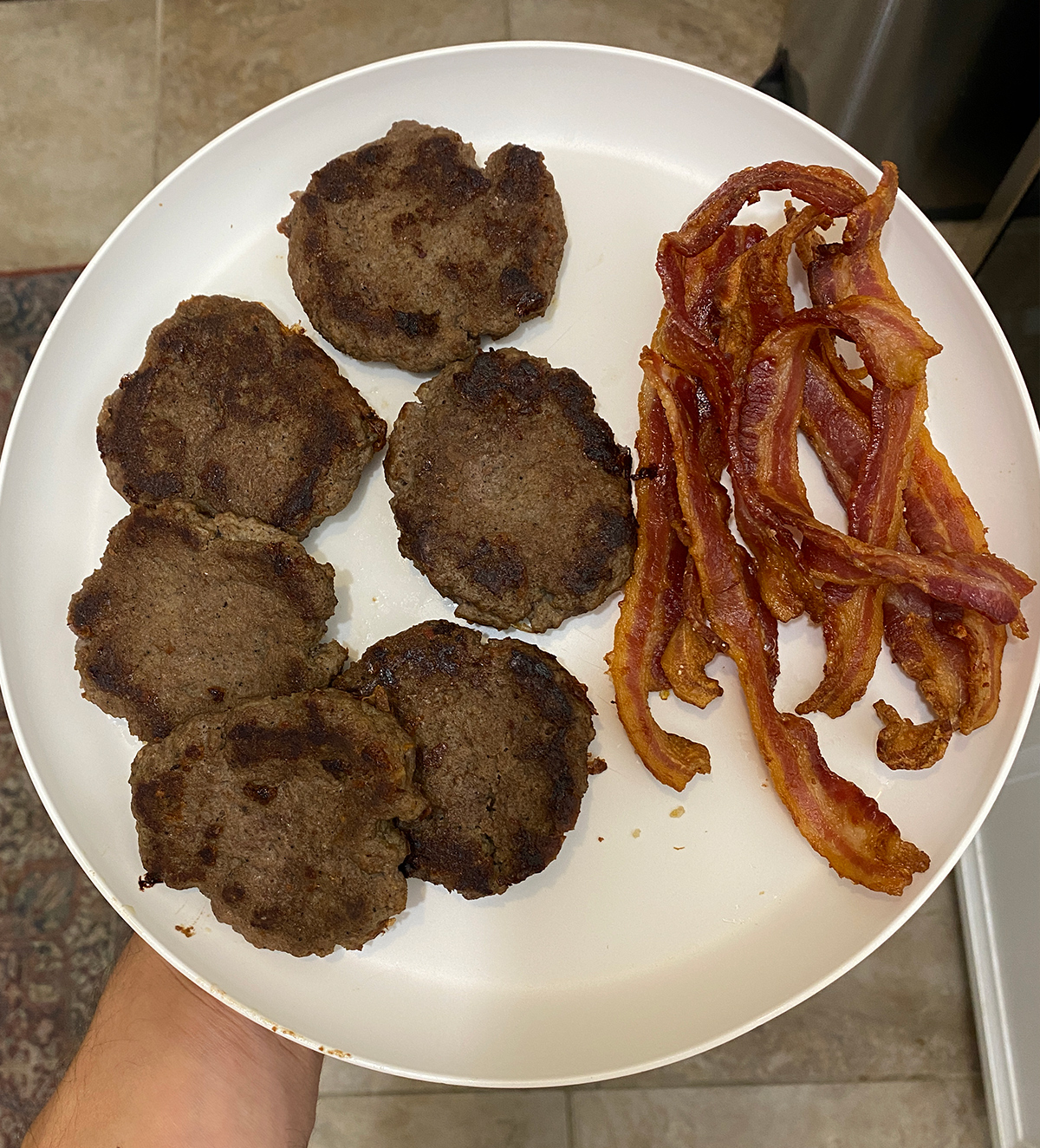 I like to prep the meat first because it's the most time consuming part of this recipe, then I move right onto making the fluffy pancakes.
How to make fluffy high-protein pancakes
While you don't need to choose a high-protein pancake mix, PEScience's protein pancake mix is likely to be the most delicious one you've ever tried. I may be biased since I created it, but I genuinely believe it's worth a taste.
Alternatively, you can use Kodiak Cakes for a similar high-protein outcome, which is a popular choice.
Regardless of the mix you select, the process remains the same. Combine the pancake mix with an egg, milk, and syrup until you achieve a thick batter.
To create pancakes that are ideal for McGriddles, I highly suggest using a DASH pancake maker. This inexpensive device (I purchased mine for $12 on Amazon) makes all the difference.
Since the top and bottom of the pancake heat at the same time, the protein pancakes cook quickly and fluff up quite a bit. When they're done, they come out looking just like McDonald's hotcakes that they use for their McGriddles.
It is possible to make pancakes in a pan if that is your preference. Any pancake recipe will be suitable for making these sandwiches, just like any pancake mix.
To prepare, heat a skillet over medium heat and add a few tablespoons of pancake batter. Cook the pancakes for a few minutes before flipping, and you will know they are ready when bubbles start to form and you can cleanly slide a spatula underneath them.
If you want perfectly round pancakes, you can use an egg mold or a mason jar lid to cook them, but remember to use cooking spray to prevent the batter from sticking.
These pancakes aren't overly sweet, either, but they have enough sweetness to perfectly complement the rest of the sandwich.
There's just something about a sweet breakfast, like this Pancake | Diet that just takes breakfast to the next level when it's served up with something savory.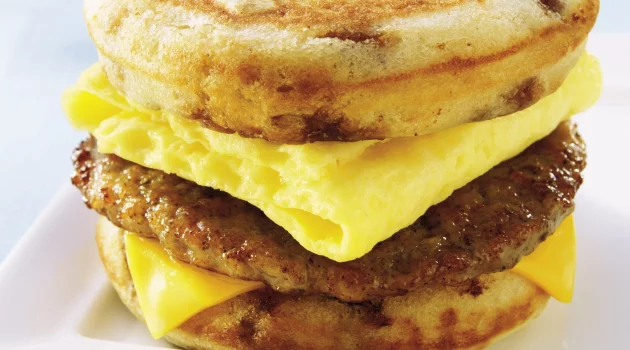 How to make folded eggs
Last but not least, we need to make the folded eggs for our McGriddles.
Don't be intimidated, it's much easier than you might think.
As you can see from the above photos, I am far from an egg-flipping expert. But even if you don't fold your eggs perfectly, it will still come out deliciously fluffy.
Whisk up eggs in a bowl with some milk to create a fluffy egg mixture.
Pour into a pan over low heat and let cook.
Let the eggs cook for a few minutes until they look mostly cooked through.
Sprinkle with a little salt & pepper, then fold in one of the sides with a spatula.
Fold the opposite side.
Fold in the remaining 2 sides, and you should have perfectly fluffy folded eggs.
Flipping the entire egg mixture before folding is an option, but it can be risky as it often leads to broken eggs. However, once the eggs are folded, the inside will continue to cook, ensuring that there are no undercooked portions.
In case of any mishap, scrambled eggs can be a good alternative. Although folding the eggs is ideal for a McGriddle copycat, it doesn't affect the taste significantly and is not mandatory.
Putting it all together
Assemble your homemade McGriddles by adding a slice of fat-free American cheese (or any sliced cheese) to one of your pancakes, followed by your sausage patty, folded egg, and another fluffy pancake on top.
For an extra kick of flavor, serve with additional maple syrup, although these copycat McGriddles are already packed with tons of flavor.
To keep the calories low, use sugar-free syrup. However, for a true McDonald's experience, pure maple syrup would be incredible. You have all the necessary pieces to make this delicious breakfast sandwich.
How many calories in mcgriddle
The calorie content of a McGriddle can vary depending on the specific ingredients and customization.
On average, a McDonald's McGriddle breakfast sandwich ranges from around 400 to 550 calories, with the sausage McGriddle typically containing slightly more calories than other variations.
It's always best to refer to the nutritional information provided by McDonald's for precise calorie details.
Frequently Asked Questions
How does the protein content of McGriddles compare to McDonald's breakfast options?
McGriddles are known for their high protein content, with a generous 40 grams per serving.
In comparison, McDonald's breakfast items typically offer lower protein levels, varying depending on the specific menu item.
Are there vegetarian or plant-based protein options available in McGriddles or McDonald's?
While McDonald's offers vegetarian breakfast options like the Egg McMuffin with vegetarian sausage, McGriddles traditionally feature a meat-based protein source such as sausage or bacon.
However, specific vegetarian or plant-based protein options may vary depending on location and menu choices.
Are there any low-carb or keto-friendly options available in McGriddles or McDonald's breakfast menu?
Both McGriddles and McDonald's offer low-carb or keto-friendly options, such as ordering the sandwich without the bun or opting for lettuce wraps instead.
However, it's important to note that the overall protein content and specific nutritional information may vary based on customization.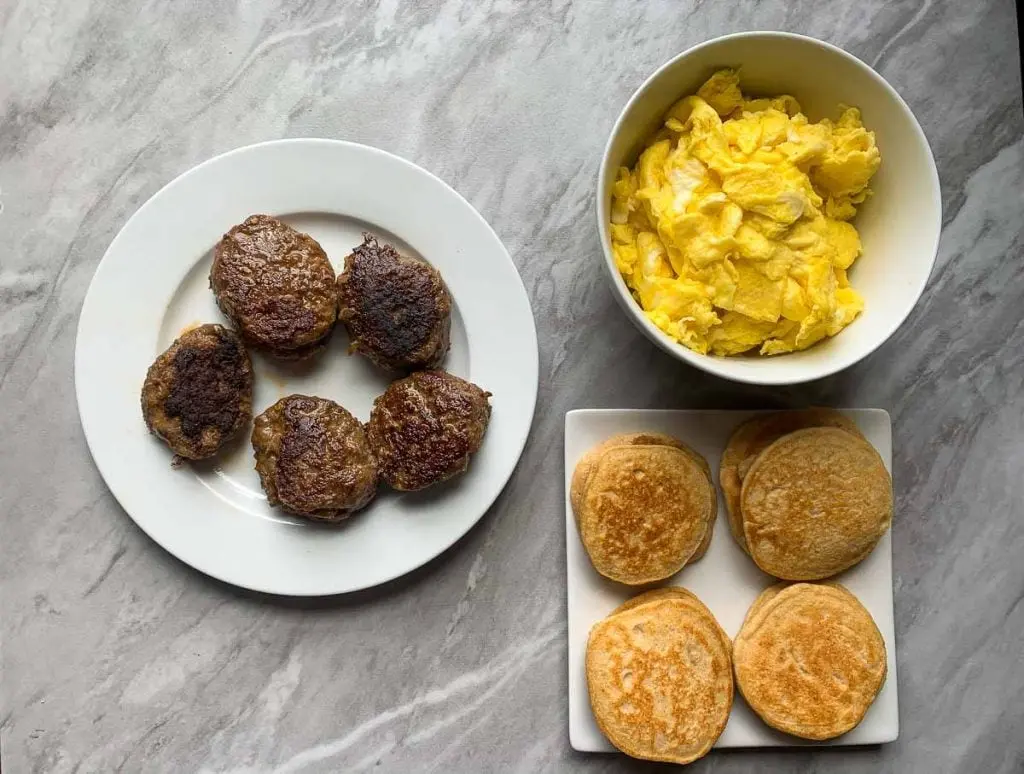 Do McGriddles and McDonald's offer any gluten-free options?
McDonald's provides gluten-free breakfast choices, including the Egg McMuffin without the English muffin.
Unfortunately, McGriddles do not currently offer gluten-free alternatives due to their signature griddle cake composition.
How does the taste of McGriddles compare to McDonald's breakfast items?
McGriddles stand out for their unique combination of sweet and savory flavors.
The maple-infused griddle cakes add a distinct taste that differentiates them from the traditional breakfast offerings at McDonald's.
Taste preferences may vary, and it ultimately depends on personal preference.
Read More
34 Best Sandwich Recipes Ever In 2023
The Ultimate Guide to Subway's Highest Protein Sandwich Options
The Perfect Side Dishes you'll Try on Sandwiches in 2023.
Can I customize my McGriddles or McDonald's breakfast sandwich to suit my protein preferences?
Both McGriddles and McDonald's allow customization to a certain extent.
You may have the option to add or remove protein ingredients, choose different meats, or customize condiments.
However, specific customization options may vary by location.
Which breakfast option offers a better overall protein-focused experience: McGriddles or McDonald's?
McGriddles, with their substantial protein content of 40 grams per serving, tend to be a standout choice for those seeking a protein-focused breakfast.
However, it's important to consider individual dietary preferences, taste preferences, and specific nutritional goals when determining which option is best for you.
Remember to consult the nutritional information provided by the respective restaurants and consider any dietary restrictions or preferences before making your breakfast choice.
Chicken Recipes
Perfect Air Fryer Orange Chicken Everytime
Crispy Fried Chicken Drumsticks can be delicious.
How to make easy chicken pepper soup in a hurry
How Long To Bake Chicken Wings At 375 • 2023 Edition
Healthy, Easy, Tender And Juicy Air Fryer Naked Chicken.
Crispy & Tender Air Fryer Chicken Fried Steak
How To Make Chicken Shawarma At Home
How to Make an Asian Chicken Marinade in Under Ten Minutes
What to serve with butter chicken; 20 tasty side dishes 2023
Perfect Air Fryer Orange Chicken Everytime
Best Chicken Tortilla Soup Recipe With Rotisserie Chicken
Is Eating Canned Chicken Safe? Find Out How It Alters Your Body
Chicken Protein Breakdown: Calories and Macros of Every Cut in Detail
Just bare chicken nuggets costco
Conclusion
In conclusion, when it comes to the protein showdown between McGriddles and McDonald's breakfast sandwiches, it appears that both options have their strengths and weaknesses.
While the McGriddle offers a higher protein content, its sugar and calorie count is substantially higher than other options on the menu.
On the other hand, McDonald's breakfast sandwiches offer more balanced macros and lower calories, but lower protein levels.
Ultimately, the choice between these two options will depend on personal dietary goals and preferences.
However, it's important to remember that there are plenty of other high-protein breakfast options available at fast-food chains.
Don't be afraid to explore different menu items and make informed choices based on your individual needs.