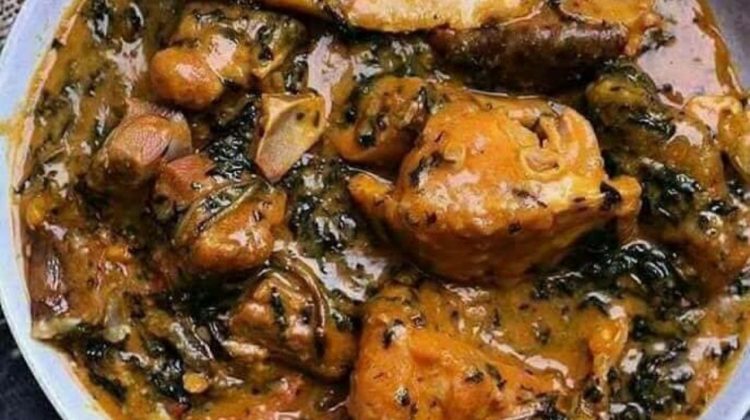 Nigerian Bitterleaf Soup is a traditional delicacy that has been around for generations. This soup recipe is one of the most popular dishes in Nigeria and its neighbouring countries.
It is known for its unique bitter flavour, created by adding blended cocoyam, bitter leaf leaves and with other ingredients.
This recipe provides a step-by-step guide to creating this delicious dish at home. With the right mix of spices, you can experience authentic Nigerian Bitter leaf Soup made from scratch in your own kitchen.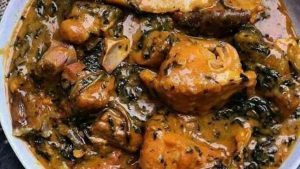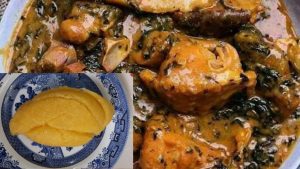 Bitter leaf soup is a regional symbol of Igbo cuisine for the Anambra people of Eastern Nigeria. It is a representation of who they are.
Ofe Owerri is a traditional dish enjoyed by the people of Owerri, Imo State. It has become an integral part of their culture and is considered a delicacy.
But what of the Anambra people? What dish or cuisine defines them? This article will explore a particular dish or cuisine that is to the Anambra person what Ofe Owerri is to the Owerri person.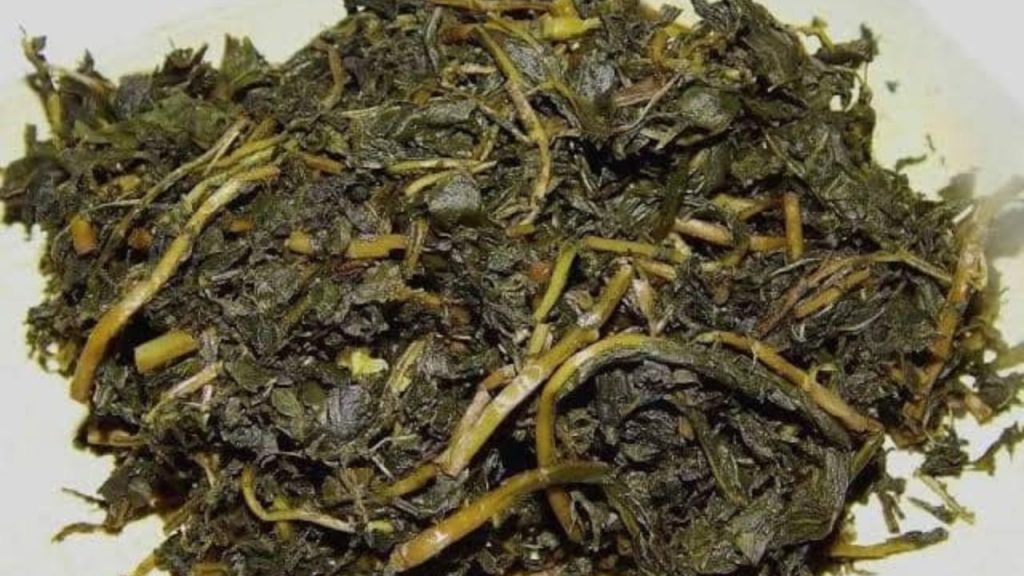 Bitter leaf Soup is a hearty meal that packs a punch of flavor in every bite. If you haven't had the pleasure of experiencing its unique taste, it is time to give it a try.
With our step-by-step guide, you can easily make this delicious soup in your own kitchen. The ingredients are simple yet the end result is an incredibly tasty dish that will leave your taste buds begging for more!
Bitter Leaf Soup Ingredients
For your perfect bitter leaf Soup recipe, You need the above listed ingredients;
Bitter leaf
10 small corms cocoyam
3 cooking spoons Red Palm Oil
Assorted Beef: Includes best cut,
Assorted fish
Dry fish and stock fish.
Onion (optional)
Pepper, salt, and ground crayfish (to taste)
3 stock cubes
1 teaspoon Ogiri Igbo (traditional seasoning)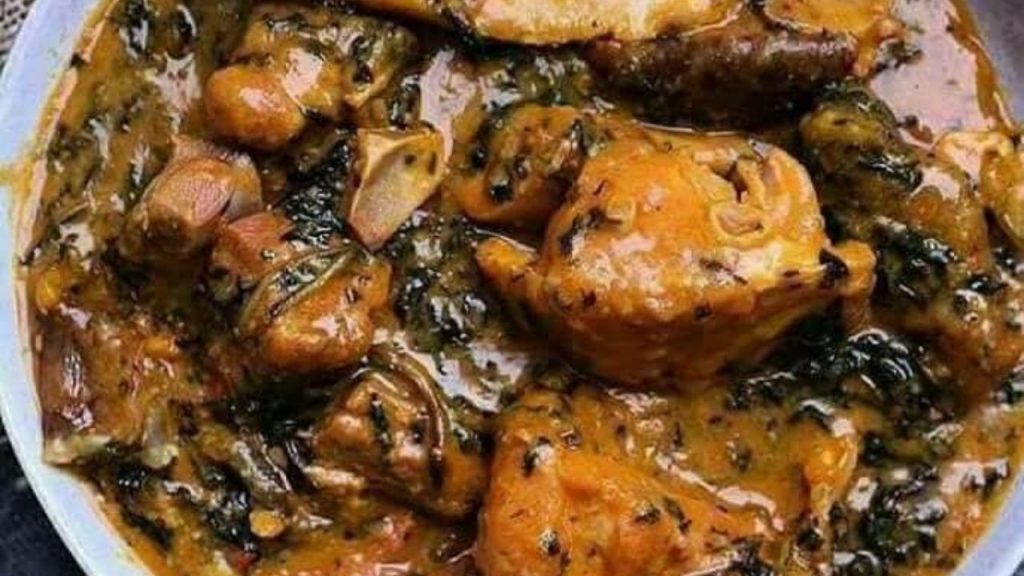 How To Cook Bitter Leaf Soup
Here are the step by step guide on how to cook bitter leaf Soup or how to cook onugbu soup (Ofe onugbu) at home in less time.
It is very important to wash bitter leaves properly so they are absolutely free from bitterness. If not, wash and squeeze them more. If the bitterness cannot be washed away (which is usually the case with the bitter leaves sold in stores), boil it for about 15 minutes and wash it in cold water.
How to cook bitter leaf Soup with cocoyam
Wash and cook the cocoyam till soft. Remove the peels and use a mortar and pestle to pound the corms (if you have boiled ede, wash and pound) to a smooth paste. Add a little bit of oil and stir very well.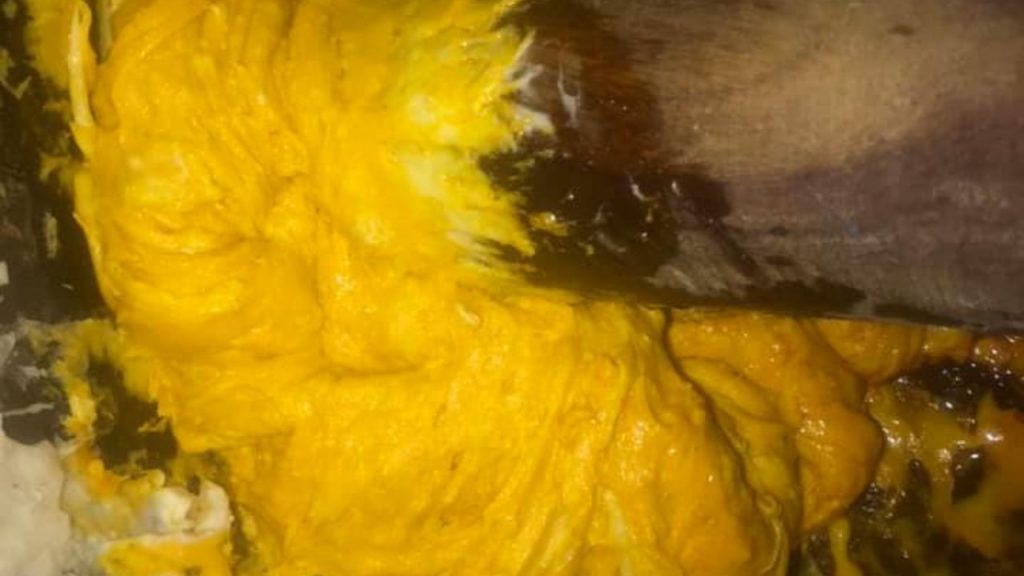 Wash the shaki very well with warm water and salt. Put the shaki in your cooking pot.
Wash the beef and add it to the pot of the shaki. Add your washed stockfish, dry fish, assorted, and any other meat you are using to cook this meal.
Season with pepper, seasoning cubes, salt and ground crayfish. Stir, cover it and allow it to heat up.
After some minutes, put your chopped onion, cover and cook for 4 mins. Now add water, stir, check if the soup is asking for more season then, adjust if necessary.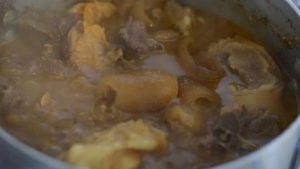 Add the ground crayfish, pepper, bitter leaves (if they just have not been parboiled), and the cocoyam paste (in small lumps) and cook for 10 minutes.
Then add the palm oil.

Note: If the bitter leaves were parboiled in order to remove the bitterness, then for step 3 add the ground crayfish, pepper, the cocoyam paste (in small lumps), and the bitter leaves.
Now, make all the components of this dish at this stage. Cover the pot and leave to cook on high till all the cocoyam lumps have dissolved.
You can add more water, if necessary, to get the soup to the right consistency. Add salt to taste and the soup is ready.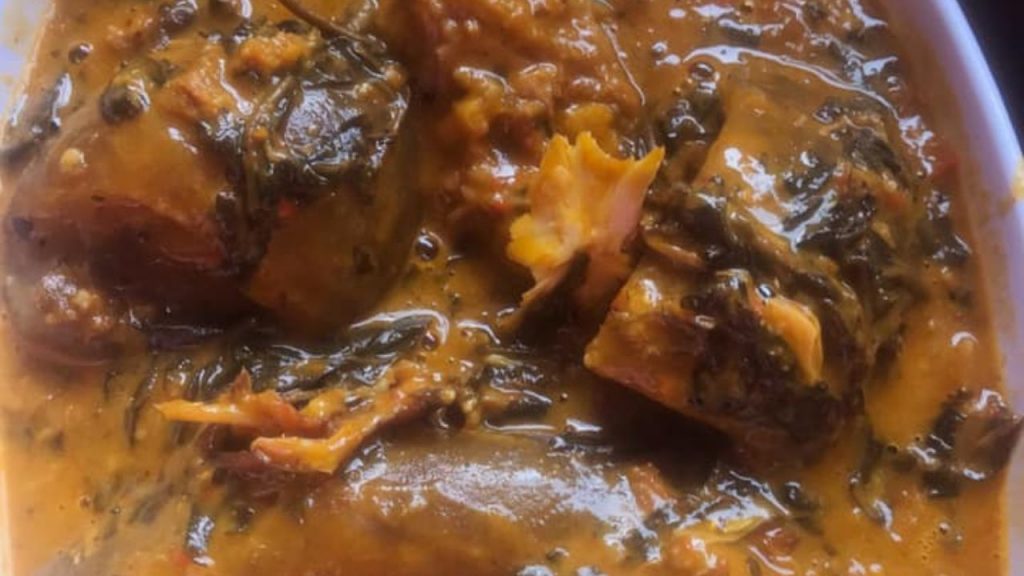 Important Information
Rather than using dried, washed and squeezed bitter leaves, you must first make them soft and fresh again before incorporating them into a stew if you are outside Nigeria. If you cannot purchase cocoyam corms where you live, you can use cocoyam flour.
What is the benefit of bitter leaf soup?
The leaves of the bitter plant are used in soups and stews to add a bitter flavor. The plant is found all over the world and has been used for medicinal purposes for centuries. The most common use for the bitter leaf is to treat malaria. Bitter leaf soup is also believed to be a good source of protein, vitamins, and minerals.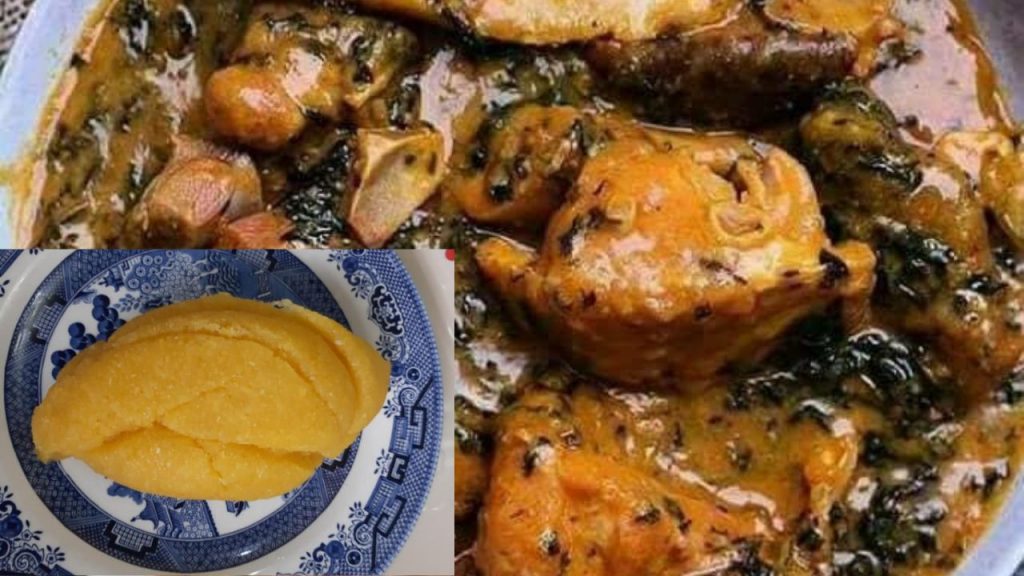 What can I use to thicken bitter leaf soup?
There are a few different things that you can use to thicken your bitter leaf soup. Cocoyam, use cornstarch. Just mix a teaspoon of cornstarch with some cold water, and then add it to the soup. Another option is to use flour. You can either mix the flour with some cold water or add it directly to the soup. Another option is to use ground up cashews. Just grind up a handful of cashews and add them to the soup.
How to cook Egusi soup with bitter leaf
We have written a post on how to cook Egusi soup with bitter leaf (frying method). When you are done cooking the Egusi add your bitter leaf, stir, cover and allow to cook till done.
Server your Egusi soup with fufu, pounded yam, garri
How long should I boil bitter leaf?
How long you boil bitter leaf will depend on how strong you want the infusion to be. For a mild infusion, boil the leaves for 3 minutes. For a stronger infusion, boil the leaves for up to 10 minutes.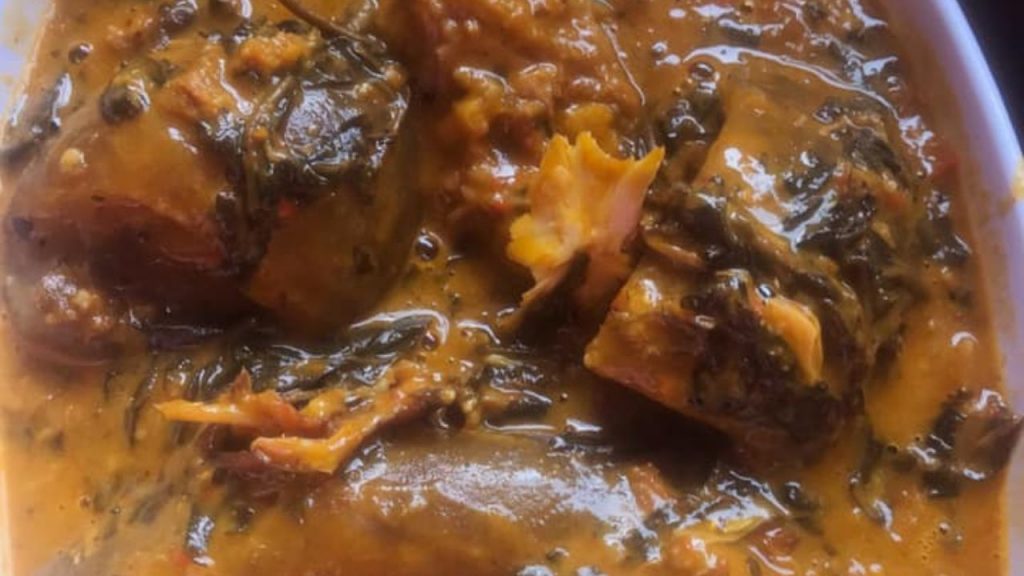 What does bitter leaf soup taste like
Bitter leaf soup is a Nigerian dish made from the leaves of the bitterleaf plant. The leaves have a bitter taste, which is why they're used to make soup. Bitter leaf soup can be eaten on its own or with rice or yam. It's a popular dish in Nigeria and other parts of Africa.
Bitter leaf soup benefits
Bitter leaf soup is a Nigerian dish made with the leaves of Vernonia amygdalina, a plant found in many parts of Africa. The soup has numerous health benefits, including:
Boosting the immune system – The high levels of vitamin C in bitter leaf soup help to boost the immune system and fight off infection.
Reducing inflammation – The bitter compounds in the leaves help to reduce inflammation throughout the body, which can help to alleviate conditions such as arthritis and asthma.
Supporting cardiovascular health – The antioxidants present in bitter leaf soup help to protect against damage to the heart and blood vessels, reducing the risk of heart disease and stroke.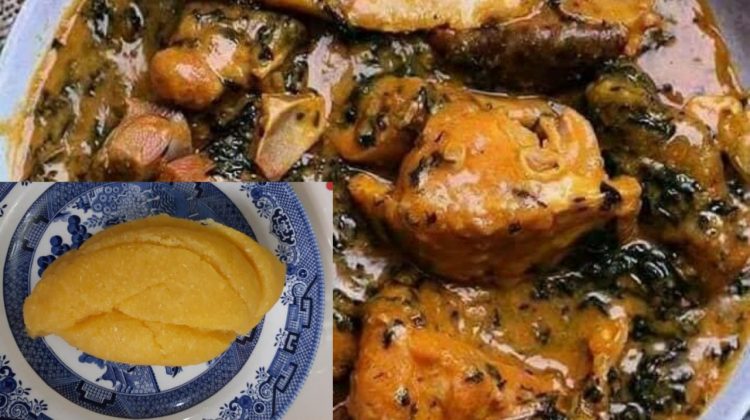 Other
r

ecipes you might love to try.
Note
The Bitter leaf Soup's name may seem a little deceptive because a genuine Bitter leaf Soup should not have the slightest form of bitterness to it.
This procedure requires filtering and cleaning bitter leaves using water and periodically changing the water.
Conclusion
In conclusion, Nigerian bitter leaf soup is an easy and delicious recipe that is perfect for any occasion. The ingredients are easy to find, and the soup can be made in a matter of minutes. So why not give it a try?