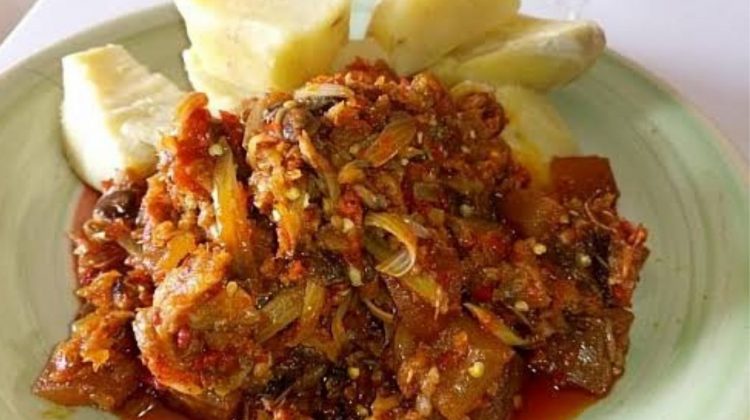 Garden egg sauce is a Nigerian dish made with garden eggs, tomatoes, onions, and spices. Garden eggs are also known as eggplant, aubergine, or brinjal. The dish is popular in Nigeria and can be eaten with rice or yam. Garden egg stew is a healthy and nutritious dish that is easy to prepare.
In Africa garden eggs are used in many ways garden eggs are used in many native countries of the world, garden egg sauce is another simple delicious way u can enjoy vegetables.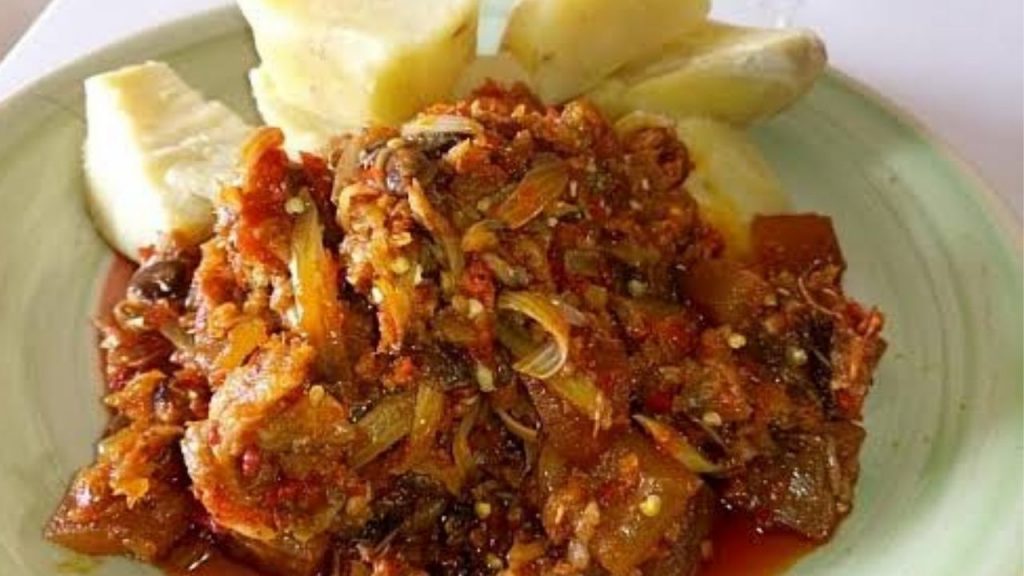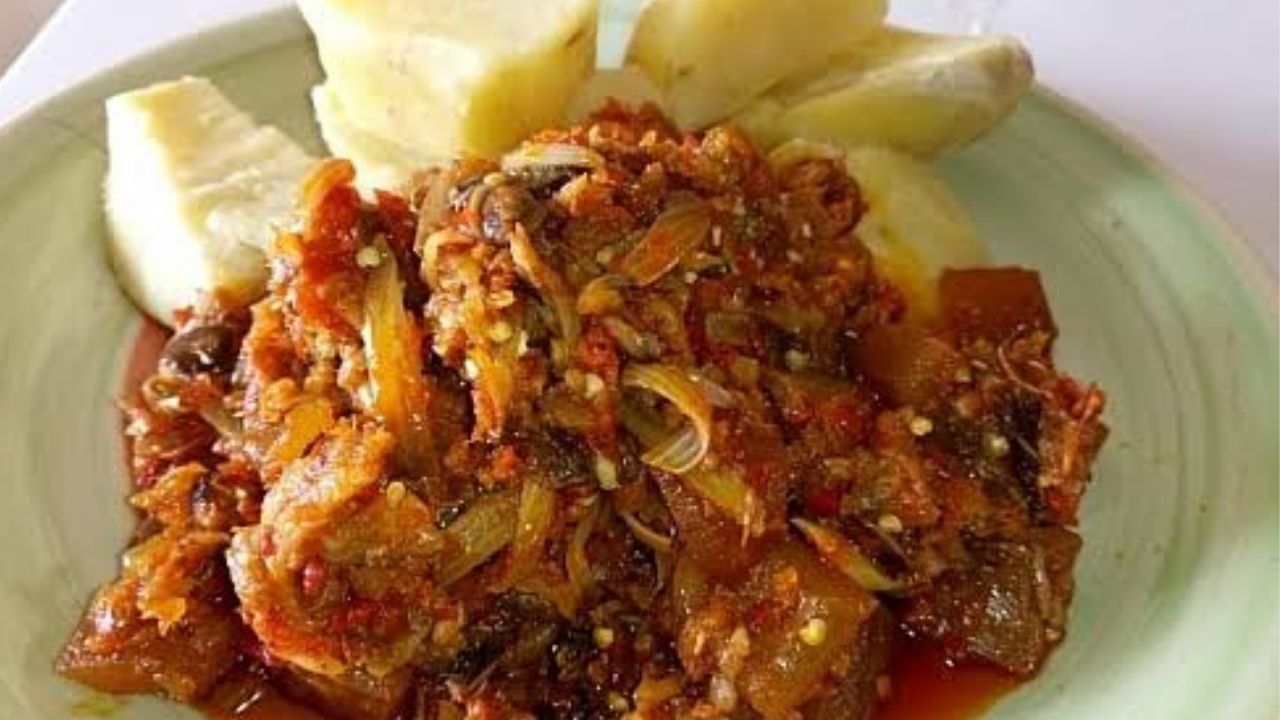 It's good to substitute for garden egg salad(Abacha, African salad) ayamase stew, and fried tomato stew. It can be eaten with white rice, boiled yam, roasted yam, boiled sweet potato, or boiled plantains.
How to select your garden eggs- when selecting do not select those ones with wrinkled flesh or spots always go for the ones with shiny skin so as to be sure their garden egg won't be bitter when cooked as stew.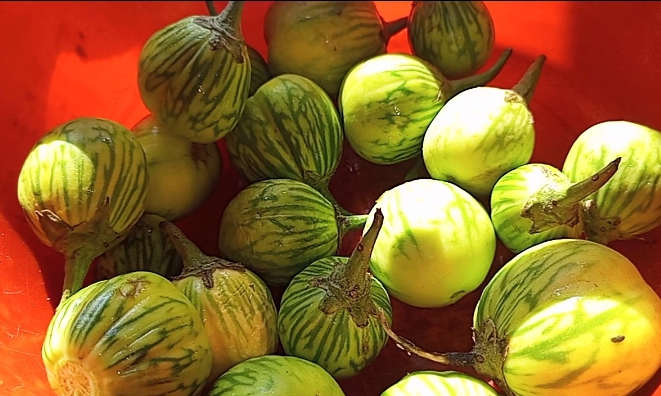 Ingredients to prepare garden egg stew
3 tablespoonfuls groundnut oil or red oil
fresh red pepper and fresh tomatoes(ground)
2 tablespoonfuls grounded crayfish
1 onion(sliced)
garlic and ginger
ugba
Any seasoning of your choice
Magi cube
Dried fish or shrimps for garnish.
And salt to taste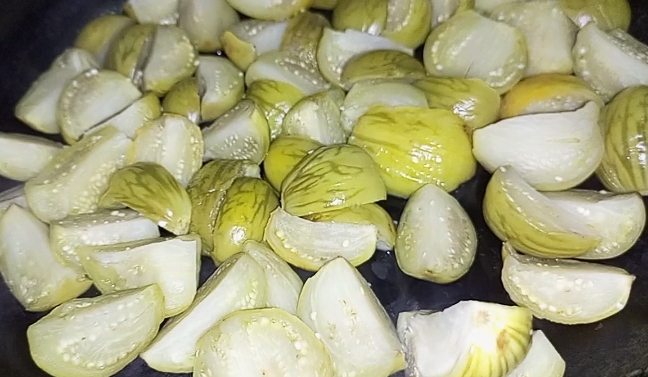 How can I use garden egg for yam sauce
1. Wash the garden egg, and cut off the unwanted parts. Cut the eggs into bite sizes and boil in a pot adding a little salt.
2. Steam the garden eggs. When they are properly cooked, remove from heat and Put into a blender or mortar and blend. When done, set it aside.
3. Place a saucepan on heat to get hot. Pour oil into the sauces pan and bleach. Add onion and fry for at least 2 minutes. Add in your tomatoes, pepper and fry for another 6 minutes.
Add any seasoning of your choice, seasoning cubes, and salt then fry until fragrant. Add a little bit of ginger and garlic them together with the garden egg, fry till done.
5. Select the fish by removing the bones, add the fish together with the ugba blended crayfish to the sauce and boil for 5 minutes for the palm oil to separate to the top. Cook for 3 minutes.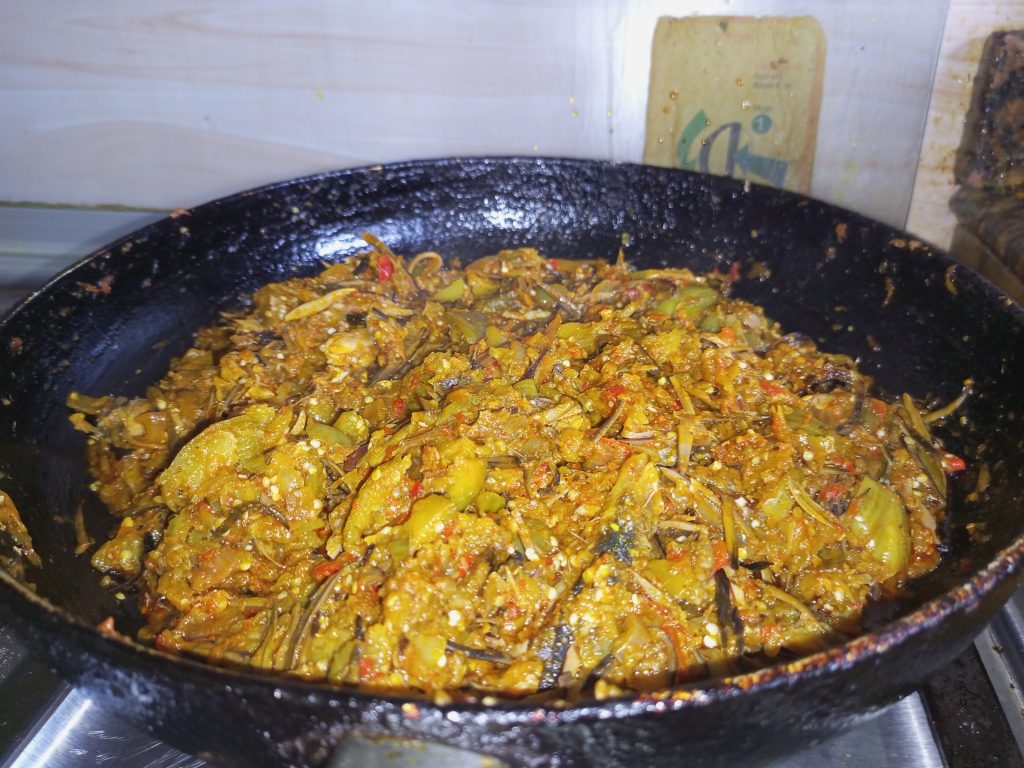 7. Remove from heat, garnish with the fried fish or shrimps and serve with boiled yam, boiled sweet potato, boiled plantains, roasted yam or with your white rice.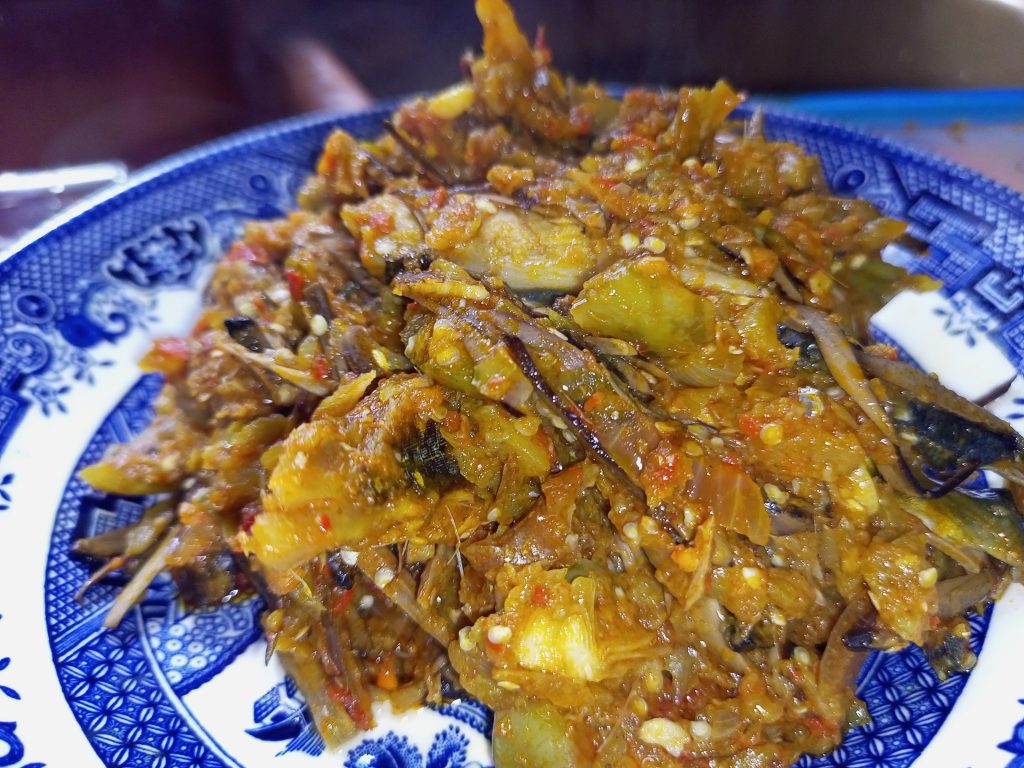 Is garden egg the same as eggplant?
Is garden egg the same as eggplant?. The answer to this question is both yes and no. Garden eggs and eggplants are both vegetables from the nightshade family, but there are some distinct differences between the two. Garden eggs are typically smaller than eggplants, and they have green skin with yellow flesh.
Eggplants, on the other hand, have purple or dark-green skin and white flesh. Garden eggs also have a slightly sour taste, while eggplants are more sweet and creamy.
What does garden egg do in the body?
Garden egg is a fruit that is native to West Africa. It is used in traditional medicine to treat a variety of ailments. Garden egg is also a good source of vitamins and minerals. Here are 10 things garden egg does in the body:
Garden egg helps improve digestion.
Garden egg helps regulate blood sugar levels.
Garden egg helps reduce inflammation.
Garden egg helps improve skin health.
Garden egg helps improve heart health.
Garden egg helps reduce the risk of cancer.
Garden egg helps improve bone health.
Is garden egg the same as eggplant?
There is some confusion over whether or not garden egg and eggplant are the same things. The answer is, technically, no – the garden egg is a specific type of eggplant that is smaller and has green skin.
However, in most cases, the terms are used interchangeably, and you're likely to get the same results no matter which one you use. So if you're looking for an easy way to make eggplant parmesan or baba ghanoush, either one will work just fine!
What can be eaten with garden egg?
Garden eggs are a versatile vegetable that can be eaten in a variety of ways. They can be boiled, fried, baked, or used in stews and soups. Garden eggs are also good when eaten raw, as part of a salad.
Garden egg sauce with rice
Ingredients:
1 garden egg,
1 onion,
2 cloves garlic,
1 green bell pepper,
4 tablespoons vegetable oil,
1 teaspoon salt,
1/2 teaspoon black pepper,
1 cup uncooked white rice.
Garden egg sauce with rice cooking direction
Cut the top off the garden egg and remove the insides. Discard the seeds and chop the flesh into small pieces.
Peel and chop the onion and garlic. Chop the bell pepper into small pieces.
Heat the oil in a large saucepan over medium heat. Add the onion, garlic, bell pepper, garden egg and salt and black pepper. Cook for 5 minutes until everything is soft.
Add the rice and cook for a further 5 minutes stirring occasionally until the rice is coated in the sauce and everything is hot through.
Disadvantage of garden egg
The eggplant, also known as the aubergine or garden egg, is a plant in the nightshade family that produces edible fruit. The fruit is generally purple or black in color. Garden egg has numerous health benefits owing to its high nutrient content. However, there are some disadvantages to consuming this fruit.
Garden eggs are high in carbohydrates and calories, which can lead to weight gain if consumed in large quantities.
The skin of the garden egg is difficult to digest and can cause gastric discomfort.
Garden eggs contain oxalates, which can bind with minerals like calcium and magnesium and reduce their absorption into the body. This can lead to deficiencies in these minerals.
Garden eggs are a good source of vitamin K, but they also contain a small amount of vitamin A.
Garden egg leaves
Garden egg leaves are a popular vegetable in many West African countries. The leaves can be eaten cooked or raw and have a slightly sour taste. Garden eggs are high in nutrients, including vitamin C, potassium, and magnesium. They are also a good source of dietary fiber. Garden egg leaves can be used in salads, soups, stews, and other dishes.
who should eat garden egg
Garden eggs are a great source of antioxidants, vitamins, and minerals. They are low in calories and carbohydrates, making them a perfect food for people who are trying to lose weight or manage their diabetes.
Garden eggs can be eaten cooked or raw, making them a versatile addition to any diet and to anyone. Garden eggs can be eaten by people of all ages. Pregnant women and lactating mothers should eat garden egg because it is a good source of nutrients for them and their babies.
Other rice recipes you might love to try.
Conclusion
In conclusion, garden egg sauce is a delicious and easy to make condiment that can be used as a dipping sauce, marinade, or topping. With just a few simple ingredients, you can have a tasty sauce that will enhance any dish. So why not give it a try?