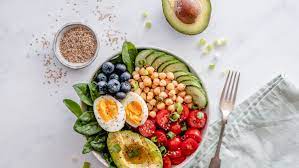 Introduction
You've probably overhauled your diet and eating habits if you're trying to lose weight. It involves making minor adjustments to your regular eating patterns, meal planning, and paying attention to nutrition labels. We understand that it can occasionally be difficult to choose (and prepare) meals, particularly when it comes to making nutritious lunches, with three meals a day to consider.
For some people, this midday meal is frequently skipped or hurried. But having a satisfying, high-protein, high-fiber lunch will help you achieve your weight loss objectives. It won't just keep you from collapsing in the afternoon; it will also keep you going till a snack or dinner and help keep your energy level up.
1. Greek Quinoa Salad
Chickpeas, cucumber, olives, and fresh herbs make up this Greek salad, which makes a delicious and high-fiber lunch. Chickpeas, which provide the protein, can be used to quickly prepare the quinoa in an Instant Pot. Also, it is vegan.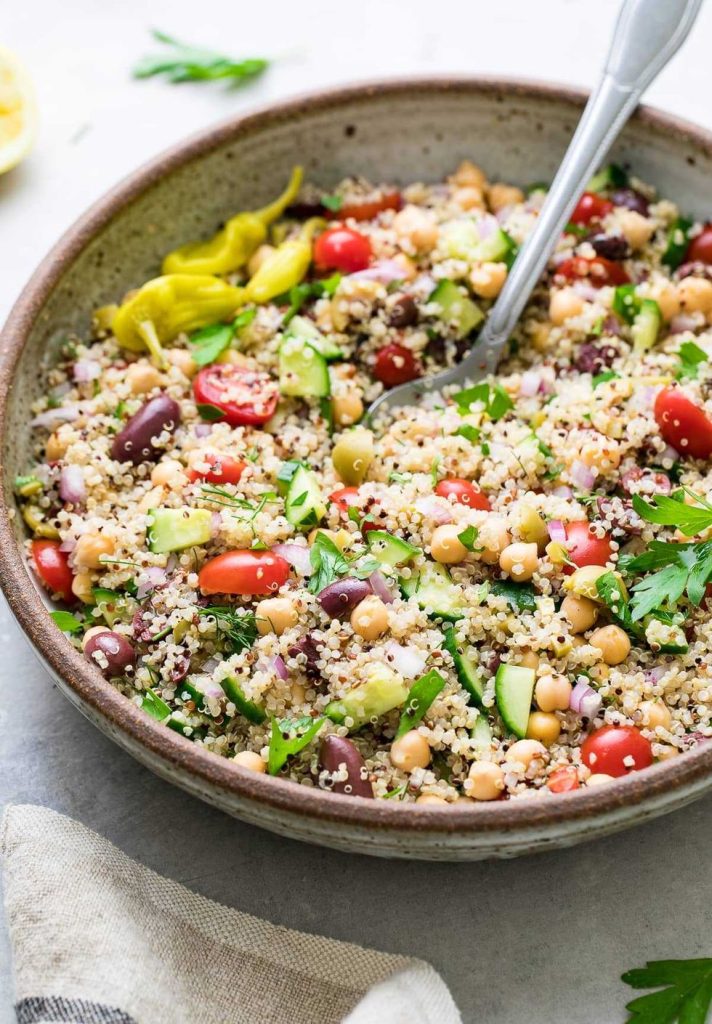 2. Instant Pot Pakistani Chana Dal
It just takes 15 minutes to prepare this vegetarian, gluten-free Pakistani Chana Dal (split chickpea), which is bursting with flavor from spices like cumin, ginger, and turmeric. Put the ingredients in a pressure cooker, then indulge.
3. Kale And Brussels Sprout Salad
Nothing dull about this kale and Brussels sprout salad. It is stuffed with chopped kale and sprouts, pecorino cheese, cranberries, and pickled onions. It takes around 20 minutes to prepare and can be stored for two to three days in the refrigerator.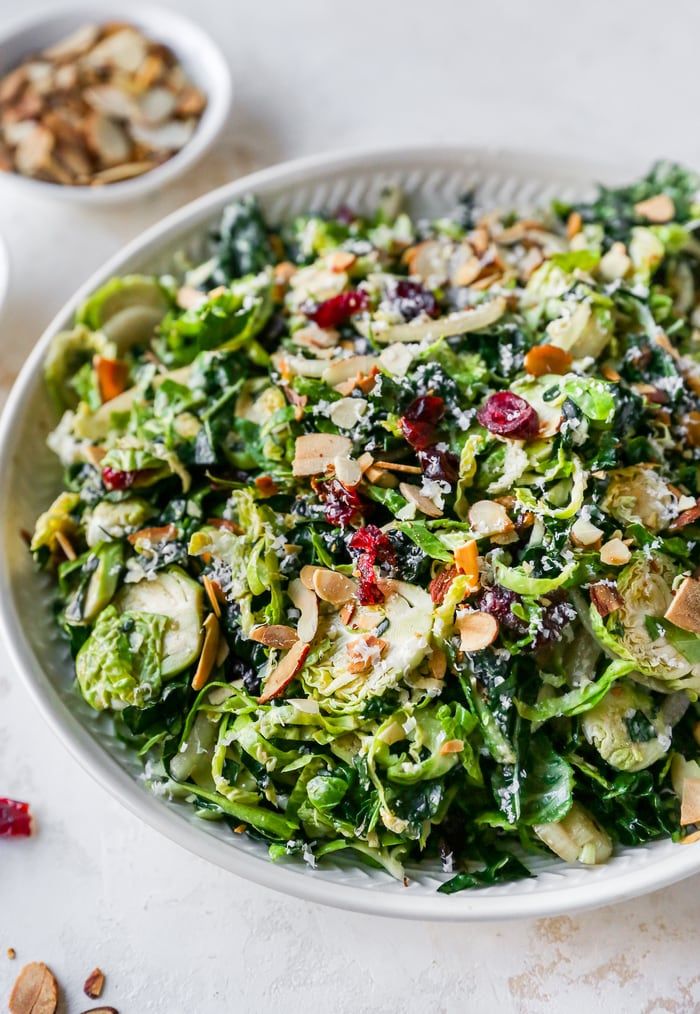 4. Creamy Carrot-Tomato Soup
This vegan tomato and carrot soup is dairy-free and paleo. It has a base of creamy coconut milk and almond butter, plus tons of fresh herbs, lime, and red pepper flakes.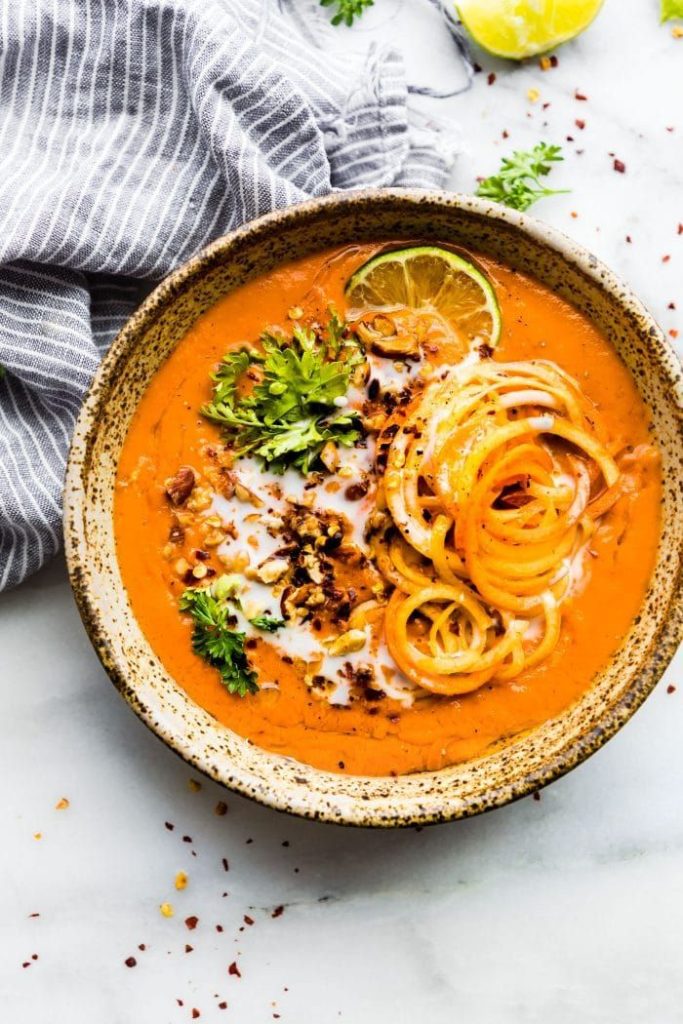 5. Egg Roll In A Bowl
With juicy pork or tofu, fresh ginger and garlic, soy sauce, and a ton of thinly sliced fresh vegetables, this recipe recreates the best ingredients of a traditional egg roll in a light and healthful bowl. Believe me, it still tastes fantastic when warmed up.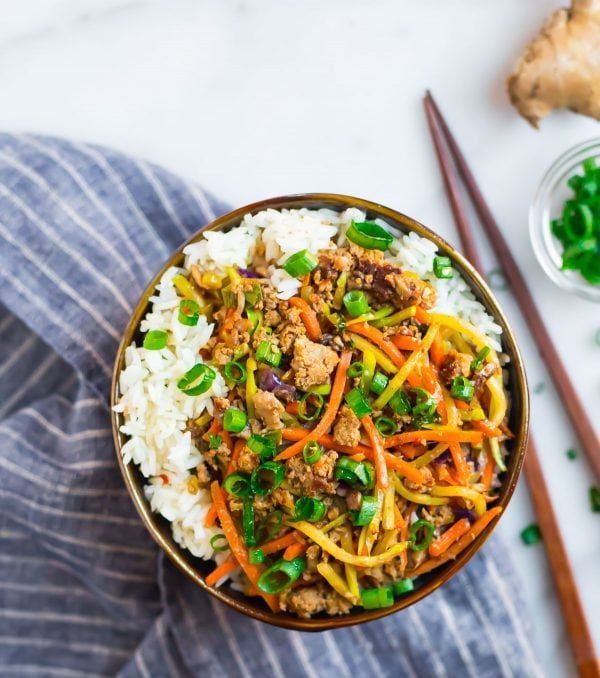 6. Chicken Tortilla Soup
With tomato and pasilla pepper as well as a ton of sautéed vegetables, this traditional chicken tortilla soup is seasoned. It can be garnished with baked tortilla strips, avocado, panela cheese, chopped cilantro, and a squeeze of fresh lime juice.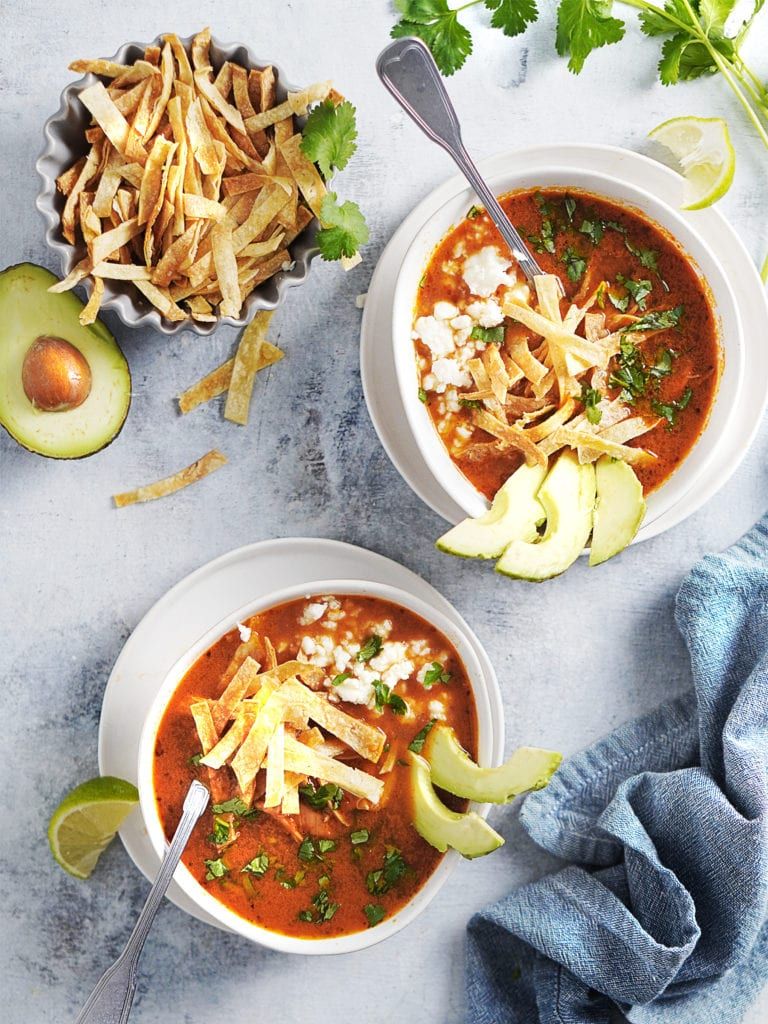 7. Vegan Spinach And Sun-Dried Tomato Pasta
Making this creamy vegan pasta only takes 20 minutes, making it both time and money-efficient. Garlic, spinach, and basil are all present, while sun-dried tomatoes add a powerful taste. It's a terrific alternative for a whole week's worth of lunches because it keeps for up to five days in the refrigerator.
8. Whole30 Chicken Salad
This Whole30 and keto-friendly chicken salad is packed with protein. For excellent crunch and flavor, it is created with mayo, Dijon mustard, celery, and grapes. It takes just ten minutes to prepare and lasts for three to five days. Also excellent for building muscle.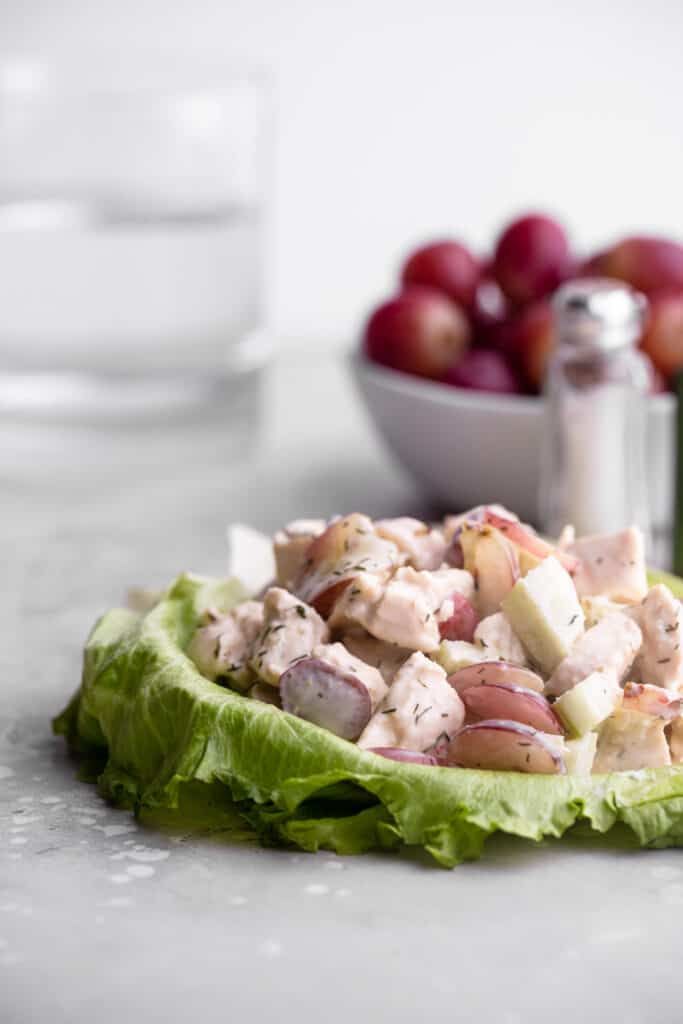 9. Slow Cooker Yellow Chicken Curry
This hearty chicken curry is made with a base of coconut milk, peanut butter, soy sauce, garlic, and ginger. It has a kick thanks to cayenne pepper and is also full of veggies. You can freeze this for up to two months, so this big batch is perfect for storage.
10. Asian Chicken Lettuce Wraps
You won't overeat on these lettuce wraps, but they are still crunchy. They are created with vegetables like celery, water chestnuts, and sliced carrots. These have chicken as the protein, but you could also use shrimp, pig, or a combination of those.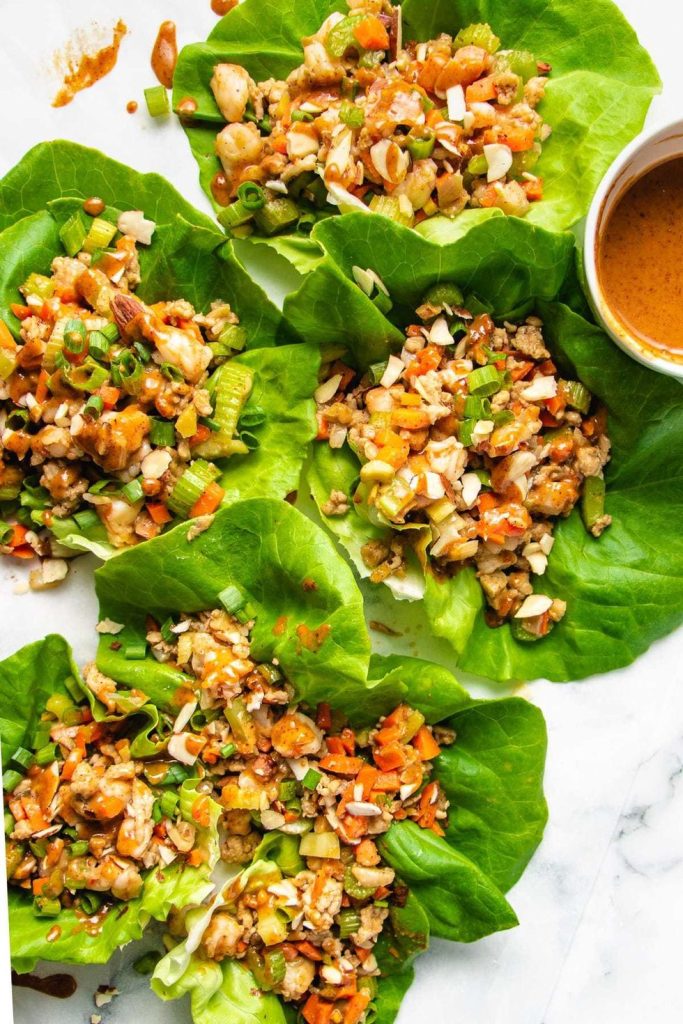 11. Venezuelan Arepas
According to Michelle, the author of this recipe and the person behind the recipe website Healthier Steps, arepas are mouthwatering cornmeal pockets that can be filled with favorite vegan foods.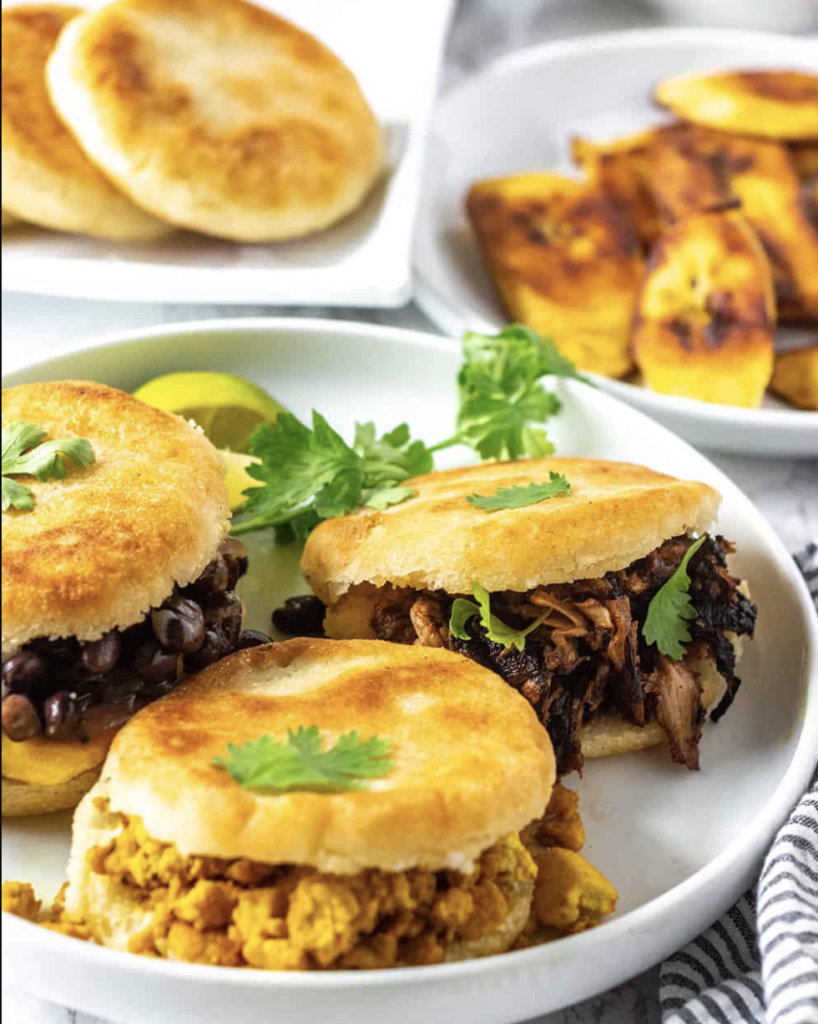 12. Garlic Chili Chickpea Patties
If you think a chickpea patty is boring, you haven't tried this one. It contains a variety of flavor-enhancing ingredients, including peanut butter, cumin, and garlic chili sauce. Make a bunch of these and freeze them for a quick and simple lunch during the week.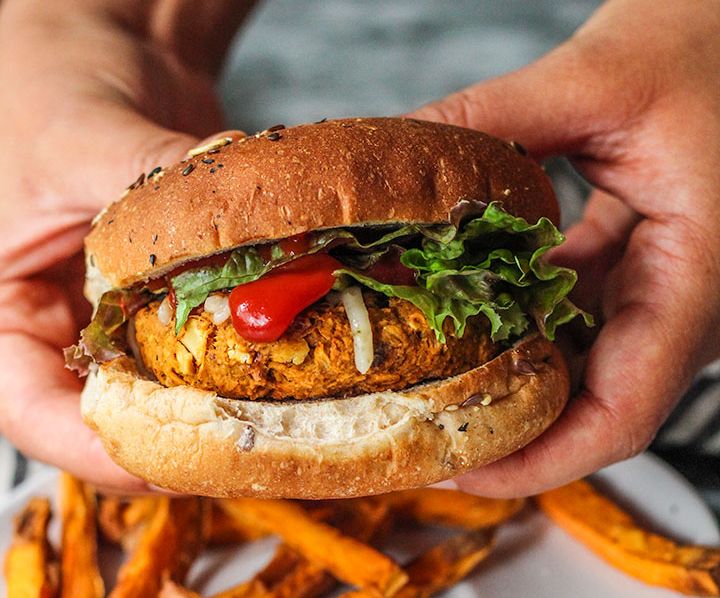 13. Low-Carb Vegan Tuna Salad
Are chickpeas capable of anything? For this dish, you will mash them up until they resemble tuna in consistency. To make this dish low-carb, after dressing the vegan tuna, you'll place it on some lettuce.
14. Chinese Garlic Tofu Stir Fry
This dish's tofu is coated with a sticky soy garlic sauce that will make you drool, but it's actually created with coconut aminos and doesn't actually include soy. To finish your meal, serve the tofu with vegetables or rice.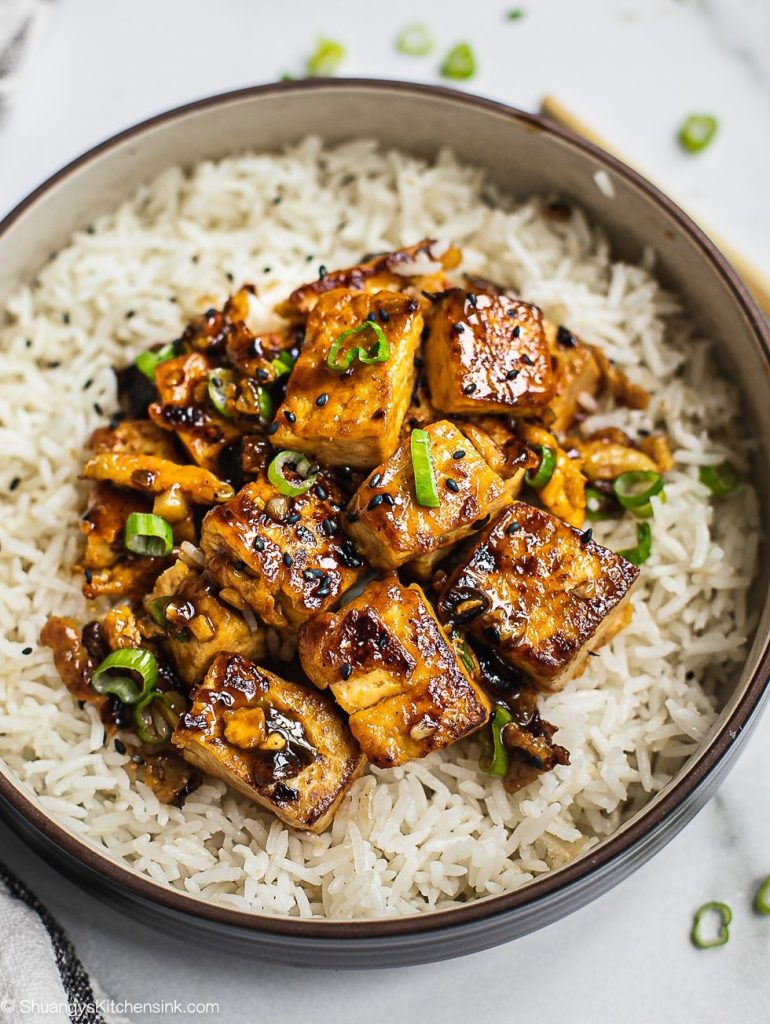 15. Garlic Shrimp And Asparagus With Zucchini Noodles
If you merely grab a spiralizer to make your nutrient-dense zoodles, lunch will be done in 20 minutes. Less than ten ingredients are required for this recipe, the majority of which are seasonings and garnishes like sea salt and chopped parsley.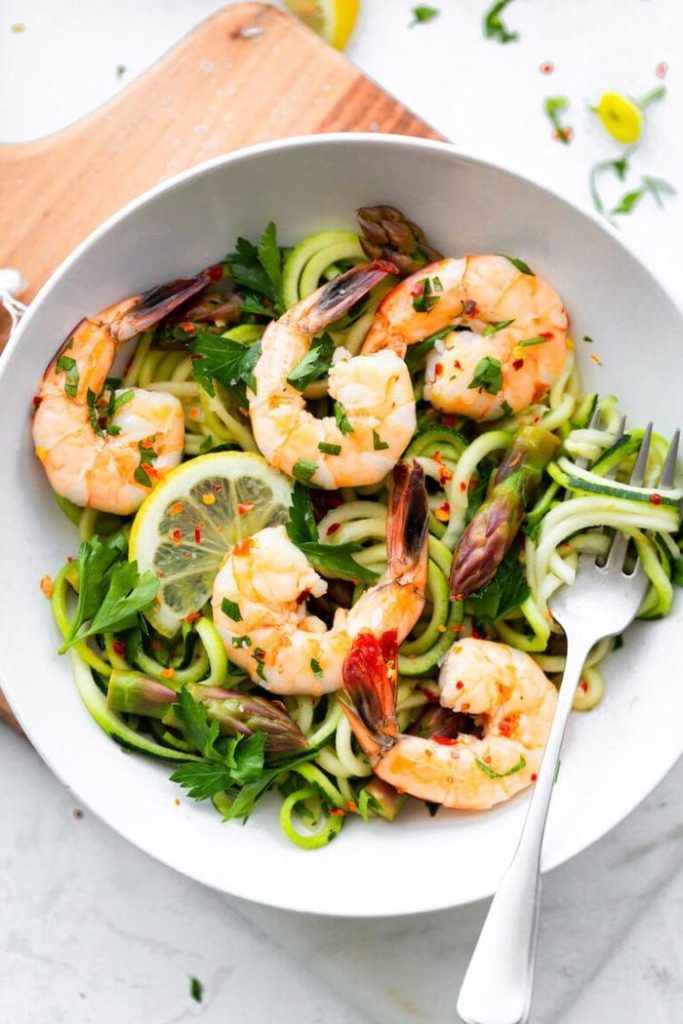 16. Kimchi Tempeh Tacos
Even while kimchi is delicious on its own, tacos are where it's at. The tacos also employ tempeh as its "meat," but you can entirely veganize them by using dairy-free sour cream and mayo in their place.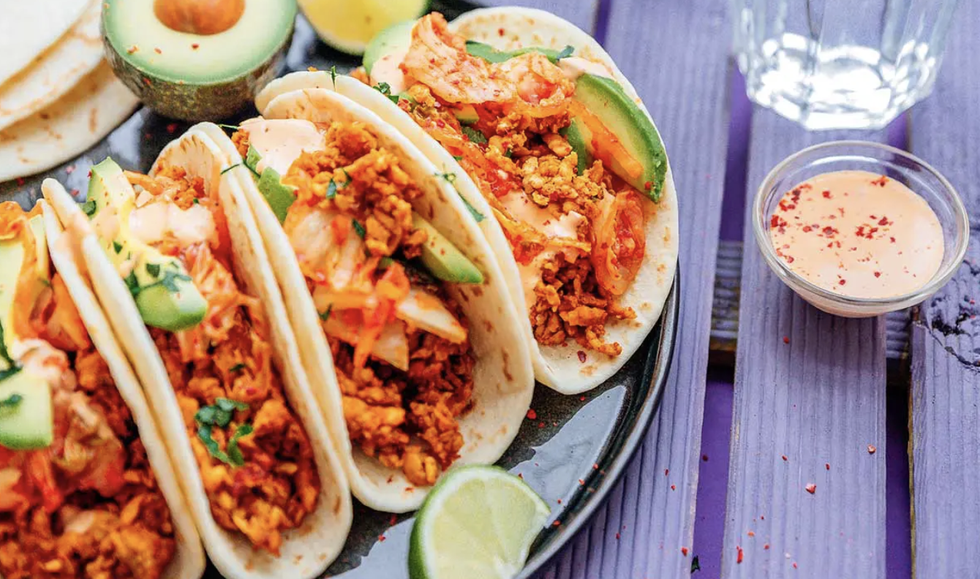 17. Peanut Crunch Salad
No, this salad doesn't contain any actual peanuts. Instead, vegetables like chickpeas, cucumbers, and shredded carrots give it grit. However, you will prepare a delicious peanut dressing with peanut butter.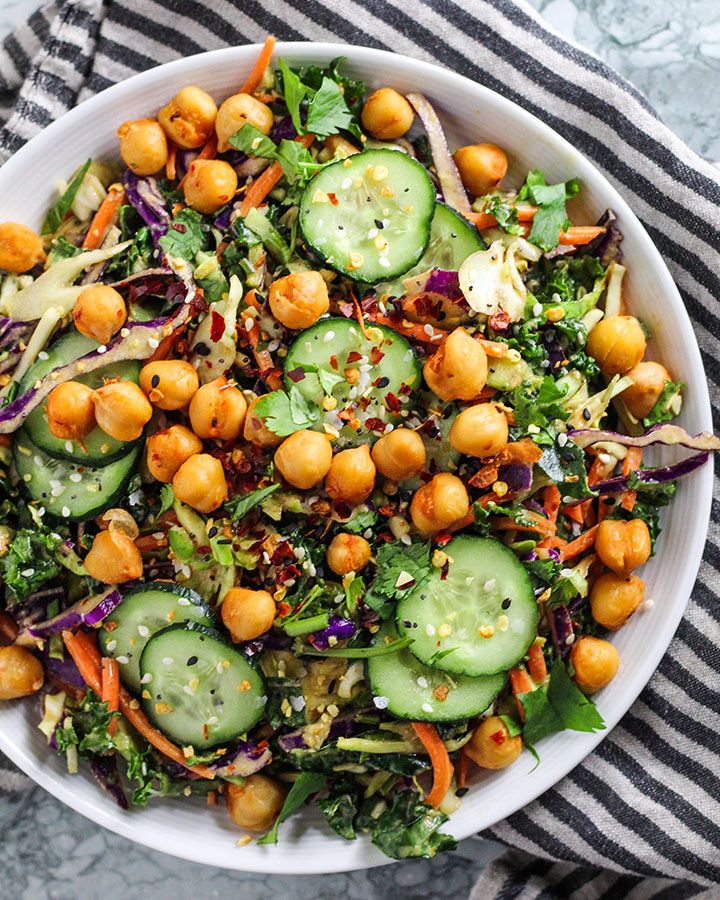 18. Vegan Gyros With Tempeh
You should eat these vegan gyros as soon as possible. They replace the lamb with tasty tempeh, which you will cook and season with a marinade with Greek-inspired flavors like thyme, tamari, and garlic.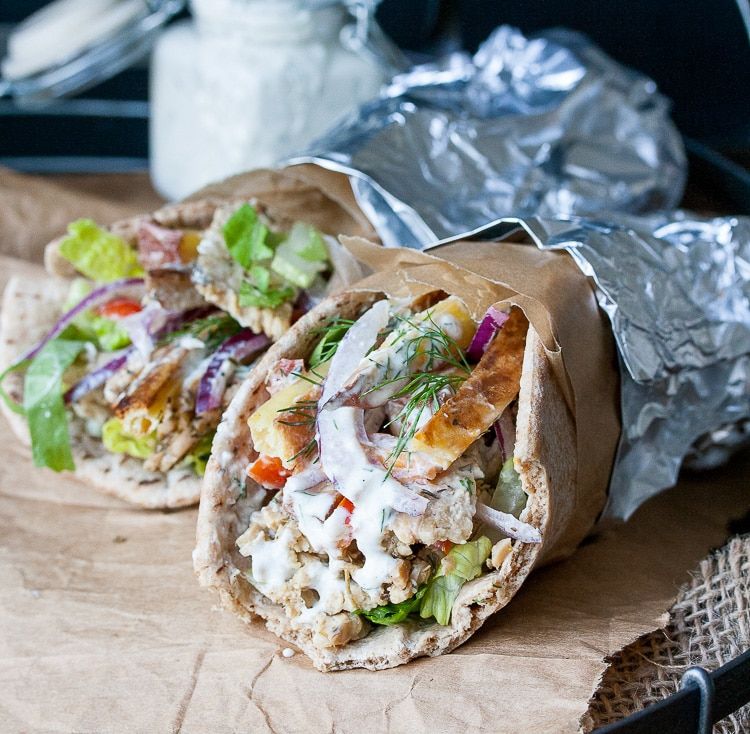 19. Noodleless Chicken Pad Thai
You can be sure that this chicken pad thai is nutrient-rich because it substitutes a ton of vegetables, such as broccoli slaw, cabbage, and carrot, for the noodles. The dish is also Whole30-compliant and gluten-free.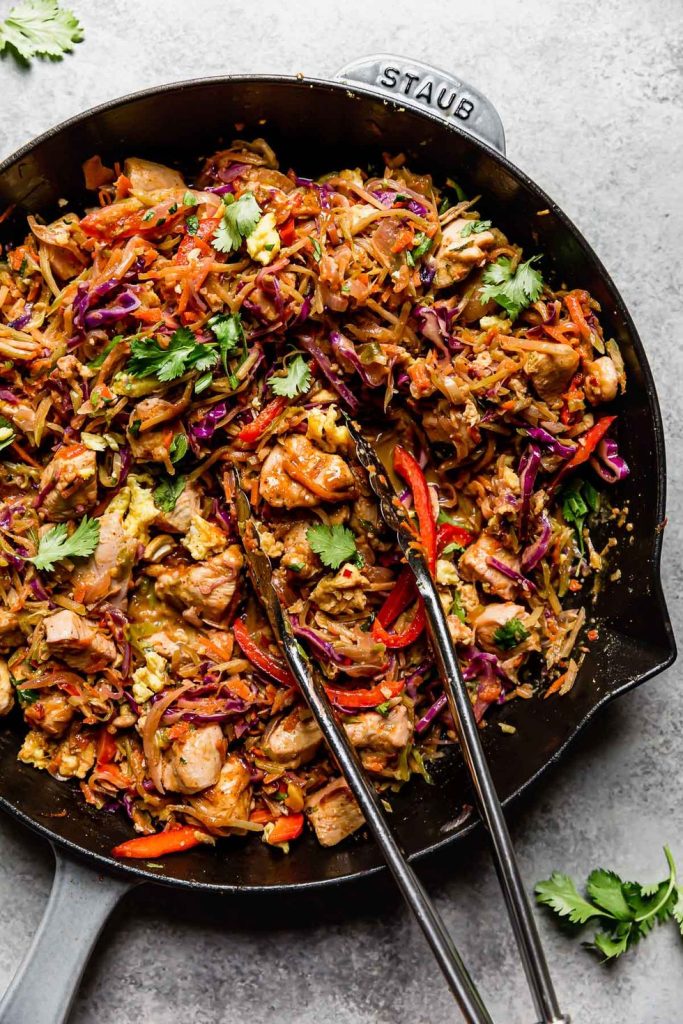 20. Keto Egg Drop Soup
You can be sure that this egg drop soup is made with IHeartUMami's grandmother's special seasoning blend to make it as authentic as possible. The recipe also calls for chicken thighs, but the egg is unquestionably the main element.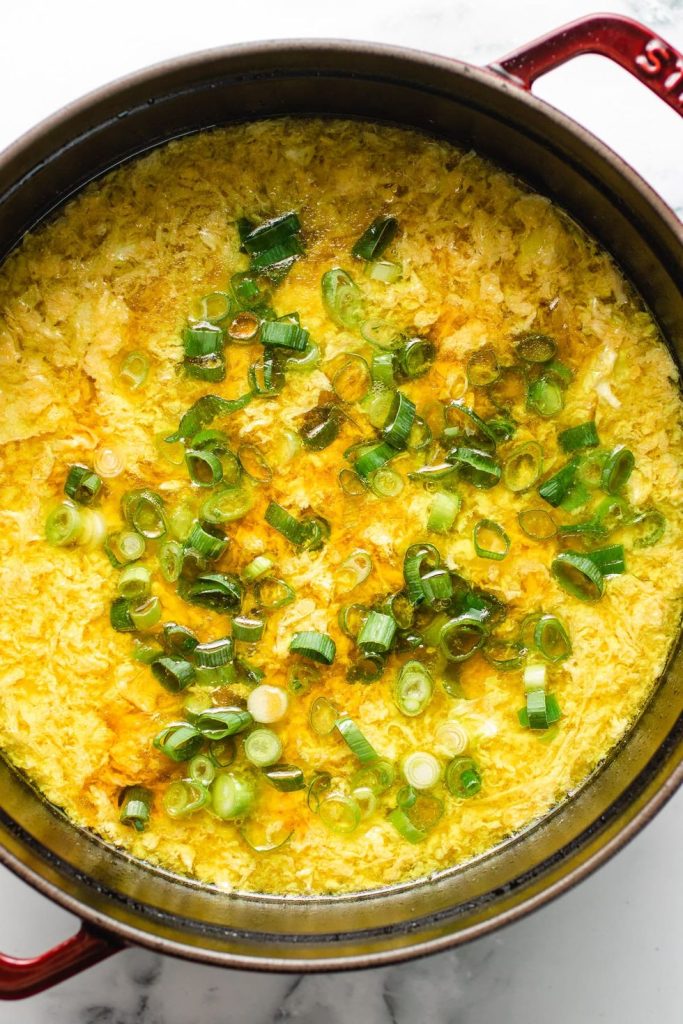 21. Street Corn Pasta Salad with Cilantro Pesto + Goat Cheese
It's challenging to identify a taste that this meal doesn't have given the street corn and cilantro pesto it contains. But if you want to up the protein, you may add grilled chicken, shrimp, or black beans.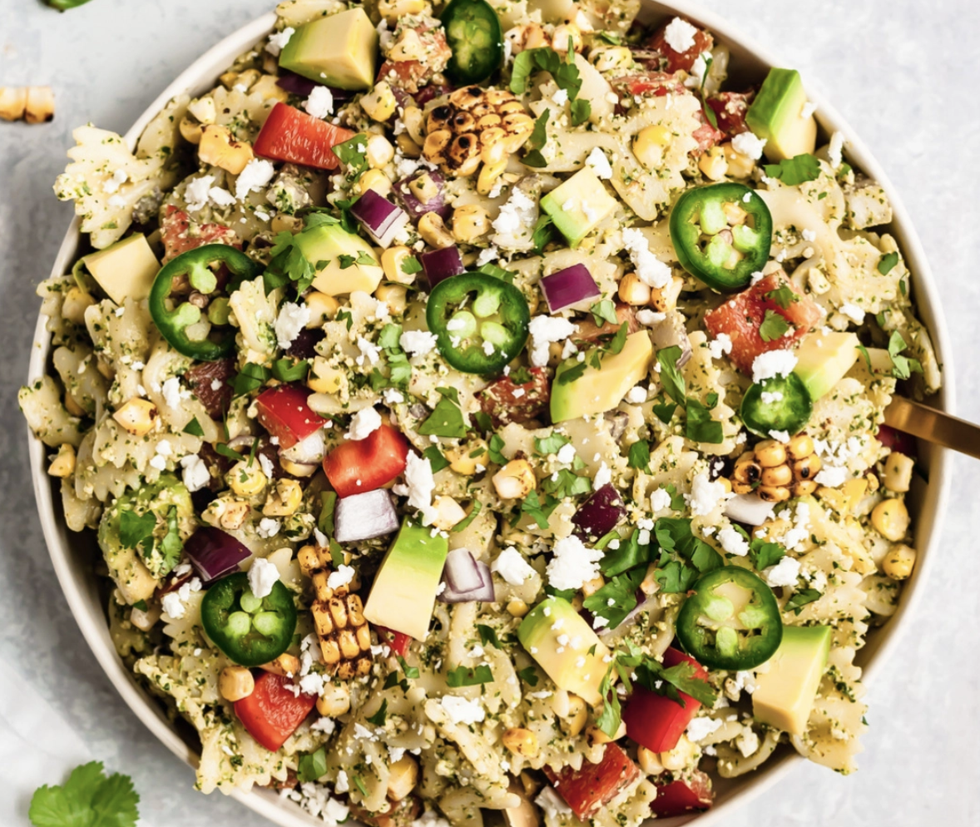 22. Paleo Turkey Pot Pie
This turkey pot pie is the comfort food you've been missing. It's basically turkey and vegetables dressed in a light thyme-sage gravy, and it's the perfect healthy lunch idea for a day you're feeling cozy.

23. Tahini Pesto Tofu Salad
Tahini is used in place of olive oil in the pesto in this salad to increase the amount of calcium and other nutrients in the food. Yum!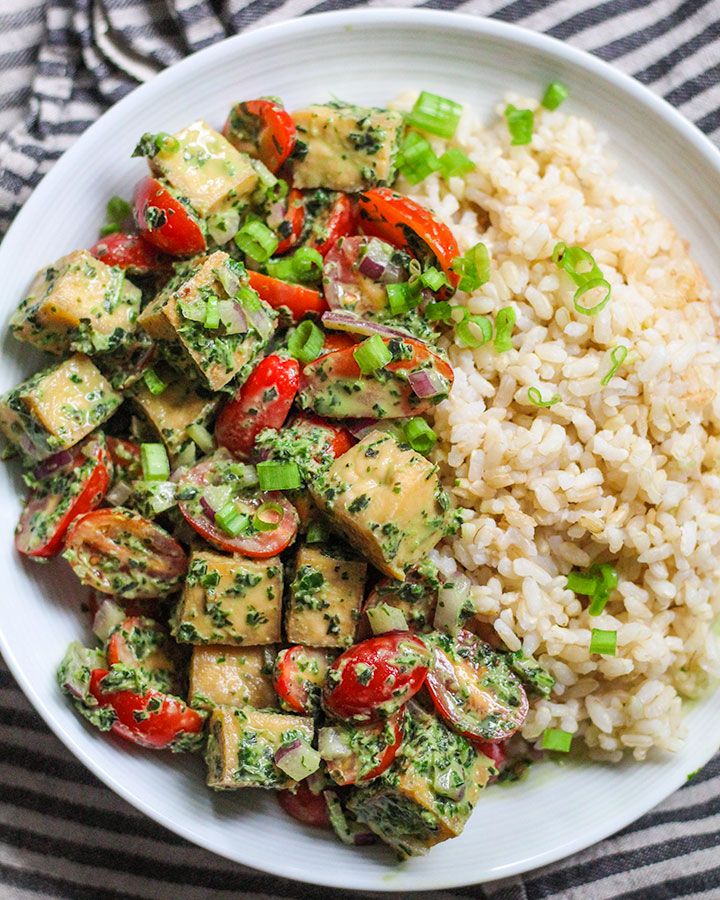 24. Crispy Baked Buffalo Cauliflower Tacos
The crispy buffalo cauliflower in this recipe is a tasty substitute for chicken. Add what you want for toppings—roasted veggies, avocado, cabbage. There's room for customization.
25. Low Carb Spaghetti Carbonara
In this dish, the spaghetti is really prepared from butternut squash noodles, which some people could argue are a touch tastier than zoodles, but you can really choose any vegetable-based noodle. Although this recipe offers a healthy balance of fat, carbs, and protein, butternut squash noodles have a slightly higher carb level than zoodles.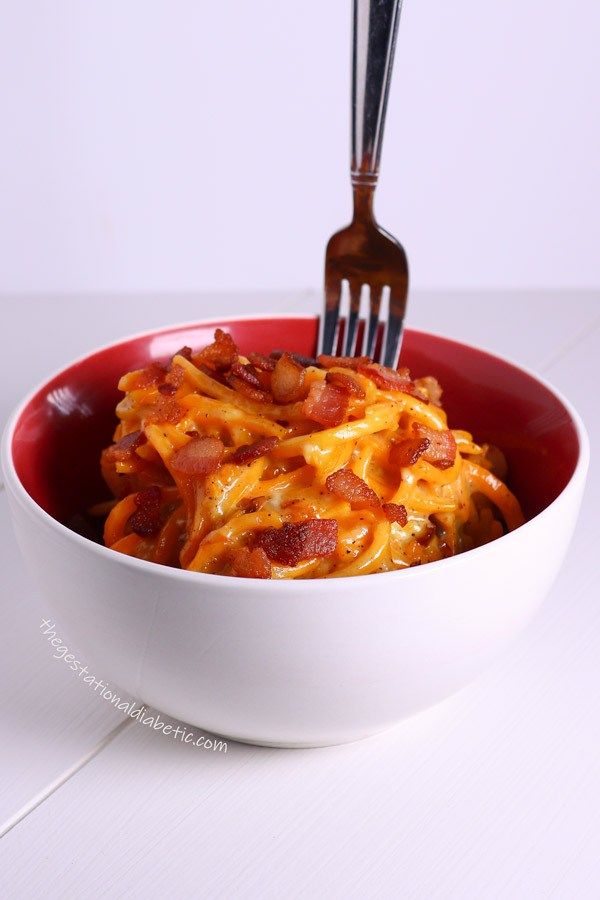 26. Tuscan Beans With Artichoke And Spinach
Although this recipe calls for artichokes and spinach, you can substitute black olives, capers, or toasted pine nuts if you want. The Tuscan bean salad is finished with flavored oil.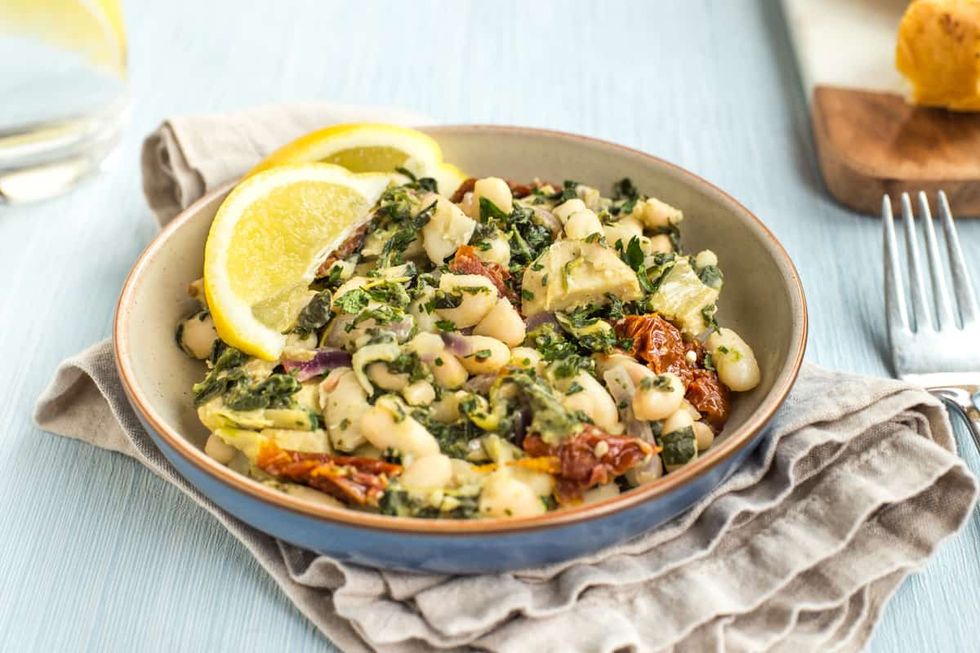 27. Instant Pot Cashew Chicken
With this cashew chicken dish, you can make Chinese takeout in your home. The dish is made paleo, gluten-free, keto, and Whole30-approved by substituting a few ingredients you would normally include when preparing the traditional.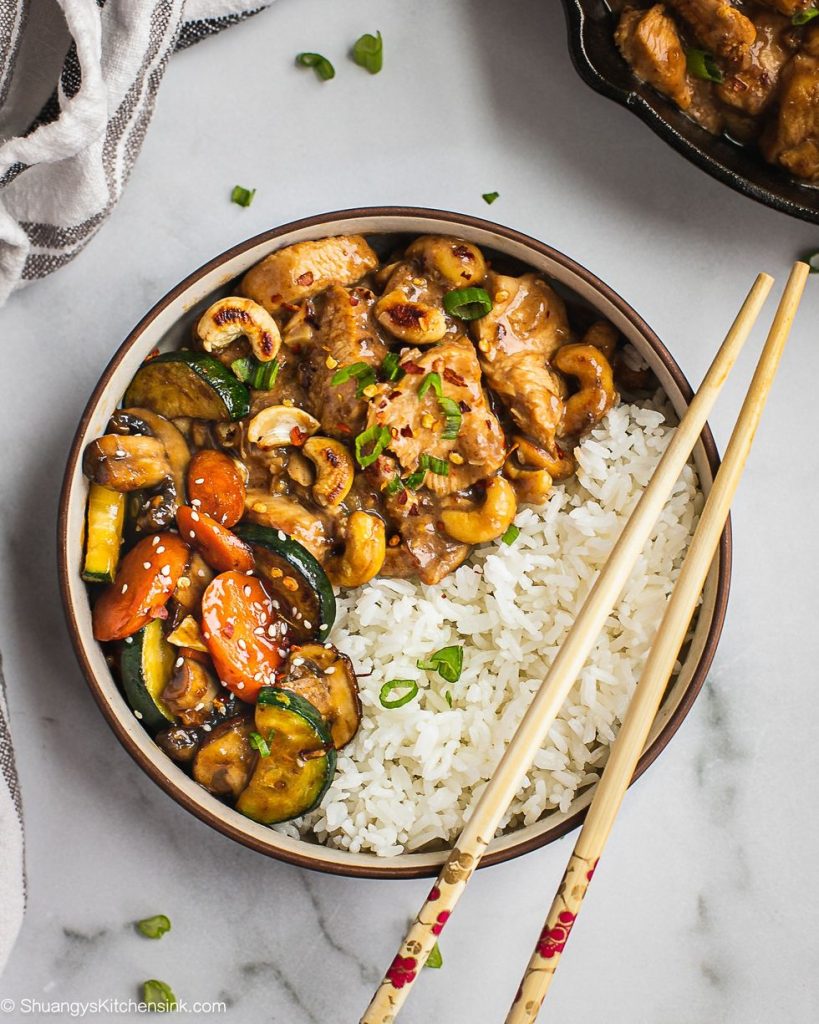 28. Chili Lime Bean Salad
This chili lime bean salad is a powerhouse of nutrition, thanks to the avocado and vitamin C from the lime.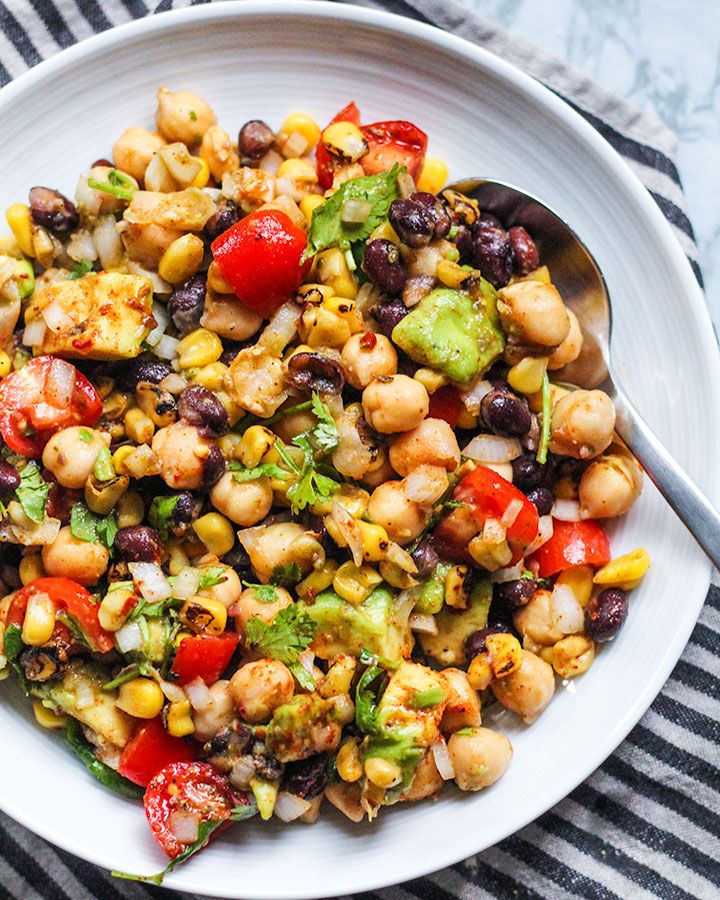 29. Cabbage Lentil Soup
Soup is the ultimate healthy comfort food, and this one's loaded with veggies, like tomatoes and cabbage. It's also made with miso paste to give it an extra kick of flavor.
30. Pesto Chicken Stuffed Zucchini Boats
If you don't feel tempted to eat them all by yourself, here is a nutritious lunch recipe you may share with your friends. Although you can omit the cheese if you want, these chicken-stuffed zucchini boats are topped with cheesy parmesan bliss and homemade pesto.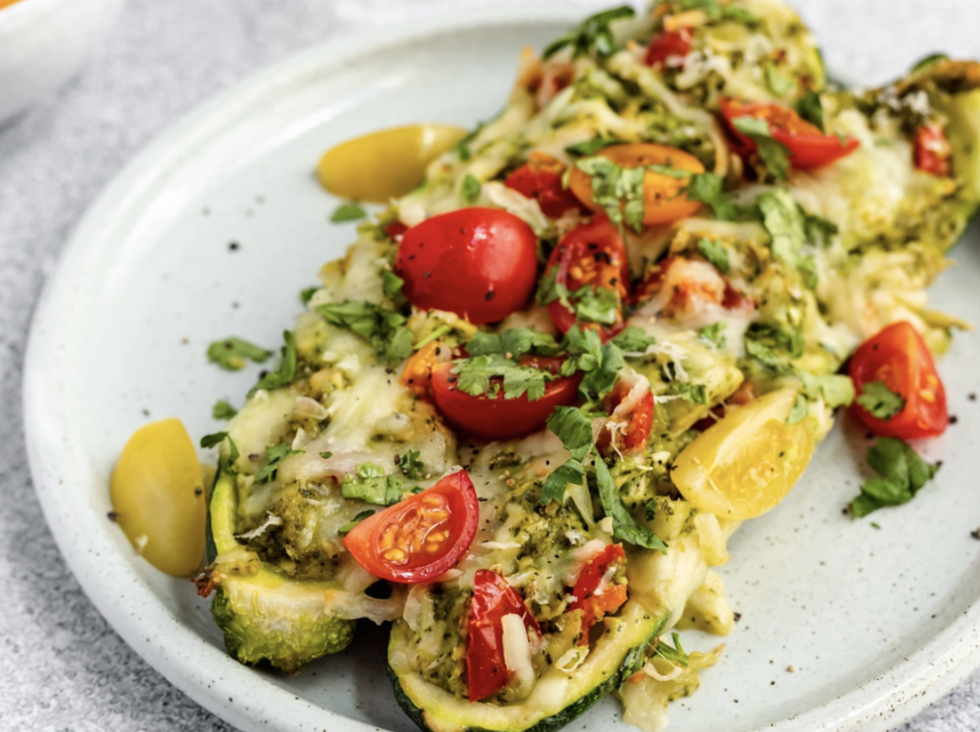 Frequently asked question
What can I eat for lunch if I want to lose weight?
Thus, plant-based diets like vegan or vegetarian diets have been associated with weight loss in some people ( 1 ).
Lentil soup. …
Garden veggie chickpea salad sandwiches. …
Spicy peanut tofu Buddha bowls. …
Veggie wraps. …
Quinoa and black bean stuffed sweet potatoes.
What lunch foods burn belly fat?
There are a number of foods that have been shown to help reduce belly fat, including eggs, artichokes, avocado, peanuts and chickpeas. Try to include at least one or a combination of these foods at lunchtime.
What can you eat to stay full and lose weight?
Foods That Help Beat Hunger and Keep You Fuller Longer
Whole Grains. Whole grains, such as brown rice, whole wheat bread, and whole wheat pasta, are linked to weight control and maintaining a healthy weight. …
Greek Yogurt. …
Avocado. …
Oatmeal. …
Red Chili Pepper. …
Fish. …
Nuts. …
Beans and Legumes.
Which vegetable is best for weight loss?
Here are seven vegetables that are particularly helpful for weight loss:
Spinach. "It's lower in calories, packs a nutritional punch and is versatile to use in all sorts of recipes," says Devje. …
Broccoli. …
Spaghetti squash. …
Brussels sprouts. …
Green peas. …
Cauliflower. …
Sweet potato. …
Can cucumber help you lose weight?
They are low in calories but contain many important vitamins and minerals, as well as a high water content. Eating cucumbers may lead to many potential health benefits, including weight loss, balanced hydration, digestive regularity and lower blood sugar levels.
References
20 Healthy Chips You Can Eat When You're Trying To Lose Weight
43 BEST FRUITS FOR WEIGHT LOSS
Supercharge Your Day: The Benefits of Eating Lunch
30 Cozy crock- pot recipes perfect for weight loss
Conclusion;
There are many full, delectable lunch options to try if you're trying to lose weight.
Regardless of whether you like paleo, low-carb, diabetes-friendly, or plant-based recipes, be sure to select meals that primarily feature whole foods and place a focus on a lot of fruits and non-starchy vegetables.
Many of the aforementioned foods are ideal for prepping ahead of time. On the weekend, you can batch prepare a number of portions to eat for lunch all week.