This SIMPLE BROWN RICE PILAF RECIPE is a great way to add some variety to your rice dishes. It is packed with flavor and makes a great side dish or main course.
This recipe is very versatile and can be made with any type of rice. I like to use brown rice for this recipe, but you can use any type of rice that you prefer.
There's something about the combination of butter, onion, rice, and chicken broth that just makes people happy. Maybe it's the comfort that comes with a warm bowl of pilaf rice on a cold day. Or maybe it's the fact that this dish is so simple to make.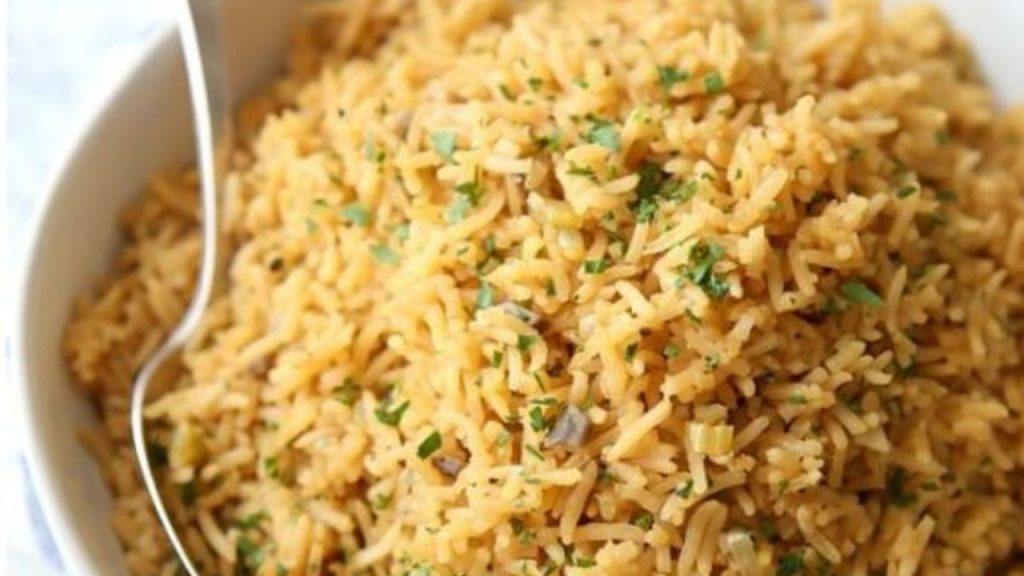 Whatever the reason, there's no denying that brown rice pilaf is a dish that a lot of people love. And we can't blame them! This dish is the perfect combination of flavorful and hearty ingredients that come together to create a truly satisfying meal.
So if you're looking for a new rice dish to add to your repertoire, look no further than this simple brown rice pilaf. You'll be glad you did.
How Do You Make Brown Rice Pilaf
This is my easy to go rice pilaf
To make brown rice pilaf, first cook the rice in boiling water for about 30 minutes. Then, sauté onions and garlic in a bit of olive oil until softened.
Add the cooked rice and chicken broth to the pan and stir to combine. Season with salt and pepper to taste. Let the pilaf simmer for about 10 minutes, or until all the liquid has been absorbed.
Finally, stir in some chopped fresh parsley or other herbs for additional flavor. Serve hot and enjoy.
How To Make Brown Rice Pilaf Cheap
When it comes to making brown rice pilaf, the key is to keep it cheap. Here are a few tips on how to make brown rice pilaf without breaking the bank:
Use brown rice instead of white rice. Brown rice is not only more nutritious, but it's also cheaper.
Choose a less expensive protein source. Chicken or turkey breast are good choices.
Use frozen vegetables instead of fresh ones. Frozen vegetables are just as healthy as fresh ones and they're usually cheaper.
Add some flavor with spices and herbs. Spices and herbs can really elevate a dish without adding much to the cost.
Make extra and freeze it for later. This is a great way to have a quick and easy meal on hand when you're short on time or money.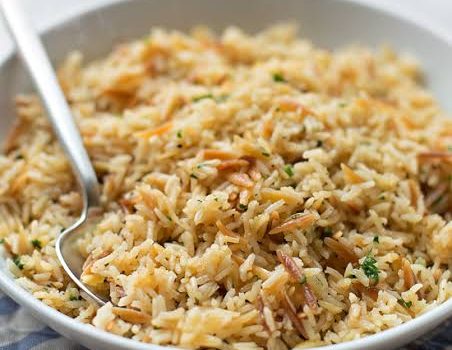 Are you looking for a delicious, easy-to-make side dish? Look no further than this classic rice pilaf recipe.
Take a look at the step-by-step guide on how to make the best brown rice pilaf.
Ingredients For Brown Pilaf Rice
2 cup long grain brown rice uncooked, short or long grain
½ onion chopped for ½ cup
salt
black pepper
carrot
4 cups of chicken or meat stock
¼ cup butter
1 tablespoon parsley (chopped)
How to make rice pilaf
In a large skillet with a lid, melt the butter over medium heat. Add the rice and onion.
Saute until the rice becomes opaque and the onion starts to become translucent.
Add the chicken broth and parsley and bring to a slight boil. Cover and reduce the heat.
Cook for 40 minutes, covered until the liquid is absorbed.Add the carrot, fluff with a fork, season with salt and pepper and serve.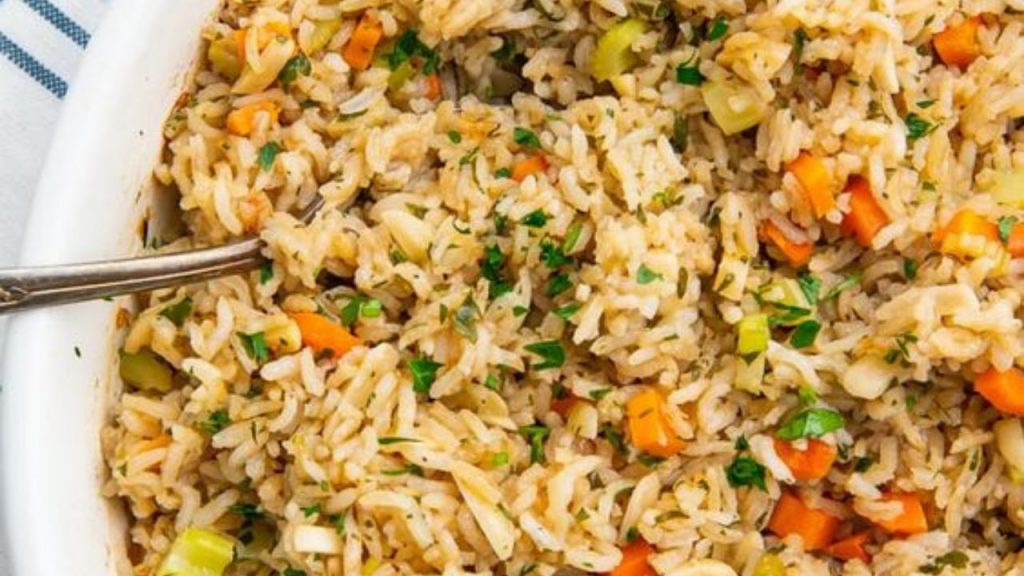 What is the difference between rice and rice pilaf
Rice is a grain that is cultivated in many parts of the world and has been a staple food in many cultures for centuries. Rice pilaf is a dish made with rice that has been cooked in broth and often seasoned with spices.
There are many different types of rice, including long-grain, short-grain, and basmati. Rice can be white or brown, depending on the variety. It can also be either refined or unrefined.
Rice pilaf is usually made with long-grain rice, although any type of rice can be used. The rice is cooked in broth until it is tender and then seasoned with spices. Often, rice pilaf will also include vegetables or meat.
Tools To Use While Making Pilaf Rice
No matter what dish you're whipping up in the kitchen, there are always a few key tools that can make the recipe easier. For me, when I'm making a recipe, I always like to have a few key tools on hand. Here are the tools I use to make this recipe easy:
A good knife: This is probably the most important tool in any kitchen. A sharp knife will make chopping and slicing much easier and quicker.
A cutting board: This is a must-have for any serious cook. A cutting board provides a stable surface for chopping and slicing ingredients.
Measuring cups and spoons: These are essential for any recipe that requires precise measurements. Make sure you have a set of measuring cups and spoons that you trust before you start cooking.
What Makes A Pilaf?
Pilafs are a type of rice dish that is typically made with lamb or chicken, and a variety of spices. There are many different variations of pilafs, but the key ingredient is usually rice.
Pilafs can be made with any kind of rice, but long grain rice is often used because it absorbs the flavors and becomes tender.
Other common ingredients in pilafs include dried fruits such as apricots, raisins, or cranberries, and nuts such as almonds or hazelnuts.
What goes with rice pilaf?
Rice pilaf is a dish that can be made with a variety of ingredients, but most often it contains rice, onions, and chicken or vegetable broth.
There are many ways to prepare rice pilaf, so it is a great option for any meal. Some common variations include adding peas, shredded carrots, or diced ham.
In addition to being a versatile dish, rice pilaf is also easy to make. Just combine the ingredients and cook them until they are tender.
How Much Salts Do You Add When Making Brown Rice For The Line?
Adding salt to brown rice can help to bring out its flavor, make it more palatable, and prevent it from becoming mushy. According to The Kitchn, you should add about 1 teaspoon of salt per cup of uncooked rice.
For even more flavor, try using seasoned salt such as smoked paprika or sea salt. You can also add a little broth or water to the pot when cooking the rice if you want to keep it moist.
Mediterranean Rice pilaf recipe
There's something about a delicious Mediterranean rice pilaf that just begs to be eaten with your hands, and this recipe is perfect for those times.
It's easy to make and can be cooked in just a few minutes, so you can have a delicious and healthy meal on the go. Plus, it's perfect for using up any leftovers from your previous night's dinner. Give this recipe a try and enjoy.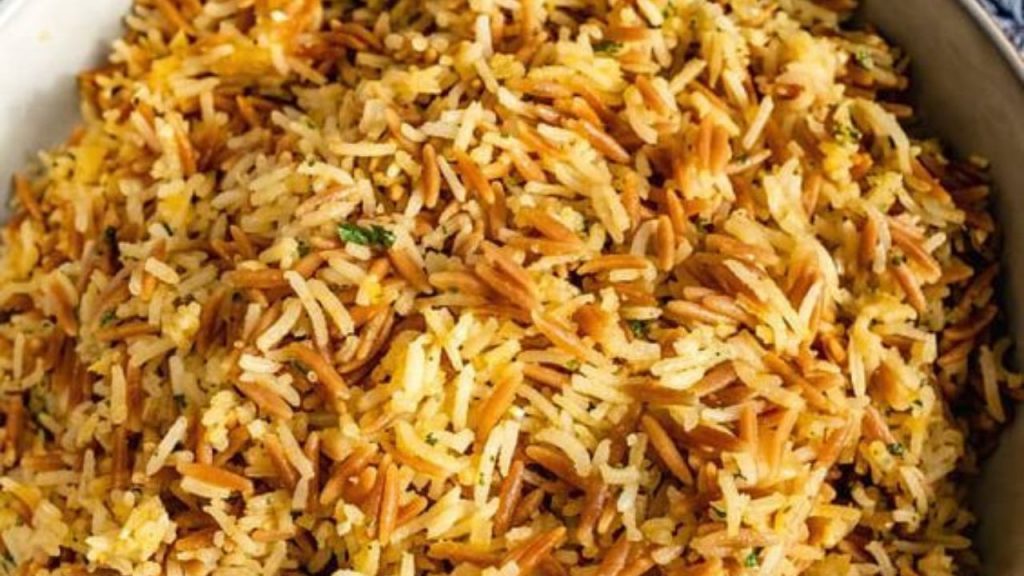 Authentic Rice Pilaf Recipe
Authentic rice pilaf is a dish that is made with long-grain white rice. It is usually served as an accompaniment to meat or poultry dishes.
This recipe for authentic rice pilaf is easy to make and requires only a few simple ingredients. The pilaf can be made in advance and stored in the refrigerator for later use.
Is Brown Rice Pilaf Healthy
Is brown rice pilaf healthy? Yes! Here's why:
Brown rice is a whole grain, which means it contains all the nutrients and fiber of the grain. This makes it a very healthy food choice.
Pilaf is also made with vegetables, which adds even more nutrients and fiber to the dish. And, because brown rice takes longer to cook than white rice, it retains more of its nutrients.
So, if you're looking for a healthy and delicious way to get your grains, look no further than brown rice pilaf.
Other recipes you might love to try.
Brown Rice Pilaf With Almonds
This brown rice pilaf with almonds is the perfect side dish for your next meal. It is packed with flavor and nutrients, and it is sure to please even the pickiest of eaters.
Brown rice is a great source of fiber and vitamins, and it has a nutty flavor that pairs well with the almonds in this dish.
The almonds add a crunchy texture and a healthy dose of protein. This pilaf is also loaded with veggies like carrots, celery, and onion.
Brown Rice Pilaf With Vegetables
Enjoy a healthy and flavorful brown rice pilaf with vegetables. This dish is packed with nutrients and is sure to please even the pickiest of eaters.
To make this brown rice pilaf, you will need: 1 cup brown rice, 2 cups vegetable broth, 1 onion, diced, 1 carrot, diced, 1 celery stalk, diced, 1/4 teaspoon dried thyme, 1/4 teaspoon salt, 1/4 teaspoon black pepper.
In a large saucepan, bring the vegetable broth to a boil. Add the brown rice and stir to combine. Add the onion, carrot, celery, thyme, salt, and pepper. Bring to a simmer and cook for about 45 minutes or until the rice is tender and cooked through.
Serve this brown rice pilaf with vegetables as a side dish or main course.
Check out these recipes
A Simple, Healthy Brown Rice Pilaf Recipe
The Ultimate Guide To Creating A Delicious Santa Fe Salad
How To Make Party Jollof Rice Nigeria/(Ingredients For Cooking half bag of Rice).
How to Cook Ewa Agoyin
Chickpea Moi Moi: An Affordable and Easy-To-Make Dish
How To Make Nigerian Doughnuts | Donut Recipe.
Easy Lemon Cream Cheese Bars Recipe
Honey Butter Toast In Less Time
How To Make Correct Ofe Owerri | Step By Step Guide
How To Make Chicken Shawarma At Home
How to Make an Asian Chicken Marinade in Under Ten Minutes
The Real Mojito cocktail Recipe
How To Make Cocktail Shrimps In Less Time | Step by Step Guide.
33 Best Chinese Food You Need To Try (2022)
24 traditional Ukrainian foods you must try in 2022
40 Best South Indian Foods To Try In 2022
27 Interesting Types of Bread from Around the World
35 Most Popular Mexican Foods You Should Try in 2022
How To Make Quaker Oats | Step By Step Recipe.
How to make boxed rice pilaf better
There are a few things you can do to make that boxed rice pilaf better. First, add some seasoning to the rice before cooking it. This will give the rice more flavor.
Second, sauté some vegetables in olive oil and add them to the rice. This will add color, texture, and nutrition to the dish. Finally, top the rice with shredded cheese or chopped nuts for extra flavor and crunch.
Conclusion
In conclusion, this simple brown rice pilaf recipe is a versatile and easy way to add whole grains to your diet. It can be made in advance and reheated, making it a great option for busy weeknights.
This dish is also a great source of plant-based protein and can be easily customized to suit your taste. Give it a try tonight.