How to Cook Party Jollof Rice Without Parboiling the Rice /Tips to Get the Red Colour Jollof
You can cook jollof rice without parboiling it, this method is one of the great ways of making rice without it turning to pap (soaking it with hot water). I tried this method and it turned out really nice. I thought I to share it with my readers.
Nigerian party jollof rice is a popular dish that is very tasty, aromatic, and colorful. It is made with rice, tomatoes, peppers, and other spices. It is usually served at parties and other special occasions.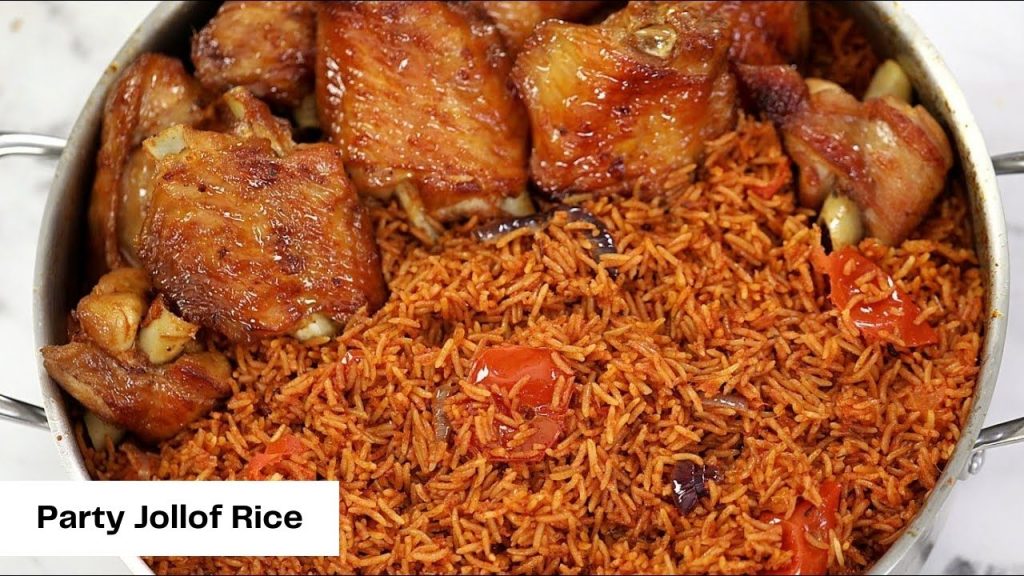 This dish is so popular because it is so flavorful and hearty. It is also very filling, so it is perfect for a party or large gathering. The colors of the ingredients make it very visually appealing as well.
If you have never tried Nigerian party jollof rice, you should definitely give it a try. You will be surprised at how delicious it is!
Other countries like Ghana and Senegal have their own version of jollof rice, but I feel this Nigerian party jollof rice stands out when it comes to taste and look.
This is not magnification, but an easy reality and I will love to share my own directions on how to accomplish this excellent jollof rice.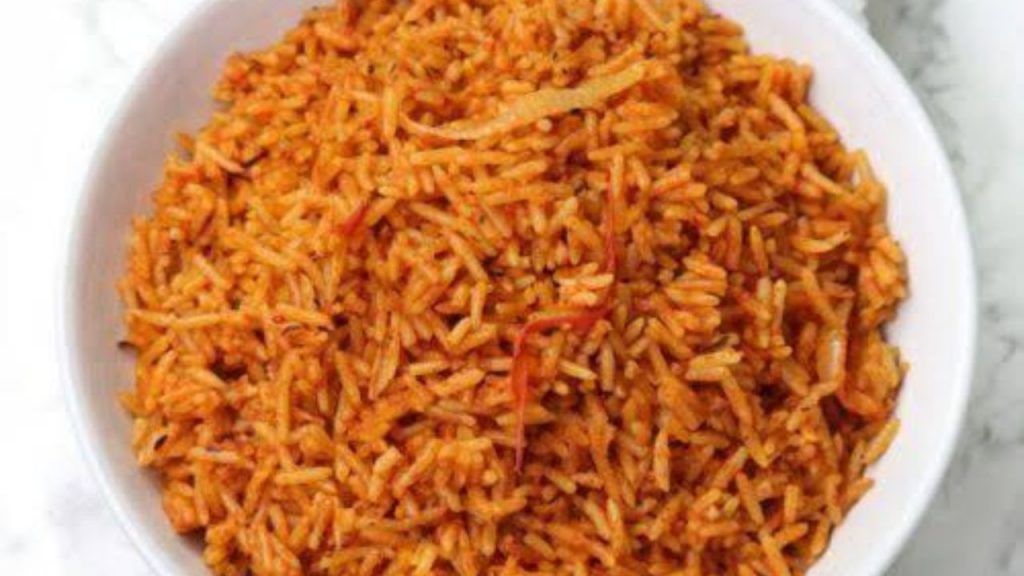 However, if you're making this rice see the ingredients and follow the steps below and you will achieve that party jollof rice color.
Ingredients For Cooking Half bag Jollof rice.

25 kg rice (six custard rubber)
4-8 liters liter of very rich meat stock, depending on the quantity of meat used
1 and half of 2200g of tin tomatoes (largest size)
10 bulbs of onions
Ginger and garlic for steaming meat.
1/2 cup of natural spice ground (optional)
Cow bone (that strong part or biscuit bone) is seasoned and boiled.
1/2 custard rubber of bonga fish ground
8 pieces bay leaf, tiger curry powder, and thyme.
1 and a half packets of knorr chicken stock cube
1 baking cup of Maggi chicken powder
1 bog sachet of kitchen glory stock powder
1 big sachet sweet mama or spicity stock powder
2 dustbin rubber of fresh tomatoes
Half custard rubber of habanero pepper
1 dustbin rubber of very fresh shombo or tatashi
3 and a half liters of vegetable oil (something close to one custard rubber
3 and a half liters of vegetable oil (something close to one custard rubber
250g butter, I prefer topper butter
10 custard rubber of water including meat stock
Salt to taste
Note: Add all the seasonings and taste before adding salt
Ingredients for garnishing (optional)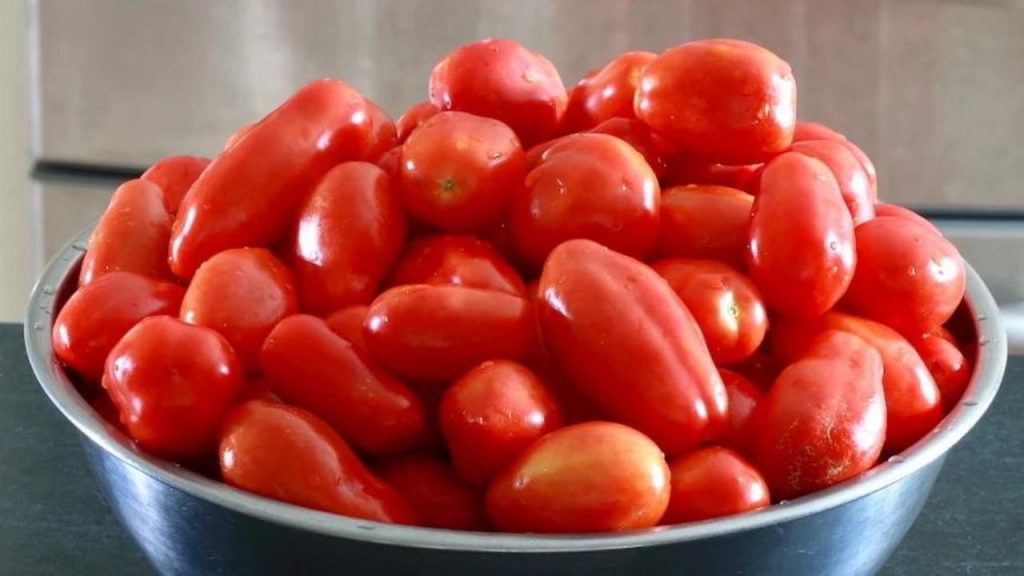 Steps on how to make perfect party jollof rice
How To Cook Nigerian Party Jollof Rice
Pour water inside a big pot and set it on high heat. Wash the rice properly at least 3 times, sieve the water out, and set it aside in a big bowl.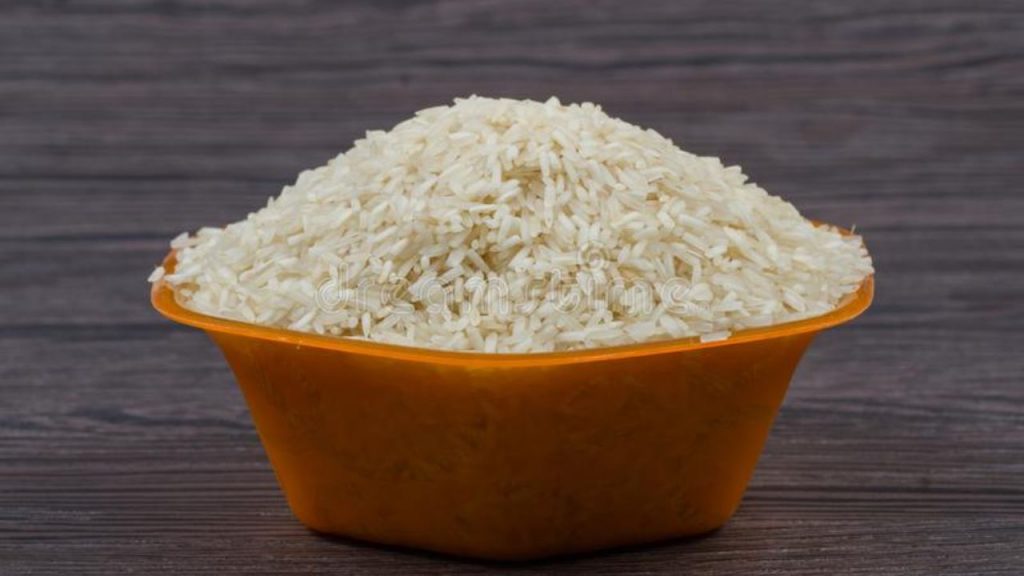 When the water boils, pour the hot water directly into the washed rice. Use a big turning stick and stir, cover and allow for at least 10-15 mins. Wash it off and set it aside for use.
Blend your tomatoes, shombo, and pepper then boil to dry off the water. Next, set your oil on high heat then, add diced onion and fry quickly in a little hot fat. At this juncture mix, the tin tomatoes with water then fry, Fry your tin tomatoes first helps to reduce their acidic taste, fry till dry then add the fresh tomatoes and fry as well.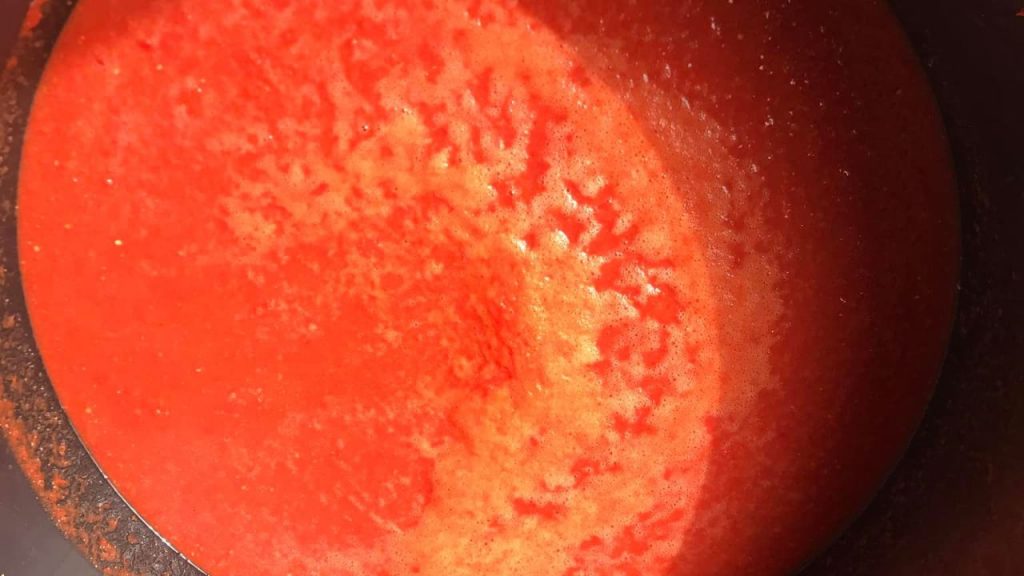 While frying, put the bay leaf, curry powder, and thyme then stock cube and stock powder and fry till dry. Note: once you add the stock cube it starts to burn so avoid adding it till it's almost fried and dried
Add the meat stock, and bone water, and top it with ordinary water if necessary. Put in the blended bonga fish.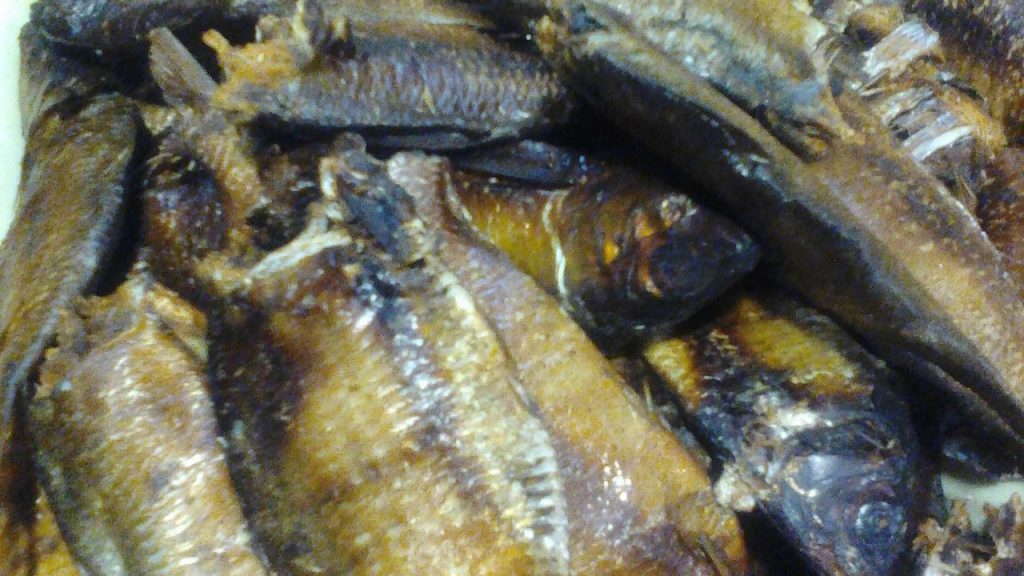 Note: your meat stock is part of your water, at this point taste and adjust seasoning if necessary then, allow to boil.
Add the washed rice to the boiling pot, stir with a big wooden stick, put the cow bone, sprinkle the natural spice then, cover to start cooking. Once it starts to cook, reduce the heat after some time to reduce burning then stir at intervals till cooked
When it's almost dried and you noticed that is not cooked, cover it with a sack then place the pot lid, reduce the heat again and allow it to steam for about fifteen to twenty minutes then open and stir then dish into your coolers.
But if it still has water and you noticed that is cooked, use a turning stick and put up the rice so that the water will go down. Lower the heat then, cover the pot and allow the water to dry.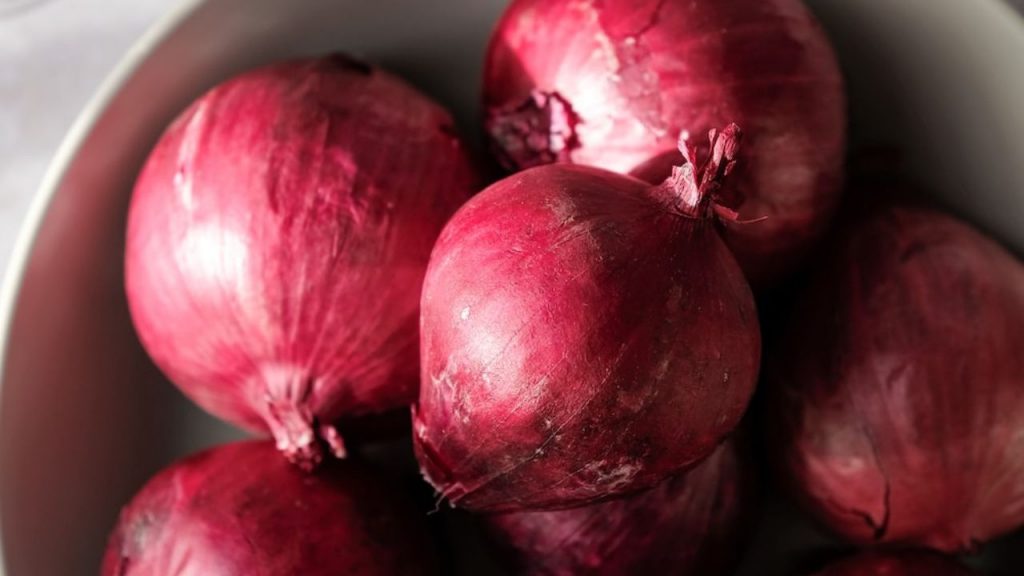 Serve your party jollof rice with baked or fried chicken and chilled drinks. Bon appetit!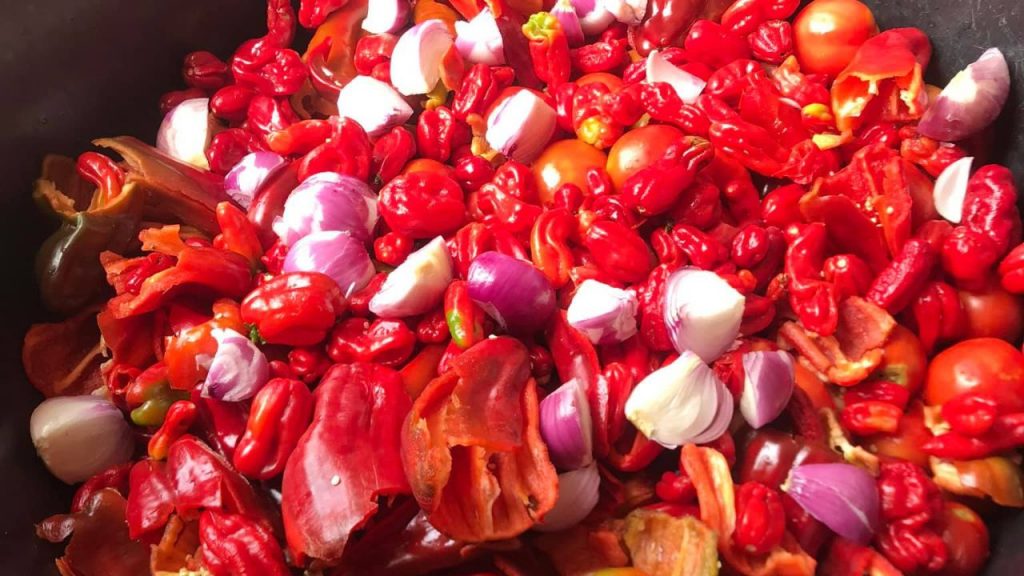 Important Information For Making That perfect Party Jollof Rice
If you're looking to keep your food warm for an all-day event, hot water is your key. Just pour it into your cooler, cover for about 30 minutes, then pour it out before dishing up your food.
This technique works great for party jollof rice and other dishes that you want to stay warm throughout the day. So next time you're planning a big event, don't forget the hot water!
Jollof rice is a staple dish in Nigeria and is often served at parties and other special occasions.
To get the perfect red color for party jollof rice, I use a little secret ingredient – tomato puree. This gives the rice a lovely red hue and also adds a delicious depth of flavor.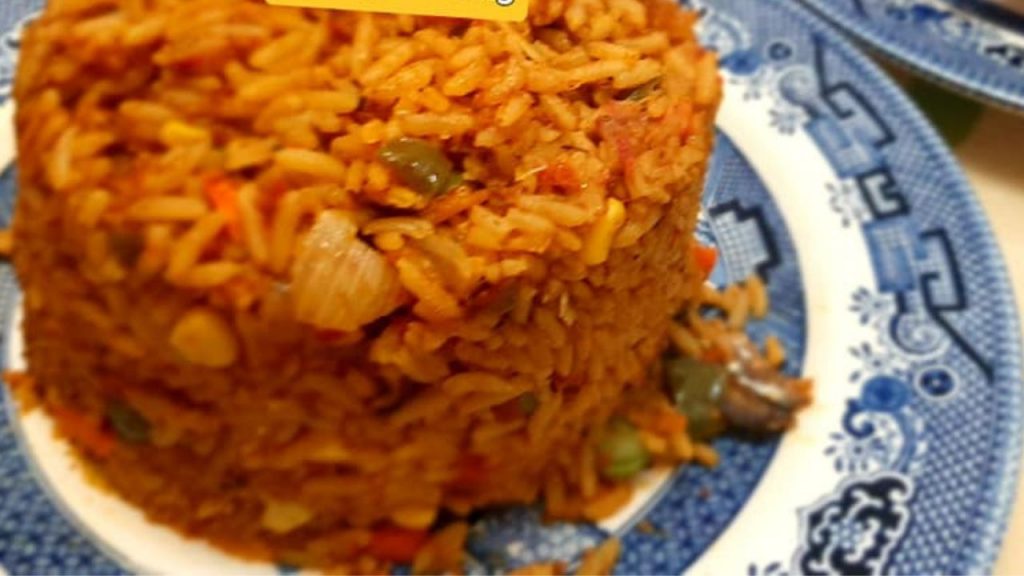 To really make the dish shine, I like to serve it with baked or fried chicken and some chilled drinks on the side. It's always a big hit with my guests and they always ask for seconds. If you're looking to impress your guests with a show-stopping jollof rice dish, then this is definitely the recipe for you.
If you want your party jollof rice to turn out perfectly, make sure to use plenty of paprika (red bell peppers tatashe), enough fresh tomatoes, and as well tomato paste. Without these key ingredients, your dish will be bland and unappetizing. By following this simple advice, you can ensure that your party jollof rice will be a hit with everyone.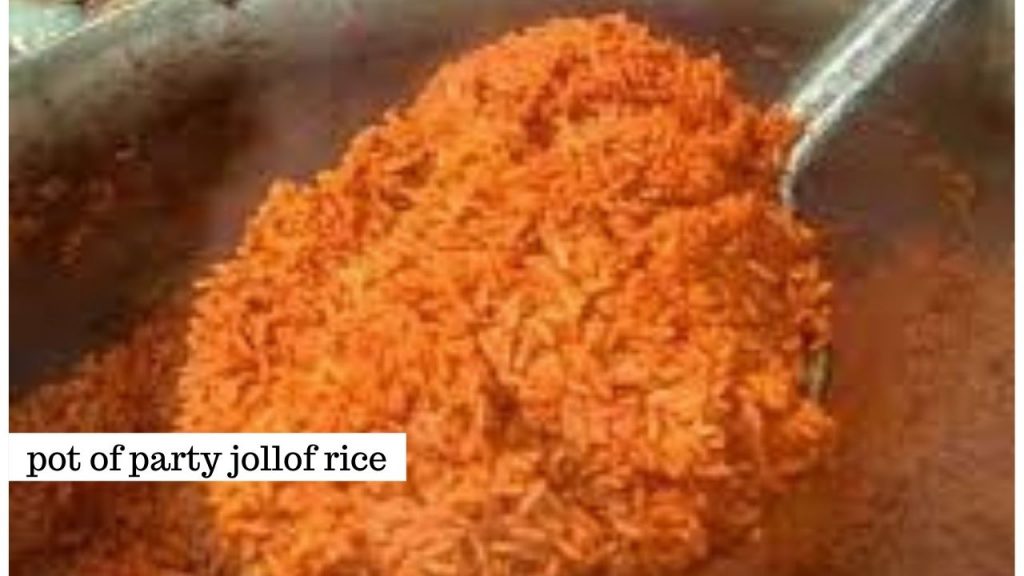 This is because paprika (bell pepper) isn't really juicy as fresh tomato and if you use only tomato, it will not give the rice that redness that you need so, it is best you combine both paprika and tomato to make this.
Other rice recipes you might love to try.
What is the best rice to use for jollof rice?
Any rice can serve but long grain rice will give you that party jollof rice look and taste, especially when using basmati rice, Marona Benz, or mama g.
These three types of rice have a long grain which gives them a more distinct appearance than other types of rice when cooked. Basmati rice is especially aromatic and has a nutty flavor that goes well with many different dishes.
Marona Benz has a slightly sweet flavor and is often used in desserts or as a side dish. Mama g is the most commonly used type of long grain rice in Nigeria and is known for its ability to absorb flavors well, making it perfect for use in stews and soups.
What do you eat rice with?
Fried chicken
Fried meat
Sugar can juice
Salad
Here are those secret ingredients for my party jollof rice
Cow bone
Bay leaf
Meat stock
Blended bonga fish
Natural spice
Fresh tomatoes and shombo
Onion and spicity
Tin tomatoes
What makes jollof rice unique?
Jollof rice is a popular West African dish that can be enjoyed in many different ways. The dish is unique because of its distinctive flavor and the way it is prepared.
Jollof rice is usually made with tomatoes, onions, and chili peppers, which give it its red color. The dish is often spiced with ginger, garlic, cumin, and paprika. Jollof rice can be served with chicken, beef, or fish. It can also be made with vegetables for a vegetarian option.
What makes jollof rice so special is its ability to be adapted to different cultures and tastes. Whether you like your rice spicy or mild, there is a version of jollof rice for you. This dish is a delicious way to experience the diversity of West African cuisine.
Yes, it has an extremely healthy sauce. Secondly, it has the lowest calorie count of all rice meals. 300g of Jollof rice = 296 calories.
Can I add crayfish to my jollof rice?
Can I add crayfish to my jollof rice? This is a question that has been asked by many, as jollof rice is an incredibly popular dish in West Africa. Not only is it flavorful, but it's also quite versatile. By adding different ingredients, you can create unique and delicious meals.
Crayfish are often added to dishes such as soups and stews because they add a nice smoky flavor and depth of taste. In addition to this, crayfish are rich in protein and other nutrients which can provide a nutritiously balanced meal for your family or guests. Adding crayfish to your jollof rice will give the dish some extra flavor that will be sure to please everyone at the table!
Why is butter added to jollof rice?
Jollof rice is one of the most popular West African dishes. It's a hearty, spicy dish made with fragrant, long-grain rice and a variety of seasonings, herbs and spices.
One key ingredient that adds flavor and texture to jollof rice is butter. But why is butter added to this beloved dish?
Butter adds an unforgettable richness and creaminess to any dish it's added to. In jollof rice, butter helps to create a luxurious coating on each individual grain of rice while also adding depth of flavor.
Nutritional yeast gives the dish an umami-like taste that balances out the spice from the chili peppers used in making the dish.
Additionally, butter creates a smooth texture throughout the entire mixture which makes it easier for diners to eat their portion without having any lumps or clumps in their food.
Why do you cover jollof rice with foil?
Covering jollof rice with foil is a popular cooking technique used to keep the dish warm and give it an even, flavorful taste.
Not only is covering jollof rice with foil a great way to preserve its flavor, but it also ensures that the meal stays warm for longer periods of time.
Foil helps to trap in heat and steam during the cooking process. This creates a humid environment which keeps moisture locked into the food, preventing it from drying out easily.
Additionally, wrapping the jollof rice in foil helps to distribute heat evenly throughout the entire dish so that all components of the meal are cooked uniformly.
How Many People Can Half a Bag of rice feed?
A half bag of rice can feed 210 people if served with salad and chicken. This is possible because the rice will provide enough carbohydrates to fill everyone up, and the chicken will add some protein and fat to the meal. Moimoi, a traditional Nigerian dish made with beans and vegetables, can also be served with this meal to add some more nutrients.
What happens if you put too much tomato paste in jollof rice?
Tomato paste is an essential ingredient in Jollof rice, a popular West African dish. It adds flavor and color to the dish.
However, if you put too much tomato paste in your Jollof rice, it can become unappetizing and unpalatable.
The first thing that will happen is that the overall appearance of the dish will change. The tomato paste may give the finished product an orange or reddish tint instead of its usual golden-brown hue.
The texture of the Jollof rice can also become mushy because there is too much moisture from the tomato paste present in it.
In addition, if you use too much tomato paste when making Jollof rice, it can be too tart and acidic for your taste buds.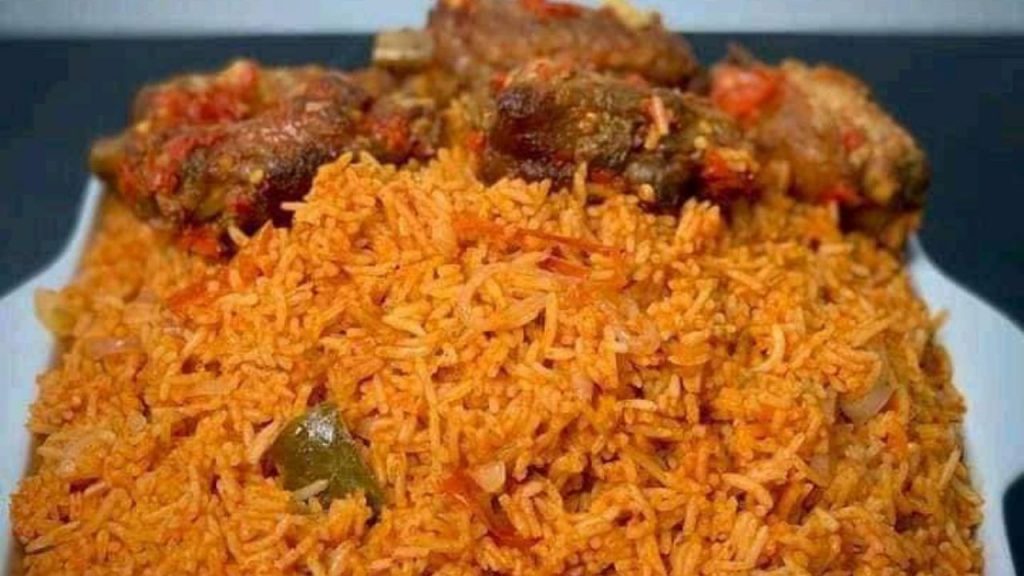 Conclusion.
In conclusion, making party jollof rice is a fun and easy process that anyone can do with the right ingredients. All you need is half a bag of rice, some tomatoes, onions, peppers, and spices. With these simple ingredients, you can create a delicious and healthy dish that will be sure to please any crowd. So what are you waiting for? Get cooking!