One of the most popular soups in Owerri is ofe owerri. It is a savory, rich soup common among the Owerri people. This is a one-pot soup prepared with assorted meat and cocoyam as a basic thickener.
The cocoyam gives the soup a characteristic orange color and a slightly sweet taste. Ofe Owerri is usually served with pounded yam or fufu, which helps to soak up all the delicious flavors of the soup.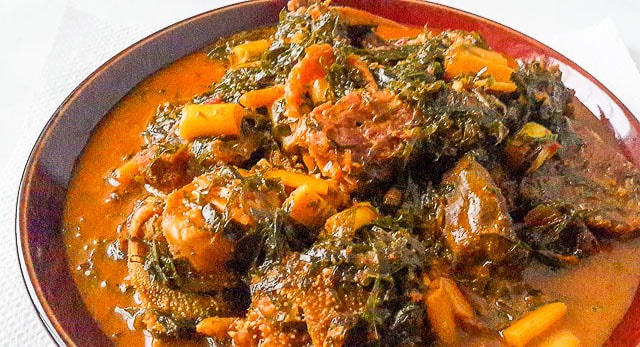 The dish is named after the city of Owerri in southeastern Nigeria. It is said that the dish was made popular by an Igbo song that says that he who is not rich does not eat Ofe Owerri.
When preparing Ofe Owerri, a popular Nigerian dish, several types of meat and fish are used. Lamb and goat meat are often used, as well as tilapia, catfish, and perch.
This is because these meats and fish are all considered to be very flavorful. In addition, using several different types of meat and fish helps to give the dish a variety of textures and flavors.
Ofe Owerri ingredients.
1 wrap ogiri igbo
½ cup palm oil
500g assorted meat
8 medium of cocoyams
8 pieces of snails, optional
1 cup of dried prawns
1 medium sized stockfish head
2-3 stock cubes
¼ cup ground crayfish
3 medium-sized dried fish (Azu Okpo)
Habanero pepper (to your taste)
1 medium bunch ugu (Nigerian pumpkin leaves)
1 small bunch okazi (Afang leaves, Gnetum africanum)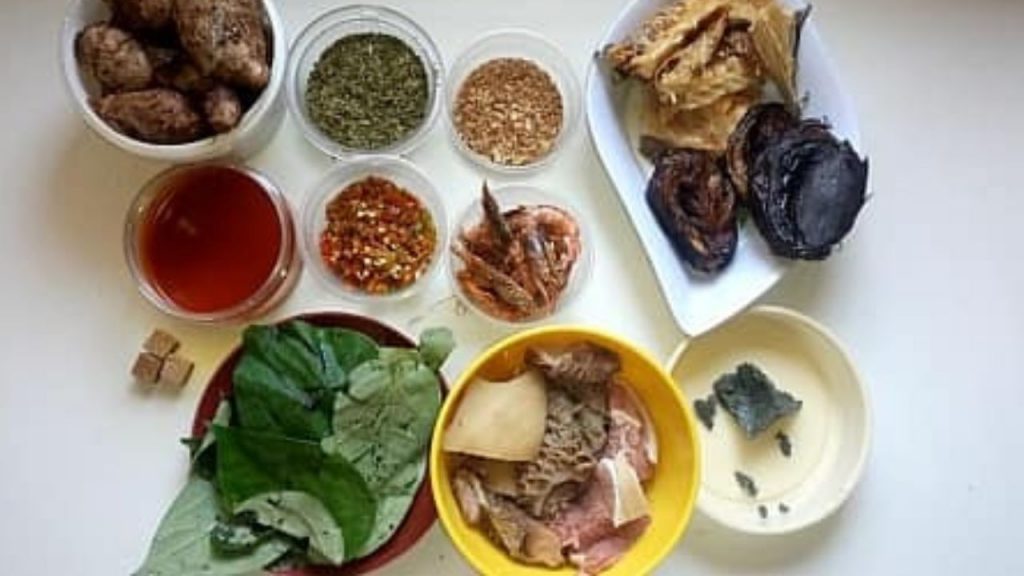 1. 500g assorted meat (goatmeat, chicken, kpomo, assorted etc)
500g assorted meat is a great way to get a variety of different types of meat. You can get chicken, pork, beef, and lamb. This is a great way to try out different kinds of meat and see what you like the best. You can also cook different kinds of dishes with this meat. This is a great way to have a family dinner and try out new recipes.
When it comes to Caribbean soups, coco yam is a must. This tuber is not only a delicious addition to many soups, but it's also very important for the overall flavor of the soup. Here are three reasons why coco yam is so important in Caribbean soups:
Coco yam is a flavorful addition that can add depth of flavor to any soup.
Coco yam helps thicken soups and give them a more hearty texture.
Coco yam is also high in dietary fiber, which makes it an important part of any healthy diet.
3. 8 pieces of snails, optional
When adding snails to your soup, it's important to include both the body and the liver. The body contains a high amount of protein, while the liver is packed with minerals like iron and copper.
Snails are also a good source of vitamin A and B12. Including these essential nutrients in your soup will give you an added boost of energy and help keep you healthy.
4. 1 cup of dried prawns
Before you prepare Ofe Owerri
Boil the meat and fish with the seasoning cubes, onion, pepper, salt and cryfish till done.
Cook the cocoyam till soft, peel, and pound into a smooth paste with a mortar. You can also use your blender. Add a little bit of oil and pound together.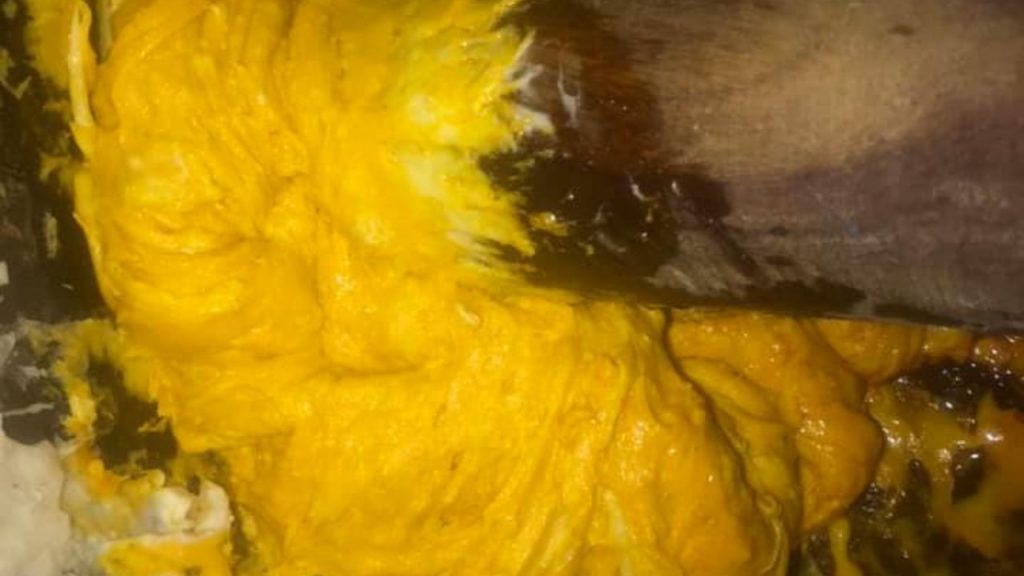 Pick the vegetables, rinse very well and chop the ugu into tiny pieces. Cut the okazi into thin slices.
Soak the dry fish in water; when soft, clean, de-bone, and break into small pieces.
Chop the habanero peppers.
Directions for making the Ofe Owerri
Set the boiled meat on the stove. Top tip: the quantity of liquid in the pot should be just a bit less than the level of the meat and fish.
Add crayfish and dry fish. Cover and leave to boil. When it boils, add the palm oil and the cocoyam paste (in lumps). Cover and continue cooking on high heat.
Once the soup thickens, take off the undissolved cocoyam paste (if any). Add the chopped peppers and the vegetables.
Cover, and once it boils again, add salt if necessary. Stir very well and transfer the soup to a cool container immediately so the veggies will remain green.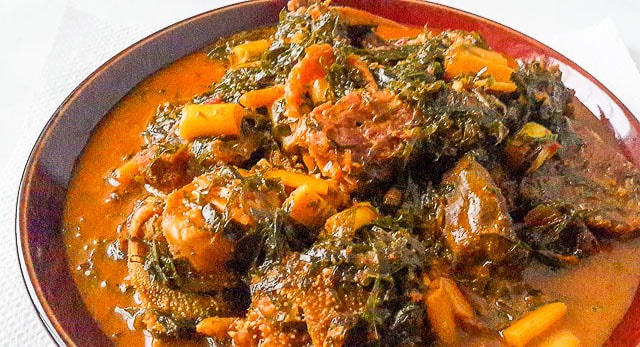 Tools and utensils you'll need
You'll need mortar and pestle to pound the cocoyam. You can also use a blender.
Notes on the Ofe Owerri Ingredients
You'll need just enough cocoyam paste to achieve a medium thickness for the soup.
The vegetables should not be too much in the soup.
If you do not have habanero pepper, cayenne pepper is good too.
Conclusion
In conclusion, making ofe owerri is a process that can be enjoyed by all if done correctly. By following the simple guide provided, you can make this delicious dish with ease. So, what are you waiting for? Get started and enjoy!