Do you love cream cheese? Do you love lemon? If you answered yes to both of those questions, then we got the recipe for you.
These easy lemon cream cheese bars are the perfect sweet and tangy treat.
They're perfect for a summer picnic or potluck, and they're so easy to make, that you'll be whipping them up in no time.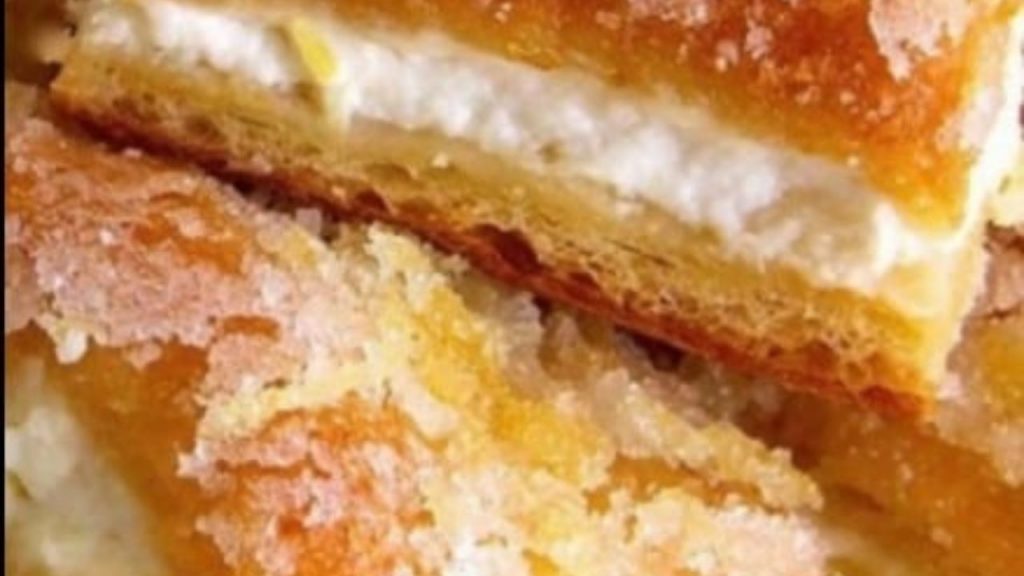 Lemon cream cheese bars are the perfect treat! Made with just a few simple ingredients, they are quick and easy to make. And the best part? They taste amazing!
These lemon cream cheese bars are the perfect combination of sweet and tart. The creamy filling is made with cream cheese, sugar, and fresh lemon juice. It is then spread over a shortbread crust and topped with a lemon glaze.
If you are looking for a show-stopping dessert that is sure to impress, look no further than these easy lemon cream cheese bars.
Ingredients For Easy Lemon Cream Cheese Bars Recipe
cooking spray
2 (8 ounce) packages of refrigerated crescent roll dough (such as Pillsbury® Recipe Creations®), divided
2 lemons, zested and juiced, divided
2 (8 ounce) packages of cream cheese, softened
½ cup white sugar
2 tablespoons butter, melted
3 tablespoons white sugar
Directions For Easy Lemon Cream Cheese Bars Recipe
Preheat the oven to 350 degrees F (175 degrees C). Line the bottom of a 9×13-inch baking dish with aluminum foil and spray with cooking spray.
Press 1 can of crescent roll dough into the bottom of the prepared baking dish, stretching to the edges.
Mix the zest of 1 1/2 lemons and juice from 2 lemons together in a bowl. Beat cream cheese and 1/2 cup sugar into lemon zest mixture using an electric mixer until smooth and creamy; spread over crescent roll dough layer.
Unroll the second can of crescent roll dough and layer over the cream cheese mixture, gently stretching the dough to the edges.
Brush melted butter over the crescent roll dough layer. Mix remaining lemon zest and 3 tablespoons sugar together in a bowl; sprinkle over butter.
Bake in the preheated oven until the top is golden brown, about 30 minutes. Allow cooling for about 20 minutes. Lift dessert from baking dish using foil; transfer to a cutting board.
Cut into squares, leaving on foil. Return dessert to the baking dish and refrigerate until chilled, at least 1 hour.
lemon cake with cream cheese frosting
Lemon cream cheese frosting
Lemon cream cheese frosting is a delicious and tangy topping that can be used to enhance the flavor of many desserts.
Making this frosting at home is simple and easy, requiring only a few basic ingredients that are likely already in your pantry. With our recipe, you can whip up a batch of creamy lemon frosting in no time.
To start, gather your ingredients: butter, cream cheese, powdered sugar, lemon juice, vanilla extract and lemon zest. Allow the butter and cream cheese to come to room temperature before beginning.
Beat the butter in a large bowl until it's light and fluffy with an electric mixer or stand mixer fitted with a paddle attachment. Add the cream cheese to the bowl and beat again until well combined.
Next, gradually mix in the powdered sugar on low speed until fully incorporated into the mixture.
Lemon cream cheese pound cake
Ingredients
1 and 1/2 cups butter room temperature
8 ounce cream cheese room temperature
6 large eggs room temperature
3 cups granulated white sugar
3 cups all-purpose flour
1 tablespoon lemon extract
Instructions.
Coat a 10 cup tube pan or Bundt pan with solid vegetable shortening and sugar or wilton cake release
In a bowl of an electric mixer, beat butter and cream cheese until smooth.
Add sugar and beat until fluffy. The mixture will lighten in color slightly.
Add eggs one at a tim, beating after each addition. Slowly add flour to the mixture and combine.
Add lemon extract and combine. Pour batter into prepared pan.
Bake 60-70 minutes or until pick inserted in center comes out clean or with dry crumbs. Allow to cook on the counter-top on a wire rack 15 minutes before inverting on a serving tray.
Cool completely on the counter before covering in an airtight container. Store in air- tight container on the counter-top for 3 to 4 days.
For more recipes
Conclusion
In conclusion, this easy lemon cream cheese bars recipe is perfect for a summer dessert. The bars are refreshing, light, and have the perfect amount of sweetness.
The recipe is also very easy to follow, and can be made in just a few simple steps. If you're looking for a delicious and summery dessert, give these lemon cream cheese bars a try.