A popular dish that is often found in Caribbean cuisine is plantain fries. This dish is made by slicing plantains into thin strips and then frying them in oil. The end result is a crispy, salty snack that is perfect for dipping into sauces or eating on its own.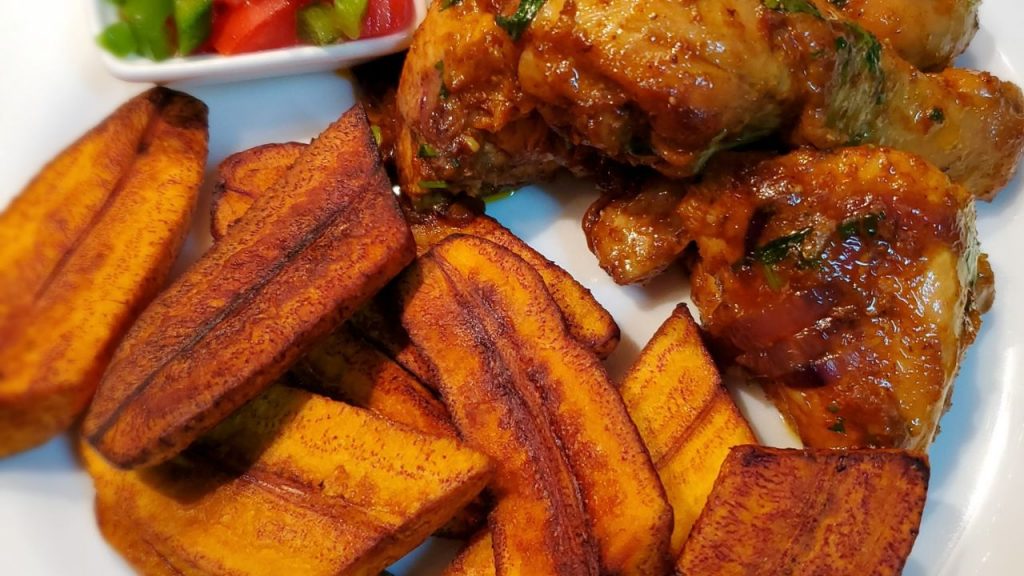 Plantain fries can be made with either green or yellow plantains, and they are a great way to use up any leftover plantains that you may have.
One reason you should know how to make plantain fries at home asis a busy mum. This is because they are a quick and easy snack to make. Unlike some other snacks, plantain fries do not require any dipping sauce or extra ingredients.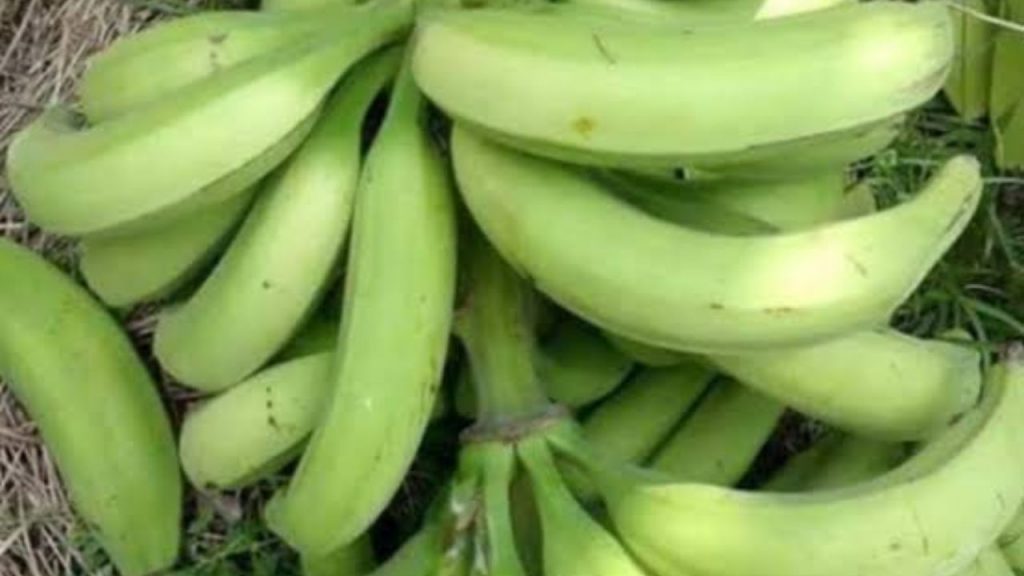 Another reason you should know how to make plantain fries at home is that they are a healthy snack option. Plantains are a type of banana that is high in vitamins C and B6, potassium, dietary fiber, and antioxidants.
Finally, knowing how to make plantain fries at home can save you money. Plantains are relatively inexpensive compared to other types of fruit or vegetables. Plus, making your own fries instead of buying them from the store will save you money on groceries.
Plantains are a great alternative to traditional fries. They are starchy vegetables that can be cooked in many different ways. One of the best ways to cook them is by making plantain fries.
If you have never tried making plantain fries then you need to try them at least once in a while. They are a great alternative to traditional fries and they are very easy to make. All you need is some plantains, oil, and salt.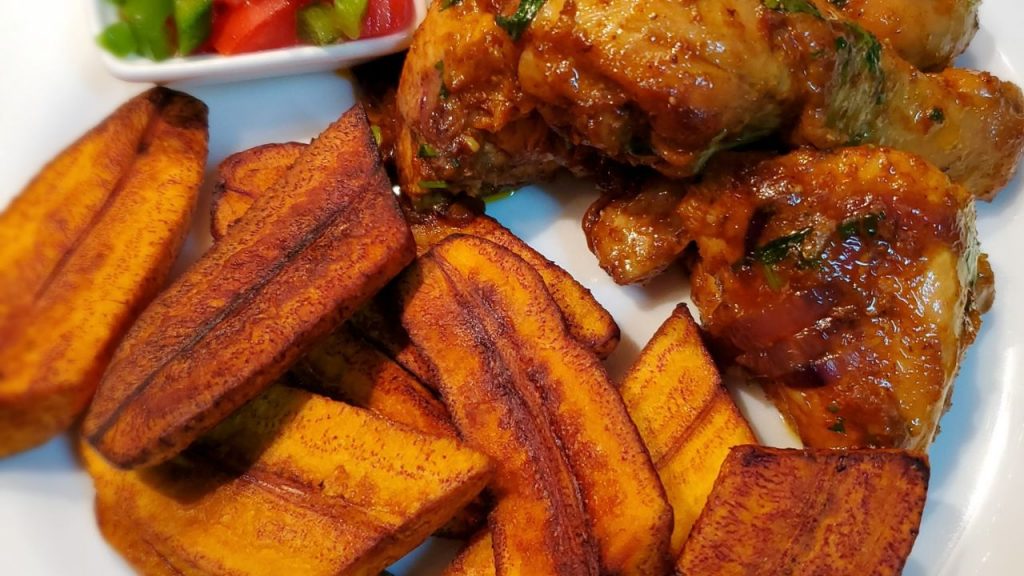 What is plantain
Plantain is a common name for a genus of flowering plants in the banana family. There are about 150 species of plantain, most of which are found in the tropics. Plantains are more starch-rich than bananas and are often used as a vegetable. They may be fried, boiled, baked, or steamed.
Ingredients For Making Plantain Fries
How to make plantain fries
Get your plantain ready, Wash it properly, to peel the plantain, start by cutting off the ends of the fruit. Then, cut the fruit in half crosswise.
Use a sharp knife or a mandoline slicer to slice off the skin of the plantain. Be careful not to cut into the flesh of the fruit. Finally, cut the plantain into slices or cubes.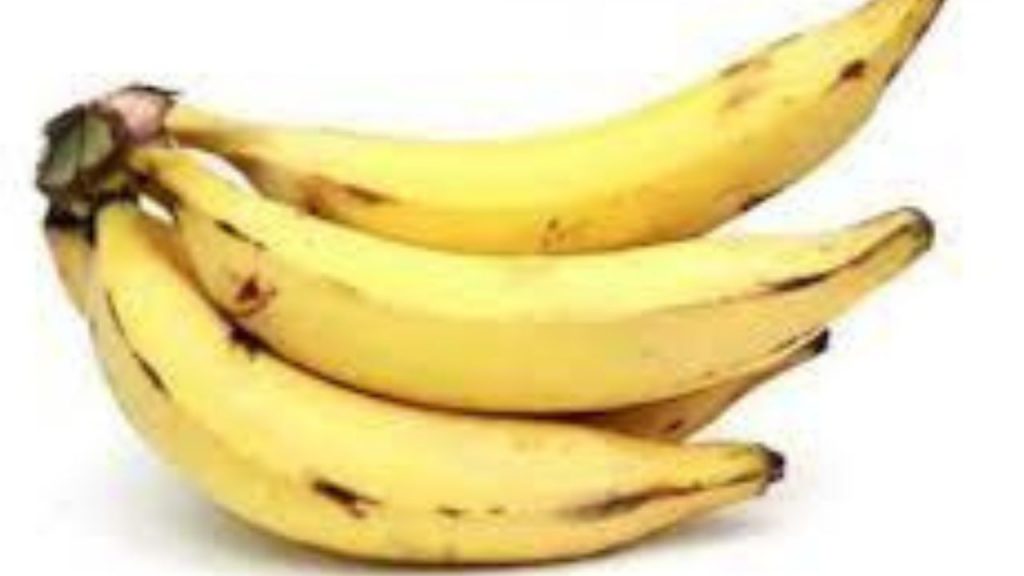 Once the plantains are sliced, Add salt and stir. Heat some oil in a pan over medium heat. You want the oil to be hot enough so that the plantains will brown quickly, but not so hot that they burn.
Once the oil is hot, add the sliced plantains and cook them until they are golden brown on both sides. serve with any sauce of your choice.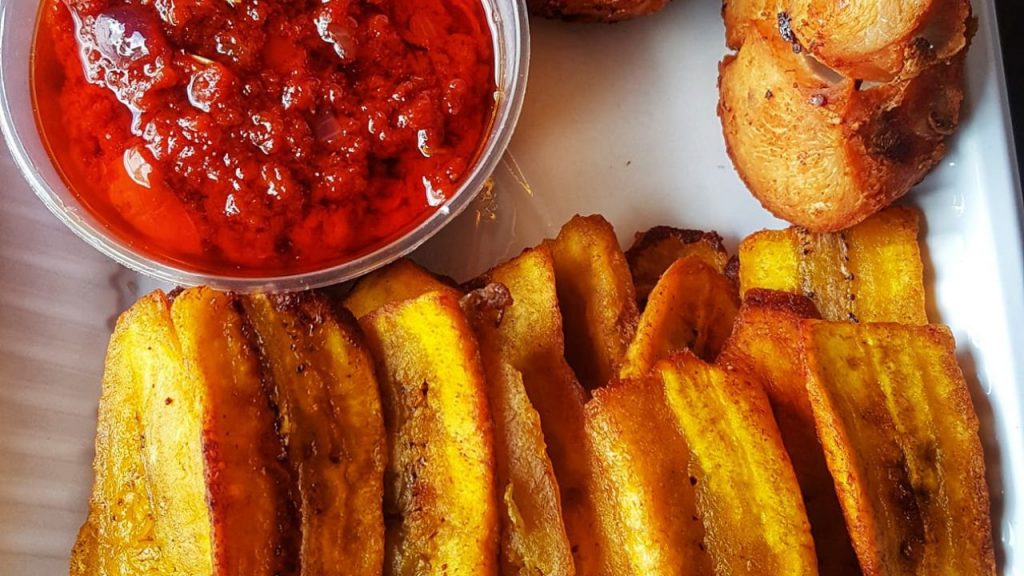 what to serve plantain fries with
There are many different dipping sauces that you can serve with your plantain fries. Some of our favorites include: honey mustard, ranch, BBQ sauce, and ketchup.
You could also serve them with a side of guacamole or salsa for some extra flavor and texture.
If you're feeling adventurous, you could even make your own dipping sauce by mixing together some of your favorite herbs and spices. No matter which dipping sauce you choose, your plantain fries are sure to be delicious!
Like maduros or doudou, these contain perfectly ripe plantains, but the cut exposes even greater ripeness from the plantain's outside, which is high in the sugars that caramelize and stick because plantains are made from oil.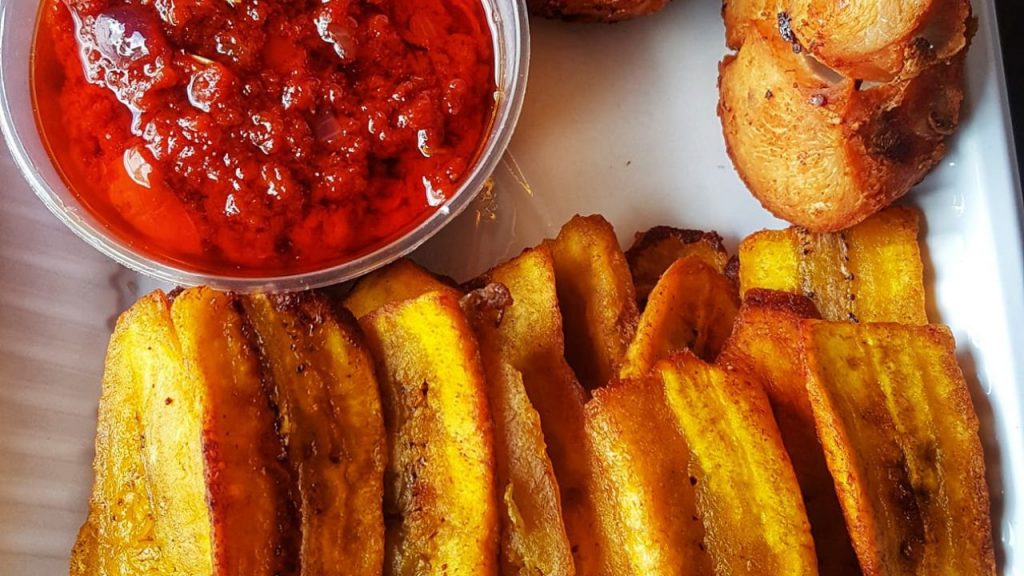 Oven-baked plantain fries
I have to admit that I am not the biggest fan of deep-frying. The smell, the mess, and the fact that it is usually not the healthiest cooking method all make me a little wary. So when I came across a recipe for oven-baked plantain fries, I was definitely intrigued.
The verdict? These fries are delicious! They are crispy on the outside and soft on the inside, just like traditional French fries. And because they are baked in the oven instead of fried in oil, they are a lot healthier.
So if you are looking for a lighter alternative to traditional French fries, then give these oven-baked plantain fries a try. You will not be disappointed!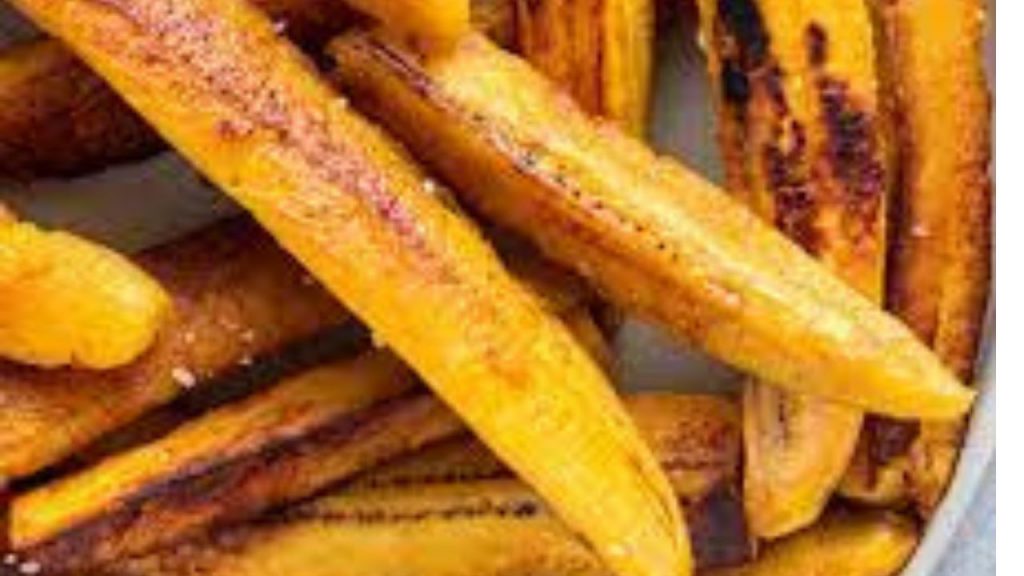 How to bake plantain fries in oven
Start by preheating your oven to 400 degrees Fahrenheit.
Cut the plantains into thin fries, making sure to remove any brown spots.
Toss the fries in a bowl with olive oil and sea salt.
Spread the fries out on a baking sheet and bake for 20-25 minutes, until golden brown.
Serve hot with your favorite dipping sauce!
plantain fries air fryer
If you're looking for a delicious and healthy snack, look no further than plantain fries! Plantains are a type of banana that is lower in sugar and higher in starch than other bananas. This makes them perfect for frying up into crispy fries.
While you can certainly make plantain fries in a traditional fryer, they can also be made in an air fryer. Air fryers use hot air to cook food, which means they are a healthier option than traditional fryers.
To make plantain fries in an air fryer, start by slicing the plantains into thin strips. Then, toss the strips with some oil and spices.
Place the strips in the air fryer and cook them at 370 degrees for 10-15 minutes, or until they are crispy. Enjoy!
Green plantain fries
Green plantain fries are easy to make. First, peel the green plantains and slice them into thin fries.
Then, heat some oil in a frying pan over medium heat, and add the fries. Fry until they're golden brown and crispy, turning them once or twice during cooking.
Once the fries are done, remove them from the heat and season them with salt and pepper to taste. Serve immediately with your favorite dipping sauce.
Green plantain fries are a great appetizer or side dish for any occasion. Give them a try today!
What type of plantain should I use for my fries?
When it comes to plantains, there are three types: green, yellow, and black. The green plantains are the least ripe and have a starchy texture, making them perfect for frying into fries.
Yellow plantains are more ripe and have a sweeter taste, while black plantains are the most ripe and have a sweet-tart flavor. So, what type of plantain should you use for your fries?
It really depends on your preference. If you want a starchy texture and a slightly bland flavor, go with the green plantains. If you want a sweeter taste with more pronounced flavors, go with the yellow or black plantains.
Do fried plantains taste like potatoes?
No, fried plantains do not taste like potatoes. Fried plantains are starchy vegetable that is often served as a side dish in Latin American cuisine. They are typically fried in oil until they are golden brown and have a crispy texture.
Potatoes are a tuber that is also often served as a side dish, but they have a different flavor and texture than fried plantains. Potatoes are earthy and creamy, while fried plantains are sweet and crunchy.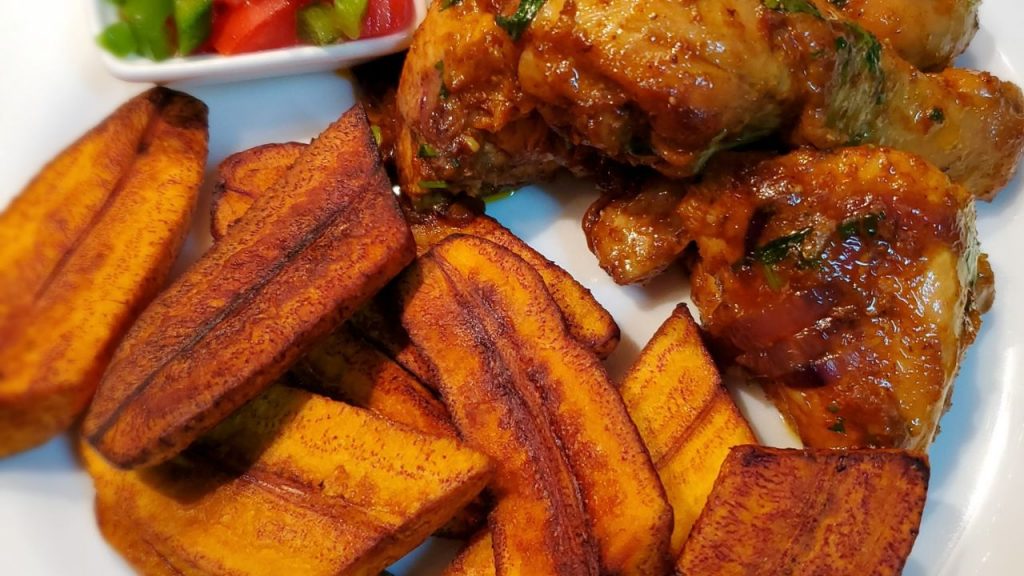 What do plantain fries taste like?
When it comes to plantain fries, there are two types of people: those who love them and those who have never tried them. If you're in the latter category, you're missing out! Plantain fries taste like a cross between a sweet potato fry and a regular French fry.
They're crispy on the outside and soft on the inside, making them the perfect appetizer or side dish. If you're looking for a delicious and unique way to enjoy plantains, give these fries a try!
Is plantain just fried banana?
The answer to this question is both yes and no. Plantains are a type of banana that is starchier and less sweet than the bananas most people are used to. They are typically fried, but can also be baked or boiled.
Note
Plantains are a delicious and nutritious fruit that is often overlooked. They can be cooked in a variety of ways, making them a versatile addition to any meal. Here are some plantain recipes you need to try.
Plantains can be boiled, fried, baked, or grilled. My personal favorite way to cook them is to fry them in a little bit of oil until they are golden brown. They make the perfect side dish for any meal.
If you want to try something a little different, you can bake plantains instead of frying them. Baked plantains are sweet and delicious, and they make a great snack or dessert.
If you're looking for a healthy snack option, try grilling plantains. Grilled plantains are low in fat and calories, and they taste great when served with a dipping sauce.
Check out our food recipes
We as well have this
Conclusion
In conclusion, with a little bit of preparation, anyone can make delicious plantain fries in just a few minutes. By following these simple steps, you'll be able to enjoy this tasty snack any time you want.
Plantain fries are a great alternative to traditional potato fries. They are simple to make and taste delicious.