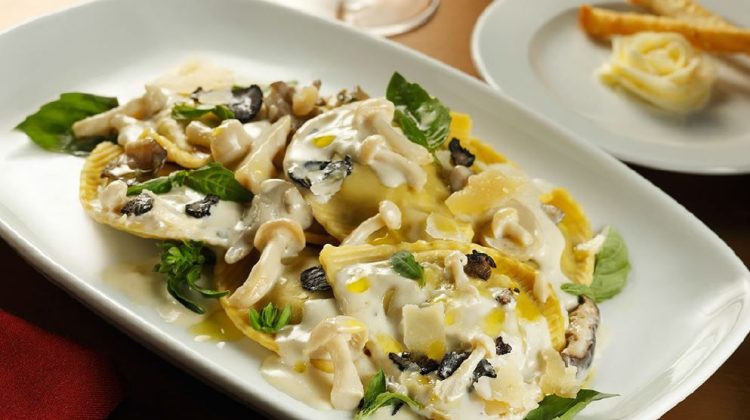 When it comes to delicious Italian food, Las Vegas has got you covered! Imagine yourself savoring mouthwatering pasta, cheesy pizzas, and rich, flavorful dishes right in the heart of the famous Las Vegas Strip. But with so many Italian restaurants to choose from, where do you start?
Well, we've got you covered! In this blog, we're taking you on a culinary journey through the "Top 20 Italian Restaurants to Go to in Las Vegas." Whether you're a foodie or just someone who loves a good, hearty meal, you're in for a treat.
We'll be exploring a wide range of Italian eateries, from the cozy and traditional spots serving up family-style favorites, to the upscale joints that offer a touch of Italian elegance. Expect to learn about classics like pizza and pasta, as well as modern twists on Italian classics.
So, get ready to satisfy your Italian food cravings, because in Las Vegas, you're in for a mouthwatering adventure that will leave you saying, "Mangiamo!" (Let's eat!)
1. Ventano Italian Grill & Seafood
Ventano Italian Grill & Seafood is an upscale dining destination located in Henderson, Nevada.
Known for its exquisite Italian cuisine and fresh seafood offerings, Ventano offers a sophisticated ambiance, attentive service, and a diverse menu featuring pasta, steaks, and a variety of seafood dishes. Guests can enjoy their meals with picturesque views of the Las Vegas Valley.
191 S Arroyo Grande Blvd, Henderson, NV 89012
2. Locale Italian Kitchen
Locale Italian Kitchen explores the traditions of Italian cuisines with a meat-centric menu. Red sauce Italian dishes mix with ingredients sourced from small American farms and others delivered straight from Italy.
The menu features house-made charcuterie, fresh pasta made daily along with specials ranging from those made with local produce to large-format, dry-aged steak. Some highlights from the menu include grass-fed filet mignon, bone-in short ribs, and eggplant parmigiano.
7995 Blue Diamond Rd #106, Las Vegas, NV 89178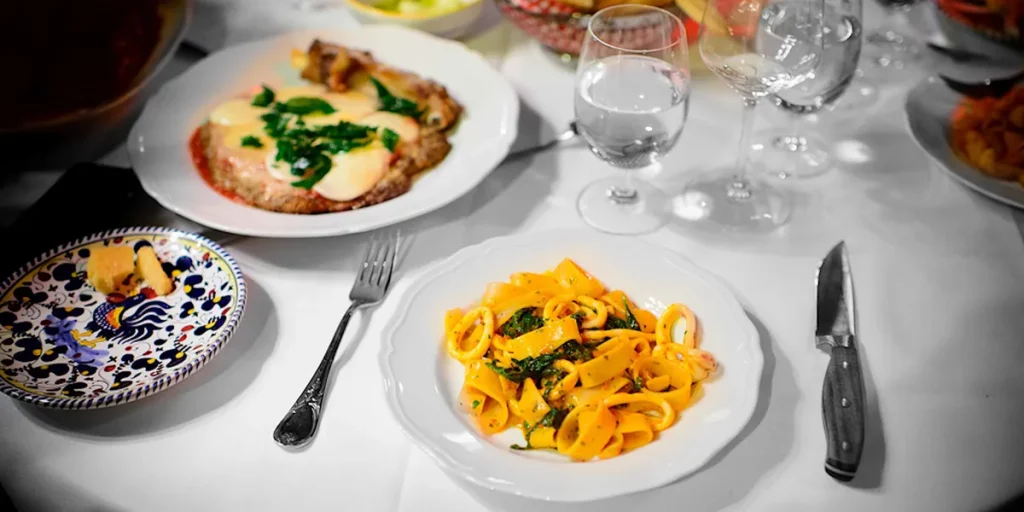 3. Carbone Italian Restaurant
Visit Aria Carbone's Italian-American inspired cuisine, where diners come for the spicy rigatoni vodka pasta entrée and the complimentary rainbow cookies.
This decadent restaurant with roots in New York City features captains serving dishes table side.
Lobster fra diavolo, chicken scarpariello, veal Parmesan, and octopus pizzaiolo are just some of the treasured dishes here. Or just put yourself in your captain's hands, that is, if money is no object.
Aria Resort & Casino, Paradise, NV
4. Amalfi by Bobby Flay
Amalfi is inspired by Bobby FLat's trips to the Italian coast, which means the food skews lighter: whole, fresh fish, like snapper, bass and branzino often grace the menu, and ingredients like capers, Calabrian chiles, and Meyer lemons are often featured.
3570 S Las Vegas Blvd, Las Vegas, NV 89109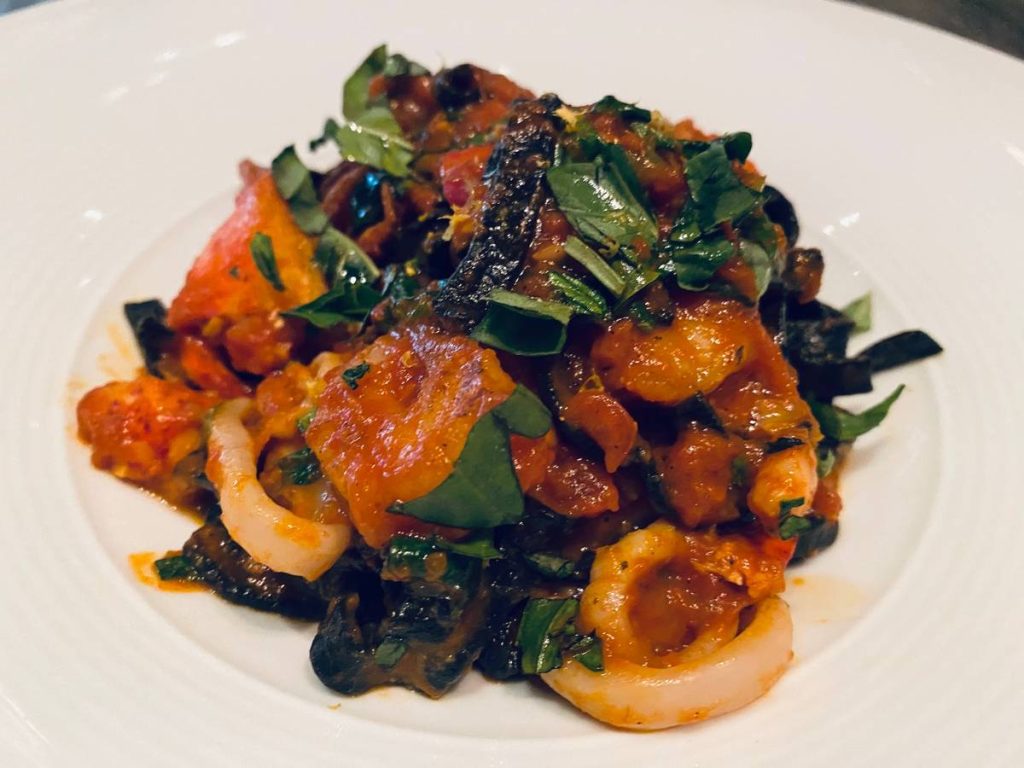 5. Toscana Ristorante & Bar at Eataly
You can spend a whole weekend in Eataly, alone. The Italian food hall at Park MGM has five quick-service options for lunch and snacks to-go. It also boasts a wine shop and market for buying Itlaian kitchen staples and three full-service restaurants.
Toscana Ristorante & Bar offers regional and Tuscan-inspired fare, with seasonal selections like risotto primavera with vegetables and aged parmigiano regiano, gnocchi with asparagus, grilled veal chop with crispy guanciale and cannellini white beans, and pan-seared king salmon.
Park MGM, 3770 S Las Vegas Blvd, Las Vegas, NV 89109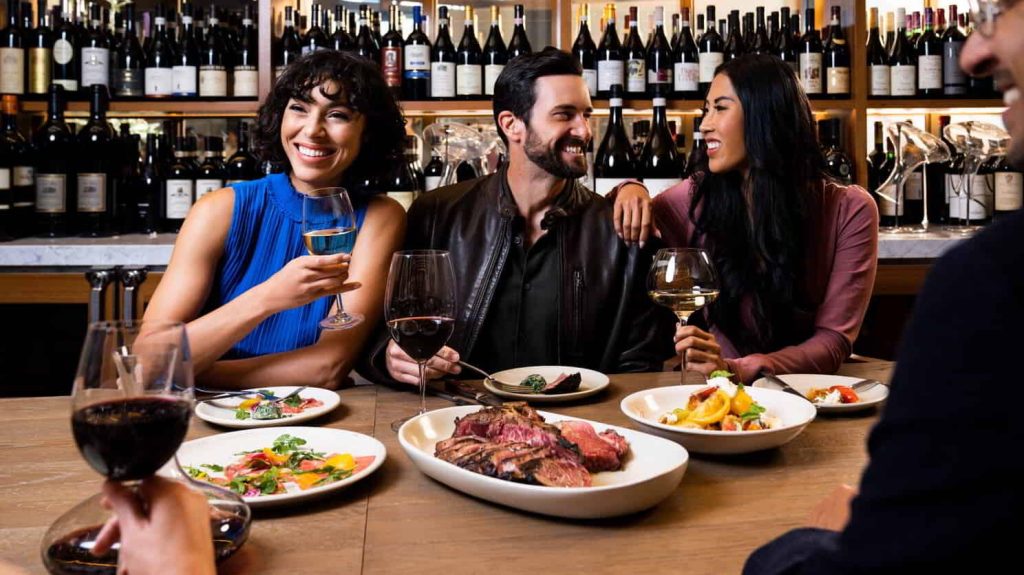 6. The Bootlegger Bistro
The Bootlegger Bistro, located in Las Vegas, Nevada, is a legendary Italian-American restaurant and jazz lounge.
Established in 1949, it's a Las Vegas institution known for its classic Italian cuisine, live jazz performances, and vintage charm. It's a favorite among locals and visitors seeking a taste of old-school Vegas nostalgia.
7700 Las Vegas Blvd S, Las Vegas, NV 89123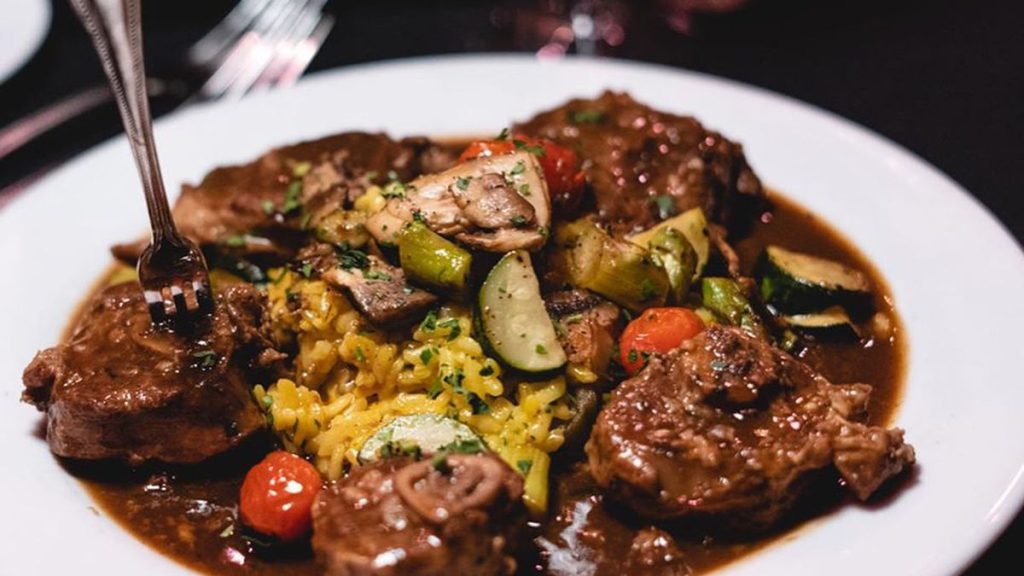 7. Bottiglia Enoteca
Bottiglia Enoteca, situated in Henderson, Nevada, is a charming Italian restaurant and wine bar. With a focus on rustic Italian cuisine, Bottiglia offers a diverse menu showcasing handmade pasta, wood-fired pizzas, and a range of Mediterranean-inspired dishes.
The restaurant also boasts an extensive wine list, featuring both local and international selections. Its stylish decor and welcoming atmosphere make it a popular choice for both casual diners and special occasions.
2300 Paseo Verde Pkwy, Las Vegas, NV 89052
8. Ferraro's Ristorante
Ferraro's Ristorante, a renowned Italian eatery in Las Vegas, offers an authentic Italian dining experience. Established in 1985, it's known for its traditional recipes, homemade pastas, and an extensive wine selection.
The restaurant features an elegant yet welcoming atmosphere, making it a popular choice for celebrations and romantic dinners. Ferraro's commitment to quality and Italian culinary traditions shines through in every dish.
4480 Paradise Rd, Las Vegas, NV 89169
9. RPM Italian Las Vegas
This Italian restaurant from celebrity couple Giuliana and Bill Rancic and restaurant behemoth Lettuce Entertain You marks the sixth restaurant for the RPM brand. The modern Italian menu includes pasta like Maine lobster pansotti, Italian classics like spaghetti and meatballs and the signature buccatini pomodoro.
3500 S Las Vegas Blvd, Las Vegas, NV 89109
10. Vetri Cucina Las Vegas
Vetri Cucina Las Vegas is a fine dining Italian restaurant located in The Palms Casino Resort.
Helmed by renowned chef Marc Vetri, it offers a culinary journey through Italian cuisine with an ever-changing menu, featuring handmade pasta and exquisite dishes. The restaurant provides an elegant and intimate dining experience.
4321 W Flamingo Rd Fl 56, Las Vegas, NV 89103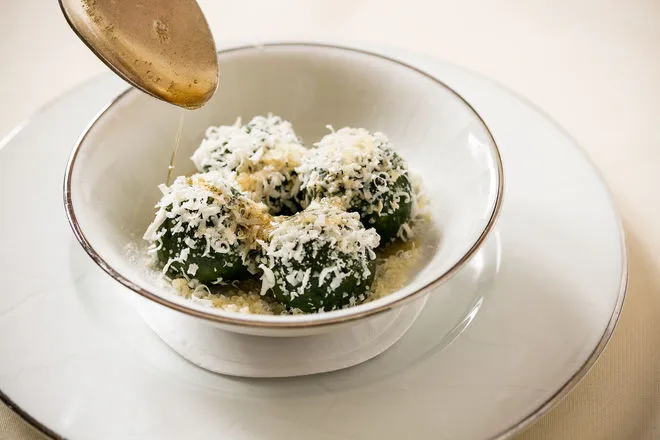 11. Giada
Giada is a renowned Italian restaurant in Las Vegas, founded by celebrity chef Giada De Laurentiis. It offers a sophisticated dining experience with a menu inspired by Giada's Italian heritage. Located in The Cromwell Hotel, it's known for its delicious pasta, seafood, and stunning views of the Las Vegas Strip.
3595 Las Vegas Blvd S, Las Vegas, NV 89109
11. Superfrico
Superfrico is a trendy Italian-American restaurant located in Las Vegas. Known for its vibrant atmosphere and bold flavors, it offers a modern twist on classic Italian dishes.
With a diverse menu and creative cocktails, Superfrico provides a lively dining experience, perfect for those seeking a contemporary take on Italian cuisine in a fun setting.
The Cosmopolitan of Las Vegas Level 2, The Chelsea Tower, 3708 Las Vegas Blvd S, Las Vegas, NV 89109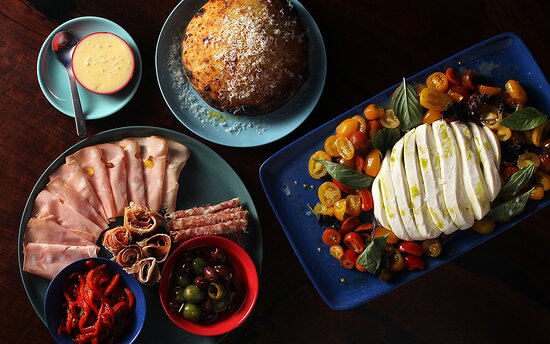 12. Aromi Italian Restaurant
Aromi Italian Restaurant from Valentino alum's executive chef German Castellanos and his partner, pastry chef Alessandro Stoppa, offers a duck prosciutto salad in a sweet maui onion dressing and burrata tops a golden beet carpaccio to start. Spaghetti neri in lobster bisque, rabbit ragout pappardelle, and octopus and cioppino are just some of the dishes Castellanos recommends. Other favorites include bread and thyme-crusted New Zealand lamb chop or branzino in Prosseco sauce. The restaurant also features a risotto of the day. For lunch, the restaurant offers a three-course $18 option with a starter such as vanilla and pepper salad or polpo with grilled octopus (for $7 more); entree options such as chicken Parmigiana, a prosciutto sandwich, or branzino (for $7 more); and dessert options including vanilla wanna cotta, tiramisu, or a berry bowl.
2110 N Rampart Blvd #110, Las Vegas, NV 89128
13. Joe Vicari's Andiamo Steakhouse
Italian breads, homemade pasta, and American steaks with Italian flavors are on display in Joe Vicari's Andiamo Italian Steakhouse at the D Las Vegas. Try gnocchi Gorgonzola con punti, cioppino, or lobster ravioli.
301 Fremont St, Las Vegas, NV 89101
14. Chicago Joe's Restaurant
Chicago Joe's has been a Las Vegas staple since 1975, when a 1933 Las Vegas home was converted into a restaurant. Once a favorite of the mob, this restaurant still serves up a home-cooked meals to neighborhood regulars and lawyers leaving the nearby courthouse. Find stuffed artichokes, baked clams, pasta with snails, and eggplant parmigiana. The house specialty chicken Angelo with pasta is sautéed with artichokes, butter, and mushrooms
820 S 4th St, Las Vegas, NV 89101
15. Esther's Kitchen
Esther's Kitchen is a popular Italian-American restaurant located in the Arts District of Las Vegas, Nevada. Known for its farm-to-table approach, it offers a diverse menu of Italian-inspired dishes made with locally sourced and seasonal ingredients.
The restaurant's welcoming ambiance and creative cocktails make it a vibrant dining destination loved by both locals and tourists seeking a taste of modern Italian cuisine.
1130 S Casino Center Blvd #110, Las Vegas, NV 89104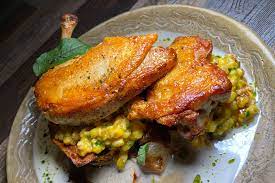 16. Balla Italian Soul
With touches of coastal Italy, and a menu of light and flavorful pasta, chef Shawn McClain brings seasonal Italian fare to the Sahara Las Vegas. The domed and tiled ceiling floats over a dining room decorated with small trees and twinkling fairy lights, rustic setting for casarecce — a dish of chewy noodles in a tangy sauce brimming with tomatoes, garlic, and Calabrian pepper — and Roman-style pizzas, like the Gotham with cured meats, pomodoro, and fennel pollen.
2535 S Las Vegas Blvd, Las Vegas, NV 89109
17. Brezza
Chef Nicole Brisson's coastal Italian restaurant serves a menu of antipasti, fresh crudo, handmade pastas, and a Tuscan-style wood-fired grill, where sustainable seafood, dry-aged prime steaks, heritage breed poultry, and pork, as well as seasonal produce are all grilled over white oak and olive branches.
3000 S Las Vegas Blvd STE 115, Las Vegas, NV 89109
18. Lago by Julian Serrano
At Lago at the Bellagio, diners can order Italian small plates such as the beloved 7 & 7, potato gnocchi and lobster knuckles with salsa di crostacei, and the Alle Olive Verdi, small focaccia made with roasted black olives, tomatoes, and pecorino, while viewing the famous Bellagio Fountains.
Bellagio Hotel & Casino, Las Vegas, NV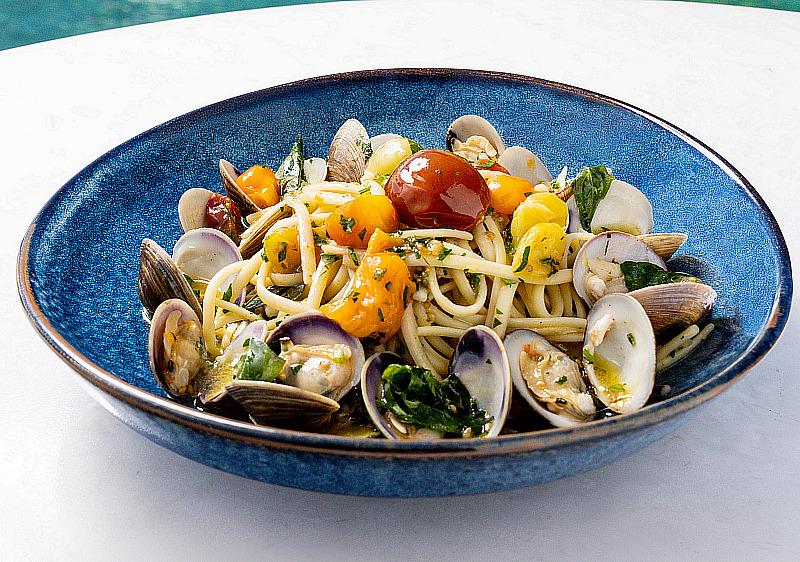 19. Nora's Italian Cuisine
Nora's Italian Cuisine, nestled in Las Vegas, is a beloved family-owned restaurant known for its authentic Italian flavors.
Established in 1992, it serves classic Italian dishes like homemade pasta, wood-fired pizza, and fresh seafood. With a warm and welcoming atmosphere, Nora's is a favorite among locals and visitors alike, offering a taste of Italy in the heart of Nevada.
5780 W Flamingo Rd, Las Vegas, NV 89103
20. Costa
The Mirage's Costa features pasta dishes including a rigatoni alla Norma, a vegetarian dish with eggplant, garlic, and pomodoro; a fettucine dish made with a Neapolitan beef ragu; bucatini cacio e pepe with a base caciocavallo cheese from Southern Italy and cracked black pepper; linguine and clams; and lasagna al forno of ricotta, pomodoro, and Italian sausage made in house.
3400 S Las Vegas Blvd, Las Vegas, NV 89109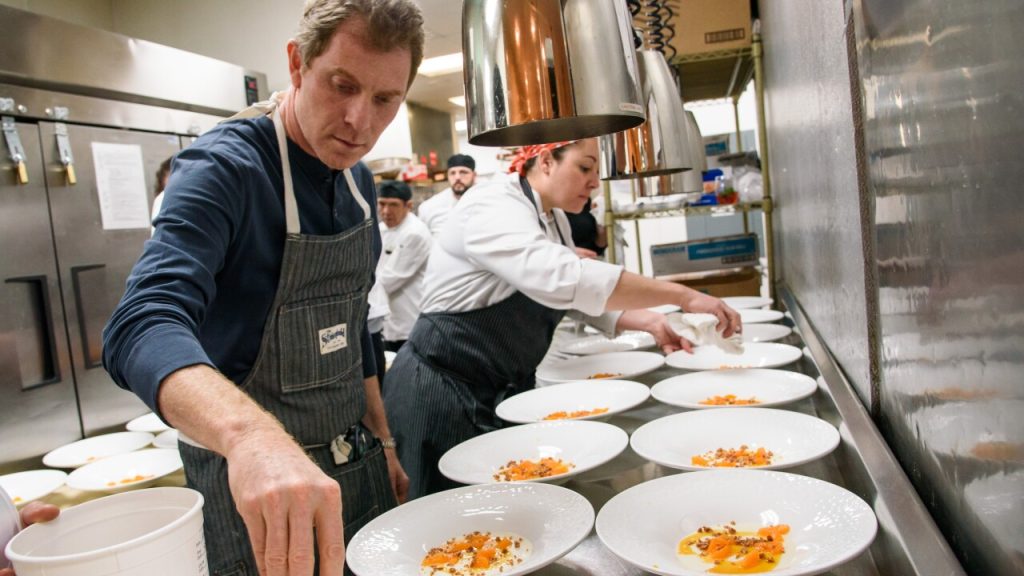 Read More
Sweet Tomatoes buffet chain permanently closing 97 restaurants including Fort Myers, Naples | See Why.
9 Restaurant Chains That Serve the Best Soups
10 Best Brunch Restaurants in Austin
Essential Houston Restaurants in 2023