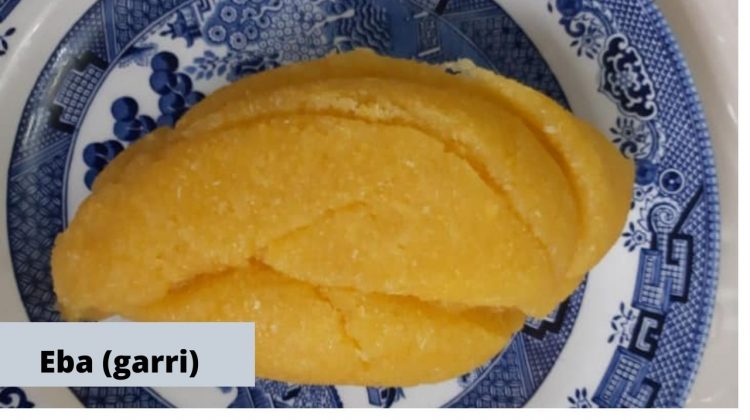 Nigerian eba is a type of food made from garri with hot boiling water. It is usually eaten with okra soup, egusi soup wich is made with ground melon seed, oha soup, or tomatoes stew. Eba can also be eaten as a snack. It is a very popular dish in Nigeria.
It is Original from the West African country of Nigeria, eba (garri) is a type of fermented cereal made from cassava tubers. Eba is a common staple food in many parts of Africa and is also enjoyed in other parts of the world.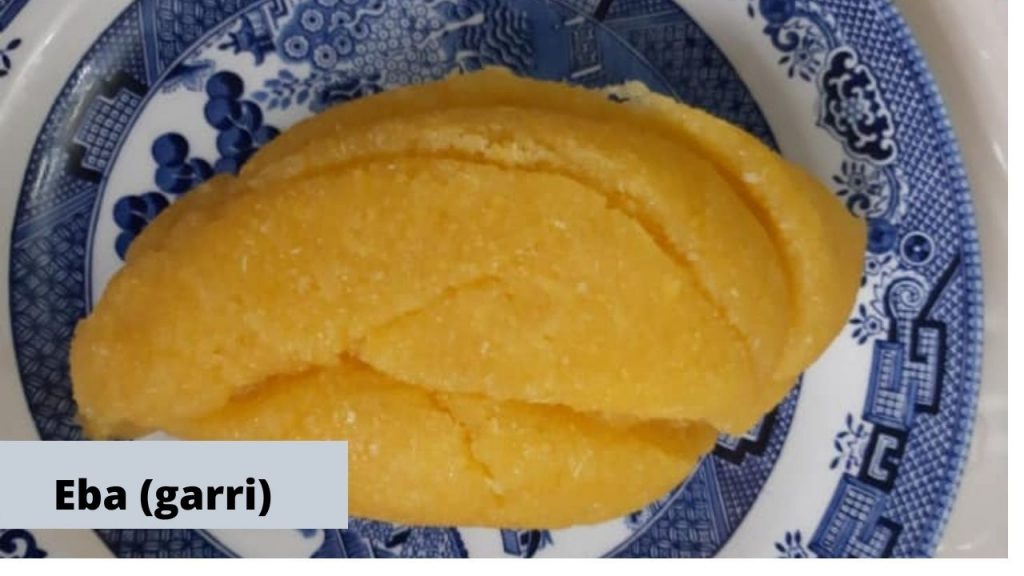 If you are looking for how to make Nigerian eba (eba food), you are in the right place. This article will teach you how to make eba from scratch, using only basic ingredients. The process is simple and easy, and anyone can make this delicious dish at home.
It comes in two forms, yellow garri which contains palm oil and white garri which is fried without palm oil. Both versions are nutritious and provide a good source of carbohydrates, dietary fiber, vitamin C and minerals like potassium. Yellow garri has a slightly sweet taste while white garri is salty. But the white one has more starch and also less sticky than the red garri.
Here Are The Ingredients For Making Eba
Garri
Water
Tools Needing In Making Eba (Garri)
Bowl
Turning stick
saerving plate
How To Make Eba (Garri)
Pour in water into your kettle and set on a high heat and allow to boil
Rinse a bowl and turning stick.
Pour in the boiled water in the bowl, gently pour in the garri until the soak all the water.
sprinkle the hot water on the garri and allow for just a minute. Turn the eba and serve hot.
What is the meaning of EBA?
Garri is a type of food made from cassava tubers. The cassava tubers are peeled, grated, and then boiled in water. The resulting mixture is then sieved to remove the starch. What is left is a thick paste which is then sun-dried to form garri. Garri can be eaten as a snack or added to soup or stew to thicken it. Garri is high in carbohydrate and low in protein and fat. It is a good source of dietary fibre.
Is garri solid food?
Garri is a popular Nigerian food made from cassava tubers. It is a solid, heavy starch that is often fermented before eating. Some people believe that garri is not a solid food because it does not have a consistent texture. However, garri has a definite shape and weight, making it a solid food.
What is garri made of?
Garri (eba) is a popular Nigerian dish made from cassava tubers.
When you harvest the casava.
Peel the back properly and wash them.
Pack them in a bolw and take to the mill.
Grind the cassava and pack them in a sack.
Drilled to dryness (fermentation occurs at this stage).
Sieve out the fine cassava powder.
Add in some quantity in the frying pan and fry till done.
Put in red oil if neccessary but if not fry it like that.
Check out our food recipes
We as well have this
Conclusion
In conclusion, making Nigeria eba is not as difficult as it may seem. With a few simple ingredients and some practice, you will be able to make this dish like a pro. So what are you waiting for? Get cooking!