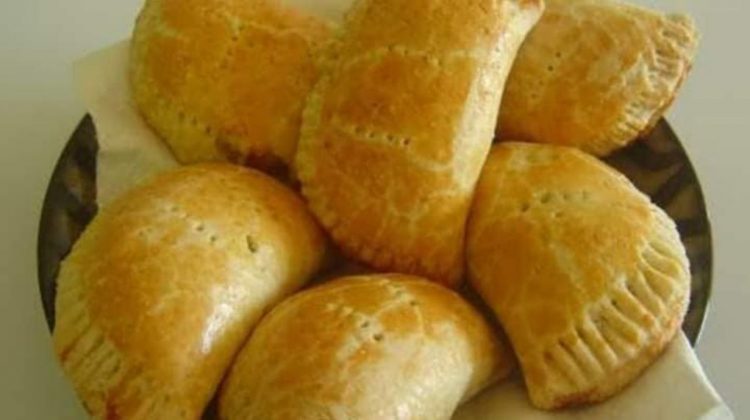 Meatpie is a type of savory pie that is made out of meat. The most common types of meat used in meat pies are beef, pork, lamb or chicken. The meat is usually ground or chopped and mixed with spices and other ingredients before being placed in the pastry shell.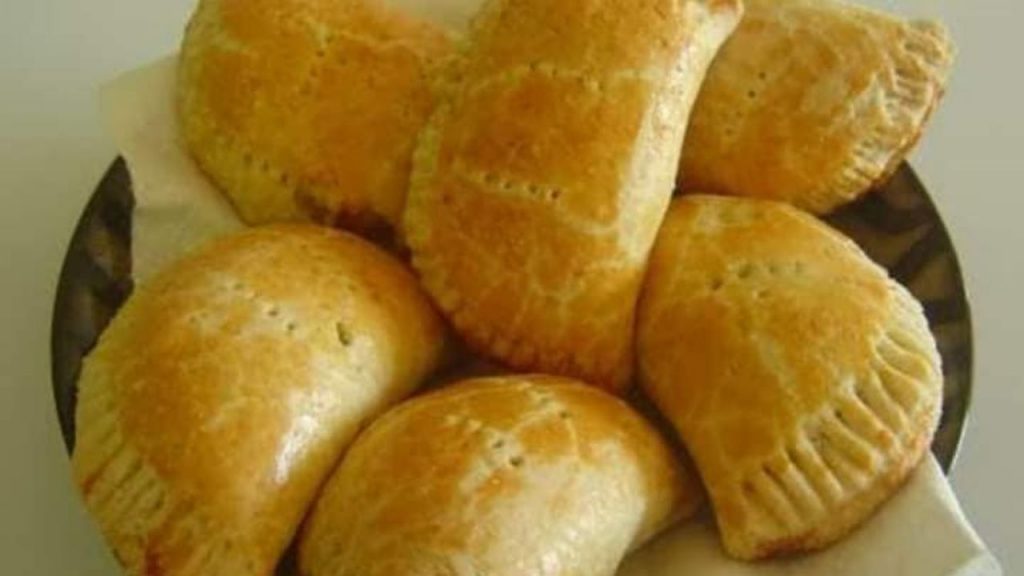 Meat pies can be eaten cold or warm, and are often served as a main course or as part of a buffet. You think of all the different kinds of pies there are and get intimidated. But don t be! The Nigerian Meatpie is a great option for anyone looking to make an impressive dish with relatively little work.
This pie has an unjustifiable reputation for being hard to make, but it s actually quite simple. The hardest part is making the dough, but even that isn't difficult if you follow a few key steps.
Once the dough is made, all you need to do is brown some beef and onions, mix in some spices, and put it all in the pie crust. Then bake it for about half an hour and you re done!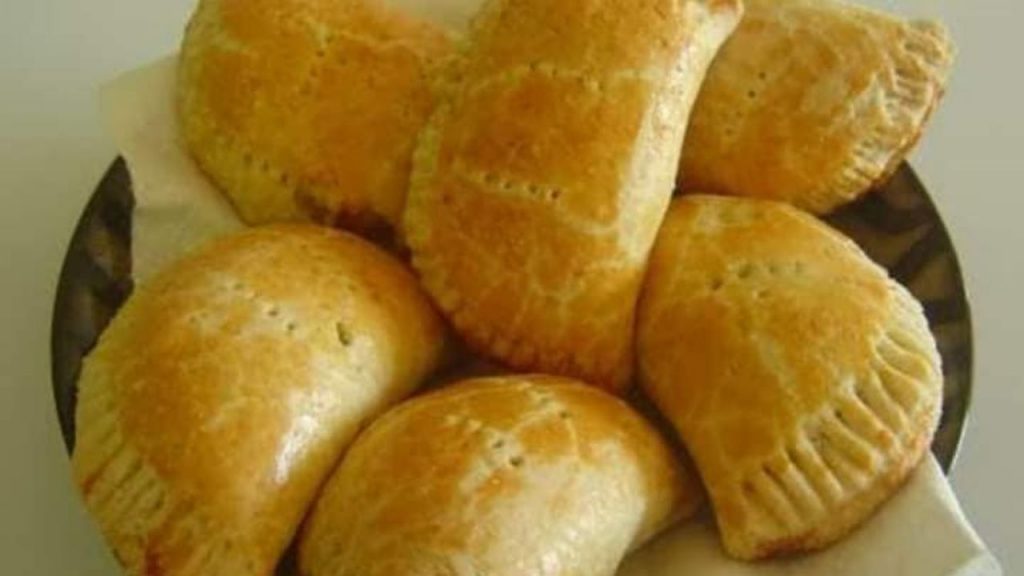 So don't be intimidated by the thought of making the Nigerian Meatpie. Making Nigerian meat pie is not as difficult as it may seem. In fact, with a little guidance, you can have them ready in less than an hour.
I learnt how to make perfect Nigeria meat pies from a catering school and I will be teaching you how you can get it done in less than 1 hr. All you need is some basic ingredients and a little bit of patience. The following steps will guide you through the process:
Mince meat pie recipe
For the meat Pie dough, you need
1kg (8 cups) plain flour
2 teaspoons baking powder(optional)
500g (1.1 lbs) Margarine
2 pinches salt
½ cup / 125 ml / 4.2 oz water
1egg(optional) if u use an egg u need to reduce the water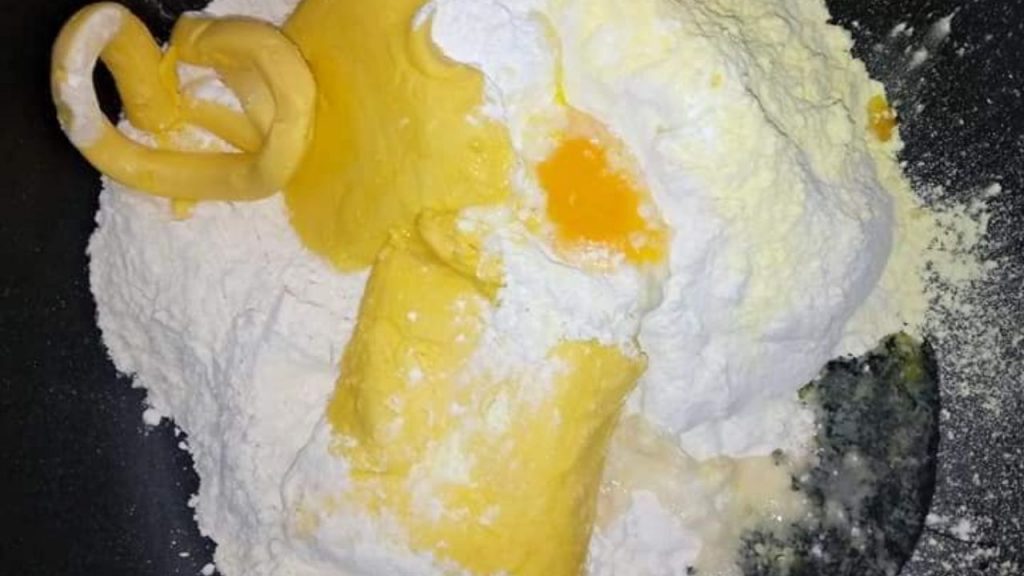 For the meat Pie filling, you need
2 medium Irish potatoes
2 medium carrots
500g (1.1 lbs) minced meat
1 medium onion
2 cooking spoons vegetable oil
2 Knorr cubes or any seasoning
1 teaspoon thyme
2 tablespoons plain flour
1 cup / 250 ml / 8.4 oz cold water
Salt to taste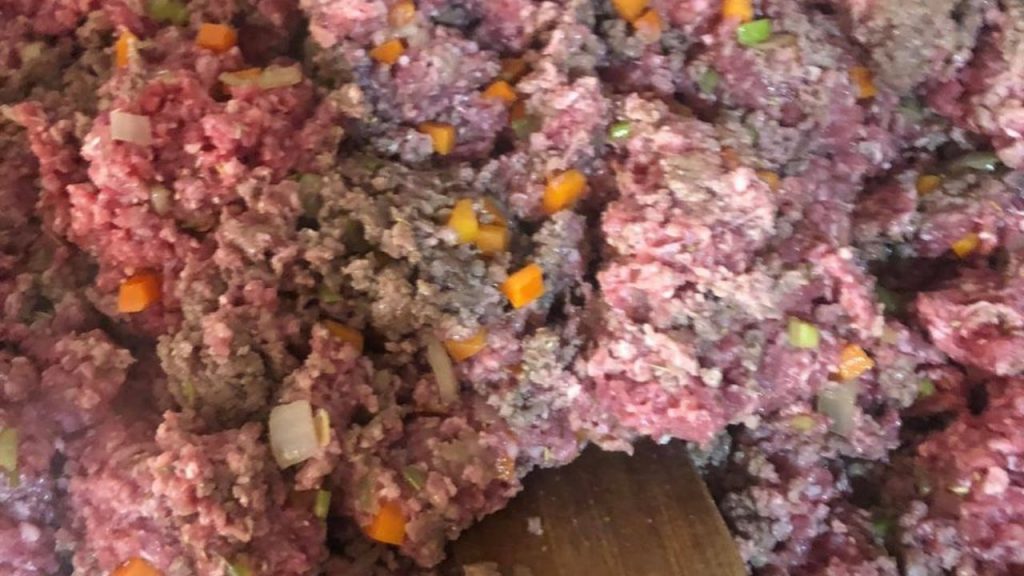 Meat Pie Filling procedure
Peel the Irish potatoes and scrape the carrots, wash and cut these two into tiny cubes. Wash and slice the onions into tiny pieces.
With your cooker or stove set to medium heat, heat the vegetable oil in a pot, add the diced onions and stir for a bit, add the minced meat and stir vigorously till the minced meat turns pale.
Add 1 cup of water, Knorr cubes, and thyme. Cover the pot and once the contents of the pot start boiling, add the diced carrots and potatoes and cook till everything is well done.
Dissolve 2 tablespoons of plain flour in half a cup of cold water and add to the meat pie filling. This tip is so that the meat pie filling does not dry up during baking. It is also what keeps the meat pie filling moist.
Add salt to taste, stir the contents and turn off the heat. Set the meat pie filling aside. Now is the time to prepare the dough for the meat pie.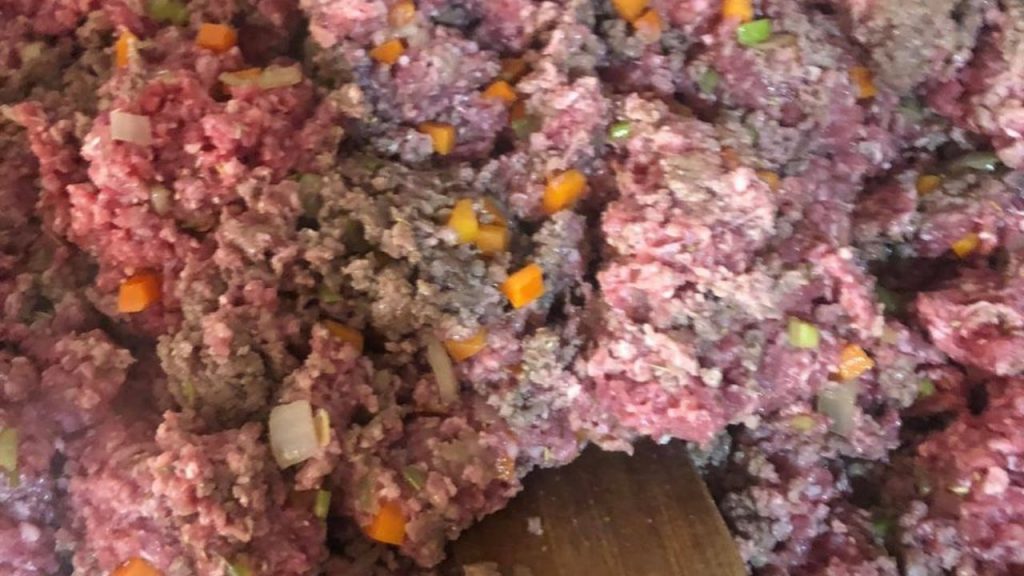 The meat Pie dough making
Put the 1 kg of flour in a sizeable bowl; add 2 teaspoons of baking powder and 2 pinches of salt. You really do not need a lot of salt for the meat pie dough. The meat pie will get most of its taste from the filling. Mix these dry ingredients very well.
Use a tablespoon to scoop the margarine in small bits into the bowl of flour. The smaller you make the bits of margarine, the easier it will be for you to rub them into the flour. Use fingertips to rub the margarine into the flour till the mix becomes like crumbs.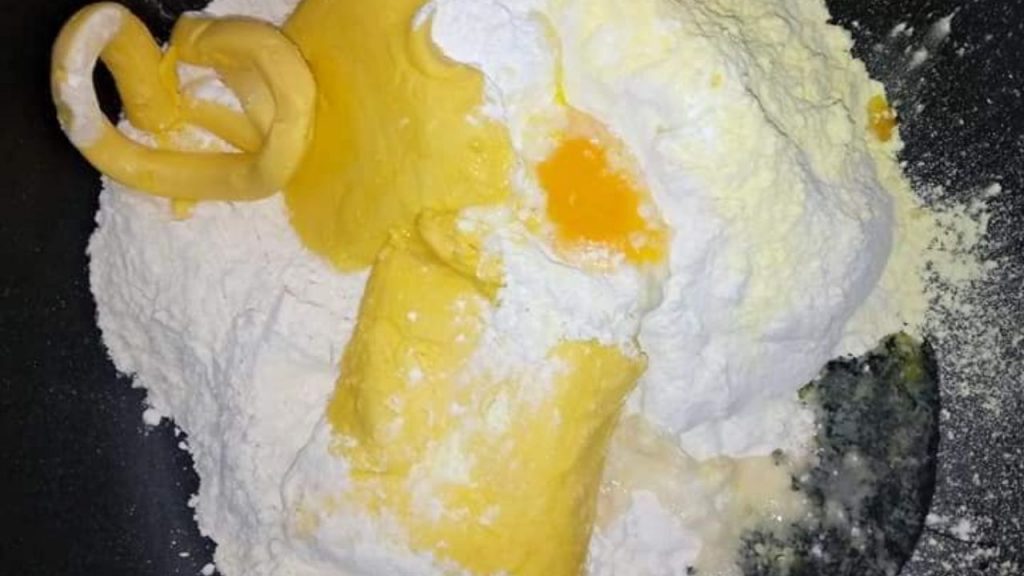 Now, start adding cold water in bits while at the same time folding the mix till a stiff ball of dough is formed. You will be surprised at how small a quantity of water you need to get the dough stiff. At most, all you need for the 1 kg of flour is half a cup of water.
Knead the dough very well, put it back in the bowl, and leave it to rest for 5 to 7 minutes. This makes the dough more elastic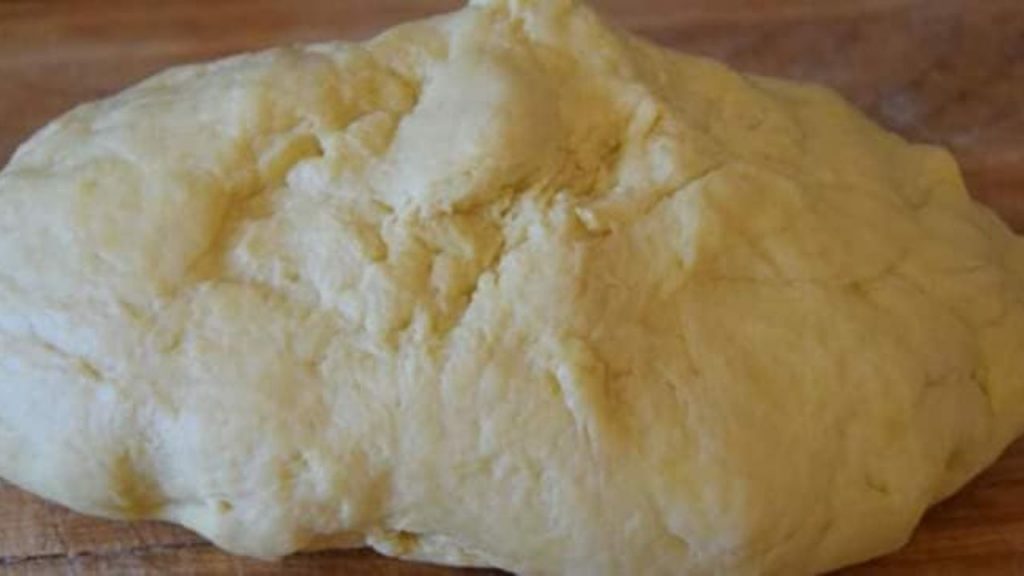 Meat pie recipe
Cut, Fill, Fold, and Close procedure. Set your oven and leave it to preheat while you continue with the meat pie.
Rub margarine or vegetable oil sides of the oven tray and set aside. This is so that the undersides of the meat pies do not burn or stick to the tray during baking.
Break the egg, beat it, and set it aside, you will need it pretty soon. Knead the dough some more, and roll it out to achieve a 5mm thickness.
Use a cutter, be it the cover of a small pot or a meat pie cutter, to make round cuts on the rolled-out dough. Remove the excess dough, leaving behind the round cuts.
Scoop some meat pie filling into the center of the round cuts, the quantity should be such that you can comfortably close the dough without overflowing.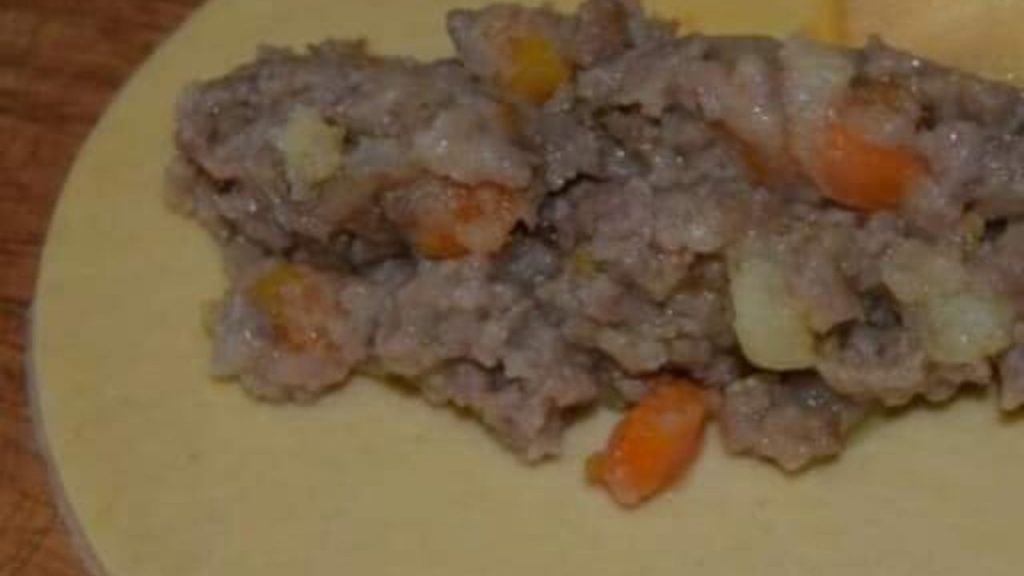 Don't worry if you over-filled the first one, you have many meat pies to fill so at some point you will know just the right quantity of meat pie filling to scoop into the dough. Rub the egg on the inside edge of the cut meatpie dough. This is to ensure that your meat pie is perfectly sealed and does not open up while it is being baked.
Fold one part of the dough to meet the other end and use a fork to press the 2 edges together to close tightly. Place your work of art in the oven tray and repeat the previous step till all the cut out dough is exhausted.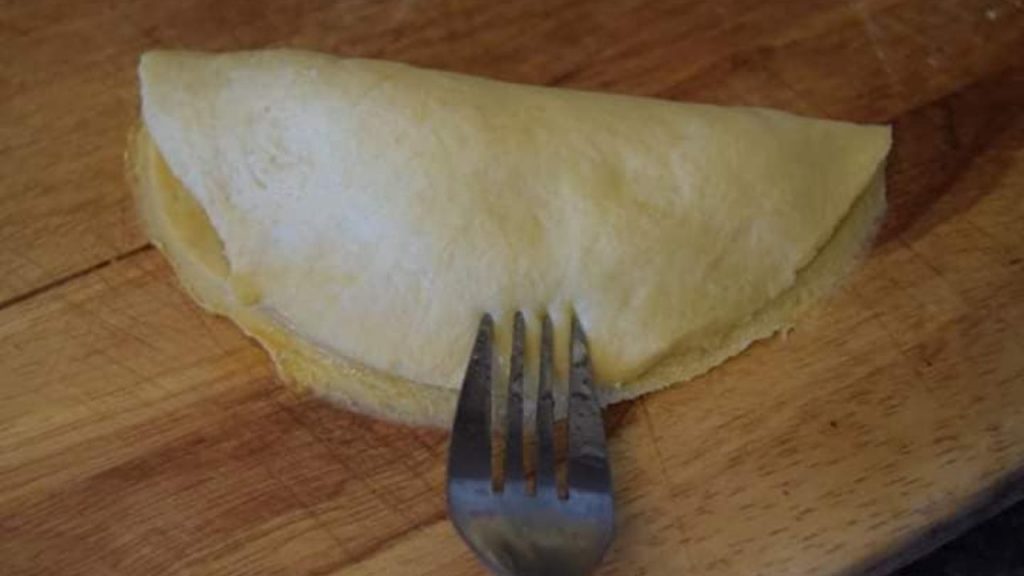 Roll out more dough, cut, fill, close and place in the greased oven tray till all the dough is used. Rub the egg on the meat pies. This gives the meat pie a golden brown look when done. Set the tray in the preheated oven and bake for 30 to 40 minutes.
This time will depend on the type and heating capacity of your oven. For some ovens, the meat pie will be done in half an hour, for some, it may take up to 50 mins.
Whatever type of oven you have, the important thing to know is that the best meat pies are the ones baked at medium heat. You can confirm that the meat pie is done when it starts browning. It is alright to open the oven to check this. Bring them and serve.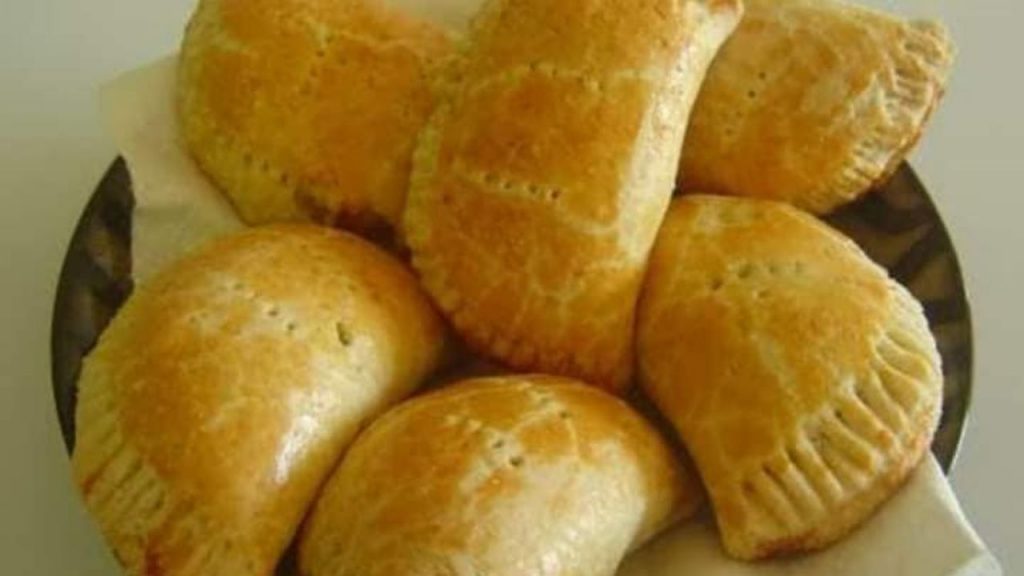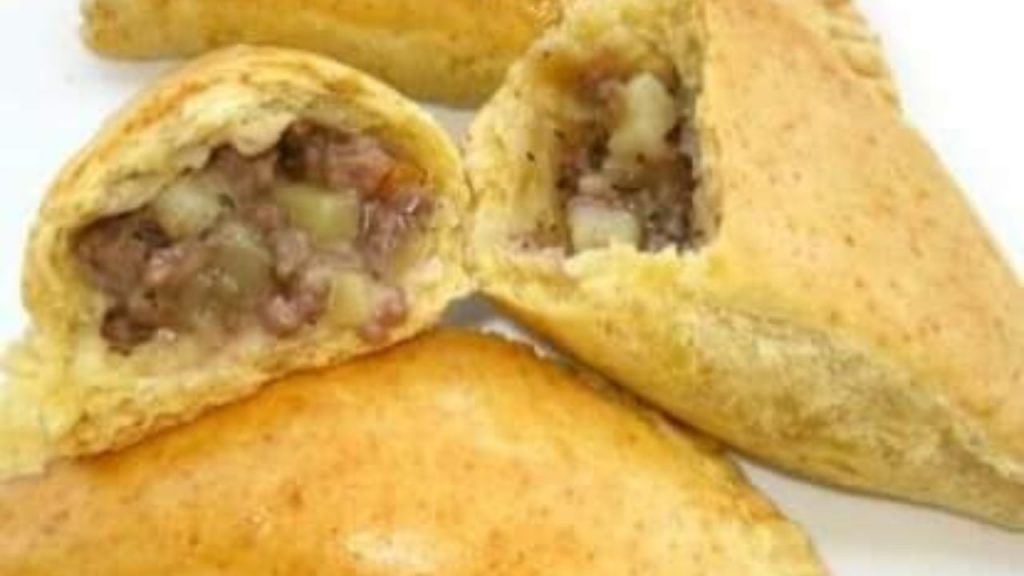 Why is my meat pie hard?
There could be a few reasons why your Nigerian meat pie is hard. One reason may be that the crust was not cooked long enough. Another reason may be that the filling was not cooked all the way through. Lastly, it could be that the dough was not rolled out thin enough.
If your Nigerian meat pie is hard, you can try re-cooking it to see if that fixes the problem. If it doesn't, you can try rolling out the dough thinner next time to see if that makes a difference.
How do you store Nigerian meat pies?
If you have leftover Nigerian meat pies, you may be wondering how to store them so that they stay fresh. Here is a guide on how to store Nigerian meat pies:
first, make sure that the pies are completely cooled before storing them.
secondly, place them in an airtight container or bag.
then, store the container or bag in the fridge for up to 3 days.
finally, reheat the pies in the oven before serving them again.
How do you thicken meat pie filling?
One way to thicken a meat pie filling is to use flour. Mix a tablespoon of flour with some cold water and stir until the lumps are gone. Then, add the mixture to the filling while it is still cooking.
Another way to thicken a meat pie filling is to use cornstarch. Stir together one tablespoon of cornstarch with two tablespoons of cold water. Once the lumps are gone, add the mixture to the filling while it is still cooking.
Why is my meat pie dough breaking?
There are a few reasons why your meat pie dough might be breaking.
One reason might be that you're not using enough flour. When the dough is too wet, it can be difficult to roll out and will often break.
Another possibility is that you're working the dough too much. Overworking the dough can make it tough and lead to it breaking.
Finally, if your pie crust is cold, it will be more difficult to work with and is also more likely to break.
What are British meat pies called?
There are many different types of British meat pies. The most popular type is the pork pie. This pie is made from chunks of pork that have been cooked in a gravy or jelly. The pork is then covered in a pastry crust and baked. A
nother popular type of British meat pie is the steak and kidney pie. This pie is made from beef and kidney pieces that have been cooked in a gravy or sauce. The beef and kidney are then covered in a pastry crust and baked.
What is inside meat pies?
When you take a bite out of a meat pie, what do you expect to find inside? You may be surprised to know that there is more than just meat in most pies. In addition to the main ingredient, most pies also include gravy, vegetables, and sometimes pastry.
The type of meat used in pies can vary depending on the recipe. The most common meats used are beef, pork, lamb, and chicken. However, there are also vegetarian pies that use substitutes such as tofu or seitan.
The gravy used in pies can also be made from different types of meat or vegetable stock. It is typically thickened with flour or cornstarch before being poured into the pie crust.
Most pies also include chopped vegetables such as carrots, onions, and peas. This help add flavor and nutrients to the dish.
Other rice recipes you might love to try.
Conclusion
In conclusion, this recipe for Nigerian meat pie is easy to follow and yields delicious results. The pies are perfect for a quick and satisfying meal, and can be enjoyed with a variety of toppings and side dishes. Be sure to give this recipe a try soon.