If you've never tried making Air Fryer meatloaf, now is the time to give it a go. This juicy and easy Air Fryer meatloaf recipe is sure to satisfy even the pickiest eaters.
All you need are simple ingredients that are typically already in your pantry and just minutes of your time to prepare this flavorful meal.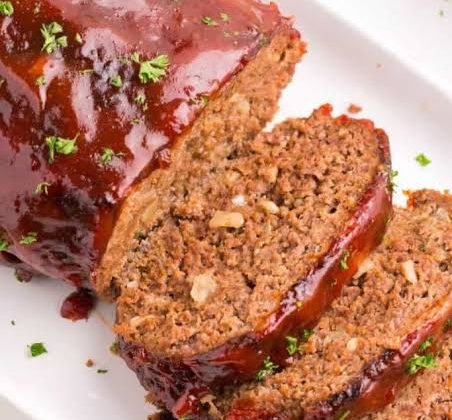 This air fryer meatloaf is so easy to make, you won't believe how delicious it tastes! It's made with lean ground beef, spices, ketchup and onion that all combine together to create an incredibly moist and juicy center with a crispy outer layer.
The result? An unbelievably tasty version of everyone's favorite comfort food dish – one that will have your family asking for seconds!
Lets get started
Tools Needed For The Juiciest And Easiest Air Fryer Meatloaf
Here are the kitchen tools that I use for this recipe. As you can see, they are super basic!
Air fryer: Any kind of air fryer you like.
Mixing bowl: For mixing the ingredients.
Parchment paper: For lining the air fryer basket to prevent the meatloaf from sticking to it. Remember that you should only line the basket after you've preheated the device.
Food prep gloves: Wear them when you mix the meat mixture.
Knife and chopping board: For chopping and mincing the ingredients.
INGREDIENTS
0.88 pounds (400 grams) ground beef or pork
1 ounce (30 grams) breadcrumbs
0.8 cups (200 milliliters) milk
0.35 ounces (10 grams) garlic
1 onion
1 teaspoon ground pepper
1 teaspoon sugar
1 teaspoon salt
1 teaspoon chili powder
1 teaspoon sesame seeds
2 teaspoons soy sauce
2 teaspoons oyster sauce
2 teaspoons olive oil
2 tablespoons ketchup
1 egg.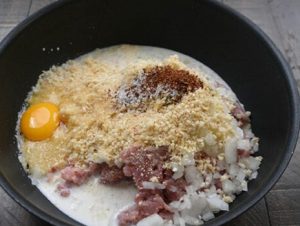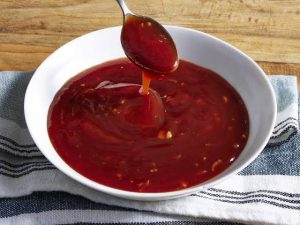 Ground meat: Use lean ground beef or pork as you like.
Breadcrumbs: You can make homemade breadcrumbs by cutting a sandwich into small pieces, air frying them for 3-4 minutes, then pulsing them in a food processor.
Milk: The breadcrumbs will soak up the milk and add moisture to the meatloaf.
Egg: Helps bind the meatloaf together and give it a stabler form.
Sesame seeds: Add a slightly sweet and nutty flavor to the basting sauce.
Olive oil: For making the basting sauce.
Sauces: Ketchup, oyster sauce, soy sauce.
Spices and aromatics: Garlic, onion, salt, pepper, sugar, and chili powder.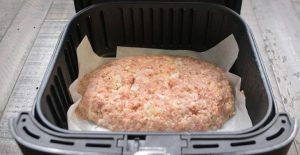 Course: Main courseCuisine: American
Servings
+
–
Prep time
10minutes
Cooking time
20minutes
Calories
286kcal
Total time
30minutes
Step By step Guide On How To Make Juiciest And Easiest Air Fryer Meatloaf
Chop the onion into small bits and mince the garlic. Crack the egg into another bowl, and then you may also break the beaten egg right into the meat.
Add minced onion, minced shallot, milk, breadcrumbs, salt, pepper, and beaten egg to meat. Mix using your hands and shape the mixture into a meatloaf. Let it sit for 5 minutes.
First, preheat the air fryer for a few minutes. Then, line the air fryer basket with parchment paper and gently place the meatloaf in. Air fry the meatloaf at 395 degrees Fahrenheit for 18 minutes.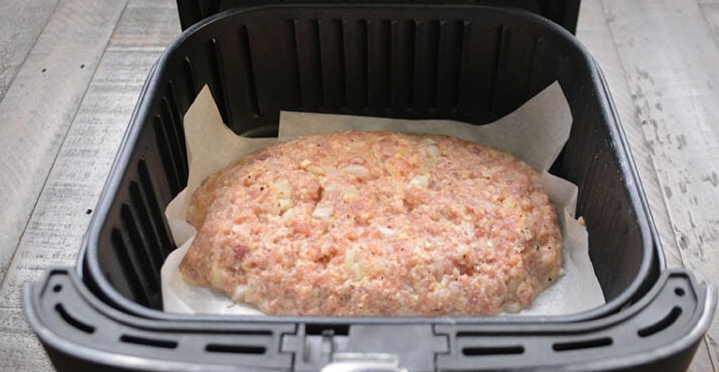 While you wait for the meatloaf to cook, make the basting sauce by stirring together soy sauce, olive oil, sugar, sesame seeds, oyster sauce, and ketchup in small bowl. Mix well to combine.
After 18 minutes have passed, take the meatloaf out of the oven and brush it with the basting sauce. Then, air fry it at 395 degrees F for another 2 minutes.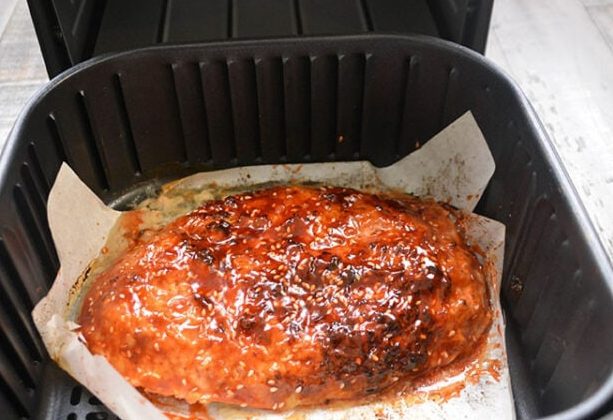 Cook the meatloaf in a pot or frying pan and place the slices on a plate. Garnish with herbs, and then enjoy the meatloaf while it is still hot with a serving of bread and fresh vegetables.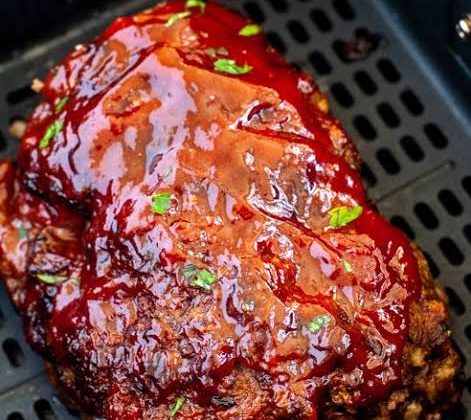 After Making Your Air Fryer Meatloaf, You Need To Note This
You might use ground turkey or a combination of the types of meat for cooking meatloaf.
Consume any leftovers you've saved in a container and store in the refrigerator. The leftover meatloaf can last for up to five days this way.
Most importantly, use a thermometer to determine whether the meatloaf is cooked thoroughly.
Place the thermometer into the thickest part of the meatloaf and make sure it reads at least 160 degrees Fahrenheit.
You can also shape the meatloaf in advance and store it uncooked for up to 2 days. If the meatloaf is difficult to slice after cooking, let it rest for 5 to 10 minutes after you serve it.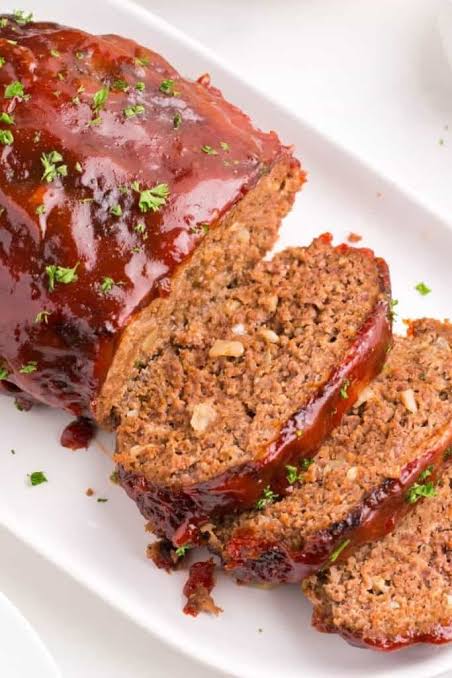 Why This Air Fryer Meatloaf Recipe Works.
This air fryer meatloaf recipe is the perfect combination of convenience and flavor. With the help of an air fryer, this classic dish can be cooked in a fraction of the time it would take to cook in an oven.
Not only does it save you time, but it also allows you to make a delicious meal that's packed with nutrients! Here's why this air fryer meatloaf recipe works so well.
First, because an air fryer uses hot air circulation instead of oil to cook food, it keeps all the flavors and juices locked into the meatloaf. This means that your dinner will have less fat and calories than traditional methods while still providing you with flavor-packed nutrition.
Additionally, due to its compact size, an air fryer takes up much less space on your countertop than a bulky oven or grill would require!
Nutrition Facts
4 servings per container
---
Amount Per ServingCalories286
% Daily Value *
Total Fat10.6g17%
Cholesterol 130mg44%
Sodium 977mg41%
Potassium 540mg16%
Total Carbohydrate12.9g5%

Dietary Fiber 1.5g6%
Sugars 4.6g

Protein 33.8g68%
---
Calcium45%
Iron20%
Vitamin D4%
* The % Daily Value tells you how much a nutrient in a serving of food contributes to a daily diet. 2,000 calories a day is used for general nutrition advice.
What is the secret to moist meatloaf?
Are you tired of dry, tasteless meatloaf? Do you want a moist and delicious dinner that your whole family will love?
The secret to tasty meatloaf is in the ingredients and methods used in its preparation. With a few simple steps, you can enjoy a juicy and flavorful meal every time.
Making moist meatloaf starts with the right ingredients. Using ground beef with higher fat content ensures that your loaf won't become too dry during cooking.
Ground turkey or chicken can also be used for an even healthier option. Adding eggs to the mixture helps bind all of the ingredients together and adds moisture as well as flavor.
Vegetables such as onions, peppers, or mushrooms add flavor to any dish while adding even more moisture to your meatloaf.
What ingredient keeps meatloaf from falling apart?
The most important ingredient for keeping your meatloaf from falling apart is breadcrumbs or some other type of binder. Breadcrumbs help to absorb any excess moisture and give the dish a more solid structure during cooking.
Adding in some eggs also helps ensure that the loaf holds together while baking – they act like glue, binding everything together and providing added stability. If you have time, let the mixture sit for 20 minutes before cooking so that all ingredients are fully incorporated and binded properly.
What is the best temperature and time to cook meatloaf?
The most popular recommendation when it comes to cooking meatloaf is to preheat your oven to 395 degrees and then cook the loaf.
Frequently Asked Questions
Air fryer meatloaf and potatoes
Air fryer meatloaf and potatoes is a simple yet delicious dish that can be prepared with minimal effort. This classic combination of flavors is sure to please the entire family, no matter their dietary preferences.

Using an air fryer to prepare this meal makes it even easier by eliminating the guesswork out of baking time and temperature settings, allowing you to achieve perfectly cooked food every time. The air fryer also helps to retain moisture in the meatloaf while simultaneously crisping up its exterior for a lightly golden finish – ensuring maximum flavor and texture in every bite!

The potatoes act as a perfect sidekick to the star of the show, adding both crunchy texture and sweetness; plus a few spices will bring even more depth of flavor.
Why does my meatloaf come out dry?
When it comes to cooking a delicious and juicy meatloaf, the outcome can be unpredictable at times. Often cooks are left wondering why their meatloaf is dry and not as flavorful as they had hoped.
There are several factors that can contribute to a dry meatloaf.

One of the most common reasons for a dry dish is overcooking the loaf which will cause the juices to evaporate. Additionally, if too much breadcrumbs or crackers are used in the recipe it will absorb moisture from the other ingredients, leading to a drier end result.

Lastly, if there is not enough fat added such as ground beef with higher fat content or bacon grease then this could also cause your meatloaf to come out dry.
Should meatloaf be covered when baking?
Cooking meatloaf can be a tricky process. The main question: should you cook it covered or uncovered? There are benefits to both methods that can result in different flavors and textures.

Covering your meatloaf with aluminum foil helps to keep moisture in, resulting in a juicier texture. It also prevents the top from forming a crust or burning, which is especially helpful if your oven runs hot.

If you're looking for extra flavor, consider adding herbs and spices to the top of the meat before covering it with foil.
On the other hand, leaving your meatloaf uncovered allows for a more firm texture as well as great browning on the outside of your dish.

To make sure that it doesn't burn too quickly, tent loosely with aluminum foil halfway through cooking time and remove for the final 10 minutes of baking.
Other Recipes You Might Love Yo Check.
How Long To Bake Chicken Wings At 375 • 2023 Edition
How To Make Party Jollof Rice Nigeria/(Ingredients For Cooking half bag of Rice) In 2023
Crispy & Tender Air Fryer Chicken Fried Steak
35 most popular Italian foods that will captivate you 2023
Top 29 Italian Foods That Will Make Your Mouth Water
How to tell if sweet potatoes are bad; Ultimate guide 2023
25+ authentic Italian side dishes for your your main course
How To Make Nigeria Pancake | Diet
Conclusion
In conclusion,this air fryer meatloaf is a great way to enjoy a classic American dish with less fat and fewer calories.
The simple ingredients and straightforward instructions make this recipe easy to follow, no matter your cooking level. Adding your own favorite spices and toppings can give it an extra unique taste that suits your palate.
Plus, the time saved from not having to preheat the oven is a bonus! With this delicious and nutritious alternative, you can have dinner ready in just over an hour.
Other recipes you might love to try.