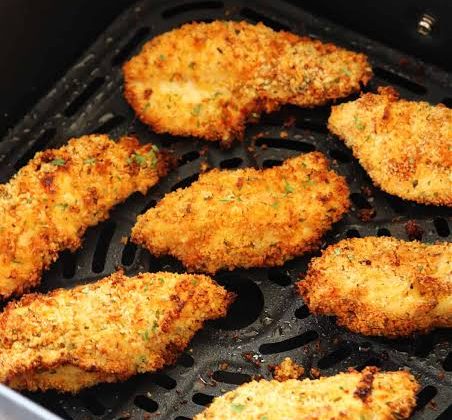 If you're looking for a tasty and healthier version of a classic comfort food dish, then look no further than Crispy & Tender Air Fryer Chicken Fried Steak.
An air fryer chicken fried steak is the perfect combination of crispy and tender that is sure to please any palette. The best part? You don't have to sacrifice flavor or texture by skipping the deep-frying process!
All you need are a few simple ingredients and your trusty air fryer to create a delicious entree in minutes. Not only is it quick and easy, but it also has all the mouthwatering flavors of its traditional counterpart without the added fat from frying.
Using cube steak, this recipe creates a crunchy and juicy breaded steak that is an absolute delight. Whether you decide to serve it with gravy, white gravy, or just on its own, this dish is sure to be a crowd pleaser.
So why not give this recipe a try tonight? Your family will be begging for seconds!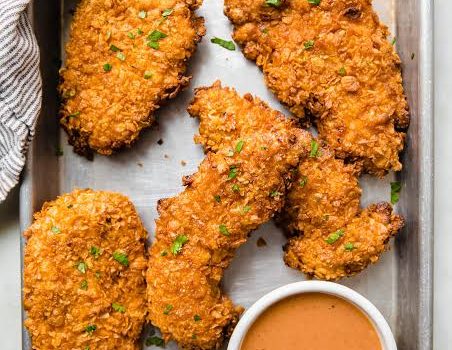 How To Air Fry Chicken Fried Steak
Chicken fried steak is a delicious dish that can be enjoyed in the comfort of your own home. Air frying is a simple and convenient way to create this southern classic with minimal effort, and it helps to produce a healthier meal.
This method requires minimal oil and is much faster than traditional frying. With the right cut of beef and simple ingredients, you can quickly make crispy and flavorful chicken fried steak that your family will love. So why not give air frying a try?
Ingredients For Making Crispy & Tender Air Fryer Chicken Fried Steak
1 pound cube steak
4 large slices
1/2 cup all-purpose flour
2 teaspoons garlic powder
1 teaspoon italian herbs
1 teaspoon paprika
1 teaspoon celtic sea salt
1 teaspoon pepper
1/2 teaspoon cayenne pepper
1/4 cup hot sauce (we like using franks red hot for this recipe), optional
2 large eggs
1/4 cup water…..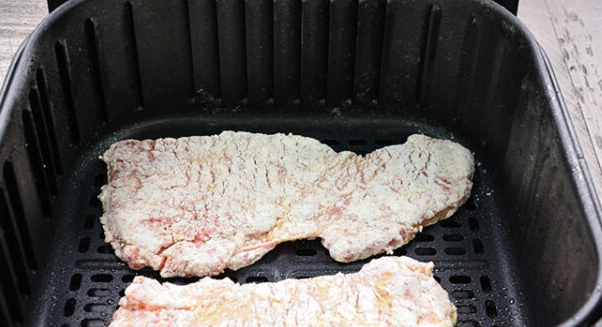 Step By Step Guide For Making Crispy & Tender Air Fryer Chicken Fried Steak.
Preheat air fryer to 400 degrees. Lay our three large plates with a deep rim (think pasta plate).
Add milk and hot sauce to one bowl.
Add flour, 1/2 salt and pepper, herbs and spices to one bowl, mix well.
Add eggs to one bowl, beat until lightly foamy.
Remove cube steak from packaging and pat dry with paper towel. Season generously with remaining half of salt and pepper.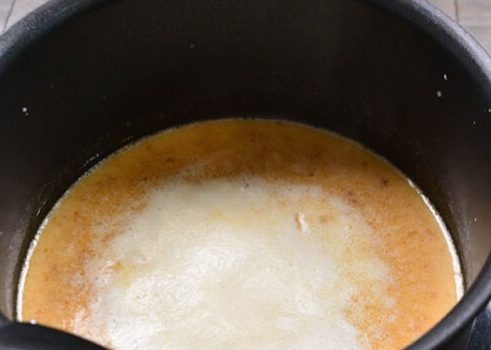 Dredge steaks by dipping first in milk, then flour, then egg, and finally flour again to fully coat in breading. Shake off any excess flour.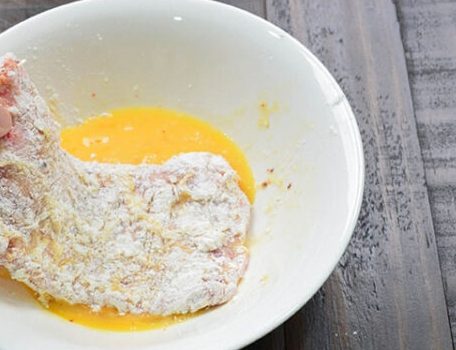 Open air fryer basket and spray nonstick cooking spray.
Place steaks in air fryer and air fryer 10 minutes at 400 degrees F.
Flip steaks and cook additional 5-10 minutes, until steaks are crispy golden brown and meat is 150 degrees internal temperature when read with a digital thermometer.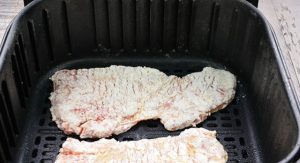 Remove from air fryer, let rest at least 10 minutes before slicing.
Top with turkey or white gravy or chives.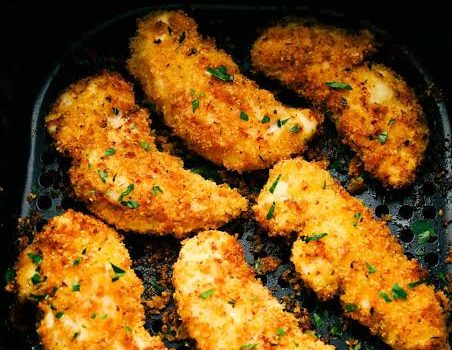 What Can Pair Crispy & Tender Air Fryer Chicken Fried Steak
With this versatile recipe, you can pair it with soft dinner rolls, mashed potatoes, baked potatoes or even a BLT salad – it's great with tons of side dishes.
What Kind Of Meat Is Chicken Fried Steak
Chicken fried steak is a classic comfort food dish that originated in the South. It's made by taking a thin cut of beef, typically cube steak or round steak, and coating it with seasoned flour before shallow frying it in butter or oil. The crispy outer crust gives way to tender, juicy beef as you bite into this delicious creation.
The name "chicken fried" may lead people to believe that chicken is the main ingredient in this dish, but that's not actually true.
Even though the meat used for chicken fried steak is pounded and tenderized much like boneless chicken breasts normally would be, it's still beef! This unique cooking technique gives the beef an almost delectable "chicken-like" texture when fully cooked through.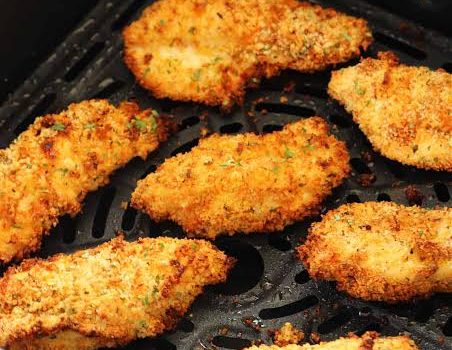 How long can I store this chicken-fried steak in the refrigerator?
You can store the steaks in an airtight container in the refrigerator for 3-4 days.
TIPS FOR BEST RESULTS
Perforated Parchment Paper: This type of parchment paper circulates hot air in the Air Fryer, cooking the steaks more evenly. In addition, using parchment paper makes cleaning up super easy afterward. All you have to do is remove the parchment paper, and your Air Fryer is clean.
Cube Steak: Cube steaks are best for this recipe because they are already tenderized and pre-cut when you buy them. Cube steaks are incredibly tender, making them perfect for this recipe. If you can't find cubed steak at your local grocery store, you can make cube steaks yourself by buying a sirloin, tenderizing it with a meat tenderizer, and making small cube-like cuts in the meat.
Internal Temperature: The steak's internal temperature should be at least 145ºF before you take it out of the Air Fryer. You can use a meat thermometer to check the internal temperature.
Overcrowding: Make sure you don't overcrowd your steaks in the Air Fryer, or they won't cook evenly. The steaks can touch as long as they aren't on top of one another.
Excess Flour: Excess flour causes the steaks to become too bready, so make sure you tap off extra flour before placing your steaks in the Air Fryer.
What's the best way to eat this dish?
You can eat this dish with peppery white gravy, brown gravy, or country gravy for extra flavor!
Tips.
These steaks are simple and delicious – but there are a couple tricks we've found to help them turn out great, every time!
Preheat air fryer. We find it is always best to preheat air fryers before adding food to get the best results – you want a high heat to cook food fast, so preheat for at least 5-10 minutes.
Frequently Asked Questions
How To Tell When Chicken Steak Is Done
Knowing when your chicken steak is done cooking can help you avoid undercooked or overcooked food. It's important to understand the signs of a perfectly cooked steak so that you can enjoy the best flavor and texture. Here are some tips for telling when chicken steak is done:

First, look at the color – your steak should be slightly browned on the outside with no pink remaining. If it has a charred appearance, it is likely overdone.

Secondly, use an instant-read thermometer to check if your chicken steak has reached an internal temperature of 165 degrees Fahrenheit; this indicates that it's safely cooked through.

Lastly, press down on the steak with a fork – if it's firm and springy to the touch then it's ready to go!
How To Keep Your Hands Clean Dredging Steak
Maintaining clean hands while preparing steak is an important part of the cooking process. Dredging steak, or coating it with a dry ingredient such as flour and spices, can leave your hands messy if you do not follow the proper protocol.

Here are some tips on how to keep your hands clean when dredging steak:

Begin by thoroughly washing your hands before handling the steak. Use warm water and soap for at least 20 seconds to ensure that all dirt and germs are removed from your fingers. Once your hands are washed, make sure to dry them off completely before continuing with the preparation.

Gather all necessary supplies – a cutting board, knife and bowl – so that you have everything you need within arm's reach as this will help prevent any unnecessary contamination of ingredients.
What Kind Of Meat Is Chicken Fried Steak
Other Recipes You Might Love Yo Check
How To Make Party Jollof Rice Nigeria/(Ingredients For Cooking half bag of Rice) In 2023
35 most popular Italian foods that will captivate you 2023
Top 29 Italian Foods That Will Make Your Mouth Water
How to tell if sweet potatoes are bad; Ultimate guide 2023
25+ authentic Italian side dishes for your your main course
Conclusion
In conclusion,air fryer chicken fried steak is a delicious, easy-to-make meal. Not only does it take a fraction of the time to make compared to traditional pan-fried steak, but the result is just as flavorful and crispy.
Additionally, air frying is a healthier cooking method since it requires less oil, making it an excellent option for those who want to enjoy their favorite fried foods without any guilt.