How To Make Party Jollof Rice Nigeria/(Ingredients For Cooking one bag of Rice).
If you want to make a dish that is sure to be loved by all, then you need to try party jollof rice from Nigeria. This dish is not only delicious, but it is also packed with flavor.
The best part about it is that it is relatively easy to make. All you need is one bag of rice and necessary ingredients, and you are on your way to creating a fantastic meal.
If you're wondering how to cook one bag of rice for your party, don't worry – we've got you covered. We'll show you how to cook the perfect amount of rice, so you can feed your guests without any leftovers.
Plus, we'll give you some tips on how to make your rice even tastier. So get ready to impress your guests with your culinary skills!
There are many methods of cooking jollof rice. One of the great ways of making rice without it turning to pap is by not parboiling it. This method is one of the great ways of making rice without it turning to pap. ( Which is soaking it with boiled water)
Jollof rice can be cooked in various ways, depending on the ingredients used and the region where it is prepared. However, the most important thing to remember when cooking jollof rice is to not overcook the rice, so that it does not turn into mushy pap.
I tried this method and it turned out really nice. I thought to share it with my readers.
What is Nigerian Party Jollof Rice
Nigerian party jollof rice is a popular dish that is very tasty, aromatic, and colorful. It is made with rice, tomatoes, peppers, and other spices. It is usually served at parties and other special occasions.
One bag of party jollof rice is all you need to feed your guests! Here's a simple recipe that will have them coming back for seconds.
Ingredients For Cooking One bag Jollof rice.
50 kg rice (12 custard rubber)
8-16 liters liter of very rich meat stock, depending on the quantity of meat used
2 of 2200g of tin tomatoes (largest size)
30 bulbs of onions
Ginger and garlic at least 100k
1 cup of natural spice ground (optional)
Enough cow bone (that strong part or biscuit bone) is seasoned and boiled.
1 custard rubber of bonga fish ground
20 pieces bay leaf, tiger curry powder, and thyme.
1 and half row of nutmeg powder
2-3 packets of knorr chicken stock cube
2 baking cup of Maggi chicken powder
2 bog sachet of kitchen glory stock powder
2 and half big sachet sweet mama or spicity stock powder
4_5 dustbin rubber of fresh tomatoes
1 custard rubber of habanero pepper
Half a pack of ducrus curry powder
2 and half row of thyme
2 dustbin rubber of very fresh shombo or tatash
7 liters of vegetable oil (something close to one custard rubber
500g butter, I prefer topper butter
20 custard rubber of water including meat stock
Salt to taste
Note: Add all the seasonings and taste before adding salt
Ingredients for garnishing (optional) such as white onion, green pepper and carrot. (Chop them and set aside)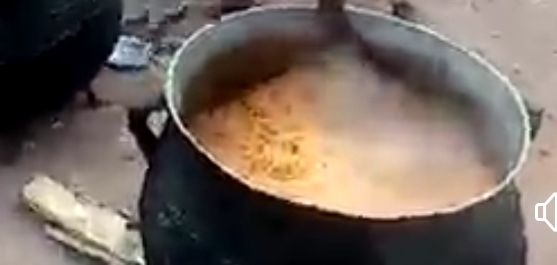 How To Cook Nigerian Party Jollof Rice One Bag
Pour enough water inside 2 big pot and set them on a high heat. (That big pot that has 3 legs). Wash the rice properly at least 3 times, sieve the water out, and set it aside in a big bowl.
When the water boils, pour the hot water directly into the washed rice. Use a big turning stick and stir, cover and allow for at least 10-13 mins. Wash it off and set the rice aside for use.
Blend your tomatoes, shombo, and pepper then boil to dry off the water. Next, set your your big frying pan on fire, pour in Oi, add diced onion and fry quickly in a little hot fat.
At this juncture, mix the tin tomatoes with water, gradually pour in the mixture and fry. Frying helps to reduce the tin tomatoes acidic taste.
At this moment, pour in the boiled fresh tomatoes and stir together. While frying, put the bay leaf, curry powder, nutmeg, mixed spice, spicity, kitchen glory, garlic, ginger, more onion, and thyme then stock cube and salt to taste. Fry till dry. Reduce the fire and bring down the pot.
Set your cooking pot on fire now. Pour in the meat stock, the bone stock, and extra water. (Not everything) pour and remain for another sets of cooking.
Add part of the tomato sauce, mixed spice, bay leaves, seasoning cubes, onion, ground crayfish, ground bongs and salt to taste. Stir, cover and allow to boil.
Add the washed rice to the boiling pot, stir with a big wooden stick, put the cow bone. Cover to start cooking. Once it starts to cook, put in the butter now (not all) then stir at intervals till cooked.
Adjust seasoning if necessary. put in the long turning stick on both sides. It allows the water to settle down)
When it's almost dried and you noticed that the rice is not done yet, cover it with a sack then place the pot lid, reduce the heat again and allow it to steam for about fifteen to twenty minutes.
Open, put in some chopped carrot, green pepper, and white onion. Stir then dish into your coolers and your delicious party jollof rice is ready.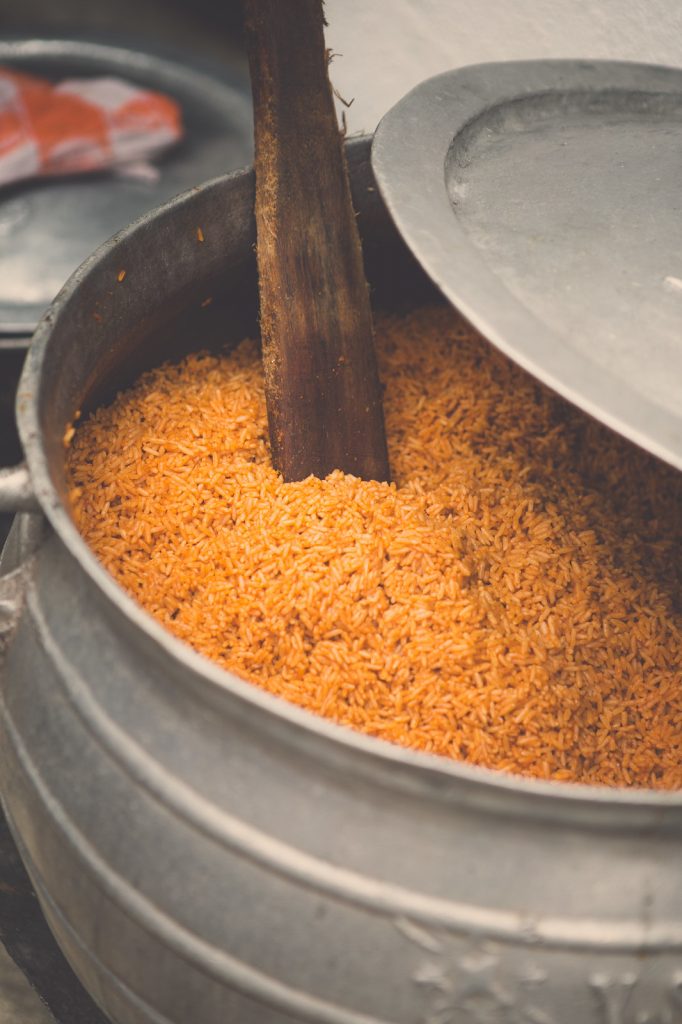 Serve your party jollof rice with baked or fried chicken and chilled drinks. Bon appetit!
Frequently asked questions on bag of rice

How many paint bucket is in a bag of rice ?
The answer is between 12-13 paint buckets precisely the left over after the 12 bucket may not fill the 13 bucket completely.
How Many Cups Are In A Bag Of Rice?

About 108-113 cups of rice equal a 50 lb bag of rice depending on long or short grain.

1 KG Rice Is How Many Cups
The United States Department of Agriculture has stated that 1 kg of rice consists of 7 cups. This amount is enough to feed a family of four for an entire week.
Furthermore, rice is a versatile and nutritious staple food that can help provide many essential nutrients needed in a healthy diet. Cooking rice is relatively easy and requires minimal preparation and cooking time.
Rice dishes can be adjusted to fit different palates and dietary restrictions, making it an ideal choice for most families and households.
How Many People Can Half or One Bag of Rice Feed?
Here's a rough guide to how much rice (quantity) to cook for any number of guests between 25 and 150 people.
8kg feeds 20_30 people
10kg feeds 30-40 people
20kg feeds 60-70 people
25kg (half bag of rice) feeds 75_90 people
30kg feeds 90-110 people
40kg feeds 120- 140people
50kg (1 bag of rice) feeds 150- 170 people
Note: once you add the stock cube it starts to burn so avoid adding it till it's almost fried and dried.
Note: your meat stock is part of your water, at this point taste and adjust seasoning if necessary then.
Note: combine all the seasoning, share to different pots and the sauce as well
Conclusion
In conclusion,making party jollof rice is a fun and easy process that anyone can do with the right ingredients. All you need is a bag of rice, some vegetables, and some spices, and you're on your way to a delicious meal. So go ahead and give it a try!