There's something about ofada rice and stew that just feels like home. Maybe it's the earthy, nutty flavor of the rice or the richness of the stew, but this dish is always a hit with family and friends.
Ofada rice is a type of jollof rice made with brown rice, which gives it a unique flavor and texture.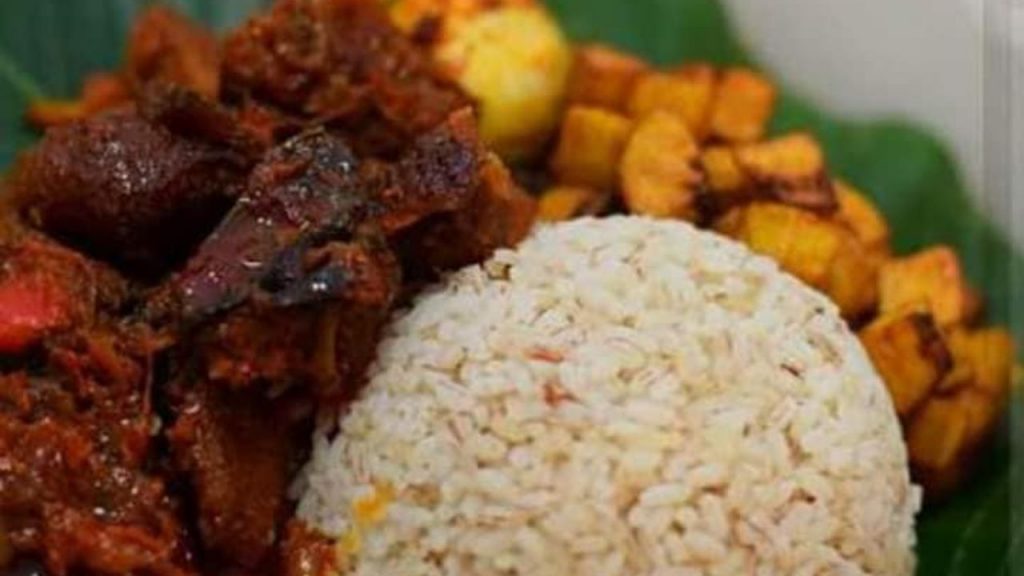 The stew is made with beef or chicken, assorted, tomatoes, onions, and peppers. It's best served with hot sauce on the side for extra heat.
Oh yes please, honestly ofada stew is one of the best things I have cooked recently. It is so easy to make and it tastes delicious. The best part is that you can customize it to your liking.
I added some chicken and shrimp to mine, but you could add any type of protein you want. Ofada stew is definitely a dish that I will be cooking again soon., It is quick to make and requires few ingredients.
"I bet you, I make the best ofada stew." And I am here to put my money where my mouth is. I have been making ofada stew for as long as I can remember, and there is simply no comparison to anyone else's recipe.
The secret to my success is in the ingredients, and I never skimp on the spices. The end result is a delicious, hearty stew that will tantalize your taste buds.
So if you're looking for an amazing ofada stew recipe, look no further than mine. You won't be disappointed! Let's get to the kitchen.
What is ofada stew made of?
Local Rice.
scotch bonnet pepper (Ata rodo)
Enough green bell peppers (green tatashe)
Red bell pepper (Tatashi) and Shombo pepper
Enough onion
Natural mixed spice and Spicity (optional)
Ogiri okpi (locust bean)
Red oil
Chicken and goat meat
Boiled egg
Shrimps
Cow shaki and any dried fish of your choice
Kpomo (optional) and
Ground Crayfish
Seasoning cube and salt to taste.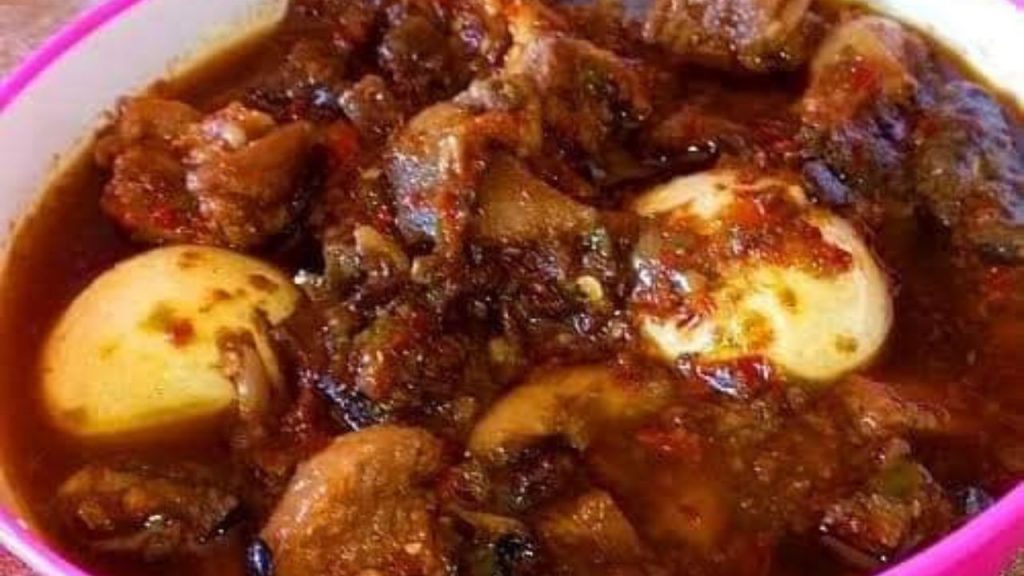 1. Wash the meat, chicken, and dry fish properly. Add seasoning cube, 1 medium onion chopped, seasoning cubes, ground pepper, ground garlic, and salt to taste then Cook till tender.
2. Remove the stones in the ofada rice, wash it properly at least 3 times before parboiling it, after that turn it into a bowl and wash with a cold water 3 times again then, cook till done. pour in the Cooked rice inside a food flask and set aside.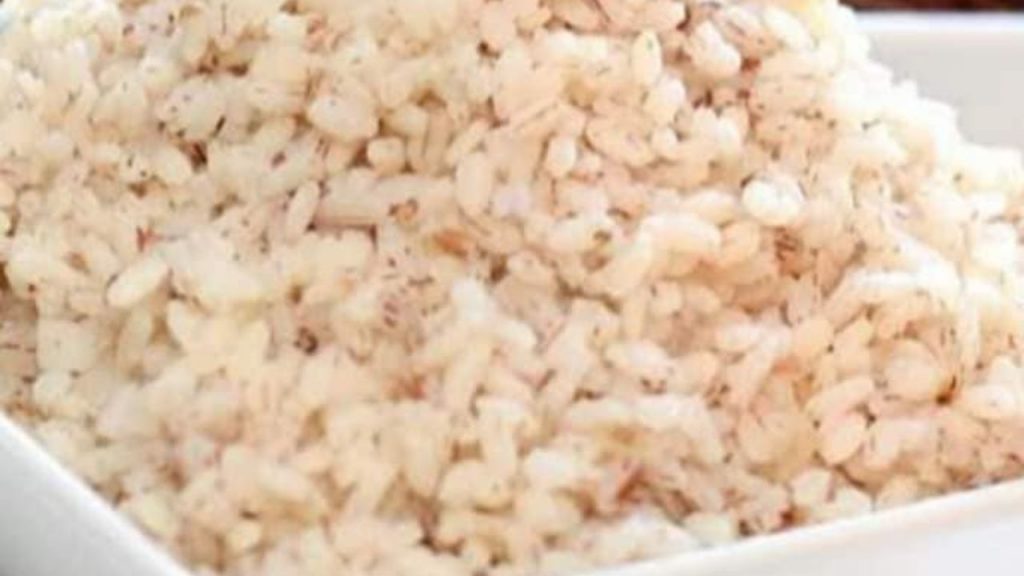 3. Ofada stew is very spicy and filled with lots of meat and pepper.
remove some of the pepper seeds first to avoid being too hot and spicy, if you are the type that cant cope with spicy and hush food.
4. Grind the red bell peppers (tatashe), shombo pepper, green bell peppers, and red scotch bonnet, (atarodo). Grind the onion separately and set it aside.
After that, drain excess pepper liquid if any. Then combine the ground onion and pepper together and set aside.
5. Pure the red oil into your cooking pot then heat the oil and allow it to bleach. Reduce the heat, bring the oil down and allow the oil to cool down a bit.
6. Take it back to your cooking stove. Add little chopped onions and stir it. Pour the mixture to the bleached oil. Fry continuously until you notice patches of oil on top.
7. Add maggi, crayfish, shrimps, ogiri okpi (locust bean), natural spice, spicity, and salt to taste. While adding salt remember the meat stock to avoid a salty taste.
8. Add the cooked meat with its stock stir, cover and cook for about 11mins. Add the boiled egg stir and put off heat. Your ofada stew is ready then, serve with any drink of your choice.
How To 'Veganise Ofada Stew
There are many ways to veganise a dish, but one of the simplest methods is to use vegetable broth in place of chicken or beef broth. This will add flavor and moisture to the dish.
You can also use vegan butter or oil in place of animal-based fats. Another option is to use mashed tofu as a replacement for eggs.
Tofu has a similar texture and can absorb flavors well. Lastly, you can utilize plant-based condiments such as soy sauce, vinegar, and hot sauce to enhance the flavor of your dish.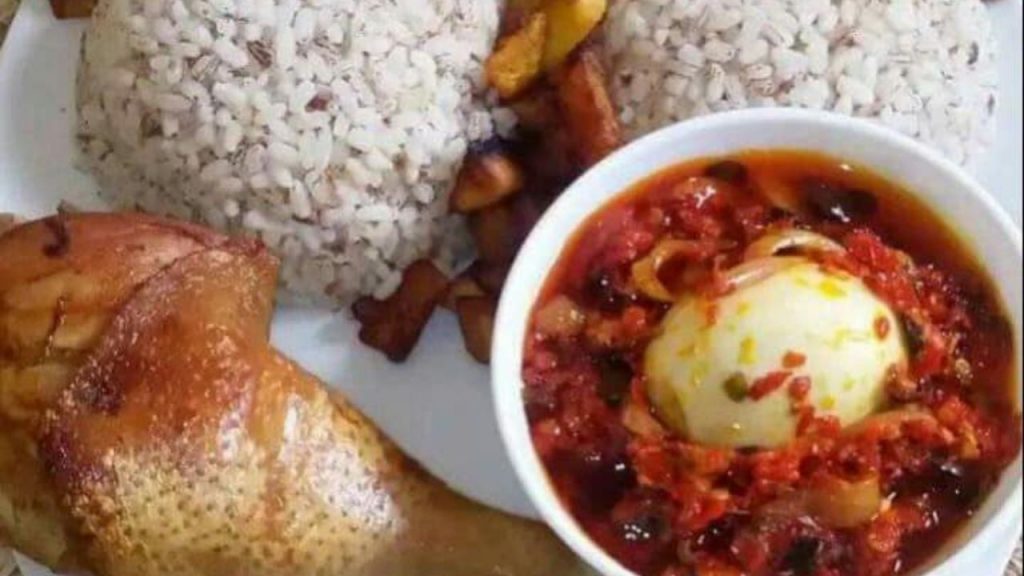 What is the difference between Ayamasi and ofada stew
Ayamase stew and Ofada stew are two popular Nigerian stews. They are both made with groundnut oil, but the ingredients used to make them differ.
Ayamase stew is made with ogbono (a type of wild okra) and other ingredients such as smoked turkey, beef, pork or lamb. Ofada stew is made with palm oil and other ingredients such as chicken, goat meat or beef.
Some people say that ayamase stew is spicier than ofada stew, while others say that ofada stew is spicier than ayamase stew.
WHAT TO SERVE OFADA STEW WITH?
There are many different options when it comes to what to serve ofada stew with. Some popular choices include rice, yam, plantain, and eba (made from cassava flour). For a healthier option, try serving ofada stew with steamed vegetables or a salad.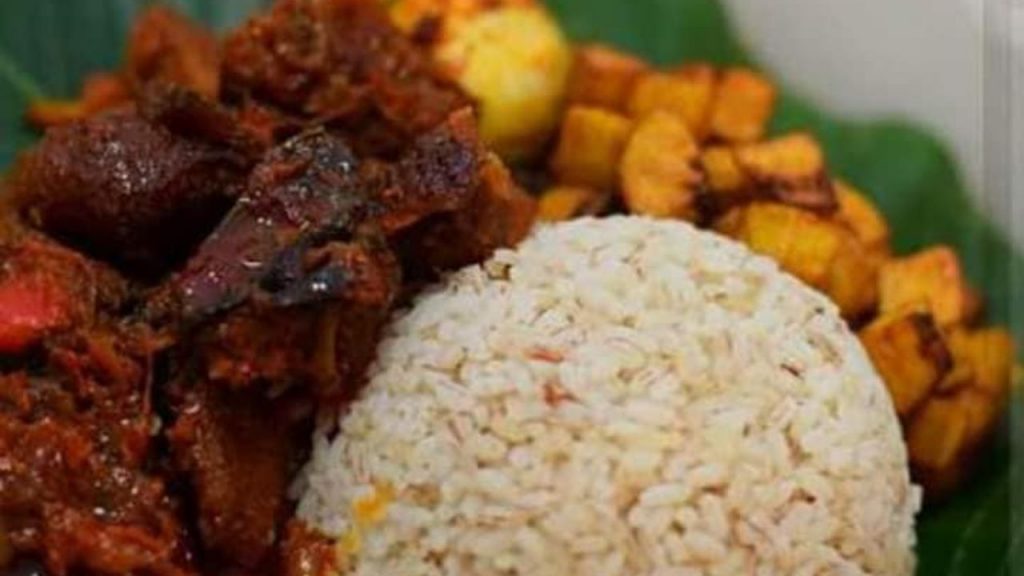 WHAT KIND OF MEATS CAN I USE TO MAKE OFADA STEW?
There are many types of meat that can be used to make Ofada stew. Most people use beef, assorted, chicken, or goat meat. Others have experimented with bushmeat such as monkey or deer.
Seafood can also be used, such as shrimp, crab, or catfish. The most important thing is to use a protein that will hold up well in a stewing environment.
What is ofada Rice called in English?
There are a few different translations for ofada rice depending on where in the world you are. In America, it is often called "African Rice". This is because of its unique flavor and texture which is often said to be reminiscent of Africa.
However, in Nigeria, it is known as "Ofe Akwu" which simply means "rice from the home". Regardless of what it is called, ofada rice is a delicious and nutritious staple food that has been enjoyed by many for centuries.
How do you get rid of the smell of Ofada rice?
There are a few ways to get rid of the smell of Ofada rice.
One way is to rinse the rice with vinegar or lemon juice.
Another way is to add a little salt to the water before cooking.
You can also fry some onions in oil and add them to the cooked rice.
Other Nigerian soups you might love to try
Other recipes you might love to try.
Conclusion
In conclusion, cooking ofada rice and stew is easy. All you need is the right ingredients and a little bit of time to cook this delicious meal. So, what are you waiting for? Try cooking ofada rice and stew today!
In conclusion, with a little bit of practice, cooking ofada rice and stew will be easy and enjoyable. The end result is a flavorful, healthy meal that can be shared with family and friends. So go ahead read up our step by step guide on how to cook ofada rice and stew at home.