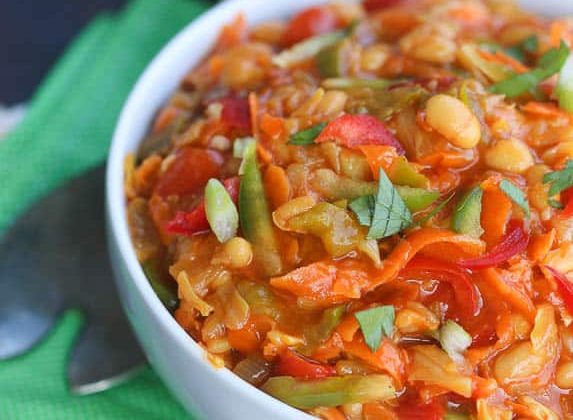 If you're in search of a vibrant and flavorful dish that encapsulates the heart and soul of South African cuisine, look no further than Chakalaka. This beloved delicacy is a true rainbow of tastes, colors, and textures, offering a taste of South Africa's rich culinary diversity.
Chakalaka is a spicy, tomato-based vegetable relish that's not only delicious but also incredibly easy to make. It's a harmonious blend of ingredients that come together to create a medley of tastes that dance on your taste buds. (Read also: How To Cook The Best Stuffed Pepper Soup)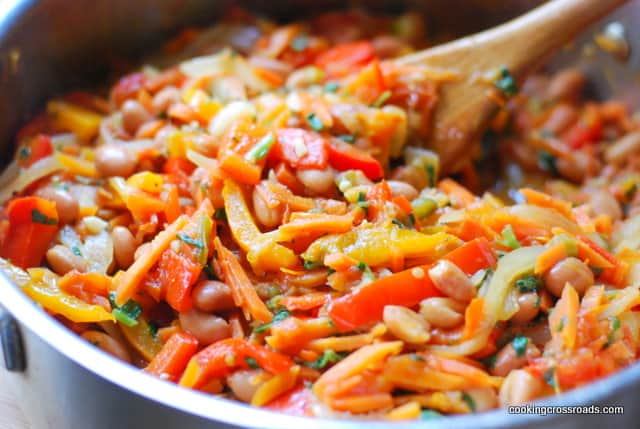 The primary components typically include onions, peppers, carrots, and beans, although variations abound. The magic happens when you simmer these vegetables with an array of spices like curry, chili, and ginger, allowing them to meld into a savory symphony.
This versatile dish can be enjoyed as a side, a condiment, or even a main course. Chakalaka's fiery kick and robust flavor profile make it a South African favorite, and mastering its preparation is an adventure in exploring South African culture and cuisine.
In this guide, we'll show you how to cook Chakalaka so you can bring a slice of South African delight to your own kitchen. Get ready for a taste sensation that's both simple and sensational. Check out for this amazing recipe How To Cook Bacon In The Oven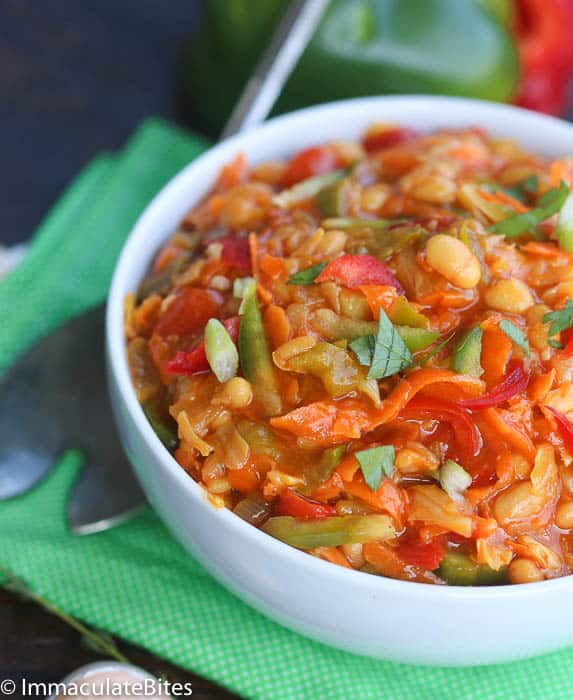 Ingredients You'll Need
Before we embark on the journey of making Chakalaka, let's gather all the essential ingredients. Here's what you'll need:
For the Base:
2 tablespoons of vegetable oil
1 large onion, finely chopped
2-3 garlic cloves, minced
1 green bell pepper, diced
1 red bell pepper, diced
1-2 green chilies, finely chopped (adjust to your spice preference)
2 carrots, diced
2-3 tomatoes, chopped
1 can (400g) of baked beans in tomato sauce (you can use any beans you prefer)
1 teaspoon of ground paprika
1 teaspoon of ground cumin
1 teaspoon of ground coriander
1 teaspoon of ground curry powder
Salt and black pepper to taste
For Extra Flavor (Optional)
1-2 tablespoons of chutney (South African fruit chutney or any fruit-based chutney)
A handful of grated cabbage or coleslaw mix
A handful of grated or thinly sliced baby marrows (zucchini)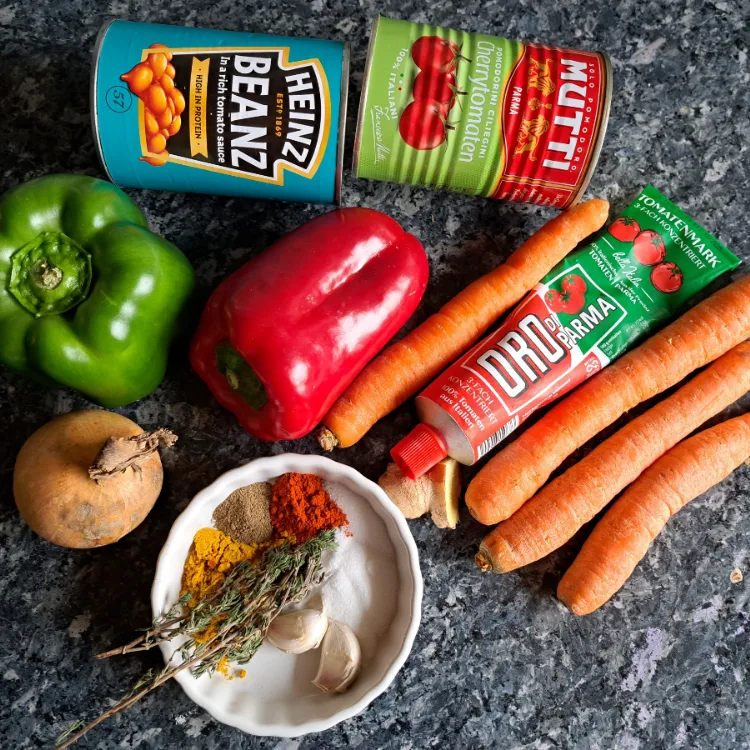 Now that you've gathered all your ingredients, let's dive into the process of making Chakalaka.
1. Preparation is Key
Before you start, make sure to prepare your workspace. You'll need a cutting board, a sharp knife, a large pot or deep skillet, and a wooden spoon for stirring.
2. Sautéing the Aromatics
Heat 2 tablespoons of vegetable oil in a large pot or deep skillet over medium heat. Add the finely chopped onion and sauté until it becomes translucent and slightly caramelized.
3. Adding garlic and chilies
Once the onion is soft and fragrant, add the minced garlic and chopped green chilies. Sauté for another minute or so, allowing the flavors to meld.
4. Adding bell peppers
Add the diced green and red bell peppers to the pot. Sauté them for a few minutes until they start to soften and become vibrant in color.
5. Tossing in the carrots and spices
Now, add the diced carrots and all your ground spices: paprika, cumin, coriander, and curry powder. Stir everything well to coat the vegetables with the aromatic spices.
Recommended: How To Cook Spaghetti Squash
6. Incorporating tomatoes
Add the chopped tomatoes to the pot and cook them until they start to break down, releasing their juices. This will form the base of the Chakalaka.
7. Introducing the beans
Pour in the can of baked beans (or your preferred beans) in tomato sauce. These beans add a wonderful creamy texture and extra flavor to the dish. Stir them into the vegetable mixture.
8. Seasoning with salt and pepper
Season your Chakalaka with salt and black pepper to taste. Remember that the baked beans already contain some salt, so be mindful not to over-season.
9. Extra flavor variations (Optional)
At this stage, you can add extra ingredients to customize your Chakalaka. The grated cabbage or coleslaw mix adds a delightful crunch, and the baby marrows (zucchini) contribute to a fresh, vegetable-forward flavor. If you'd like a hint of sweetness, stir in 1-2 tablespoons of chutney. Customize your Chakalaka to your taste.
10. Simmer and infuse flavors
Let your Chakalaka simmer over low heat for about 15-20 minutes. This allows all the ingredients to come together and the flavors to meld. Stir occasionally to prevent sticking and ensure even cooking.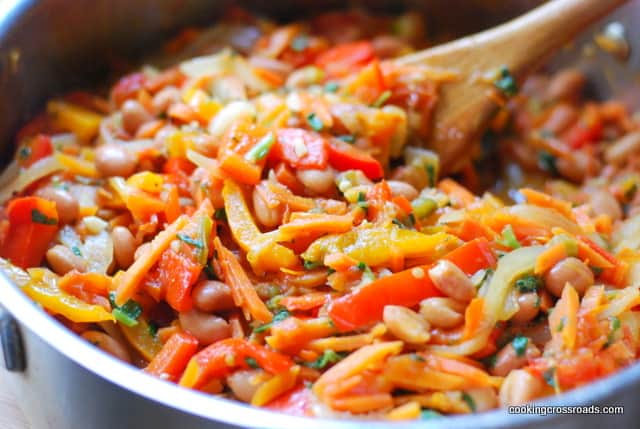 11. Taste and adjust
Before serving, taste your Chakalaka and adjust the seasoning or spices to your liking. If you prefer it spicier, add more chopped green chilies. Your Chakalaka is ready to serve! It pairs wonderfully with grilled meats, stews, rice, or even as a side dish. It's a delightful burst of flavor that adds a South African twist to any meal.
Tips for Success
Chakalaka is a versatile dish, so feel free to customize it with your favorite ingredients. Some people add grated cheese or serve it with a dollop of yogurt or sour cream for extra creaminess.
Adjust the spiciness to your preference by adding or removing green chilies.
Don't forget to taste and season your Chakalaka before serving, as the saltiness may vary depending on the brand of beans you use.
Leftover Chakalaka can be stored in an airtight container in the refrigerator and reheated for future meals.
Frequently Asked Questions (FAQ)
What is Chakalaka?
Chakalaka is a spicy South African vegetable relish. It's a flavorful mix of ingredients like onions, peppers, carrots, and beans, simmered with various spices, creating a savory and spicy side dish.
What ingredients do I need for Chakalaka?
The core ingredients include onions, bell peppers, carrots, canned beans (like baked beans or kidney beans), tomatoes, and a blend of spices like curry, chili, and ginger.
Is Chakalaka spicy?
Yes, Chakalaka is known for its spicy kick, thanks to ingredients like chili. You can adjust the level of spiciness to your preference by adding more or less chili.
Is Chakalaka vegan or vegetarian?
Chakalaka is often vegan or vegetarian, depending on the specific recipe. It's a great option for those following plant-based diets.
Can I customize Chakalaka to my taste?
Absolutely! Chakalaka is versatile. You can adjust the ingredients and spices to suit your preferences, making it milder or hotter, or adding other vegetables.
What dishes can I serve with Chakalaka?
Chakalaka pairs well with many South African dishes, such as pap (maize porridge), grilled meats, and boerewors (sausages). It can also be a tasty accompaniment to bread or rice.
How do I store leftover Chakalaka?
Store it in an airtight container in the refrigerator. Chakalaka can be reheated and enjoyed for a few days.
Can I freeze Chakalaka?
Yes, Chakalaka can be frozen. Ensure it's completely cooled, then store it in a freezer-safe container. Thaw and reheat when you're ready to enjoy it.
Conclusion
Cooking Chakalaka is not just about creating a delicious South African side dish; it's about experiencing the vibrant flavors of a diverse and culturally rich country. The aromatic spices, fresh vegetables, and optional extras make this dish a delightful addition to any meal.
Whether you enjoy it with grilled meats, as a side to stews, or as a standalone dish, Chakalaka is sure to tantalize your taste buds and transport you to the heart of South Africa.
So, gather your ingredients, add your personal touch, and start cooking Chakalaka to savor a South African culinary delight in your own home!