People would like to know what's African breadfruit? and how to make it just like a Igbo individual would like it.
Ukwa, also known as breadfruit or dumpling fruit, is a type of fruit that is native to the tropics. It is a large, soft fruit that can be eaten raw, fried, or cooked and we are going to show you how you can cook your own ukwa at home.
Ukwa can be cooked in many ways, some people prefer it plain without any seasonings, while others may add salt to enhance the flavor.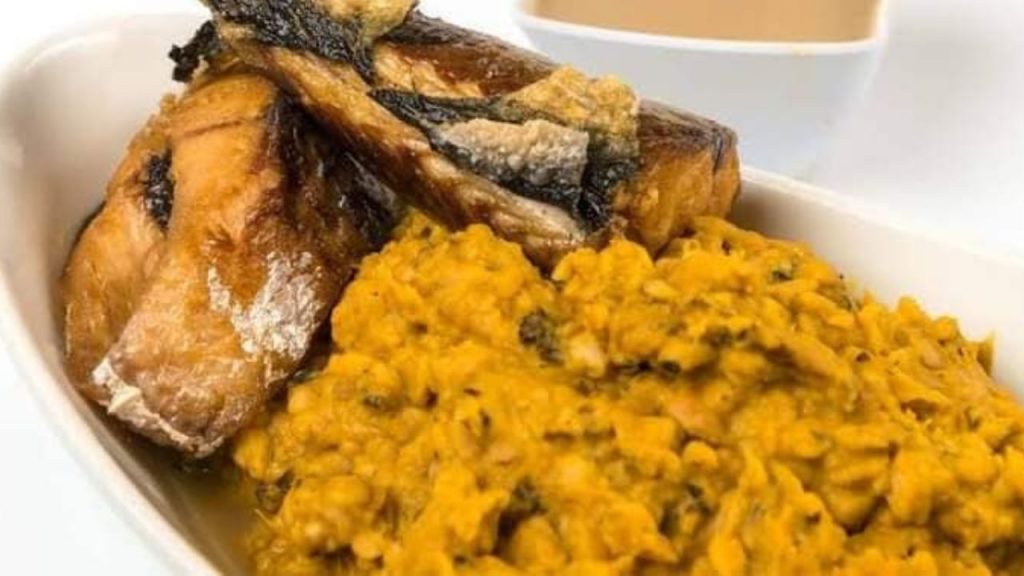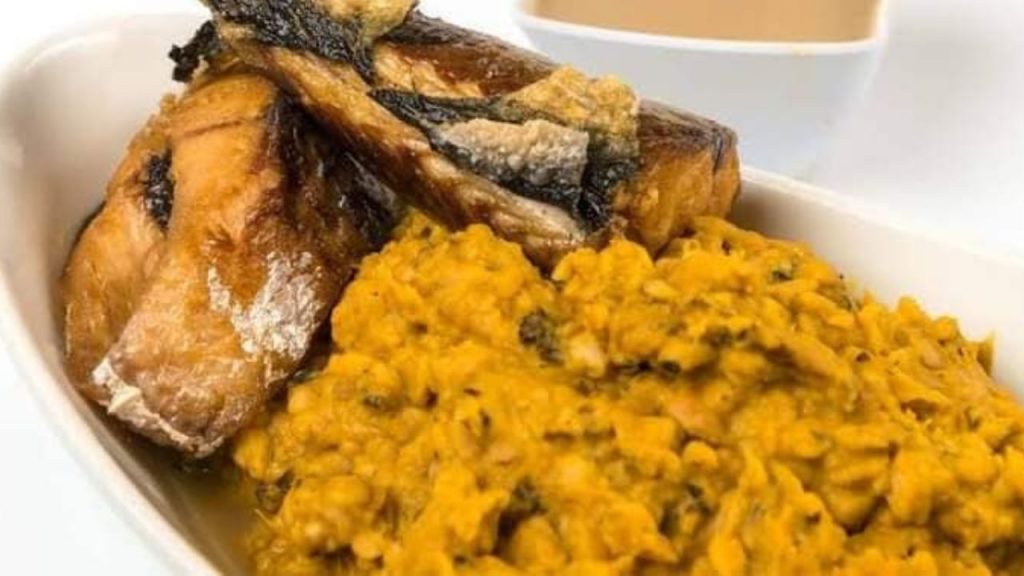 It has been a mystery to many. People keep wondering what it is, and how to prepare it the exact way an Igbo person would like it.
African breadfruit is a fruit that is native to Africa, and it is similar to a pineapple. It has a thick skin that needs to be peeled before eating. The inside of the fruit is filled with sweet pulp, and the outside can be either green or brown.
It could be cooked with potash and just eaten like that or it could also be separated from the water for just the seeds to be mashed with some ingredients and thereafter served with the plain cooked ukwa.
Ukwa (African Breadfruit) is a popular dish in many parts of Africa. There are many variations of this dish, but the basic ingredients are breadfruit, oil, salt, and pepper. Below are the ingredients for preparing Ukwa (African Breadfruit
Ingredients For Making Jollof Breadfruit
700g African Breadfruit
2 medium dry fish
2 small stock cubes
7g edible potash
Palm oil (enough to colour)
5-6 fresh bitter leaves
Pepper & Salt (to taste)
Common additions to Breadfruit Porridge:
White Puna yam
Corn/Maize, you can also use sweet corn
Notes on the ingredients
Freshly peeled ukwa or dried ukwa can be used for this recipe.
You can use stockfish instead of dry fish or both.
By fresh bitter leaves, I mean bitter leaves that have NOT been washed and squeezed.
Always add enough palm oil to make your Nigerian meals look appetizing.
Edible potash acts as a food tenderizer. Only a very small quantity should be used. If you are lucky to buy freshly dehusked ukwa seeds from the same tree, you will not need to use the food tenderizer. I do not know any alternative to edible potash.
how to cook ukwa with bitter leaf
If using dry ukwa, soak it overnight in plenty of cold water. If using fresh ukwa, skip this step.
The next day, soak, debone and wash the dry fish or stock fish and break them into pieces.
Wash the ukwa thoroughly in cold water. Stones and sand usually settle at the bottom so watch out for those.
Pound the pepper. Rinse the bitter leaves and set them aside.
The best way to cook ukwa (breadfruit)
Put the thoroughly washed ukwa in a sizeable pot. Use pressure because it cooks the ukwa much faster.
Pour enough water to cover the ukwa. The level of water should be about 1 inch above the level of the ukwa.
Add the edible potash. Add the dry fish or stock fish, cover the pot and cook till well done. The ukwa is done when the seeds melt when pressed. You may need to top up the water while cooking so watch it closely. If using a pressure pot, top-ups will not be necessary.
Add palm oil to the well-done ukwa, and add pepper, stock cubes, and salt to taste.
Stir. Cover and cook on medium heat till the palm oil changes color from red to yellow. This should take about 5 minutes.
Stir and add the bitter leaves.
Cover and leave to simmer or till the leaves wilt but are still green and the ukwa is ready to be served.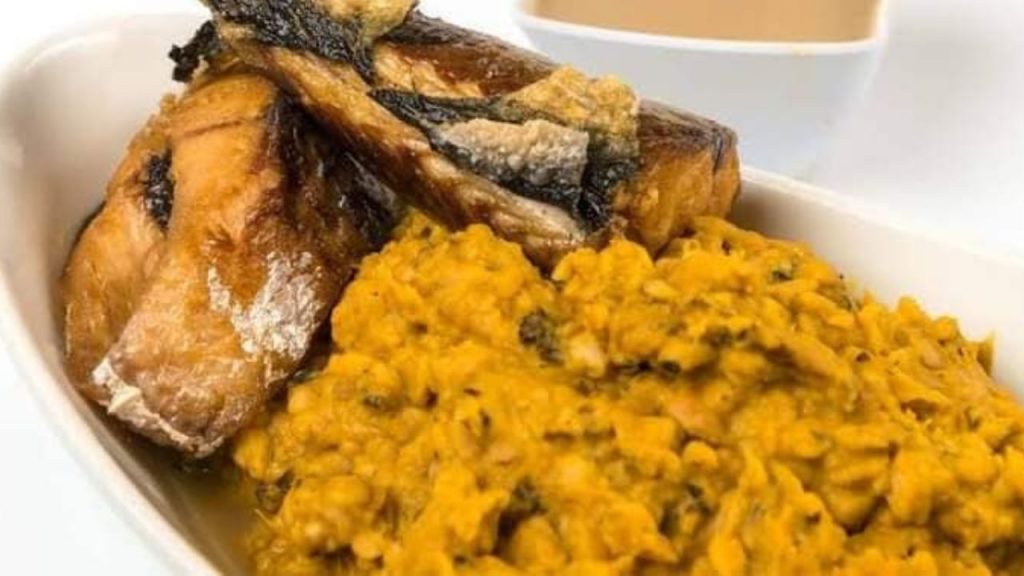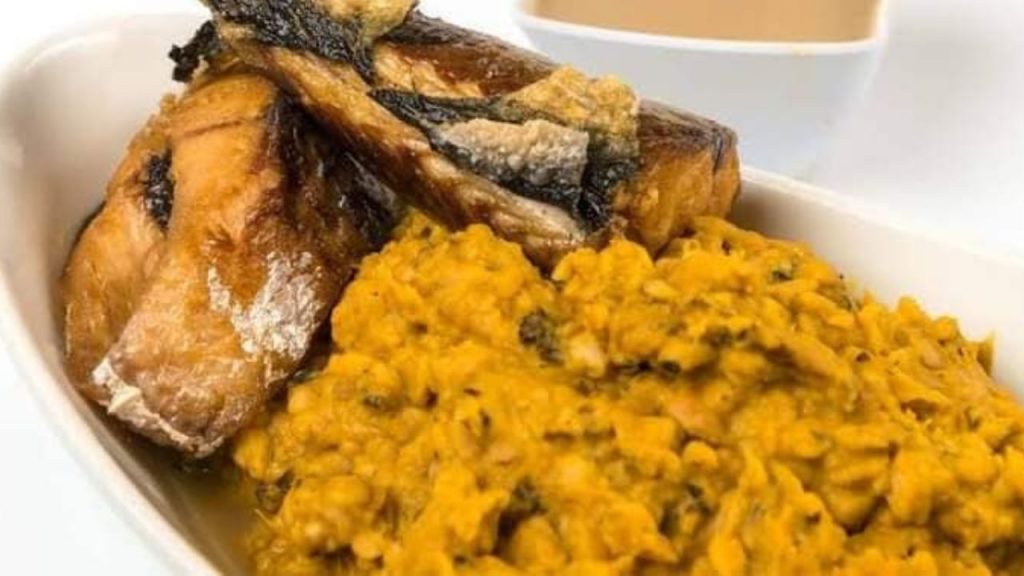 Cooking Ukwa with a Pressure Pot
If you have a pressure pot, ukwa is one of the Nigerian recipes that you should use because it cuts the cooking time by a lot.
For pressure pots, follow the directions above up till Step 2.
Then for step 3, add edible potash, dry fish or stock fish, pepper, salt to taste, stock cubes, and palm oil.
Cover, pressurize, and cook for 30 minutes. I set the pressure on my pot to 1 and my cooker to heat 7 (my burner's heat settings range from 1-9).
After 30 minutes with the above settings, the ukwa should be well done. Depressurize the pot under running water and add the bitter leaves.
Cover and cook till the vegetable wilt but are still green. There is no need to pressurize the pot during this step.
Stir and it's done!
What is the best way to prepare breadfruit?
What is the best way to prepare breadfruit? Questions like this arise when people are learning about new foods. Generally speaking, breadfruit can be cooked in many different ways, but there are some specific methods that are best for preserving its nutrients and preparing it for consumption which is eaten raw.
It is usually cooked before being eaten. There are many ways to cook breadfruit, but the most common way is to bake it in an oven or fry it.
How do you boil the whole breadfruit?
Breadfruit is a large, green fruit that is related to jackfruit. It can be eaten cooked or raw and has a sweet, starchy flavor. Breadfruit can be boiled, baked, fried, or roasted.
To boil breadfruit, first cut off the top and bottom of the fruit. Cut the fruit in half and remove the seeds. Place the breadfruit in a pot of water and bring to a boil. Cook for 15-20 minutes or until tender. Drain and serve warm.
How long should I boil breadfruit?
Nigerian native breadfruit is a starchy fruit that can be boiled for different lengths of time to achieve different results. For example, if you want the fruit to be more like a potato in texture, you would boil it for about 30 minutes.
If you want the fruit to be softer, you would boil it for about 50 minutes with potash. And if you want the fruit to be very soft, you would boil it for about 1hr, 30 minutes with potash or ngor.
Is boiled breadfruit good for you?
Breadfruit is a starchy fruit that can be boiled and eaten as a meal. The boiled breadfruit is said to be good for you because it is a source of dietary fiber, potassium, vitamin C, and vitamin B6.
The fiber in the breadfruit can help to regulate digestion, while potassium can help to maintain blood pressure levels. Additionally, the vitamin C in the breadfruit can boost the immune system, and vitamin B6 can promote healthy brain function.
how to cook plain ukwa
Ukwa is a type of African yam that is often boiled and served with a peanut or palm nut sauce. Ukwa can also be cooked with stew or soup. The following steps will show you how to cook plain ukwa:
To cook ukwa plain, you will need:
-1 cup of ukwa
-Water
-Salt
Start by washing the ukwa in cool water and then soak it in fresh water for 2 hours. Next, place the ukwa in a pot and cover it with water.
Bring the pot of water to a boil, then reduce the heat to medium-low and simmer for 30 minutes.
After 30 minutes, add salt and cook for extra 20 minutes. Remove the ukwa from the pot and allow it to cool slightly before serving.
Benefits of breadfruit (ukwa)
Breadfruit is a nutritious fruit that offers a variety of health benefits. Here are 10 reasons to add breadfruit to your diet:
Breadfruit is high in fiber, which can help promote regularity and digestive health.
The potassium in breadfruit can help maintain blood pressure levels and regulate heart function.
Breadfruit is a good source of vitamin C, which supports the immune system.
Vitamin B6 in breadfruit helps the body convert food into energy.
Breadfruit is low in calories and high in nutrients, making it a healthy choice for people looking to lose weight or maintain their current weight.
The antioxidants in breadfruit can help protect the body from damage caused by free radicals.
Check out our food recipes
We as well have this
How do you cook breadfruit fast?
In conclusion,cooking breadfruit fast does not have to be difficult. With the right ingredients and techniques, you can enjoy a delicious meal in a matter of minutes. There are many quick and easy recipes that you can use to make this tasty tropical fruit a staple in your kitchen.

Whether you choose to bake it, fry it, steam it or boil it, the possibilities are endless. You can even combine different methods depending on your tastes and preferences.
How many ways can you cook breadfruit?
It is clear that there are many creative and delicious ways to cook breadfruit. From traditional methods such as boiling, roasting, steaming, and grilling to more innovative approaches like frying and baking, the possibilities are only limited by one's imagination.

Breadfruit can be enjoyed as a savory side dish or a sweet dessert; it can also provide an easy-to-prepare meal for any time of day.
Conclusion
In conclusion,jollof breadfruit is a delicious and nutritious meal with numerous variations. Whether you're a beginner or an experienced cook, these recipes can help you easily make jollof breadfruit dishes that are sure to be crowd pleasers.
And once you get the hang of it, you can start experimenting and creating variations of your own. So why not give jollof breadfruit a try today? You won't regret it!