Groundnut soup is a delicious West African dish that is often enjoyed by locals and ex-pats living in the region.
The dish can be made with various meats, but it is most commonly prepared with beef or chicken. The ingredients for groundnut soup are easily accessible, and the dish can be cooked by anyone with a bit of culinary experience.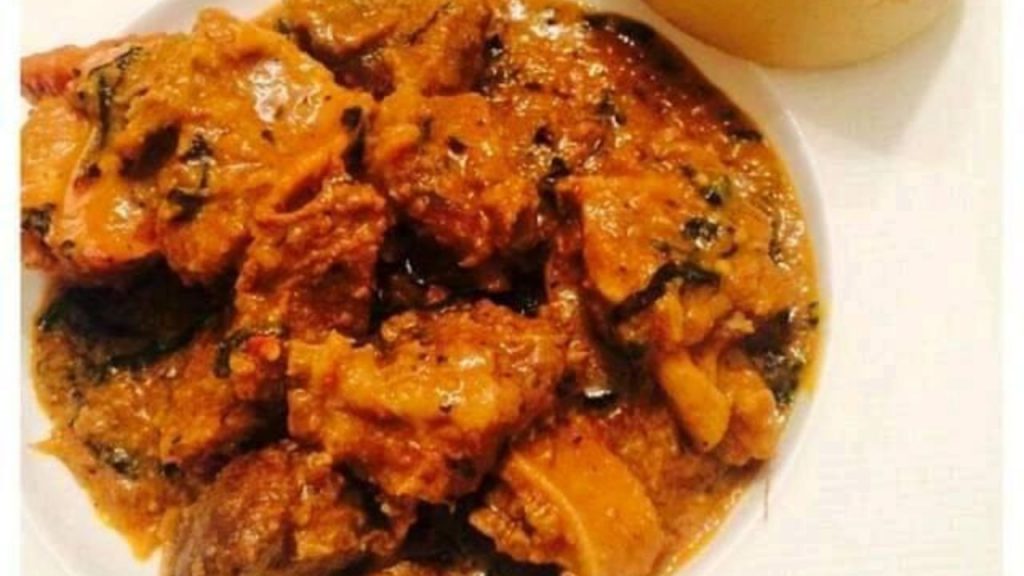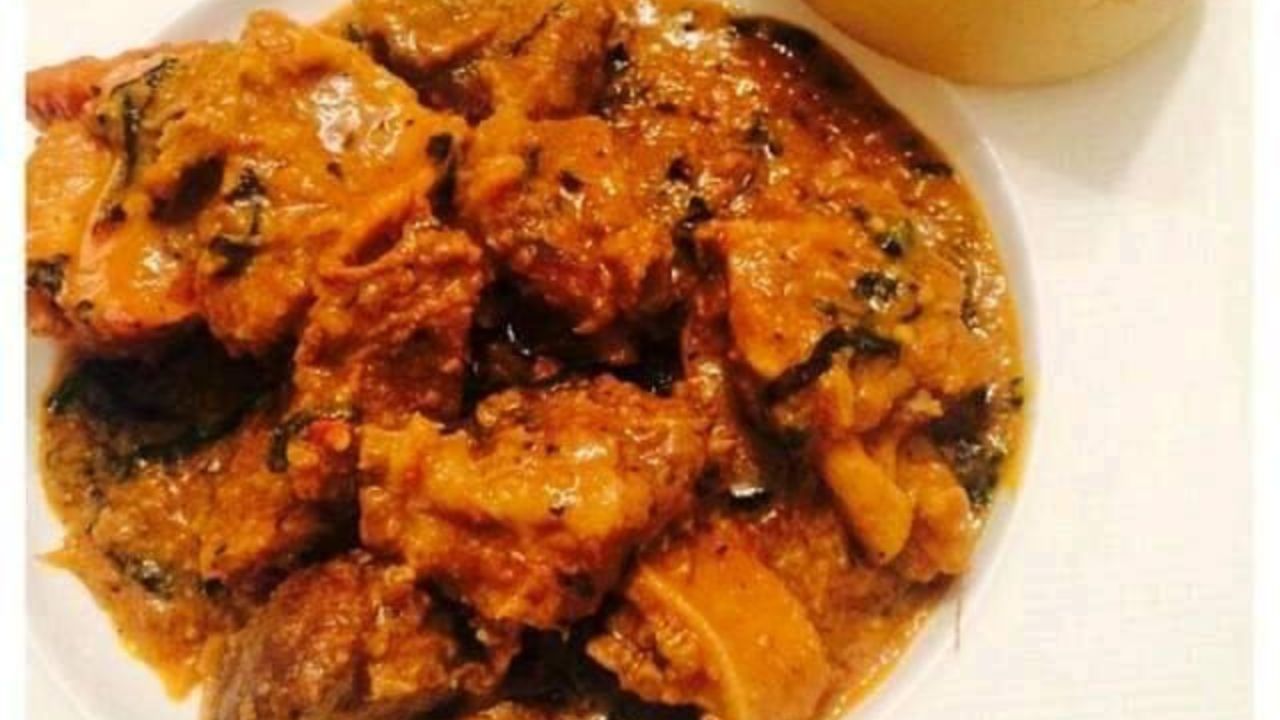 Cooking your own groundnut soup is important because you get to choose the ingredients that go into it. This means that you can make sure that the soup is healthy and meets your dietary needs.
Additionally, cooking your own groundnut soup is a great way to save money. By cooking your own soup, you can avoid spending money on store-bought soups, which tend to be expensive.
This method I'm gonna be showing you is my own method of preparation and it has never failed me. keep reading till you get there.
African peanut/groundnut soup ingredients
1. 500g of goatmeat
2 cups of raw groundnut(peak milk cup)
1 head of stockfish
1 big dried fish or any kind of fish
1 medium-size kpomo (cowhide)
2 tablespoons of ground crayfish
2 seasoning cubes
Chopped onion
1 handful bitter leaf
2 big spoons of palm oil
3 scotch bonnet or ground cayenne pepper
Salt to taste
Steps on how to cook African peanut soup (groundnut soup) With Bitter Leaf.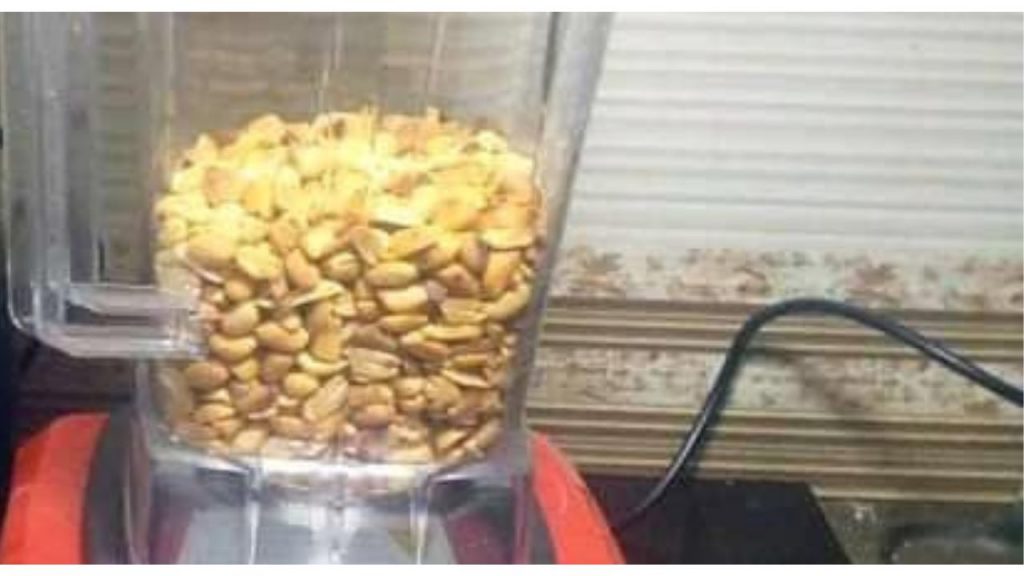 Roast groundnut (peanut) in a dry pan for 5 minutes, stirring constantly until they all turn golden. Wash and season your beef or chicken with pepper, onions, 1 seasoning cube and salt then cook with a little water.
Add the stockfish to the meat and cook; you can add more water to the meat as it cooks. While the meat is on heat, bring the groundnuts into a dry mill and blend into a smooth paste.
When the meat is almost cooked, debone the dried fish, rinse it add it to the meat to cook for 10 minutes. Once the meat and fish are cooked, separate them from the broth and keep them aside.
Add crayfish, more pepper, and one seasoning cube to the meat broth and cook; you can add a cup of water to your broth if it is small.
Bring the peanut/groundnut paste to the content and reduce the heat to low, let it cook for 10 minutes, and keep stirring it until it dissolves completely.
You have to keep stirring the content so that it doesn't burn at the bottom of the pot. When you notice a thin film of clear oil on the surface, add 1 or cooking spoons of palm oil to the content and stir it well.
Bring back the meat you have kept aside into the content and stir it properly to incorporate, let it cook for 5 minutes.
Bring in pumpkin leaf into the content and stir well for it to mix. Taste for salt and seasoning and let it cook for another 2 minutes.
If you don't like vegetables in your groundnut (peanut soup), skip number 11 and move to number 13.
Put off the heat and serve your groundnut soup/ peanut soup with rice, fufu, or pounded yam.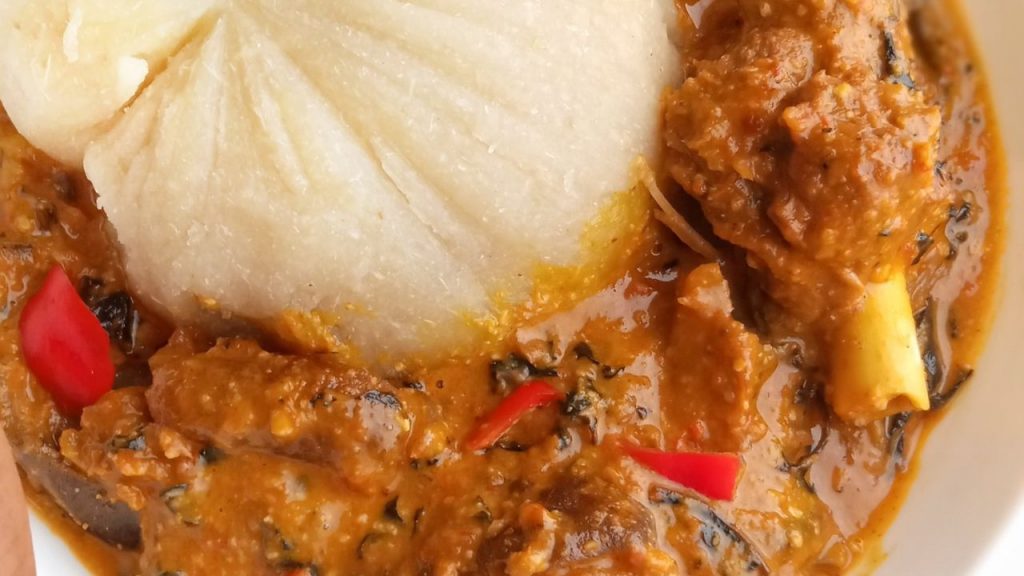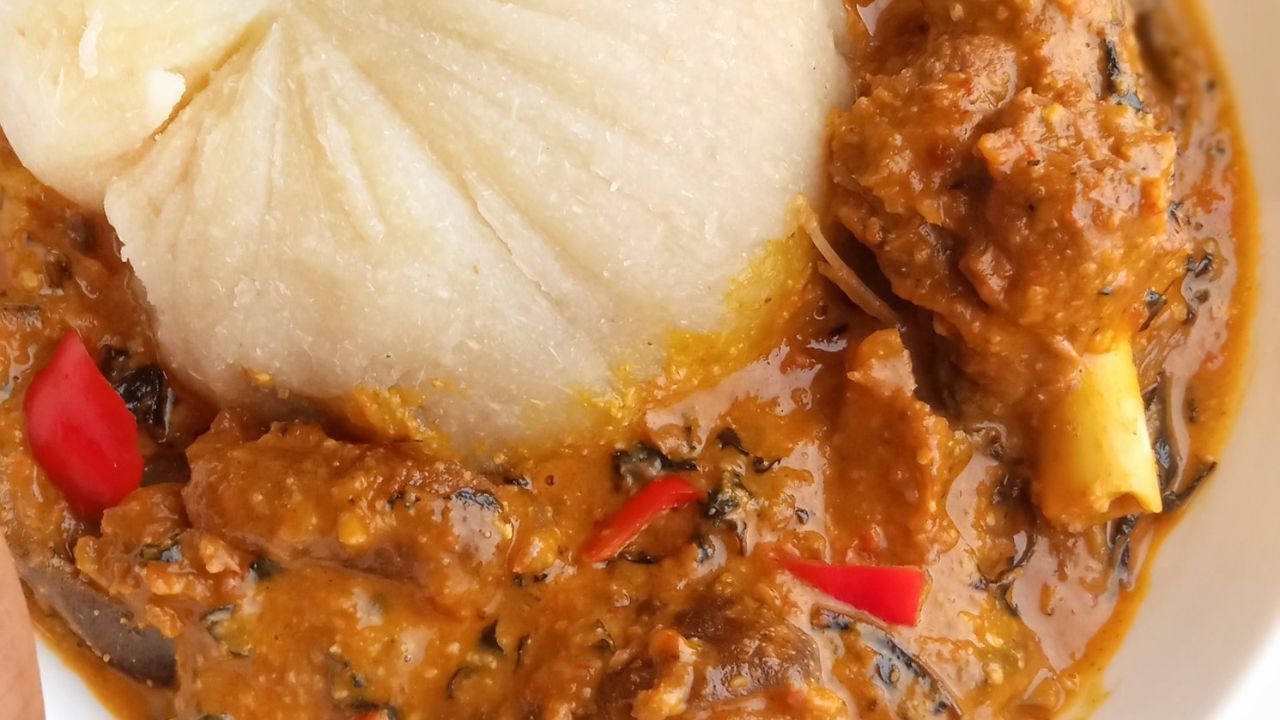 Which state owns groundnut soup in Nigeria?
Groundnut soup is a popular dish in many African countries. It is made with groundnuts, vegetables, and spices. The exact ingredients vary from country to country, but the soup is always hearty and satisfying.
Most people believe that groundnut soup originated in Ghana, but it is also popular in Nigeria and other African countries. There are many variations of the recipe, but all of them include groundnuts as a key ingredient.
Edo groundnut soup
The Edo people of Nigeria have a soup made from groundnuts that are considered a delicacy.
The soup is cooked by frying the groundnuts in oil until they are brown, then adding water and other ingredients such as onions, tomatoes, peppers, seasoning cubes varieties of meat, and salt to taste. The soup is usually served with pounded yam or fufu.
Hausa groundnut soup
The Hausa people are a tribe that is found in Northern Nigeria. One of their traditional dishes is called groundnut soup.
This dish is made by boiling groundnuts with other ingredients, such as meat, seasonings, and vegetables. They love serving their groundnut soup with rice or bread.
How to cook egusi and groundnut soup
Groundnut soup is a very popular soup in Nigeria. It is made with groundnut, vegetables, and other ingredients. Egusi soup is also a popular Nigerian soup. It is made with egusi seeds, vegetables, and other ingredients. Both of these soups can be cooked together to make a delicious meal.
To cook the soup, start by heating oil in a pot. Add the groundnut and fry until it is browned. Then add the egusi seeds and fry until they are browned. Add the vegetables and stock or water and bring to a boil.
Simmer for about 30 minutes or until the vegetables are cooked through. Season with salt and pepper to taste and serve hot with rice or bread.
Is groundnut soup good for your health?
Groundnut soup is a delicious, healthy soup that is packed with nutrients.
It is a great source of protein, fiber, and vitamins A, C, and E. Additionally, groundnut soup is low in fat and calories, making it a perfect choice for those looking to lose weight or maintain a healthy weight.
Groundnut soup is also beneficial for your health overall; it can help boost your immune system, improve heart health, and reduce the risk of cancer.
So if you are looking for a nutritious soup that will satisfy your taste buds, look no further than groundnut soup!
benefits of groundnuts to a woman
Groundnuts are a good source of protein for vegetarians and people who do not eat meat. They are also a good source of fiber, vitamin E, magnesium, phosphorus, potassium, and zinc.
Groundnuts are beneficial to women because they can help prevent breast cancer. They also contain phytoestrogens which can help reduce the risk of osteoporosis.
Additionally, groundnuts are a good source of antioxidants which can help protect against free radicals that can damage cells. Groundnut soup is a healthy dish that women can enjoy to receive the benefits of groundnuts.
Groundnuts benefits sexually
Groundnuts are a good source of protein, vitamins, and minerals. Groundnut soup is also believed to be a powerful aphrodisiac. It is said to improve sexual function in men and women.
The soup is said to increase blood flow to the genitals, providing a better sexual experience.
Conclusion
In conclusion, groundnut soup is a delicious, healthy, and affordable dish that can be enjoyed by people of all ages. It is easy to make and can be tailored to fit any palate. I hope you will give groundnut soup a try!