Vietnamese crab and corn soup (Súp Cua) is a mouth-watering appetizer with a superb taste and mesmerizing presentation. By artfully combining crab, chicken, corn, egg, and mushrooms, the locals have brought forth an elegant dish that will surprise you with every spoonful.
This dish is an ideal starting point. Stick with me to the end of today's post to learn an authentic Sup Cua recipe, along with useful tips and tricks that will help you cook like a pro.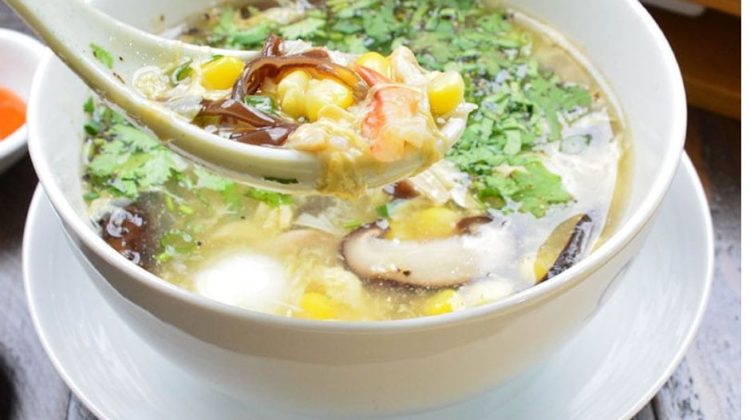 the Vietnamese enjoy "Canh," a kind of soup made mainly from a combination of fresh vegetables and a kind of protein, for their daily meals. A prime example of these unique dishes is Canh Kho Qua Nhoi Thit (stuffed bitter melon soup).
And did you know that the Vietnamese also have soup as a dessert or snack? That's right. They have a wide collection of Che (sweet soup), most of which are a combination of beans, fruits, or jellies with coconut milk. If you're interested in trying Che, Che Thai is my number one recommendation.
Apart from other amazing delicious vietnamese soup around, Sup Cua is another all-time favorite among foodies. It used to be a fancy dish served in prestige restaurants, but through time, the locals have found ways to incorporate Sup Cua into everyday lives.
This days, not only does Sup Cua still retain its role as a well-loved appetizer at feasts and parties, but it has also become a part of Vietnamese street food culture. Moreover, people love having this hearty soup for breakfast.
Ingredients
INGREDIENTS
10.5 ounces (300 grams) crab meat
1 chicken leg
10.5 cups (2.5 liters) bone broth
1 ounce (30 grams) wood ear mushrooms
1.8 ounces (50 grams) shiitake mushrooms
1.8 ounces (30 grams) tapioca flour
1 egg
20 quail eggs
5.3 ounces (150 grams) corn
1.8 ounces (50 grams) scallions
1.8 ounces (50 grams) cilantro
5 teaspoons chicken bouillon powder
1 teaspoon brown sugar
2 teaspoons salt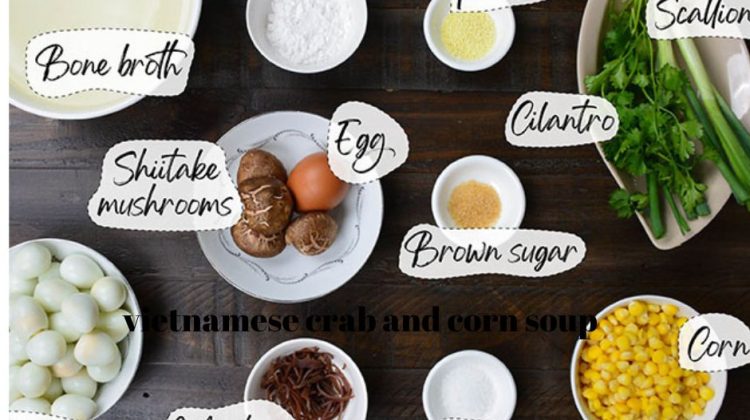 For the ingredients, you'll use crab meat and chicken leg as the main protein sources. In addition, you'll need to prepare some mushrooms, corn, eggs, tapioca flour, and a few spices.
Here are the perfect way of getting Heartwarming Vietnamese Crab And Corn Soup (Súp Cua) ingredients ready.
Crab meat: If possible, buy a fresh crab, then clean and boil it at home. To save time, you can also use frozen crab meat, but note that it won't taste as good. In addition, adding some imitation crab to the soup is a great way to add more flavor.
Bone broth: Canned bone broth or plain water is fine as well if you don't have too much time.
Wood ear mushrooms: A kind of mushroom used in numerous Asian soup dishes. In addition, snow fungus is an excellent choice to add to Sup Cua.
Shiitake mushrooms: One of the most important ingredients that give the soup its signature taste.
Tapioca flour: Helps you achieve the perfect texture: not too watery, not too thick. You can also use cornstarch.
Chicken leg: Chicken breast is another viable choice since you'll shred it after boiling.
Egg: As long as you follow my instructions, you'll be able to make beautiful egg strands, which not only add to the nutritional value but also enhance the appearance of the soup.
Quail eggs: I prefer hard-boiled quail eggs.
Corn: If you can, I suggest boiling whole corn and then extracting the kernels. That said, frozen corn is not a bad choice.
Scallions and cilantro: For garnishing.
Spices: Chicken bouillon powder, brown sugar, and salt.
Vietnamese Crab And Corn Soup Recipe
Wash the mushrooms and drain them well, boil the quail eggs for 8 to 10 minutes.
Dip the wood ear mushrooms in warm water for 10 to 15 minutes to soften them. Then, slice them into thin strips. Likewise, cut the shiitake mushrooms thinly. slice the scallions, cilantro, and shiitake mushrooms finely.
Wash the crab thoroughly in other to get rid of all the debris and unwanted parts.
Once you are through, put some water into a pot and place a bowl in the middle. Add the cleaned crab onto a plate and put it on top of the bowl. Put the lid on and steam for 14 to 16 minutes, depending on the size of your crab. You can use a steamer instead if you have one. After steaming the crab, take it out of the pot and allow it to cool.
While waiting for the crab to cook, boil the chicken on another stove for 15 to 20 minutes. To ensure that your chicken is cooked to perfection. Once you are done, let the chicken cool.
Cut or break off the legs and claws from the crab's body. Use the small tip at the end of a teaspoon's handle to push the crab meat out from its legs.
For the crab legs, crack the shells by gently hitting them with a knife handle. Then, extract the meat using the teaspoon's handle. Alternatively, you can break the shells with a seafood cracker.
To pick out the meat from the crab's body, first, you'll need to cut it in half. Next, extract the meat as instructed above with a teaspoon's handle until there's no crab meat left.
Shred the chicken into bite-sized strips. Place the shredded chicken on the same plate as the crab meat.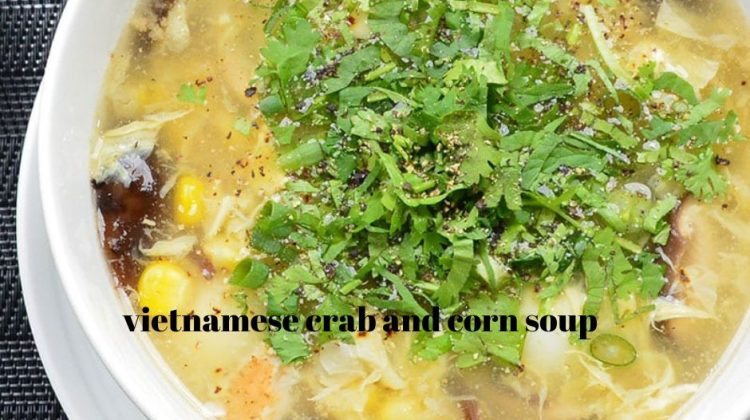 Steps On How To Cook The Soup
Pour 10.5 cups (about 2.5 liters) of bone broth into the stockpot. Then, add the shiitake mushrooms, corn, and wood ear mushrooms. Bring the broth to a boil.
When the broth has come to a boil, season it with the chicken bouillon powder, sugar, and salt. Stir well and cook for 10 minutes over medium heat.
Mix 1 ounce of tapioca flour with about ⅖ cup of water. Crack the egg and beat it well.
Add the tapioca flour mixture into the pot and stir well. Next, add the egg and quickly stir it with a spoon to turn it into beautiful strands.
Lastly, add the crab meat, shredded chicken, and quail eggs. Cook the soup for another 1 to 2 minutes, then cut the heat.
Ladle the soup into a bowl. Sprinkle some scallions, cilantro, and ground pepper on top. And that's it! Enjoy your nutritious and flavor-packed Sua Cua.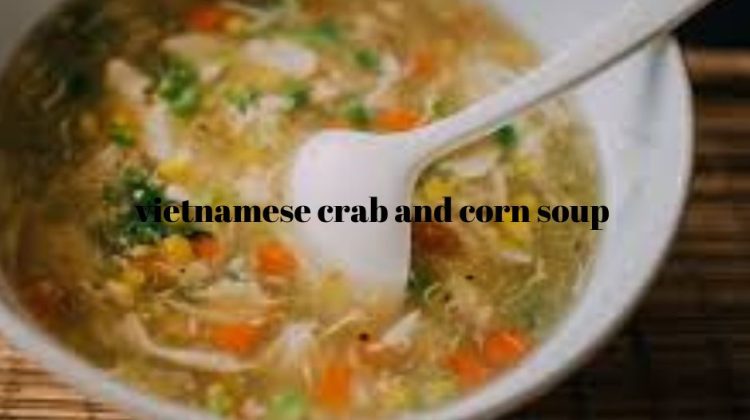 Tips And Tricks
Here are a couple of tips that will help you avoid common mistakes and boost the flavor of your soup up a notch.
While the seasonings and spices in this recipe yield the most authentic-tasting Sup Cua, don't hesitate to adjust them to fit your liking.
It's important that you do not mix the tapioca flour with warm or hot water, as the flour will not be able to dissolve fully and might even clump up.
Do not use more tapioca flour than necessary, as doing so can cause the soup to be too thick.
To spice up your Sup Cua, try adding soy sauce, oyster sauce, chili sauce, or sate sauce to it.
Give This Absolute Gem Of An Appetizer A Try
Vietnamese crab and corn soup is a flavorful and nutritious appetizer that everyone will love. Thanks to the perfect balance of tastiness and beautiful presentation, this dish is sure to impress whenever it appears. In addition, you can have it for a delightful morning meal.
In my opinion, Sup Cua is simply unbeatable when it comes to Vietnamese starters. But how about you? Do you find the dish delicious? Please let me know your thoughts by writing a comment. Lastly, don't hesitate to like and share the post if you find it helpful. Thank you so much.
Other Recipes You Might Love To Try.
How Long To Bake Chicken Wings At 375 • 2023 Edition.
Does Baileys Irish cream go bad?
Nigeria/(Ingredients For Cooking half bag of Rice) In 2023
Crispy & Tender Air Fryer Chicken Fried Steak
35 most popular Italian foods that will captivate you 2023
How to tell if sweet potatoes are bad; Ultimate guide 2023
25+ authentic Italian side dishes for your your main course.
The Ultimate Guide To Creating A Delicious Santa Fe Salad
The Juiciest And Easiest Air Fryer Meatloaf.
Healthy, Easy, Tender And Juicy Air Fryer Naked Chicken.
Homemade Apple And Cinnamon Cake.
Health Benefits of Onion Consumption.
Other Soup Recipes You May Like:
In conclusion,Vietnamese crab and corn soup is a delicious and nutritious dish that can be enjoyed by anyone. Not only does it make for a delectable meal, but it is also an easy recipe to follow.
Preparing this soup requires minimal effort, yet yields maximum flavor. Whether you're looking for a unique meal to serve or want a light dinner on a hot summer night, this seafood-filled soup will definitely do the trick! So why not give it a try?