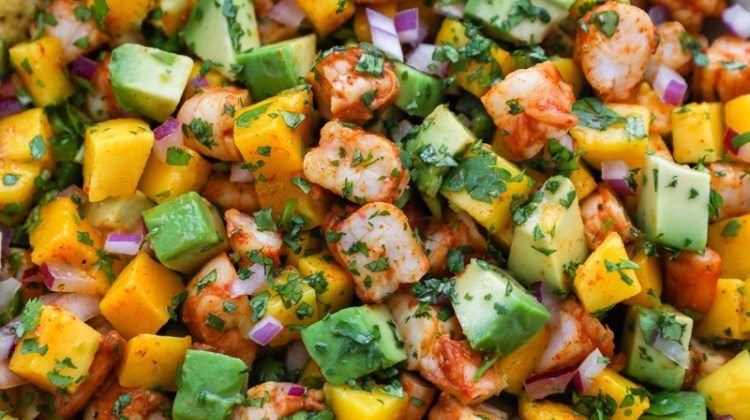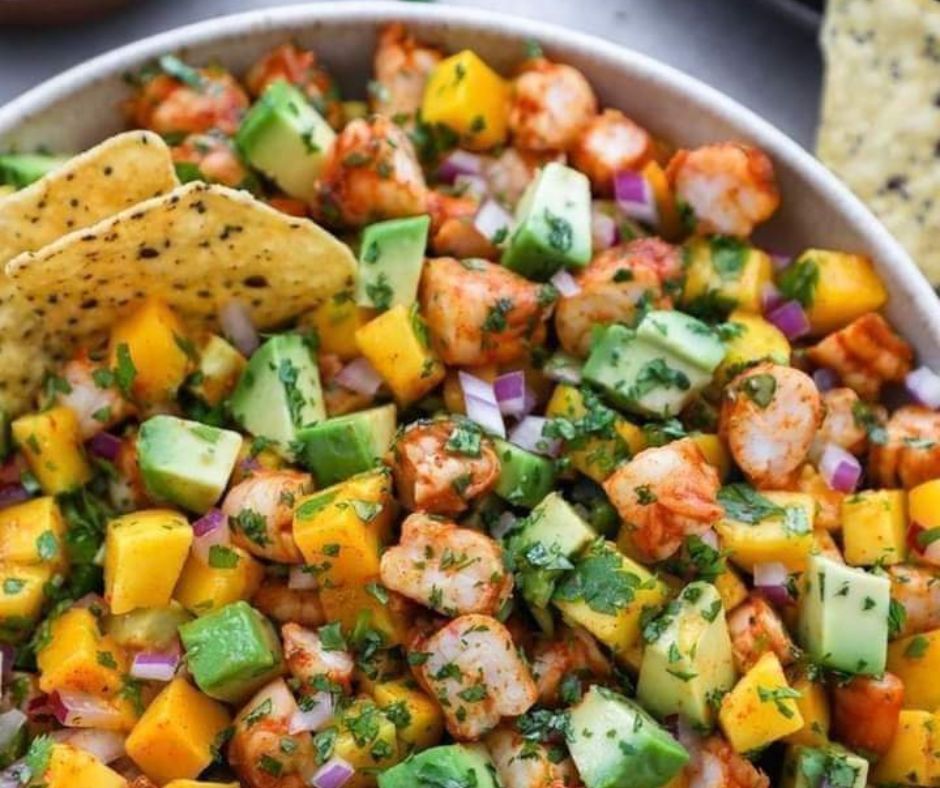 If you're looking for a delicious and healthy salad recipe, look no further than this Easy Mango Avocado Shrimp Salad.
This easy-to-follow recipe is sure to be a hit at your next potluck or barbecue.
Not only is it packed with flavor, but it's also incredibly nutritious thanks to the combination of mango, avocado and shrimp.
This salad can be made in no time – just 15 minutes – so there's no excuse not to give it a try.
Let's get started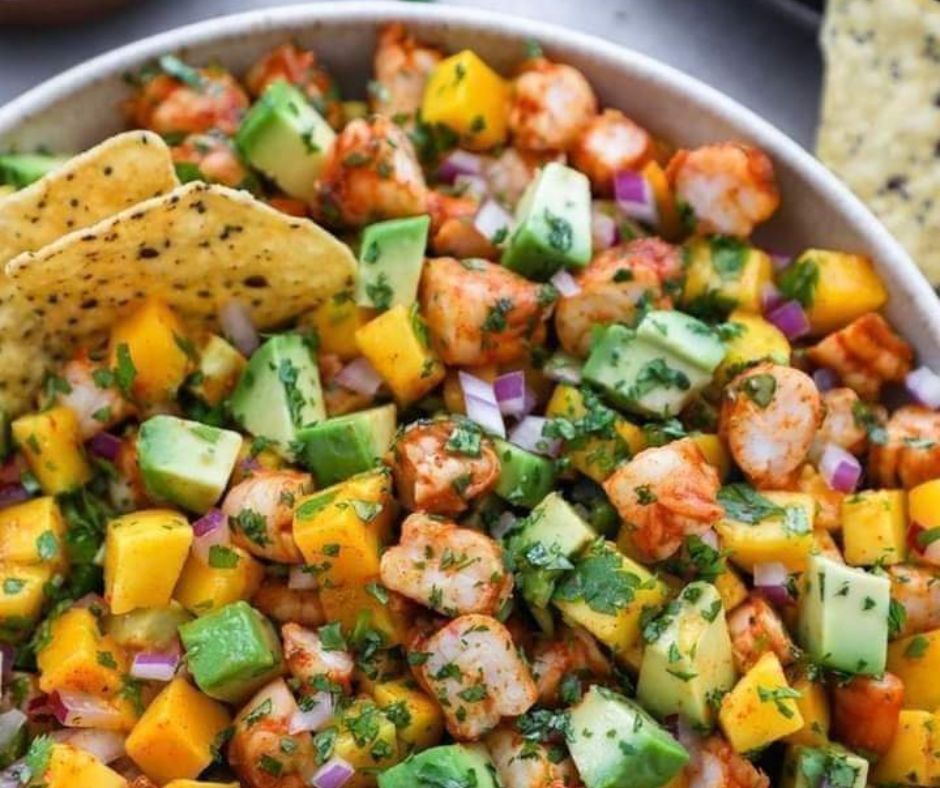 Chili Seasoned Shrimp Mango Avocado Salad
Ingredients For Making Chili Seasoned Shrimp Mango Avocado Salad.
Easy Mango Avocado Shrimp Salad! This dish is full of flavor and is surprisingly simple to make.
With just a few ingredients, you can combine the sweet, juicy mango with the creamy avocado and succulent shrimp to create an entree that will satisfy all your cravings.
Whether you're serving it as a main course or packing it up as lunch, this salad is sure to be a hit.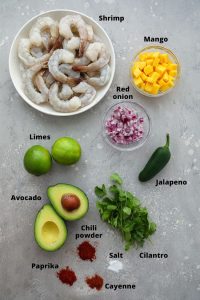 Ingredients
For the Chili Seasoned Shrimp:
1 lb. raw shrimp, peeled & deveined
1½ tsp chili powder
½ tsp paprika
¼ tsp salt
⅛ tsp cayenne pepper (omit if you don't want your shrimp spicy)
2 small mangos, diced (or 1 large mango)
1 large avocado, diced
¼ of a red onion, chopped
1 small jalapeno, deseeded & finely chopped
2 Tbsp cilantro, chopped
3-6 limes, juiced (you'll want enough juice to generously coat the salad)
Step by step guide
For the Shrimp
1.Pat your shrimp dry with a paper towel and place them in a large bowl.
2. Then mix your chili powder, paprika, salt and cayenne together and pour them over your shrimp.
3. Toss the shrimp until they're fully coated.
Next heat a large skillet over medium-high heat and spray it with cooking spray once hot.
4. Then add your shrimp (making sure none are overlapping) and sauté them for 1-2 minutes per side or until cooked all the way through.

5. Then remove your shrimp from the heat and cut them into bite-size pieces. Place them in the refrigerator to cool completely.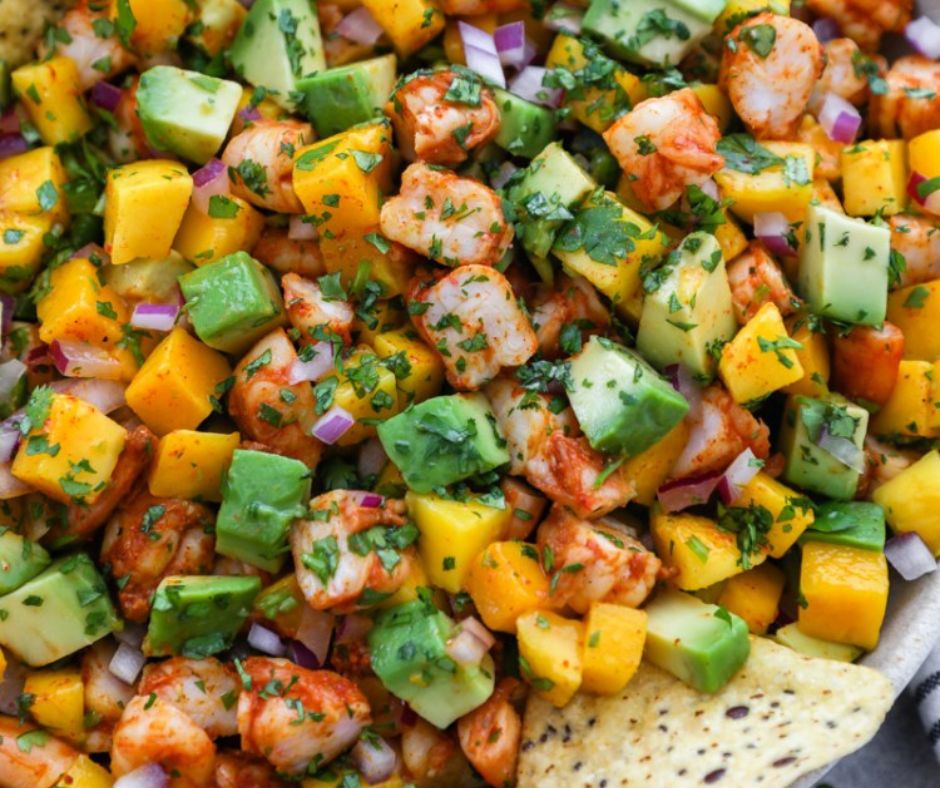 For the Salad:
Once the shrimp are cool, add them to a large bowl with your diced mango, avocado, onion, jalapeno and cilantro.
Pour your desired amount of lime juice over the top and toss the salad until it's fully coated. (Taste and add more lime juice if needed.)
Serve immediately with your favorite tortilla chips or let it chill in the refrigerator for 10-20 minutes before serving.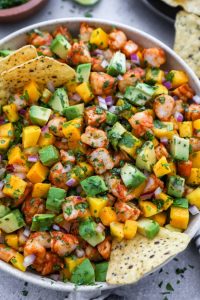 Other Recipes You Might Love Yo Check.
How Long To Bake Chicken Wings At 375 • 2023 Edition
How To Make Party Jollof Rice Nigeria/(Ingredients For Cooking half bag of Rice) In 2023
Crispy & Tender Air Fryer Chicken Fried Steak
35 most popular Italian foods that will captivate you 2023
Conclusion
In conclusion,this Easy Mango Avocado Shrimp Salad is a simple and delicious dish that can be enjoyed any time of the year.
With its sweet, salty, and savory flavors, it's sure to please any palate. Plus, the vibrant colors make it an eye-catching addition to any meal.
The simplicity of this recipe makes it easy to customize with whatever ingredients you have on hand.