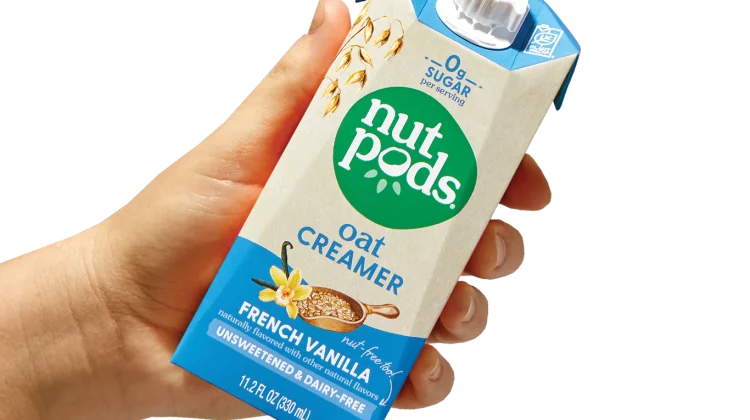 If you're someone who goes to great lengths to brew the perfect cup of coffee, chances are you're quite discerning when it comes to choosing your coffee creamer.
Not too long ago, coffee creamers were far from natural; they came in powdered or liquid forms that can be traced back to the 1960s.
Instead of being crafted from natural dairy components, these creamers typically contained ingredients like vegetable oil, artificial flavors, corn syrup solids, and highly saturated fats such as coconut oil.
Additionally, they were available in a multitude of syrupy-sweet and overpowering flavors like caramel, hazelnut, mocha, and vanilla.
Fast forward to today, and the landscape of coffee creamers has dramatically evolved. The coffee creamer section now offers an array of options, including both refrigerated and shelf-stable varieties, as well as dairy and non-dairy alternatives derived from sources like cow's milk, coconut, oat, soy, and almond, among others. The exciting news is that there are now plenty of healthy coffee creamer choices available.
To make your grocery shopping easier, here are some of the best healthy coffee creamer brands:
1. Trader Joe's Coconut Creamer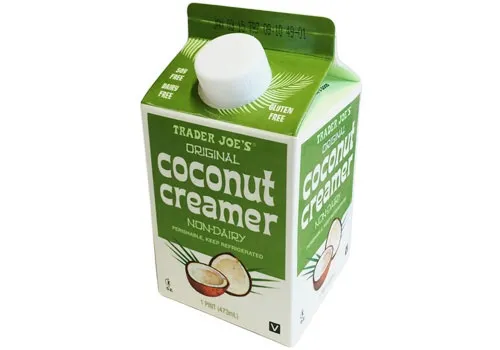 Trader Joe's Coconut Creamer is an exceptionally low-calorie choice with only 10 calories per 2-tablespoon (30ml) serving. It contains no fat, saturated fat, and minimal sodium (20mg).
Carbohydrates are minimal, with less than 1 gram of carbs and sugar per serving. \
This creamer offers a light and natural coconut flavor without the heaviness of fats, making it a fantastic option for those looking to add a hint of coconut to their coffee or tea while keeping their calorie intake in check.
2. Organic Valley Grassmilk Half & Half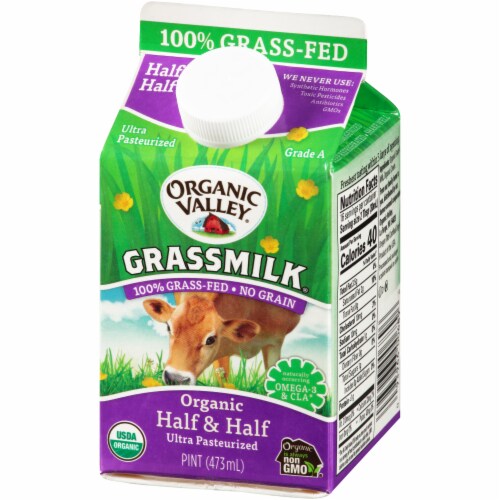 Organic Valley Grassmilk Half & Half is a dairy product that combines equal parts whole milk and cream. It's known for its rich taste and creamy texture, making it a popular choice for coffee and other beverages. What sets this half & half apart is its commitment to organic farming practices and high-quality ingredients.
Here are some key details about Organic Valley Grassmilk Half & Half:
Nutritional Profile (per 2 tablespoons):
Calories: 40
Fat: 3.5 grams (2 grams of saturated fat)
Sodium: 10 mg
Carbohydrates: 1 gram (0 grams of fiber, 1 gram of sugar)
Protein: Less than 1 gram
Features:
Organic: It is produced using organic farming methods, which means no synthetic hormones, toxic pesticides, antibiotics, or GMOs are used in the production process.
Grass-Fed: This half & half is sourced from cows that are fed a 100% grass-fed diet. Unlike cows fed soy or grains, grass-fed cows produce dairy products that contain beneficial nutrients like omega-3 fatty acids and conjugated linoleic acid (CLA).
High-Quality Ingredients: Organic Valley Grassmilk Half & Half is made with natural and pure ingredients, emphasizing simplicity and quality in its composition.
Health Benefits: Research suggests that grass milk, like that used in this product, may have a preferable fatty acid profile compared to conventional or organic milk. It could contribute to a healthier balance of fats in the diet and potentially reduce the risk of cardiovascular and metabolic diseases.
3. Elmhurst Unsweetened Oat Creamer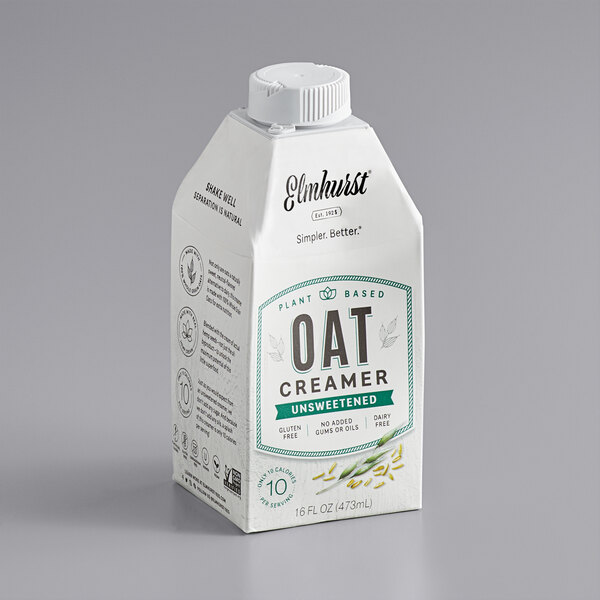 Elmhurst Unsweetened Oat Creamer is a dairy-free, plant-based creamer renowned for its simplicity and natural ingredients. With a mere 20 calories per 2-tablespoon serving and zero saturated fat, it appeals to calorie-conscious consumers.
This creamer's minimalist ingredient list includes oat milk and hemp cream, devoid of additives like gums or emulsifiers.
Notably, it contains no added sugars, making it a desirable choice for those seeking unsweetened coffee or tea enhancements.
Popular among vegans and individuals with lactose intolerance, this oat-based creamer offers a creamy texture and serves as a clean, wholesome, and low-calorie alternative to traditional dairy creamers.
4. Califia Farms Better Half Unsweetened Coconut Cream & Almond Milk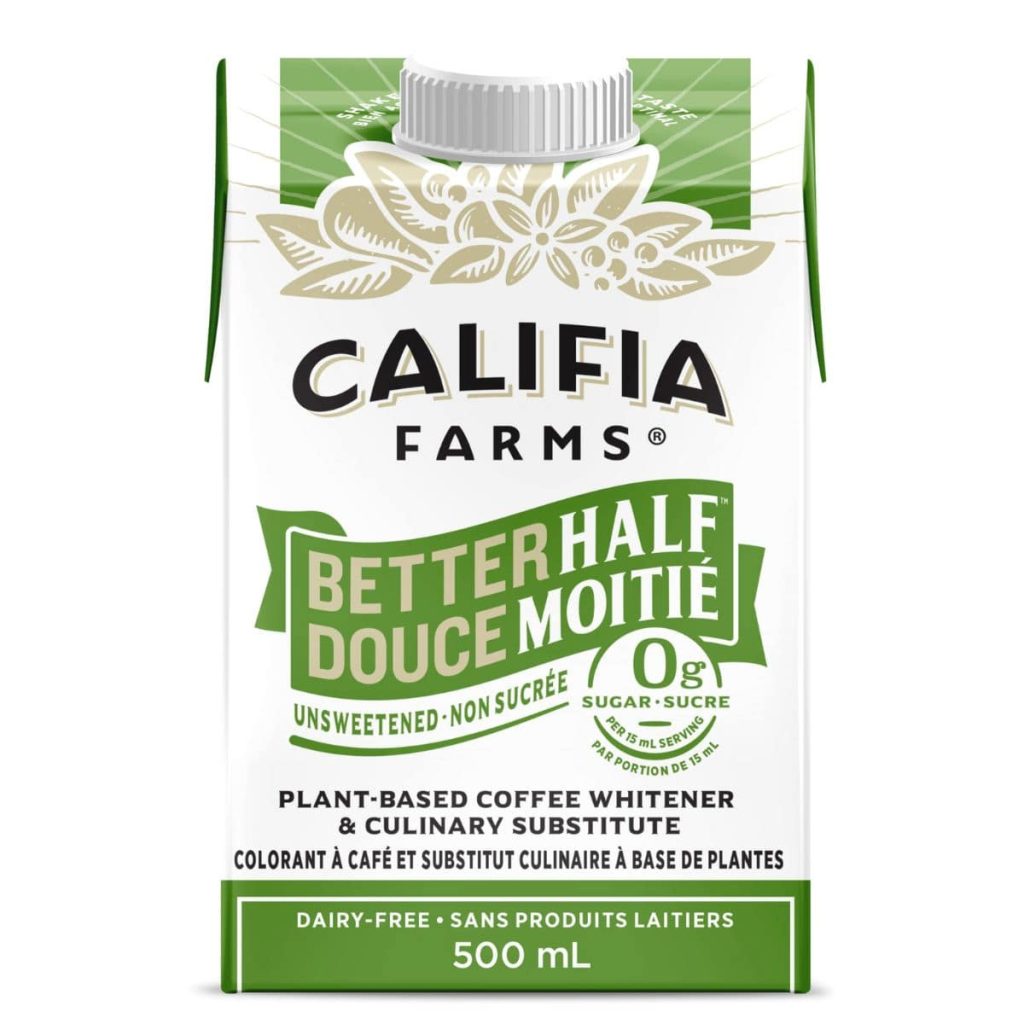 Califia Farms Better Half Unsweetened Coconut Cream & Almond Milk is a low-calorie creamer option, providing 15 calories and 1 gram of fat per 2-tablespoon (30ml) serving.
It contains minimal saturated fat (0.5g) and sodium (15mg). With no carbohydrates, fiber, or sugar, it's an excellent choice for those seeking a creamy coffee or tea addition without added sweetness or significant calories.
This blend of coconut cream and almond milk offers a balanced texture and is ideal for calorie-conscious consumers.
5. Elmhurst Pistachio Crème Oat Creamer,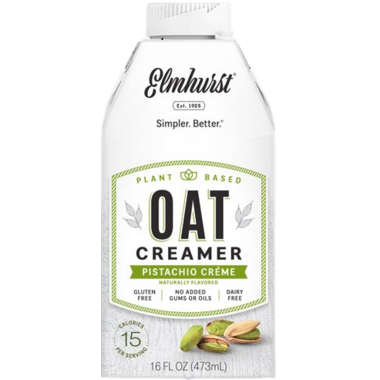 Elmhurst Pistachio Crème Oat Creamer is a delightful, non-dairy option with 30 calories per 2-tablespoon serving. Crafted from oat and pistachio milk, it offers a rich and creamy texture with a subtle sweetness from cane sugar and added nutrition from hemp seeds.
This creamer is perfect for those seeking a unique and flavorful coffee or tea enhancement without dairy. It stands out for its clean ingredient list and is a favored choice among those looking for a wholesome and satisfying plant-based creamer.
PER 2 TBSP (30ML): 30 calories, 1 g fat (0 g saturated fat), 0 mg sodium, 4 carbs ( 0 g fiber, 2 g sugar), 0 g protein
6. Sown Organic Oat Cream Unsweetened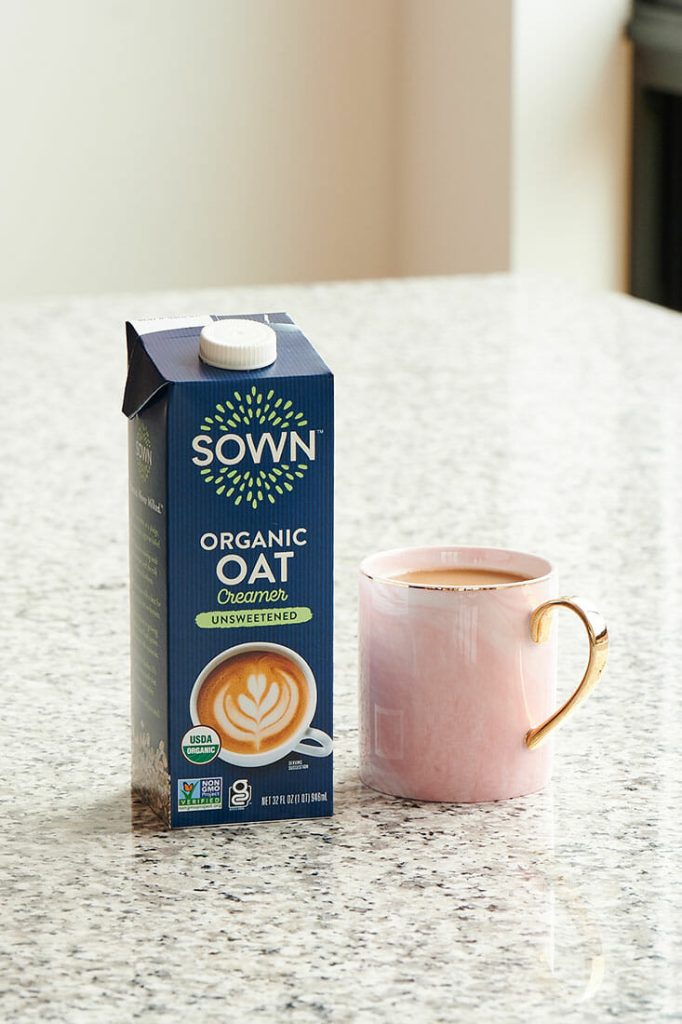 Sown Organic Oat Cream Unsweetened is a nutritious, non-dairy creamer, providing 40 calories and 2 grams of fat per 2-tablespoon (30ml) serving.
With a mere 20mg of sodium and no saturated fat, it's a heart-healthy option. Low in carbohydrates (4g) and free of added sugar, it's an excellent choice for those who prefer an unsweetened creamer.
Its creamy texture is enhanced by the inclusion of organic oat milk, and it's a suitable option for those seeking a clean and natural coffee or tea companion.
7. Nutpods Oat Creamer French Vanilla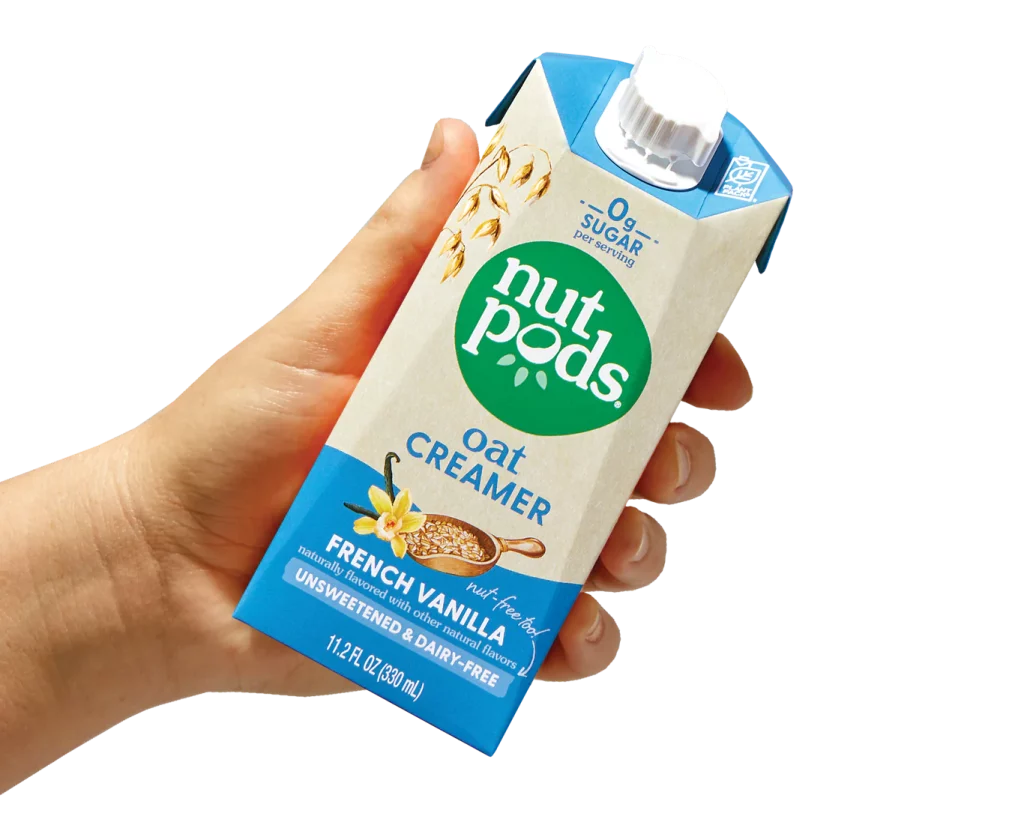 nutpods Oat Creamer French Vanilla offers a flavorful addition to your coffee or tea with just 20 calories and 1 gram of fat per 2-tablespoon (30ml) serving.
With zero saturated fat, sodium, and sugar, it's a health-conscious choice.
Its creamy texture and delightful French vanilla taste are derived from oat milk and natural flavors. This creamer is particularly suitable for those seeking a low-calorie, unsweetened, and dairy-free option to enhance their beverages.
Frequently Asked Questions (FAQ)
What is a healthy coffee creamer?
A healthy coffee creamer is one that adds flavor and creaminess to your coffee without being overly processed, high in added sugars, or loaded with unhealthy fats. It should ideally be made from natural ingredients.
Are non-dairy creamers a healthier option?
Non-dairy creamers can be a healthier option for those who are lactose intolerant or following a vegan diet. Look for non-dairy creamers made from ingredients like almond milk, coconut milk, or oat milk, with minimal additives.
What should I look for on the ingredient label?
Look for coffee creamers with a short list of recognizable ingredients. Avoid products with hydrogenated oils, high fructose corn syrup, and artificial additives.
Are there any low-calorie coffee creamer options?
Yes, there are low-calorie coffee creamer options available that use alternative sweeteners like stevia or monk fruit to reduce the calorie content. Be cautious of artificial sweeteners and excessive amounts of sugar alcohols.
Which is better: liquid or powder coffee creamer?
Both liquid and powder coffee creamers can be healthy if they meet your dietary preferences. Liquid creamers may contain fewer additives, but it ultimately comes down to personal preference.
Are there any organic coffee creamer options?
Yes, many brands offer organic coffee creamers made from organic milk or plant-based ingredients. These products are often free from synthetic pesticides and GMOs.
Can I find coffee creamers with added nutrients or functional ingredients?
Some coffee creamers come fortified with vitamins, minerals, or functional ingredients like collagen or MCT oil. These can be a convenient way to add extra nutrients to your morning coffee.
What are some healthy sweeteners for coffee creamers?
Healthy sweeteners for coffee creamers include natural options like honey, maple syrup, or agave nectar. You can also opt for creamers sweetened with small amounts of coconut sugar or cane sugar.
Do flavored coffee creamers affect the healthiness of the product?
Flavored coffee creamers can still be healthy if they use natural flavorings and avoid excessive sugar and artificial additives. Look for flavors derived from real spices and extracts.
How should I store my coffee creamer for maximum freshness?
Store your coffee creamer according to the manufacturer's instructions, typically in a cool, dry place or in the refrigerator if it's a dairy-based product. Use it within the recommended timeframe to ensure freshness.
Which coffee creamer is the healthiest?
The healthiest coffee creamer varies based on dietary preferences. Non-dairy options like almond or oat milk-based creamers with minimal additives and no added sugars are often considered healthier, but the best choice depends on individual needs and goals.
What can I use instead of coffee creamer?
You can use alternatives like milk (dairy or plant-based), half-and-half, coconut milk, almond milk, oat milk, or even a splash of unsweetened vanilla extract for flavor without the creamer.
Is there a coffee creamer that's not bad for you?
Yes, some coffee creamers can be a healthier choice. Look for those with natural ingredients, minimal or no added sugars, and no trans fats. Non-dairy options like almond or oat milk-based creamers are often better choices for health-conscious individuals.
So, how do you select the healthiest coffee creamer while shopping at the store?
Focus on the Dairy Section: Primarily consider creamers found in the dairy section of supermarkets, as refrigerated options made from cow's milk or other non-dairy milk tend to be healthier than those on the store shelves.
Check Serving Size: Pay attention to the serving size indicated on the Nutrition Facts panel. While some brands define a serving as 1 tablespoon, most use a 2-tablespoon serving as the standard for liquid creamers (powdered creamers may vary in serving size).
Moderate in Calories: Aim for options with up to 50 calories per 2-tablespoon serving. Many powdered creamers based on coconut oil tend to be higher in calories and fat, so it's wise to stick to this calorie range.
Low in Added Sugar: Avoid heavily sweetened creamers, as they typically contain high added sugar content. The goal is to limit added sugar to no more than two teaspoons (8 grams) per 2-tablespoon serving. If you prefer flavored creamers, be mindful of your daily sugar intake if you consume multiple cups of coffee or tea.
Natural Ingredients: Choose creamers with short ingredient lists and no additives or preservatives. Products with fewer ingredients are often more natural, with dairy-based options like half & half being a good choice.
Moderate in Saturated Fat: Look for creamers with no more than 4 grams of saturated fat per 2-tablespoon serving. Coconut oil and coconut milk-based creamers tend to have higher saturated fat levels than alternatives like soy, oat, or almond milk.
Unflavored: While flavored creamers come in enticing varieties like vanilla and hazelnut, they usually contain high sugar content. As such, unflavored or unsweetened options are generally a healthier choice.