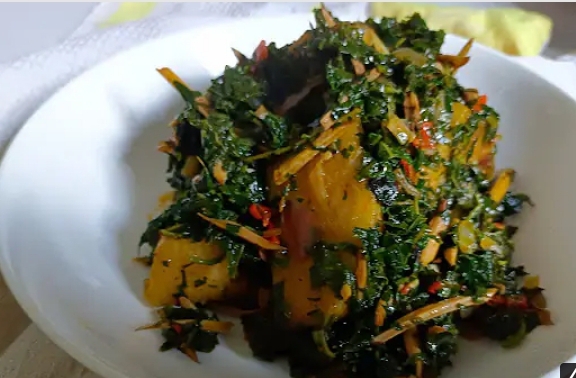 If you're looking for a delicious and healthy vegan meal, look no further than this yam and vegetable dish! This recipe is packed with nutrients and flavor, and is sure to please even the pickiest of eaters. Trust us, once you try this dish, you'll be hooked!
This recipe hits all the right notes in nutrition, taste, health and what have you! Enjoy.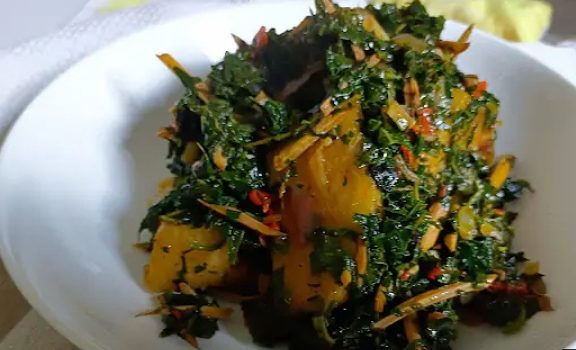 I never knew how to cook vagan yam and vegetables before my cousin came for a visit. She showed me how to cook them in a way that was both delicious and healthy. I was so excited to learn this new skill that I immediately started cooking them for my family.
Now, every time I make vagan yam and vegetables, I think of my cousin and the great times we had together learning how to cook this amazing dish.
She is a great cook and she taught me everything I need to know about making this dish. First, you need to soak the yams in water for at least an hour. This allows them to cook evenly and prevents them from sticking to the pan etc.
Healthy eating doesn't have to be boring or tasteless. This recipe is proof that healthy food can be flavorful and satisfying. So go ahead and give it a try and appreciate us later.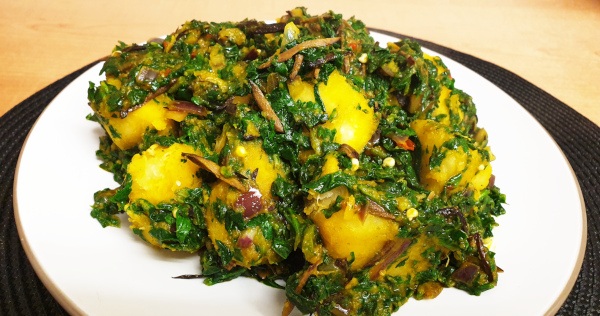 Vagan Yam and Vegetables Ingredients
White Puna Yam
Red Palm Oil
Habanero or Scotch Bonnet Pepper
Leafy Vegetables: Ugu or spinach, Amara and uziza leaves.
Ukpaka (shredded oil bean)
Onions
Okra
Seasoning cubes
Ground crayfish
Stockfish
Salt
How to cook Vagan yam step by step guide.
Yam: Peeling and washing yams is an important step in preparing them for cooking. Yams should be peeled and washed thoroughly before cooking to remove any dirt or impurities. It is recommended to soak yams in water for at least one hour before cooking to help soften them.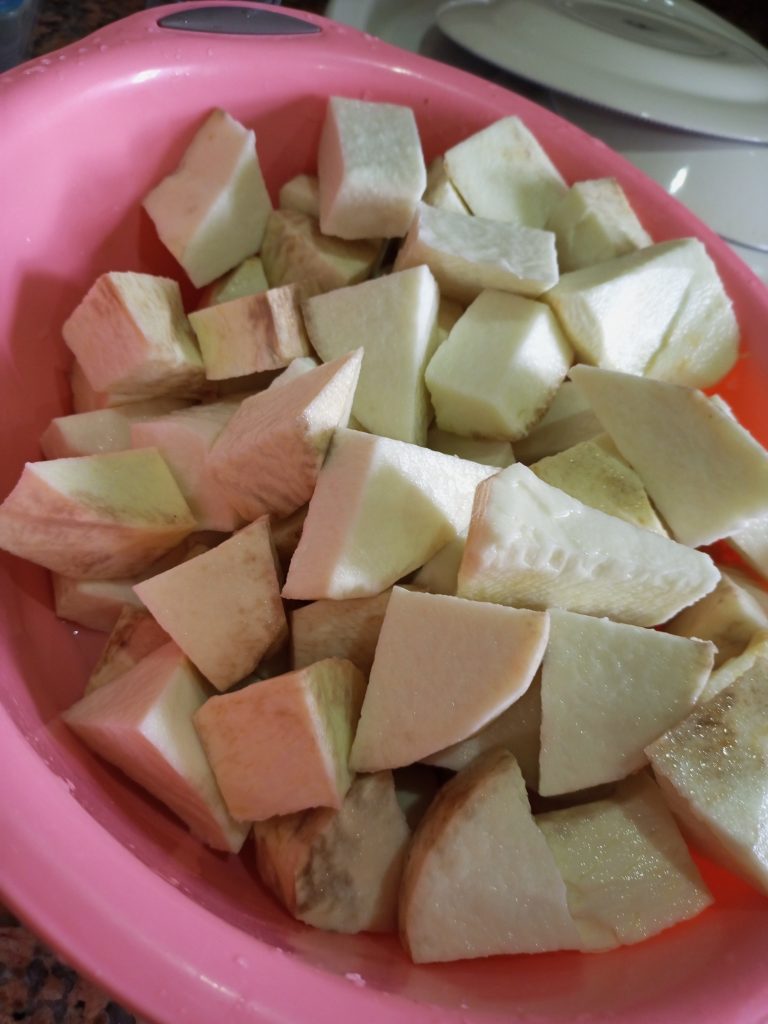 Fresh Pepper: Wash and blend the tomatoes and set aside.
Onion: peel the onion, wash and slice then set aside.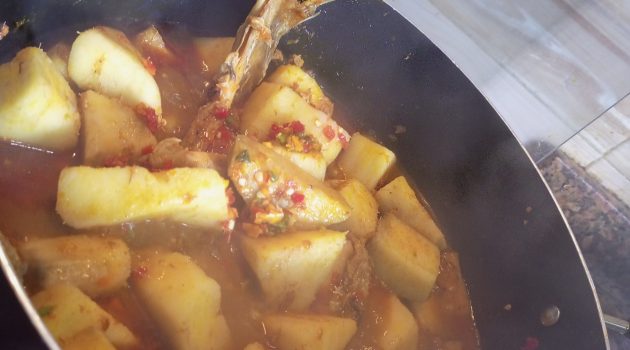 Vegetable and okra: Select the veggies, wash them very well, slice the ugu and grind the okra.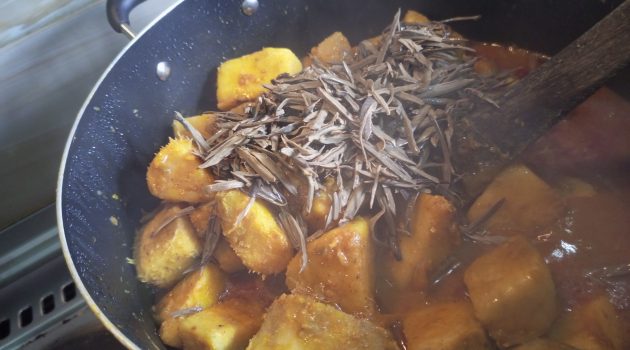 Cooking Directions
Rinse your cooking pot, add the peeled yam. Wash and add stockfish, add salt and seasoning cubes now. Cover with water and start to boil on a high heat.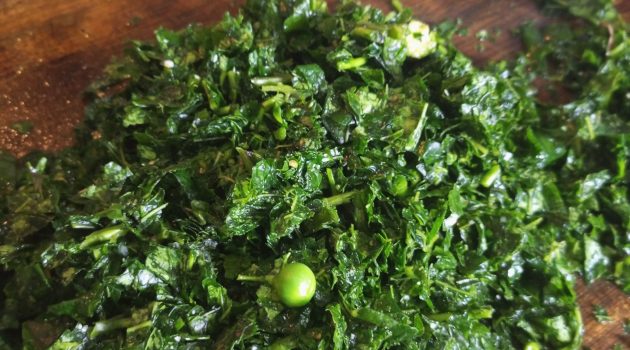 Once the yam start boiling, add palm oil, onion, and ground fresh pepper. Stir, cover the pot and allow the yam to cook .
When the yam is done and the has thickened, stir and adjust seasoning if necessary.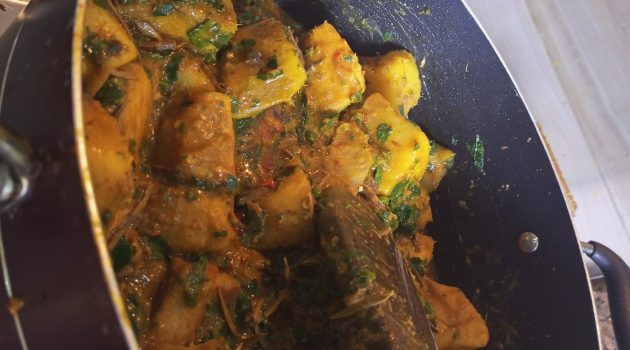 Add the ground okra, ugba, and uziza. Stir again, cover and allow to cook for just 1 min 8 seconds. Add in the veggies (ugu) and Amara leaves, stir and cook for 1 min.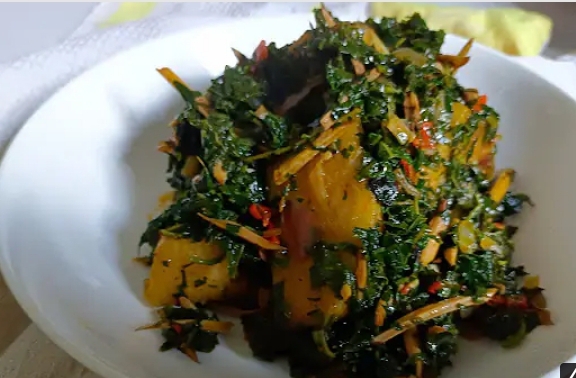 Bring this goodies down and serve hot.
Other rice recipes you might love to try.
Frequently Asked Questions
What is Vagan Yam and Vegetables (Yam Porridge with Ugba)?
Vagan Yam and Vegetables, also known as Yam Porridge with Ugba, is a delicious Nigerian dish that combines yam, ugba (ukpaka or oil bean), and a variety of vegetables. It is a vegan-friendly version of the traditional yam porridge that is typically cooked with meat or fish.
Where can I find Ugba (Ukpaka) for this dish?
Ugba, also known as ukpaka or oil bean, can be found in African or Nigerian grocery stores. It is typically sold in dried form, and you can soak it in water before using it in the recipe.
If you're unable to find ugba, you can omit it or substitute it with other ingredients like mushrooms or tofu for added texture and flavor.
Can I customize the vegetables in Vagan Yam and Vegetables?
Absolutely! Vagan Yam and Vegetables is a versatile dish, and you can customize it to your liking. Feel free to experiment with different vegetables such as cabbage, bell peppers, or green beans.
Adding your favorite spices and seasonings can also elevate the flavors according to your taste preferences.
Is Vagan Yam and Vegetables a complete meal?
Yes, Vagan Yam and Vegetables can be a complete and satisfying meal on its own. It combines the nutritious goodness of yam, vegetables, and protein-rich ugba, making it a well-rounded dish. However, you can also pair it with a side of plantains, bread, or a fresh salad for a more substantial meal if desired.
Remember to follow a trusted recipe or consult with experienced cooks for specific instructions and variations on making Vagan Yam and Vegetables (Yam Porridge with Ugba). Enjoy exploring this flavorful and nourishing Nigerian vegan dish!
Conclusion
In conclusion,this article has shown how to make a delicious and healthy Yam Porridge with Ugba. This dish is perfect for anyone looking for a hearty meal that is packed with nutrients. Try this recipe today and you'll be sure to enjoy it.