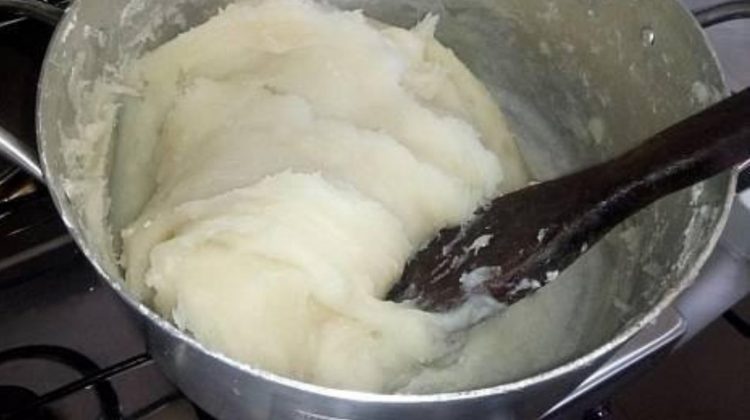 Fufu is a staple food in many African and some Asian countries. It is typically made from starchy vegetables such as yams, plantains, or cassava. The vegetables are boiled and then pounded into a thick paste. Fufu can be eaten by itself, or served with a sauce or soup.
Growing up in the village, I loved eating fufu with soup. It was one of my favorite meals. Fufu is made from cassava flour, and it's so delicious! I always looked forward to eating it at home or at my friends' houses.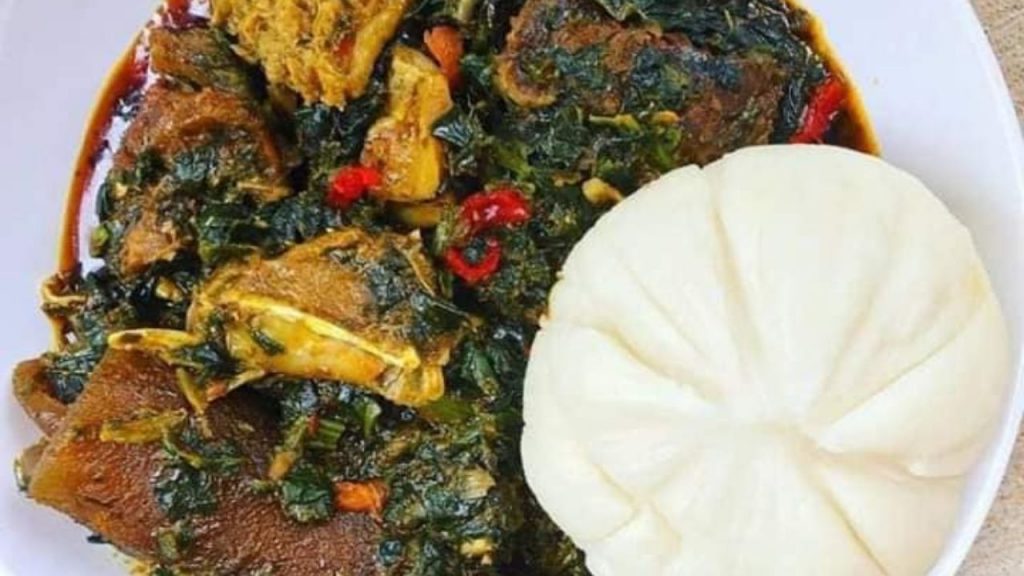 Even now that I'm an adult and live in the city, I still love fufu. In fact, I often make this fufu or eat it at restaurants here. I think the taste of fufu is unique and special, and I'm grateful that I grew up eating it. Thanks to grandma for blessing me with this amazing swallow whenever I visited her.
There are many different types of African soups, and they are all delicious. However, two of the most popular soups are fufu with ogbono, and oha soup. If you have never tried either of these soups, you are missing out.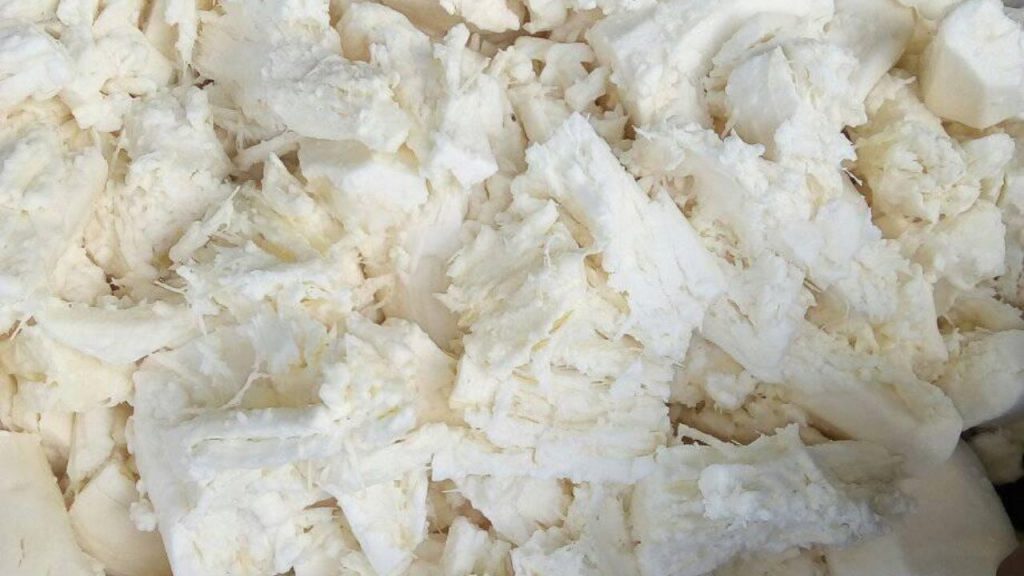 Fufu is made from cassava flour, and it is a very common dish in West Africa. Ogbono is a type of nut that is used to make a thick sauce, and it is often served with fufu. Oha soup is made from vegetables, herbs, and meat or fish, and it is also very popular in West Africa.
Both of these soups are relatively easy to make, and they are both very healthy. They are perfect for cold winter days, or for any time you want something comforting and delicious.
WHAT IS FUFU MADE OF?
What is Fufu? Fufu is a traditional Ghanaian dish made from fermented cassava flour and water. The dough is then pounded into a thick paste and served with soup or stew. Fufu can be eaten with your hands, but a utensil is often used to eat it more easily.
The texture of fufu is very chewy and it has a slightly sour taste. It's often eaten as a main course, but can also be served as a side dish. Fufu is high in carbohydrates and low in fat, making it a healthy option for people who want something filling and satisfying.
How do you make fufu from raw cassava?
harvest or buy cassava, peel and cut into chunks, and rinsed before mixture in water. Afterward, it's covered with plain water, left to ferment for 5 to 6 days, and helps to remove carbohydrates and toxins in order to boil more efficiently.
It may be difficult to leave your cassava outside to ferment if you don't use an air-tight jar. However, it is vital that you get away from the undesirable smell your cassava releases while it is fermenting.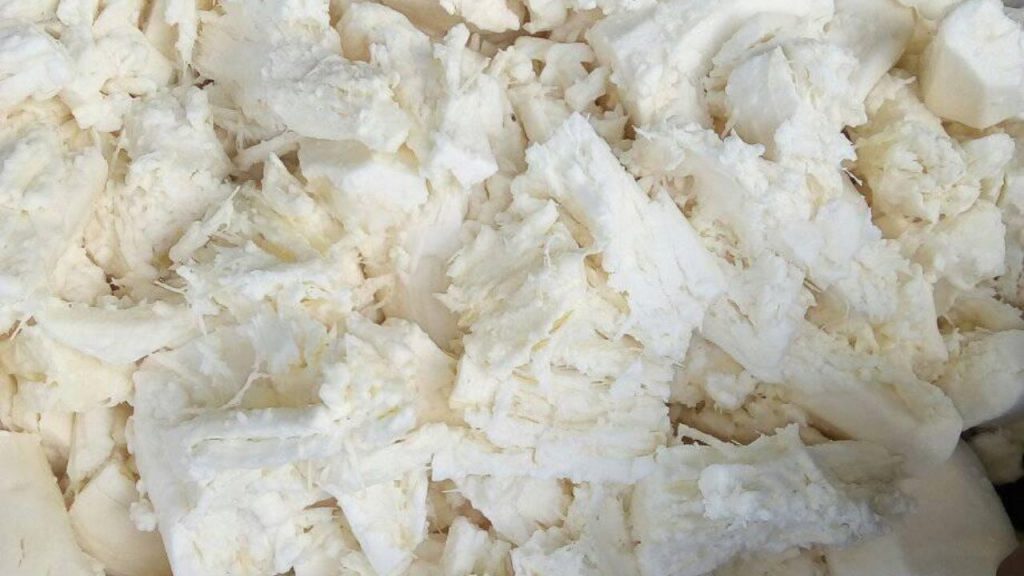 After 5 or 6 days, follow the instructions below to drain the water out of the cassava, which will cause it to become soft. Use it to thoroughly mix in a blender, then add a small amount of water to aid the blending process. Grind the cassava until the desired consistency is achieved.
Another method is using your hand to take out the fermented cassava and squeeze inside a sieve, use cold water and wash it out. repeat until you are done with all of them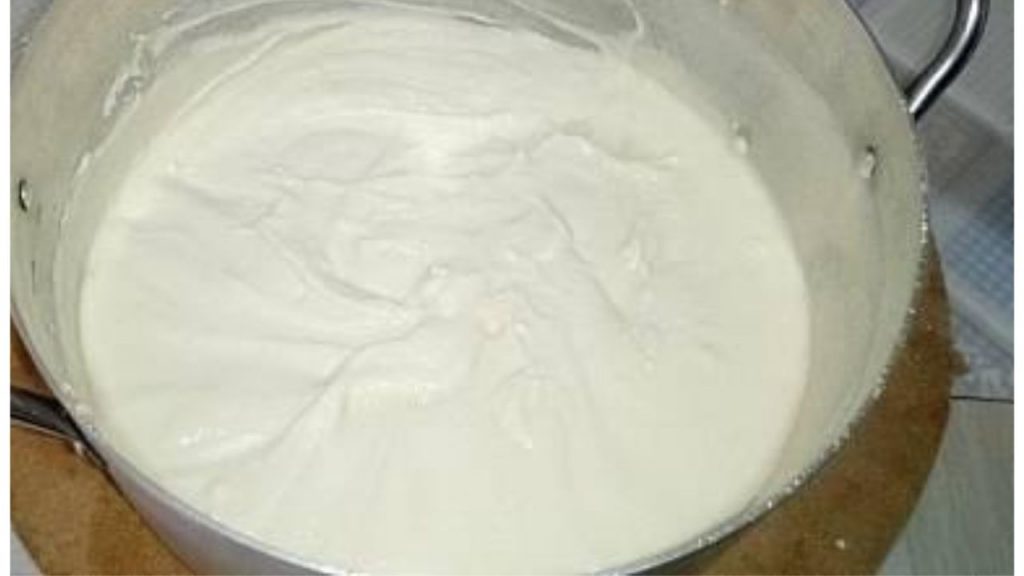 Place the cassava buttons in the cheesecloth and squeeze out all the moisture. You can leave the cheesecloth hanging over a bowl for a day before using it. Your water cassava mix (lacatus) is ready to be used.
HOW TO MAKE CASSAVA FUFU
Making fufu at home allows you to do it your way, but it requires lots of physical work. It is worth the effort if you live afar. It is not what I make every week due to the immense energy it takes to make it. However, on occasion, I will make it when I am feeling nostalgic.
Place the cassava flour in a heavy-bottomed pot and break it up with your hands. Add water and stir until the lumps are completely eliminated and the paste is smooth and creamy.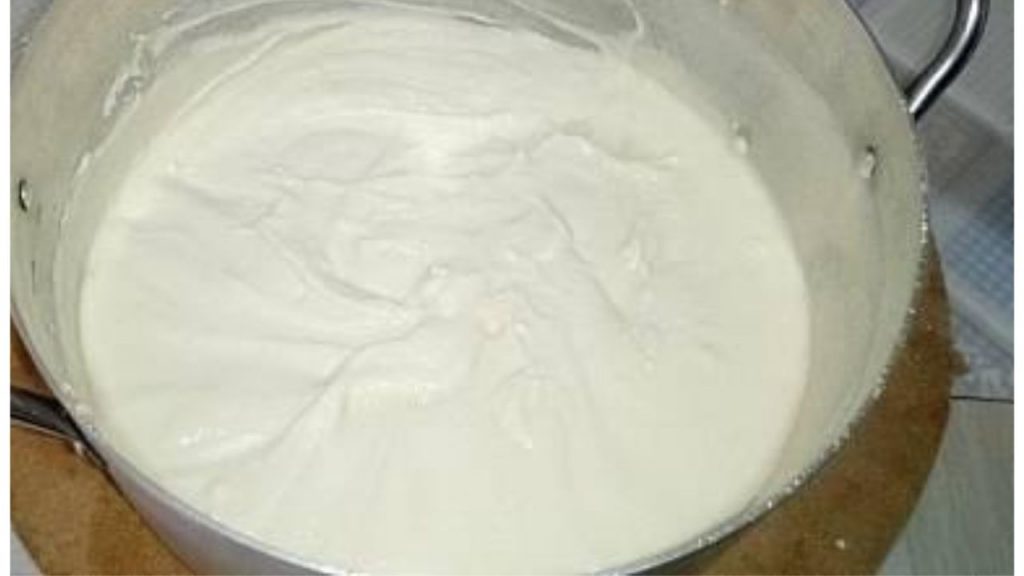 please, at this time, turn on the heat to the medium-low setting and start stirring vigorously, with the fufu, off of the heat, the mixture will start changing color from white to light grey.
You will need to keep stirring till the fufu comes to a complete and smooth consistency. Place the pan in the pot with its cover, and allow it to cook over medium heat for about 5 to 10 minutes.
After cooking the fufu, it will become off-white in color. Portion the cooked fufu out into bowls or in cling film to avoid wasting the mix. Serve with any soup of choice.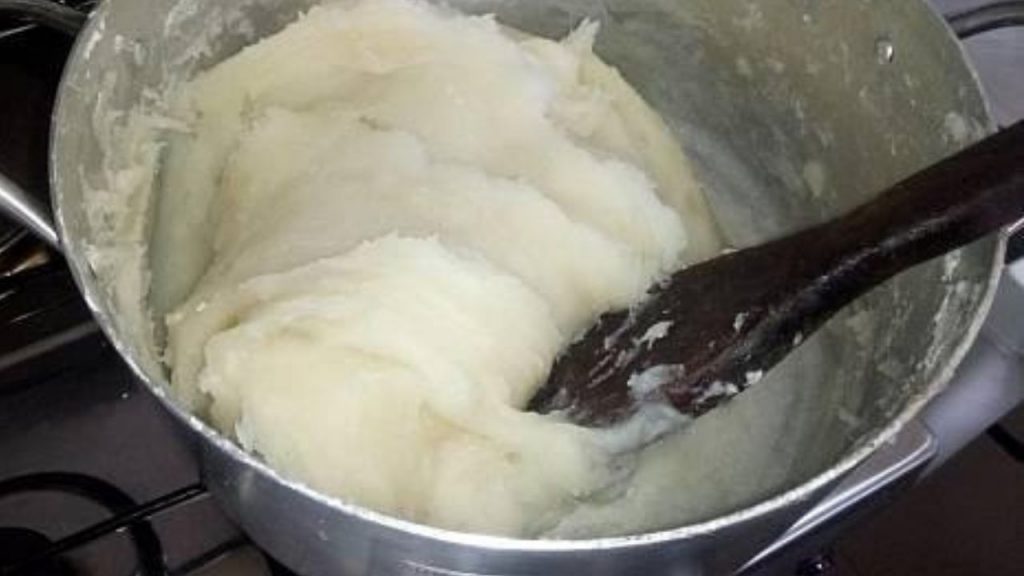 What is fufu flour made of?
Fufu flour is made of cassava, yam, plantain, or cocoyam. The tubers are peeled and boiled in water. The water is then drained and the starch is extracted by pounding the cooked tubers in a mortar with a pestle.
Why do you not chew fufu?
There are many reasons why people do not chew fufu. Some people do not like the taste, others find it too filling, and still others believe that it is bad for their health.
Some people say that the taste of fufu is too bland, while others find it too starchy. Fufu is a very filling food, and some people find that they cannot eat very much of it at once because they feel bloated and heavy.
Finally, some people believe that eating fufu can be bad for their health. They say that it can cause constipation and other digestive problems.
how to make fufu with flour and water
Making fufu with flour and water is easy once you know how. First, mix the flour and water together in a bowl to form a dough. Then, knead the dough for about 10 minutes to form a smooth, elastic ball.
Finally, divide the dough into small balls and shape them into cylinders. Boil the fufu cylinders in water for about 15 minutes or until they rise to the surface. Serve with your favorite soup or stew!
fufu recipe ghana
Africa is a large continent with many different cultures, cuisines, and recipes. One of the most popular dishes in Africa is fufu. Fufu is a dish made from boiled yams or cassava that is then pounded into a thick paste. The paste can be eaten by itself, or it can be served with a meat or vegetable sauce. There are many variations of fufu recipes, but the most popular version is from Ghana.
The traditional Ghanaian recipe for fufu calls for peeled and boiled yams or cassava that are then pounded in a mortar and pestle until they form a thick paste. The paste can be eaten by itself, or it can be served with a meat or vegetable sauce. Some people add peanut butter to the fufu to give it a richer flavor.
The Igbo people of Nigeria have a long tradition of making fufu, a starchy food made from cassava. They have developed a unique way of processing the cassava that results in a smooth, porridge-like texture.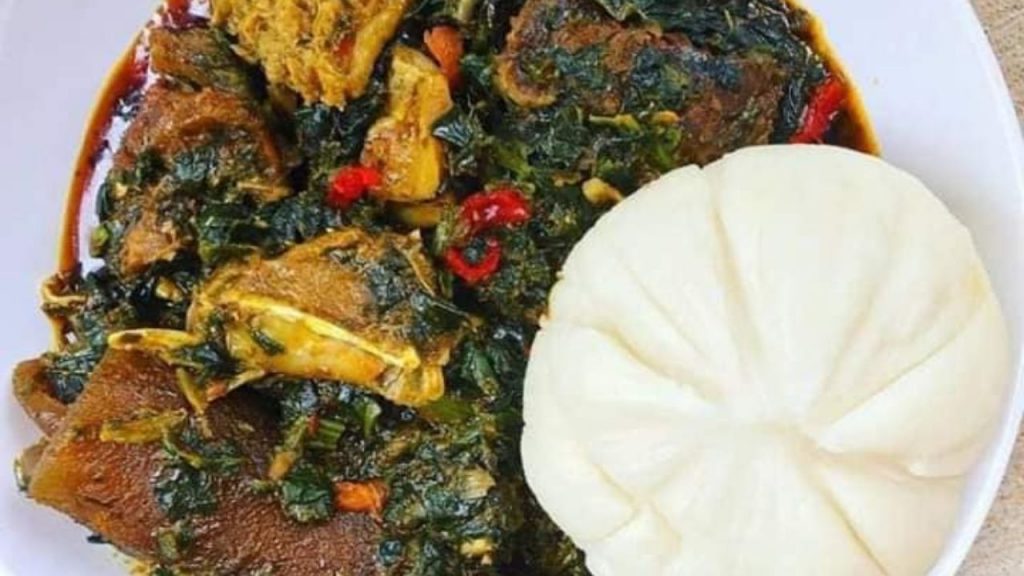 what to eat with fufu
How to store fufu
Cooked fufu can be stored for up to 5 days at room temperature when you're storing it in the refrigerator. This part of the cassava plant can be served cold with hot soup. Store ground cassava dough in the freezer for up to 1 year and up to 7 days in the fridge.
Other rice recipes you might love to try.
Frequently Asked Questions
what does fufu taste
Fufu, a staple food in many African countries, is a dough-like dish made from starchy ingredients like yam, cassava, or plantains. Its taste is subtle and mild, allowing it to complement various flavorful dishes.
Fufu itself has a neutral taste, often described as slightly bland or starchy. Its true appeal lies in its texture, which is soft, smooth, and chewy.
When dipped or paired with flavorful soups, stews, or sauces, fufu absorbs the bold flavors and adds a comforting and satisfying element to the overall dish. It serves as a versatile base that enhances the taste experience, making it an integral part of African cuisine.
fufu near me
There are a few ways you can search for fufu near you. You can try using online food delivery platforms or restaurant review websites and search for African or West African restaurants in your area.
Alternatively, you can ask local residents or check with local African communities or cultural centers for recommendations on where to find authentic fufu in your vicinity.
African restaurant near me
To find African restaurants near your location, you can utilize online search engines, restaurant review websites, or food delivery platforms.
Simply input your location into these platforms and search for African cuisine or specifically mention the type of African cuisine you are interested in, such as Ethiopian, Nigerian, or Moroccan.
Additionally, reaching out to local residents, checking community forums, or contacting cultural centers in your area may provide recommendations for African restaurants nearby.
Fufu and egusi
Fufu and Egusi is a classic Nigerian dish. Fufu, a dough-like staple, is paired with Egusi, a soup made from ground melon seeds, vegetables, and spices. The smooth and chewy fufu perfectly complements the rich and flavorful Egusi soup. It's a delightful combination that showcases the diverse and delicious flavors of Nigerian cuisine.
Conclusion
In conclusion, fufu can be made from a variety of starches, including cassava, yam, potatoes, and plantains. It is a versatile dish that can be served as a side or main course. Although making fufu may seem intimidating at first, with a little practice, you will be able to make this delicious dish with ease. So why not give it a try?
First, the cassava is peeled and grated. Then, the grated cassava is mixed with water and allowed to soak for several hours. Next, the mixture is boiled until it thickens. Finally, it is pounded into a sticky paste. Fufu can be eaten with soup or stewed meat or fish.