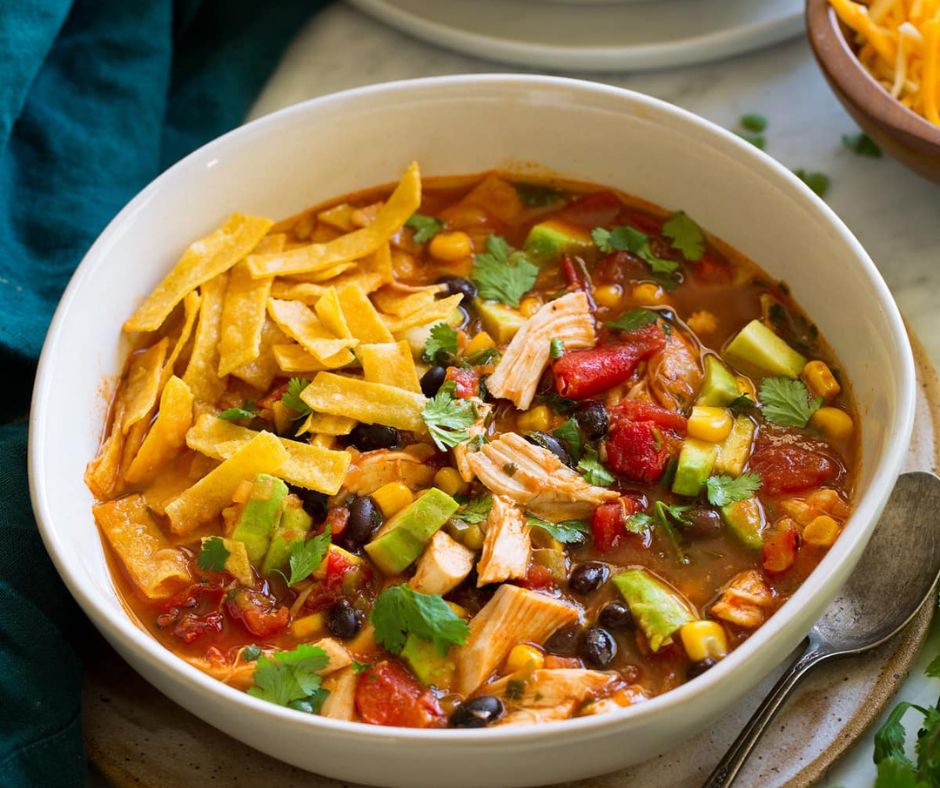 This easy-to-make homemade chicken tortilla soup is quicker and easier to prepare than restaurant varieties, making for a satisfying weekday lunch or dinner. The soup's bold, hearty flavors are satisfying and comforting.
This is my favorite recipe for baked chicken tortilla soup, and I think this soup will become a favorite of yours as well. It's easy to understand, easy to make, and packed with great taste.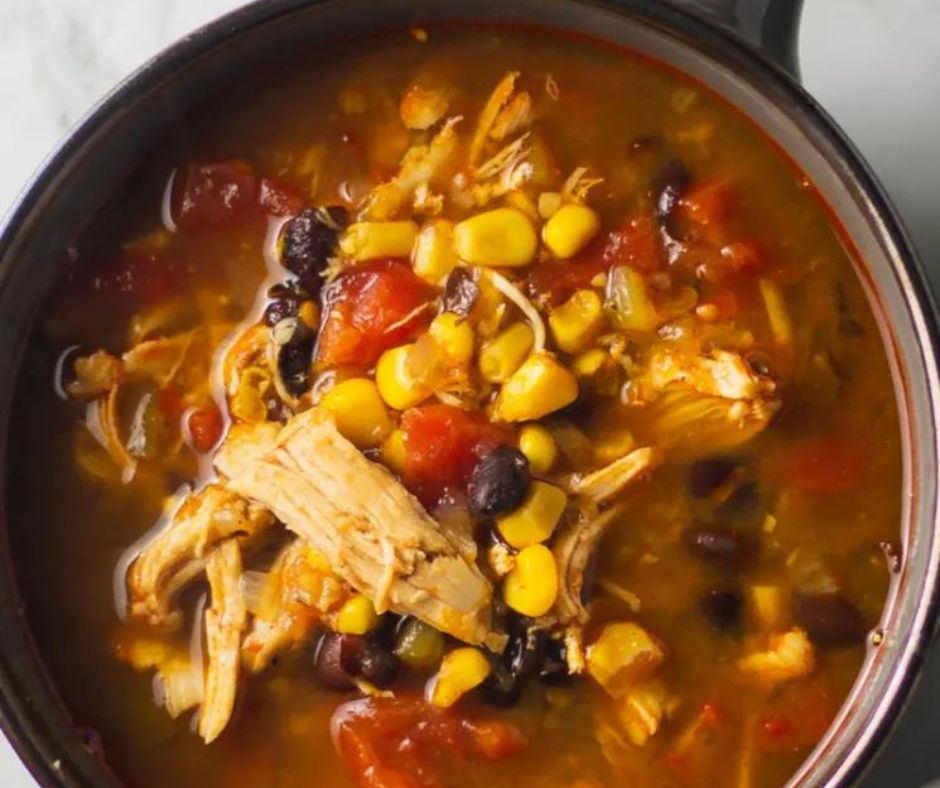 This stew recipe is your best bet on windy nights when you want to wind down with a meal and some good company. The cilantro and lime juice give this creative dish a minty twist.
It's also easy to make! Once you've got all the ingredients chopped up, you'll be able to make this meal in no time at all. Just throw everything in a pot and let it simmer.
This recipe can feed 5 hungry people, but if you'd like to feed more people, it's easy to multiply this recipe except for the cilantro leaves (except for the amount of cilantro you add).
Made With Rotisserie Chicken
This chicken tortilla soup recipe is made with rotisserie chicken, which means you don't have to cook any meat. You just need to chop it up and throw it in! You can also use leftover roasted chicken if you have some in your fridge.
The other great thing about this recipe is that it uses a lot of vegetables—tomatoes, onions, corn kernels, and black beans—so it's full of flavor and nutrients at the same time.
What is Chicken Tortilla Soup?
Tortilla soup is a traditional Mexican dish that is typically prepared with a broth made from tomatoes, onions, garlic, and chili peppers. It usually contains shredded chicken and is garnished with fried tortilla strips, avocado slices, cheese, and cilantro.
I like to add beans and some vegetables to my healthy chicken tortilla soup to make it heartier and more filling. This complements the toppings and makes for a wonderful, nutritious lunch.
This flavorful soup uses ingredients that can be found at almost any grocery store, it's one of those soups perfect for a cloudy, overcast day.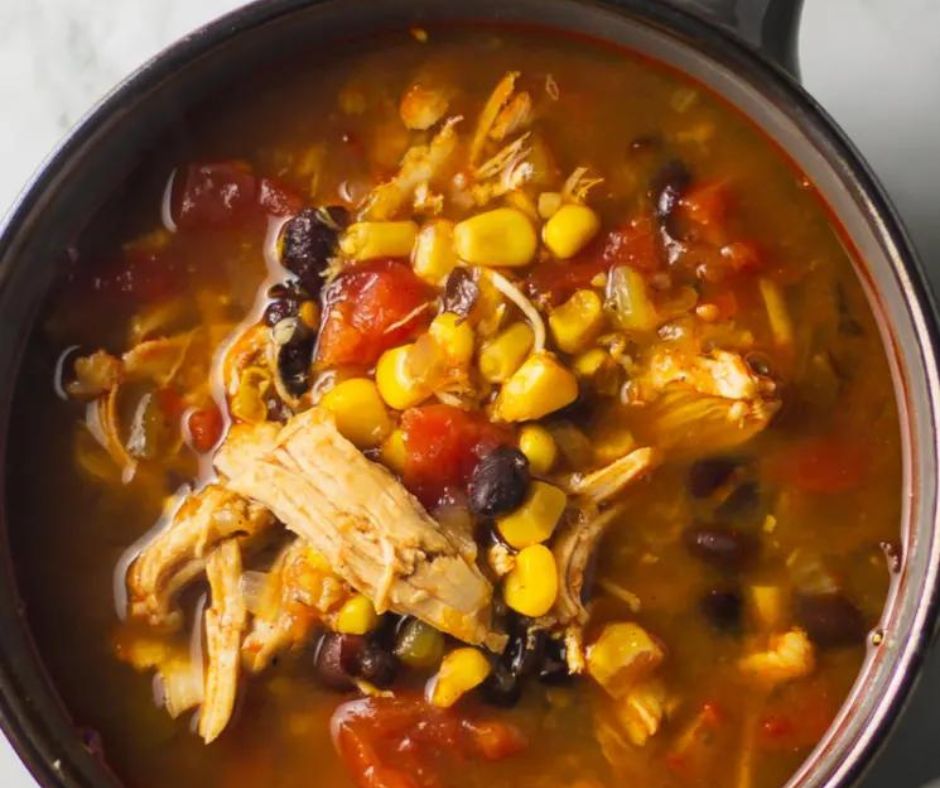 Ingredients For Making Chicken Tortilla Soup Recipe.
2 tablespoons olive oil
1 Jalapeno pepper (seeded and cut into dice)
1 yellow onion (diced)
4 cloves garlic (minced)
4 cups chicken broth or water
2 cans diced tomatoes (14 oz each, juices saved)
1 can black beans (15 oz, drained and rinsed)
1½ cups corn kernels (fresh or frozen)
2 cups rotisserie chicken (shredded)
1 tablespoons lime juice
2 tablespoons cumin
1 tablespoons chili powder
1 teaspoon paprika
⅓ cup cilantro (finely chopped)
Salt and pepper to taste
What Do You Need To Make The Best Chicken Tortilla Soup?
Fried Tortilla Chips
Tortillas: Make use of 8 pcs of small corn tortillas and cut them into ¼ inch strips. Both white and yellow corn varieties will be good, just depending on your taste.
Vegetable oil: You can use olive oil to make them crispy, I used olive oil.
Seasonings: Add a pinch of salt. However, you can add spices such as chill powder, garlic, or paprika to the tortillas if you like.
Soup Ingredients
Aromatics: I sauted garlic, jalapeno, and onion with olive oil to give the soup a nice spicy kick. The deglazing process that happens after you pour in the broth will add a lot of additional depth and flavor.
Broth: Use your chicken broth as it compliments the other ingredients, but water will work just fine if you don't have it.
Tomato: Add a normal canned diced tomatoes, but if you want to add some smokey flavor, you should try roasted diced tomatoes,
Corn: Use either frozen corn or, canned even both of them can work great.
Beans: To make it stick to the ribs, add some canned black beans.
Seasonings & Spices: add that classic flavor, lime juice, cumin, chili powder, paprika, chopped fresh cilantro, along with salt and pepper to taste.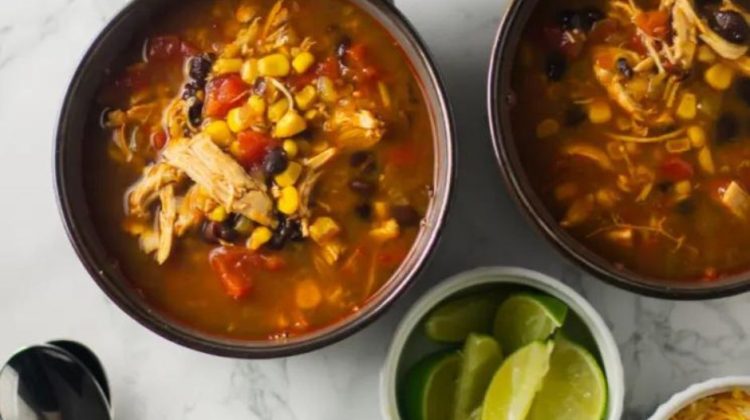 How do you make chicken tortilla soup?
Here are the guide for making the perfect chicken tortilla soup
Preheat oven to 375 degrees F, and prepare a baking sheet and line it with parchment or foil. Scatter the tortilla strips all over the baking sheet and drizzle some oil all over them—season with salt. Toss the tortilla by hand to coat them evenly.
Place the baking sheet in the oven and bake the tortilla strips for 15 to 18 minutes, or until they turn light brown, then set aside.
In a large stock pot or dutch oven, heat the oil. Saute the onions and jalapeno for about 5 minutes, or until they soften. Then add the garlic and saute for 1 more minute, or until aromatic. Stir nonstop to prevent burning.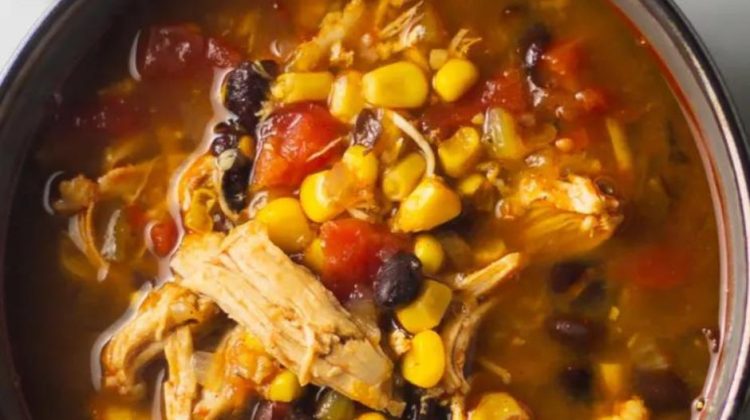 Pour the chicken stock and add the canned tomatoes, black beans, corn kernels, shredded chicken, lime juice, cumin, chili powder, and paprika into the pot—season with salt and pepper to taste.
 Bring to a boil and simmer for 5 to 8 minutes. If the liquid. Level becomes too low, adjust with ½ cup of water at a time. Add the cilantro and allow it to boil for 2 more minutes.
Adjust taste with salt and pepper until desired taste is acquired. Ladle the soup into soup bowls and top with tortilla strips, sour cream, and sliced avocado. Be sure to serve while piping hot.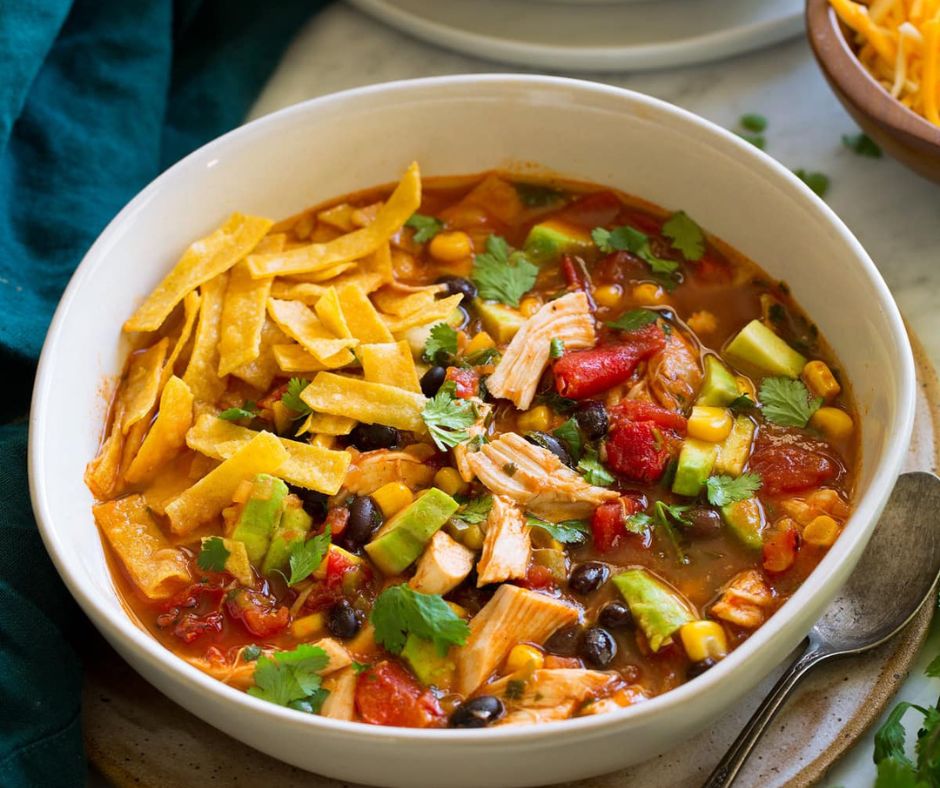 How to store chicken tortilla soup?
Be sure to cool it completely before transferring it into an airtight container; this will stay fresh in the fridge for up to three days or in the freezer for up to 2 months.
What goes with chicken tortilla soup?

I suggest making cornbread; it goes well with the spicy flavors in the soup. As for drinks, I love pairing it with either a Mexican hot chocolate or a mango margarita.
How do you add protein to the soup?

Both chicken and beans were included in my recipe, but you can add your protein of choice.
chicken tortilla soup crock pot
Chicken tortilla soup crock pot is a perfect meal for those who are looking for something hearty and tasty. This dish is full of flavor, and the best part about it is that it's easy to make using a slow cooker or crockpot. With just a few simple ingredients, you can have this delicious soup ready in no time.
To make chicken tortilla soup crock pot, start by
placing diced chicken breasts into your slow cooker.
Then add in some canned tomatoes, corn kernels, black beans, chopped onions and garlic cloves.
Season with salt and pepper to taste. Stir everything together until well combined.
Next step is to pour in some chicken broth until all the ingredients are covered with liquid.
Cover the slow cooker with its lid and cook on low heat for 6-8 hours or until chicken is tender enough to shred using two forks.
How long to cook chicken tortilla soup in crock pot
In conclusion, making chicken tortilla soup in a crock pot is a great way to enjoy a delicious and comforting meal with minimal effort. The beauty of this recipe is that you can customize it depending on your preferences and dietary needs.
The cooking time for chicken tortilla soup in the crock pot varies depending on your preferred cooking temperature, but generally takes anywhere from 3-4 hours on High setting or 6-8 hours on Low setting.
Why is it called Chicken Tortilla Soup?
The name of the dish comes from its two main ingredients: chicken and tortillas. I use rotisserie chicken, chicken broth, and homemade tortilla chips in my easy chicken tortilla soup.
How many calories are in chicken tortilla soup?
This soup serves 4 and has 711 calories in each serving. The total calories depending on what toppings you add.
What can I add to chicken tortilla soup to thicken it?
To thicken your chicken tortilla soup, add a thickening agent like a roux, cornstarch, masa, or different types of flour like potato flour, tapioca flour or arrowroot flour. If you do not want to add extra carbs and calories to the soup, you can also let it cook down and thicken the broth naturally.
Other Recipes You Might Love To Check.
How Long To Bake Chicken Wings At 375 • 2023 Edition.
Does Baileys Irish cream go bad?
How To Make Party Jollof Rice Nigeria/(Ingredients For Cooking half bag of Rice) In 2023
Crispy & Tender Air Fryer Chicken Fried Steak
35 most popular Italian foods that will captivate you 2023
How to tell if sweet potatoes are bad; Ultimate guide 2023
25+ authentic Italian side dishes for your your main course.
The Ultimate Guide To Creating A Delicious Santa Fe Salad
The Juiciest And Easiest Air Fryer Meatloaf.
Healthy, Easy, Tender And Juicy Air Fryer Naked Chicken.
Homemade Apple And Cinnamon Cake.
Health Benefits of Onion Consumption
Nutrition
Calories: 488.3kcal | Carbohydrates: 39.6g | Protein: 44g | Fat: 19.6g | Saturated Fat: 4g | Polyunsaturated Fat: 1.6g | Monounsaturated Fat: 6g | Cholesterol: 118.3mg | Sodium: 1743.6mg | Potassium: 908mg | Fiber: 10.6g | Sugar: 10.3g | Vitamin A: 1284.3IU | Vitamin C: 29mg | Calcium: 141.2mg | Iron: 6.3mg
Conclusion
In conclusion,this delicious chicken tortilla soup recipe with rotisserie chicken is a great way to make a comforting and savory meal. The combination of vegetables, tomatoes, and spices make it full of flavor, while the rotisserie chicken makes it simple to prepare.
This dish is sure to be a hit with your family or guests! Serve with some freshly made tortilla chips for extra crunch, and don't forget to garnish with cilantro for an extra bit of brightness.