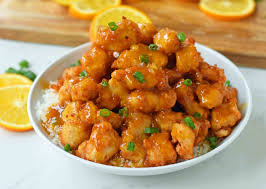 Are you looking for a delicious and easy-to-make meal? Look no further than the Perfect Air Fryer Orange Chicken Everytime.
This recipe is sure to provide you with an incredibly tasty meal that will have everyone coming back for seconds.
This dish is simple, yet full of flavor and is the perfect combination of sweet and savory. The air fryer helps to provide a crisp exterior while keeping the chicken succulent on the inside.
Air Fryer Orange Chicken
Orange chicken is a beloved American-Chinese delicacy that is beloved by many. It's unique flavor and texture make it the perfect meal for dinner or lunch.
If you're looking to make the perfect air fryer orange chicken everytime, then you've come to the right place.
This article will provide you with tips and tricks to make sure your orange chicken comes out tasting delicious every single time.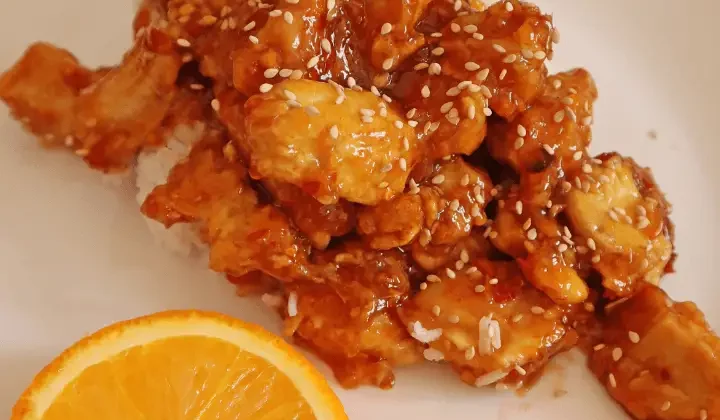 Ingredients
3-4 Boneless and skinless chicken breasts.
50 grams Cornstarch.
0.5 Orange juice.
2 tsps Soy sauce.
3 tsps Oyster sauce.
Spices.
0.35 Orange zest.
0.35 grams Ginger.
2 tsps Rice vinegar.
Salad
Boneless and skinless chicken breasts: They are also a great choice for chicken breasts. You can also use chicken thighs.
Cornstarch: helps the chicken crisps up nicely. All-purpose flour is a good alternative.
Orange juice: Freshly squeezed orange juice yields the best-tasting result.
Soy sauce: Choose tamari sauce if you want it to be the best.
Oyster sauce: A black and rich condiment used in many Asian recipes. It adds a savory taste to the dish.
Spices: Ground pepper, kosher salt, chili powder, toasted sesame seeds, brown sugar.
Orange zest: Adds more depth to the sauce and gives it a more vibrant orange flavor.
Ginger: A little ginger helps the sauce to be more aromatic.
Rice vinegar: Provides a touch of tanginess that makes the sauce more flavorful.
Salad: For serving (optional)
How to cook innovasion orange chicken in air fryer?
Cut the chicken breasts into bite-sized pieces.
Season the chicken with cornstarch, chili powder, salt, and pepper. Mix well and set aside.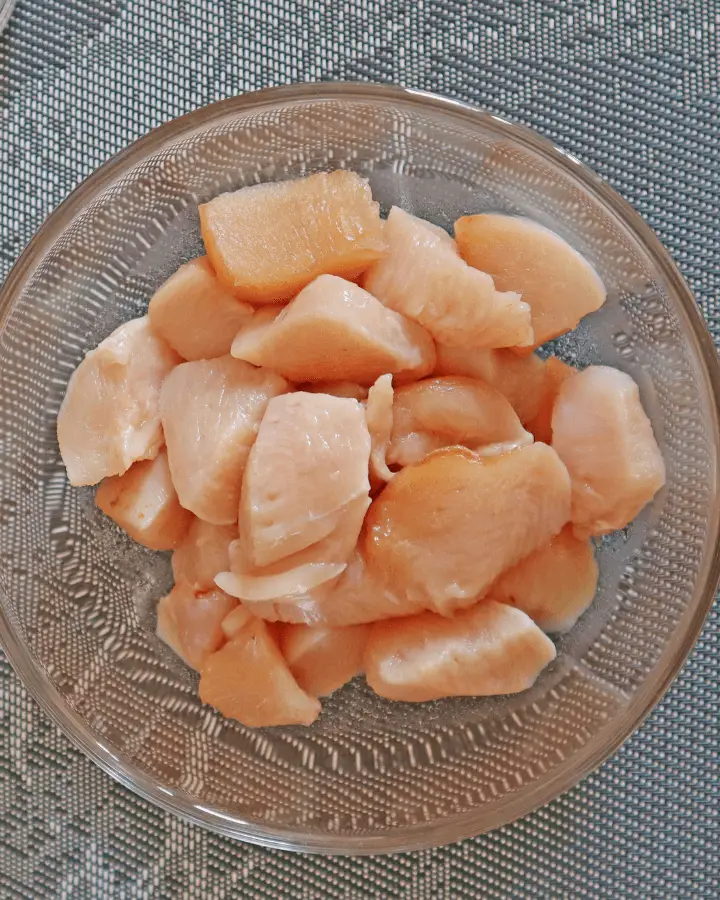 Preheat the air fryer for about 5 minutes.
Spray a little oil on the air fryer basket. Place the chicken pieces in the basket.
Spray the chicken with cooking oil. Air-fry them at 400 degrees F for 6 minutes.
Spray The Chicken With Cooking Oil. After 6 minutes, take the chicken out of the air fryer and set it aside.
Melt some butter in a heated pan. Once the butter is melted, add the minced ginger and stir until fragrant.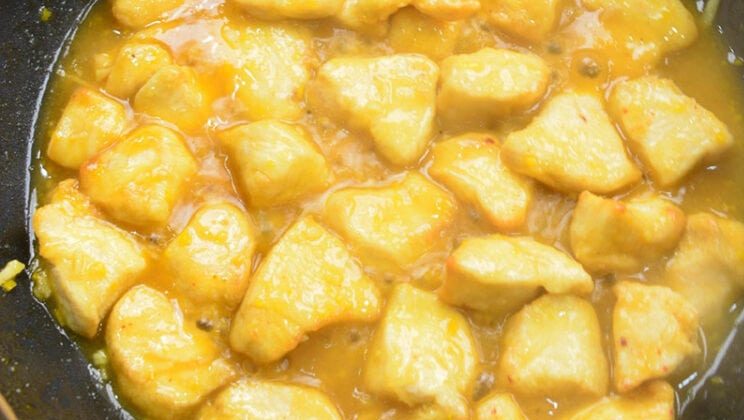 Pour in the orange juice and stir well. Season the mixture with sugar, soy sauce, rice vinegar, and oyster sauce.
Continue stirring on low heat. Add the orange zest and give the sauce a good stir.
Add The Orange, and the fried chicken to the pan and stir for 5 minutes or until the sauce thickens.
Cut the heat and remove the chicken from the pan. Add The Fried Chicken. Garnish the chicken with some cilantro and serve it alongside your favorite salad.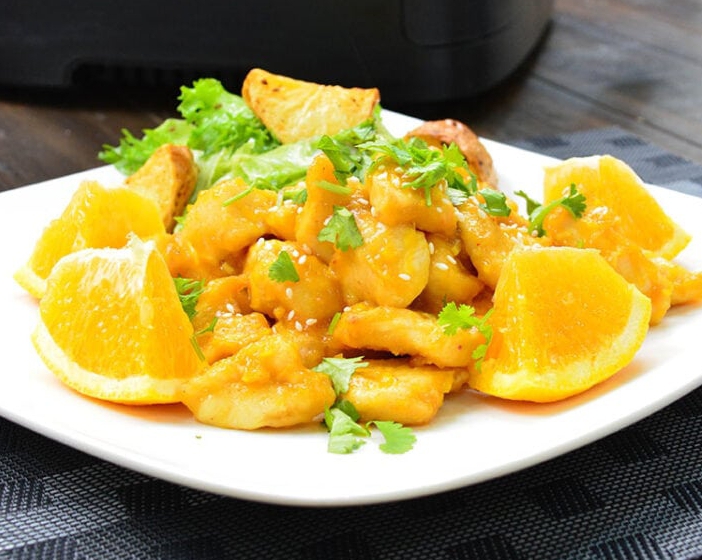 Tools Needed
Cooking oil: You don't need to use much cooking oil while you're working with the air fryer basket, and it can even be sufficient to lightly spray cooking oil on the basket. The flavor shouldn't be too different from what you are preparing with which the cooking oil will be used.
Pan: For making the sauce.
Air Fryer: You can either use the Pro I or the Pro II. If yours is distinct, note that the cooking time might vary.
Knife and cutting board: I recommend using a sharp, well-maintained knife so that you can cut the chicken into even pieces easily.
How is air fryer orange chicken different from air fryer sesame chicken or air fryer general tso's chicken?
Air fryer orange chicken is a delicious and healthier alternative to traditional fried chicken. The combination of sweet and tangy flavors makes it an enjoyable dish for those who are looking for something different from the usual.
It is also lower in fat and calories than air fryer sesame chicken or air fryer general tso's chicken, making it a healthy choice for those watching their waistlines.
Nutrition Facts
6 servings per container
---
Amount Per ServingCalories211
% Daily Value *
Total Fat3.4g6%
Cholesterol 73mg25%
Sodium 825mg35%
Potassium 520mg15%
Total Carbohydrate18g6%

Dietary Fiber 0.9g4%
Sugars 4.2g

Protein 24.8g50%
---
Air fryer orange chicken Panda Express
Frequently Asked Questions
What to serve with Air Fryer Fried Orange Chicken?
With its succulent flavor and crisp texture, this dish is sure to please any family or group of friends.

But what goes best with this classic favorite? Read on for some great side dishes that will perfectly complement your air fryer fried orange chicken.

For a flavorful and health-conscious option, serve up some steamed vegetables such as broccoli or green beans. These sides are low in calories and packed with vitamins, making them an ideal choice for those looking for something nutritious.

For a heartier side dish, try mashed potatoes or roasted sweet potatoes – both of which pair wonderfully with the savory taste of air fryer fried orange chicken.
Can I make air fryer orange chicken ahead?
Air fryer orange chicken can be made ahead of time for convenience and cost savings. The steps are simple and the results delicious.

With a little planning, you can have a healthy dinner on the table in no time. Air fryer orange chicken is an easy way to make a delicious meal with minimal effort.

Taking the time to make it ahead of time will save you money and help you stay organized during the week.
Should I boil chicken before Airfrying?
Boiling chicken before airfrying is a great way to help ensure the chicken cooks evenly and thoroughly. It helps to lock in the moisture, reduce drying out and make sure the chicken is cooked through. Boiling also adds extra flavour.

However, it's not necessary if you're looking for a quick and easy meal. Airfrying alone can still lead to delicious results with less prep time required.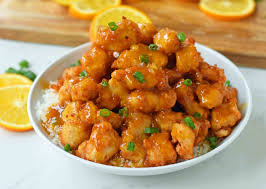 Air fryer orange chicken Panda Express.
Air fryer orange chicken Panda Express is a delicious, easy-to-make dish that uses the air fryer to prepare a classic Chinese-style meal. This dish combines tender, flavorful orange chicken with the unique taste of Panda Express for an unforgettable meal. It's perfect for busy weeknights or weekend gatherings and can be adapted to fit any dietary restriction.
Air fryers are the perfect tool for making this dish because it quickly cooks up the succulent chicken in just minutes. The orange sauce is made from freshly squeezed oranges and zest, while adding a spoonful of honey gives it a sweet finish.
Seasonings like garlic powder and ginger add extra flavor to the mix, while some chili flakes give it an extra kick of heat. Serve over steamed rice or lo mein noodles for a complete meal that will impress your guests!
Conclusion
In conclusion,air fryer orange chicken can be a great addition to any meal. With minimal use of oil and a delicious, crispy outer layer, it is an easy and healthy dish that can be enjoyed by all.
This recipe is a simple way to make sure your air fryer chicken comes out perfectly cooked every time. It takes only about 20 minutes to prepare and can be served with any side dish like rice or vegetables.