If you're someone who's always on the lookout for a high-protein meal option, then Subway is definitely worth considering.
With its diverse range of sandwiches and toppings, Subway has become one of the most popular fast-food chains in the world.
However, with so many options to choose from, it can be challenging to navigate through their menu and find the sandwich that fits your protein goals.
Therefore, we've compiled The Ultimate Guide to Subway's Highest Protein Sandwich Options.
In this article, we'll take a closer look at some of the best high-protein sandwich options available at Subway that can help you meet your fitness goals without compromising on taste.
1. Oven Roasted Turkey
PER 6-INCH SUB: 260 calories, 4 grams fat, 1 gram saturated fat, 3 grams fiber, 990 mg sodium, 19 grams protein
According to Toby Amidor, MS, RD, CDN, FAND award winning nutrition expert and Wall Street Journal bestselling author of The Family Immunity Cookbook, one of the healthiest Subway sandwiches you can get is the Oven Roasted Turkey on a 6-inch whole grain roll, topped with lettuce, tomatoes, pickles, olives, and mustard.
"I tend to order Subway when I am on the road and I know this combo is lighter on the calories and saturated fat than most quick service restaurants that I pass on my drives," says Amidor.
Oftentimes if I eat a sandwich that is fried or has many calories, I may get heartburn and get tired and that is the last thing I want when I am on a road trip with hours ahead of me to drive. Plus, I do have high cholesterol and always try to minimize consumption of saturated fat if possible.
2. Rotisserie Style Chicken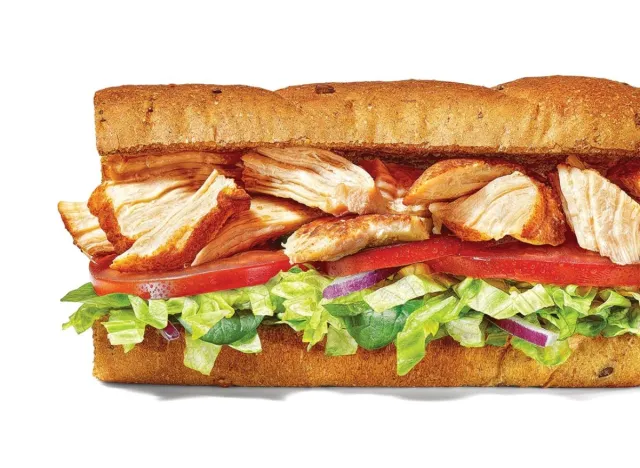 PER 6-INCH SUB: 370 calories, 8 grams fat, 2 grams saturated fat, 3 grams fiber, 980 mg sodium, 26 grams protein
Another healthy Subway option, according to Lauren Harris-Pincus, MS, RDN, founder of Nutrition Starring YOU and author of The Everything Easy Pre-Diabetes Cookbook, is their Rotisserie Style Chicken on toasted hearty multigrain bread stuffed with lettuce, spinach, tomatoes, cucumbers, green peppers, red onions, jalapeños, and banana peppers, with a drizzle of buffalo sauce for extra spice.
"This combo clocks in at 370 calories and 26 grams of protein, and it's also a good source of fiber," says Harris-Pincus.
3. Subway Club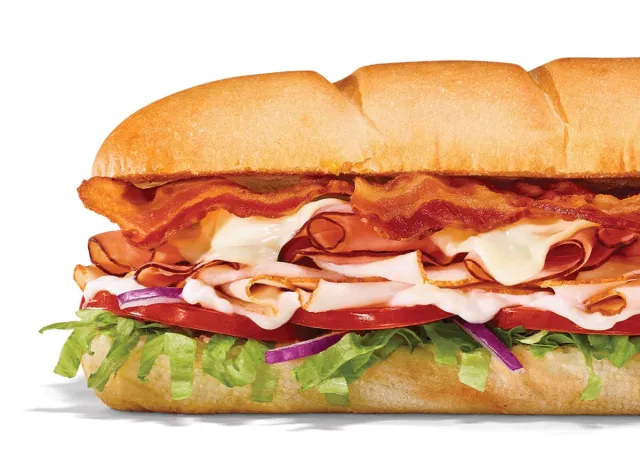 PER 6-INCH SUB: 460 calories, 20 grams fat, 5 grams saturated fat, 1200 mg sodium, 4 grams fiber, 29 grams protein
While this sub is relatively high in sodium, it is also a source of fiber and protein, which makes for a satisfying option. Skip the bacon for some serious calorie and fat savings.
4. Black Forest Ham
PER 6-INCH SUB: 270 calories 4 grams fat 1 gram saturated fat 810 mg sodium 4 grams fiber 18 grams protein
Clocking in at under 300 calories per serving, this sandwich is a low-calorie choice that is a great option when you need something to eat quickly. Load up on the vegetable toppings and enjoy it with a calorie-free beverage for a healthy mid-day meal.
5. Veggie Delite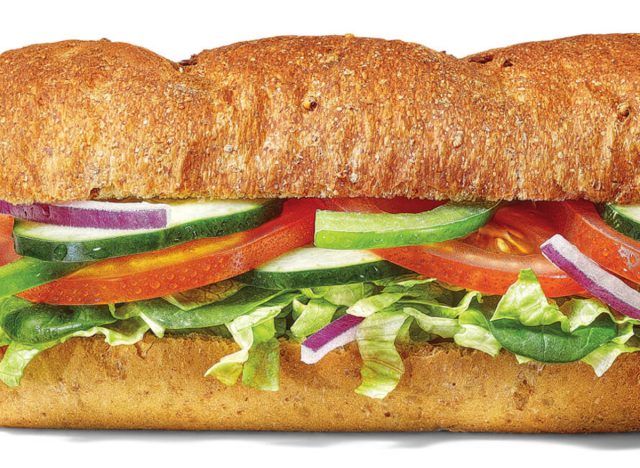 PER 6-INCH SUB: 200 calories 2 grams fat 0 grams saturated fat 320 mg sodium, 4 grams fiber, 30 grams protein
Skipping the meat can help limit the sodium and fat you get in your Subway sandwich. The Veggie Delite clocks in at just 200 calories and provides a whopping 4 grams of fiber per serving.
6. Kid's Mini Sub – Turkey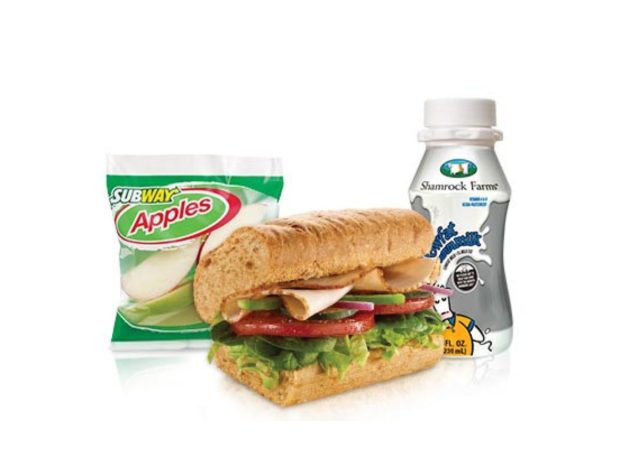 PER KID'S MEAL: 160 calories, 2 grams fat, 0 grams saturated fat, 450 mg sodium, 3 grams fiber, 11 grams protein
Kid's side sandwiches are a great lower-calorie choice that can be a helpful solution if you aren't incredibly hungry around mealtime.
7. Roast Beef
PER 6-INCH SUB: 300 calories 5 grams fat 2 grams saturated fat 740 mg sodium, 4 grams fiber, 22 Grams protein
Subway Roast Beef sandwiches are one of the sandwiches that contains the lowest amount of sodium—which is a great thing! Plus, a 6-inch version contains only 300 calories, making it a great choice for people who are focused on losing weight or cutting calories.
8. BLT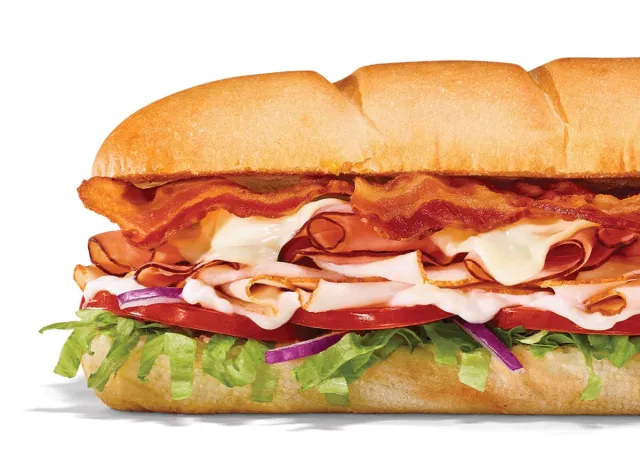 PER 6-INCH SUB: 330 calories 14 grams of fat 5 grams saturated fat 700 mg sodium 3 grams fiber 10 grams protein
While bacon isn't often included as an ingredient in healthier Subway sandwiches, this combo results in a sub that can fit into a healthy diet.
Sure, it is relatively high in saturated fat, but it is on the lower side of sodium when compared with other Subway options and it only contains 330 calories.
How to Make a Healthy, Protein, Coffee Smoothie
7 Costco Foods That Are Packed With Protein
Chicken Protein Breakdown: Calories and Macros of Every Cut in Detail
25 + Protein-Packed Dinners for Losing Weight & Building Muscle
Top 51 diabetic foods to steer clear of
Conclusion
In conclusion, Subway's highest protein sandwich options are a great way to fuel your body and stay on track with your fitness goals. With a variety of meats, cheeses, and vegetables to choose from, there is something for everyone.
Whether you're looking for a low-calorie option or something more filling, Subway has got you covered.
By following our ultimate guide to Subway's highest protein sandwich options, you can make informed choices that will keep your body feeling energized and strong all day long.
So why not head over to your nearest Subway today and order one of these delicious sandwiches? Your body will thank you!