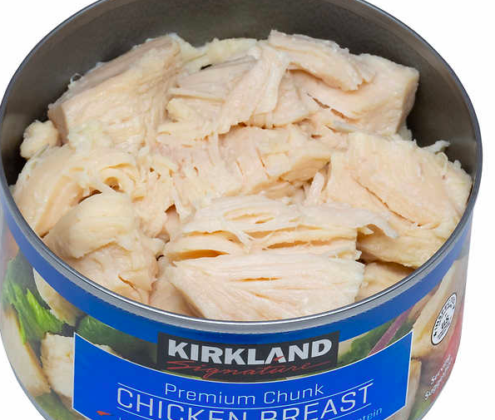 Canned chicken has been a popular food item for decades, thanks to its convenience and versatility.
It's an ingredient that can be used in many dishes, from sandwiches and salads to casseroles and soups. However, as with any processed food product, there are concerns about its nutritional value and potential health risks.
Many people wonder if canned chicken is healthy or not.
While it may seem like a convenient way to get your protein fix, the truth is that there are some factors that need to be considered when consuming this type of meat.
In this article, we take a closer look at what happens to your body when you eat canned chicken and explore whether or not it's a good choice for your diet.
Canned chicken is made by pressure-cooking fresh or frozen chicken meat to sterilize it before placing it into cans. This process ensures that the product is free from harmful bacteria and other contaminants but can result in overcooking and loss of nutrients such as vitamins B6 and B12.
Since most canned foods contain preservatives to enhance their shelf life, they may contain high levels of sodium which can lead to high blood pressure when consumed in excess.
To learn about the effects of opening a can of chicken on your body and obtain additional advice on healthy eating, make sure to check out our compilation of 13 nutritious salad dressings to purchase in 2023. The question remains: is consuming canned chicken a safe option?
You could gain muscle.
Because protein is needed for muscle growth, Mansour says the canned chicken you eat may be used by your body to activate this growth.
"Chicken contains leucine, an amino acid that triggers protein building pathways," she continues. "If you're looking to stimulate muscle growth, but you don't have the time to prepare and cook fresh chicken, canned chicken may be the way to go."
You could feel satisfied for longer.
On the positive side, canned chicken is full of protein, so if you're in a bind, it could be a once-in-a-while savior. As weight loss coach Stephanie Mansour explains, this protein could help you feel satisfied for longer and prevent you from overeating. It also could cut back your carb cravings.
"Chicken helps your body release hormones that cause satisfaction in hunger. Because eating the right amount of protein helps your body stay satisfied, canned chicken may even help you to lose weight," she says.
6
You are eating chicken from an inhumane source.
As with all meat, not all are created or raised equally. Typically, with canned chicken, Poon says it's likely you aren't eating the most humane of highest-quality poultry.
"Much industrial chicken is raised in terrible conditions, and many have infections and are treated with antibiotics," she says. "Physically and energetically, this is all transferred to you when you eat chicken from an industrial source. Antibiotic use in meat production is specifically connected to human health concerns such as antibiotic resistance and child development issues."
You could experience inflammation
Canned chicken may seem like a convenient and affordable option, but it could lead to inflammation in your body.
This is due to the high sodium content, potential BPA exposure, and low nutrient density found in many canned chicken products. It's important to read labels carefully and opt for fresh or frozen chicken whenever possible.
Incorporating anti-inflammatory foods into your diet can also help mitigate any negative effects of inflammation. Your health is worth investing in, so make informed choices when it comes to the food you eat.
Choose wisely and enjoy delicious meals that nourish your body and mind.
You are consuming sodium phosphate if eating canned chicken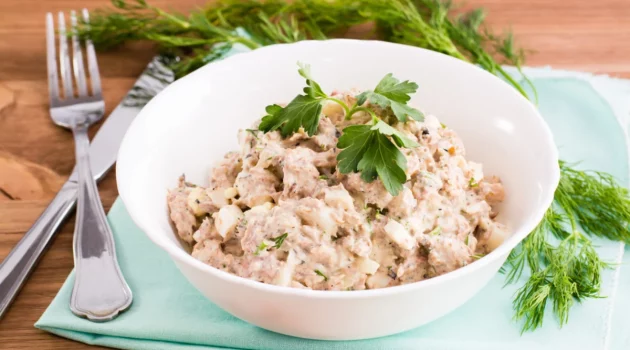 Consuming sodium phosphate while eating canned chicken is a common occurrence that many individuals are unaware of.
Although it is generally recognized as safe by the FDA, excessive intake of sodium phosphate can lead to negative health effects such as kidney damage and osteoporosis.
It is important to be mindful of the ingredients in the foods we consume and to limit our intake of additives like sodium phosphate.
Consider choosing fresh or frozen chicken over canned options when possible, and always read food labels to make informed decisions about what you put into your body.
By being aware of the potential risks associated with sodium phosphate, we can take steps towards promoting our overall health and well-being.
Frequently Asked Questions
Are canned chicken healthy?
In conclusion, canned chicken can be a healthy and convenient option for adding protein to your meals. However, it is important to read the labels and choose brands that have minimal added sodium and preservatives.
It may also be beneficial to limit consumption and incorporate other sources of protein into your diet as well.
Overall, canned chicken can be a useful addition to a balanced diet when consumed in moderation and with attention to its nutritional content. So next time you're at the grocery store, don't hesitate to grab a can or two of chicken for those busy weeknights or quick lunches.
Do you need to cook canned chicken?
In conclusion, cooking canned chicken is not necessary but it can enhance its flavor and texture. If you choose to cook canned chicken, make sure you follow proper safety guidelines and cooking instructions.
However, if you're short on time or just want a quick and easy meal, eating canned chicken straight from the can will be ok.
Ultimately, the decision to cook canned chicken or not depends on personal preference and recipe requirements. Regardless of how you choose to prepare it, canned chicken can be a delicious addition to salads, sandwiches, casseroles, soups, and more.
So go ahead and experiment with this versatile ingredient only If you want.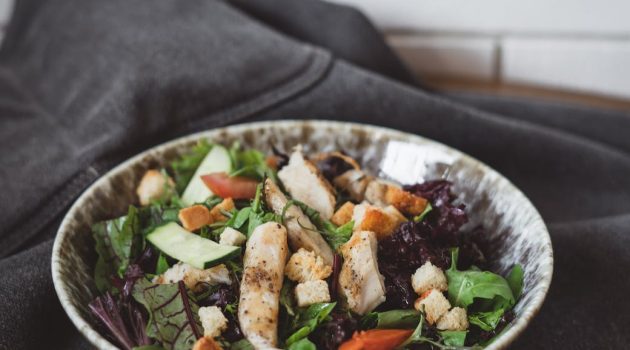 Is canned chicken noodle soup healthy
Canned chicken noodle soup is a popular option for those seeking a quick and easy meal. However, the question remains: is this convenience food actually healthy? The answer lies in examining the ingredients and nutritional value of canned chicken noodle soup.
One of the primary concerns with canned soups is their high sodium content. Many brands contain 600-800 milligrams of sodium per serving, which can contribute to hypertension and other health problems.
Additionally, canned soups often contain preservatives and artificial flavors that are not found in homemade versions.
On the other hand, there are some benefits to consuming canned chicken noodle soup. It typically contains vegetables such as carrots and celery, which provide important vitamins and minerals.
Additionally, many brands now offer lower-sodium options that can be a healthier choice for those monitoring their salt intake.
What is the effect of canned foods on human health?
Canned foods have both positive and negative effects on human health. While they provide convenience and longer shelf life, they are often high in sodium and preservatives.
Additionally, the lining of some cans may contain harmful chemicals that can leach into the food. It is important to read labels carefully and choose canned foods with lower sodium content and no added preservatives or chemicals.
As with any food, moderation is key when it comes to consuming canned goods. It is always best to incorporate fresh fruits, vegetables, and whole grains into your diet for optimal health.
So let's make informed choices about what we eat and prioritize our health above everything else!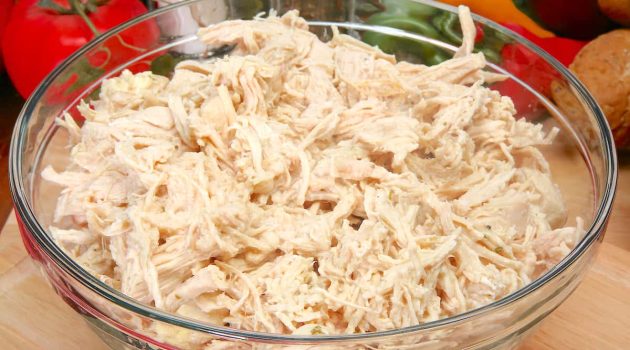 How long does canned chicken last?
Canned chicken has a long shelf life if stored properly. Most canned chicken products have expiration dates printed on the cans. It is important to check these dates and consume the chicken before they expire. Typically, unopened canned chicken can be stored for up to 2 to 5 years, depending on the manufacturer and storage conditions.
How should canned chicken be stored?
Proper storage is crucial for maintaining the quality and safety of canned chicken. It is recommended to store unopened cans in a cool, dry place away from direct sunlight. Avoid extreme temperatures and moisture, as they can affect the integrity of the cans.

Once opened, transfer the leftover canned chicken to an airtight container and refrigerate it promptly. Use the chicken within 3-4 days and discard any leftovers that have been left out at room temperature for more than 2 hours.
Can canned chicken be used in various recipes?
Yes, canned chicken is a versatile ingredient that can be used in various recipes. It can be added to salads, soups, sandwiches, casseroles, and pasta dishes. Canned chicken provides a convenient and time-saving alternative to fresh chicken, especially in situations where preparation time is limited.
Conclusion
When handled and stored properly, canned chicken is generally safe to consume. It offers convenience, versatility, and a long shelf life. However, it is important to be aware of potential risks, such as sodium content and the rare possibility of bacterial contamination.
By following storage guidelines, checking expiration dates, and purchasing from reputable brands, you can enjoy the benefits of canned chicken while minimizing any potential risks.
As with any food product, it is recommended to use your discretion and consult a healthcare professional if you have specific dietary concerns or medical conditions.