Popeyes has reintroduced its Flounder Fish Sandwich and Shrimp Tackle Box, which have received high ratings, for a limited time at all locations across the country. These meatless options are perfect for Lent and were first introduced in 2021 as the fast-food chain's inaugural fish sandwich.
Popeyes is now offering the sandwich in Classic and Spicy versions in 2022. If you're looking for a Popeyes fish sandwich review, this is it.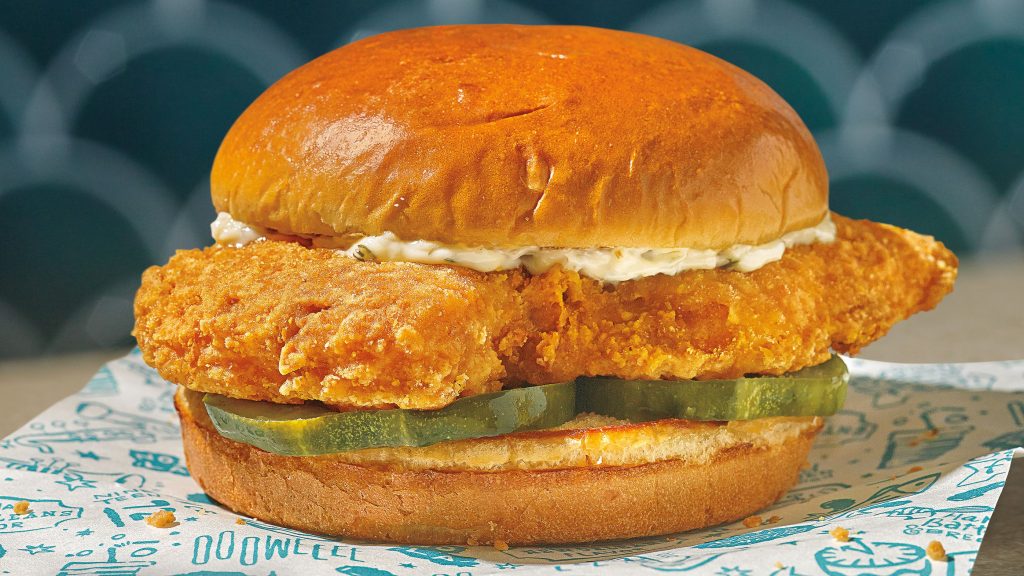 According to a representative for Popeyes, the flounder sandwich will make a comeback in 2023, available in both varieties. The sandwich consists of a fried flounder filet marinated in Louisiana herbs and spices, served on a toasted brioche bun with pickles and a choice of Popeyes Classic Tartar or Spicy Spread.
This is great news for those who observe no-meat Fridays during Lent and for Popeyes fans who want to try something different from the usual menu items.
Although Popeyes' chicken sandwiches are wildly popular, the return of the flounder sandwich is highly anticipated as it has been rated higher than its competitors' seasonal fried fish sandwiches.
Related: The Perfect Side Dishes you'll Try on Sandwiches in 2023.
How much is the popeyes fish sandwich
Popeyes has already added the Flounder Fish Sandwich to its online menu, even though Lent officially starts on Feb. 22. The sandwich costs $5.99 at one New Jersey store, but prices may vary based on location.
As a Valentine's Day promotion, customers can get a free a la carte chicken or fish sandwich when purchasing a sandwich combo on the Popeyes app or website from February 13 through February 19.
Additionally, the Shrimp Tackle Box, another Lent-friendly option, is available for a limited time and includes eight pieces of breaded and fried butterfly shrimp seasoned with Louisiana herbs and spices. This information provides a review of Popeyes' fish sandwich options.
When it comes to fast-food chains known for their deliciously crispy and flavorful offerings, Popeyes stands tall among the competition. Famous for their mouthwatering fried chicken, Popeyes has expanded its menu to include other tantalizing options.
One such addition is the Popeyes Fish Sandwich. we'll dive into the details of this delectable menu item, exploring its taste, ingredients, and what makes it a must-try for seafood lovers.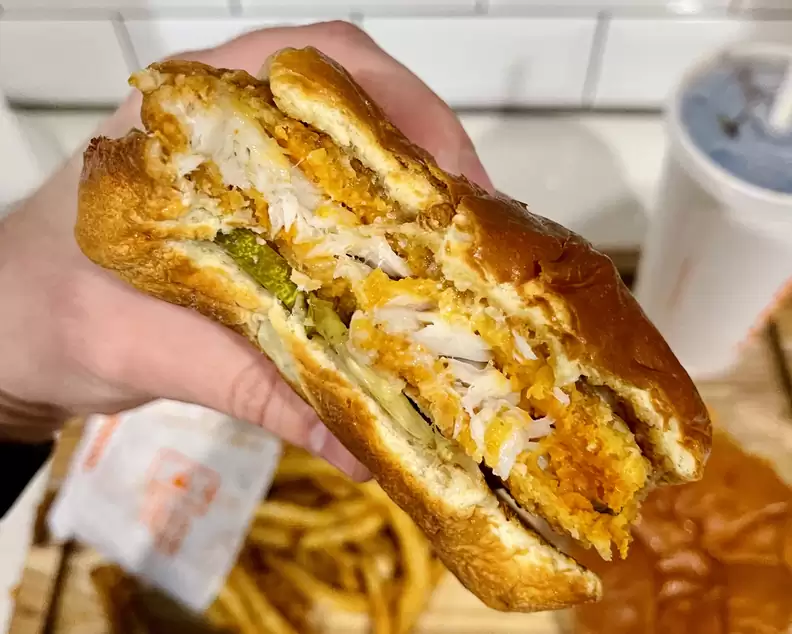 A Perfect Blend of Flavors
The Popeyes Fish Sandwich brings together a symphony of flavors that will have your taste buds dancing with joy. At the core of this delightful creation is a premium, flaky white fish fillet, which is the star of the show.
Seasoned to perfection, the fish is then hand-battered in a unique blend of spices that Popeyes is renowned for. This signature coating ensures a satisfying crunch with every bite, adding an extra layer of texture and flavor.
The Secret Sauce
What sets Popeyes Fish Sandwich apart from others is the secret sauce that takes the flavor profile to new heights. This special sauce is a harmonious combination of creamy and tangy elements, providing a zesty kick that complements the fish beautifully.
The sauce is generously spread over a soft, toasted brioche bun, ensuring each bite is a harmonious blend of flavors.
Fresh and Wholesome Ingredients
Popeyes prides itself on using only the freshest and highest quality ingredients, and their Fish Sandwich is no exception. The fish fillets are sourced from trusted suppliers and carefully selected to meet Popeyes' standards of excellence.
Combined with their unique seasoning and batter, the result is a delectable fish fillet that is both tender and full of flavor.
Related: 34 Best Sandwich Recipes Ever In 2023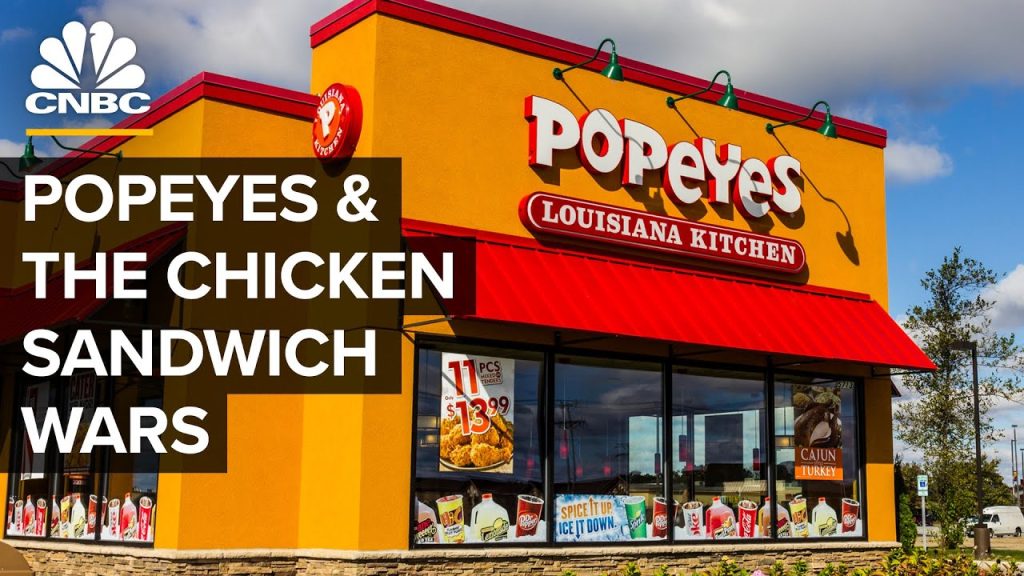 Customization Options
Popeyes understands that everyone has different preferences when it comes to their sandwiches. That's why they offer customization options for their Fish Sandwich.
You can choose to add crisp, dill pickles for an extra tangy crunch or opt for a slice of melty American cheese to enhance the overall experience. With these choices, you can create a personalized sandwich that suits your taste perfectly.
A Complete Meal Experience
The Popeyes Fish Sandwich isn't just a standalone item; it can be part of a satisfying meal.
You can pair it with a side of their famous Cajun fries or their classic red beans and rice for a well-rounded and filling dining experience. Don't forget to wash it down with a refreshing beverage from their extensive selection, including soft drinks, iced tea, and fruit juices.
How many calories in a popeyes fish sandwich
The exact calorie count of Popeyes Fish Sandwich may vary depending on the size and specific ingredients used. However, on average, the sandwich contains approximately 590 calories.
It's important to note that this value is an estimate and can be subject to change. If you are watching your calorie intake, it's advisable to check the official Popeyes website or consult the nutrition facts for accurate information. Remember, moderation and balance are key to maintaining a healthy diet.
Conclusion

Popeyes Fish Sandwich is a culinary masterpiece that brings the flavors of the sea to your plate in an unforgettable way.
From the perfectly seasoned fish fillet to the secret sauce and customizable options, every element of this sandwich is crafted to perfection. Whether you're a seafood lover or simply looking to try something new, the Popeyes Fish Sandwich is sure to leave you hooked.
So head to your nearest Popeyes location and indulge in this flavorful catch that will satisfy your cravings and keep you coming back for more.