Are you on a quest for satisfying snacks that won't sabotage your calorie count?
Here we're serving up a delectable list of 17 low-calorie snacks that are not only delicious but also incredibly filling.
We understand the struggle of keeping your appetite in check while trying to maintain a balanced diet.
That's why we've curated this selection of snacks that will leave you feeling satisfied and energized without the guilt.
Whether you're looking for crunchy, savory, or sweet options, we've got you covered. Say goodbye to those midday cravings and hello to a healthier snacking routine.
Greek Yogurt with Berries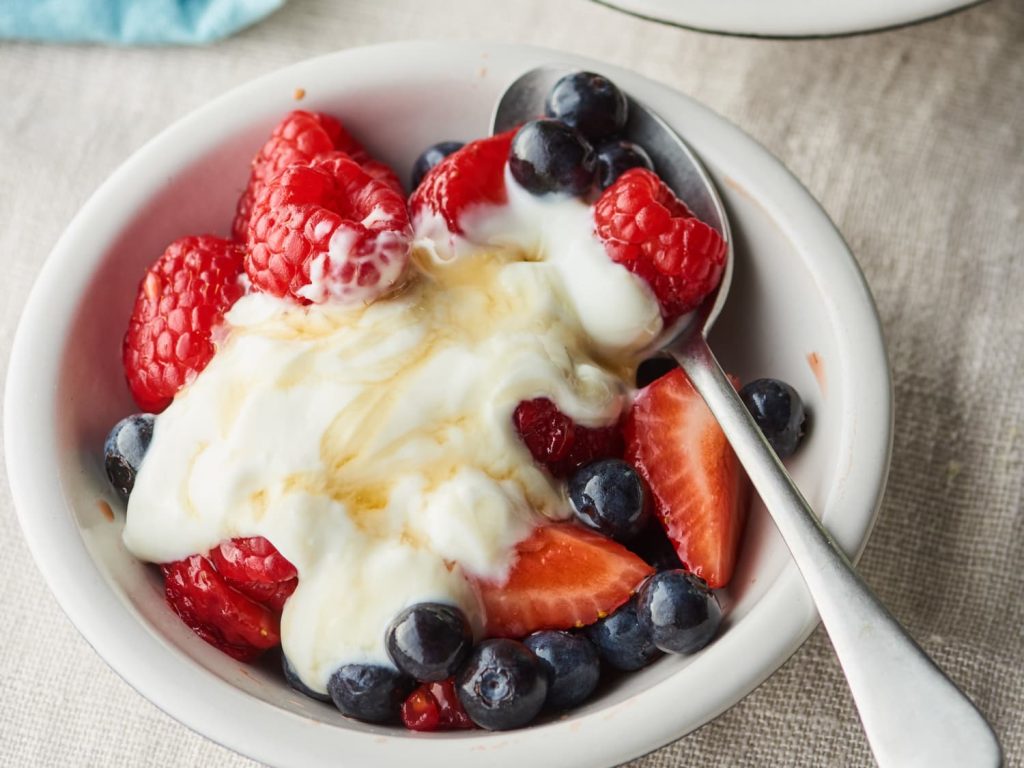 Greek yogurt is not only a creamy delight but also a protein-packed powerhouse.
Its richness in casein protein not only contributes to muscle repair and growth but also fosters a prolonged feeling of fullness.
On top of that, the live probiotics in Greek yogurt promote gut health and aid digestion.
When adorned with a handful of fresh, vibrant berries like blueberries, strawberries, or raspberries, you're not only introducing a burst of antioxidants that combat oxidative stress but also an ample amount of dietary fiber.
This combination helps stabilize blood sugar levels, curb hunger pangs, and keep you satisfied for hours.
Hard-Boiled Eggs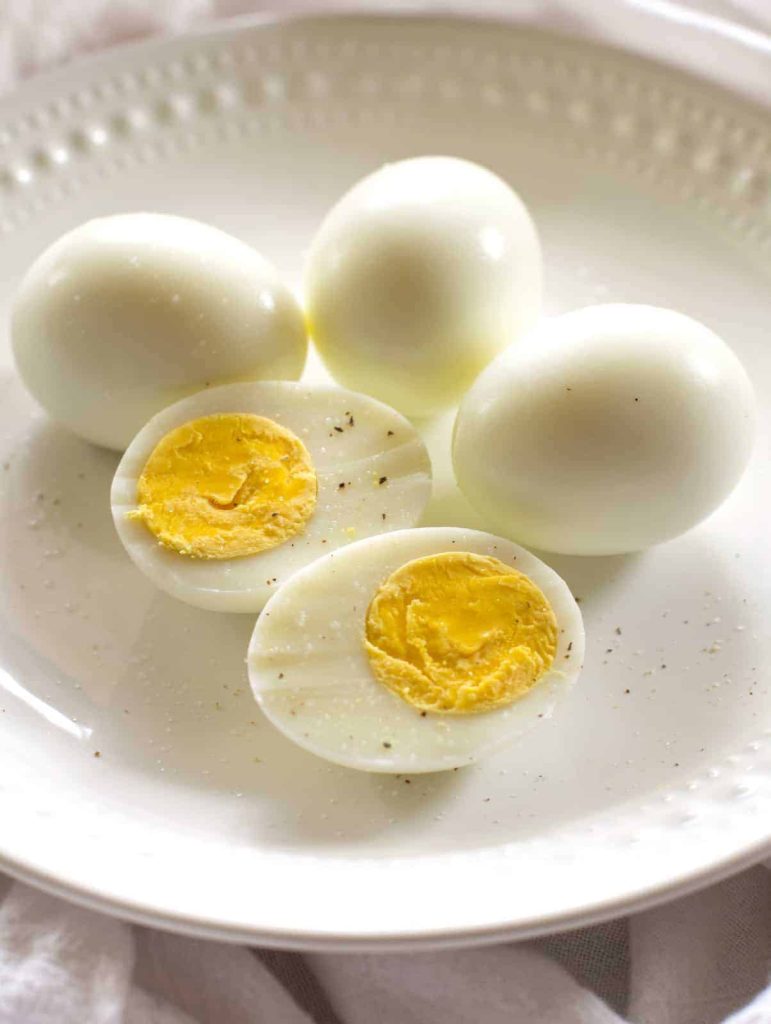 Nature's perfectly packaged protein source, a hard-boiled egg, is a fantastic snack that keeps hunger at bay.
The egg's protein content is not only essential for muscle maintenance and repair, but it also has a high satiety value.
Eggs contain healthy fats, including omega-3 fatty acids, which contribute to cognitive function and heart health.
The combination of protein and healthy fats, within roughly 70 calories, makes hard-boiled eggs a convenient and filling snack choice that can be enjoyed on the go.
Cottage Cheese with Pineapple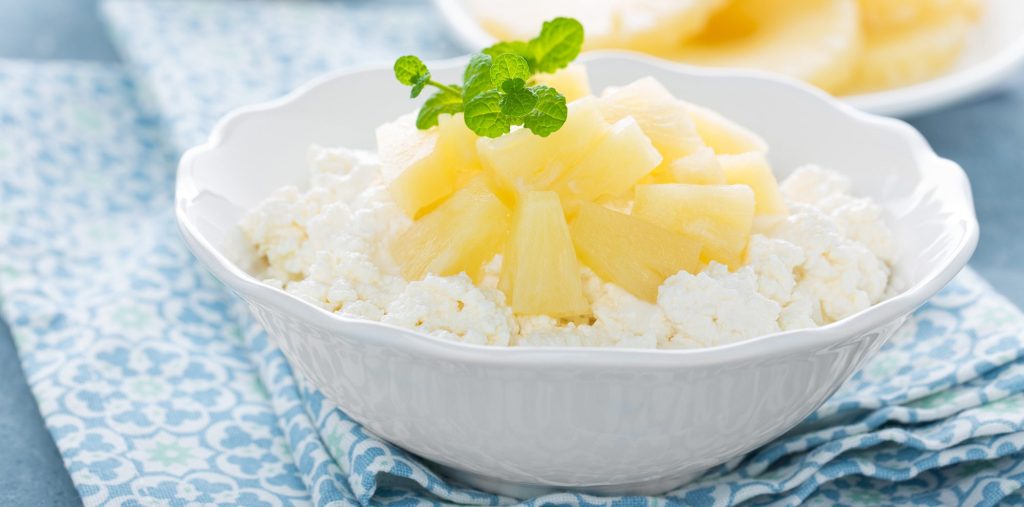 Cottage cheese is a versatile snack option brimming with benefits.
Its rich protein content, primarily in the form of casein, is digested slowly, providing a sustained release of amino acids that keep you feeling full.
Beyond protein, cottage cheese also offers calcium, which supports bone health.
Partnering cottage cheese with pineapple chunks introduces natural sweetness along with a dose of vitamin C and manganese.
This combination not only tantalizes your taste buds but also nourishes your body, making it a refreshing and filling snack.
Air-Popped Popcorn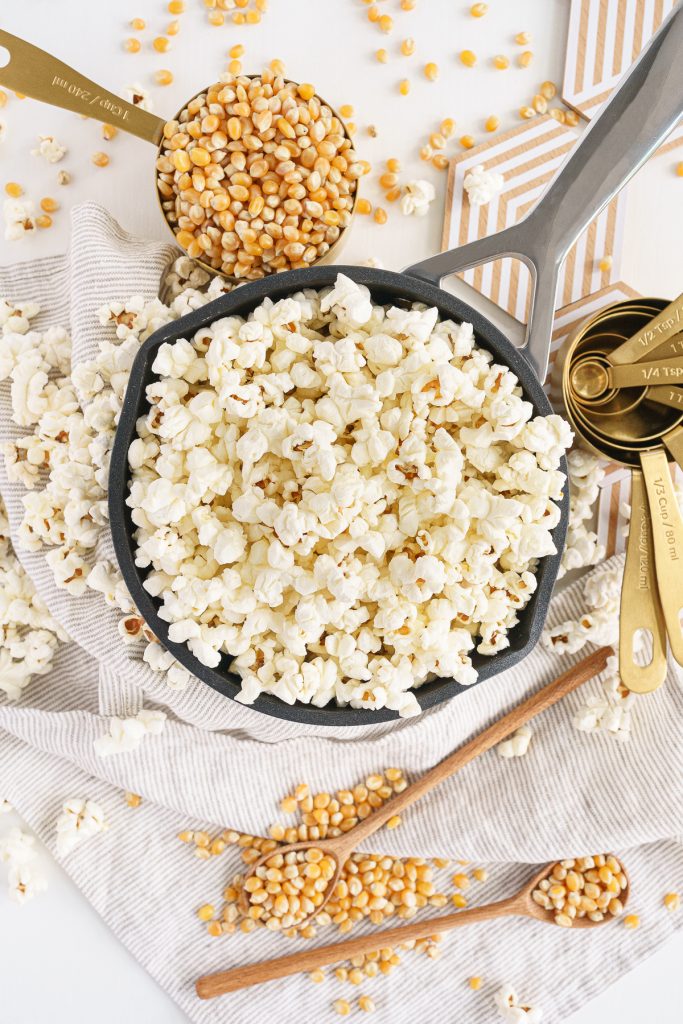 Popcorn, when prepared without excessive butter or oil, is a whole grain snack that marries volume with lower calories.
Its high fiber content not only aids digestion but also contributes to the feeling of fullness.
With every kernel, you're crunching into a satisfying snack that takes up substantial space in your stomach, signaling satiety to your brain.
The fiber content also assists in stabilizing blood sugar levels, preventing the energy crashes that often lead to overeating.
As you munch on these airy, fluffy morsels, you're not only enjoying a movie-time favorite but also promoting your overall well-being.
Sliced Veggies with Hummus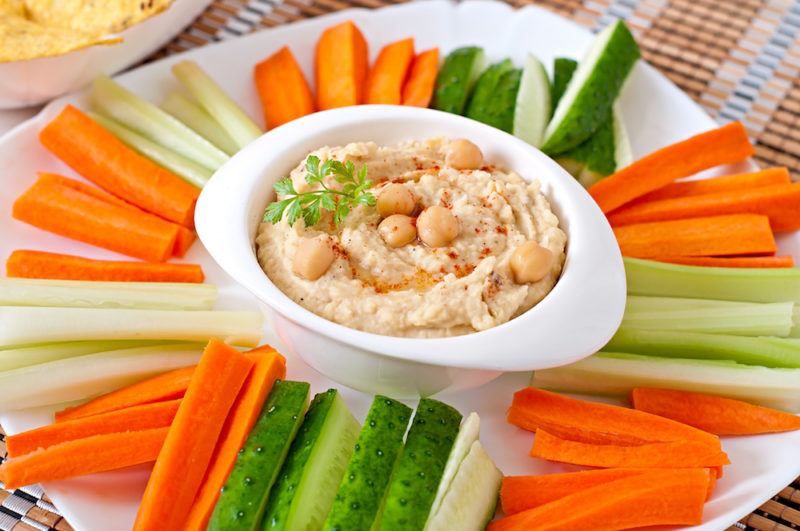 For a colorful and nourishing snack that offers crunch and creaminess, look no further than sliced vegetables paired with hummus.
The medley of crisp vegetables like carrots, cucumbers, and bell peppers brings a range of vitamins, minerals, and dietary fiber.
This fiber content not only supports digestion but also imparts a sense of fullness.
The hummus, crafted from chickpeas, contributes plant-based protein, additional fiber, and heart-healthy fats.
As you dip each veggie stick into the velvety hummus, you're engaging your senses while fueling your body with nutrients that satisfy both your hunger and your palate.
Apple Slices with Almond Butter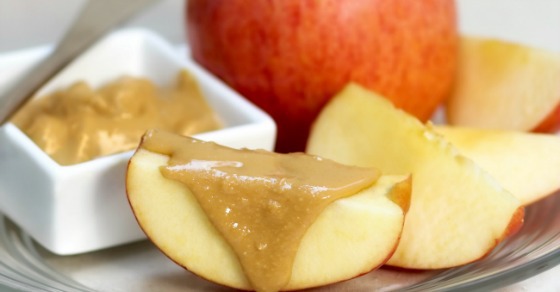 An apple a day not only keeps the doctor away but can also help keep hunger at bay.
Apples, rich in dietary fiber and water, provide bulk that occupies space in your stomach, signaling fullness.
Their natural sweetness satisfies sugar cravings while their vitamins and antioxidants support overall health.
When accompanied by almond butter, you're adding a source of healthy fats and protein.
These nutrients, combined with the apple's fiber, provide a balanced snack that offers both immediate satisfaction and sustained energy.
Rice Cakes with Tuna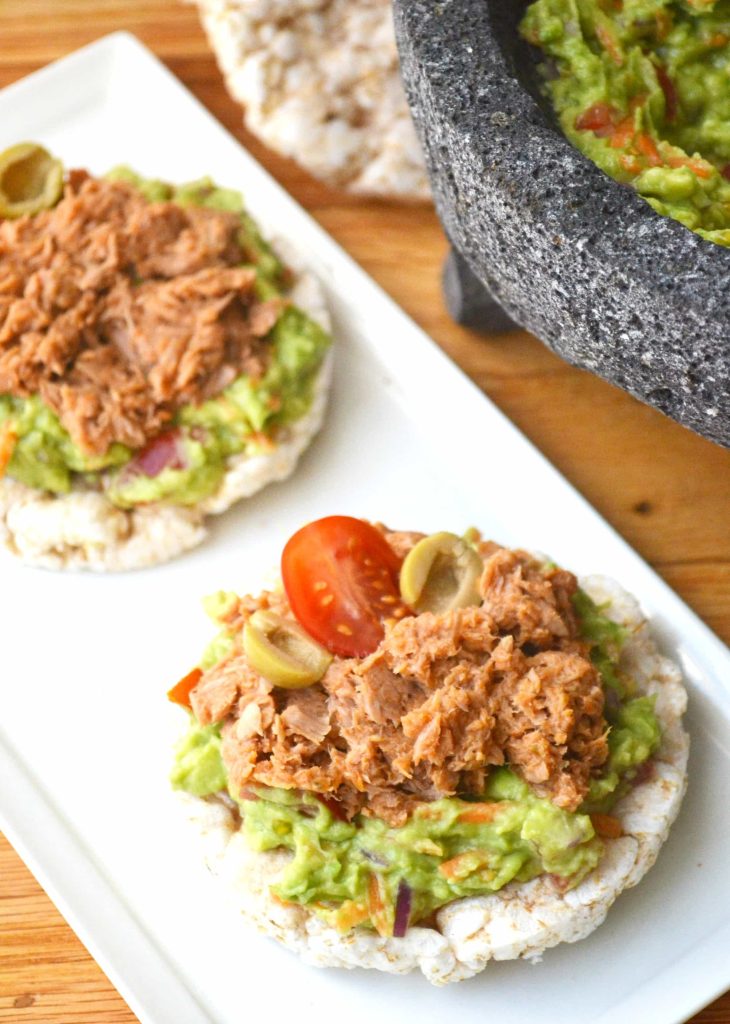 The dynamic duo of rice cakes and tuna creates a snack that merges convenience with nutrition.
Tuna, a lean protein source, contributes amino acids essential for various bodily functions, including muscle development.
The rice cakes, acting as a neutral canvas, offer complex carbohydrates that release energy steadily, preventing sudden spikes and crashes in blood sugar levels.
This balance of protein and carbs not only fuels your body but also promotes a sense of fullness.
As you spread tuna onto rice cakes, you're constructing a snack that's not only satisfying but also supports your fitness and nutritional goals.
Edamame
Edamame, or young soybeans, are a plant-based treasure trove of protein and dietary fiber.
These components work in tandem to curb hunger and maintain stable blood sugar levels.
The process of shelling and consuming edamame encourages mindful eating, allowing your brain to catch up with your stomach's cues of fullness.
These little beans provide a variety of vitamins and minerals, including folate, vitamin K, and potassium, which contribute to overall well-being.
By indulging in a handful of edamame, you're treating yourself to a nutrient-rich snack that elevates your satiety and nourishes your body.
Oatmeal with Banana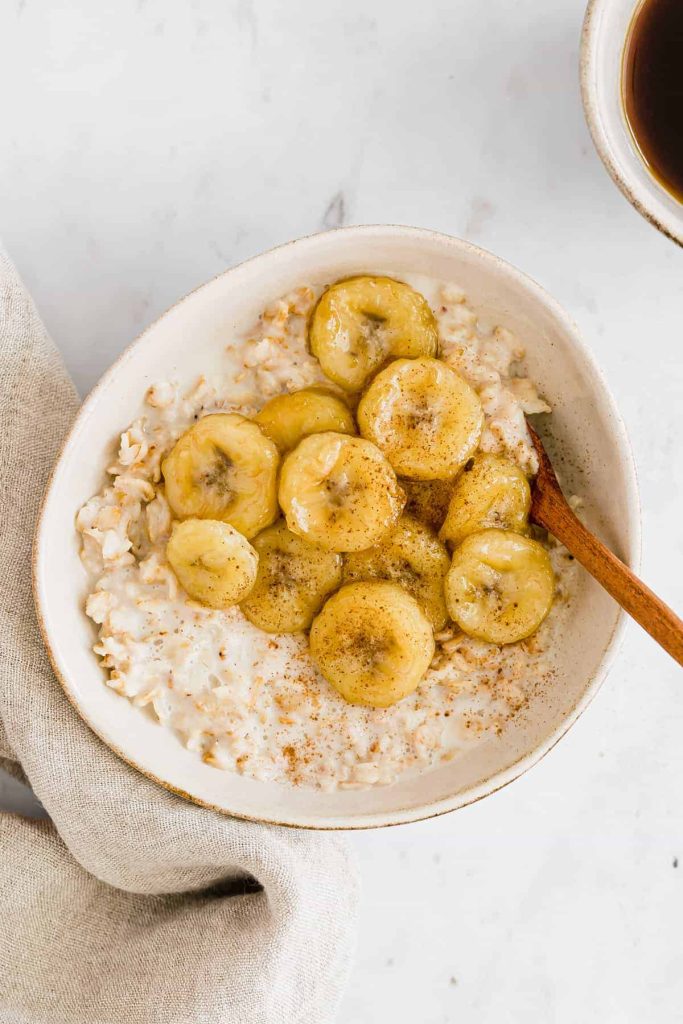 Oats, renowned for their soluble fiber content, are a steadfast choice for promoting fullness.
This soluble fiber forms a gel-like consistency in your stomach, slowing down digestion and extending the sensation of being satisfied.
Oats also provide a stable source of energy due to their complex carbohydrates.
Adding banana slices to your oatmeal introduces natural sweetness along with essential vitamins and minerals such as potassium and vitamin B6.
As you savor each spoonful, you're embracing a breakfast classic that not only warms your soul but also fuels your day with lasting vitality.
Mixed Nuts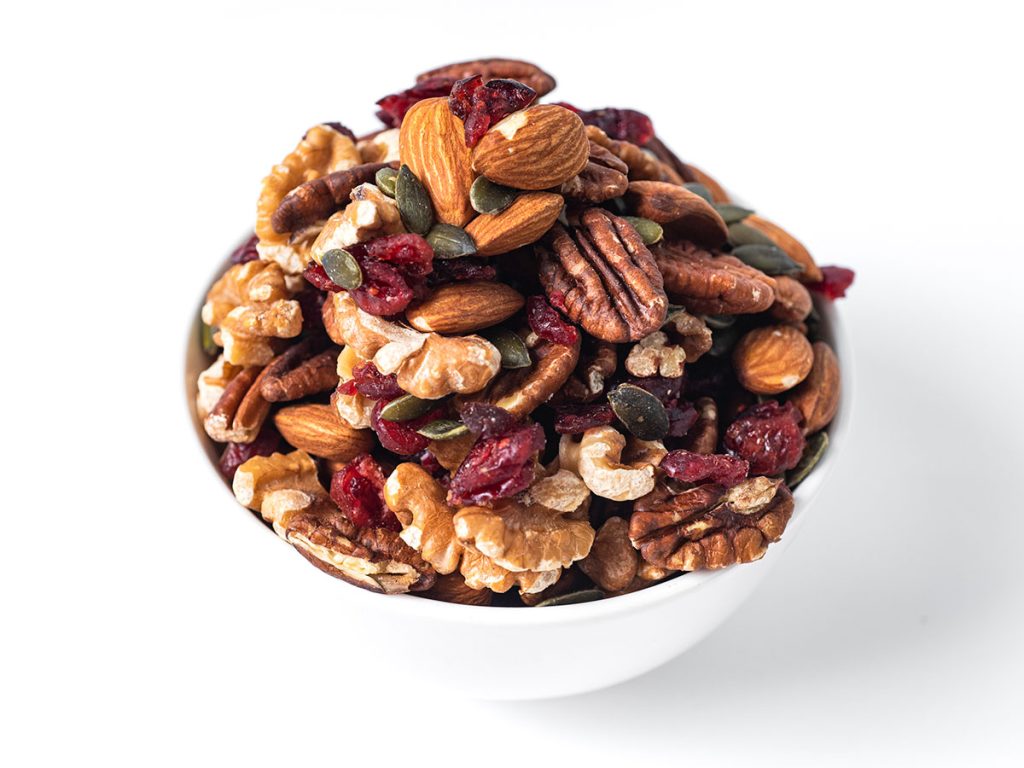 Despite their small size, mixed nuts pack a powerful punch when it comes to nutrition and satiety.
Nuts are dense with healthy fats, protein, and dietary fiber, creating a trifecta that works in harmony to keep hunger in check.
The combination of monounsaturated and polyunsaturated fats contributes to heart health while the protein content supports muscle maintenance and growth.
The act of chewing nuts also requires effort, slowing down the eating process and allowing your body to recognize feelings of fullness.
A handful of mixed nuts offers not only a delightful assortment of flavors and textures but also a snack that nourishes your body and tames your appetite.
Chia Seed Pudding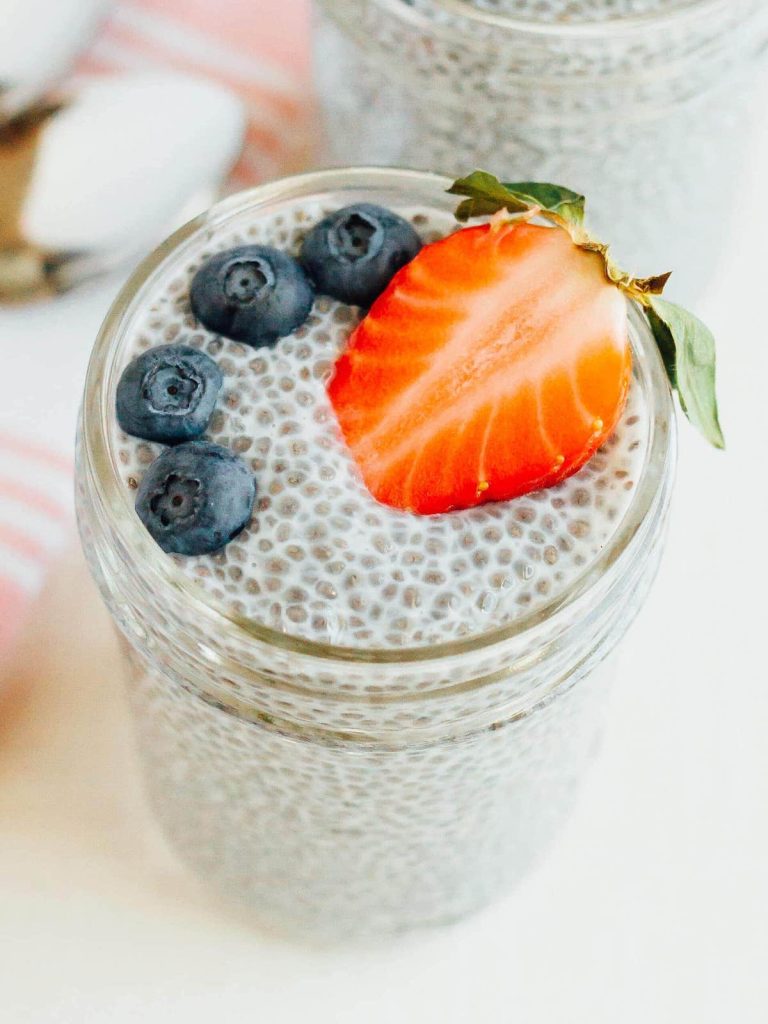 Chia seeds, once soaked, transform into a gel-like consistency that provides a feeling of fullness that can endure.
This transformation occurs due to the seeds' ability to absorb liquid and expand, occupying space in your stomach and promoting satiety.
Beyond their unique texture, chia seeds are rich in dietary fiber, plant-based protein, and omega-3 fatty acids.
As you indulge in a serving of chia seed pudding, you're partaking in a snack that's not only visually appealing but also sustains your energy levels and supports your body's nutritional needs.
Cucumber and Turkey Roll-Ups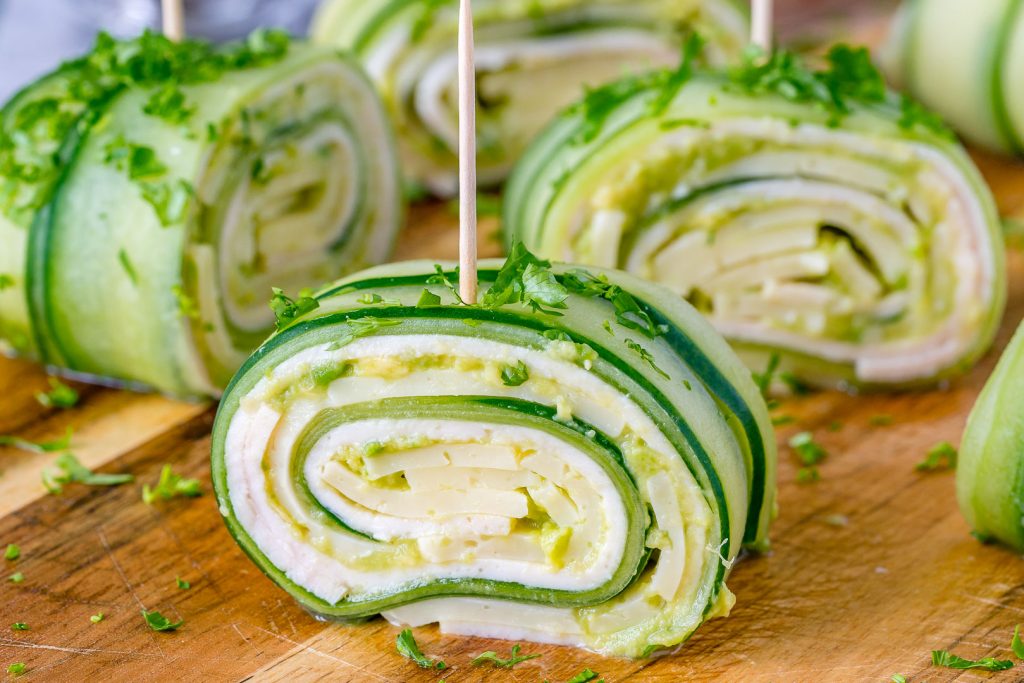 Crafting a snack by wrapping lean turkey slices around cucumber sticks results in a medley of flavors and textures that nourish and satisfy.
Turkey offers a lean protein source that aids in muscle repair and growth, contributing to a feeling of fullness.
Cucumbers, composed primarily of water, provide hydration and bulk, creating a refreshing crunch that engages your senses.
This combination bridges the gap between protein and hydration, supporting your body's vitality and quelling hunger pangs.
Roasted Chickpeas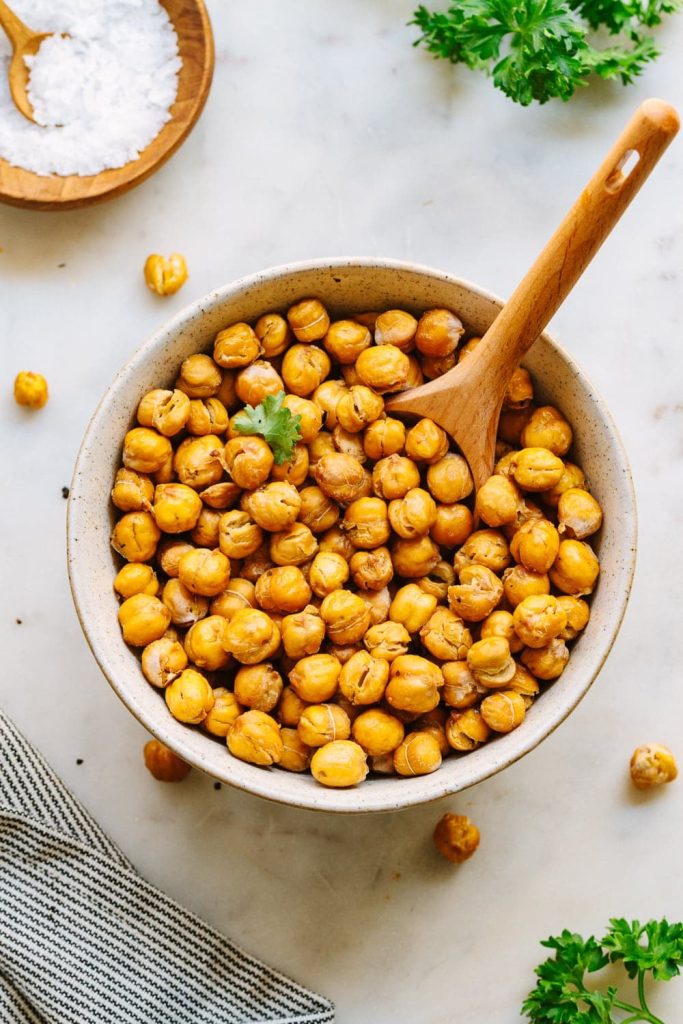 Roasting chickpeas takes their texture to new heights, transforming them into a crunchy snack that's rich in protein and dietary fiber.
This dynamic duo forms a satiety-inducing combination that promotes a feeling of fullness and sustains energy levels.
Chickpeas, also known as garbanzo beans, are not only a plant-based protein source but also deliver essential nutrients like iron and folate.
The roasting process enhances their flavor, making each bite a delight for your taste buds.
By reaching for a handful of roasted chickpeas, you're embracing a snack that's both nourishing and satisfying.
Yogurt Parfait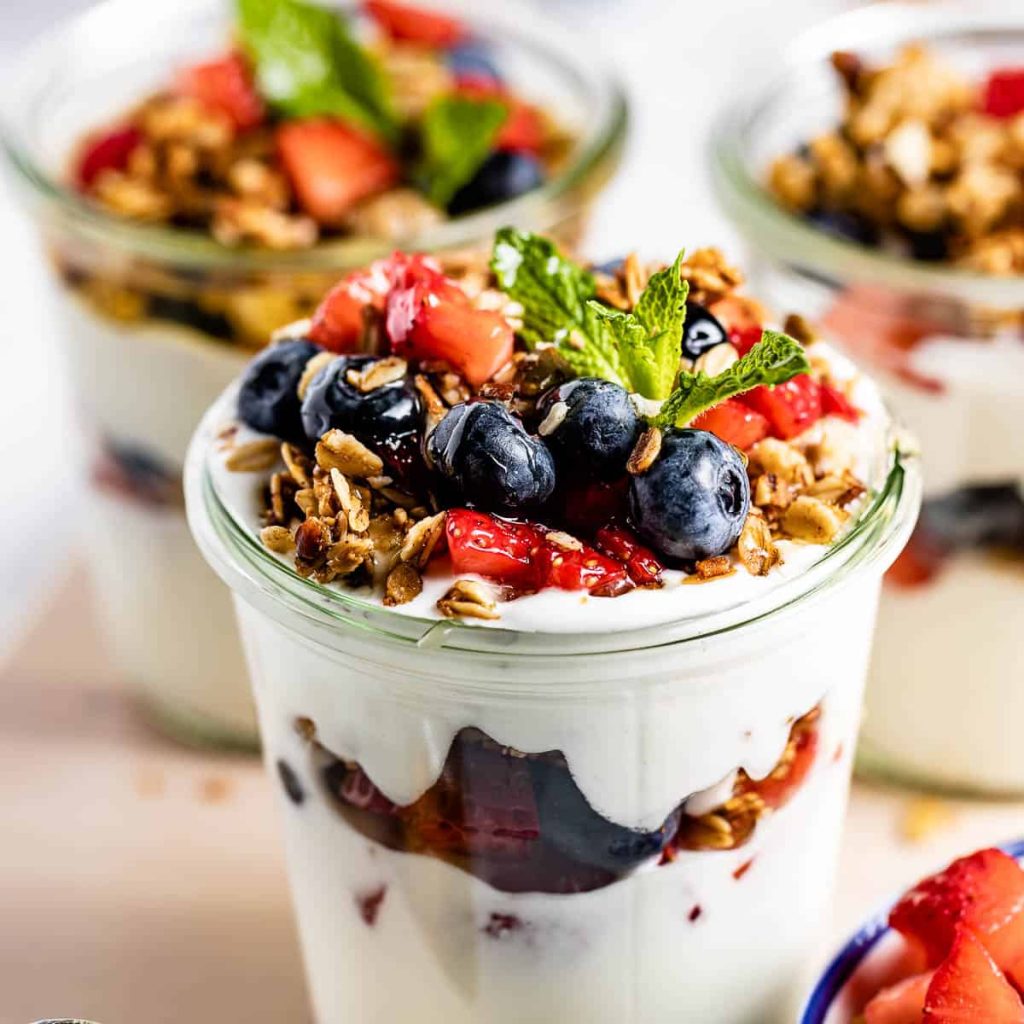 Layering a yogurt parfait with granola and fresh fruit creates a symphony of flavors and textures that address your taste buds' desires and your body's nutritional needs.
Non-fat yogurt provides protein while granola contributes complex carbohydrates and dietary fiber.
These components collaborate to maintain steady energy levels and promote satiety.
Fresh fruit not only infuses natural sweetness but also supplies vitamins, minerals, and antioxidants that support overall health.
With each spoonful of this delightful concoction, you're treating yourself to a snack that's both pleasing to your senses and nourishing to your body.
Carrot Sticks with Guacamole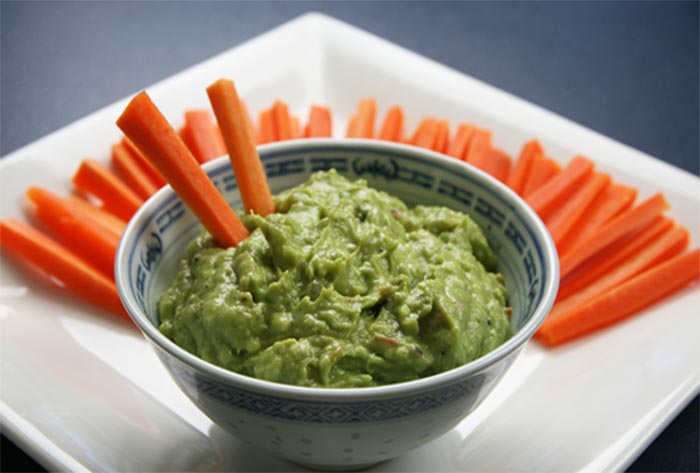 The amalgamation of carrot sticks and guacamole results in a snack that's not only vibrant in color but also rich in nutrition.
Carrots are known for their crispness and high water content, which creates a satisfying crunch and supports hydration.
Guacamole, made from avocado, provides healthy fats and dietary fiber that contribute to feelings of fullness.
The combination of flavors, from the earthy sweetness of carrots to the creamy richness of guacamole, delivers a harmonious experience for your palate while nourishing your body's needs.
Quinoa Salad with Avocado and Veggies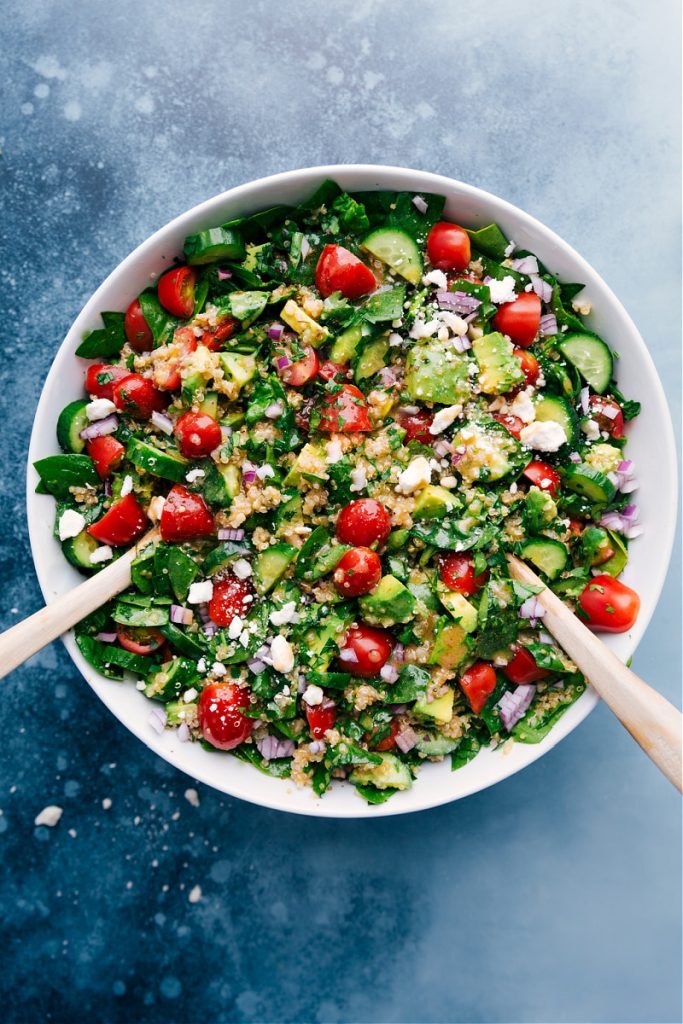 Quinoa, often referred to as a superfood, is a complete protein source containing all nine essential amino acids.
This unique characteristic makes it an excellent choice for a filling snack.
Complemented by its high fiber content, quinoa promotes a sense of fullness and supports healthy digestion.
Creating a quinoa salad by tossing it with colorful vegetables like bell peppers, cherry tomatoes, and cucumbers not only adds a variety of textures and flavors but also introduces vitamins, minerals, and antioxidants.
Avocado, a creamy addition, contributes monounsaturated fats that promote heart health and satiety.
The combination of quinoa, veggies, and avocado creates a well-rounded snack that satisfies your body's nutritional needs while keeping you feeling full and energized.
Veggie Chips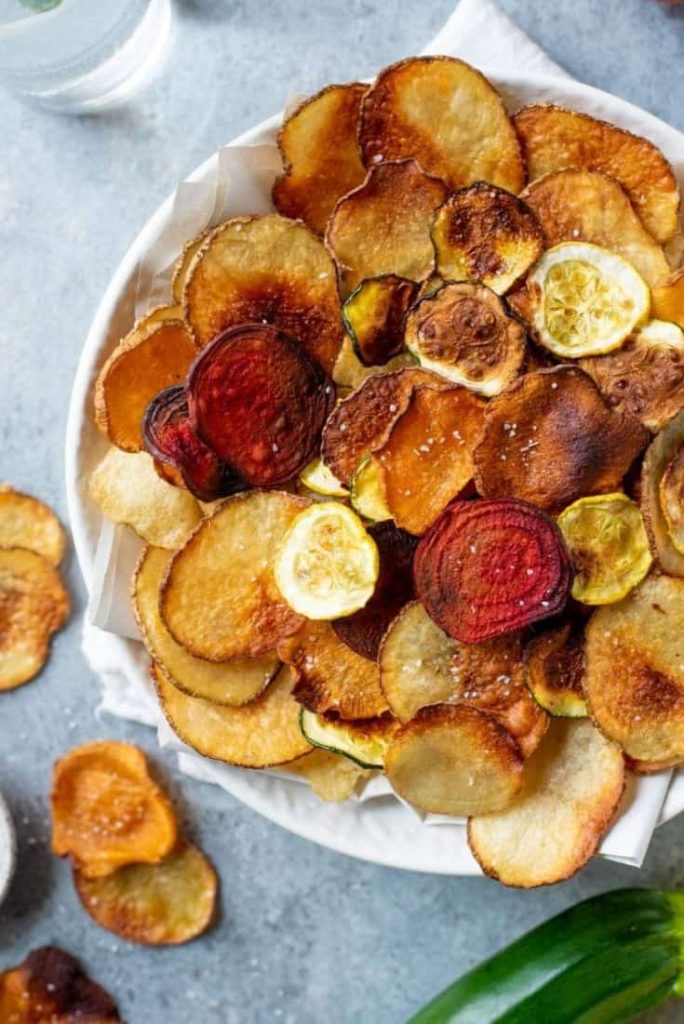 The transformation of vegetables like sweet potatoes, zucchinis, or kale into crispy chips offers a satisfying alternative to traditional potato chips.
These veggies, when thinly sliced and baked, create a crunchy texture that engages your senses.
While they're lower in calories compared to traditional chips, their fiber content contributes to a feeling of fullness.
The variety of colors represents diverse nutrients, including vitamins, minerals, and antioxidants.
What are the benefits of low calorie filling snacks?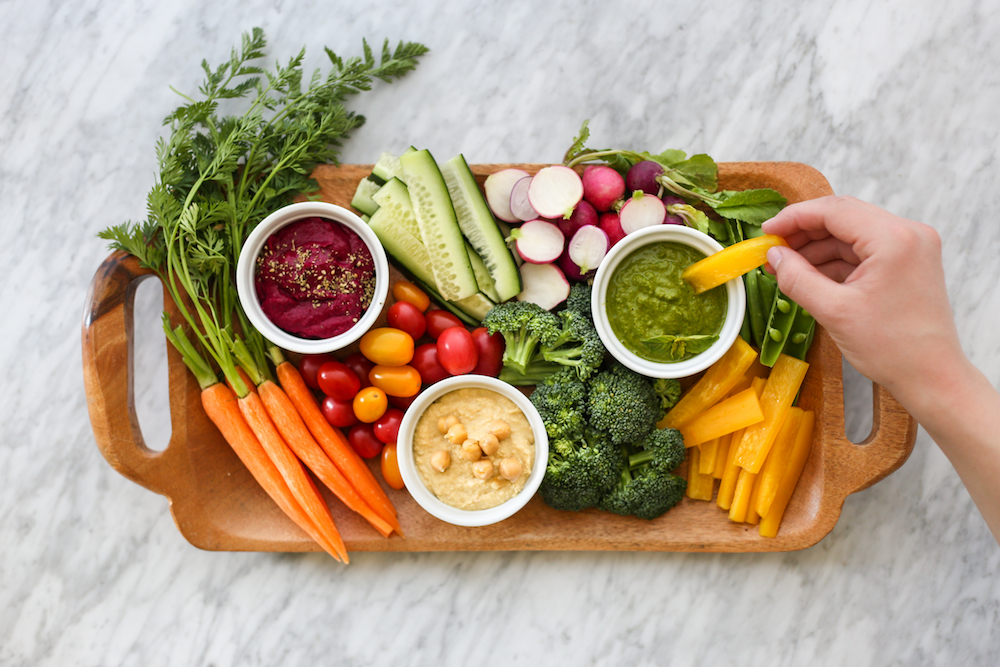 Opting for low-calorie, filling snacks brings a range of benefits to your overall well-being.
These snacks, often rich in fiber and protein, help control hunger by promoting a sense of fullness that lasts longer.
They support weight management goals by reducing the likelihood of overeating between meals.
They provide essential nutrients, vitamins, and minerals necessary for your body's functions, while helping to maintain stable blood sugar levels.
Incorporating these snacks can contribute to sustained energy, improved digestion, and a balanced approach to nutrition, all while helping you stay on track with your health objectives.
Frequently Asked Question
What food has low calories but makes you full?
Certain foods have the remarkable ability to provide a sense of fullness without packing on excess calories.
These foods are typically high in dietary fiber and water content, creating volume in the stomach and triggering feelings of satiety.
Examples include vegetables like broccoli, spinach, and carrots, as well as fruits like berries and watermelon.
Protein-rich foods like lean meats, eggs, and Greek yogurt are known to promote fullness while offering essential nutrients.
Incorporating these low-calorie, filling options into your diet can help you manage hunger and support your overall health goals.
What foods keep you full the longest?
Foods that provide long-lasting fullness are typically rich in protein, fiber, and healthy fats.
Options like beans, oats, quinoa, chia seeds, Greek yogurt, avocado, nuts, seeds, eggs, lean meats, high-fiber vegetables, and berries are excellent choices.
These foods help stabilize blood sugar levels, slow digestion, and create a sense of satiety that can keep you satisfied between meals.
Including a mix of these nutritious options in your diet can help manage hunger and support your overall well-being.
What snack will make me feel full?
A snack that combines protein, fiber, and healthy fats will make you feel full and satisfied.
Options like Greek yogurt with berries, an apple with almond butter, or a handful of mixed nuts are great choices.
These snacks provide a balanced mix of nutrients that promote satiety and help curb hunger between meals.
Are rice high in calories?
Rice can vary in calorie content based on the type and portion size.
White rice, particularly when cooked, tends to be calorie-dense due to its higher carbohydrate content and lower fiber.
On the other hand, brown rice or other whole-grain varieties have more fiber, making them slightly lower in calories and offering better satiety.
Ultimately, portion control plays a significant role in managing the calorie intake from rice.
Choosing whole grains and being mindful of serving sizes can help strike a balance between enjoying rice while being mindful of your calorie consumption.
How can I eat a lot and not gain weight?
To eat without gaining weight, prioritize nutrient-dense foods like vegetables, lean proteins, and whole grains.
Control portion sizes, drink water before meals, and focus on mindful eating. Incorporate regular exercise, get enough sleep, and enjoy treats in moderation.
Create balanced meals with protein, healthy fats, and fiber to stay satisfied while avoiding overeating. Consulting a professional can provide personalized guidance.
Can eating too little cause weight gain?
Yes, consistently eating too little can potentially lead to weight gain.
Severely restricting calories can slow down your metabolism, making your body more efficient at conserving energy and storing fat.
This can also trigger overeating or binge-eating episodes due to extreme hunger, ultimately causing weight gain over time.
It's important to strike a balance by consuming enough calories to support your body's needs while making healthy food choices.
Does lack of sleep affect your weight?
Yes, lack of sleep can impact your weight. Sleep deprivation disrupts hormones that regulate hunger and appetite, leading to increased cravings for high-calorie and sugary foods.
It also affects insulin sensitivity, potentially contributing to weight gain and an increased risk of obesity. Prioritizing adequate sleep is important for maintaining a healthy weight and overall well-being.
How many calories are in a fried egg?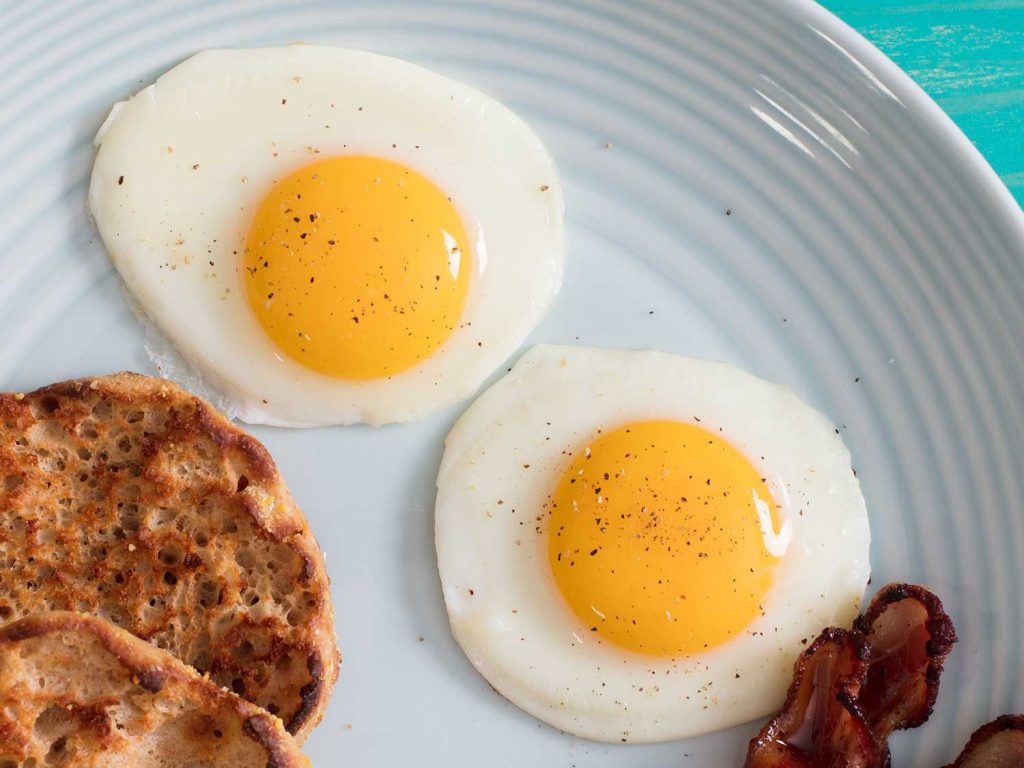 A fried egg typically contains around 90 calories.
The exact calorie count can vary based on factors such as the size of the egg and the cooking method used.
Keep in mind that if you use oil or butter for frying, additional calories will be added.
What position should I sleep to lose belly fat?
There is no specific sleeping position that directly targets belly fat loss. Belly fat reduction primarily relies on a balanced diet, regular exercise, and overall healthy lifestyle.
However, sleeping on your back or side might be more comfortable and supportive for your spine and overall health, allowing you to rest better and potentially indirectly contribute to your fitness goals.
Is it good to go to bed Hungry to lose weight?
Going to bed hungry is not recommended for sustainable weight loss.
Extreme hunger can disrupt sleep quality and lead to overeating the next day. It's better to have a balanced, light snack if you're genuinely hungry to ensure a good night's sleep and prevent excessive eating later on.
Long-term weight loss is better achieved through a balanced diet and portion control rather than extreme restrictions.
What food can you eat at night without gaining weight?
Opt for light, nutritious options if you're looking for bedtime snacks that won't lead to weight gain.
Good choices include a small serving of Greek yogurt, a piece of fruit, a handful of nuts, or some carrot sticks with hummus.
These options provide a balance of protein, fiber, and healthy fats without overwhelming your calorie intake for the day.
What are filling snacks for weight loss?
Filling snacks for weight loss include Greek yogurt with berries, sliced veggies with hummus, a boiled egg, a small handful of almonds, or a piece of whole fruit.
These snacks are rich in protein, fiber, and nutrients that help control hunger, support your weight loss goals, and keep you satisfied between meals.
How many hours should I stay hungry to lose weight?
It's not recommended to intentionally stay hungry for a specific number of hours to lose weight.
Extreme hunger can lead to overeating later and disrupt your metabolism.
Focus on eating regular, balanced meals and snacks to support your body's energy needs and maintain a healthy weight loss journey.
What are the 5 foods that burn belly fat?
While no foods exclusively "burn" belly fat, some can support weight loss.
Incorporate lean proteins like chicken and fish, whole grains like oats, fiber-rich fruits and vegetables, healthy fats from sources like avocados, and foods rich in omega-3 fatty acids like fatty fish.
These choices can help create a balanced diet that aids in overall fat loss, including around the belly area.
Are bread high in calories?
Bread can vary in calorie content, but some types of bread can be relatively high in calories due to their carbohydrate content.
How can I reduce my waist size?
To reduce waist size, focus on a combination of healthy eating and regular exercise. Incorporate a balanced diet with whole foods, lean proteins, fiber-rich vegetables, and healthy fats. Engage in aerobic exercises, strength training, and core workouts to tone muscles and burn calories. Stay consistent with your routine, prioritize sleep, manage stress, and stay hydrated for effective and sustainable waistline reduction.

Related Articles
13 low calorie McDonalds breakfast
Top 30 High-Protein Snacks to Keep You Full Between Meals
16 Easy Chinese Dinners You Can Make
Conclusion
Incorporating these 17 low-calorie, filling snacks into your daily routine can be a game-changer for your hunger management and overall health.
From the satisfying protein of Greek yogurt and hard-boiled eggs to the crunch of veggies with hummus and the delightful sweetness of apple slices with almond butter, these snacks offer a variety of flavors and textures to keep your taste buds engaged.
Whether you're seeking a quick energy boost, a pre-workout pick-me-up, or a post-meal treat, these snacks are packed with nutrients that promote satiety while aligning with your weight management goals.
Remember, achieving balance is key – by selecting snacks that nourish your body and curb cravings, you're setting yourself up for success on your wellness journey.