For those familiar with the bustling aisles of Trader Joe's, it's no secret that every visit is an adventure in culinary exploration.
The store is a treasure trove of ingredients waiting to elevate your meal prep game, and what's even better, many of these discoveries are surprisingly healthy. It's a win-win situation, offering both convenience and nutrition.
In this culinary journey, we'll show you Trader Joe's Recipes For Breakfast, Lunch, and Dinner delectable recipes, each boasting nourishing ingredients that can be conveniently sourced from your local Trader Joe's.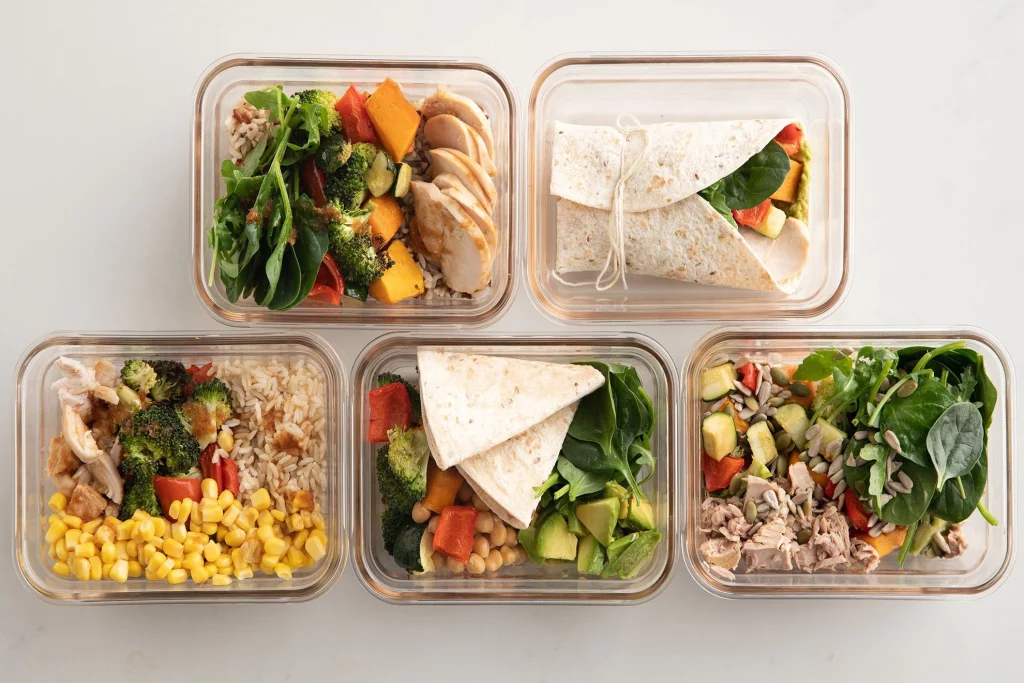 To make the cut in this collection, these recipes prioritize fruits and vegetables, lean proteins, healthy fats, whole grains, and fiber-rich components, all while minimizing added sugars.
It's essential to keep in mind that shortcut ingredients, like canned beans and boxed soups, may have higher sodium levels than homemade alternatives, so be mindful if you're monitoring your sodium intake.
Without further ado, let's dive into the world of healthy Trader Joe's recipes. From breakfast to dinner, these dishes are not only easy to prepare but also excellent for your well-being.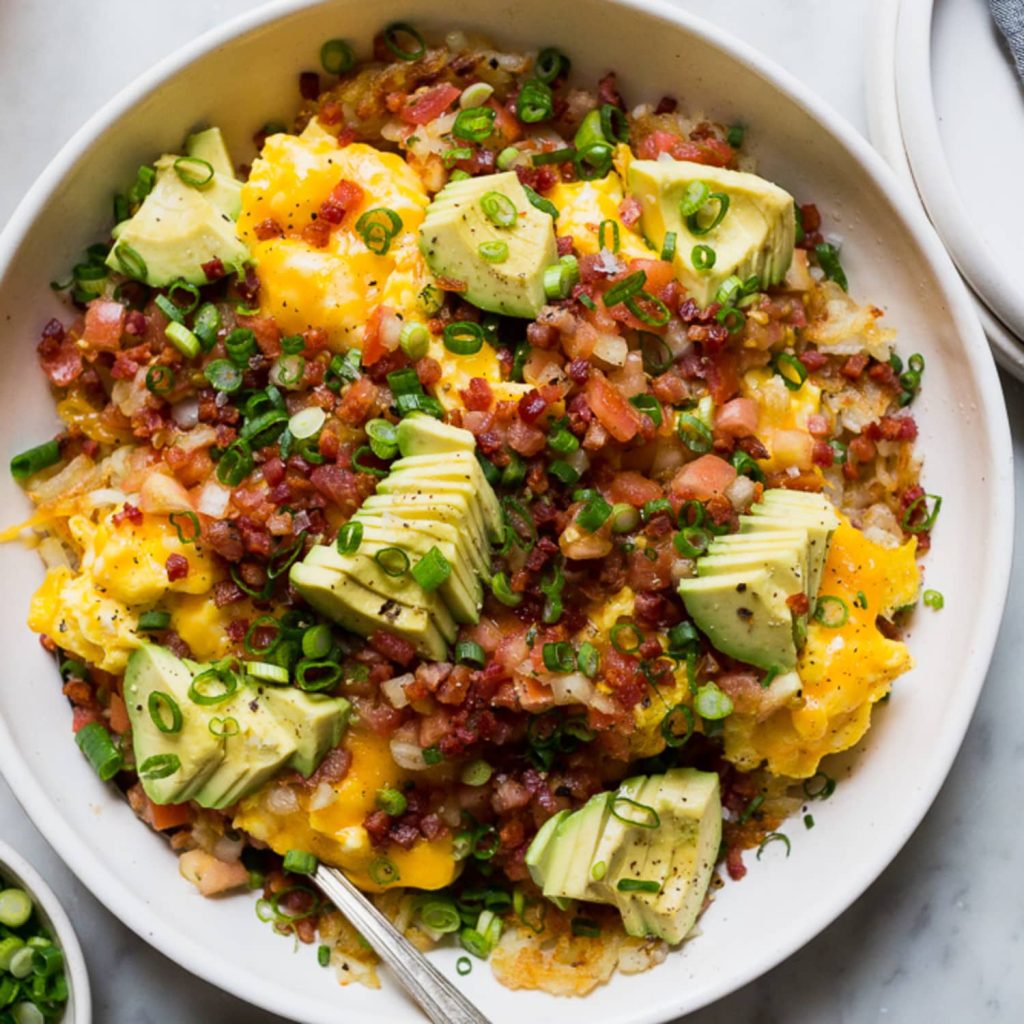 Trader Joe's Recipes For Breakfast
To kickstart your day on the right note, opt for breakfast options that include a mix of fruits, vegetables, satiating whole grains, and protein.
Blueberry Banana Overnight Oats
Combine almond butter, honey, ripe banana, oats, hemp seeds, and a dash of ginger in a jar. Add milk, stir, refrigerate overnight, and top with blueberries.
Savory Loaded Cauliflower Pancakes
Cook Cauliflower Pancakes as directed, then top with mashed avocado and a poached egg. Season to taste and serve with hot sauce.
Strawberries & Cream Smoothie
Blend vanilla Skyr, fresh strawberries, frozen banana, hemp seeds, cinnamon, water, and ice cubes for a creamy smoothie.
Tex Mex Tofu Tacos
Cook tofu and Organic Broccoli Slaw with cumin, then fill corn tortillas with shredded cheese, the tofu mixture, and Salsa Autentica.
Trader Joe's Recipes For Lunch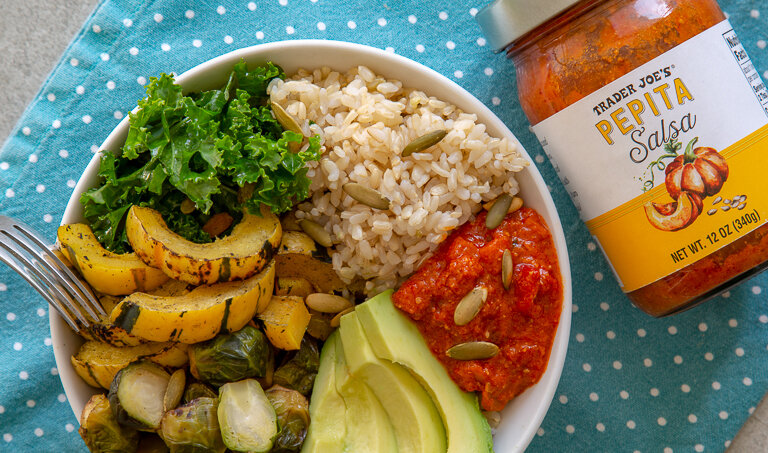 For a satisfying midday meal, focus on incorporating lean protein and add flavorful sauces, dressings, and condiments.
Miso Ginger Dumpling Soup
Bring Miso Ginger Broth to a boil, add Chicken Gyoza Potstickers, leafy greens, and scallions. Top with Crunchy Chili Onion for an extra kick.
Chopped Chicken and Apple Salad
Cook chicken, toss it with Organic Mediterranean Style Salad Kit, diced apple, and a dressing of your choice.
Lavash Pesto and Veggie Pizza
Spread pesto over Whole Wheat Lavash Flatbread, add mozzarella, Parmesan, Prosciutto, and arugula. Bake and serve in squares.
Shrimp Burgers With Avocado Mayo
Cook Shrimp Seafood Burgers, prepare avocado mayo with lime juice, and serve in buns with Hot & Sweet Jalapeños and shredded cabbage.
Trader Joe's Recipes For Dinner
Dinner options combine proteins, vegetables, and grains with the help of Trader Joe's wide array of condiments for added flavor.
Chicken Shawarma Skewers with Yogurt Sauce
Grill or broil Shawarma Chicken Thighs, then serve with yogurt sauce, pita bread, cucumbers, and tomatoes.
Warm Lentil Salad With Salmon
Season salmon with Salmon Rub Seasoning Blend and serve it over Steamed Lentils, arugula, Cracked Olive Salad, and goat cheese.
Mezze Plate Meal
Toast Traditional Indian Style Flatbread and arrange it with various Mediterranean delights, from chickpeas to hummus and more.
Spicy Polenta Lasagna
Layer Organic Polenta rounds with Calabrian Chili Spicy Pasta Sauce, baby kale, mozzarella, and bake to perfection.
Read More
8 Healthy dessert To pick On The Grocery Shelves
6 Major Differences Between Costco and Sam's Club Right Now
Where is costco opening new stores in 2023
7 Fast-Food Restaurants That Serve the Best Patty Melts
Best 31 Healthy Restaurants in America | Locations
101 Best Restaurants Downtown Dallas That Locals Eat 2022
39 foods that lower blood sugar immediately
30 Best healthy lunch ideas for weight loss
Unveiling the Nutritional Marvels: Exploring the Remarkable Health Benefits of Cashews
Best 31 Healthy Restaurants in America | Locations
20 healthiest butter substitutes
The top 33 foods for keeping your kidney healthy
20 Healthy Chips You Can Eat When You're Trying To Lose Weight
Now that you have this delightful collection of healthy recipes, your next Trader Joe's shopping trip is bound to be even more exciting and nutritious. Happy cooking.