Summer is here and that means it's time for backyard barbecues! And what's a BBQ without potato salad? This classic side dish is a staple at any outdoor gathering, but can be easily messed up if not prepared correctly.
To save you from the disappointment of bland or soggy potato salad, we have compiled a list of 7 correct potato salad recipes that are sure to be crowd-pleasers at your next BBQ.
From traditional recipes to unique twists on the classic dish, there's something for everyone on this list. So grab your apron and get ready to impress your guests with these delicious potato salads!
1. Mom's Creamy Potato Salad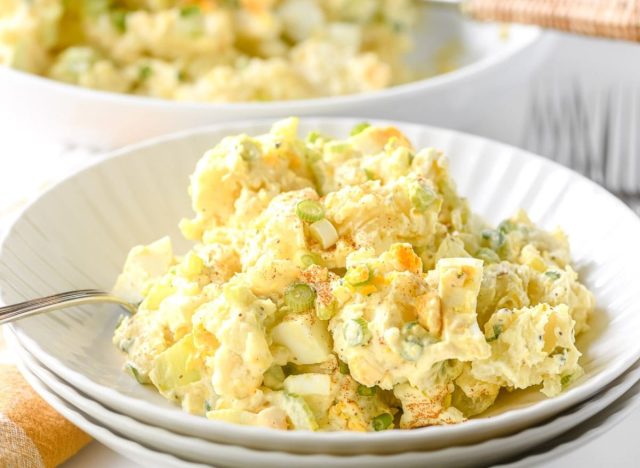 Potato salad should always be creamy and tangy, regardless of the kind you make. This recipe for Mom's Creamy Potato Salad meets that criterion, and it achieves its extra creamy texture by combining both mayo and sour cream together.
You can certainly use full-fat sour cream for the best texture, but if you want to cut down on a bit of the calorie count, you can always try a low-fat sour cream as well.
2. Pesto Potato Salad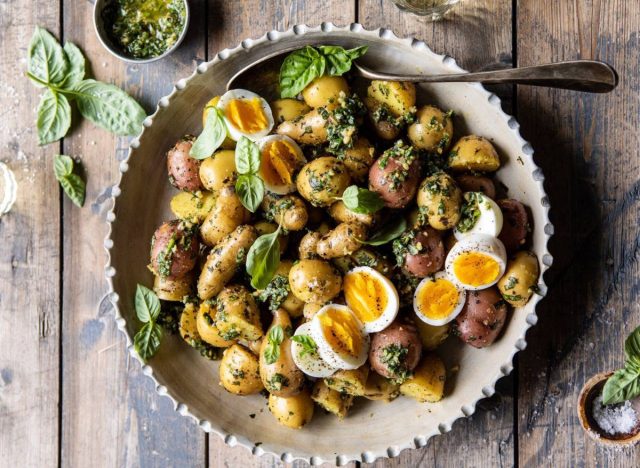 The Pesto Potato Salad from Half-Baked Harvest is definitely not the potato salad you remember from your summers growing up. Still, once you've tried this recipe made from potatoes, fresh basil, pine nuts, parmesan cheese, olive oil, and eggs, you'll be more than willing to add it to your next family gathering.
3. German Potato Salad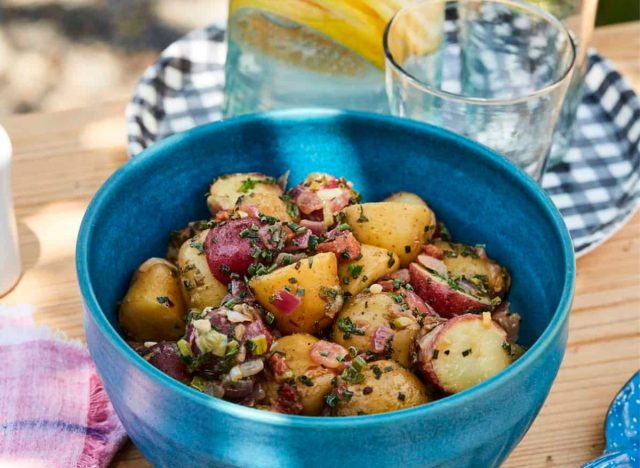 A potato salad without the mayo, this German recipe uses mustard, vinegar, olive oil, and the delicious addition of pancetta to make a quick, easy, and crowd-pleasing dish you can bring to any party. Because this isn't your traditional potato salad, What's Gabby Cooking suggests pairing it with some nice grilled steak or chicken.
4. Avocado Potato Salad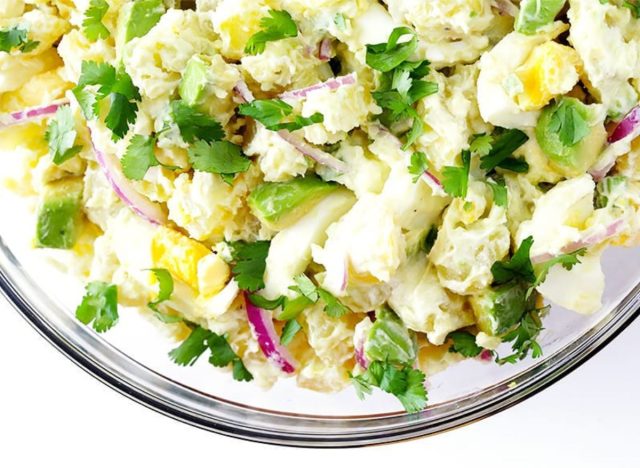 What is even creamier than a classic mayo-based potato salad? A potato salad recipe that uses both mayo and two delicious avocados. Not only will you and your guests be enjoying the creamy, tangy goodness of this dish, but you'll get some heart-healthy fats in your meal as well.
5. The Healthiest Potato Salad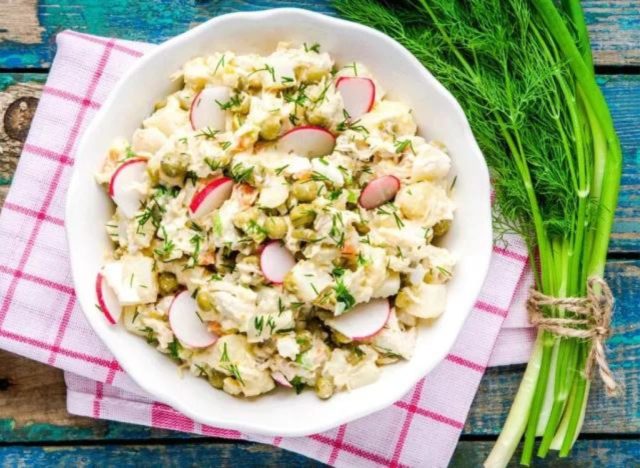 This classic potato salad recipe is perfect for those just dipping their toes into this summer dish, as the ingredients list is fairly simple and easy to follow. It calls for a half cup of mayo, but if you're wanting to make it even healthier, you can swap out the mayo for plain Greek yogurt.
6. Greek Potato Salad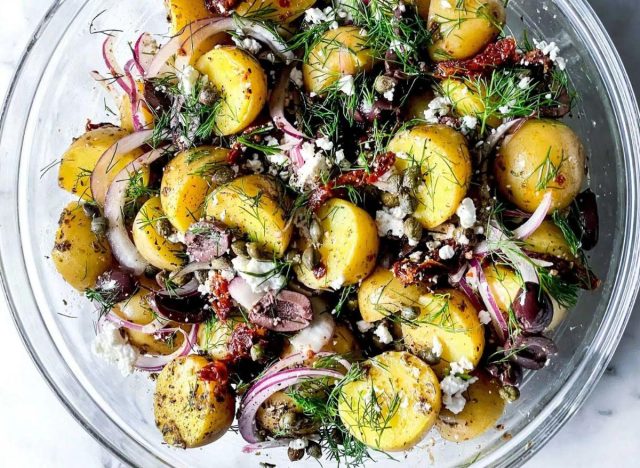 This recipe is much like your favorite potato salad dish from childhood—except it has even more added bursts of savory flavors. Ingredients like Greek dressing, sun-dried tomatoes, and olives truly bring this summer side dish up a notch, and it is guaranteed to impress all who sample it.
7. The Best Potato Salad
Gimme Some Oven claims that this is the best potato salad recipe ever, and we can honestly see why. The combination of traditional potato salad ingredients with the addition of toppings like Old Bay seasoning and fresh chives will satisfy your cravings and have you coming for seconds (and thirds).
Ream More
How To Make Salads Ahead Of Time For A Stress-Free Lunch
How To Make Nigerian Salad | Step By Step Guide
Easy Mango Avocado Shrimp Salad
42 Easy Meal Prep Salads You Can Eat All Week
Conclusion
In conclusion, there are many ways to make potato salad for your next BBQ. Whether you prefer a classic recipe or something new and exciting, these seven options will surely satisfy your taste buds.
From vegan potato salad to loaded bacon and cheese, there's something for everyone. Experimenting with different ingredients and flavors can elevate this classic summer dish to new heights.
So go ahead and try out one or all of these recipes at your next gathering and enjoy the compliments from your guests!