Introduction
We've been making homemade pizza around here a lot the past couple of years, so it's safe to say we've made our share.
many people tried a lot of different brands, even some from our local pizza joints.
The one that's risen to the top of the ranks is Trader Joe's pizza dough, which is easy to work with and can be turned into all sorts of easy Italian meals!
This Trader Joe's pizza dough is a terrific choice if you're searching for a quick weeknight meal that tastes fully handmade.
It's quick and simple to create, and it's a fun way to have pizza night.
One of my all-time favorite weeknight dinners is this one.
It makes a fantastic pizza, and you enjoy it with lots of melty cheese and tomato sauce.
Does Trader Joe's sell pizza dough?
Yes! Trader Joe's grocery store sells three different kinds of pre-made pizza dough: plain, garlic & herb and gluten-free.
Personally, the garlic & herb pizza dough is my favorite.
I have also tried the plain pizza dough, which is great, but I have not tried out the gluten-free pizza dough.
Maybe someday!
You will find the pizza dough in the refrigerated section by the deli meats and cheeses.
It's usually on the bottom shelf and conveniently close to the pizza sauce and cheese.
I like using Trader Joe's Lite Mozzarella Cheese for the cheese, but they have a variety of other options.
How good is Trader Joe's pizza dough?
The best! The best pizza will undoubtedly be made with homemade dough, but Trader Joe's pizza dough comes in a close second.
It's far superior to frozen pizza and comes in second only to homemade or restaurant-bought pizza (depending, of course, on the establishment).
The fact that Trader Joe's pizza dough is available in a garlic & herb variant, in my opinion, makes it special.
A homemade garlic and herb crust is even more unusual to encounter in a restaurant.
Therefore, given how simple it is to create pizza with Trader Joe's dough and how fantastic the result is, I would say it is definitely worth include on your weekly buying list.
How long does the pizza dough need to rise?
Trader Joe's pizza dough needs around 20 minutes to rise, per the directions.
They advise keeping the pre-made dough in the bag at room temperature while it rests.
You can take it out of the bag after 20 minutes and roll it out with your hands or a rolling pin on a floured surface.
How do you stretch the pizza dough
The dough can be spread out using your hands or a rolling pin.
Make two tiny personal pizzas by halving the pizza.
The Trader Joe's fresh pizza dough should be in the shape of a ball when it is removed from the packaging.
Stretch the dough with your hands by pressing toward the crust from the center outward.
Till you achieve the desired thinness and round shape, keep gradually stretching.
Finally, press around the crust with the outside of your hand to create a clear separation.
The most crucial step is to add the pizza sauce, cheese, and toppings after that!
What temperature do you cook Trader Joe's pizza dough?
The directions state that your pizza should be baked at 425 degrees Fahrenheit for 6 to 8 minutes, or until the cheese bubbles and the crust turns golden.
I've used this technique a few times, and I generally end up frying it for around 12 minutes.
The amount of toppings and the thickness of the crust are the main determining factors.
If you have a BBQ, you may cook the pizza on that as well.
The pizza should be cooked on a pizza stone for 6 to 8 minutes at medium heat, according the directions.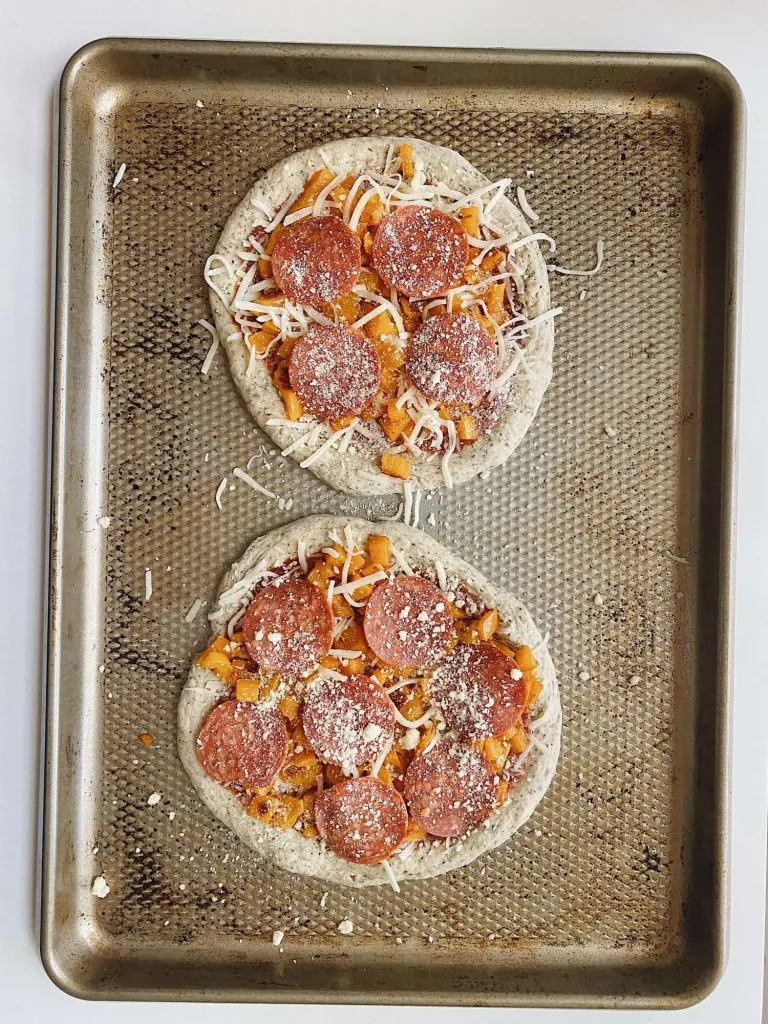 What is the baking time for the pizza dough?
In a 425 degree oven or on medium heat on a barbeque, it should cook in about 6 to 12 minutes.
Place on a baking sheet that has been buttered or lined with parchment paper if cooking in the oven.
The pizza is done when the cheese is bubbling and the crust is golden. Add an extra minute or two if you like your crust extra crispy.
How long does the pizza dough last in the fridge?
You should attempt to make this within a few days after buying the store-bought pizza dough because it only keeps well for approximately five days in the refrigerator.
Check the expiration date to make sure your pizza dough is still fresh just to be safe.
You might detect a weird odor or mold on the dough if you leave it in the refrigerator for an extended period of time.
Both of these indicate that you ought to discard the money.
Your homemade dough should keep in the refrigerator for around 5 days.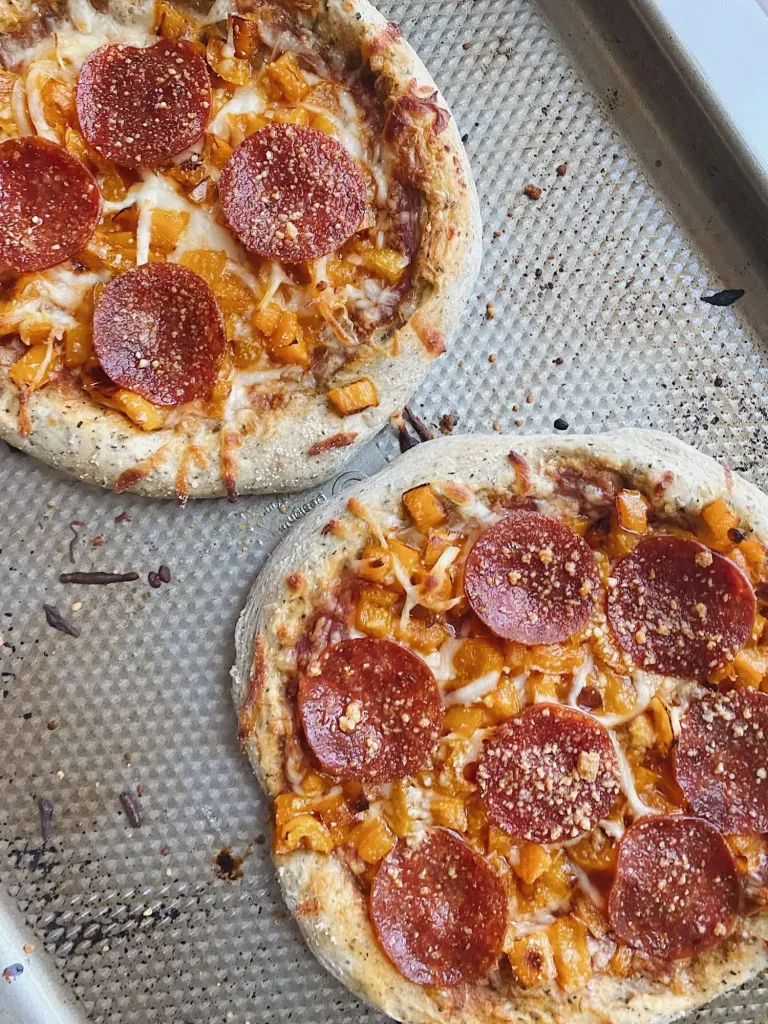 How many servings are in Trader Joe's pizza dough?
There are 8 servings per pizza dough because 1/8 of the pizza constitutes one serving.
Since serving sizes are not strictly regulated, it is acceptable to consume more than one serving.
The best method to balance your plate, in my opinion as a qualified dietitian, is to include a supply of carbohydrates, protein, fat, and fiber.
Carbohydrates are present in the pizza dough, whereas protein and fat are present in the cheese and toppings.
A salad, raw carrots, or peppers, which will provide some fiber and micronutrients to your meal, is a perfect addition to a couple slices of pizza.
Making sure your diet is balanced with respect to carbohydrates, protein, fat, and fiber will make you feel full and may even prevent overeating.
What are the ingredients in Trader Joe's pizza dough?
The ingredients is Trader Joe's pizza dough includes:
Ingredients
8 oz. (1/2 package) Trader Joe's pizza dough
2 tbsp unsalted butter
1 tsp garlic powder
1 tsp Italian seasoning
1/4 cup grated parmesan
1 1/2 cups shredded mozzarella (or more if you like it really cheesy!)
Pizza or marinara sauce, for dipping (optional)
Flour, for rolling out the dough
Instructions
Preheat your oven to 425F.
Sprinkle a little flour on your work surface and shape the dough into a large rectangle, about 13×9 inches. (You can do this on parchment paper or a silicone baking mat to make transferring the dough to a sheet pan easier.) Transfer the dough to a large sheet pan.
Melt the butter, garlic powder and Italian Seasoning in a small bowl. Brush the mixture over the dough.
Sprinkle the parmesan over the dough, then do the same with the mozzarella.
Bake for about 8-12 minutes or until the crust is golden brown and the cheese is bubbly brown and hot.
What is the nutrient breakdown of Trader Joe's pizza dough?
Pizza dough from Trader Joe's has 130 calories per serving, 26 grams of carbohydrates, 1.5 grams of fat, and 4 grams of protein.
The pizza crust also has 54 mg of potassium, 21 mg of calcium, 2 mg of iron (a excellent source), 1 gram of fiber, and 180 mg of salt.
Be careful to include in the extra calories and nutrients that cheese, toppings, and marinara sauce will undoubtedly bring to your dish.
Is Trader Joe's pizza dough vegan?
Yes! Pizza dough from TJ's is vegan. In light of this, make sure all of your ingredients are vegan when you put the pizza together.
There are numerous vegan cheeses, pizza sauces, and olive oil types available at Trader Joe's.
Add your preferred garnishes next, such as olives, artichokes, peppers, onions, or banana peppers.
Conclusion
This is my own go-to recipe for homemade pizza that I personally love because Trader Joe's ingredients are of incredible quality.
You might think that using store-bought pizza dough wouldn't be as fulfilling as making your own pizza dough, but I'm here to prove you wrong. Trader Joe's pizza dough is some of the best I've had!
Frequently asked questions
What is the trick to Trader Joes pizza dough?
Trader Joe's pizza dough is very sticky, so drizzling just a little bit of extra virgin olive oil into the back will make removing it significantly easier.
Does Trader Joe's pizza dough need to rise?
Generally, what I do is take the dough out of the bag and either put it in a big bowl and let it rise a bit and warm up or put it on the cutting board with a towel over it. Once it's come up to room temperature the dough is much easier to work with. This might take an hour or more, but is well worth it.
How long does Trader Joes pizza dough take?
To do this make pizza stone pizza by adding the stone to the oven while the oven is heating, then add the dough to parbake in the oven for about 10-15 minutes at 475 degrees F or the temperature your pizza stone recommends. Then add toppings and finish baking until done.
Do you use sugar or salt for pizza dough?
Sugar — While not absolutely necessary for a pizza crust, I like to include a small amount of sugar for my active dry yeast to feed on. Yeast loves a bit of sugar and so that will help it activate and give a good rise to your crust. Salt — For flavor and tightening the gluten.
How long does Trader Joe's dough last?
How long does Trader Joe's pizza dough last? That answer depends on a few things. On the countertop at room temperature, maybe only 4-6 hours before it rises and turns into a gooey mess. In the fridge, a day or two before it ferments into a gooey mess.
Other Recipes
https://myfamilypride.com/english-muffin-pizza-recipe/ihttps://myfamilypride.com/how-to-make-trader-joes-pizza-using-trader-joes-dough/
https://myfamilypride.com/discovering-the-best-wines-at-trader-joes-unveiling-the-top-10-picks/
https://myfamilypride.com/the-best-way-to-air-fry-trader-joes-orange-chicken-a-step-by-step-guide/