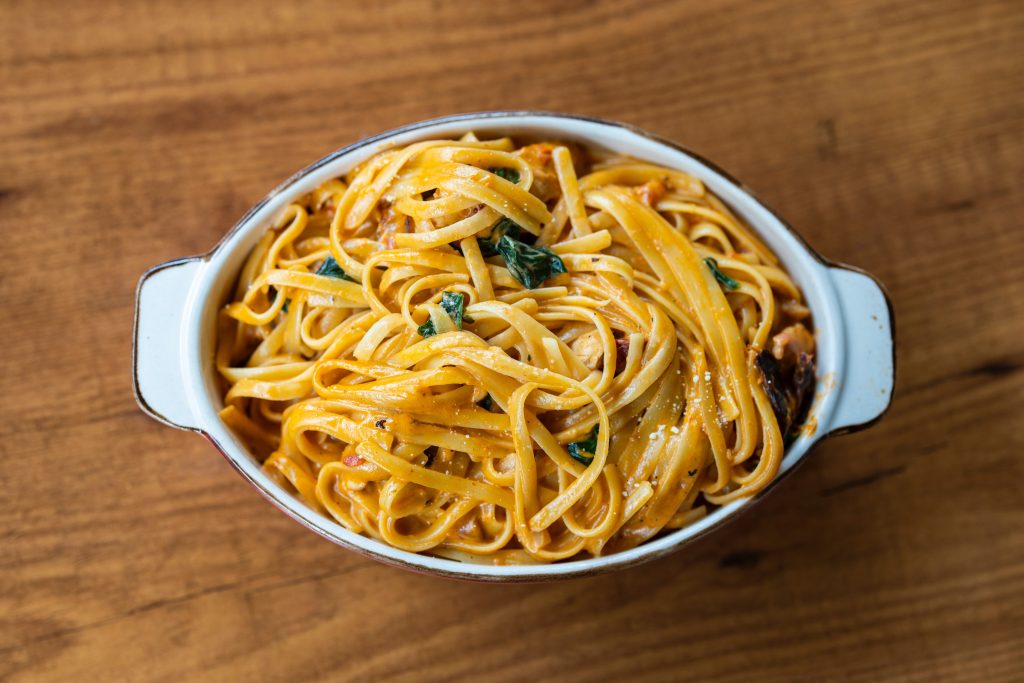 If your searching for a delectable pasta dish that not only satisfies your taste buds but also fits into your healthy lifestyle? Look no further than chickpea pasta, a rising star in the world of alternative noodles. With its unique composition and nutritional profile, chickpea pasta has become a popular choice among health-conscious individuals seeking a wholesome substitute for traditional wheat-based pasta.
In this blog, we embark on a journey to uncover the truth about chickpea pasta's health benefits. Join us as we explore the nutritional aspects, gluten-free advantages, and other essential factors that make chickpea pasta a promising contender in the world of healthy eating.
Beyond its tempting taste and versatility, chickpea pasta offers a wealth of advantages that can contribute to a well-rounded diet. We'll delve into its notable nutritional composition, highlighting key components like protein, fiber, vitamins, and minerals. Understanding these essential nutrients will shed light on why chickpea pasta stands out among its counterparts.
As we explore the realm of chickpea pasta, it's crucial to evaluate the variations found on store shelves. We'll explore the potential pitfalls, such as hidden additives or excessive processing, that can compromise the nutritional integrity of certain brands. With this knowledge, you can make informed choices when selecting the most wholesome and authentic chickpea pasta options available.
Remember, no single food can guarantee optimal health, and portion control remains essential. We'll emphasize the importance of incorporating chickpea pasta into a well-balanced diet, complemented by an array of whole foods, vegetables, fruits, and other protein sources. This holistic approach to nutrition will ensure that chickpea pasta becomes a satisfying and nourishing addition to your culinary repertoire.
Nutritional Composition of Chickpea Pasta
Chickpea pasta stands out not only for its unique taste and texture but also for its impressive nutritional profile. Let's explore the key components that make chickpea pasta a healthy alternative to traditional wheat pasta.
Protein Content and Its Significance
One of the best features of chickpea pasta is its protein content. The primary ingredient in chickpea pasta, are an excellent source of plant-based protein. Unlike wheat pasta, which contains minimal protein, chickpea pasta provides a substantial protein boost to your meals.
Protein plays a vital role in building and repairing tissues, supporting immune function, and producing enzymes and hormones. Incorporating protein-rich foods like chickpea pasta into your diet can help promote satiety, aid in muscle recovery, and contribute to overall health and well-being.
Dietary Fiber and Its Role in Digestion and Satiety
Chickpea pasta is also a source of dietary fiber. Fiber is an indigestible carbohydrate that offers a myriad of benefits for our digestive system and overall health. It adds bulk to our diet, aiding in proper bowel movements and preventing constipation.
By including chickpea pasta in your meals, you increase your fiber intake, promoting a healthy digestive system. The high fiber content in chickpea pasta can also help you feel fuller for longer periods, assisting in weight management and reducing the likelihood of overeating.
Essential Vitamins and Minerals Present in Chickpea Pasta
Chickpea pasta offers an array of essential vitamins and minerals that contribute to its nutritional value. Here are some key micronutrients found in chickpea pasta:
Iron: Chickpeas contain iron, an essential mineral that helps transport oxygen throughout the body. Adequate iron intake supports energy production and prevents iron-deficiency anemia.
Folate: Chickpeas are a good source of folate, a B-vitamin necessary for DNA synthesis and cell growth. Adequate folate intake is especially crucial for pregnant women to support proper fetal development.
Magnesium: Chickpeas provide magnesium, a mineral involved in various physiological processes, including nerve function, muscle contraction, and bone health.
Zinc: Chickpeas contain zinc, which plays a vital role in immune function, wound healing, and protein synthesis.
By including chickpea pasta in your meals, you can enjoy a delicious dish while benefiting from these important vitamins and minerals.
Incorporating Chickpea Pasta into Your Diet
To fully utilize the nutritional benefits of chickpea pasta, it's important to prepare it in a healthy and balanced manner. Consider pairing chickpea pasta with nutrient-dense vegetables, lean proteins, and healthy fats to create a well-rounded meal. Experiment with different chickpea pasta recipes that incorporate fresh herbs, colorful vegetables, and flavorful sauces for a delightful and nutritious dining experience.
When consuming chickpea pasta for calories, it's important to be mindful of portion sizes. While chickpea pasta offers numerous health benefits, it still contributes to overall calorie intake. Balancing your plate with appropriate portion sizes and a variety of nutrient-rich foods will help you maintain a healthy calorie balance.
Chickpea pasta shines in terms of its nutritional composition. With its high protein content, dietary fiber, and essential vitamins and minerals, chickpea pasta offers a healthier alternative to traditional wheat pasta. By incorporating this versatile ingredient into your meals, you can enjoy a tasty dish while reaping the nutritional rewards it has to offer.
Gluten Intolerance and Celiac Disease
Gluten is a protein found in wheat, barley, rye, and their derivatives. For individuals with gluten intolerance or celiac disease, consuming gluten can trigger adverse reactions. Celiac disease is an autoimmune disorder where the ingestion of gluten causes damage to the small intestine, leading to various gastrointestinal symptoms and nutrient absorption issues. Non-celiac gluten sensitivity refers to a condition where individuals experience symptoms similar to those with celiac disease but lack the specific immune response.
Benefits of Chickpea Pasta for Individuals with Gluten Sensitivities
Chickpea pasta provides an excellent solution for individuals with gluten sensitivities or celiac disease. Here's why:
Gluten-Free Nature: Chickpea pasta is inherently gluten-free since it is made from chickpea flour or a blend of chickpea flour and other gluten-free ingredients. This makes it a safe and suitable choice for those who need to strictly avoid gluten.
Gut-Friendly: For individuals with celiac disease, consuming gluten can lead to intestinal inflammation and damage. By opting for chickpea pasta, which is entirely gluten-free, they can enjoy a pasta experience without the associated discomfort or health risks.
Variety and Versatility: Chickpea pasta offers a wide range of shapes and forms, similar to traditional wheat pasta. This versatility allows individuals with gluten sensitivities to continue enjoying their favorite pasta dishes while adhering to their dietary restrictions.
Gluten Content of Chickpea Pasta vs whole Wheat Pasta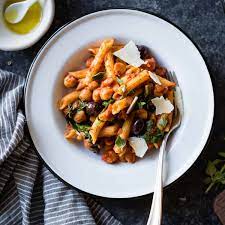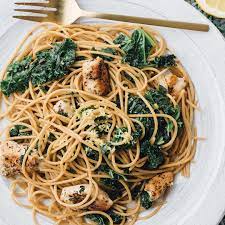 When comparing the gluten content of chickpea pasta and wheat pasta, there is a clear difference. Wheat pasta contains gluten, which gives it the characteristic texture and elasticity. On the other hand, chickpea pasta is free from gluten, making it an ideal alternative for those who cannot tolerate or choose to avoid gluten.
It's important to note that while chickpea pasta is gluten-free, cross-contamination can occur during manufacturing or handling processes. Therefore, individuals with severe gluten allergies or celiac disease should ensure they select certified gluten-free chickpea pasta options to minimize the risk of contamination.
Chickpea pasta provides a gluten-free advantage for individuals with gluten sensitivities or celiac disease. By offering a safe and delicious alternative to wheat pasta, chickpea pasta allows individuals to enjoy their favorite pasta dishes without compromising their dietary needs or experiencing adverse reactions. Its gluten-free nature, gut-friendly characteristics, and variety make chickpea pasta an excellent choice for those seeking gluten-free alternatives.
Evaluating Commercial Varieties
When it comes to choosing chickpea pasta, not all brands are created equal. It's important to evaluate commercial varieties to ensure you select an authentic and wholesome option. Here are some important considerations when evaluating chickpea pasta products:
Reading Product Labels and Understanding Additives
Take the time to read the product labels of chickpea pasta carefully. Look for transparency in ingredient lists and be cautious of excessive additives or unnecessary ingredients. Here are a few things to keep in mind:
Minimal Ingredients: Opt for brands that use minimal ingredients, preferably just chickpea flour or a blend of chickpea flour and a few other natural ingredients. Avoid products with lengthy ingredient lists that contain unfamiliar or highly processed additives.
Avoid Unhealthy Additives: Beware of additives like artificial flavors, colors, preservatives, and excessive sodium. These additives can compromise the nutritional integrity of the pasta and potentially have negative health effects.
Choosing Brands with Minimal Processing and Additives
Look for brands that prioritize minimal processing and avoid unnecessary additives. These are some factors to consider:
Organic and Non-GMO: Organic and non-GMO certifications indicate that the chickpeas used in the pasta were grown without synthetic pesticides or genetically modified organisms. Choosing organic and non-GMO options can align with a desire for a more natural and wholesome product.
Whole Food-Based: Seek out brands that focus on using whole foods and natural ingredients in their chickpea pasta. This can provide assurance that the product is closer to its original form and retains its nutritional value.
Transparency and Quality: Research brands and seek out those with a reputation for transparency and quality. Look for brands that prioritize sourcing high-quality chickpeas and adhere to strict manufacturing standards.
Tips for Finding Authentic and Wholesome Chickpea Pasta Options
Consider the following tips to help you find authentic and wholesome chickpea pasta options:
Seek Recommendations: Ask for recommendations from friends, family, or online communities who have experience with specific brands of chickpea pasta. Personal experiences and reviews can provide valuable insights.
Research Brands: Take the time to research different brands, their values, and their manufacturing processes. Look for brands that align with your preferences for wholesome and authentic products.
Check Certifications: Look for certifications such as gluten-free, organic, non-GMO, and any other relevant certifications that reflect your specific dietary needs and preferences.
Explore Local or Artisanal Options: Consider exploring local or artisanal producers who may offer homemade or small-batch chickpea pasta. These options often prioritize quality and may provide unique and authentic flavors.
With the information, you have heathier options when selecting chickpea pasta that meets your standards of authenticity, wholesomeness, and overall quality.
Incorporating Chickpea Pasta into a Balanced Diet
To fully enjoy the benefits of chickpea pasta and maintain a balanced diet, it's important to consider portion control, moderation, and pairing it with other nutrient-rich foods. These are ways to incorporate chickpea pasta into a well-rounded diet:
Importance of a Well-Rounded Diet
Chickpea pasta offers numerous nutritional benefits, it's essential to view it as part of a broader dietary approach. A well-rounded diet includes a variety of whole foods, such as fruits, vegetables, whole grains, lean proteins, and healthy fats. These foods provide a range of essential nutrients and support overall health.
Chickpea pasta can be a valuable addition to your meals, contributing protein, fiber, and other nutrients. However, it should not replace the diversity of foods that provide different vitamins, minerals, and antioxidants necessary for optimal nutrition.
Portion Control and Moderation with Chickpea Pasta
Portion control is crucial when consuming chickpea pasta. While it offers nutritional benefits, it still contributes to your overall calorie intake. Pay attention to serving sizes and consume an appropriate portion that aligns with your individual calorie needs and dietary goals.
Balancing your plate is important. Consider filling half your plate with vegetables, one-quarter with protein-rich foods (such as lean meats, poultry, fish, legumes, or tofu), and the remaining quarter with chickpea pasta. This approach ensures a well-balanced meal that provides a variety of nutrients.
Pairing Chickpea Pasta with Vegetables, Proteins, and Other Whole Foods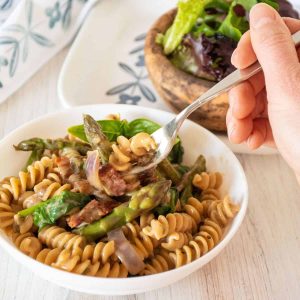 The nutritional value of your chickpea pasta dishes can be enhanced by incorporating an array of vegetables, proteins, and other whole foods. These are some ideas:
Add Colorful Vegetables: Mix in a variety of colorful vegetables such as spinach, bell peppers, cherry tomatoes, zucchini, or broccoli. These vegetables not only add vibrant flavors but also provide essential vitamins, minerals, and antioxidants.
Include Lean Proteins: Pair chickpea pasta with lean proteins like grilled chicken, turkey, fish, or plant-based alternatives like tofu or tempeh. Protein helps to promote satiety, supports muscle health, and aids in tissue repair.
Delicious Recipes and Cooking Techniques
Chickpea pasta offers a versatile canvas for creating delicious and nutritious meals. With its unique flavor and texture, there are many ways to add chickpea pasta healthy recipes in your diet. Different ideas for exploring recipes and cooking techniques to enhance your culinary experience with chickpea pasta:
Exploring Creative and Healthy Recipes Featuring Chickpea Pasta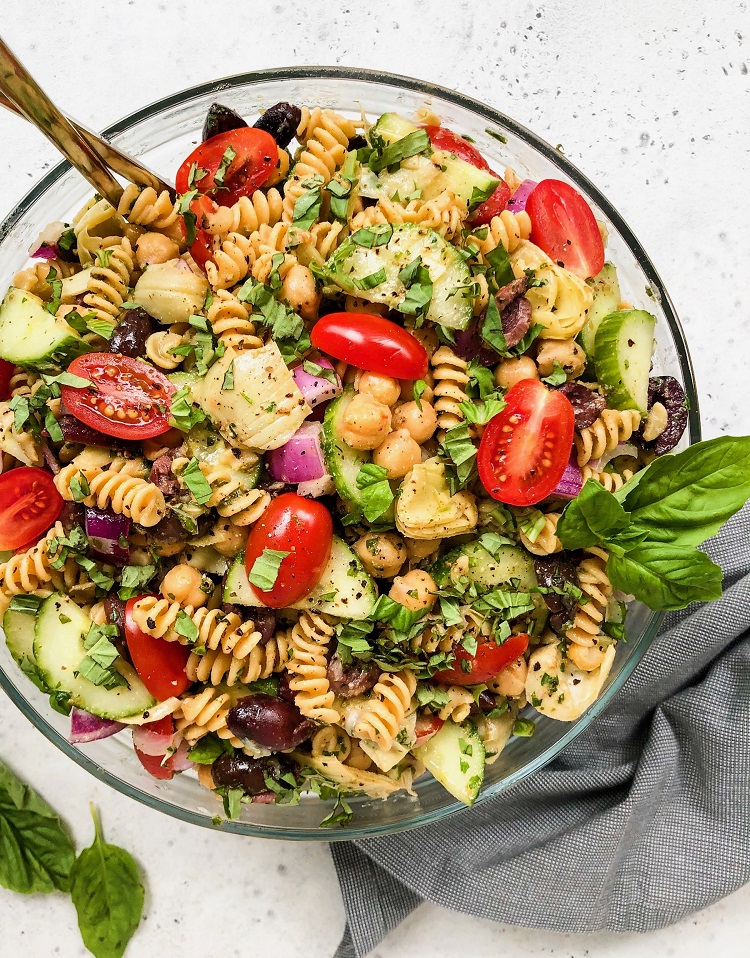 Mediterranean Pasta Salad: Combine cooked chickpea pasta with cherry tomatoes, cucumber, Kalamata olives, feta cheese, fresh herbs, and a light lemon vinaigrette for a refreshing and Mediterranean-inspired salad.
Spicy Chickpea Pasta Stir-Fry: Stir-fry chickpea pasta with a colorful assortment of bell peppers, snap peas, carrots, and your choice of protein. Add a spicy sauce made from chili paste, soy sauce, garlic, and ginger for a flavorful kick.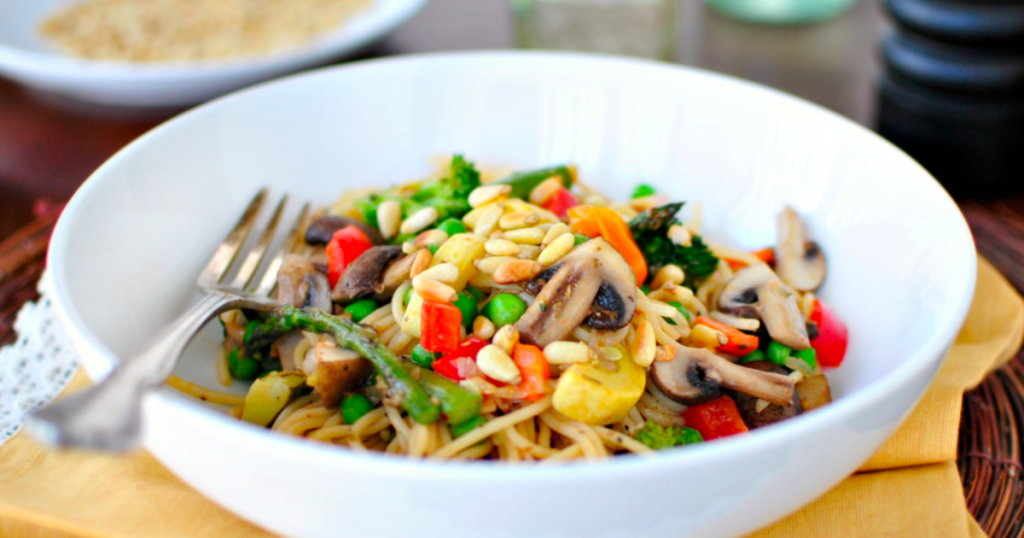 Roasted Vegetable Primavera: Toss roasted seasonal vegetables, such as eggplant, zucchini, bell peppers, and cherry tomatoes, with chickpea pasta. Finish with a sprinkle of Parmesan cheese and fresh basil for a satisfying and vibrant dish.
Creamy Avocado Pesto Pasta: Blend ripe avocados, basil leaves, garlic, lemon juice, and olive oil to create a creamy and nutritious pesto sauce. Toss cooked chickpea pasta in the avocado pesto for a deliciously creamy and green-tinted dish.
Highlighting Cooking Techniques to Maximize Flavor and Texture
Al Dente Cooking: Cook chickpea pasta according to the package instructions, being careful not to overcook it. The slightly firm texture, known as al dente, adds a pleasant chewiness to the dish.
Sautéing with Aromatics: Enhance the flavor of chickpea pasta by sautéing aromatics like garlic, onions, and herbs in olive oil before adding the cooked pasta. This infuses the dish with delicious flavors and aromas.
Pan-Tossing: Instead of simply pouring sauce over cooked pasta, try pan-tossing. Heat the sauce in a separate pan and add the cooked chickpea pasta. Toss the pasta in the sauce to ensure even coating and better flavor distribution.
Roasting Chickpeas: Roasted chickpeas make a tasty and crunchy topping for your chickpea pasta dishes. Toss rinsed and drained chickpeas with olive oil, salt, and spices of your choice, then roast in the oven until crispy. Sprinkle them over your pasta for added texture and flavor.
Inspiring Readers to Experiment and Create Their Own Culinary Delights
Try being creative when cooking with chickpea pasta. Ideas to inspire your own culinary delights:
Customize Sauces: Play with different flavor profiles by experimenting with various sauces, such as tomato-based, creamy cashew, lemon garlic, or spicy peanut. Adjust the seasonings and ingredients to suit your taste preferences.
Incorporate Fresh Herbs: Experiment with fresh herbs like basil, parsley, cilantro, or mint to elevate the flavors of your chickpea pasta dishes. Add them at the end of cooking for a burst of freshness.
Mix in Superfoods: Boost the nutritional value of your chickpea pasta by adding superfoods like kale, spinach, chia seeds, or roasted root vegetables. These ingredients provide an extra dose of vitamins, minerals, and antioxidants.
Try Different Toppings: Add a touch of texture and flavor with toppings like toasted pine nuts, grated Parmesan cheese, lemon zest, or a drizzle of balsamic glaze. These additions can take your dish to the next level.
Cooking is an opportunity to express your creativity and personal taste. Using these ideas as a starting point and adapt them to suit your preferences. With chickpea pasta, the possibilities are endless, and by exploring various recipes and cooking techniques, you can create delicious and memorable chickpea pasta healthy meals that leave you satisfied and inspired.
Frequently Asked Question
How is chickpea pasta okay for weight loss?
Chickpea pasta can be beneficial for weight loss due to its high protein and fiber content, which promotes feelings of fullness and reduces appetite. Chickpea pasta is lower in calories and carbohydrates compared to traditional wheat pasta, making it a healthier option for those seeking to manage their weight.
What are the chickpea calories?
The calorie content of chickpea pasta can vary depending on the brand and serving size, but on average, it contains around 350-400 calories per 100 grams. Compared to traditional wheat pasta, chickpea pasta typically has slightly fewer calories, making it a suitable choice for those watching their calorie intake.
Is chickpea pasta highly processed?
Chickpea pasta can vary in terms of processing, but many brands offer minimally processed options that retain the nutritional benefits of chickpeas. It's important to read product labels and choose brands that prioritize whole food ingredients and minimal additives to ensure a less processed and healthier chickpea pasta option.
Does chickpea pasta have more calories than regular pasta?
No, chickpea pasta generally has fewer calories than regular pasta. Due to its higher protein and fiber content, chickpea pasta offers a more filling and satisfying meal with a lower calorie count, making it a favorable choice for those looking to manage their calorie intake.
Related articles
https://myfamilypride.com/7-costco-foods-that-are-packed-with-protein
https://myfamilypride.com/30-different-types-of-pasta-sauce-for-a-perfect-dinner/
https://myfamilypride.com/how-many-calories-in-chicken-exploring-the-caloric-content-of-different-cuts/
https://myfamilypride.com/21-healthiest-takeout-foods/
https://myfamilypride.com/30-healthy-lunch-ideas-for-kids/
https://myfamilypride.com/how-healthy-is-chipotle-is-chipotle-healthy/
Conclusion
From what we've discussed in this article, chickpea pasta provides a healthy and nutritious option for pasta lovers. With its high protein and fiber content, along with essential vitamins and minerals, it offers a wholesome alternative to traditional wheat pasta.
By making informed choices, practicing moderation, and incorporating chickpea pasta into a well-balanced diet, we can enjoy its benefits while supporting our overall health and well-being. So, go ahead and savor the goodness of chickpea pasta as part of your culinary journey towards a healthier lifestyle.