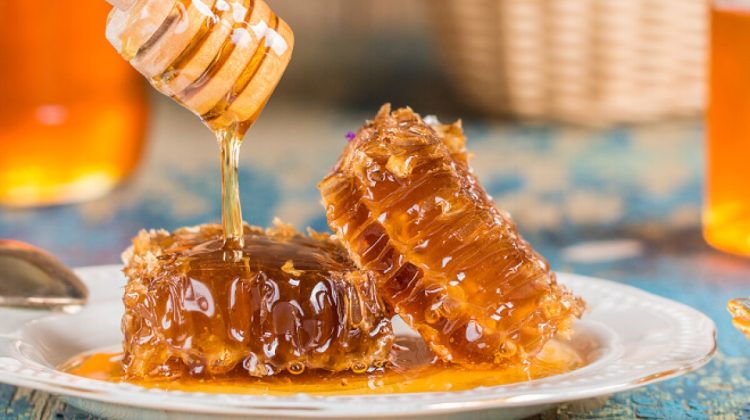 Welcome to a sweet exploration of nature's golden elixir—honey. Beyond its delectable taste and delightful drizzle over pancakes or in your morning tea, honey holds a treasure trove of health benefits that have been cherished across centuries and cultures.
In this blog, we'll delve into the fascinating world of honey's potential contributions to your well-being. From its nutrient-rich composition to its antioxidant properties, honey offers more than just sweetness; it's a natural powerhouse of goodness. (Read also: 20 Awesome Health Benefits of Guinea Corn and Millet).
Honey's nutrient content may surprise you. While it might not be the first item on your vitamin and mineral checklist, it contains trace amounts of essential nutrients like vitamin C, calcium, and iron.
These micronutrients, combined with its natural sugars and antioxidants, lay the foundation for its potential health-enhancing effects.
The buzz around honey extends to its remarkable antioxidant properties, driven by compounds like flavonoids and phenolic acids. These antioxidants act as guardians against oxidative stress, offering a protective shield for your cells and potentially reducing the risk of chronic diseases. (Read also: 15 Incredible health benefits of bitter kola /4 Side effects)
But the benefits of honey don't stop there. Explore how it can aid in wound healing, soothe sore throats, act as a natural cough suppressant, support digestive health, and even assist in weight management.
So, whether you're a honey enthusiast or just beginning to appreciate its myriad uses, join us on a journey through the sweet and savory aspects of honey's health benefits. It's time to unlock the secrets of this golden nectar and embrace its delicious and nutritious offerings for a healthier you.
1. Nutrient Content
Honey offers a modest but noteworthy nutrient content, including vitamins like vitamin C and minerals such as calcium and iron.
While its nutritional profile is not as comprehensive as other foods, these trace amounts of essential nutrients can still contribute to overall health when honey is consumed as part of a balanced diet.
Additionally, honey's antioxidants provide further health benefits by combating oxidative stress in the body.
2. Antioxidant Properties
Honey contains antioxidants like flavonoids and phenolic compounds, which combat oxidative stress and free radicals in the body. These antioxidants help protect cells from damage, potentially reducing the risk of chronic diseases and promoting overall health.
Consuming honey as part of a balanced diet can contribute to these protective effects and support the body's defense against harmful environmental factors.
3. Wound Healing
Honey has been used for centuries as a natural remedy for wound healing. Its natural antibacterial properties help prevent infection, and it creates a moist environment conducive to healing.
Honey can also reduce inflammation and promote tissue regeneration, aiding in the healing process for minor burns, cuts, and wounds.
While it's not a substitute for medical treatment, honey's wound-healing properties make it a valuable addition to first-aid care and certain medical dressings.
4. Sore Throat Relief
Honey can provide relief for sore throats and coughs. Its soothing properties help ease throat irritation and reduce discomfort. When mixed with warm water or lemon, honey forms a natural cough suppressant and can help alleviate cough symptoms.
While it doesn't treat the underlying cause of a sore throat, honey's soothing and antibacterial properties can provide temporary relief and make it a popular home remedy for throat discomfort and coughs.
Recommended: McDonald's Spicy Chicken McNuggets returns along with new Honey Butter McShaker
5. Cough Suppressant
Honey acts as a natural cough suppressant, making it a valuable remedy for coughs, particularly in children. Its sticky texture coats the throat and helps soothe irritation, reducing the urge to cough.
The natural sugars in honey also trigger the production of saliva, which can further alleviate throat irritation and coughing.
This makes honey a popular and effective home remedy for managing cough symptoms, especially when mixed with warm water or herbal teas. However, it's essential to avoid giving honey to infants under one year of age due to the risk of botulism.
Recommeded: Honey Butter Toast In Less Time
6. Digestive Health
Honey can contribute to digestive health in several ways. Its natural sugars, primarily fructose and glucose, provide a quick source of energy.
Honey may also help soothe an upset stomach, reduce symptoms of indigestion, and alleviate diarrhea.
Its antimicrobial properties can combat harmful bacteria in the gut. Additionally, honey's prebiotic compounds may support the growth of beneficial gut bacteria, promoting a healthy digestive system.
While it should be consumed in moderation, incorporating honey into your diet can potentially benefit digestive well-being.
7.
Energy Source
Honey serves as a natural and quick energy source. Its natural sugars, primarily fructose and glucose, are easily absorbed by the body, providing an immediate energy boost.
This makes honey a popular choice among athletes for a natural energy source before or during physical activities.
Unlike refined sugars, honey's energy release is gradual and sustained, avoiding energy crashes.
Its antioxidant content can also help reduce muscle fatigue. However, it's crucial to consume honey in moderation, given its calorie density and sugar content, especially if you're watching your overall calorie intake.
Recommended: 10 Proven Health Benefits of Ginger and Honey
Allergy Symptom Relief
8. Skin Health
Honey offers potential benefits for skin health. Its natural humectant properties help retain moisture, making it an effective natural moisturizer for dry skin.
Honey's mild antibacterial and anti-inflammatory properties can be beneficial for acne-prone skin, helping to reduce redness and inflammation.
Additionally, honey can promote wound healing and tissue regeneration when applied topically. While it can be used in homemade skincare remedies, it's essential to do a patch test and consult with a dermatologist for specific skin concerns.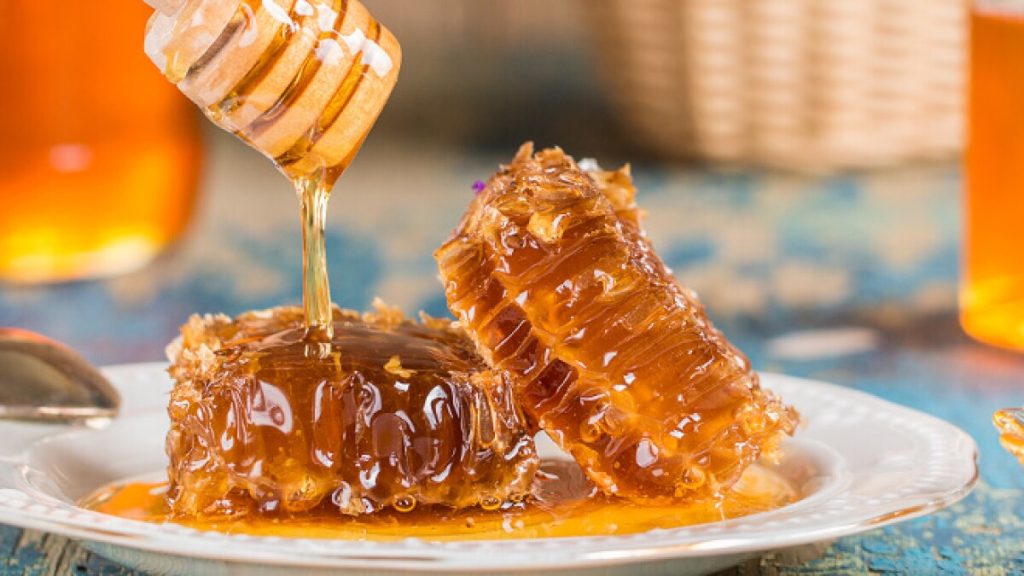 9. Weight Management
While honey is a sweetener, some individuals use it as a healthier alternative to refined sugars in their diet. Unlike processed sugars, honey contains trace nutrients and antioxidants.
Using honey in moderation may satisfy sweet cravings and reduce the consumption of more calorie-dense, less nutritious sweeteners. Its natural sugars, primarily fructose and glucose, offer quick energy, potentially helping to curb excessive snacking.
However, it's essential to be mindful of overall calorie intake, as honey is still calorie-dense. Incorporating honey into a balanced diet can support better weight management when used judiciously.
Top 21 Healthiest Peanut Butter to Buy.
How To Use Stockfish And Its Health Benefits
Healthy Trader Joe's Recipes For Breakfast, Lunch, and Dinner
Healthiest Meals at Captain D's Under 500 Calories
17 Healthy Eating Habits to Adopt in 2023
10 Proven Health Benefits of Ginger and Honey
Is a spoonful of honey a day good for you?
A daily spoonful of honey can be beneficial, offering antioxidants and potential health perks, such as soothing a sore throat. However, consume it in moderation, as it's calorie-dense and high in natural sugars.
What happens if we eat honey daily?
Eating honey daily may offer benefits like antioxidants, soothing sore throats, and aiding digestion. However, excessive consumption can lead to weight gain and dental issues due to its calorie and sugar content.
It's best enjoyed in moderation as part of a balanced diet for its potential health advantages.
honey benefits sexually
Honey has no direct aphrodisiac effects, but it can enhance intimacy by offering natural sweetness, energy, and potential mood-enhancing properties. However, its impact on sexual health varies among individuals, and it's not a guaranteed solution for sexual issues.
Is honey a healthier sweetener compared to sugar?
Can honey help with weight loss?
While honey is a natural sweetener, it's calorie-dense and contains sugars. Consuming it in moderation as part of a balanced diet may help control sweet cravings, but it's not a direct weight loss solution.
Is local honey effective for allergy relief?
Some people believe that consuming local honey can alleviate seasonal allergies, but scientific evidence is limited. Allergies are typically triggered by airborne pollen, not the pollen found in honey, so its effectiveness remains uncertain.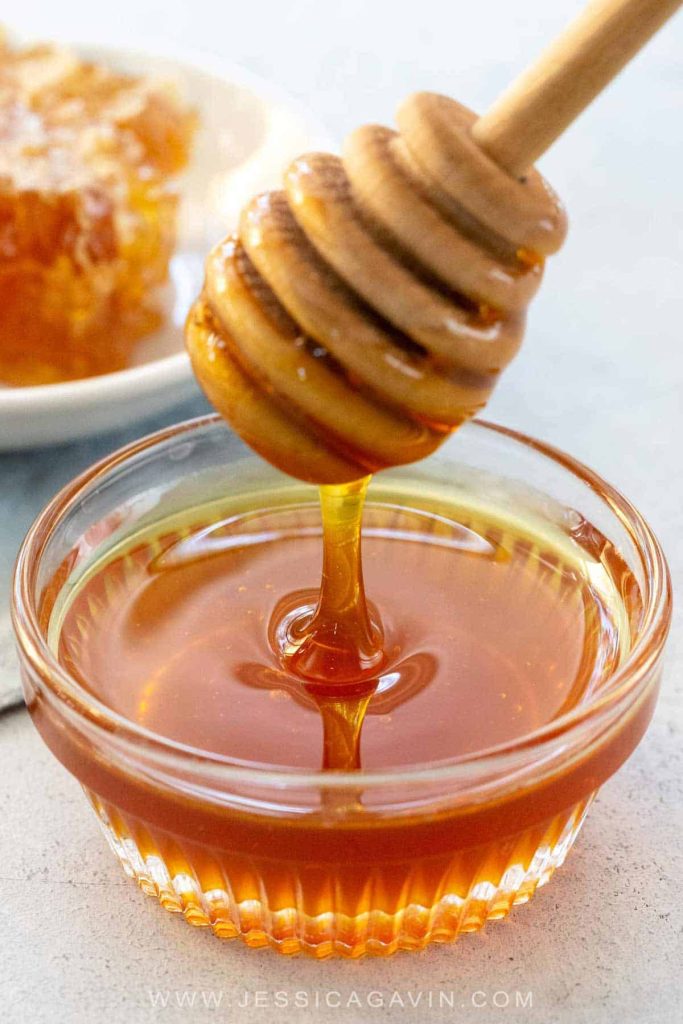 How does honey benefit skin health?
Honey can moisturize the skin, reduce inflammation, and promote wound healing due to its natural antibacterial and anti-inflammatory properties. It's used in skincare products and home remedies to improve skin condition.
Can honey be used as a cough remedy?
Yes, honey is a natural cough suppressant and can help soothe a sore throat. Mixing honey with warm water or lemon is a popular home remedy for alleviating cough and throat irritation. However, it should not be given to infants under one year old due to the risk of botulism.
Conclusion
In conclusion, honey offers a myriad of health benefits. From its nutrient content and antioxidant properties to its role in wound healing, sore throat relief, and digestive health support, honey has earned its place as a versatile and valuable natural remedy.
However, it's crucial to enjoy honey in moderation to harness its potential advantages while being mindful of its calorie and sugar content.