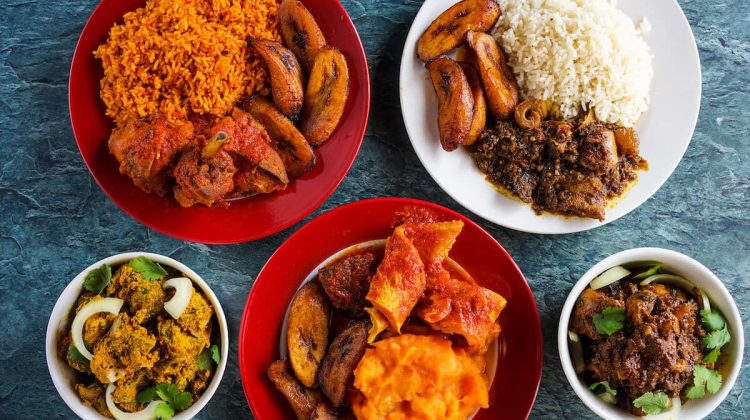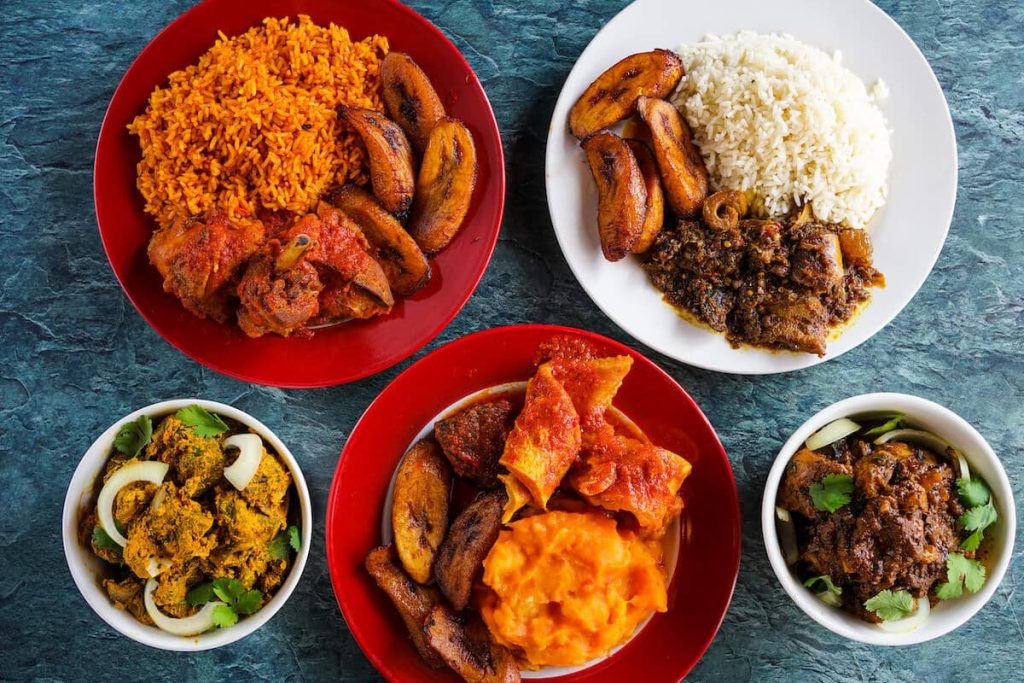 Are you or a loved one grappling with the discomfort of peptic ulcers and seeking a way to savor the vibrant flavors of Nigerian cuisine while promoting healing?
You're in the right place. In this blog post, we're about to embark on a culinary journey through Nigeria's diverse and mouthwatering dishes.
We'll discover 15 delectable Nigerian foods that are not only easy on the stomach but also packed with nutrients that can aid in your recovery from peptic ulcers.
From soothing porridges to nourishing soups, these options promise a symphony of taste and health benefits. So, let's dive in and uncover how you can enjoy the best of Nigerian cuisine while caring for your well-being.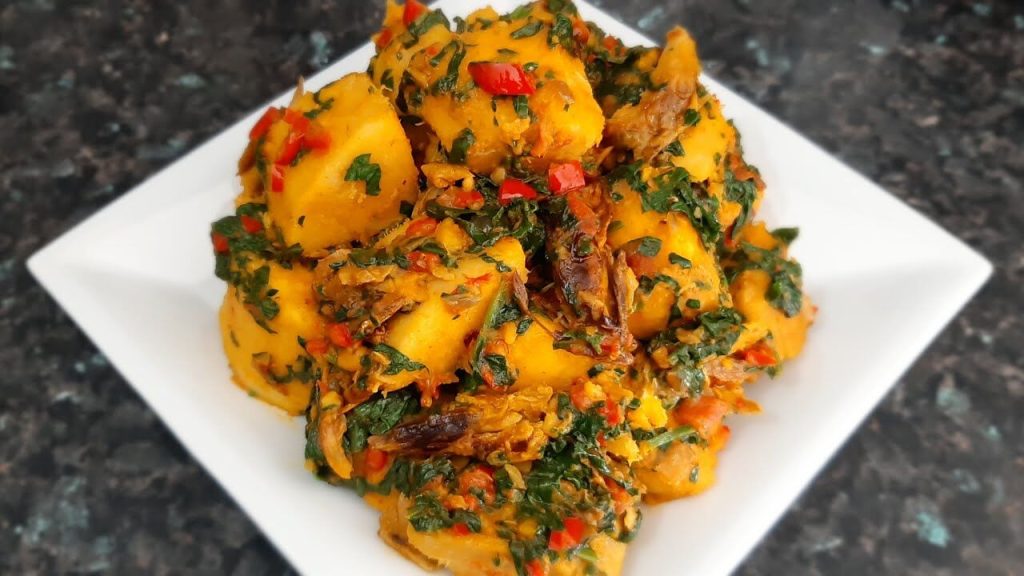 Yam porridge is a nourishing dish that pairs boiled yam with an assortment of vegetables. This blend offers a wealth of vitamins, minerals, and dietary fiber. The soft texture of yam makes it easy on the stomach, while the vegetables contribute essential nutrients, such as vitamin C, potassium, and folate, all of which are essential for overall health and healing.
This dish, akin to yam porridge but using plantains instead, provides a slightly different flavor profile while still maintaining a stomach-friendly texture. Plantains are a great source of complex carbohydrates and dietary fiber, making them easily digestible and rich in energy. They also contain vitamins A and C, as well as potassium, which can support healing and immune function.
Boiled Plantains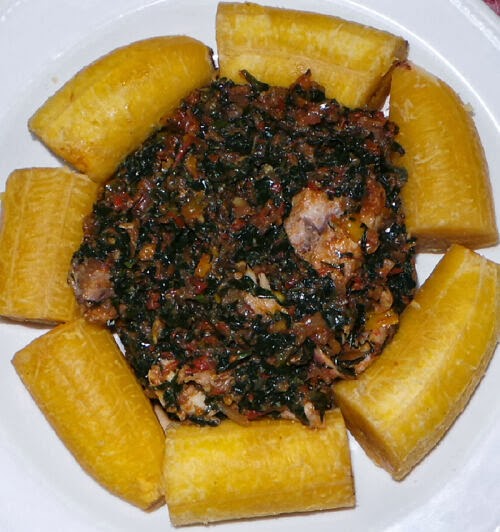 Simplicity often reigns supreme when managing peptic ulcers. Boiled plantains exemplify this principle, as they are plain and gentle on the digestive system. They offer complex carbohydrates, essential for maintaining energy levels, and are a good source of dietary fiber, aiding in digestive health.
Rice Porridge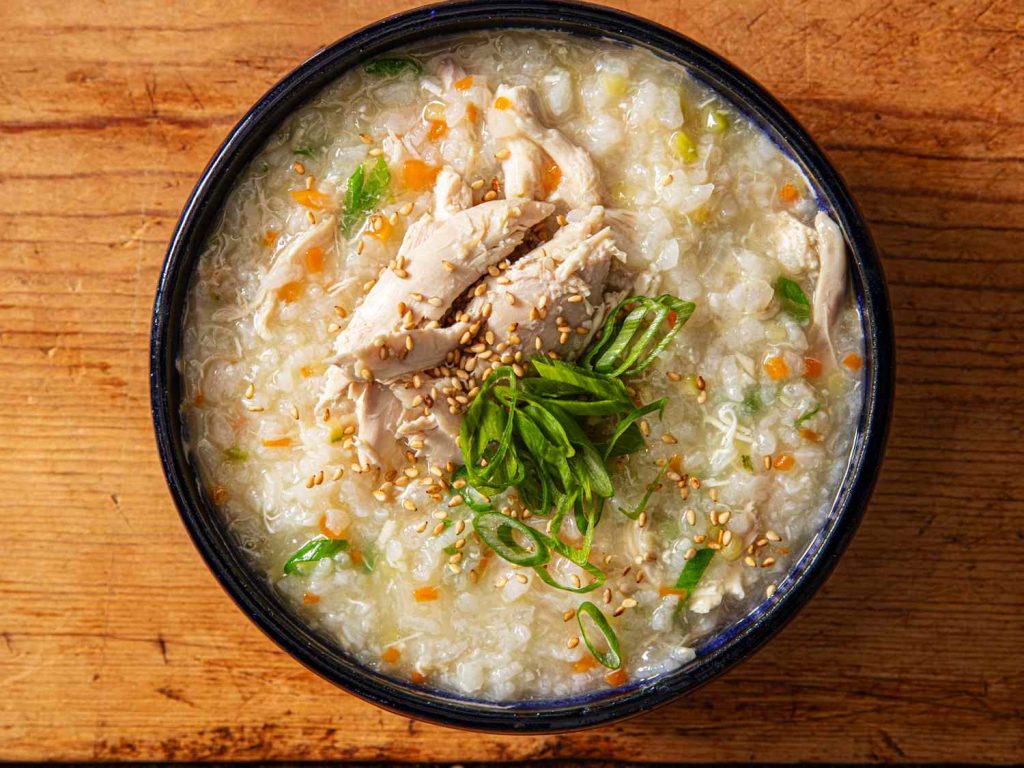 Rice porridge is a comforting option that combines rice with a medley of vegetables and mild seasonings. This is a starchy staple that is easy on the stomach, providing carbohydrates for energy. The inclusion of vegetables enriches this dish with vitamins, minerals, and antioxidants, promoting overall well-being and recovery.
Mashed Yam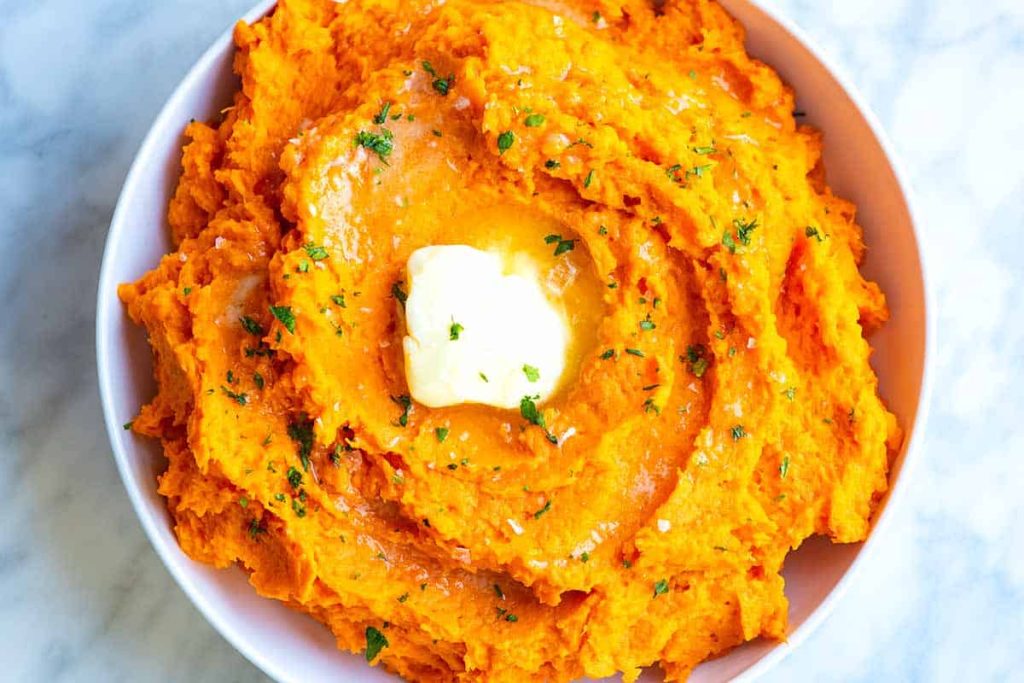 Soft and velvety mashed yam, served with a mild sauce, can be a soothing and nutritious choice for individuals with peptic ulcers. Yam is a valuable source of carbohydrates, dietary fiber, and essential vitamins and minerals. The gentle preparation method ensures that it's easy on the stomach, while the accompanying sauce can offer added nutrients and flavor.
Oatmeal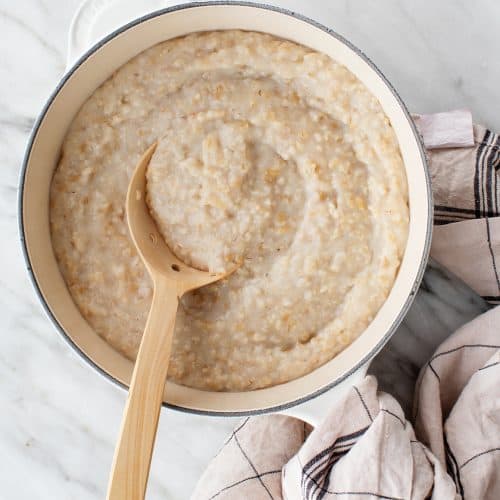 Beginning your day with a bowl of oatmeal is an excellent way to fuel your body without causing undue stress on your stomach. Oats are rich in soluble fiber, which can help with digestion and regulate blood sugar levels. Additionally, they provide vitamins and minerals like magnesium and iron, supporting overall health.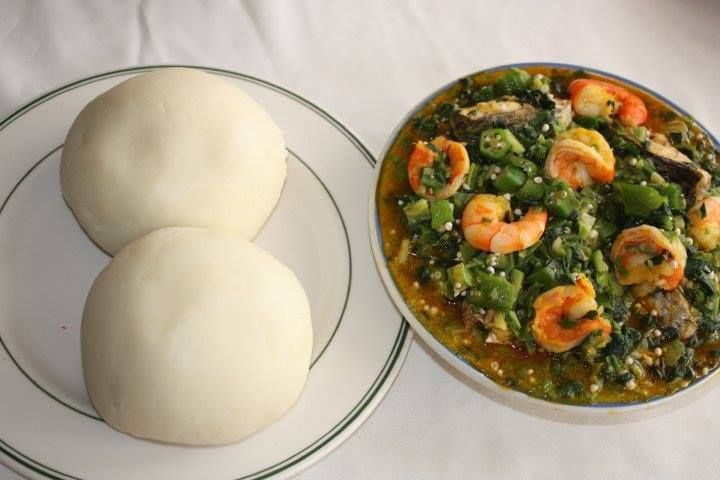 Pounded yam, when prepared to a soft and fluffy consistency, is a Nigerian favorite. Paired with a mild soup, such as okra or vegetable, it becomes an ideal choice for individuals with peptic ulcers. Yam is a good source of carbohydrates, and its soft texture is easy on the stomach, while the soup offers vitamins, minerals, and antioxidants.
Moi Moi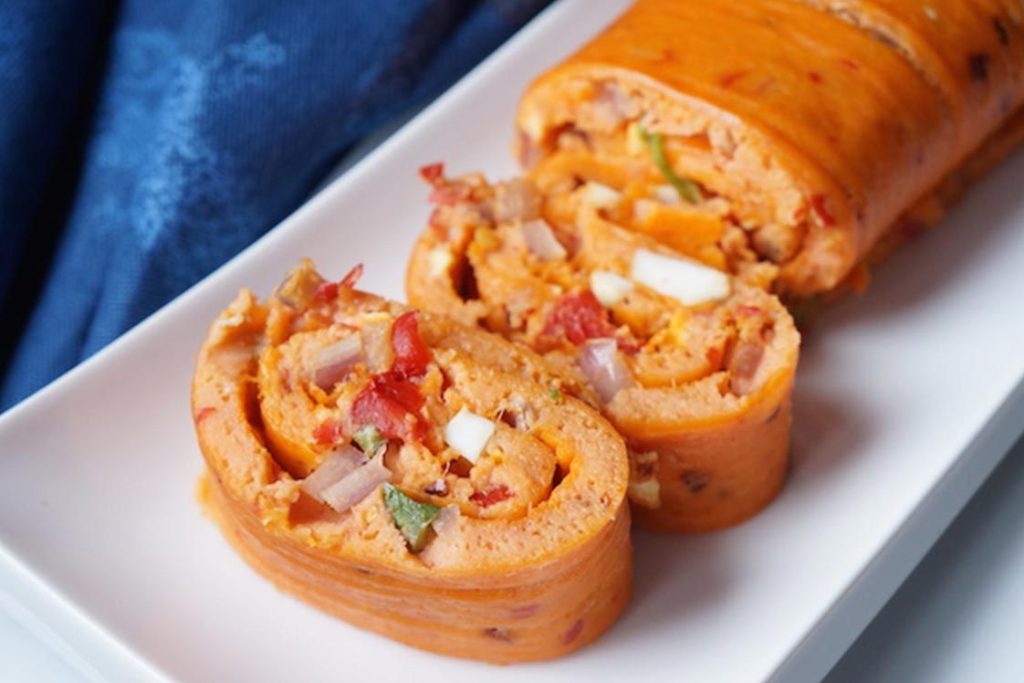 Moi Moi, a steamed bean pudding, boasts a soft texture that is easily digestible. Beyond its palatability, it provides protein, fiber, and essential nutrients. Beans, the primary ingredient, offer protein, fiber, vitamins, and minerals like iron and potassium, which are vital for recuperation and overall health.
Akamu (Pap)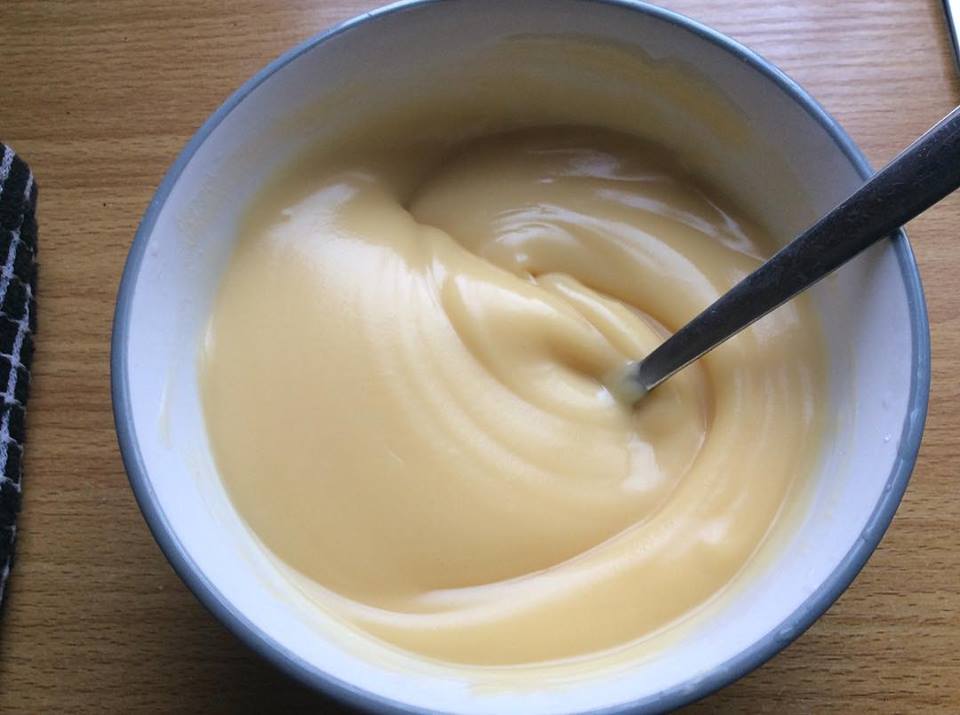 Akamu, also known as pap, is a smooth porridge crafted from fermented corn or millet. Its gentle consistency makes it a suitable option for those with peptic ulcers. It is a source of carbohydrates, offering sustained energy, and contains some vitamins and minerals, particularly if fortified.
Bole (Grilled Plantains)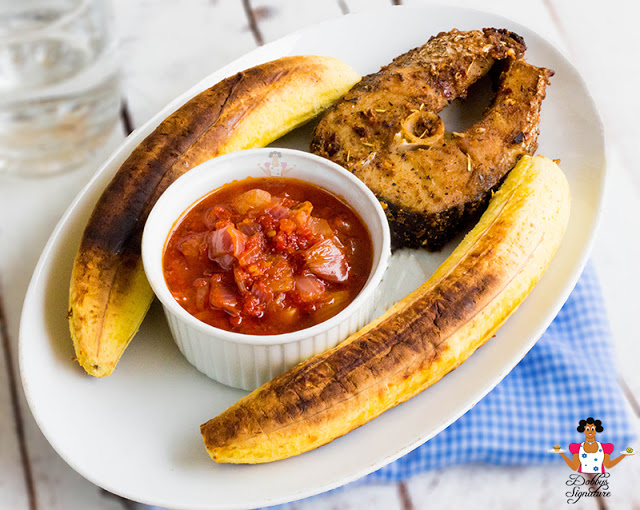 Bole, or grilled plantains, can be a delightful and nutritious snack or side dish. Plantains are typically rich in complex carbohydrates, dietary fiber, and vitamins like vitamin C and vitamin A. Grilling them lightly makes them easier on the stomach while retaining their natural sweetness.
Ofe Nsala (White Soup)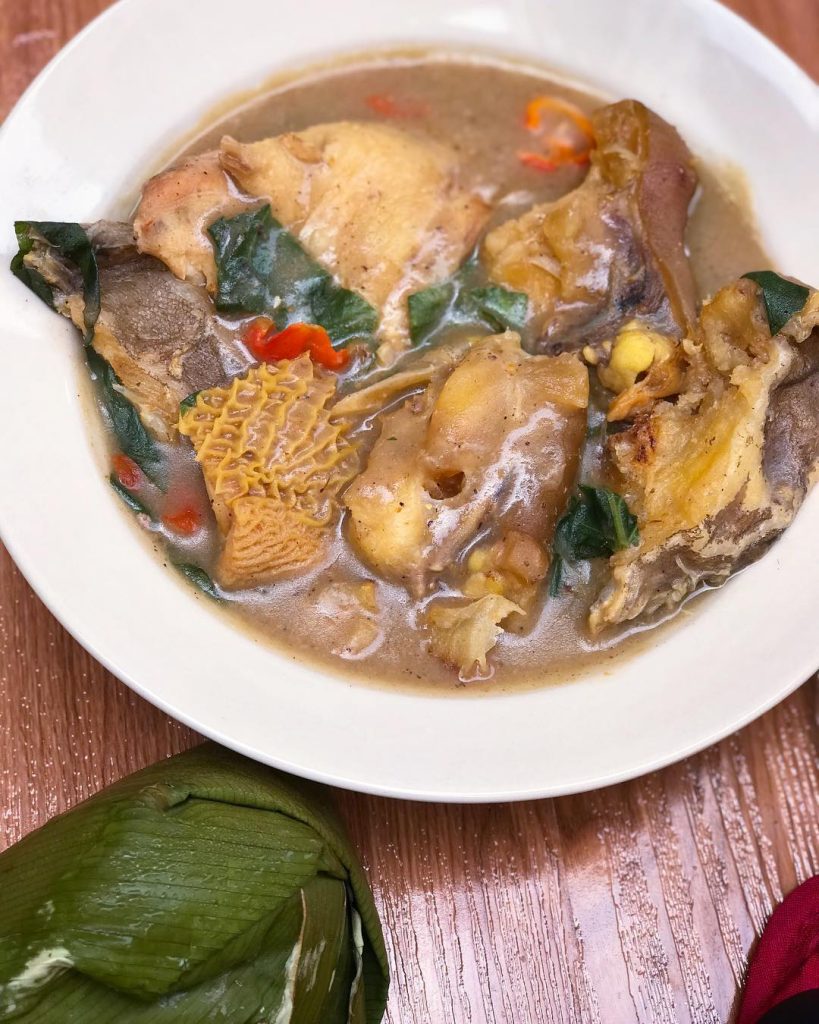 Ofe Nsala, also known as white soup, is a flavorful Nigerian soup made with assorted meats and a creamy, nutty broth. Despite its rich taste, it can be made mildly to cater to those with sensitive stomachs. The addition of spices and utazi leaves provides a unique taste, while the protein content from the meats supports healing and recovery.
Coconut Rice
Coconut rice is a delightful dish that combines the richness of coconut milk with rice and a blend of spices. It can be prepared mildly to suit those with peptic ulcers. Coconut provides healthy fats, while rice offers carbohydrates for energy.
Bitter Leaf Soup (Ofe Onugbu)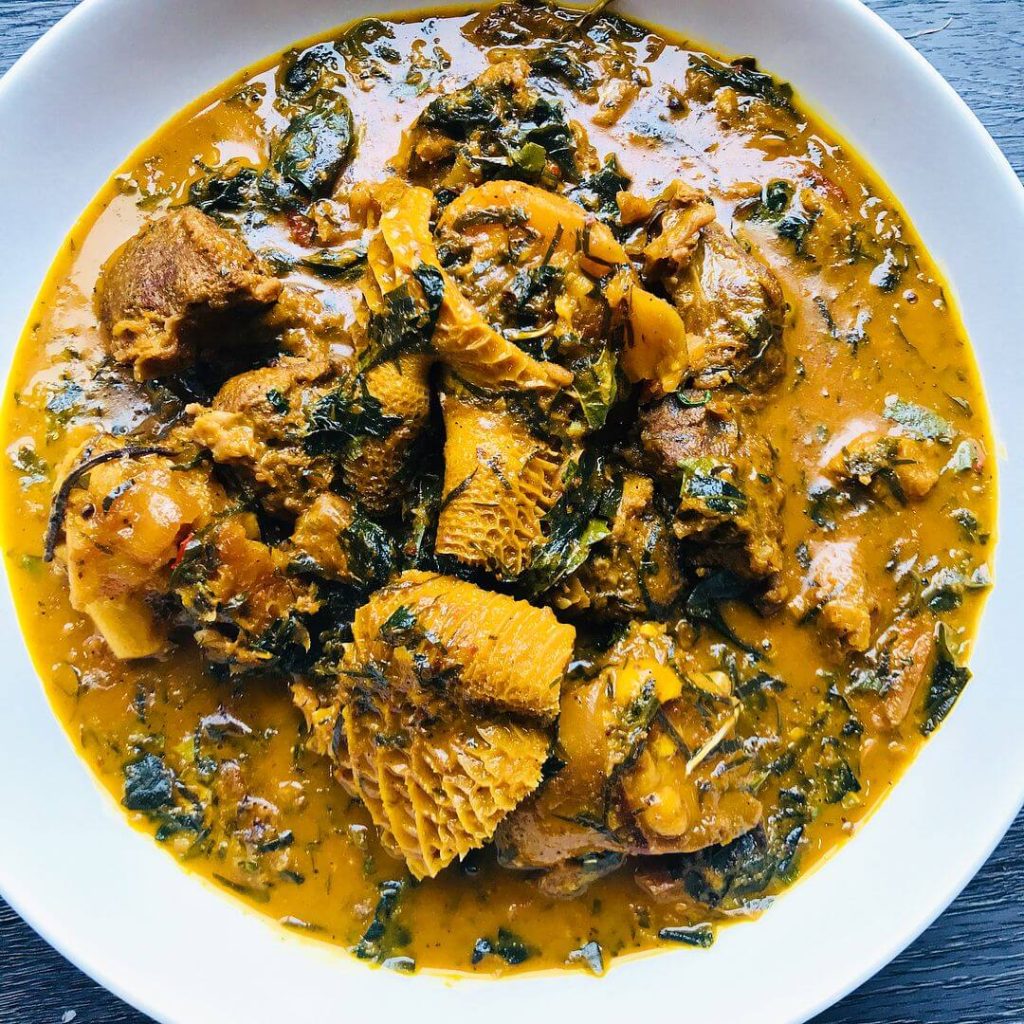 Bitter leaf soup, or ofe onugbu, is a Nigerian delicacy made with bitter leaf vegetables. While it has a distinct flavor, it can be prepared in a milder version to suit sensitive stomachs. Bitter leaf is believed to have digestive benefits and is rich in vitamins and antioxidants.
Groundnut Soup (Peanut Soup)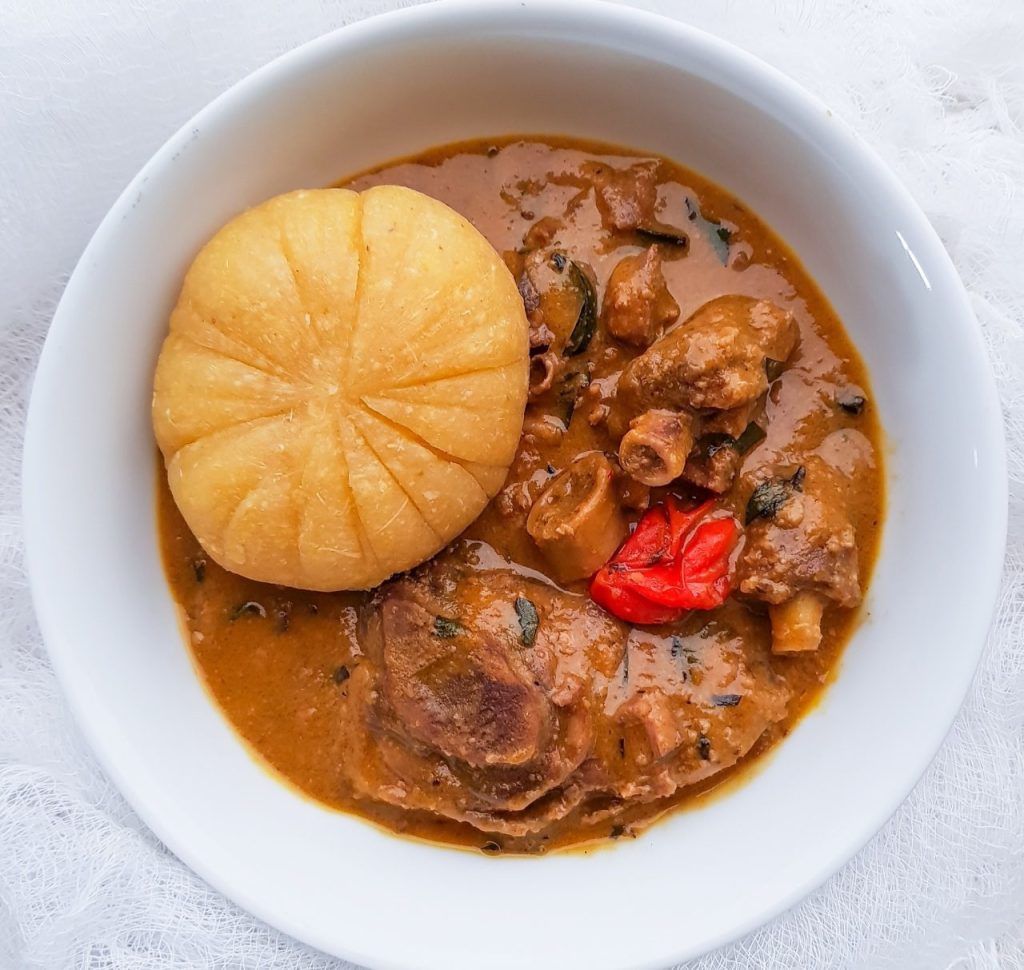 Groundnut soup, a staple in some Nigerian regions, combines groundnuts (peanuts) with vegetables and a mild broth. It's a source of protein, healthy fats, and essential nutrients like niacin, folate, and magnesium, contributing to overall well-being.
Ginger Tea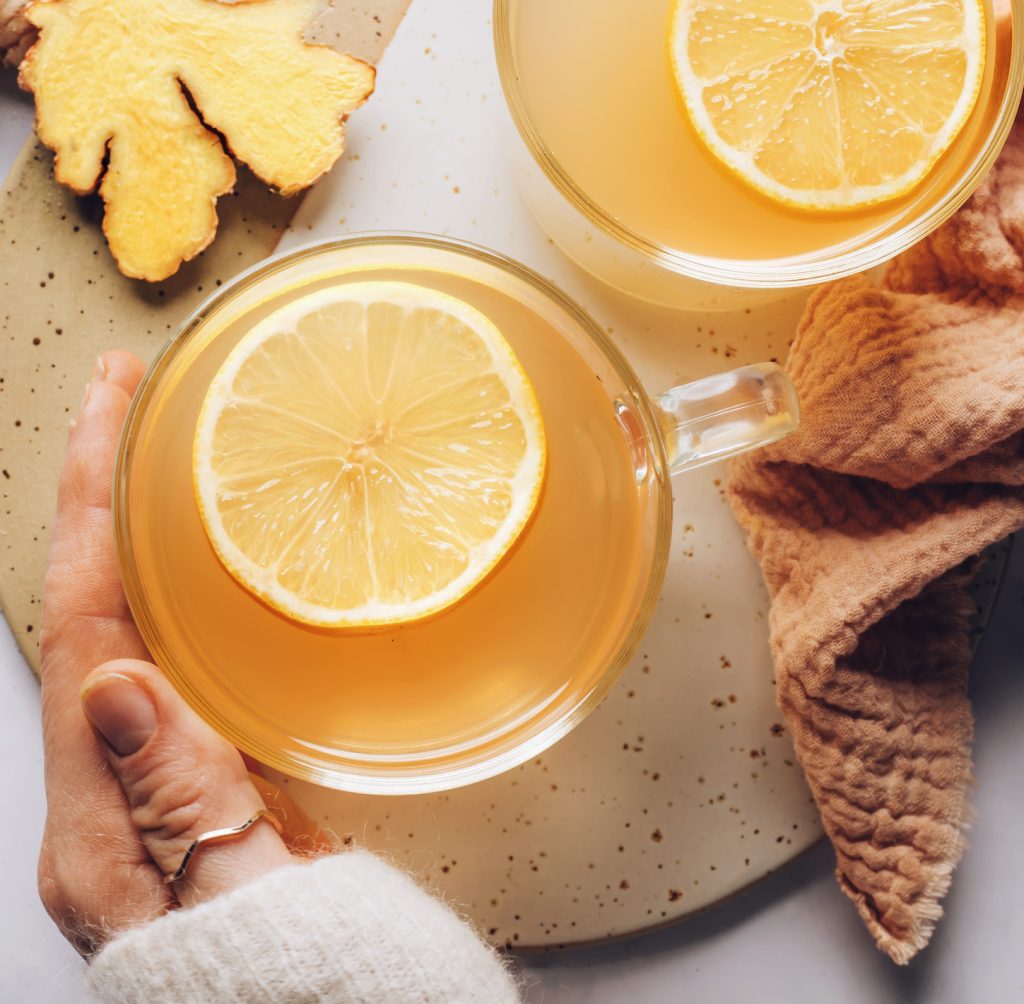 While not a dish per se, ginger tea is a soothing beverage that can offer relief to those with peptic ulcers. Ginger has natural anti-inflammatory properties and can help alleviate stomach discomfort.
Frequently Asked Questions?
What is Peptic Ulcer?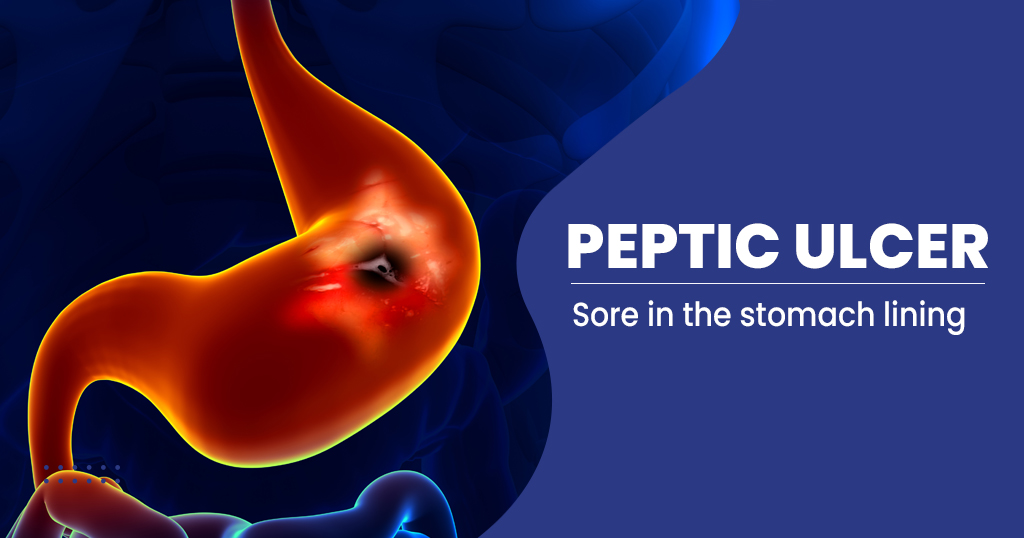 A peptic ulcer is a painful sore that develops on the inner lining of the stomach, small intestine, or esophagus.
These ulcers result from the erosion of the protective mucous layer in the digestive tract due to the corrosive effects of stomach acid and digestive enzymes. Common symptoms include abdominal pain, bloating, heartburn, and in severe cases, bleeding or perforation.
Peptic ulcers can be caused by factors such as infection with Helicobacter pylori bacteria, frequent use of nonsteroidal anti-inflammatory drugs (NSAIDs), and excessive alcohol consumption.
Treatment typically involves medications to reduce stomach acid and promote healing, as well as lifestyle changes like avoiding trigger foods and reducing stress.
What foods heal a peptic ulcer?
Foods that can help heal a peptic ulcer include those that are gentle on the stomach and have anti-inflammatory properties.
These may include plain, easily digestible foods like oatmeal, rice, boiled or mashed potatoes, and foods high in antioxidants and fiber such as fruits and vegetables.
Additionally, foods rich in probiotics, like yogurt, may aid in ulcer healing by promoting a healthy gut microbiome. It's crucial to avoid spicy, acidic, and fatty foods that can exacerbate symptoms and consult with a healthcare professional or a registered dietitian for personalized dietary recommendations.
Can an ulcer patient eat boiled egg?
Yes, boiled eggs are generally considered a safe and easily digestible source of protein for individuals with peptic ulcers. Eggs are low in acidity and fat, making them less likely to irritate the stomach lining.
However, individual tolerances can vary, so it's essential to monitor your body's response to boiled eggs. If they do not cause discomfort or worsen your symptoms, they can be a nutritious addition to your diet, providing essential proteins and nutrients.
Nonetheless, it's always advisable to consult with a healthcare professional or a registered dietitian to ensure that your dietary choices align with your specific condition and needs.
How can I make my peptic ulcer heal faster?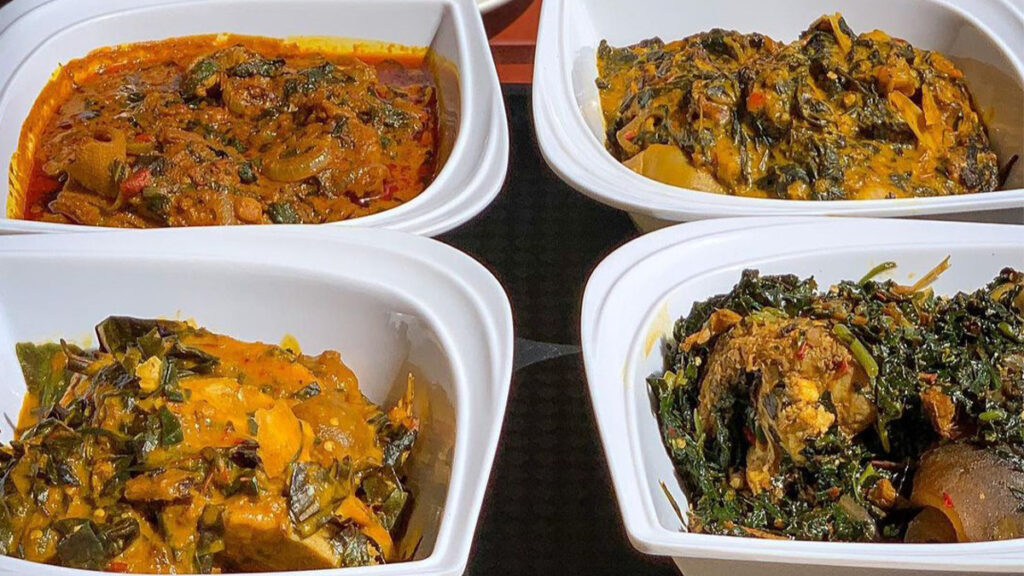 Do peptic ulcers heal completely?
Yes, peptic ulcers can heal completely with appropriate treatment and lifestyle modifications. Medications to reduce stomach acid, such as proton pump inhibitors and antibiotics to treat H. pylori infection, are commonly prescribed to aid in the healing process.
However, the timeline for healing can vary depending on the size and severity of the ulcer. It's crucial to follow your healthcare provider's instructions diligently and make necessary lifestyle changes to support the healing process.
In most cases, with proper care, peptic ulcers can fully heal, and recurrence can be prevented. Regular follow-up with a healthcare professional is essential to monitor progress and ensure long-term health.
How long do peptic ulcers take to heal?
The healing time for peptic ulcers can vary depending on factors like the ulcer's size and severity, the effectiveness of treatment, and individual factors.
With appropriate medical treatment, including medications to reduce stomach acid and treat any underlying causes like H. pylori infection, many ulcers can start to heal within a few weeks.
However, complete healing may take several weeks to a few months. It's important to continue treatment as prescribed and follow lifestyle recommendations to support the healing process. Regular follow-up with a healthcare provider can help monitor progress and determine when it's safe to discontinue medications.
How do I know if my ulcer is healed?
Determining if your ulcer is healed typically requires a follow-up visit to your healthcare provider. They may perform tests such as endoscopy or a breath test for H. pylori to assess the ulcer's status.
These tests can confirm if the ulcer has healed completely or if any signs of inflammation or infection remain. It's crucial to continue any prescribed medications and adhere to lifestyle changes until your healthcare provider confirms healing.
Remember that ulcer symptoms alone may not be reliable indicators of healing, as some symptoms can persist even after the ulcer has healed. Regular follow-up and consultation with your healthcare provider are essential to ensure your ulcer is fully healed and to adjust your treatment plan if necessary.
Related Articles
The top 33 foods for keeping your kidney healthy
Classes of Food with Examples And Functions
Benefits Of Clove Sexually For Males And females
30 Most Popular Nigerian Foods That Is Heavenly Tasty 2023
25 + Best and Worst stomach ulcer foods
Conclusion
In conclusion, enjoying the vibrant flavors of Nigerian cuisine while managing peptic ulcers is indeed possible. By incorporating these gentle, nutrient-rich foods into your diet, you can savor the tastes of Nigeria while prioritizing your health. Remember to listen to your body, choose foods that work best for you, and consult with a healthcare professional or dietitian for personalized dietary guidance. Bon appétit and here's to your well-being!