Fast-food joints are renowned for their crowd-pleasing classics—think cheeseburgers, chicken nuggets, tacos, and pizza—a lifesaver on those days when cooking feels like a far-fetched dream.
But we all know that individually ordering meals for everyone can quickly rack up the bill. Fear not, families on the larger side, because today's fast-food scene offers family bundle options that cater to your appetite without breaking the bank.
While sharing a bucket of fried chicken a la Viking style has always been an option, these family bundles are designed for modern gatherings.
They're more inclusive and versatile, allowing you to curate your family's culinary experience. Plus, some even include popular sides and a sweet treat for dessert, rounding out the perfect meal.
Before we dive into the tantalizing options that await, a quick reminder: these feasts are meant for sharing, not solitary indulgence. Now, brace yourselves for an epic journey through the best fast-food deals that can satisfy the entire crew.
#1. Panera Family Feast
Panera Bread tempts with a healthy and hearty option. The Family Feast, serving four to six people, includes four half sandwiches, a shareable salad, a large soup, a French baguette, and four chocolate chip cookies—all for $35.
#2. Chick-Fil-A Family Bundle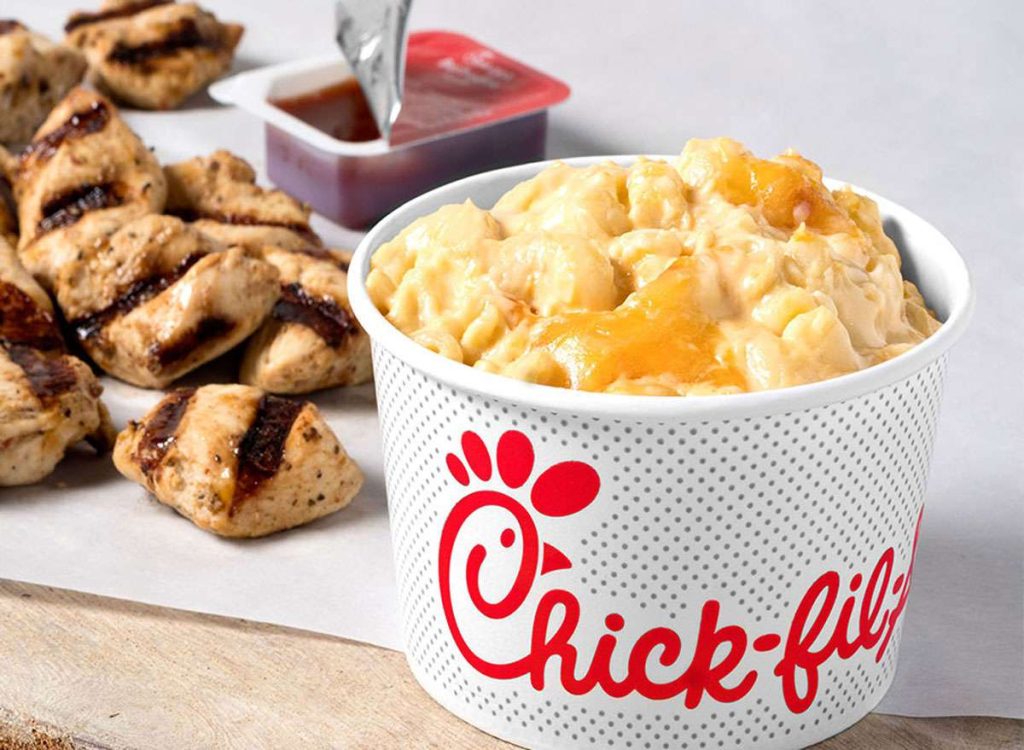 Customization is king at Chick-Fil-A. This bundle offers your choice of entrées, four medium sides, four desserts, and a whole gallon of Freshly-Brewed Iced Tea. From chicken nuggets to sandwiches, it's a feast tailored to your taste buds.
Read More : Make your favorite flock chicken chips at home
#3. McDonald's 40-Chicken Nugget Meal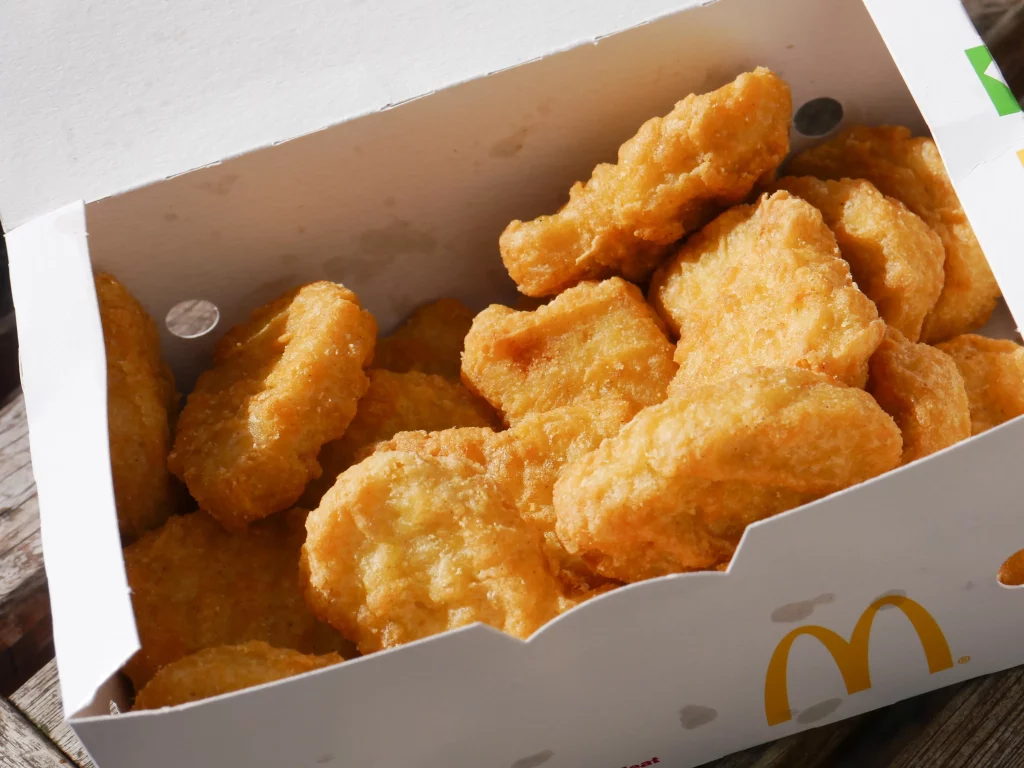 The McDonald's 40-Chicken Nugget Meal is a large offering featuring 40 crispy and tender chicken nuggets. It's a popular choice for gatherings, parties, or those with hearty appetites.
You can find the 40-Chicken Nugget Meal at participating McDonald's locations, making it a convenient option for a satisfying and shareable fast-food meal.
Share the joy of McDonald's nuggets with a 40 to 50-piece McNugget deal, serving four to five people for $14.99. Dipping sauces galore are included.
Read More : 11 Best Fast-Food Chains That Serve Fried Chicken In US
#4. Taco Bell Group Meals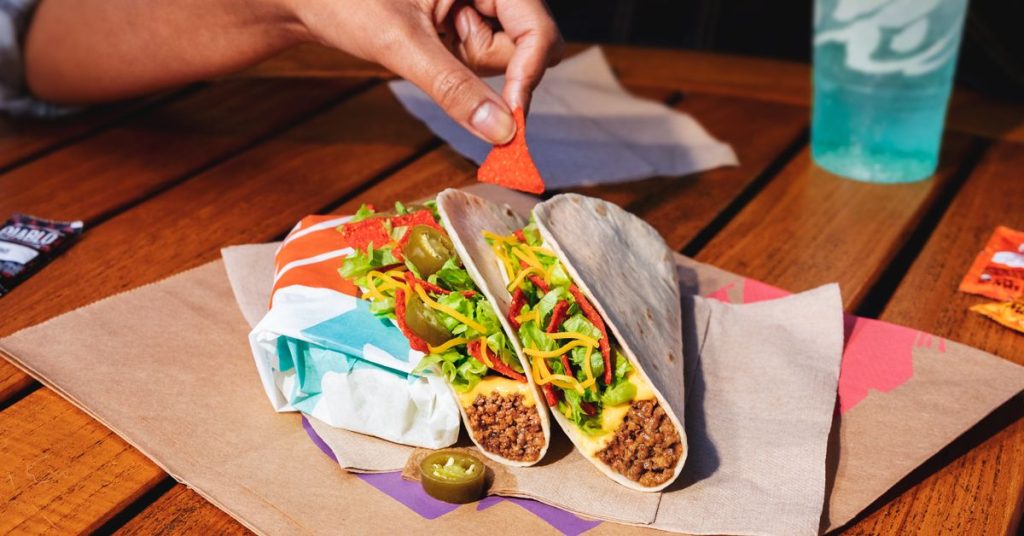 Taco Bell Group Meals are designed for sharing and offer a variety of menu items to cater to different tastes. These meals typically include a combination of tacos, burritos, nachos, and sides, making them perfect for gatherings or family outings.
You can explore the Taco Bell website or visit a nearby Taco Bell location to find options and pricing for their Group Meals. From Crunchy Tacos to Beefy 5-Layer Burritos, there's something for everyone starting at $12.
Read Moe: McDonalds's Spicy Nuggets.
#5. Burger King's Family Bundle Classic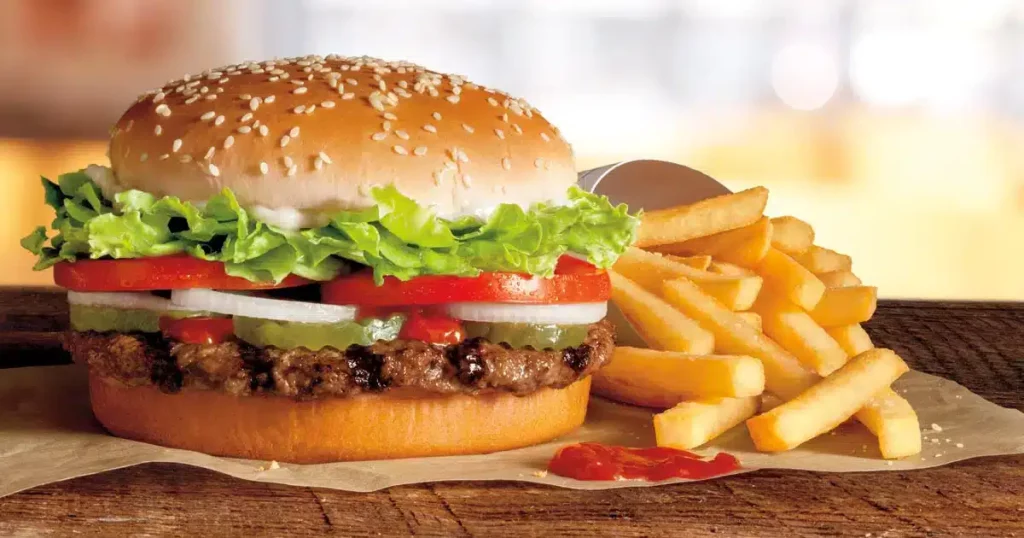 Burger King's Family Bundle Classic is a meal deal that caters to families. It typically includes Whopper sandwiches, cheeseburgers, chicken sandwiches, or a mix of these, along with French fries and soft drinks.
This bundle is designed for sharing and offers a variety of classic fast-food options. You can find the Burger King Family Bundle Classic at participating Burger King outlets, providing an easy and satisfying family meal option.
Burger King's three-course deal offers two Whoppers, two Original Chicken Sandwiches, 16-piece Chicken Nuggets, fries, drinks, and Hershey Sundae pies—all for $30.
Read More: McDonald's Spicy Chicken McNuggets returns along with new Honey Butter McShaker
#6. KFC Bucket Meals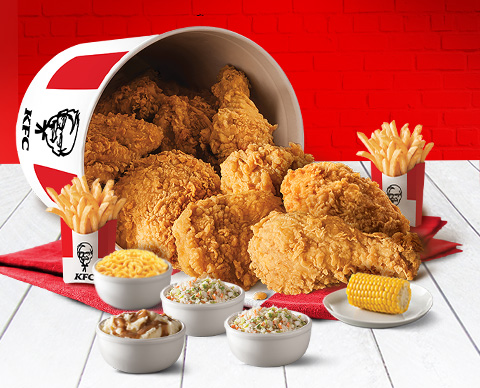 KFC Bucket Meals are iconic offerings that come in various sizes to suit different appetites.
They generally consist of a bucket filled with a specified number of Original Recipe or Extra Crispy chicken pieces along with sides like mashed potatoes, coleslaw, and biscuits.
These meals are perfect for sharing among friends or family members. You can find KFC Bucket Meals at KFC outlets, offering a convenient and complete chicken-centric dining experience.
Read More: McDonald's Spicy Chicken Sandwich.
#7. Boston Market Family Combo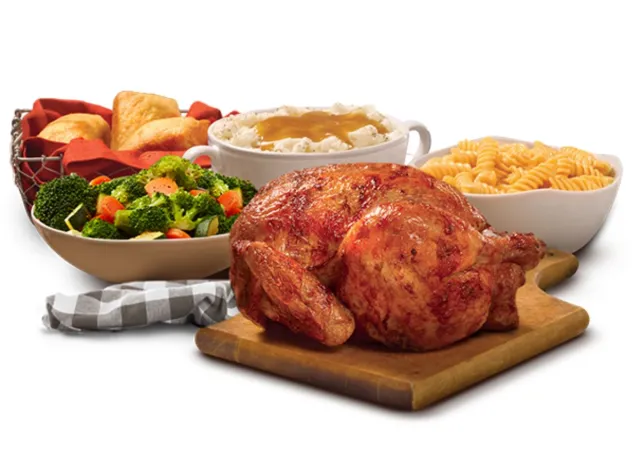 The Boston Market Family Combo is a convenient dining option. It typically includes a choice of rotisserie chicken, turkey, or meatloaf along with sides such as mashed potatoes, vegetables, and cornbread.
This combo suits families seeking a hearty and hassle-free meal with a variety of classic comfort foods.
Read More : McDonald's Spicy Nuggets are back.
#8. Panda Express Family Meal Deal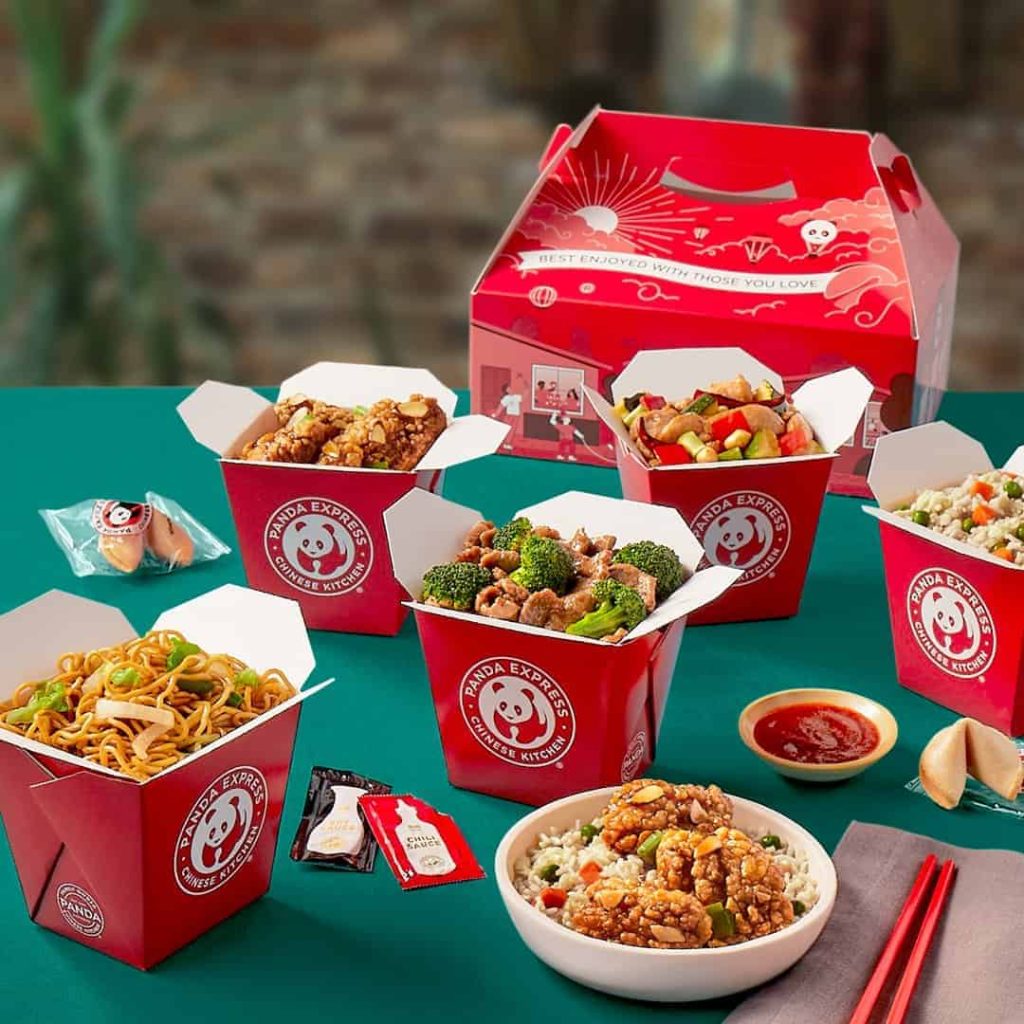 The Panda Express Family Meal Deal provides a satisfying meal for a group. It usually includes options like orange chicken, broccoli beef, or kung pao chicken, accompanied by sides such as fried rice and chow mein.
This deal caters to families looking for a flavorful and shareable Chinese cuisine experience.
Read More
The BEST Way to Air Fry Trader Joe's Orange Chicken: A Step-by-Step Guide
A Recipe for Canned Chicken Delight
How Many Calories in Chicken? Exploring the Caloric Content of Different Cuts
30 Healthy lunch ideas for kids
17 Surprisingly Healthy Fast-Food Orders, According to Dietitians
Experience Sweet Tomatoes in San Diego
The Stories Behind Varied Egg Yolk Colors and What They Mean
Top 10 Fruits That Start With The Letter E
Just bare chicken nuggets costco
#9. Pizza Hut Big Dinner Box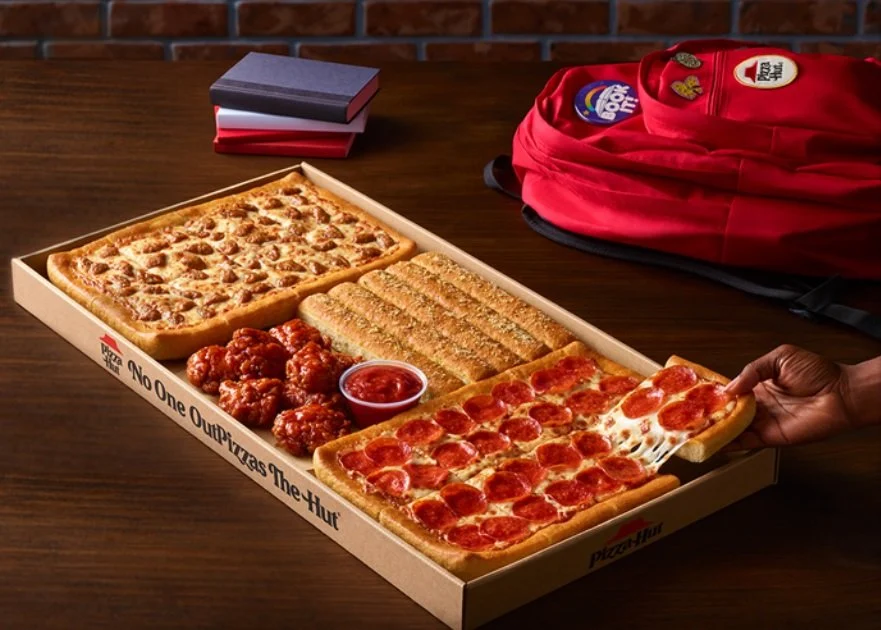 The Pizza Hut Big Dinner Box is an indulgent meal package comprising two medium pizzas with various toppings, five breadsticks, and the option of wings or pasta.
Ideal for sharing or hearty appetites, it offers diverse flavors in a single box. You can purchase the Pizza Hut Big Dinner Box from participating Pizza Hut locations or their official website for a convenient and satisfying dining experience.