Fried chicken is a classic American dish that has been a part of the country's cuisine for centuries. From family recipes to fast-food chains, fried chicken can be found in just about any corner of the United States.
When it comes to fast food, there are a number of chains that have made their mark by serving up delicious fried chicken. In this article, we will be exploring the 11 best fast-food chains that serve fried chicken and what makes each one unique.
Whether you're on the go or just craving some comfort food, these fast-food chains offer quick and tasty solutions to satisfy your hunger.
From crispy drumsticks to juicy breasts, these restaurants have mastered the art of frying chicken and have built loyal followings as a result.
Here Are The Best Fried Chicken Spots In The U.S
1. KFC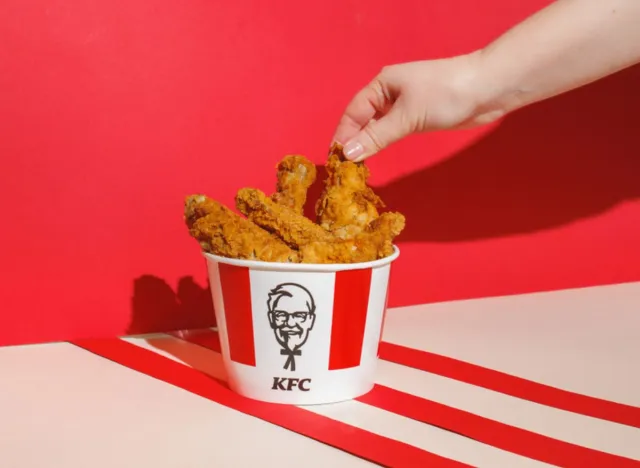 KFC is a well-known fast-food brand that most fried chicken enthusiasts are familiar with. However, have you ever pondered over the process of making KFC's famous fried chicken?
As per their website, KFC utilizes a confidential mix of 11 herbs and spices to coat their chicken which is then pressure-cooked at a low temperature to preserve the taste.
KFC offers combo meals with various parts of the chicken such as drumsticks, thighs, breasts, or wings, and you can choose from Original, Extra Crispy, or Hot and Spicy breading.
Related : McDonald's Is Bringing Back the Chicken Big Mac
2. Jollibee
If you are not living on the West Coast, you might not be familiar with Jollibee, but if you are a fan of fried chicken, it would be worth your while to get to know this Filipino fast-food chain.
Their signature dish is called Chickenjoy, which is prepared using a secret marinade that gives it a succulent taste. Each piece of chicken is hand-breaded to achieve what Jollibee refers to as "crispylicious."
The fried chicken can be served as regular or spicy and can be accompanied by unique side dishes like Jolly Spaghetti or Palabok Fiesta that you won't find at other fast-food establishments
Related: The BEST Way to Air Fry Trader Joe's Orange Chicken: A Step-by-Step Guide
3. Popeyes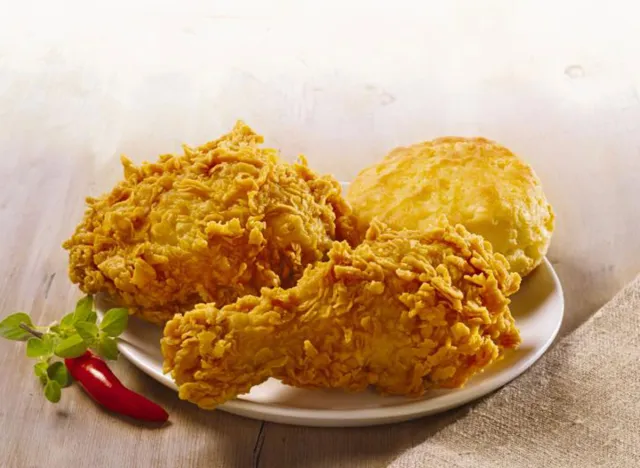 There is a reason why many customers love Popeyes' chicken. The fast-food joint soaks the chicken in "traditional savory Louisiana herbs and seasonings" for 12 hours before cooking it, resulting in a unique flavor and satisfying crunch.
Popeyes' commitment to Louisiana-style fried chicken is evident when you visit, particularly with their spicy rendition featuring a bold Cajun taste that recently won a fried chicken taste test.
Related: How Many Calories in Chicken? Exploring the Caloric Content of Different Cuts
4. TKK Fried Chicken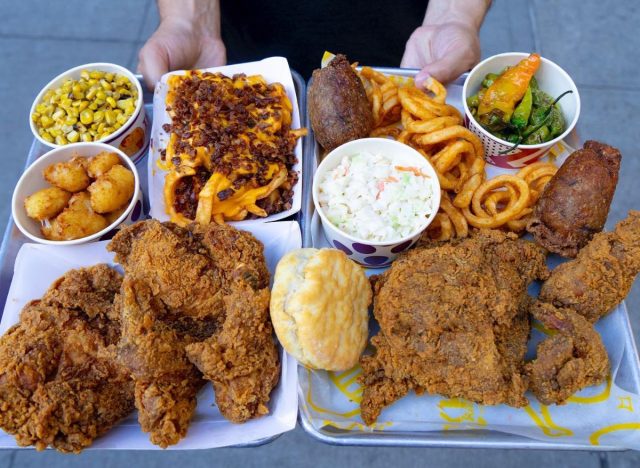 In 1974, TKK Fried Chicken established its first outlet in Taiwan and later expanded to New York City in 2018, marking its international presence.
Currently, the fast-food chain has around twenty-four branches in the United States as of 2023.
TKK Fried Chicken's website claims that it combines the daring flavors of the East with the succulent and crispy techniques of the West.
The chicken at TKK Fried Chicken is renowned for its unique taste and crunchiness, which is achieved by frying it in pure soybean oil with just one layer of breading.
Related: Just bare chicken nuggets costco
5. Hattie B's Hot Chicken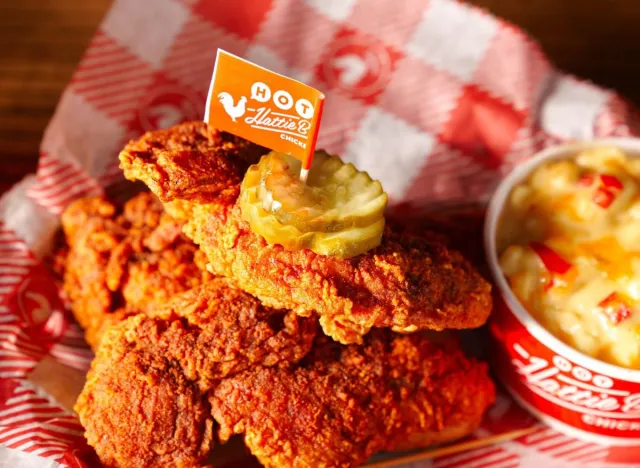 Hattie B's Hot Chicken, a Nashville-based chain, has 10 locations across the country and is renowned for its authentic Nashville hot fried chicken.
The spiciness of the chicken ranges from Southern, which has no heat but bold flavor, to "Shut the Cluck Up," depending on one's tolerance level.
Executive Chef Biran Morris believes that they excel in their craft and continuously strive to improve without introducing limited-time offers or specials. This is possible due to their small menu, allowing them to focus on perfecting their dishes.
Related: Chicken Protein Breakdown: Calories and Macros of Every Cut in Detail
6. Pollo Campero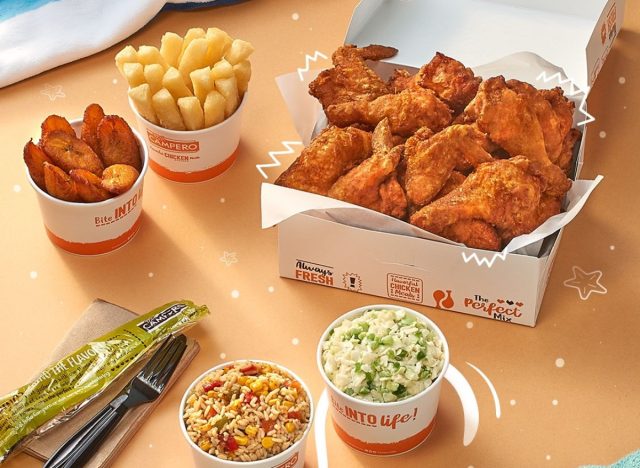 According to 1851 Franchise, Pollo Campero originated in Guatemala in 1971 and has since expanded globally to more than 350 locations, with almost 80 situated in the United States.
The menu's standout dish is the Campero Fried Chicken, which is marinated thoroughly and encourages diners to savor each bite. Pollo Campero's Latin influence sets it apart from the abundance of Southern-style fried chicken establishments in the U.S.
Related: Best Chicken Tortilla Soup Recipe With Rotisserie Chicken
7. Church's Texas Chicken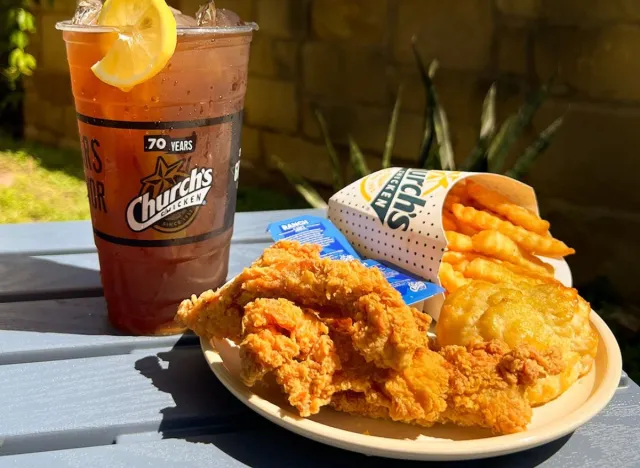 Since 1952, Church's Texas Chicken has been renowned for its delicious fried chicken and unique approach to spicing it up. Instead of using complex seasoning blends, Church's empowers its customers with jalapeño peppers.
These peppers are readily available at Church's, allowing customers to add a kick of heat to their fried chicken with a simple squeeze.
Jennifer Chasteen, a former vice president at Church's, told QSR Magazine that for 65 years, guests have been enhancing their chicken with jalapeño juice for added flavor and spice.
Freshness is also a point of pride for the fast-food chain. My San Antonio reports that Church's initial layout was designed to allow customers to observe the preparation of freshly made chicken while they waited for their order.
8. El Pollo Loco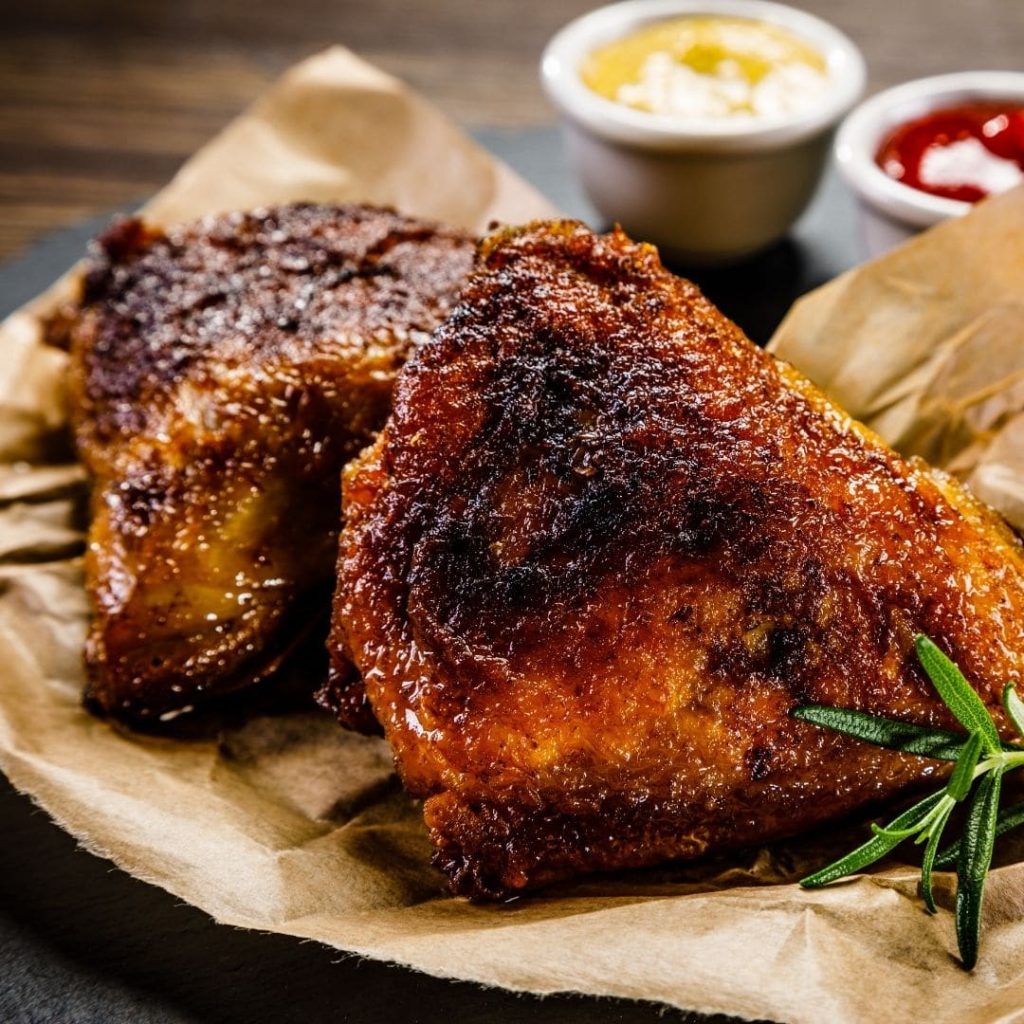 When it comes to fast-food chains that serve exceptional fried chicken, El Pollo Loco stands out as one of the best in the business. With their unique blend of citrus and spices, their marinated and flame-grilled chicken delivers unbeatable flavor and tenderness.
El Pollo Loco's commitment to quality and fresh ingredients sets them apart from the competition. From their crispy fried chicken to their healthier grilled options, they offer a variety of choices to suit different preferences.
With every bite, you can taste the dedication and passion that goes into their chicken. For fried chicken enthusiasts seeking a fast-food experience that exceeds expectations, El Pollo Loco is the go-to destination.
Related: Perfect Air Fryer Orange Chicken Everytime
9. Raising Cane's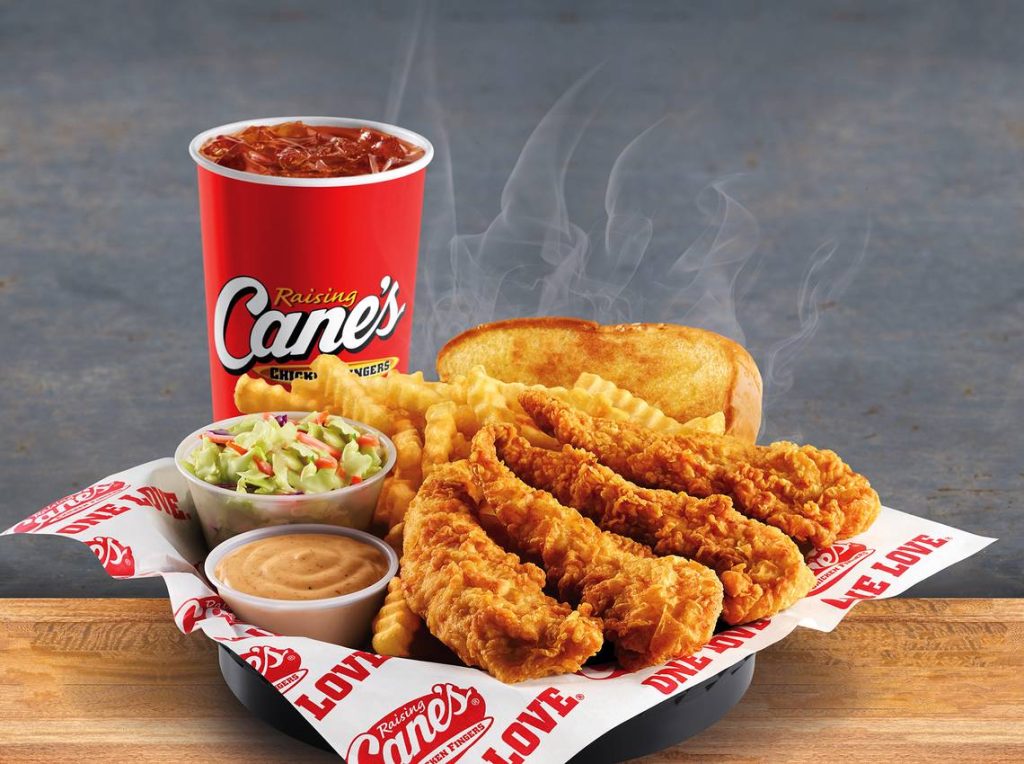 When it comes to fast-food chains that excel in serving mouthwatering fried chicken, Raising Cane's takes the crown as one of the best in the business.
With a laser focus on quality and simplicity, Raising Cane's offers a menu centered around their perfectly crispy and golden-brown chicken fingers. Each piece is made from high-quality chicken tenderloins, ensuring tender, juicy bites every time.
The secret lies in their unique blend of seasonings, providing a flavor that keeps customers coming back for more. Paired with their signature Cane's sauce, the chicken becomes a true delight.
With their unwavering commitment to serving top-notch fried chicken, it's no wonder that Raising Cane's has earned a reputation as one of the best fast-food chains in the industry.
10. Wingstop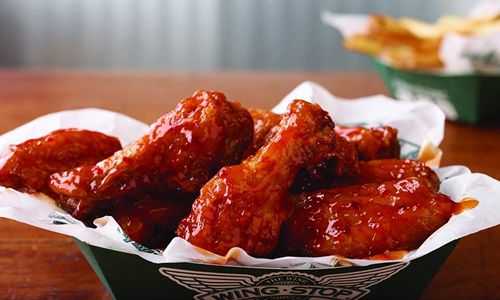 When it comes to fast-food chains that deliver exceptional fried chicken, Wingstop is undeniably one of the best in the game. Known for their bold flavors and crispy wings, Wingstop has won over chicken lovers worldwide.
Their secret lies in their extensive selection of mouthwatering sauces, ranging from classic Buffalo to tangy barbecue and everything in between.
Each wing is perfectly cooked to achieve a satisfying crunch, while the meat remains tender and juicy. With a focus on quality ingredients and consistent execution, Wingstop has perfected the art of fried chicken.
Whether you like your wings spicy, sweet, or savory, Wingstop offers a flavor experience that keeps customers coming back for more, making it a top choice for fried chicken enthusiasts.
11. Zaxby's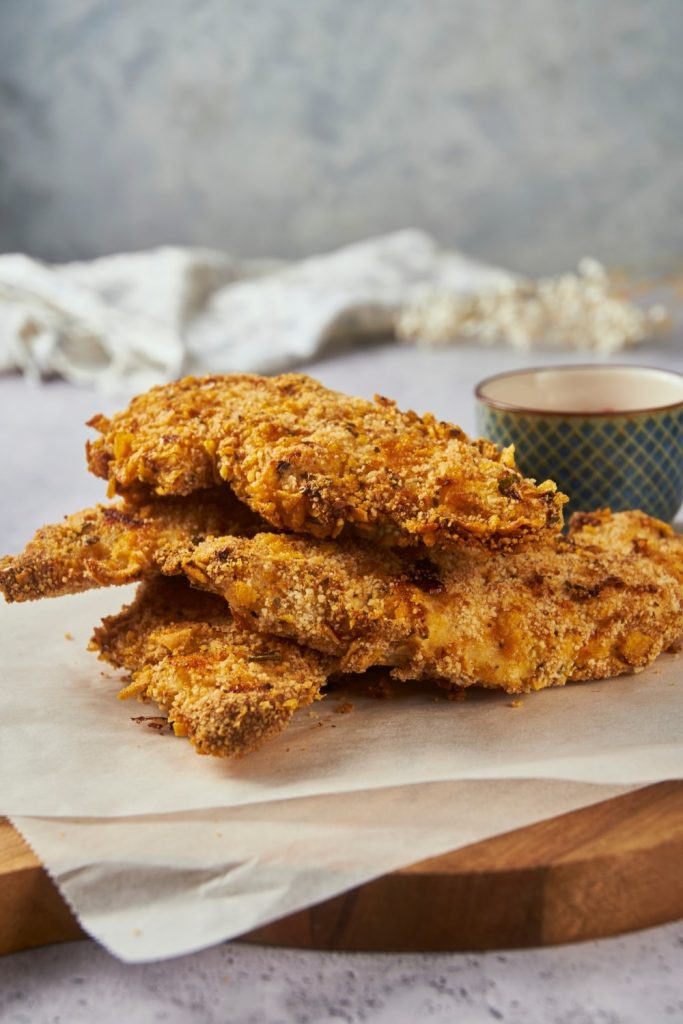 When it comes to fast-food chains that excel in serving delectable fried chicken, Zaxby's stands out as one of the best. With a commitment to quality and flavor, Zaxby's offers a menu full of mouthwatering options.
Their signature hand-breaded chicken is perfectly seasoned and fried to achieve a crispy exterior while maintaining juicy, tender meat.
Whether you prefer classic chicken sandwiches, boneless wings, or traditional wings tossed in their delicious sauces, Zaxby's has something to satisfy every craving.
With their dedication to providing top-notch fried chicken and a range of flavorful choices, Zaxby's has earned its place as a go-to destination for chicken lovers.
Frequently Asked Questions
What are the best fast-food chains known for serving delicious fried chicken?
The top fast-food chains renowned for their fried chicken include Chick-fil-A, KFC (Kentucky Fried Chicken), Popeyes Louisiana Kitchen, Bojangles', Raising Cane's Chicken Fingers, Church's Chicken, and Wingstop.
What makes Chick-fil-A stand out among other fast-food chains?
Chick-fil-A is known for its unique, hand-breaded chicken fillets, seasoned with a blend of spices and served on a toasted bun. The chain's commitment to quality, friendly service, and a wide range of sauces has contributed to its popularity.
What are the highlights of KFC's fried chicken offerings?
KFC is famous for its secret blend of "11 herbs and spices" that create a distinct flavor in its fried chicken. The chain offers various meal options, including their original recipe, extra crispy, and spicy chicken, along with sides like mashed potatoes and coleslaw.
What sets Popeyes apart from other fast-food chicken chains?
Popeyes is known for its New Orleans-style fried chicken, which is marinated in a blend of Louisiana-inspired seasonings and fried to perfection. The chain is also celebrated for its buttery biscuits, flavorful Cajun fries, and signature sauces.
McDonald's Is Bringing Back the Chicken Big Mac
Read More
McDonald's Announces New Cardi B & Offset Meal: A Flamin' Collaboration
McGriddles vs. McDonald's: The Protein Showdown
8 Healthy dessert To pick On The Grocery Shelves
6 Major Differences Between Costco and Sam's Club Right Now
Where is costco opening new stores in 2023
7 Fast-Food Restaurants That Serve the Best Patty Melts
Best 31 Healthy Restaurants in America | Locations
101 Best Restaurants Downtown Dallas That Locals Eat 2022
39 foods that lower blood sugar immediately
30 Best healthy lunch ideas for weight loss
Unveiling the Nutritional Marvels: Exploring the Remarkable Health Benefits of Cashews
Best 31 Healthy Restaurants in America | Locations
20 healthiest butter substitutes
The top 33 foods for keeping your kidney healthy
20 Healthy Chips You Can Eat When You're Trying To Lose Weight
Unveiling the Magical Collaboration: McDonald's New Happy Meal Toys that Delight Disney Fans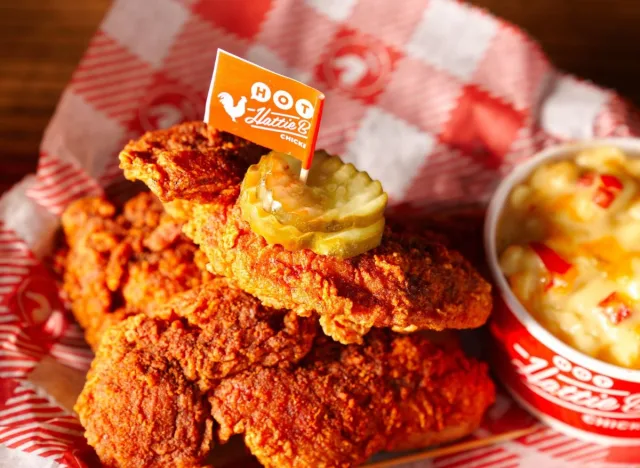 What makes Bojangles' a top choice for fried chicken lovers?
Bojangles' is popular for its Southern-style fried chicken, seasoned with a special blend of spices and served with buttermilk biscuits. The chain offers a variety of meal options, including combos with sides like mac and cheese, green beans, and seasoned fries.
What makes Raising Cane's Chicken Fingers unique in the fast-food chicken industry?
Raising Cane's focuses solely on chicken fingers, offering a simplified menu with a focus on quality. Their hand-battered chicken fingers are made to order, and their signature Cane's sauce adds a tangy and flavorful touch.
Why should I consider trying Church's Chicken or Wingstop for fried chicken?
Church's Chicken is known for its crunchy, Southern-style fried chicken and homestyle sides like mashed potatoes and honey butter biscuits. Wingstop, on the other hand, specializes in various flavorful chicken wings with a wide selection of sauces and seasonings.
What fast food chain sells the most chicken?
As of my last knowledge update in September 2021, Kentucky Fried Chicken (KFC) was the fast-food chain that sold the most chicken worldwide.
KFC is renowned for its famous fried chicken recipe and has a vast global presence with numerous locations in various countries.

However, please note that the ranking might have changed since then, and it's always best to check more recent data for the most up-to-date information.
Is KFC better than Popeyes?
The preference between KFC and Popeyes ultimately depends on personal taste. Both chains have their unique styles and flavors.

KFC is known for its original recipe and a wide variety of menu options, while Popeyes is celebrated for its Louisiana-style spicy chicken. It's recommended to try both and decide which one suits your taste buds and preferences better.
What US state has the best fried chicken?
Determining the state with the best fried chicken is subjective and can vary based on personal preferences. However, Southern states like Kentucky, Tennessee, and Louisiana are renowned for their delicious fried chicken.
Conclusion
In conclusion, fried chicken is a beloved staple of the fast-food industry and there are several chains that have mastered the art of cooking it to perfection.
Whether you're craving classic Southern-style chicken or something with a bit more kick, these seven fast-food chains are sure to satisfy your cravings.
From Chick-fil-A's iconic sandwich to Popeyes' spicy tenders, each chain offers a unique take on this comfort food favorite.
So next time you're on the hunt for some delicious fried chicken, consider visiting one of these top-rated fast-food chains and taste for yourself why they made our list.