Rainy and gloomy gray days are perfect for enjoying a bowl of soup, which can instantly make you feel better and provide a warm and comforting feeling like a hug. Soup is a dish that is made with love and care, and it is the perfect meal to have on such days.
However, making soup from scratch is not always possible, and we are left with three options: instant, canned, or ordering it from a restaurant. Instant soup and canned soup are not the best options as they lack the taste and quality of homemade soup.
Have you ever walked into a Panera Bread restaurant and found yourself overwhelmed by the variety of soups on offer? With so many to choose from, it can be hard to know where to start. That's why we've put together a list of the worst and best Panera soups that you need to taste.
From creamy tomato soup to broccoli cheddar, Panera has something for everyone. But not all soups are created equal. Some are thick and hearty, while others are light and refreshing.
Whether you're looking for comfort food or a healthy option, our list has got you covered. So sit back, relax, and get ready to discover the best (and worst) soups at Panera Bread!
1.Ten Vegetable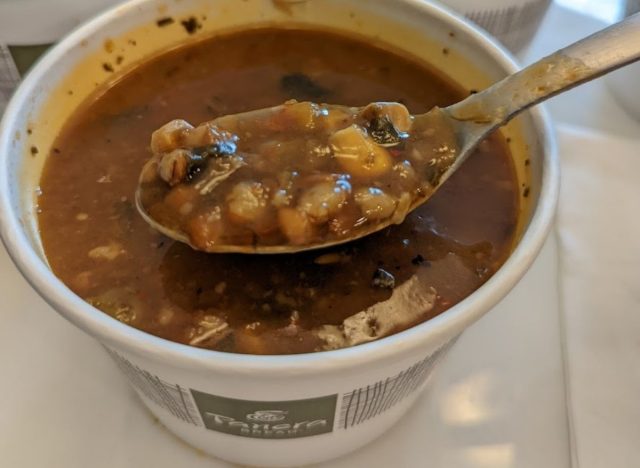 Despite containing ten vegetables and only 100 calories, this soup leans towards feeling more like a low-calorie option. Its prominent flavors come from salt, tomato, pepper, and Aleppo chili, which give it an earthy and sharp taste with a hint of bitterness and sourness.
Additionally, there is a subtle burnt flavor that accentuates the bitterness unnecessarily. The soup includes onion, corn (charred correctly), poblano peppers, carrots, celery, garlic, sprouted brown rice, red fife (wheat), garlic, and chickpeas.
While the chickpeas add texture to the broth and dye it a greenish-red color, their presence makes me crave more beans in this brothy and less filling soup.
The rice, wheat, and other vegetables blend together seamlessly, making it difficult to distinguish one from the other. As a result, this dish is too insubstantial to be considered a main course. To balance out the broth's acidity, it's recommended to pair it with a baguette that has a sweet flavor.
2. Cream of Chicken & Wild Rice Soup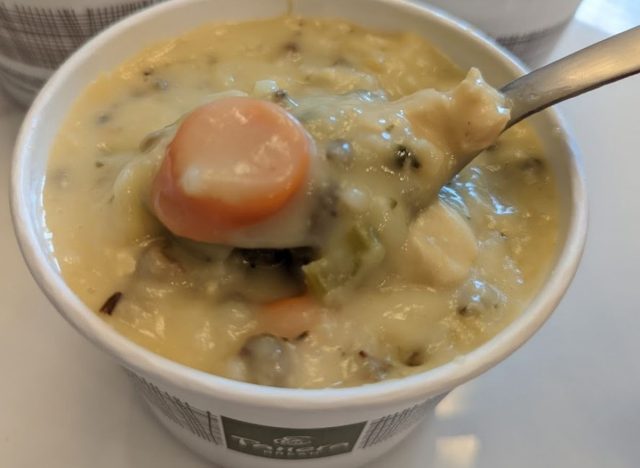 Upon first tasting this 260-calorie soup, served warm, you may have mixed feelings. You might think it appears chunky and overly fluffy due to added thickeners, or you might think it's a thick soup that will fill you up. Both of these observations are accurate.
The soup is dense, but not naturally so. Although some of the lumps can be attributed to the rice, which is known to absorb liquid, most of them are caused by flour used as a thickener that wasn't mixed well.
This results in a gloppy texture with noticeable disparities between bites. However, when reheated to a piping hot temperature, the soup becomes more liquid and easier to enjoy.
3. roccoli Cheddar Soup
Similar to the chicken noodle, I anticipated Panera would have elevated this all-American flavor, but it remained unexciting. The 360-calorie bowl is labeled as chopped broccoli and shredded carrots in a "velvety smooth cheese sauce," with no illusion of being soup or healthy.
This led me to believe it would be extremely cheesy and indulgent, but while there was some cheesiness towards the end, it lacked sharpness and cheddar-like qualities that Quizno's version has.
Additionally, there was an unexpected sweetness at the beginning with a noticeable nutmeg flavor that felt out of place. Similar to the cream of chicken it surpassed, this soup also had clumpy bits that had a sweet flour taste and left an uncomfortable coating on the roof of my mouth.
Canned brands usually use potatoes to add thickness to broccoli cheese soup, but Panera chose flour as a filler and thickener, which was not mixed perfectly. As it cooled, this soup separated more and needed more stirring to combine the elements again, but when reheated, it blended perfectly.
The carrots were visually appealing but did not contribute much to the taste. Although the broccoli was mushy, its flavor was well extracted in the soup, making it predominantly veggie-flavored with a mild cheese hint that justified its name.
4. Mexican Street Corn Chowder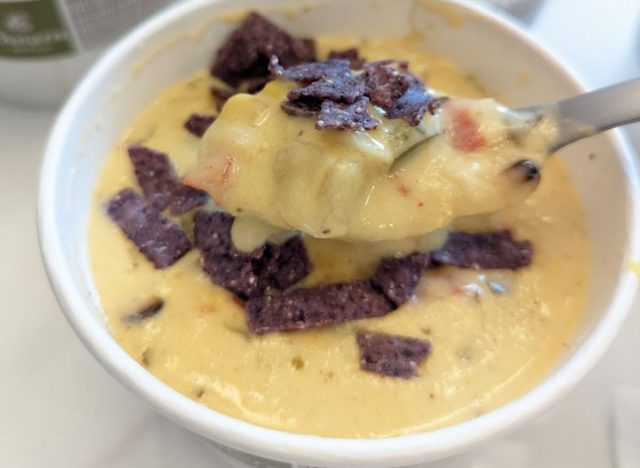 This newcomer to the Panera restaurant line is an exciting one, part of the chain's move toward encompassing more global flavors and authentic ingredients from other cuisines. But this 330-calorie recipe might be a bit of a misnomer if they're going for authenticity, since "street corn" brings to mind elote, and elote this is definitely not.
The soup starts with sweet semi-creamed corn, then adds lime juice, cilantro, and delicious fire-roasted poblanos, whose smokiness you can really taste. It beefs it up only figuratively, using russet potatoes rather than the chicken.
It tasted similar to Campbell's excellent Chunky Chipotle Chicken and Corn Chowder. While it could use a little more lime juice and cilantro to lighten up the cream cheese base, the amount of chili powder used was just enough.
The soup is warm, not hot, in every sense, and comes topped with under-salted blue corn tortilla strips, which add a nice crunch and a different corn flavor.
5. Creamy Tomato Soup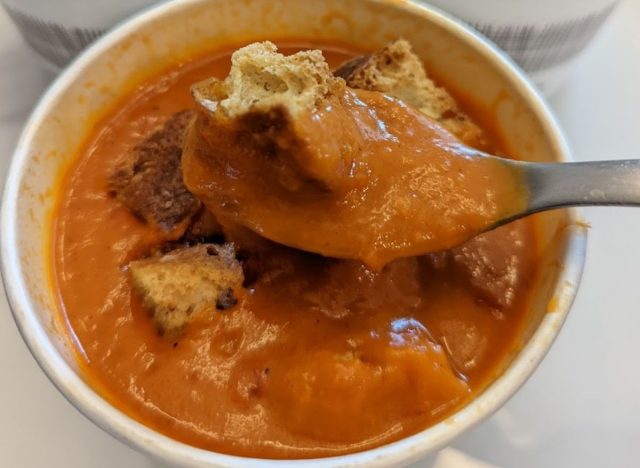 I was shocked to find that a bowl of tomato soup had way more calories than the creamy, starchy chicken and rice… but then again, it also has way more flavor. In this soup, Panera finally steps up to the task of glorifying a humble homestyle classic.
They use a thick puree of juicy, vine-ripened small pear tomatoes instead of your typical bigger commercial tomatoes. The mystery of the 190 calories from fat is solved with the reveal of real whipping cream and butter in its ingredients for richness.
Those components are subtle, but the rest of the soup is not. The garlic, although well incorporated, speaks loudly, and hints of red pepper add more zing to the already punchy, bright tomatoes.
All of this makes it more on the acidic side, but the buttery black pepper focaccia croutons counter that. Their olive oil recalls the comfort of grilled cheese even in the absence of cheese.
These croutons stayed crispy, too, as the soup itself was so heavy and naturally thick that it simply coated the focaccia like festive frosting rather than getting absorbed. I was pleasantly surprised to find this heartier and more substantial than some of the non-vegetarian options.
6. Thai Chicken Soup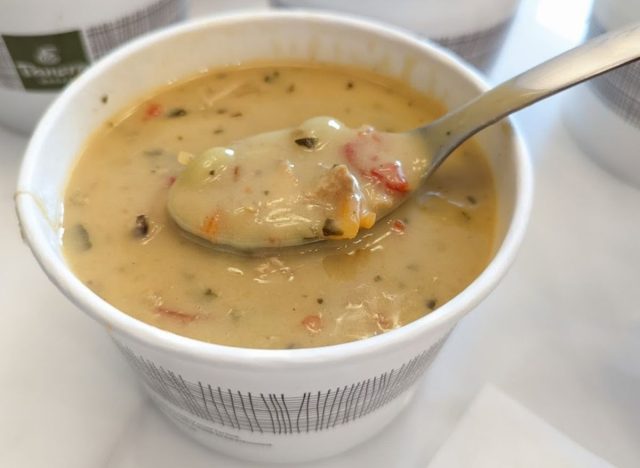 Another recent launch, this 230-calorie smoked its smoky poblano sister soup, making a more respectful effort to capture another culture's famous flavors and make it their own.
The folks at Panera could have more easily gotten away with calling this a Thai coconut curry than the other one Mexican Street Corn since it actually does effectively harness those delicious flavors.
It uses coconut milk, yellow curry paste, lemongrass, galangal, coriander, ginger, cilantro, fish sauce, and other ingredients that lend the blend authenticity. And it has a lovely light heat that hits right away, quickly quenched with the citrusy lime peel that peeks through brightly.
However, it's definitely a soup and not a traditional curry since it's thinner and has diced ingredients. It's got chicken, of course, and a little more of it than the other chicken soups.
It also has carrots, shiitake mushrooms, red bell peppers, and edamame, which all make discernible contributions to texture. None of these are enough to make up for a lack of general heartiness, but what it's missing in terms of mouthfeel it certainly makes up in flavor.
A side of rice dumped into it or even the default Panera bread helps it feel as much of a meal as it tastes.
7. Bistro French Onion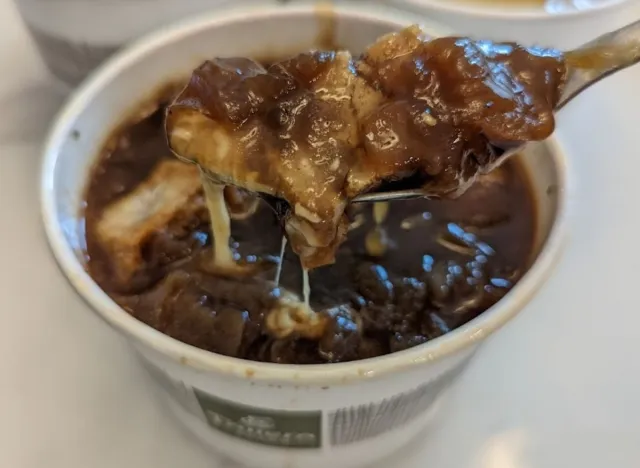 While I absolutely adore French onion soup hot and fresh out of a restaurant oven, I had reservations about how Panera could deliver that same flavor and feeling. It's not exactly a soup that travels well, given its very particular accouterments.
But while you sacrifice the crusty-burnt edges of cheese on the side of the crock, I was delighted to find that I didn't have to sacrifice much else.
Like their tomato soup, this vegetable soup was astoundingly hearty, bursting with its titular vegetable. You can taste the noticeably sweet caramelization of the onion, the sharp sherry wine gastrique, and the richness of the stock.
Soy sauce adds umami and greater depth, making it much fuller tasting and more complex than any canned French onion soup I've tried, and just as salty as a steakhouse's.
Other restaurant-quality elements they included were the bread and cheese components that are integral to a good French onion soup. The soup was so strongly flavored that honestly, the black pepper focaccia croutons (bagged on the side) that thirstily absorbed the broth could have been made of any bread.
However, the detail of their use of the more traditional and authentic Gruyere cheese was one that I could easily taste and appreciate, even as lusciously melted by the time I took my first spoonful.
Read More
How To Make Nigerian Salad | Step By Step Guide
6 Natural Remedies for Digestive Issues: Find Relief Naturally
DIY Remedies for Teeth Whitening at Home: Brighten Your Smile Naturally
13 Best Low Carb Keto Bread to Buy in 2023
Quick and Easy Home Remedies for Acne: Natural Solutions for Clear Skin
30 Best healthy lunch ideas for weight loss
Home Remedies for Upset Stomach and Indigestion: Natural Relief for Digestive Discomfort
Note
At the prices charged, I rather expected higher quality for the money and a higher density of filling ingredients rather than filler. I paid $7.29 per 12-ounce bowl at a Panera Bread in a suburb of Georgia, a price tag that isn't much less than what local restaurants charge for a bowl of soup.
That said, while some varieties are only marginally better than big-name canned varieties, the best ones really do stand out. Panera is making an obvious effort to introduce global diversity and unique ingredients to their menu. They are also providing vegetarian-friendly options that prove that plant-based food doesn't need fake meat to be hearty and delicious. The soups are on the pricey side and a bit stingy with ingredients, but the whole collection is still overall a convenient and tasty option for instant comfort. All the soups are filling and satisfying when rounded out with their eponymous bread.
What are some of the best Panera soups that I should try?
Discover the top-rated soups at Panera, including favorites like Broccoli Cheddar, Chicken Noodle, and Creamy Tomato. Find out why these soups have gained popularity among customers.
Are there any soups at Panera that I should avoid?
Learn about the soups at Panera that have received mixed reviews or have been considered less flavorful or satisfying. Find out which soups may not live up to your expectations.
What makes a soup one of the worst options at Panera?
Explore the factors that can contribute to a soup being considered one of the worst at Panera, such as bland flavors, inconsistent quality, or lack of ingredients. Understand the aspects that can disappoint soup enthusiasts.
Are there any seasonal soups at Panera that are particularly noteworthy?
Discover the seasonal soup offerings at Panera, which often introduce unique flavors and ingredients. Find out which soups are highly anticipated by customers and receive rave reviews during their limited availability.
Can dietary restrictions be accommodated with Panera's soup options?
Learn about Panera's efforts to cater to different dietary needs, such as vegetarian, vegan, and gluten-free options. Find out which soups align with specific dietary restrictions and provide delicious alternatives for all customers.
Conclusion
In conclusion, Panera Bread offers a wide variety of soups that cater to different tastes and dietary needs. While some soups may fall short in terms of flavor and texture, others stand out as superior options.
The worst soup on the menu is undoubtedly the Turkey Chili, which lacks seasoning and falls flat in taste. On the other hand, the best soup is the Broccoli Cheddar Soup, which is creamy, flavorful, and filling.
Ultimately, it's up to personal preference when choosing a soup at Panera Bread. We encourage you to try different options to find your favorite!