Have you ever cracked open an egg and noticed a yolk ranging from light yellow to deep orange?
The color of the yolk can vary for different reasons, and when the yolk isn't the familiar shade, it might raise questions about its safety for consumption.
A significant factor influencing yolk color is the hen's diet. In a study published in 2022, researchers examined two groups of hens: one group received a basic diet, while the other group had a diet supplemented with carotenoid-rich foods.
The yolk color of the second group exhibited noticeable differences in terms of lightness and yellowness compared to the first group. The study concluded that dietary carotenoids contribute to enhancing yolk color.
To delve into the range of yolk colors and their implications, I sought insights from two experts. Continue reading for more information, and for further details, don't miss our guide on egg freshness and identification of spoilage.
what is the yolk of an egg
The egg yolk is the central, nutrient-rich part of the egg. It contains proteins, fats, vitamins, and minerals, serving as nourishment for embryonic development in fertilized eggs, and is valued for its taste and versatility in cooking. Yolk color varies based on the hen's diet.
Insights into Yolk Colors
Understanding the significance of yolk colors.
The hue of the yolk is closely tied to the hen's diet rather than the overall nutritional content of the egg.
Dr. Fernando Cisneros, Global Manager of Layer Solutions at DSM, explains, "An egg's nutritional value is determined by factors such as protein content, amino acid profile, vitamins, and minerals.
While yolk colors can span from pale yellow to deep orange, Cisneros notes that "healthier hens produce eggs with richer yolk color due to higher carotenoid content. Hence, to obtain a golden yolk, hens require high-quality nutrition, proper care, and most importantly, good health.
Jeanine Flaherty, VP of Food Safety and Quality Assurance at Vital Farms, concurs, stating that yolk color reflects a hen's diet and overall well-being.
She elaborates on Vital Farms' approach, sharing that their hens consume a variety of seasonal plants and insects while grazing, in addition to a supplementary feed designed by a poultry nutritionist to boost protein and nutrients, supporting their health and active lifestyles.
Is Yolk Color Variation a Cause for Concern?

Two distinct egg yolk colors in a bowl.
Flaherty reassures that diverse yolk colors should not raise concerns. She explains that the variance is linked to the frequency, quantity, and composition of the hens' diet. In the case of Vital Farm hens, the natural fluctuation in yolk color follows seasonal patterns.
During the warmer months, hens eat less, while in colder periods, they consume more to maintain warmth. Flaherty emphasizes the respect for such variations stemming from the intricate dynamics of their family farming system.
Read more: Breakfast Made Easy: Beans Flour, Egg & Spring Onion Akara
how much protein in an egg yolk
An egg yolk typically contains around 2.7 grams of protein. However, most of the protein content is found in the egg white, with the yolk mainly providing fats and other nutrients.
Measuring Yolk Color

DSM's YolkFan™ in action.
DSM Animal Nutrition and Health
The global poultry industry employs the DSM YolkFan™ (depicted above) as a reliable tool for assessing egg yolk color. Cisneros elucidates that this system offers a straightforward, precise, and consistent approach to yolk color measurement.
In the past, when eggs were a luxury, an orange yolk was synonymous with quality. Post-World War II, European poultry feed was wheat-based, yielding yolks that were less yellow.
Cisneros acknowledges the DSM YolkFan™'s pivotal role in establishing a standardized method for gauging yolk color, bridging the gap from the farm to the consumer's table. The latest version, launched in 2016, includes 16 blades to cater to the market's demand for a richer shade of orange.
Regarding Vital Farms' yolks, Flaherty indicates that their target is a yolk color scoring between 9 and 11 on the scale, representing a vibrant yellow.
Does the color of egg yolks vary?
Yes, egg yolk color can indeed vary. You might encounter yolks that range from light, almost pale yellow to a much deeper shade of orange.
Is yolk color linked to egg nutrition?
Yes and no. While yolk color is influenced by the diet of the hen, it doesn't necessarily correlate with the overall nutritional value of the egg. The nutritional value of an egg is more accurately determined by factors like protein content, amino acid profile, vitamins, and minerals.
Can different yolk colors affect egg safety?
No, egg safety isn't determined by yolk color. Whether the yolk is light or dark, it doesn't impact the safety of the egg for consumption.
What contributes to a richer yolk color?
Hens that are fed diets rich in carotenoids tend to produce eggs with deeper yolk colors. Carotenoids are pigments found in plants and are responsible for the yellow and orange hues.
Key Takeaway:

While many U.S. consumers prefer deeper yolk colors, it's important to dispel the misconception that yolk hue is directly linked to egg nutrition. The intensity of yolk color signifies the presence of xanthophylls—a yellowish-orange pigment—in the hens' feed, rather than the nutritional value of the eggs.
Ultimately, regardless of your yolk color preference, rest assured that eggs of all hues offer abundant nutritional benefits.
Given the variations in food costs, my strategy involves alternating between bulk eggs from warehouse stores and pricier brands, depending on my monthly budget. Regardless of your chosen yolk color, you're enjoying the goodness of eggs' nutritional richness.
Read More: How to prepare Garden egg sauce/ Eggplant sauce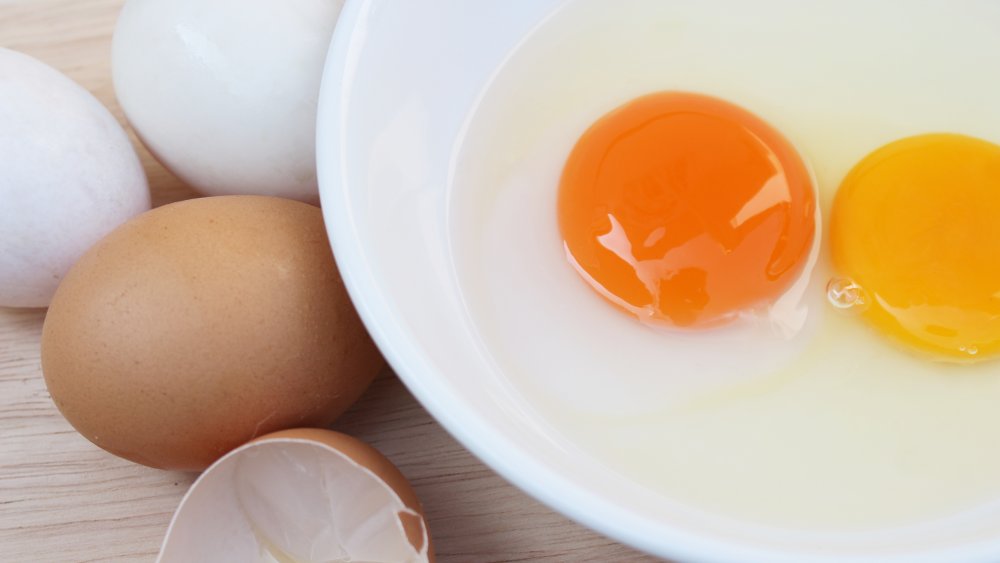 FRequently Asked Questions (FAQ)
What causes the variation in yolk color?
The primary factor responsible for the variation in yolk color is the hen's diet. Hens that consume different types of feed will produce yolks of varying colors.
Are there health benefits associated with darker yolk colors?
Yes, there might be some potential health benefits associated with eggs that have darker yolks. Carotenoids, which contribute to darker yolks, have antioxidant properties that could offer health advantages.
Are lighter yolks less nutritious?

No, the color of the yolk doesn't necessarily correlate with the overall nutritional content of the egg. Lighter yolks are not inherently less nutritious than darker yolks.
How can the yolk color reflect a hen's health?
The color of the yolk can indirectly reflect the health of the hen. Hens with access to a varied and nutrient-rich diet tend to be healthier and produce eggs with richer yolk colors.
Can yolk color vary seasonally?
Yes, yolk color can indeed vary with the seasons. Factors like the availability of certain foods during different times of the year can influence the color of the yolks.
Is the DSM YolkFan™ a reliable tool for measuring yolk color?
Yes, the DSM YolkFan™ is widely recognized as a reliable tool for measuring yolk color. It provides a standardized way to assess yolk color consistently.
Does the yolk color affect egg taste?
No, yolk color doesn't significantly impact the taste of the egg. The taste of an egg is more related to factors like freshness and cooking method.
for which painting media is egg yolk combined with water?
Egg yolk is mixed with water to create a painting medium known as egg tempera. This mixture results in a durable and vibrant paint often used in traditional art.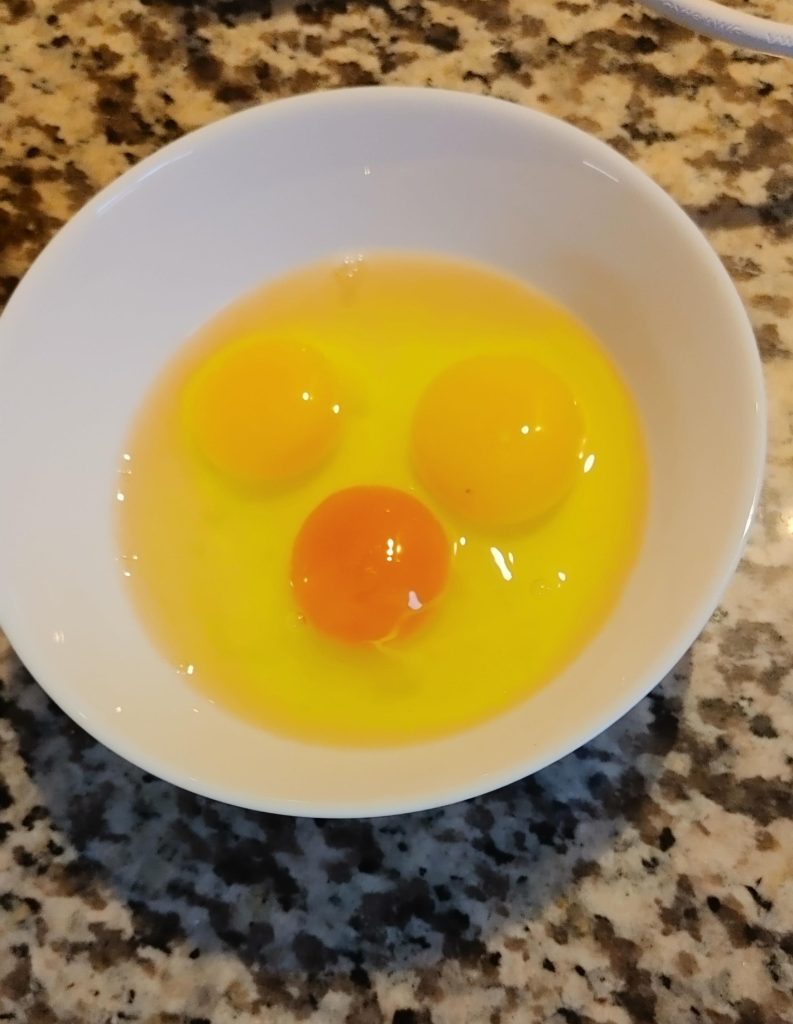 FAQ
Does the yolk color affect egg taste?
No, yolk color doesn't significantly impact the taste of the egg. The taste of an egg is more related to factors like freshness and cooking method.
Should I be concerned about different yolk colors?
No, there's no need to be concerned about encountering eggs with different yolk colors. Variations in yolk color are natural and can be attributed to dietary differences among hens.
Can yolk color indicate egg freshness?
Not directly. While fresher eggs may have yolks that stand more upright and appear slightly brighter, yolk color alone isn't a reliable indicator of egg freshness.
Can you change yolk color through diet adjustments?
Yes, you can influence yolk color through diet adjustments. If you want to achieve a certain yolk color, you can modify the hens' diet to include specific carotenoid-rich foods.
Read More
McDonald's Closes American Offices Ahead Of Layoffs
McDonald's Chicken Big Mac is returning
McGriddles vs. McDonald's: The Protein Showdown
McDonald's Announces New Cardi B & Offset Meal: A Flamin' Collaboration
McDonald's Is Bringing Back the Chicken Big Mac
Best 31 Healthy Restaurants in America | Locations
The meaning of different egg yolk colors
Pale Yellow: Yolks with a light hue typically indicate a diet lower in carotenoids. Hens might be consuming a diet predominantly based on grains and lacking in pigments.
Medium Yellow: Yolks with a medium yellow shade could suggest a diet with a mix of carotenoid-rich foods and grains, resulting in a balanced yolk color.
Deep Orange: Deeper, orange-hued yolks signal a diet abundant in carotenoids, often obtained from plants like marigold petals or green vegetables. These yolks might contain more beneficial nutrients.
Reddish-Orange: A reddish or reddish-orange yolk can stem from a diet rich in specific carotenoids. These yolks might offer additional antioxidant benefits due to the presence of lutein and zeaxanthin.
Speckled Yolks: Occasionally, yolks might have speckles of a different color. This can result from variations in the absorption of pigments during egg formation.
Seasonal Variation: Yolk color can change with seasons due to shifts in available food sources. Brighter yolks might appear when hens consume more fresh greens in spring and summer.
Health Indicator: Richly colored yolks can reflect healthier hens, often raised in environments that allow for varied diets. These yolks might be associated with better hen welfare.