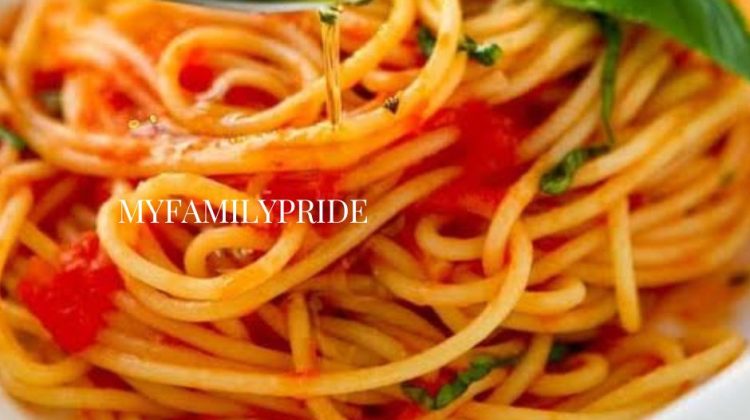 It is true that some tend not to like spaghetti because of too much starch and so on. But spaghetti is actually a great food for millions of Nigerians
Yes, you might have tried cooking white or Jollof spaghetti and it doesn't turn out well. It is just a normal thing that happens to everybody the first or second time cooking spaghetti. Meanwhile, it is the very best and fastest meal you can ever prepare.
While enjoying spaghetti prepared somewhere, never think is a difficult chore making spaghetti. worry not, truly I have prepared step-by-step procedures to make you the latest spaghetti chef Lol.
I might not be a Jollof spaghetti lover but seriously I cherished white and stew spaghetti. When it comes to this amazing combination, I can go craze for it.
I don't know about you?
Do you love Jollof spaghetti more than white and stew, You don't just like spaghetti no matter how it was prepared, Do you just love eating it no matter how it was cooked?
Is not bad if you know how to prepare different kinds of spaghetti. This is simply because it often satisfies the hunger when cooked well Instead of buying from restaurants.
I am sure that after going through my procedures, ingredients, and basic techniques, you will spaghetti-like never before. It was a surprise to me that I can now finish one full plate of Jollof spaghetti.
Impress your family and friends with our amazing recipe:
Alright!!
Sometimes our question is always how to stop spaghetti from sticking together. Yea!!
4 Homemade pasta mistakes
You will definitely be satisfied after reading through my write up
1. Not always using a big pot: It allows the cook to add enough water and by so doing the spaghetti will definitely cook best. But when pasta is added to a small amount of water the temperature drops more than it would in a large amount of water.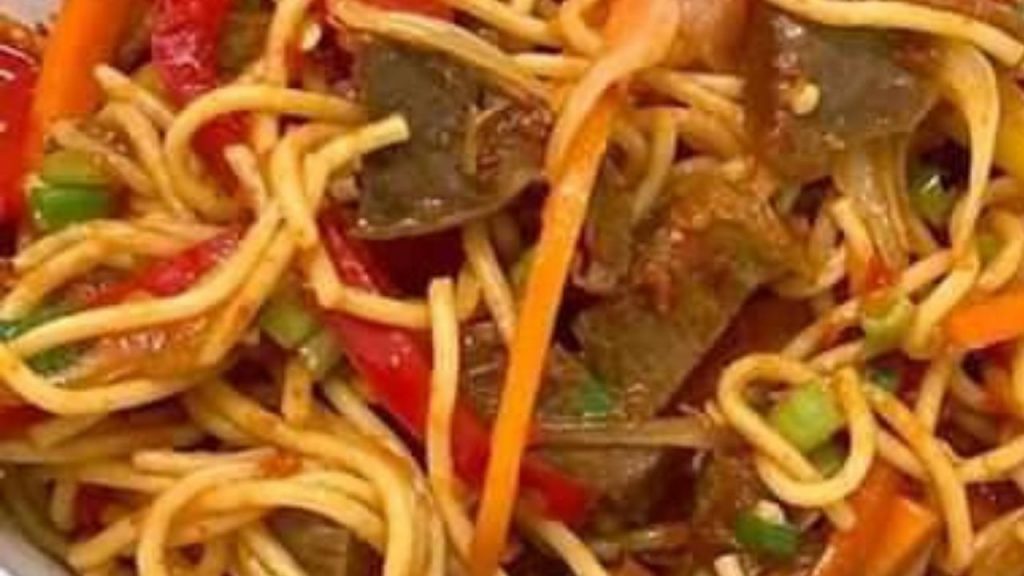 2. Not salting the spaghetti water: Some people think that salting pasta water while cooking doesn't really make a difference but this is wrong. Firstly, adding salt tends to increase the boiling point. Salting the water helps to season the spaghetti internally as it absorbs the water and swells.
In conclusion, salted pasta water leads to tastier spaghetti it should not be neglected.
3) Not adding oil to your cooking water: truly some people add vegetable oil to pasta water to stop the pot from boiling over and sticking together. But I don't do that. Because this is what I can check over and over again.
4) Waiting too long to stir your spaghetti: waiting too long makes the pasta stick together. This is because pasta releases a_lot of starch as it cooks. Let's be guided.
How to Parboil your spaghetti
Rinse your big pot, pour in enough water, in fact in order not to make your spaghetti stick together, use at least 3-4 quarts of water for every pound of spaghetti. Cover it and allow it to boil.
Break the spaghetti into two add it to the boiling water, but at least 1_2 spoons of salt to the spaghetti, cover, and allow to boil for about 35 seconds.
Stir very well, bring it down wash it for an out 4-5 good times, you must notice a big difference if washed properly, leave it in the sieve, cover it and set aside.
Alright let's mean business
Here are the 5 different spaghetti recipes.
Spaghetti with fresh tomatoes stew
Jollof Spaghetti with tin tomato.
Red oil Jollof spaghetti
Sadine spaghetti
Coconut juice spaghetti
White And Stew Spaghetti
It is a type of spaghetti prepared to enjoy with well-cooked sauce.
Ingredients Needed for White and Stew Spaghetti
Golden Penny Spaghetti.
Well cooked chicken
Ground Fresh Tomatoes.
Ground Fresh Pepper, Garlic, and Ginger.
Chopped onions.
Vegetable oil.
Curry powder and thyme.
Salt and Seasoning cube\
Spaghetti and Stew Recipe
Parboil your Golden penny spaghetti accordingly, wash it properly. Boil your cooking water before adding the spaghetti again. pour the spag, cook till done.
Sieve the water out then drain, put in a cooler cover, and set aside.
Easy Spaghetti Sauce
Wash your pot properly, set it on your cooking gas, allow the water to dry, pour in vegetable oil, when heat, add onion then fry. The onion should sizzle and hiss as they cook.
Add ground garlic and ginger fry till it starts given out an aromatic flavour, then pour in ground pepper then fry for about 1min.
Pour in ground fresh tomatoes then, fry till your stir to your satisfaction.
Add the curry powder, thyme and seasoning cubes. Keep stirring until 3mins.
Add the chicken stock and salt to taste. Stir the stew and if the sauce seems too thick, add a little water, stir it again.
Allow the sauce to simmer for at least 8-10mins, turn it again and adjust the seasoning now then cook for another 3mins
Bring it down and serve your spaghetti with fried chicken and chilled exotic drink.
Jollof Spaghetti with Sadine
Ingredients needed
1 Spaghetti
2 Sadine
tomatoe paste
garlic, curry powder and thyme
1 mediin Chopped onion
Hand full ground crayfish
4 Ground Shombo and Tatashi
4 Seeds of ground tomatoes
Vegetable oil
Seasoning cubes and salt
Step By Step Procedures
Step1. Wash your hand properly with soap and clean water, Rinse your cooking pot, set it on fire, and allow the water to dry up.
Step2. Add vegetable oil to the pot and allow to heat.
step3. Add the chopped onion, fry for about 2_3 mins. Pour the ground tomatoes together with the pepper fry till done.
step4. Add the curry powder, thyme and garlic then fry for about 3mins. Open the sardines one after the other. Pour in the sardine water inside your cooking pot, add a little bit of water (Just small) then, add seasoning cubes and salt to taste. Stir the sauce cover it and allow to boil.
step5. Add the spaghetti, lower the heat. Stir every 3mins till the spaghetti is cooked. Bring it down and serve hot and as well garnish with any available vegetable.
Coconut Juice spaghetti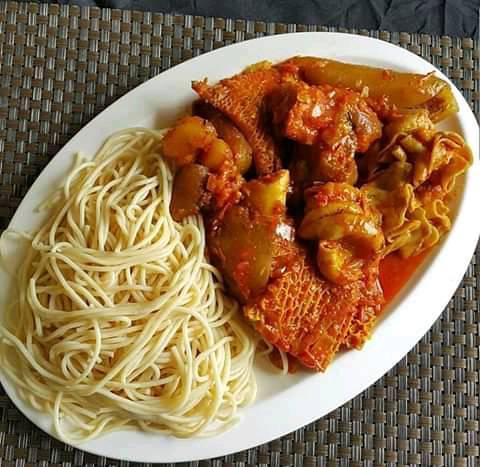 This is a type of spaghetti dish that is normally prepared with coconut juice or coconut flavour. It is an exceptional type of spaghetti that almost everybody loves eating.
Special Ingredients For Coconut Juice spaghetti Recipe are.
Meat
Mangala fish and stockfish
Thyme and Scent leaf.
Ginger and garlic.
Coconut juice or Coconut spice.
The combination of mangala fish taste, scent leaf taste, thyme, ginger, garlic and coconut juice gives this meal a delicious taste. In case you you have not tried cooking this Amazing food, just give it a try and you will not regret it.
Total ingredients Needed Coconut Juice spaghetti
spaghetti.
boiled stockfish and mangala.
Chopped onion.
Ground crayfish.
Ground pepper and ground fresh tomatoes
Coconut juice.
Ground ginger and garlic.
Spicity and curry powder.
Chopped Scent leaf.
Vegetable oil.
Seasoning cubes and salt to taste.
Step By Step Procedures Coconut Juice spaghetti.
Rinse your cooking pot, Set it on a high heat and allow the water to drain. Add your cooking vegetable oil, lower the heat and allow the oil for some time.
Add the chopped onion, fry till the colour changes. Add the ground garlic and ginger, fry for at least a minute.
Add the ground fresh tomatoes. Fry for about 5-7mins only. Remove the sauce from the pot, put in a bowl plate then, cover and set aside.
pour in one cup of water to the empty pot, set it on a high heat, add the coconut juice, meat, ground crayfish, spicity and curry powder to taste.
Add the remaining chopped onion, seasoning cubes and salt to taste. Cover and allow to boil.
Put the spaghetti, add the sauce, stir and adjust seasoning if desired. cover and allow to boil for about 5-6 mins. Lower the heat then, cook till done.
Add the chopped Scent stir and allow to simmer on a low heat. Stir the spaghetti then, bring it down and sever hot.
Red Oil Jollof Spaghetti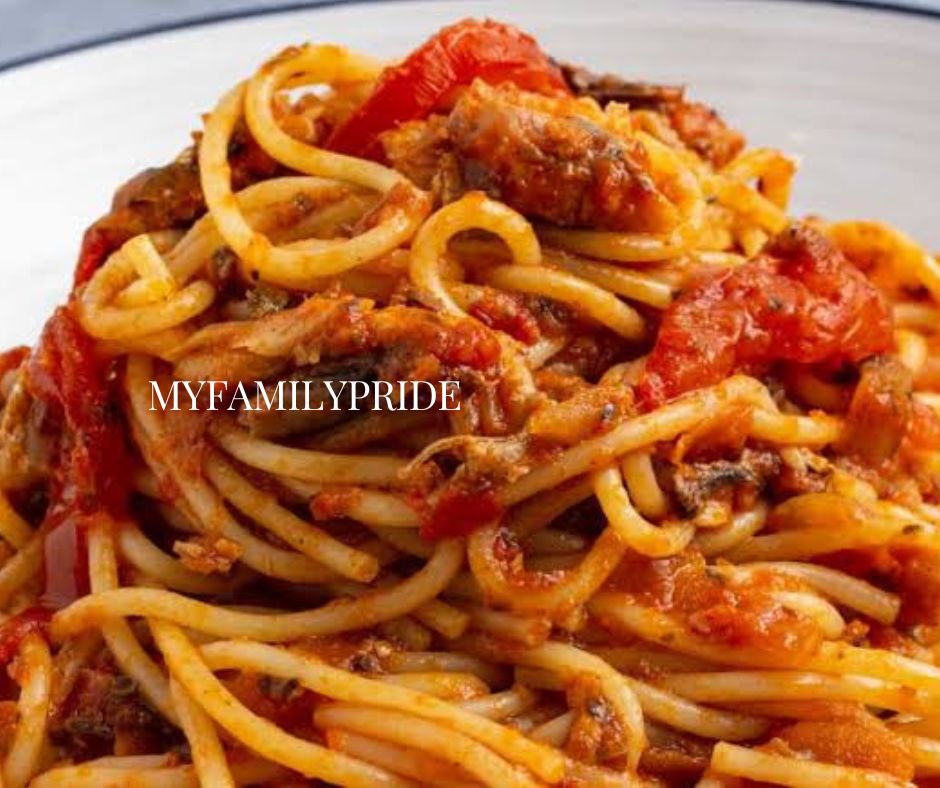 Red oil jollof spaghetti is a type of spaghetti prepared with palm oil without tomatoe paste. My aim of cooking this red oil jollof was to make sure it tasted like normal jollof.
Red oil jollof spaghetti is not an every day meal. Is been cooked once in a while. Have eaten red oil jollof rice before? How does it taste.
Amazing right? Both have the same taste because they are been cooked the same way. Just give it a try and thank me later.
Here Are The Ingredients Needed.
Your parboil spaghetti.
Sweet palm oil.
Chopped onion.
Ground fresh pepper and tomatoes
chopped Scent leaf.
Ground garlic and ginger.
cooked dried fish and curry powder.
Seasoning cubes and salt to taste.
Step By Step Procedures on How To Prepare Red Oil Spaghetti
1. Parboil your spaghetti, don't over cook it, wash it properly and set aside.
2. Rinse your frying pot, set it on high heat and allow the water to dry up. Add the palm oil. When hot, add your chopped onion. fry it for about a min and 30 seconds.
3. Add the ground tomatoes ginger, garlic and all the ground peppers. Fry for at least 5_7 mins.
4. Put in the curry powder, seasoning cubes. Cook for about 2mins.
5. Add the cooked dried fish then, add a little bit of cooking water, cover and allow to boil. Wash the spaghetti again then pour it straight to the pot. Stir cover and cook till done.
6. Add the chopped Scent leaf, stir and allow to cook for about 2mins. Bring it down and serve hot.
Spaghetti With Tin Tomatoes
Tin tomatoea spaghetti is a type of spag prepared with tinned tomatoes paste, even satchet tomatoes paste as well.
Necessary Ingredients
Parboiled spaghetti
Vegetable oil
Ground crayfish
Boiled Chicken
Tomatoe paste
Chopped onion
Ground fresh pepper
Spicity (optional)
Curry powder and thyme
Ground ginger and garlic
Seasoning cubes and salt
Procedures
Rinse your cooking pot very well, set it on a high heat and allow the water to dry up.
Add vegetable oil and allow to heat. Add chopped onions and thyme together then, give it a fry for at least 1mins 30 seconds.
Add your tomatoe paste then fry at least 5-7mins in order for the raw taste to go out.
Add the ground curry powder, fresh pepper, garlic and ginger then cook for another 1minute.
Lower the heat, then, add your ground crayfish stir, the Spicity, then add a little bit of the chicken stock.
Add your seasoning cubes and salt to taste.
Cover and allow to cook until the water dries now remaining the sauce.
Add the cooked spaghetti, then stir and fry with that same low heat till done. Your spag is ready. Serve this food hot with fried chicken or fried fish.
Drinks To Pair With Pasta.
Sha man.
pure heaven.
Marlot .
Riesling.
Zobo drink
Lambrusco rosso wine etc.
Best Time To Eat Spaghetti (Pasta)
Spaghetti is good at all time. Both morning, afternoon and at night too.
Conclusion
Spaghetti looks and tastes bad if cooked for a long time, secondly, don't forget that not stirring, salting your spaghetti while parboilling makes the pasta to stick together.
Adding bof vegetables for example, carrot, green beans, spinach, Scent leaf etc if you have them at home. This helps your meal to be nutritious.
Seriously spag was one of the meals I found difficult to prepare, but with this method here, I can be able to cook any type of spaghetti trust me.
See, even if you didn't get it the first time, don't stop, don't give up, keep trying till you become perfect.
How to make spaghetti step by step guide.