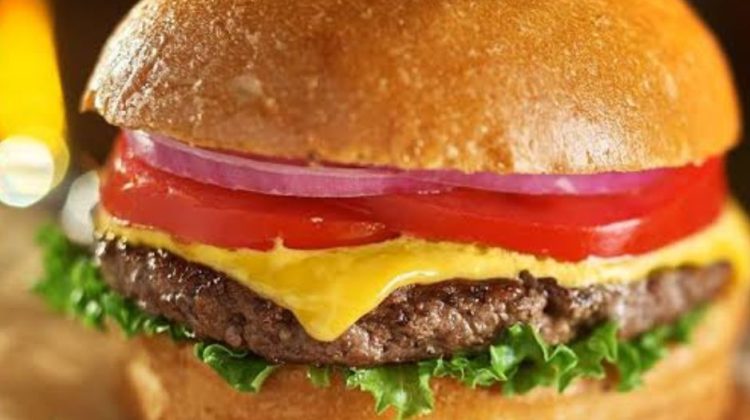 Summer barbecues are a classic tradition, but with the convenience of an air fryer, cooking up juicy hamburgers has never been easier.
Air fryers provide a quick and healthy alternative to traditional deep-frying that yields delicious, juicy results. This article will provide an easy-to-follow recipe for creating delicious air fryer hamburgers that can be prepared in just minutes.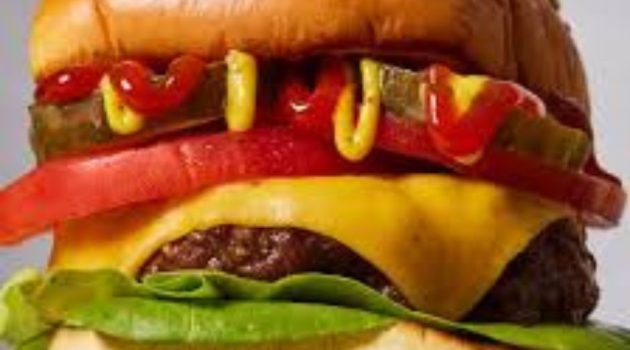 Do you want to enjoy a delicious and juicy hamburger without all of the mess? With air fryers, it's now easier than ever to make perfect burgers.
This quick and easy recipe is sure to be a hit with everyone in your family.An air fryer is an incredibly versatile kitchen appliance that can cook almost anything with little oil or no oil at all. Air-fried hamburgers are simple to prepare and cook in just minutes.
All you need is some ground beef, seasonings, cheese slices (optional), buns, and condiments of your choice such as ketchup or mustard.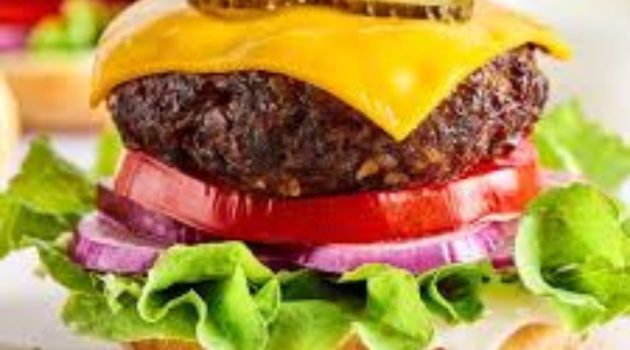 Simply mix the ingredients together with some salt and pepper for seasoning, form patties out of the mixture then place them into the preheated air fryer basket.
Tools Needed For Easy, Quick, And Juicy Air Fryer Hamburgers.
Air fryer
A basting brush
A mixing bowl.
Spatula
Gloves
An air fryer: significantly reduces the quantity of oil required and allows you to create many delicious recipes with convenience.
A basting brush is: useful for brushing olive oil on the patties.
A mixing bowl is: useful for mixing the ground meat mixture.
Spatulas: are used for flipping the patties.
Gloves: Food preparation gloves are worn while mixing the ground meat to keep you from contaminating your hands.
Reasons You Will Cherish Air Fryer Hamburgers
Air fryers are a great invention for those who want to continue to enjoy delicious fried foods without worrying about the additional calories.
Hamburgers cooked in an air fryer can not only be tasty, but also incredibly healthy! If you're wondering why you should give air fryer hamburgers a try, here are some reasons that will make you love them.
First and foremost, air fryer hamburgers require very little oil compared to traditional deep-fried burgers. This means that they contain significantly fewer calories than their fried counterparts while still providing that same crispiness and flavor.
Another benefit of cooking hamburgers with an air fryer is that the appliance helps to keep the moisture locked in so your burger patty won't dry out or get burnt during the cooking process.
Step By Step Guide
Ground meat: Use 80/20 ground beef depending on the number of persons you are preparing it for, but you can also use ground pork. (Your choice matters).
Cheddar cheese: The classic choice for American hamburgers. It has an umami flavor that works really well with beef. That said, any type of cheese you like will do.
Egg: Works as a binder to enhance the patties texture.
Red onion: Since red onion is sweeter than white onion, it is a good option for a burger. Yellow onion is also known as a solid addition.
Vinegar: Blend apple cider vinegar and sugar to reduce onion's odor and flavor.
Sauces: Include soy sauce, oyster sauce, chili sauce, ketchup, and you'll have them for marinating the meat. Other vegetables include lettuce, tomato, and cucumber. Spices include pepper, sugar, salt, chili powder.
Step By Step Guide
Wash lettuce, tomato, and cucumber thoroughly. Slice half of the cucumber, tomato, and red onion horizontally into thin slices. Dice the remaining red onion into small pieces and mix into the ground meat.
Sprinkle red onion slices with 2 tablespoons of sugar and 2 tablespoons of vinegar for 15 minutes. The sugar will boost the onions' crispness and reduce the pungent taste.
Preheat your air fryer for several minutes. This step will ensure that a consistent temperature, which improves the cooking of the patties.
Brush vegetable oil around the basket before applying poultry or meat.
Place your food prep work gloves on. Divide the ground meat mixture into 4 equal parts. Roll the meat into balls, then press them between your palms into patties.
The patties will rise after air frying, so they should be noticeably larger than the buns.
The patties should be placed in the air fryer basket, and olive oil should be brushed on all sides. Set to beefsteak mode or steep in 400 degrees F for 6 minutes.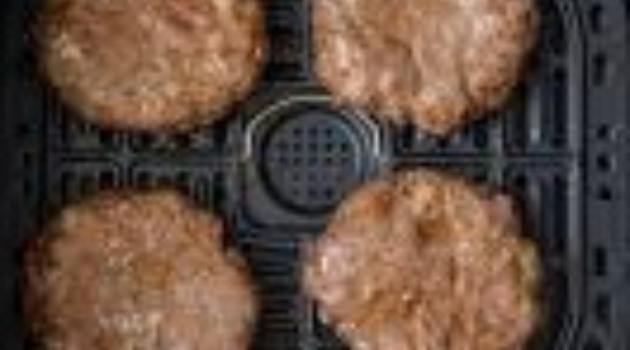 Then the patties should be flipped, brushed with olive oil, and set to beefsteak mode for another 6 minutes at 400 degrees F.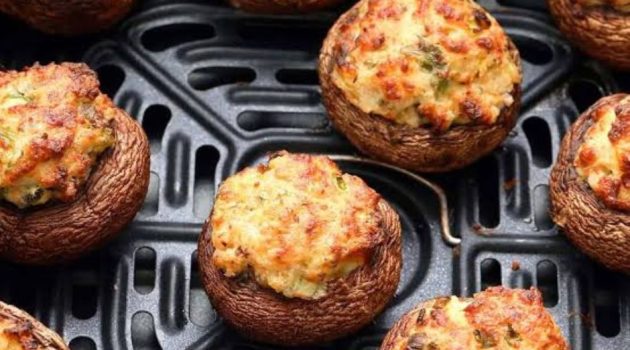 Top each burger with one (or a few) cheddar cheese slices and air-fry them for one minute at the same temperature to melt the cheese.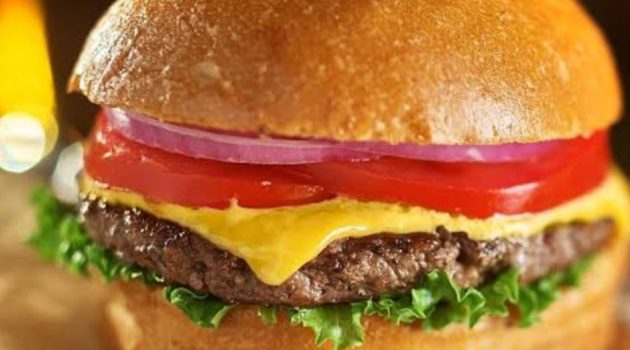 How to present Juicy Air Fryer Hamburgers
When it comes to making a delicious burger, it is all about the details. From the type of bun used to the condiments added, every detail makes a difference in creating an unforgettable experience.
One of the most important steps for making a great burger is cutting the buns in half horizontally before adding all of your desired ingredients.
This ensures that all of your toppings are evenly distributed throughout and that none of them fall out when you bite into it.
To begin;
grab two hamburger buns and cut them in half horizontally using a sharp knife
Add some lettuce, tomato slices, cucumbers and your favorite patty to the bottom halves.
Spread some chili sauce or mayonnaise or both if desired on top as well as some freshly chopped onions and/or jalapenos for an added kick if you wish.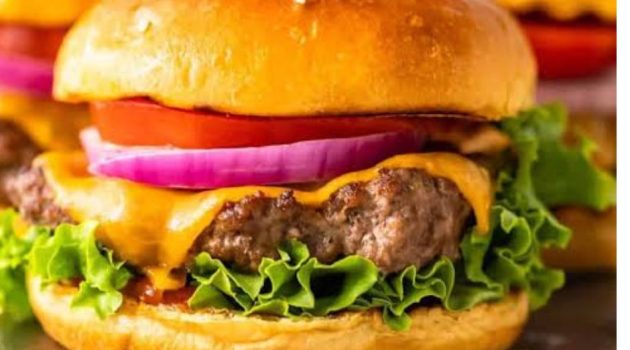 Can you make air fried hamburgers ahead of time?
Making hamburgers in an air fryer is a great way to enjoy juicy, traditional burgers without all the added fat of deep-frying. But can you make air fried hamburgers ahead of time?
The answer is yes! With a few simple steps and some creative thinking, it's easy to make delicious air fried hamburgers ahead of time.
To begin with, you'll want to mix up your favorite burger patty recipe. Once the mixture is ready, form patties and place them on a parchment-lined cookie sheet.
Place the cookie sheet in the freezer for about an hour before transferring the frozen patties into a resealable bag or container.
Can you freeze air fryer burgers?
Air fryer burgers can indeed be frozen and reheated. However, to ensure the best taste, it is important to pay attention to storage and reheating instructions.
Always make sure that the burger is sealed tightly in an airtight container before freezing and properly thawed out before reheating.
Additionally, when reheating frozen air fryer burgers, use a thermometer to verify that they reach a safe internal temperature of 165°F.
Where to eat hamburger
1. Burger and sauce kings heath.
If you're craving a juicy, mouth-watering burger with a unique twist of flavor, then look no further than Burger and Sauce Kings Heath.
Located in the heart of Kings Heath, this hidden gem has been serving up some of the most delicious burgers and sauces for years.
From classic cheeseburgers to vegan options, there's something for everyone at this local hotspot.
What sets Burger and Sauce Kings Heath apart from other burger joints is their commitment to using only the freshest ingredients.
Each burger patty is made with 100% beef or plant-based alternatives and cooked to perfection on a griddle.
To top it off, their homemade sauces are what really make these burgers stand out. Whether you're in the mood for spicy jalapeno aioli or tangy BBQ sauce, Burger and Sauce Kings Heath has got you covered.
2. Smacks hamburgers
If you're looking for a delicious and juicy hamburger, Smacks Hamburgers is the place to be. This iconic restaurant has been serving up mouth-watering burgers since 1953, and they continue to draw in crowds with their classic recipes and friendly service.
At Smacks Hamburgers, you can expect nothing but the best when it comes to quality ingredients, fresh toppings, and perfectly cooked patties.
One of the things that sets Smacks Hamburgers apart from other fast-food chains is their commitment to using only fresh ingredients.
Every burger is made-to-order with 100% pure beef patties that are never frozen.
They also offer a variety of toppings such as cheese, lettuce, tomato, onion, pickles and condiments like ketchup and mustard which can all be customized according to your preference.
Another thing that makes Smacks Hamburgers stand out is its cozy atmosphere.
Other Recipes You Might Love Yo Check.
How Long To Bake Chicken Wings At 375 • 2023 Edition.
Does Baileys Irish cream go bad?
Nigeria/(Ingredients For Cooking half bag of Rice) In 2023
Crispy & Tender Air Fryer Chicken Fried Steak
35 most popular Italian foods that will captivate you 2023
How to tell if sweet potatoes are bad; Ultimate guide 2023
25+ authentic Italian side dishes for your your main course.
The Ultimate Guide To Creating A Delicious Santa Fe Salad
The Juiciest And Easiest Air Fryer Meatloaf.
Healthy, Easy, Tender And Juicy Air Fryer Naked Chicken.
Homemade Apple And Cinnamon Cake.
Health Benefits of Onion Consumption.
Conclusion
In conclusion,with an air fryer, you can make quick and delicious hamburgers quickly. Air fryer burgers are also much healthier than traditional deep-fried burgers.
Not only do they take less time to prepare and cook, but they are juicier than ever. Plus, the clean-up is a breeze! Give these juicy air fryer burgers a try – your taste buds will thank you! So go ahead and give this tasty recipe a go – you won't be disappointed.
How To Make Party Jollof Rice Nigeria/(Ingredients For Cooking half bag of Rice) In 2023