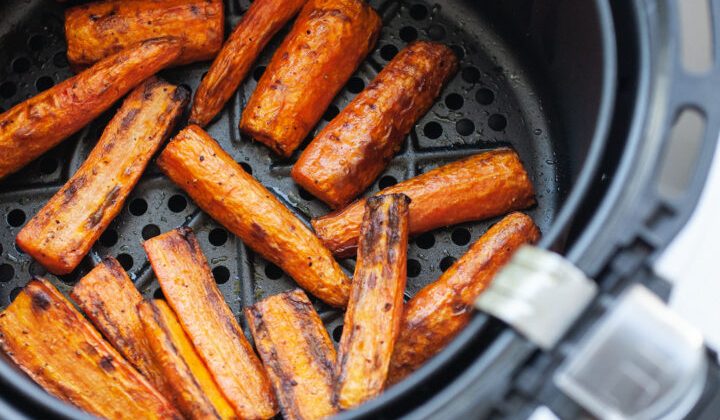 Roasted carrots are like nature's candy – sweet, earthy, and oh-so-satisfying. But what if I told you that you can elevate this classic side dish to a whole new level of deliciousness with the magic of the air fryer?
Today, we will deep into the world of air fryer roasted carrots, and we'll take you through each step, making it easy to create a dish that's not only incredibly tasty but also healthy.
Whether you're new to air frying or consider yourself an air fryer pro, you'll find this recipe accessible, practical, and undeniably scrumptious. So, let's roll up our sleeves and explore the art of making the Best Air Fryer Roasted Carrots.
What is roasted carrots
Roasted carrots are a delightful side dish made by baking or cooking carrots in an oven or air fryer until they become tender and caramelized.
Typically, they are seasoned with herbs, spices, and a drizzle of oil, which enhances their natural sweetness. The result is a flavorful, slightly crispy, and earthy side dish that complements various meals.
Ingredients For air fryer roast carrots
1 pound of fresh carrots, washed and peeled
2 tablespoons of olive oil
1 teaspoon of garlic powder
1 teaspoon of paprika
1/2 teaspoon of salt
1/4 teaspoon of black pepper
Fresh parsley for garnish (optional)
Why Air Fryer Roasted Carrots?
Before we jump into the nitty-gritty of this recipe, let's talk about why you might want to roast carrots in an air fryer. The air fryer is a nifty kitchen appliance that uses hot air circulation to crisp up food without the need for excessive oil.
This means you can enjoy the deliciousness of roasted carrots with a fraction of the calories and fat compared to traditional roasting methods. Plus, it's a quicker way to achieve that satisfying crunch.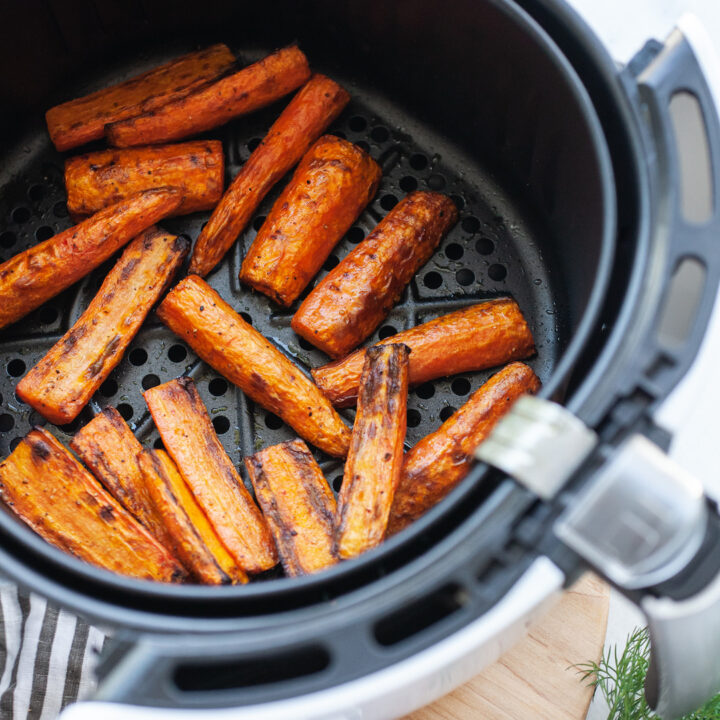 Air fryer roasted carrots Recipe
Now, let's get cooking! Follow these simple steps to make the Best Air Fryer Roasted Carrots:
Prepare the Carrots
The star of the show is, of course, the carrots. You can use regular carrots or baby carrots, whichever you prefer.
Start by washing and peeling them. If your carrots are on the thicker side, it's a good idea to slice them into evenly-sized sticks. This ensures that they'll cook evenly in the air fryer.
Season the Carrots
In a mixing bowl, toss the carrot sticks with two tablespoons of olive oil. This will give them that beautiful caramelization and ensure they don't stick to the air fryer basket.
Now, it's time to infuse some incredible flavor. Add one teaspoon of garlic powder, one teaspoon of paprika, half a teaspoon of salt, and a quarter teaspoon of black pepper. This combination creates a delightful harmony of sweet and savory flavors.
Toss the carrots thoroughly to ensure that all those seasonings are evenly distributed.
Read also: 11 Things That Happens to Your Body When You Drink a Bottle of Wine
Preheat the Air Fryer
While your carrots are getting acquainted with the delicious seasonings, it's a good time to preheat your air fryer.
Set the temperature to 375°F (190°C). Preheating helps ensure that the carrots will start cooking immediately, and you'll get that satisfying crunch.
Preheating usually takes just a few minutes. Some air fryers have a light or beep to indicate when they're ready, but if not, simply wait a few minutes until it reaches the desired temperature.
Arrange the Carrots
Now that your carrots are seasoned, and your air fryer is preheated, it's time to arrange the carrots in the air fryer basket. The key here is not to overcrowd the basket. You want to leave enough room for proper air circulation, which will help the carrots cook evenly and get that wonderful crunch.
If you're making a larger batch, it's better to cook in batches or use multiple air fryer trays if your model allows it. Well-cooked, crispy carrots are worth the extra effort.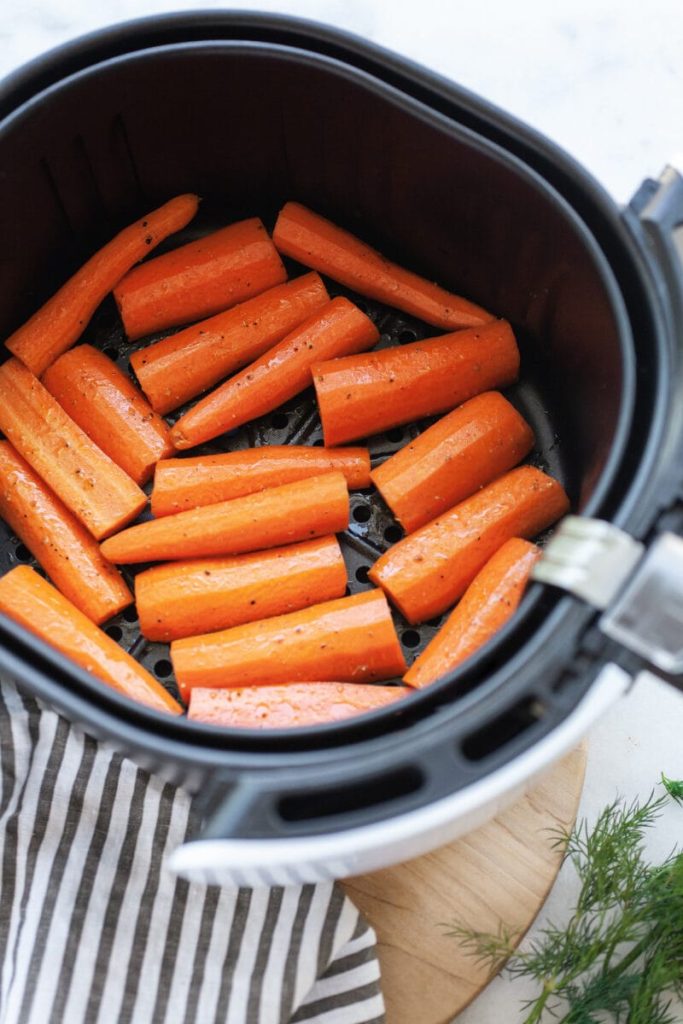 How to cook carrots in air fryer
Air Fry the Carrots
Place the carrot sticks into the preheated air fryer. If your air fryer has a basket, you can give it a little shake or stir to ensure even cooking. Some models might have a special "roast" setting – use that if available.
Set the timer for 15-20 minutes. Cooking time may vary slightly depending on the thickness of your carrot sticks and the specific air fryer model you're using. Here's a general guideline:
If you like your roasted carrots with a bit of bite left and not too crispy, aim for 15 minutes.
For a truly crispy texture, go for the full 20 minutes.
Remember to check the carrots halfway through and give them a gentle toss or shake in the basket to promote even cooking. It's also a good time to inspect their doneness. You'll know they're ready when they turn a gorgeous golden brown and develop that crispy exterior.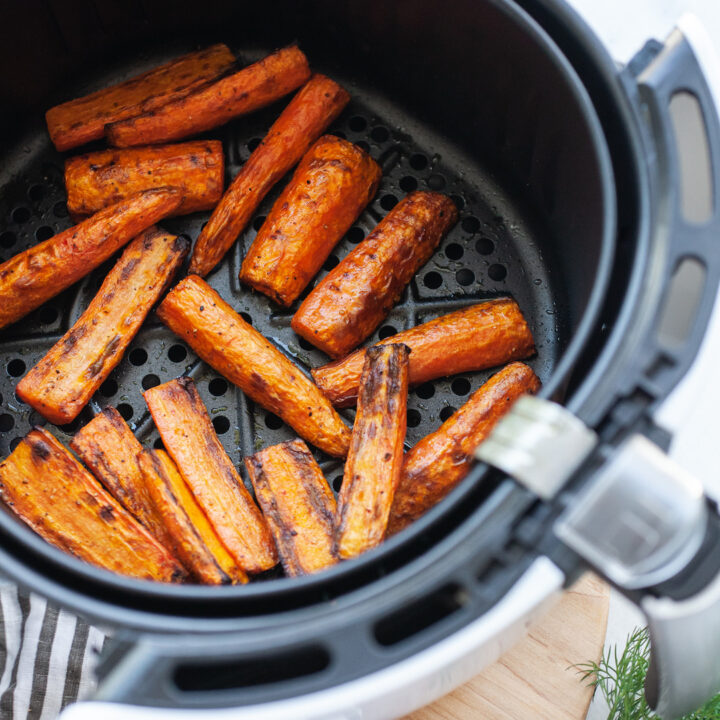 How To Garnish and Serve Your Air Fryer Roasted Carrots
Once your roasted carrots are perfectly crispy and inviting, it's time to serve them. You can go the extra mile by garnishing with some chopped fresh parsley. This adds a touch of color and a hint of freshness that complements the earthy sweetness of the carrots beautifully.
Read also: 6 Foods that Fight Brain Fog: Boost Your Mental Clarity
Enjoy your Best Air Fryer Roasted Carrots as a side dish or snack. They make a fabulous addition to any meal, from weeknight dinners to holiday feasts. Serve them with a dip or alongside your favorite protein for a well-rounded, tasty meal.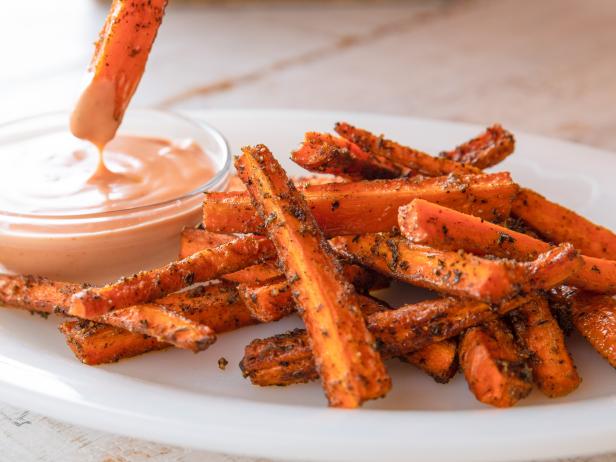 Frequently Asked Questions (FAQ)
how long to cook carrots in air fryer
Cook carrots in an air fryer for 15-20 minutes at 375°F (190°C) for a crispy texture or 10-15 minutes for a tender, slightly crispy result, shaking halfway for even cooking.
What is the best way to season carrots?
To season carrots, try tossing them in olive oil, then sprinkle with salt, pepper, garlic powder, and a touch of fresh herbs like rosemary or thyme for a well-balanced, flavorful profile.
What can I cook in a air fryer?
You can cook a wide variety of foods in an air fryer, including french fries, chicken wings, vegetables, fish, and even baked goods like muffins and pastries.
Can you dehydrate carrots in an air fryer?
Air fryers are not designed for dehydration; they are used for frying, baking, and roasting. For dehydrating carrots or other foods, a food dehydrator is a more suitable appliance.
A Homemade Jamaican Curry Goat Recipe
East African Pilau – Kenyan pilau Recipe
Sweet Tomatoes Restaurant Is Reopening Locations
Best Doro Wat – Ethiopian Chicken Stew Recipe
How to Make Gomen Wat – Ethiopian Collard Greens
Conversion Chart for Liquid Volume Measurements
Conclusion
Roasted carrots are a beloved side dish for a reason – they're simple, wholesome, and incredibly flavorful.
By making them in the air fryer, you're taking the experience to the next level. You'll relish the satisfying crunch and the burst of sweet, savory, and smoky flavors in every bite.
This Best Air Fryer Roasted Carrots recipe is a delightful addition to your culinary repertoire. It's easy to prepare, requires minimal oil, and is perfect for cooks of all levels.
So, next time you're craving a fantastic side dish, grab your air fryer, some fresh carrots, and get ready to enjoy a culinary sensation that's both nutritious and delicious. Happy air frying!