Get ready for a taste bud adventure with Jamaican Curry Goat, a delightful and flavorful dish that brings the heart of the Caribbean to your kitchen. This dish is a tantalizing blend of tender, succulent goat meat infused with aromatic spices, creating a burst of taste like no other.
To start with, you'll need to master the art of slow cooking, allowing the goat meat to soak up all the rich, complex flavors of Jamaican curry powder, scotch bonnet peppers, and various aromatic spices.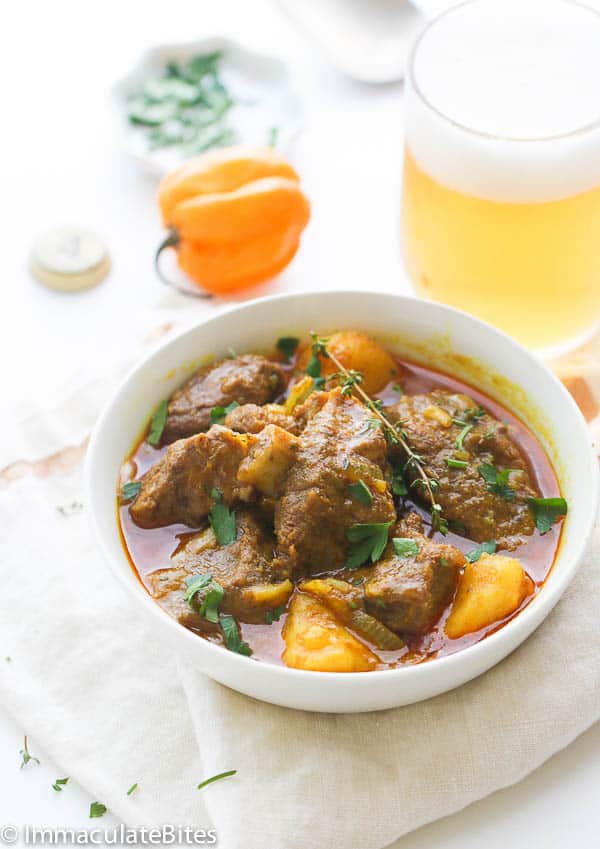 The result is a mouthwatering combination of heat and earthy notes, guaranteed to leave you craving more.
Cooking Jamaican Curry Goat is not just about making a meal; it's about experiencing a vibrant culture through your taste buds. Whether you're a seasoned chef or a kitchen novice, this recipe will guide you through the process, so you can savor the essence of Jamaica right at your dinner table.
Get ready for a culinary voyage filled with warmth, spice, and unforgettable taste.
Ingredients You'll Need For Your Jamaican Curry Goat
Before we dive into the cooking process, let's assemble all the essential ingredients for your Jamaican Curry Goat. Here's what you'll need:
For the Marinade
3 pounds of goat meat (bone-in, preferably shoulder or leg)
2 tablespoons of Jamaican curry powder (adjust for desired spice level)
1 teaspoon of allspice (pimento) berries, crushed
4-6 garlic cloves, minced
1 teaspoon of grated ginger
1 teaspoon of dried thyme
1 Scotch bonnet pepper, finely chopped (adjust for desired heat)
2 teaspoons of salt (adjust to taste)
2 teaspoons of black pepper
2 tablespoons of vegetable oil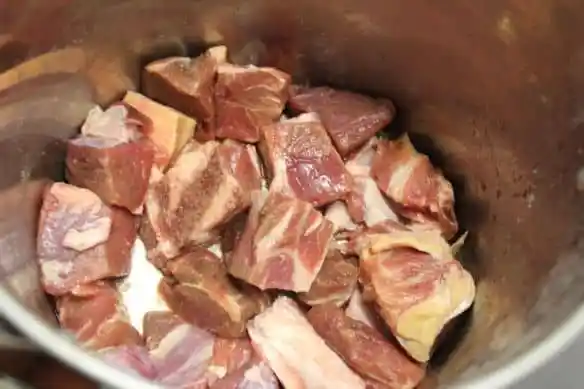 For the Cooking Process
2 tablespoons of vegetable oil
2 large onions, chopped
2-3 scallions, chopped
2-3 sprigs of fresh thyme or 1 teaspoon of dried thyme
2-3 cups of water or beef broth
2-3 potatoes, peeled and chopped into chunks
2 carrots, peeled and sliced (optional)
2-3 bay leaves
1 Scotch bonnet pepper (whole)
Salt and black pepper (for seasoning)
Jamaican curry goat recipe
Now that you've got all your ingredients ready, let's embark on the journey of making Jamaican Curry Goat.
1. Preparation is Key
Before you start, it's important to set up your workspace and ensure everything is ready. You'll need a large, heavy-bottomed pot or Dutch oven with a lid, a sharp knife for cutting the meat and vegetables, a cutting board, and a wooden spoon for stirring.
2. Marinating the Goat
Marinating is a crucial step in Jamaican Curry Goat. In a large bowl, combine the goat meat with the following ingredients: Jamaican curry powder, crushed allspice berries, minced garlic, grated ginger, dried thyme, chopped Scotch bonnet pepper, salt, and black pepper. Mix everything thoroughly, ensuring the meat is well-coated with the spices and seasonings.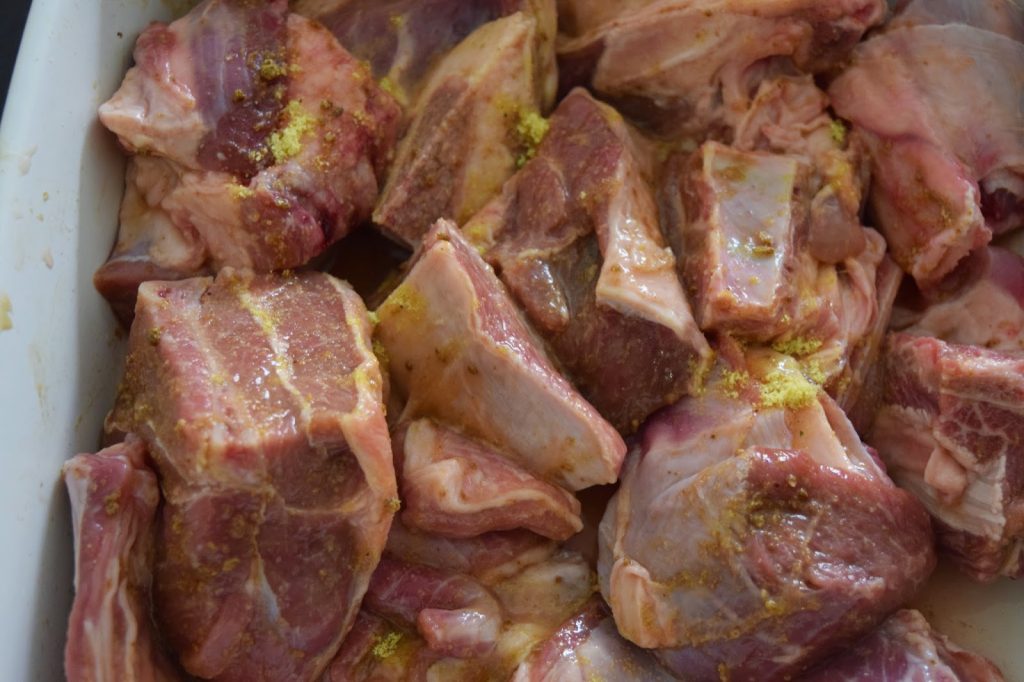 3. Let It Marinate
Allow the marinated goat meat to sit for at least 30 minutes, though marinating for several hours or even overnight is ideal for maximum flavor infusion.
4. Start the Cooking Process
In your large pot or Dutch oven, heat 2 tablespoons of vegetable oil over medium-high heat. Once the oil is hot, add the marinated goat meat and sear it until it's browned on all sides. This step locks in the flavors and ensures the meat stays tender.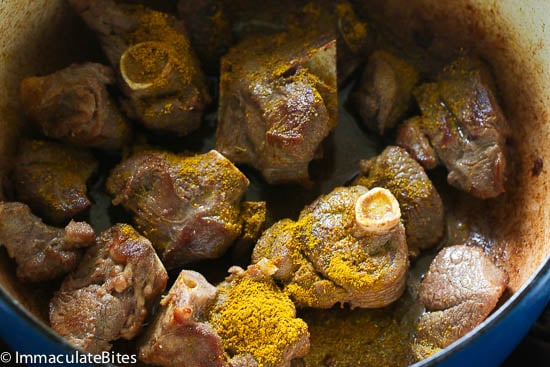 5. The Aromatics
After searing the meat, add the chopped onions and scallions to the pot. Sauté them until they become translucent and fragrant, enhancing the depth of flavor in your curry goat.
6. Adding Thyme and Bay Leaves
Now, add the fresh thyme (or dried thyme) and bay leaves to the pot. These herbs bring a distinct Caribbean aroma to the dish.
7. The Magic Spice
Pour in water or beef broth until the meat is almost covered. The liquid will transform into a rich curry sauce as it simmers with the meat. You can also add more Scotch bonnet pepper for extra heat at this stage.
8. Simmer and Stew
Reduce the heat to low, cover your pot with a lid, and let your Jamaican Curry Goat simmer for about 1.5 to 2 hours. Check the meat periodically, stirring gently. If the liquid reduces too much, add more water or broth to keep the meat submerged.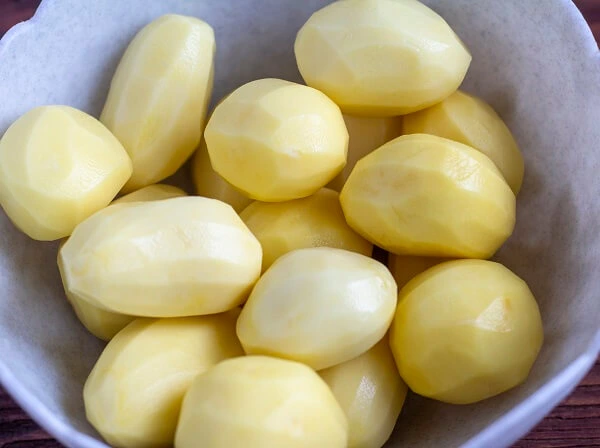 9. The Potatoes and Carrots
About halfway through the cooking time, add the potato chunks and sliced carrots (if you're using them) to the pot. They will soak up the delicious curry sauce and add a delightful texture to the dish.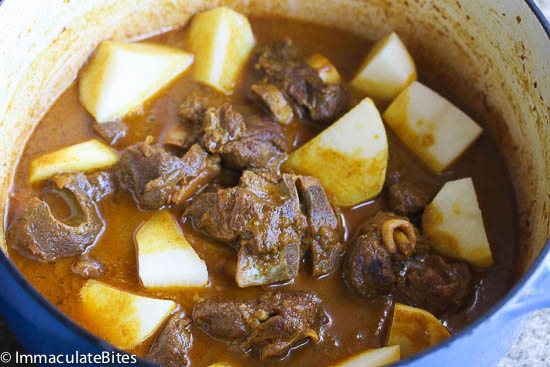 10. Cooking to Perfection
Continue simmering until the goat meat is tender and easily falls off the bone. This usually takes a total cooking time of 2.5 to 3 hours, but it can vary based on the meat's thickness and quality. Be patient; the slower cooking process ensures a tender and flavorful result.
1. Final Seasoning
Before serving, taste your Jamaican Curry Goat and adjust the seasoning with salt and black pepper to your liking.
12. Garnish and Enjoy
Garnish your Jamaican Curry Goat with fresh thyme leaves or chopped scallions for a vibrant finish. Serve it with steamed white rice, rice and peas, or traditional Jamaican hard-dough bread.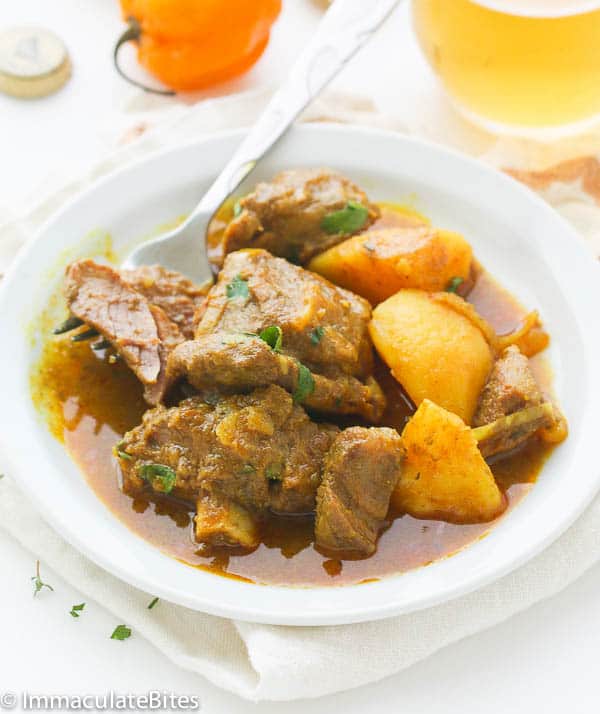 Tips for Success Jamaican curry goat recipe
Goat meat can be quite tough, so marinating and slow cooking are crucial for achieving tender results.
Adjust the heat level by adding or removing Scotch bonnet peppers. Remember to handle them with care and avoid contact with your eyes or skin.
Let the meat marinate for as long as possible to maximize flavor.
Traditional Jamaican Curry Goat is made with bone-in meat for added richness and flavor.
Don't rush the cooking process; slow simmering is key to achieving that melt-in-your-mouth tenderness.
Feel free to add or substitute vegetables according to your preference.
Read More
11 Classic Pans For Cooking fish With Images
6 Foods that Fight Brain Fog: Boost Your Mental Clarity
Top 23 Tasty And Healthy Filipino Recipes For Guilt-Free Meals 2023
How To Make Peppered Fish In Less Time
Conclusion
Cooking Jamaican Curry Goat is a delightful journey through the vibrant flavors of the Caribbean. With a bit of patience and some love, you can create a dish that encapsulates the heart and soul of Jamaica.
Whether you're enjoying it on a sunny afternoon or celebrating a special occasion, this dish is sure to transport your taste buds to the warm and inviting shores of Jamaica.
So, gather your ingredients, and start cooking your very own taste of the tropics with this Jamaican Curry Goat recipe.