Imagine a soup that wraps you in warmth and fills your senses with the inviting aroma of a classic home-cooked meal. That's the magic of Stuffed Pepper Soup, and we're here to reveal the secrets behind crafting the best pot of this heartwarming delight.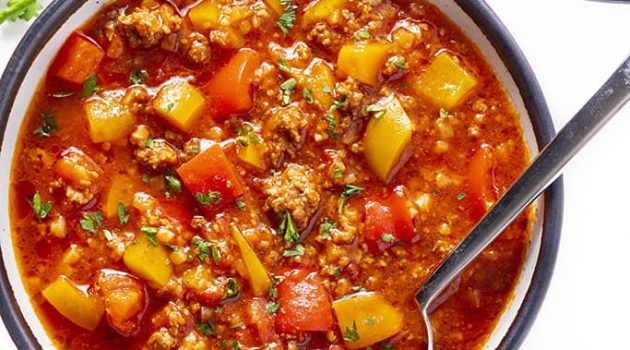 In this beginner-friendly guide, we'll break down the process into simple steps cook stuffed pepper soup instant pot, so even if you're a novice in the kitchen, you can confidently create a bowl of sheer comfort.
From browning the ground beef (or turkey) to adding vibrant diced peppers and infusing fragrant herbs, we'll walk you through each stage.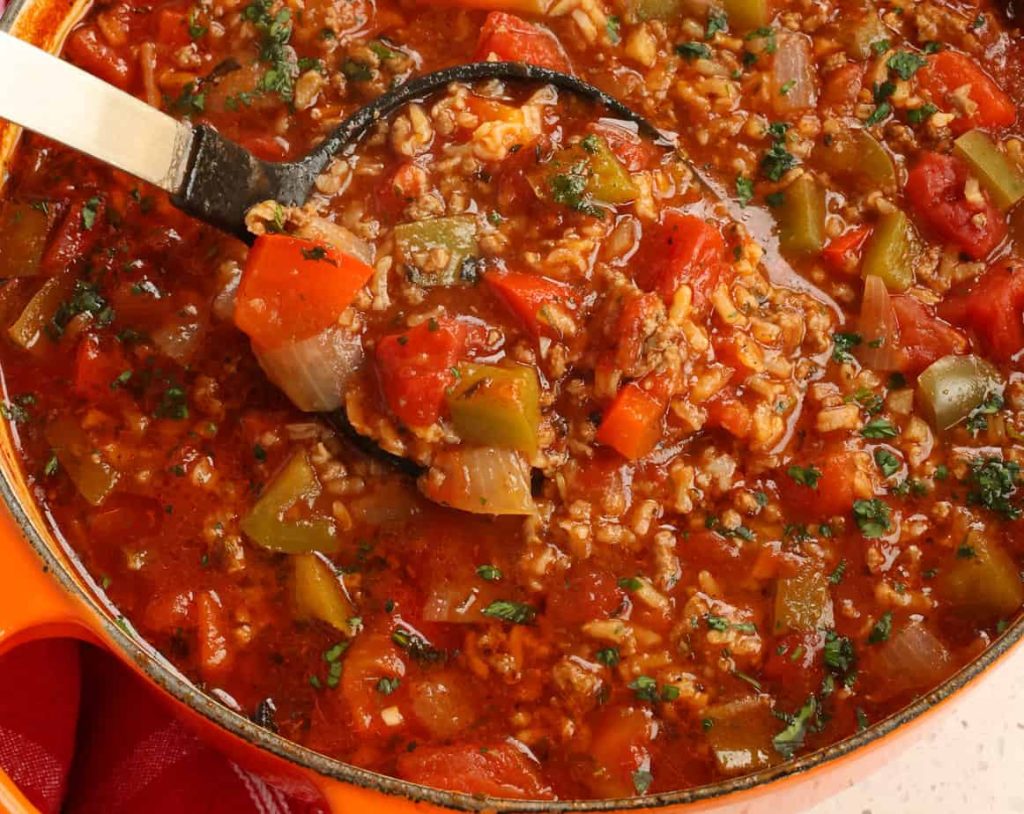 Get ready to embark on a culinary adventure where we combine the familiar flavors of stuffed peppers with the coziness of a soul-soothing soup.
Whether you're cooking for yourself, your family, or hosting friends, this Stuffed Pepper Soup recipe will become your go-to for its delicious simplicity and heartwarming results. Let's get cooking.
Ingredients For Your Delicious Stuffed Pepper Soup
1 pound ground beef (or ground turkey for a leaner option)
1 cup diced onion
1 cup diced bell peppers (a mix of colors adds vibrancy)
3 cloves garlic, minced
1 can (28 ounces) diced tomatoes, undrained
4 cups beef or vegetable broth
1 cup cooked rice
1 teaspoon dried basil
1 teaspoon dried oregano
½ teaspoon salt (adjust to taste)
¼ teaspoon black pepper
½ cup shredded cheddar cheese (for garnish)
Fresh parsley, chopped (for garnish)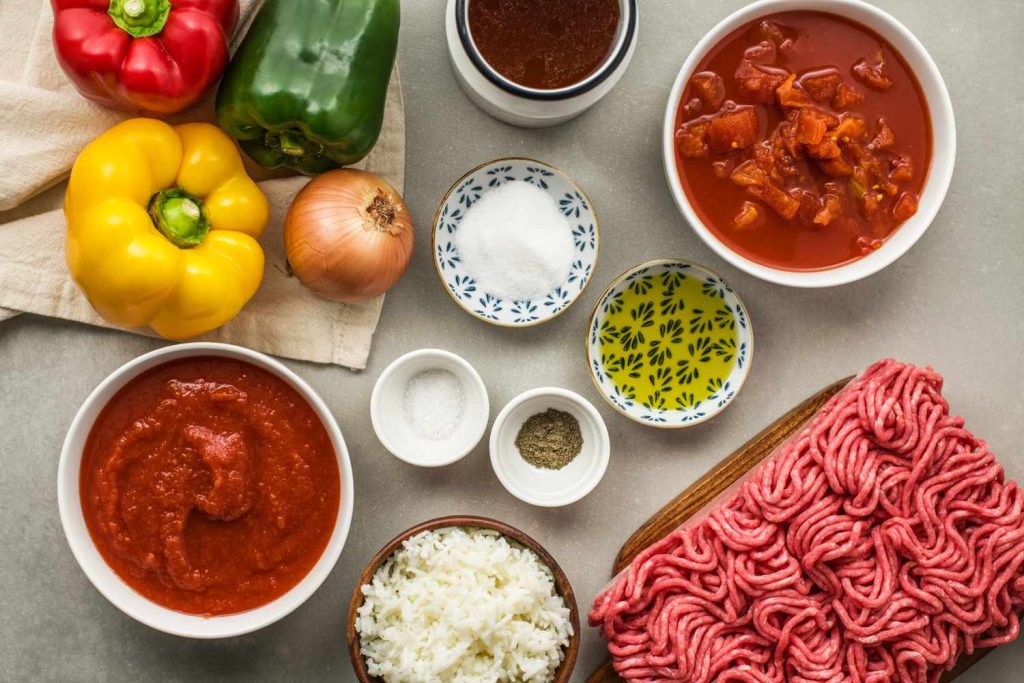 A hearty Stuffed Pepper Soup Recipe
In a large soup pot or Dutch oven, brown the ground beef over medium heat until cooked through. Drain any excess fat, if necessary.
Add the diced onions, bell peppers, and minced garlic to the pot. Sauté for about 5 minutes, until the vegetables are slightly softened and fragrant.
Pour in the diced tomatoes with their juices and the beef or vegetable broth. Stir to combine, allowing the flavors to meld.
Add the dried basil, dried oregano, salt, and black pepper to the pot. Stir well to distribute the spices evenly.
Stuffed pepper soup crockpot
Bring the soup to a gentle boil, then reduce the heat to low. Allow it to simmer for about 15-20 minutes, giving the flavors time to develop.
Stir in the cooked rice, ensuring it's evenly incorporated into the soup.
Taste and adjust the seasoning as needed. You can add more salt, pepper, or herbs according to your preference.
Once the soup is fully heated and the rice is warmed through, it's ready to serve.
Ladle the Stuffed Pepper Soup into bowls and garnish each serving with a sprinkle of shredded cheddar cheese and a pinch of fresh chopped parsley.
Serve the soup alongside crusty bread or a simple green salad for a complete and satisfying meal.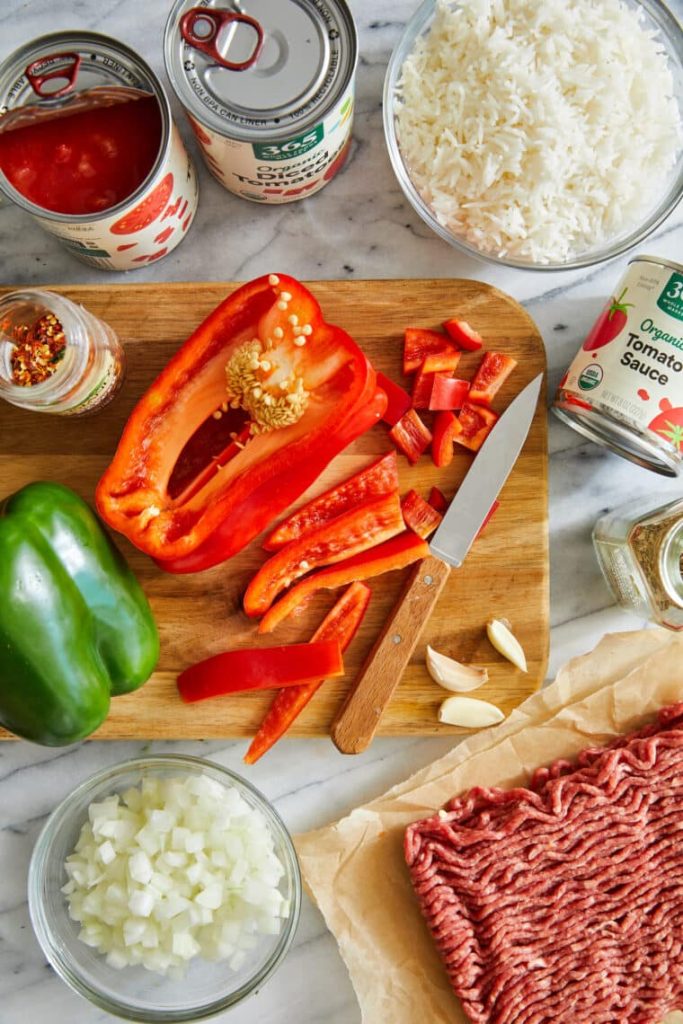 Note:
Feel free to customize this recipe by adding a touch of heat with red pepper flakes or by incorporating your favorite veggies. You can also experiment with different types of cheese for the garnish.
This Stuffed Pepper Soup is a delightful blend of comfort and nutrition, capturing the essence of classic stuffed peppers in a heartwarming soup. Enjoy its flavors as they meld together, and savor every spoonful on a chilly day.
What is stuffed pepper soup made of?
Stuffed Pepper Soup is crafted from ground beef (or turkey), diced bell peppers, onions, garlic, diced tomatoes, beef or vegetable broth, cooked rice, and a blend of dried basil, oregano, salt, and pepper. This hearty combination results in a flavorful and comforting soup reminiscent of stuffed peppers.
What do you serve with stuffed peppers?
Stuffed peppers pair well with a variety of side dishes. Consider serving them with a fresh green salad, garlic bread, or a simple grain like quinoa or couscous for a balanced meal. These sides complement the flavors of the stuffed peppers and add texture and variety to the plate.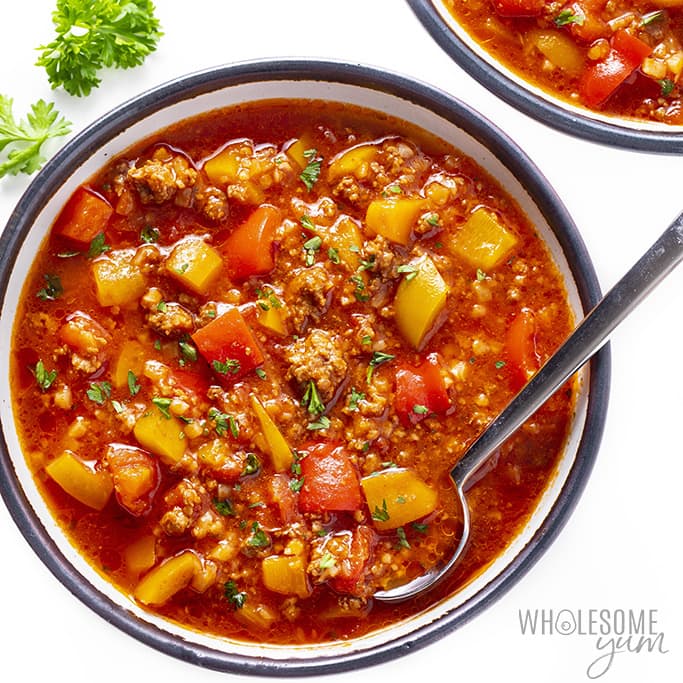 What is Nigerian pepper soup made of?
Nigerian pepper soup is composed of flavorful ingredients such as assorted meats (goat, chicken, or fish), aromatic spices like cayenne pepper, ginger, and garlic, along with herbs like utazi leaves. The combination creates a spicy and savory broth that's popular in Nigerian cuisine for its rich taste and warming qualities.
What are the different types of pepper soup in Nigeria?
Nigerian cuisine features a variety of pepper soups, each with its unique flavors and ingredients. Some popular types include:
Goat Meat Pepper Soup: Made with goat meat and a mix of spices for a rich and robust flavor.
Chicken Pepper Soup: Prepared with chicken pieces and aromatic spices, often with a slightly milder taste.
Fish Pepper Soup: Utilizes various types of fish, typically tilapia or catfish, and is characterized by its distinctive fishy aroma.
Assorted Meat Pepper Soup: Combines different meats like goat, tripe, and cow feet for a hearty and flavorful soup.
Ukodo (Yam Pepper Soup): Contains yam chunks along with assorted meats, creating a substantial and filling dish.
Oxtail Pepper Soup: Features oxtail as the primary meat ingredient, delivering a rich and gelatinous texture.
Plantain Pepper Soup: Includes ripe plantains, often combined with fish or assorted meats, offering a unique sweet and savory fusion.
Is Nigerian pepper soup healthy?
Nigerian pepper soup can be part of a healthy diet when prepared thoughtfully. It often includes lean protein sources like chicken or fish and is seasoned with aromatic spices.
However, watch out for excessive sodium from seasonings. Adding vegetables and controlling portion sizes can enhance its nutritional value. As with any cuisine, making mindful ingredient choices and moderating consumption contribute to its overall healthiness.
Conclusion: Each type of pepper soup showcases the diverse culinary traditions of Nigeria, with a medley of flavors that reflect regional influences and local preferences.