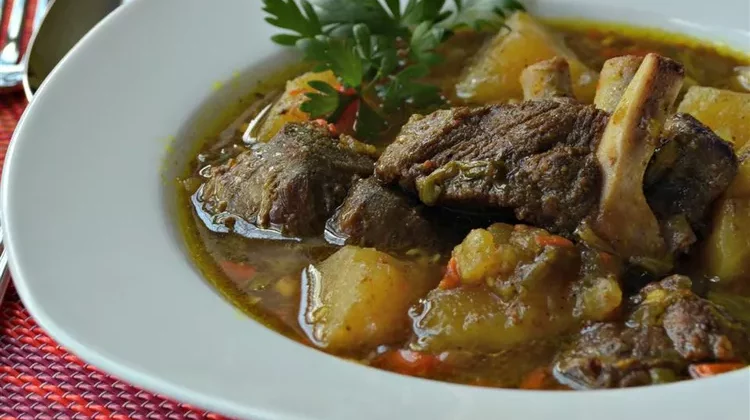 Transport your taste buds to the vibrant streets of Jamaica with a culinary adventure that's as exciting as it is delicious.
Welcome to the world of Homemade Jamaican Curry Goat, where rich, aromatic spices come together to create a symphony of flavors that'll have you craving seconds before you've even taken your first bite.
This iconic Caribbean dish marries the fiery warmth of scotch bonnet peppers with the earthy depth of curry powder, resulting in a mouthwatering, slow-cooked masterpiece that's been perfected over generations.
As you follow our step-by-step journey through this recipe, you'll discover the secrets to tender, succulent goat meat simmered to perfection, enveloped in a fragrant, velvety sauce that's as comforting as it is invigorating.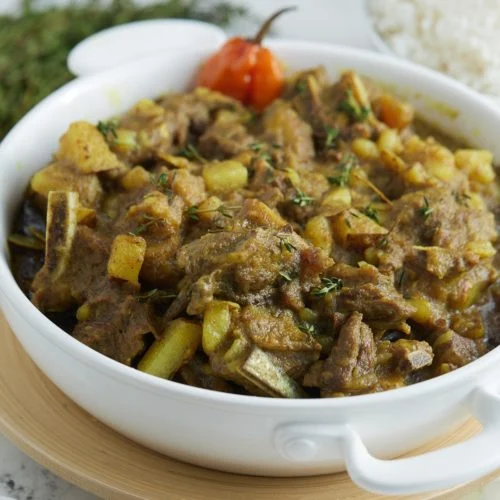 From the sizzle of the seasoned meat to the tantalizing aroma that wafts through your kitchen, this Homemade Jamaican Curry Goat will make your taste buds dance to a rhythm that's uniquely Caribbean, and you won't be able to resist joining in. So, put on your apron and get ready to experience a taste of Jamaica in your very own kitchen.
Before we go into the recipe, let's take a moment to understand the key ingredients and spices that give Jamaican Curry Goat its distinct flavor.
Goat Meat
Curry Powder
All-Purpose Seasoning
Potatoes and Carrots
Onion and Garlic
Coconut Milk
Scotch Bonnet Pepper
Ingredients For Cooking The Best Homemade Jamaican Curry Goat Recipe
Goat Meat: The star of the show, goat meat is rich, tender, and infused with a unique taste that sets this dish apart. If goat meat isn't readily available, you can substitute it with lamb or beef.
Curry Powder: The curry powder used in this dish is typically a blend of spices such as turmeric, cumin, coriander, and fenugreek. It imparts the rich yellow color and depth of flavor to the dish.
All-Purpose Seasoning: This is a combination of various seasonings like garlic, thyme, scallions, and Scotch bonnet peppers, providing a medley of tastes and aromas.
Potatoes and Carrots: These vegetables are commonly added to the dish, soaking up the fragrant curry sauce and adding a wonderful textural contrast.
Onion and Garlic: These aromatics form the base of the curry, infusing it with depth and flavor.
Coconut Milk: Creamy coconut milk brings a delightful creaminess to the dish, balancing the heat of the curry and tenderizing the meat.
Scotch Bonnet Pepper: This pepper is a must for authentic Jamaican Curry Goat. It packs a punch, so use it sparingly if you're sensitive to heat.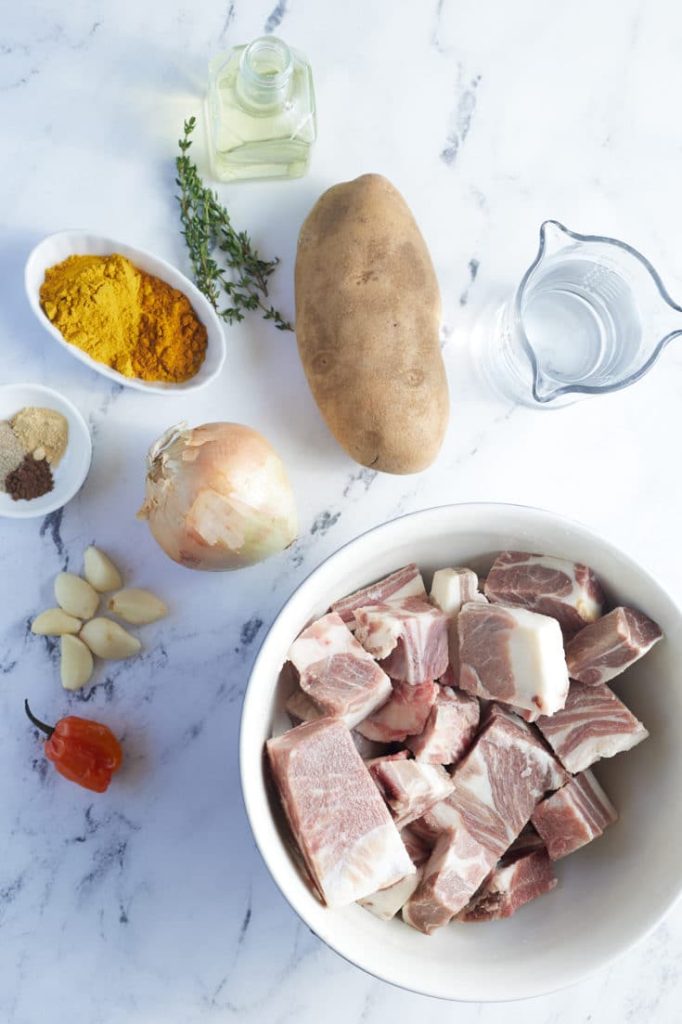 Prepping Your Ingredients
Now that you've gathered the essential ingredients, it's time to prepare your curry goat. Here are the necessary steps:
1. Prepping the Goat Meat:Trim any excess fat from the meat and cut it into bite-sized pieces. If you have bone-in meat, it adds extra flavor to the dish.
2. Seasoning the Meat: In a large bowl, season the goat meat with all-purpose seasoning and a generous amount of curry powder. Make sure the meat is well coated. Allow it to marinate for at least an hour, or overnight for the best results.
3. Prepping the Vegetables: Peel and chop the potatoes and carrots into small chunks. Dice the onions and mince the garlic.
The Cooking Process – Making Jamaican Curry Goat
Let's get into the heart of the matter – the cooking process. Follow these steps for a delicious Jamaican Curry Goat:
1. Browning the Meat
Heat a large, heavy-bottomed pot or Dutch oven over medium-high heat. Add a bit of oil and brown the marinated goat meat in batches. Ensure all sides are nicely seared. Set the browned meat aside.
2. Sauteing the Aromatics
In the same pot, add more oil if needed, and sauté the diced onions until they become soft and translucent. Then, add the minced garlic and continue cooking for another minute or so until it becomes fragrant.
3. Adding the Curry Powder
Stir in more curry powder, and cook for a couple of minutes to toast the spices, enhancing their flavor and color.
4. Combining the Meat and Vegetables
Return the browned goat meat to the pot. Stir it well to coat with the aromatic mixture.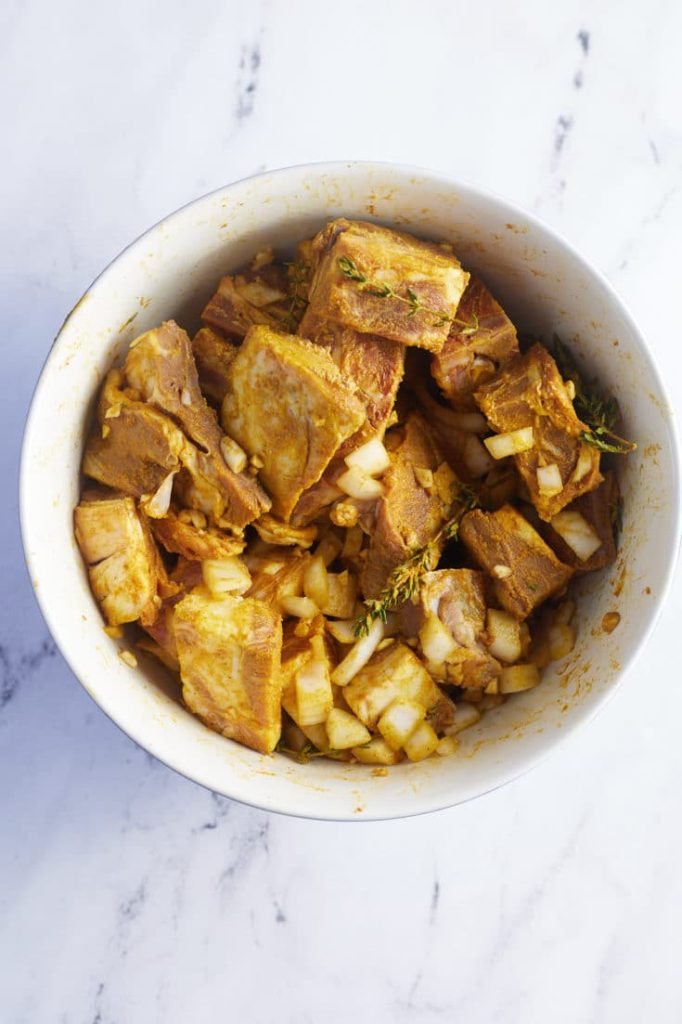 5. Adding the Scotch Bonnet Pepper
For a mild flavor, you can simply add a Scotch bonnet pepper without cutting it. If you prefer it spicier, you can split or finely chop the pepper. Be cautious, as Scotch bonnet peppers are very hot.
6. Simmering in Coconut Milk
Pour in the coconut milk, and bring the mixture to a gentle simmer. The coconut milk will start to thicken and create a creamy sauce.
7. Cooking Until Tender
Cover the pot and let the curry goat simmer for about 1.5 to 2 hours. This slow cooking process allows the goat meat to become tender and absorb all the flavorful spices and aromatics.
8. Adding Potatoes and Carrots
About 30 minutes before you're ready to serve, add the chopped potatoes and carrots to the pot. Continue simmering until the vegetables are tender.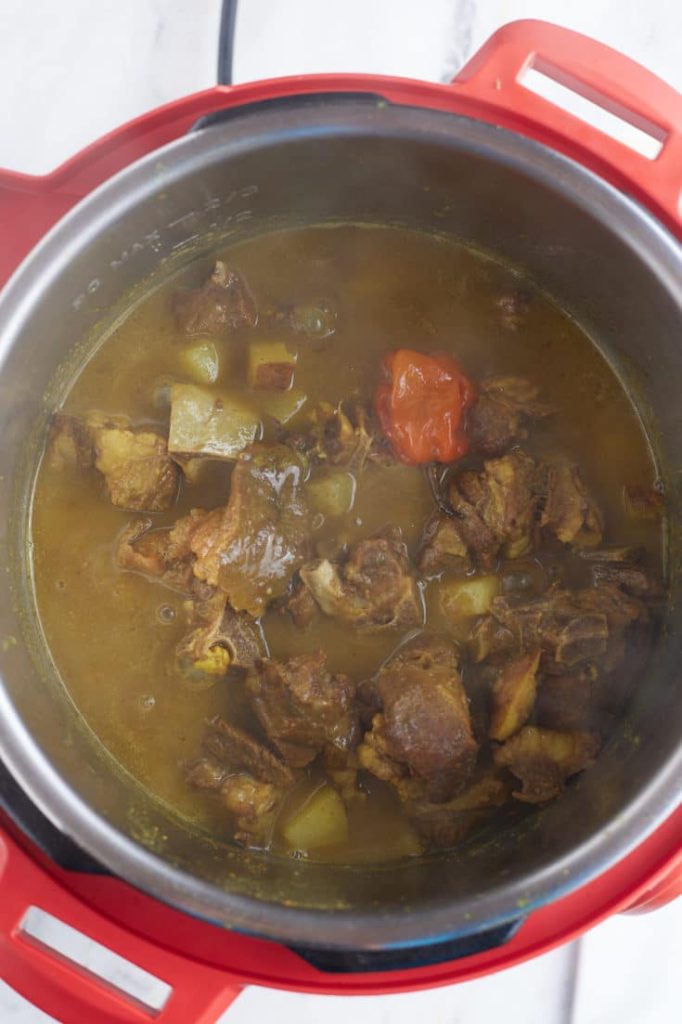 How To ServeYour Jamaican Curry Goat
Congratulations, you've successfully prepared Jamaican Curry Goat! Now it's time to savor the flavors of the Caribbean. Here are a few serving suggestions:
1. Rice and Peas:
A classic pairing, serve your curry goat with Jamaican rice and peas (rice cooked with kidney beans and coconut milk) for a complete meal.
2. Plain Rice:
If rice and peas are unavailable, plain steamed rice makes a fantastic accompaniment.
3. Fried Plantains:
For a sweet and savory twist, serve your curry goat with fried plantains. The sweetness complements the heat of the curry.
4. Jamaican Hard Dough Bread:
If you prefer bread, opt for Jamaican hard dough bread, which is perfect for sopping up the flavorful curry sauce.
5. Pickled Vegetables:
Some pickled vegetables or a side salad can provide a refreshing contrast to the rich and spicy curry.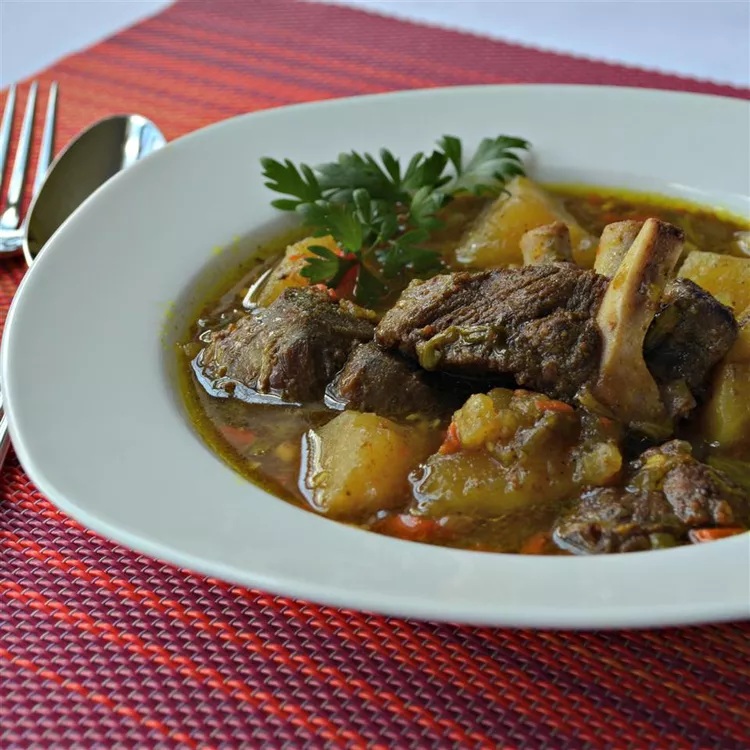 Wrapping It Up – The Taste of Jamaica at Home
Jamaican Curry Goat is a delightful way to explore the flavors of the Caribbean without leaving your kitchen. Its aromatic blend of spices, tender meat, and creamy coconut milk makes it a soul-warming and memorable dish.
Whether you're cooking it for a special occasion or just for the love of good food, this Jamaican classic will transport your taste buds to the sunny shores of Jamaica.
So, don your apron, prepare your ingredients, and embark on this flavorful culinary journey from the comfort of your own home. Your taste buds will thank you for it!